A toasty warm sourdough grilled cheese is comfort food at its best. Traditionally a kid's favorite, with a blend of three cheeses, this sourdough sandwich recipe is more for the grown ups. By using the best cheeses and our cooking method, you can create a meal that will fill your stomach and warm your soul!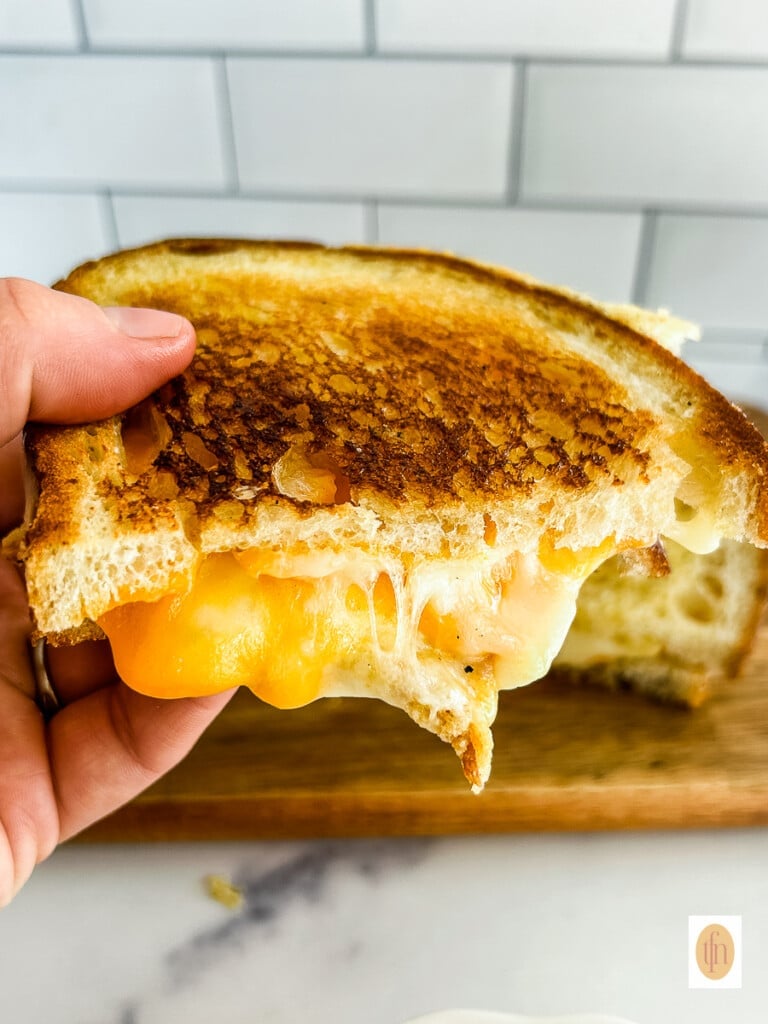 Why our sourdough grilled cheese is worth making
Amazing flavor
Using sourdough bread adds a tangy flavor, as well as structure to hold up to three of the very best cheeses!
Double toasted.
Toasting the bread adds texture and better color, while also preventing it from becoming soggy as it cooks in the skillet.
It's an anytime, anywhere meal!
There is no wrong time to enjoy the ultimate cheese sandwich! It's perfect for lunch or a light dinner with a bowl of soup, or even as a quick grab 'n go morning meal.
Speaking of busy mornings, another favorite grab and go breakfast is a sourdough scrambled egg sandwich!
Ingredient notes and substitutions
Bread
Sourdough is our choice because it has a hearty structure that doesn't fall apart in the pan. Overnight sourdough bread is our go-to choice for the perfect sourdough bread grilled cheese sandwich. If you prefer whole grains, you can use a whole wheat sourdough.
Or, for an incredible flavor, consider using jalapeno cheddar sourdough.
Best cheese for grilled cheese
American cheese tends to be the first choice for most people, and while it does melt well, we think it lacks flavor. This is because products like Kraft and Velveeta slices aren't real cheese, but rather, a blend of cheese products.
Here is what we think are the best cheeses for our sourdough grilled cheese sandwich recipe:
Cheddar
Mild or sharp, yellow or white – whatever your preference is. For the sandwich of your childhood, feel free to use slices of American instead.
Provolone
If you need or want a different flavor, consider using Swiss. It melts just as well as Provolone, and adds a nice nuttiness.
Gruyere – Grate a fresh block for the best results. This creamy, white cheese has a nutty flavor that is so delicious! Good substitutes that melt well are white cheddar and Havarti.
Sourdough sandwich recipe tips
Toast the bread first.
This step is completely optional, but if you have time, it really does make for the ultimate grilled cheese sandwich!

Toasting the bread before adding the ingredients prevents it from absorbing so much butter that it becomes soggy.
Butter the bread, not the pan.
Rather than melting butter in the pan, spread it onto both slices of your sourdough bread.

This way, more of the buttery flavor will end up in your food. Plus, it deepens the golden color of your sourdough grilled cheese.
Use the 'low and slow' method of cooking.
To create a perfect melty, gooey cheese experience, cook grilled cheese over low heat. Using high heat just burns the bread before the cheeses have a chance to melt.
TFN Pro Tip
If after 5 minutes of cooking, the cheeses are still unmelted, add 1 tablespoon of water to the pan/griddle. (Don't pour the water directly over the sandwich.)

Then, cover the pan with its lid (or use a griddle dome lid). The steam it creates will melt everything quickly.
Sourdough Grilled Cheese FAQ
Is grilled cheese better with butter or oil?
Using butter versus oil is a matter of personal preference. We use butter in our sourdough sandwich recipe, for a rich saltiness that you taste in every bite.

Cooking grilled sandwiches in oil provides a unique flavor that varies depending on the oil. The bread will still be crispy, but it may not have the same golden hue that butter provides.
How do you add flavor to a grilled cheese sandwich?
Using meats and/or veggies in a grilled cheese will add protein, nutrition, and heartiness. Including condiments like mayonnaise, flavored butter, and horseradish can boost the flavor. Or, consider using a unique flavor of bread, like jalapeno cheddar.
Can you make grilled sourdough sandwiches in the oven?
You can, and it's a fantastic way to make sandwiches for a crowd! However, they won't be quite as crispy as when they're cooked on a griddle.

To cook sourdough grilled cheese in the oven, arrange sandwiches on a sheet pan. Then, bake at 450°F for 8-10 minutes, until the cheese melts and the bread is golden brown.
Great add-ins for your grilled sandwich
The best sourdough grilled cheese is one that includes your favorite things! Here are a few popular options:
Meat
One of the most popular pairings with melty cheese is bacon! Slices of smoked pork tenderloin or shredded carnitas would taste fabulous, too.
Greens
Perhaps some scallions or chives for an oniony essence, or healthy greens like spinach or kale.
Tomatoes
Heirloom and beefsteak tomatoes are fabulous on a sourdough grilled cheese sandwich! When fresh tomatoes aren't in season, sun dried tomatoes are a great choice.
Slightly less common, but just as delicious are apple or pear slices — they add texture and pops of juicy sweetness unlike anything else. You might also try a pepper jelly or chutney smeared on the bread.
To make this sourdough sandwich recipe, Renae recommends
3-Cheese Sourdough Grilled Cheese
With 3 flavorful, gooey cheeses and golden toasted bread, Sourdough Grilled Cheese is our ultimate sourdough sandwich recipe for grown ups!
Ingredients
8 slices sourdough bread toasted (optional) *See Notes
4 slices mild cheddar cheese or American
4 slices Provolone cheese or Swiss
4 ounces Gruyere cheese grated, or 4 white cheddar slices
4 tablespoons butter softened
Instructions
Lay out the bread slices (toasted or untoasted) on your work surface. 4 slices of bread will be the sandwich bottoms, and 4 will be the tops.

Place 1 slice of American and 1 slice of Provolone cheese onto each of the bottom slices. Add grated Gruyere cheese evenly over the top of the other cheeses.Place 1 top bread slice over each sandwich. Spread the softened butter on the outside of the top and bottom of each sandwich.

Heat a griddle or large skillet over medium heat. When the pan is hot, add the sandwiches, leaving some space between each (don't overcrowd the pan).

Cook on first side for 3 minutes. Use a large spatula to flip sandwiches over and cook for 3 more minutes, or until the cheese melts.After 6 minutes, if cheese still isn't fully melted, add 1 tablespoon water to the pan/griddle, then cover the pan with its lid (or use a griddle dome lid) to create steam. This will help the cheese to melt quickly.
Notes
For the best results, toast the sourdough slices before assembling and grilling the sandwiches. Toasting prevents the bread from becoming soggy in the pan. Also, it promotes even melting and adds to the overall crispiness and golden color you want in the perfect grilled cheese sandwich.
Nutrition
Serving: 1sandwich | Calories: 770kcal | Carbohydrates: 68g | Protein: 35g | Fat: 40g | Saturated Fat: 23g | Polyunsaturated Fat: 3g | Monounsaturated Fat: 11g | Trans Fat: 1g | Cholesterol: 109mg | Sodium: 1743mg | Potassium: 253mg | Fiber: 3g | Sugar: 7g | Vitamin A: 1136IU | Calcium: 867mg | Iron: 5mg
PIN THIS POST!