When the summer heat kicks in, nothing is quite as satisfying as a quick pesto tortellini salad! This light summer pasta salad bursts with fresh Italian flavors, is easy to make, and ideal for picnics, potlucks, and BBQ cookouts. Whether you serve it warm or cold, this delicious meatless meal is perfect as an entree or side dish.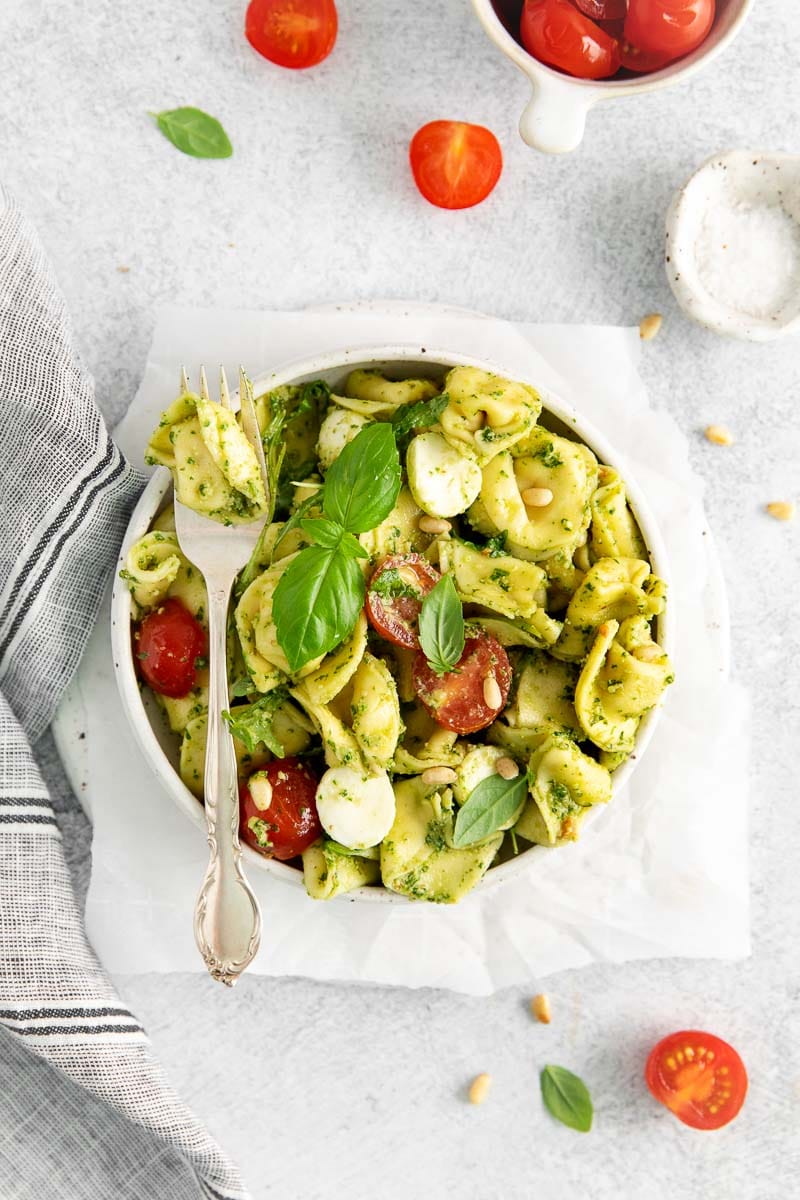 Great Reasons to Make Pesto Tortellini Salad
A combination of 3 favorite Italian recipes.
Nobody can resist this meal of tender cheese-filled pasta mixed with fresh caprese ingredients, and a zesty, flavor-packed pesto sauce!
Delicious at room temperature or cold.
This makes it great for taking on the go, or for making in bulk for lunches throughout the week.
It's a quick way to enjoy authentic Italian flavors.
Like our Tuscan bean salad, this tortellini pasta salad takes less than 30 minutes to make, and it has lots of bright and light Italian flavors! We love the caprese ingredients in this salad, especially in the summer months.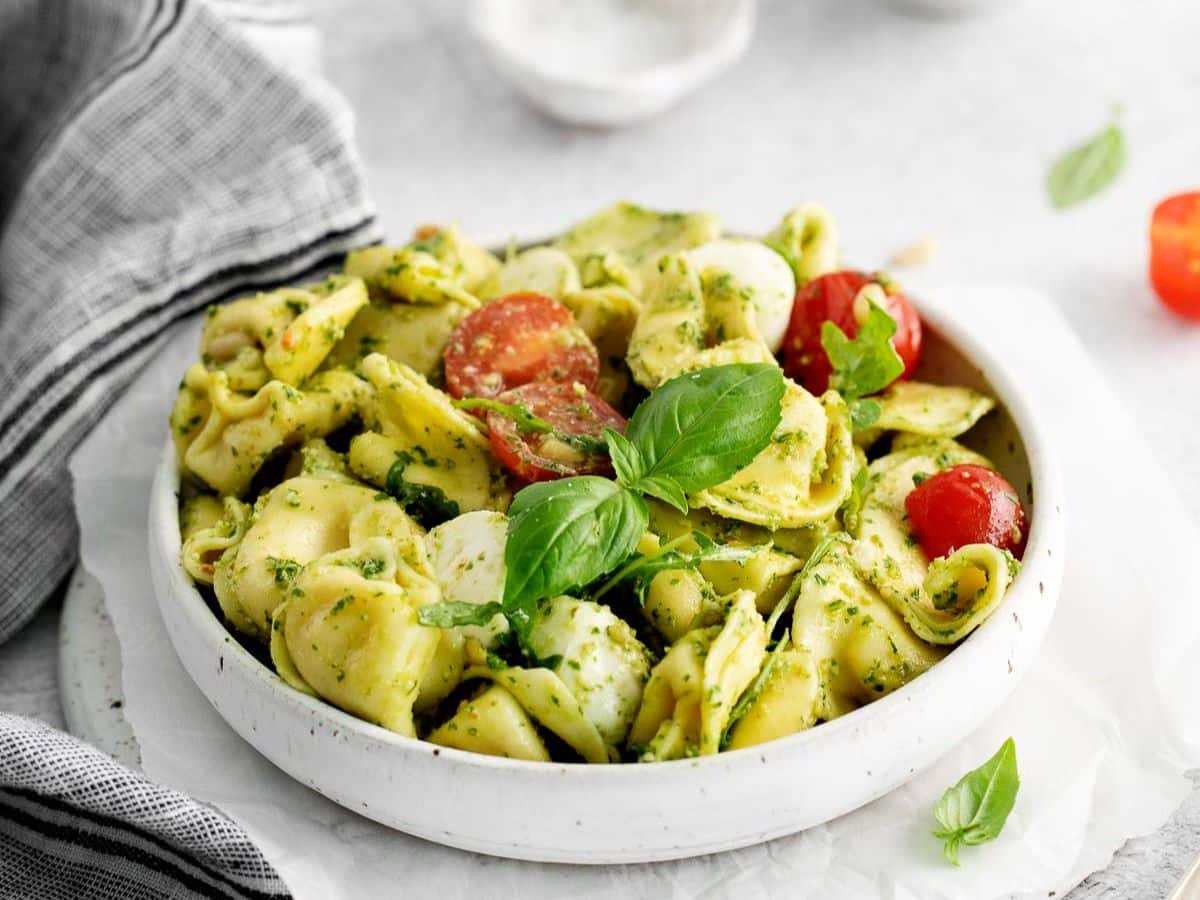 Looking for other easy caprese dishes?
You can't beat garden-grown tomatoes, basil, and fresh mozzarella. Use them to make simple caprese skewer appetizers, or for another easy dinner idea, consider making chicken caprese pasta!
Ingredient Notes and Substitutions
For the Pesto Sauce
Basil – If possible, avoid substituting this ingredient in the pesto sauce, but if you have to use something else, either Italian flat leaf parsley or baby spinach will work.
Parmesan – The saltiness of this cheese makes it the best choice . Pecorino is the best alternative.
Toasted Pine Nuts – Walnuts are a great substitute, and of course, if you have a nut allergy, it's fine to make the sauce without nuts.
Extra Virgin Olive Oil – For the best flavor, you can't beat this high quality oil. It can be pricey though, so use regular olive oil if you need to.
For the Pasta Salad
Tortellini – We like to use the cheese-filled variety to keep the meal meatless and vegetarian, but any filling works. Also, fresh tortellini has the best flavor, but frozen works just as well, and is often less expensive than fresh pasta.
Mozzarella Pearls – These are small balls of fresh mozzarella, sold in a plastic container with brine, to keep them fresh and moist. If you can't find the tiny ones, larger mozzarella balls are fine – just cut them into small, bite-sized pieces.
Cherry Tomatoes – These or grape tomatoes are preferable to larger, watery tomatoes. Halve them so that they're easy to eat alongside the pesto pasta salad.
Meal Prep Tips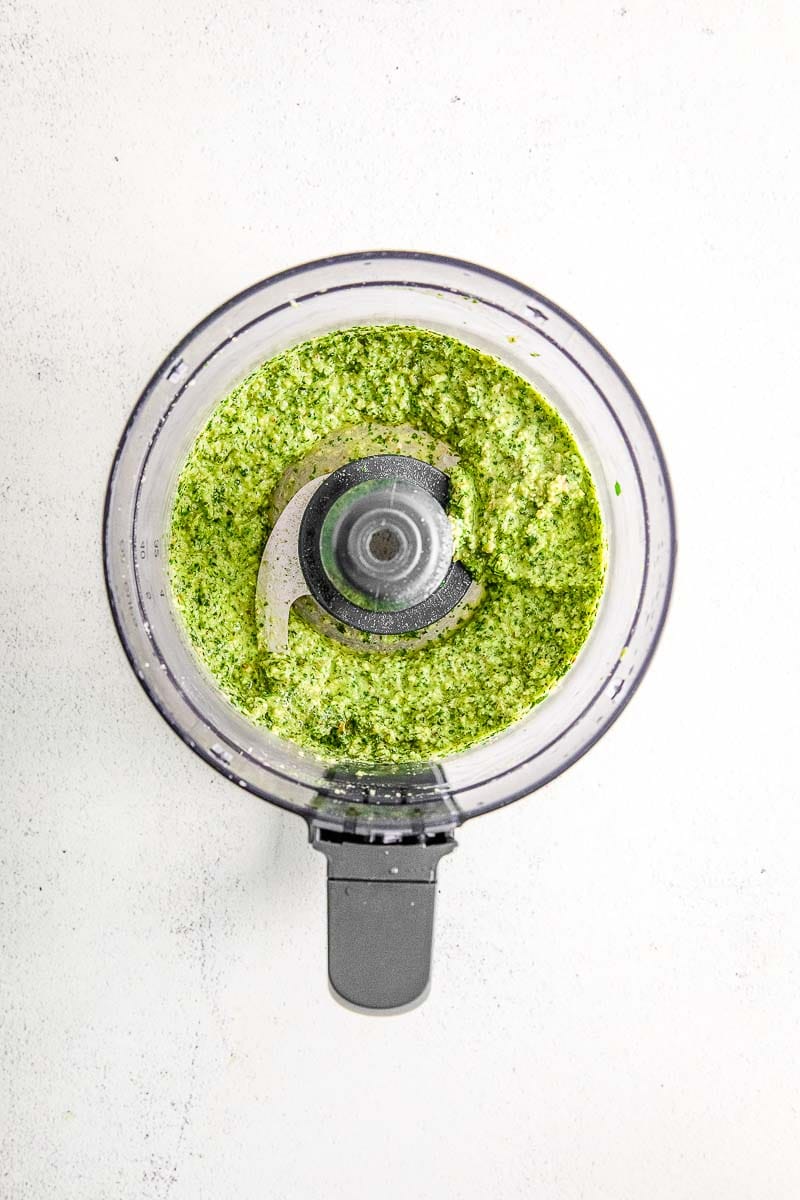 Use a food processor to make a quick pesto sauce.
There's simply no way to get a smooth sauce without a food processor, or a high speed blender.

We have some other helpful tips for making a pesto sauce in our pea pesto salad recipe post. Check there for info on toasting pine nuts, and how to create the best citrus flavors in your sauce.
Drain and shock the pasta to stop the cooking process and cool it down.

After you cook the tortellini, you'll want to cool it down before mixing it with pesto. Rinsing it with cold tap water will prevent it from over cooking.

To avoid watering down the tortellini, another option is to transfer it to a metal mixing bowl, then set that bowl inside of an ice bath.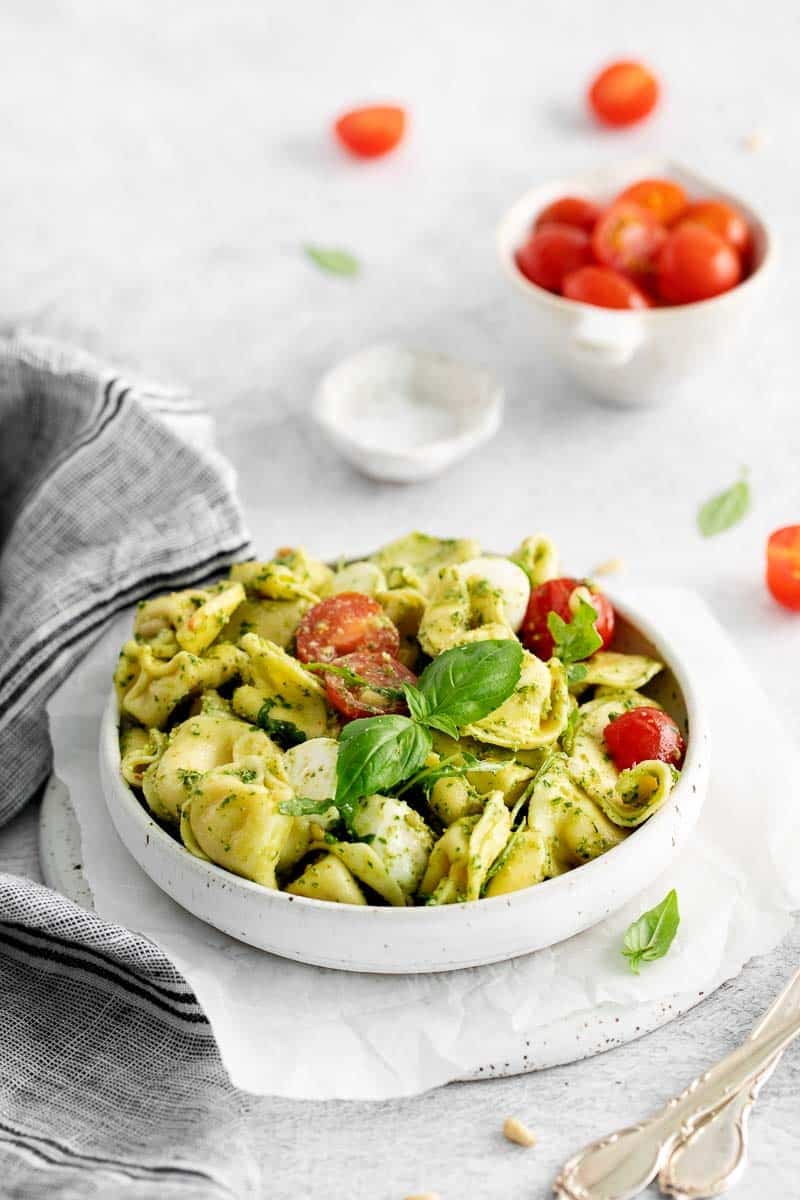 Tortellini Pasta Salad Variations
Include some protein – Pesto tortellini is a nice light meal as-is, especially during the summertime. To make a heartier, more protein-packed meal, consider adding grilled chicken nuggets, tofu, shrimp, or another protein of your choice.

Or, you could just make our salmon pesto pasta!
For a lighter take without the pasta, our caprese flatbread is a great choice — and it has a drizzle of balsamic glaze! Actually balsamic vinegar is a great way to introduce a bit of sweetness to tortellini pasta salad as well.
Frequently Asked Questions
Can you eat tortellini with pesto cold?
Absolutely! Many people enjoy and prefer pesto pasta when it's chilled.

It's quicker and easier to enjoy at room temperature, but the firmness of the pasta and thickness of the sauce is most delicious when cold. It's up to you!
Is pesto sauce healthy?
Pesto sauce is made with heart-healthy olive oil, garlic, and basil, so it is relatively healthy. However, it also contains parmesan cheese which is high in sodium.

If you are monitoring your salt intake, you may want to use less, or leave it out entirely.
Can you use dried basil in pesto tortellini salad?
Unfortunately, no. Dried herbs do not have the same bright flavor as fresh herbs. This is especially true with leafy herbs like basil. Also, be sure to use bright green leaves that are not wilted or brown.
Serving Suggestions
You can either serve the pesto tortellini pasta salad chilled or at room temperature. It doesn't keep as well when it's warm — just a few hours, due to the fresh mozzarella. So if you don't plan on serving it right away, keep it in the fridge until just before serving.
TFN Pro Tip for a Perfect Picnic Dish
Place your serving dish inside of a slightly larger dish filled with water, then place it in the freezer. This will create a form-fitted sheet of ice around the serving dish. Serve the pesto tortellini salad in that serving dish. This guarantees that your tortellini with pesto will stay cold for a lot longer!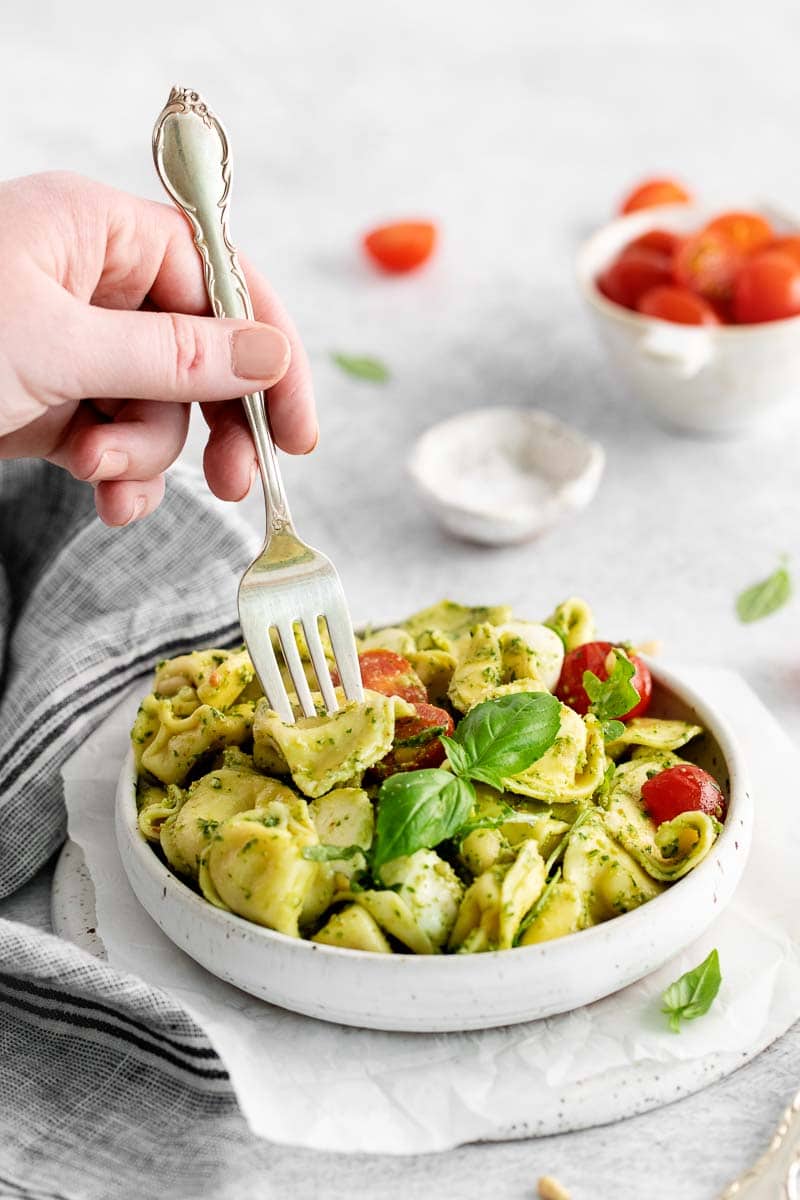 For Making and Serving Tortellini with Pesto, Renae Recommends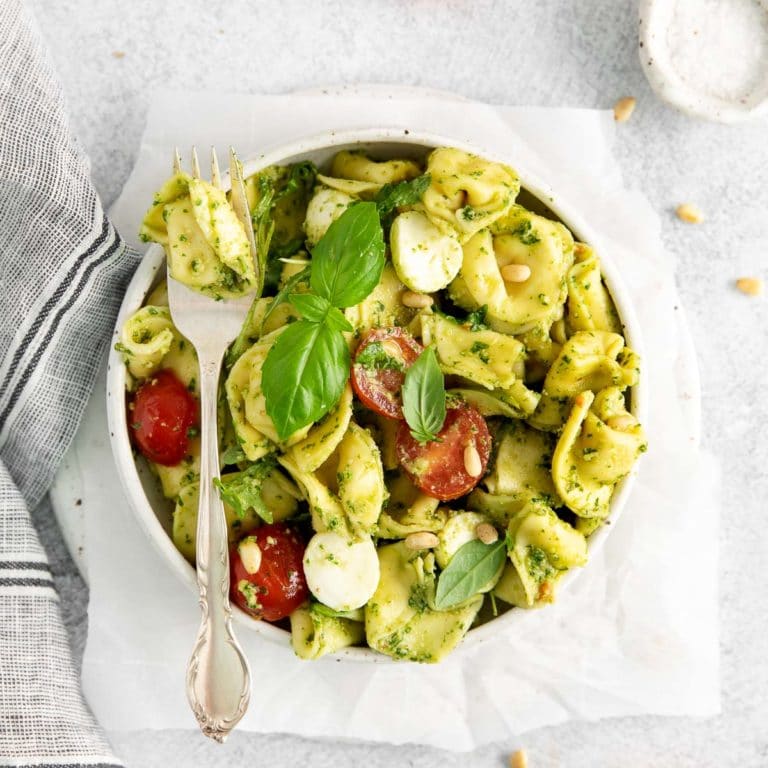 Quick Pesto Tortellini Salad
Pesto Tortellini Salad is a light, refreshing Italian dish for summer. Make our 20-minute recipe for an easy meal of tortellini pasta salad!
Equipment
food processor

6-quart stockpot

mesh colander or strainer

large serving bowl
Ingredients
For the Pesto Dressing
¼ cup toasted pine nuts
1 clove garlic peeled
2 tablespoons lemon juice juice of 1/2 lemon
2 cups fresh basil leaves tightly packed
2 ounces parmesan cheese grated (about 1/3 cup after grating)
⅓ cup extra virgin olive oil
For the Tortellini Salad
16 ounces cheese tortellini fresh or frozen
1 ½ cups arugula
½ pint cherry tomatoes halved (about 1 cup)
8 ounces mozzarella pearls drained *see Notes
¼ cup toasted pine nuts
fresh basil for garnish
Instructions
For the Pesto Sauce
Add the pine nuts, garlic, and lemon juice to the bowl of a food processor and pulse until they are finely chopped.Add the basil leaves and parmesan cheese and pulse again, until the basil is finely chopped.

With the food processor running on low speed, slowly drizzle in the olive oil. Pulse until the sauce is smooth and well combined, scraping down the sides of the bowl if needed.

Set aside until ready to use.
For the Tortellini Salad
Cook the cheese pasta according to the package directions. Cooking times will vary.

Drain the tortellini and run it under cold water until it is no longer warm to the touch – about 30 seconds.

Add the pasta to a large serving bowl. Add the pesto and stir gently to coat the pasta with pesto.

Add the arugula, tomatoes, mozzarella and pine nuts. Stir to combine and season with salt and pepper, to taste.

Enjoy immediately or store in an airtight container in the fridge for up to three days. This pasta salad is equally delicious at room temperature as it is chilled.
Notes
Substitutions and Tips:
Pine Nuts -You can swap out the pine nuts for walnuts, or omit the nuts completely if needed.
Lemon Juice -Using freshly squeezed lemon juice is best.
Pasta -This recipe calls for cheese tortellini, but you can use any type of tortellini.
Arugula -You can substitute baby spinach leaves for the arugula.
Fresh Mozzarella Balls – Fresh balls are different from blocks of mozzarella cheese. Look for pearl mozzarella balls (these are the smallest size), sold in a plastic container with brine. If you can't find pearls, cut larger sized mozzarella balls into smaller pieces.
Nutrition
Serving: 1serving | Calories: 273kcal | Carbohydrates: 6g | Protein: 8g | Fat: 26g | Saturated Fat: 5g | Polyunsaturated Fat: 5g | Monounsaturated Fat: 11g | Cholesterol: 11mg | Sodium: 115mg | Potassium: 294mg | Fiber: 1g | Sugar: 3g | Vitamin A: 973IU | Vitamin C: 22mg | Calcium: 170mg | Iron: 2mg
PIN THIS POST!