Our copycat Chick Fil A grilled nuggets are a dream come true — a homemade recipe that's as good as the fast food original! This is an overnight recipe with a brining process that gives these grilled chicken nuggets plenty of flavor and juiciness. Grab our tips and Chick Fil A© recipe, then make it for your family. You won't regret going the extra mile!
Why We Love Chick Fil A Grilled Nuggets
It's a kid-friendly meal that satisfies all fast food cravings.
This easy grilled chicken recipe is one the kids go crazy for, and you get to skip the drive-thru. Heck, you can even enjoy them on Sundays, when Chick Fil A is closed!
They're a whole lot healthier than regular breaded chicken nuggets!
With no added oils or breading, you can snack on these knowing that they're better for you.
They can be frozen and made in bulk.
Busy parents or professionals that love a quick lunch or dinner can make several batches of these to freeze and reheat later on!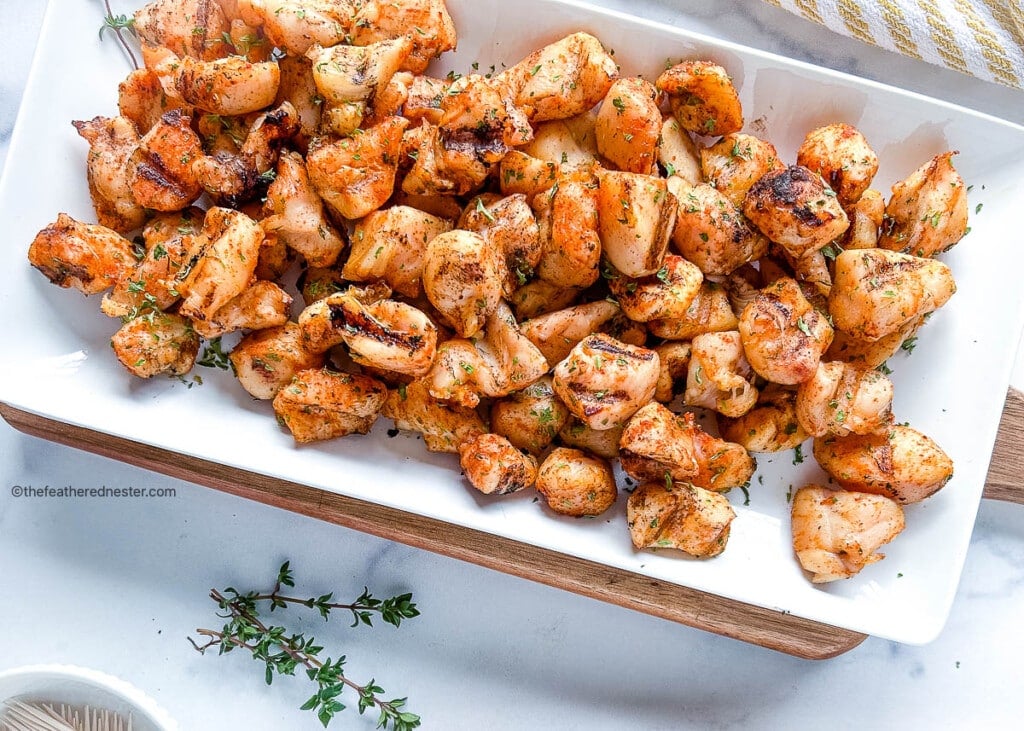 Grilled Chicken Nuggets FAQ
Does Chick Fil A use pickle juice to brine their nuggets?
This was a very popular rumor a couple of years ago that turned out to be false. There is vinegar in their brine, but there are no pickles involved in Chick Fil A grilled nuggets!
Are grilled chicken nuggets healthy? Are grilled chicken nuggets healthier than fried?
Grilled chicken is one of the leanest, healthiest proteins out there. However, we're adding additional salt to the meat by way of brining, then brushing it with oil before grilling. So while they are still relatively healthy, there is the oil and salt to be considered.

But Chick Fil A grilled nuggets are absolutely healthier than deep fried or even breaded nuggets! There is way less oil involved, and no carbohydrates in the form of breading.
Ingredient Notes and Substitutions
Chicken Tenders – One easy way to save money is to go ahead and purchase the whole chicken breast, then cut it into tenders. Whichever you choose to purchase, you'll need a total of 1.5 pounds of meat.
Kosher Salt – Not table salt! Table salt leads to a murky brine full of additives. Table salt is also much saltier.
Paprika – For a spicier flavor closer to what you might get in the spicy nuggets, replace half of the paprika with cayenne.
Oil – The original Chick Fil A grilled nuggets have peanut oil brushed over the surface of the meat. Some other good options are avocado, sunflower, and olive oil.
The Purpose of Brining
So why go through the trouble of brining? And how is it different from a simple dry rub or chicken marinade?
Brining is all about tenderizing and moisturizing and flavoring the meat. To explain it simply, as the meat sits in the salty water, the salt is chemically drawn to the less-salty meat. The meat is literally flavored from the inside out!
Not only that, but the salty brining liquid actually helps the meat hold onto moisture and stay juicy after it cooks. It's a two-for-one!
In comparison, marinades are mostly for adding flavor — they do not tenderize or provide moisture to the food as well as a brine does.
Chick Fil A Grilled Nuggets Recipe Tips
1. Prep the brine ahead of time, but don't over-brine the chicken.
The brining liquid can be prepared and refrigerated for up to 7 days in advance, which is very convenient.

However, do not brine the poultry for more than 12 hours. This is because the acidic ingredients will actually begin to break down the proteins in chicken if it's in contact with them for too long.
2. Dry the chicken before seasoning it.
This might seem like a step you can skip or be lazy with, but seasonings stick to dry poultry so much better than when the meat is wet.
So once you pull the chicken from the brine, rinse it off under cold tap water (to remove the excess salt). Then, pat it dry with paper towels.
Important Note
When you finish brining the nuggets, immediately discard any leftover brine. Most importantly, do not reuse it.
3. Grill nuggets on indirect heat.
Chicken nuggets are rather small and thin, so they can easily overcook and dry out.
We prefer grilling chicken nuggets on indirect heat, which cooks them properly, but without heating them up too fast. Grilling small pieces of meat over direct heat can burn the outside while leaving the center raw or undercooked.
Good Dipping Sauces for Grilled Nuggets
There are endless options here! Aside from the always popular buttermilk ranch dressing, some of our favorite dipping sauces to serve with Chick Fil A grilled nuggets are:
Storing and Reheating
Leftovers will keep for up to 4 days in the refrigerator. If you are inclined to make yours in bulk, you can always freeze and reheat with little to no change in texture and flavor. Freeze for up to 4 months in a freezer-safe bag, pressed to remove any excess air.
A quick bake in the oven is a good way to reheat without drying out the meat. Lay them on a baking sheet in a single layer and bake until just warmed through. Another brushing of oil can help keep them moist while reheating.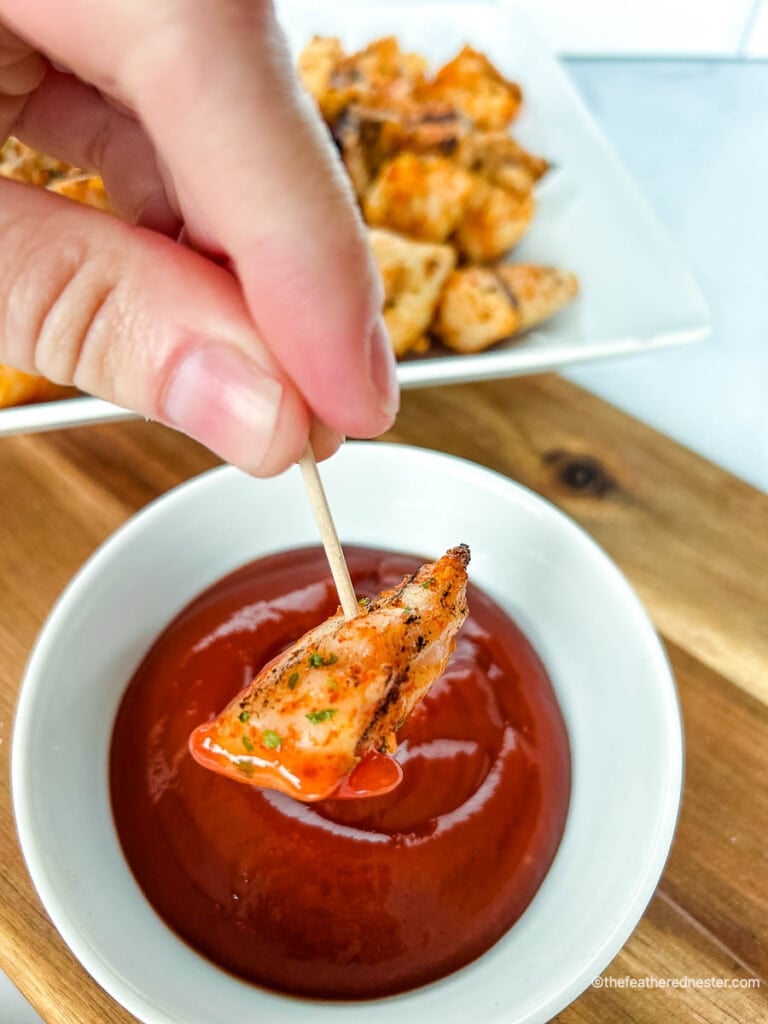 To Make Our Grilled Chicken Recipe, Renae Recommends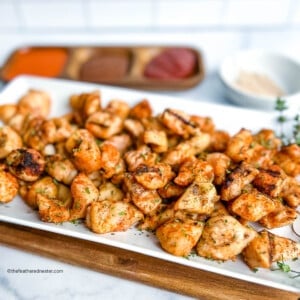 Better Than Chick Fil A Grilled Nuggets
Chick Fil A grilled nuggets are brined and seasoned for deliciously juicy bites. Use this copycat recipe to grill chicken nuggets at home!
Equipment
gallon size Ziploc bag

stock pot

grilling tongs
Ingredients
For Brine
2 cups water
2 tablespoons kosher salt (do not use table salt)
2 tablespoons sugar
½ onion sliced
2 garlic cloves crushed
½ lemon zested and juiced
For Chicken Nuggets
1 ½ pounds chicken tenders
1 teaspoon paprika
1 teaspoon dried parsley
1 teaspoon kosher salt
1 teaspoon garlic powder
1 teaspoon onion powder
2 tablespoons oil
Instructions
Add water, salt, sugar, sliced onion, garlic cloves, and juice of 1/2 lemon in a large sauce pan over medium heat. Bring to a simmer and cook 3-5 minutes, until sugar is dissolved. Remove from heat and let the brine cool completely (about 30 minutes).

Meanwhile, cut each chicken tender into 3-4 bite sized pieces (depending on their size).

Add the chicken nuggets and cooled brine to a Ziploc bag or large container. Press out the excess air from the Ziploc bag before sealing (or make sure the chicken is completely submerged in brine in container before covering with lid).

Refrigerate for 8-24 hours. *Important Note: Do not brine chicken for longer than 24 hours.

Using a colander, drain brine from the nuggets, then rinse nuggets with cool water. Use paper towels or a clean kitchen towel to pat chicken completely dry before seasoning.

Oil the grill grates (or perforated grilling pan) to prevent sticking. Preheat the grill to 350ºF.

Mix the paprika parsley, kosher salt, garlic powder, and onion powder together in a small bowl.

Place chicken on a baking sheet or perforated grilling pan, brush with oil and season on both sides.

Using indirect heat, grill the chicken for 5-6 minutes, then flip nuggets over and cook another 5-6 minutes. Check the internal temperature of a couple of grilled nuggets to ensure it is 165ºF before removing them from the grill.
Notes
The brine can be prepared and refrigerated for up to 7 days in advance. However, do not brine chicken for longer than 12 hours. Dispose of all brine and do not reuse it. Good Dipping Sauces for Chicken Nuggets
Nutrition
Serving: 4 ounces | Calories: 197kcal | Carbohydrates: 7g | Protein: 24g | Fat: 8g | Saturated Fat: 1g | Polyunsaturated Fat: 2g | Monounsaturated Fat: 4g | Trans Fat: 0.03g | Cholesterol: 73mg | Sodium: 2850mg | Potassium: 461mg | Fiber: 1g | Sugar: 5g | Vitamin A: 62IU | Vitamin C: 8mg | Calcium: 18mg | Iron: 1mg
PIN THIS POST!