This Balsamic Chicken Marinade is made with vinegar, honey, and spices, and comes together in just minutes. It's the perfect quick and easy weeknight meal!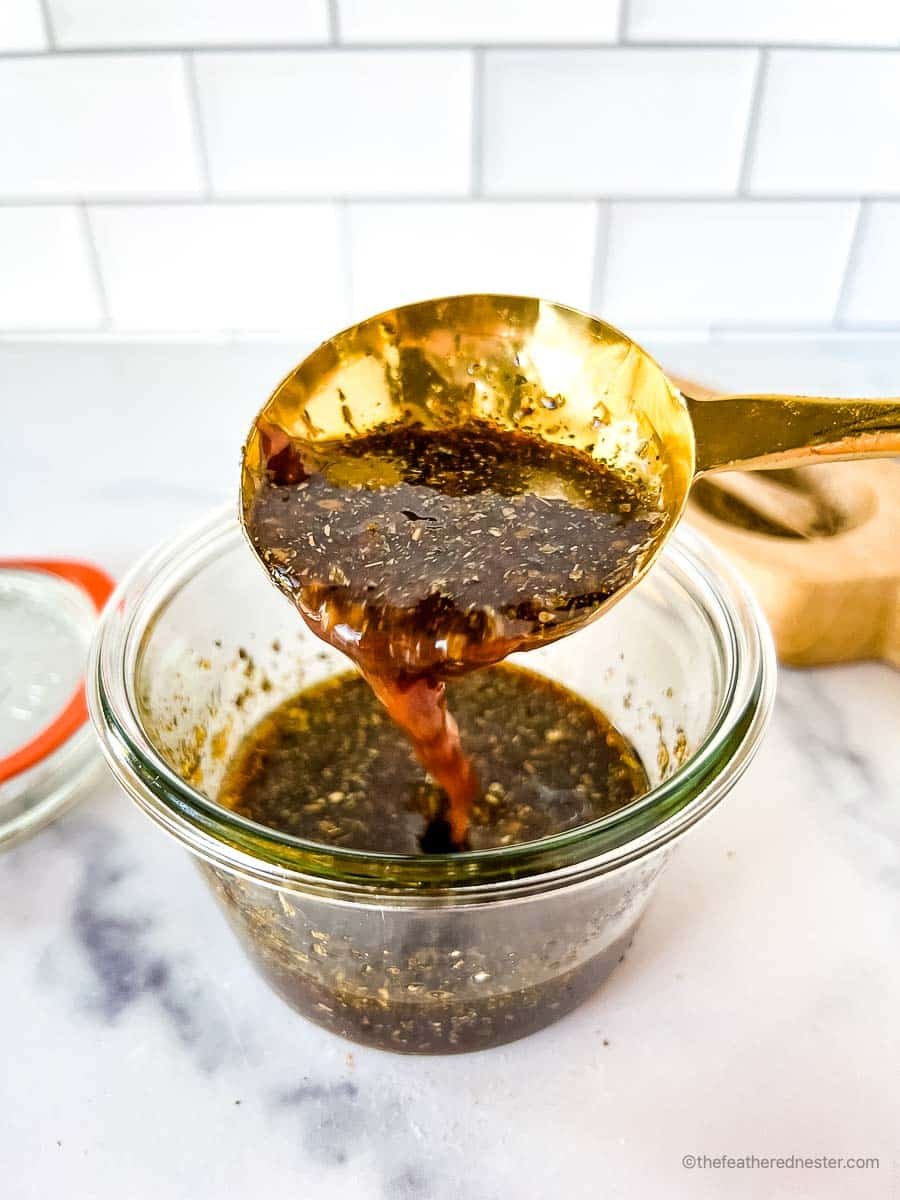 The honey in the marinade gives it a touch of sweetness, while the vinegar provides a nice tangy flavor. Made with just a few simple ingredients, it's perfect for grilled or baked chicken.
What is Balsamic Chicken Marinade?
This recipe is simple to make and only requires a few ingredients.
It's ideal for any recipe that calls for marinating chicken first. Whether grilled, baked, or seared in a skillet, it will give a delicious flavor!
This pairs well with honey for a tangy sweetness, while the garlic and spices deepen the flavors.
The best thing about this dish is that it's so versatile. You can use it for any cut of chicken, whether breast meat, thighs, or drumsticks. And you can adjust the amounts of vinegar and honey to suit your taste.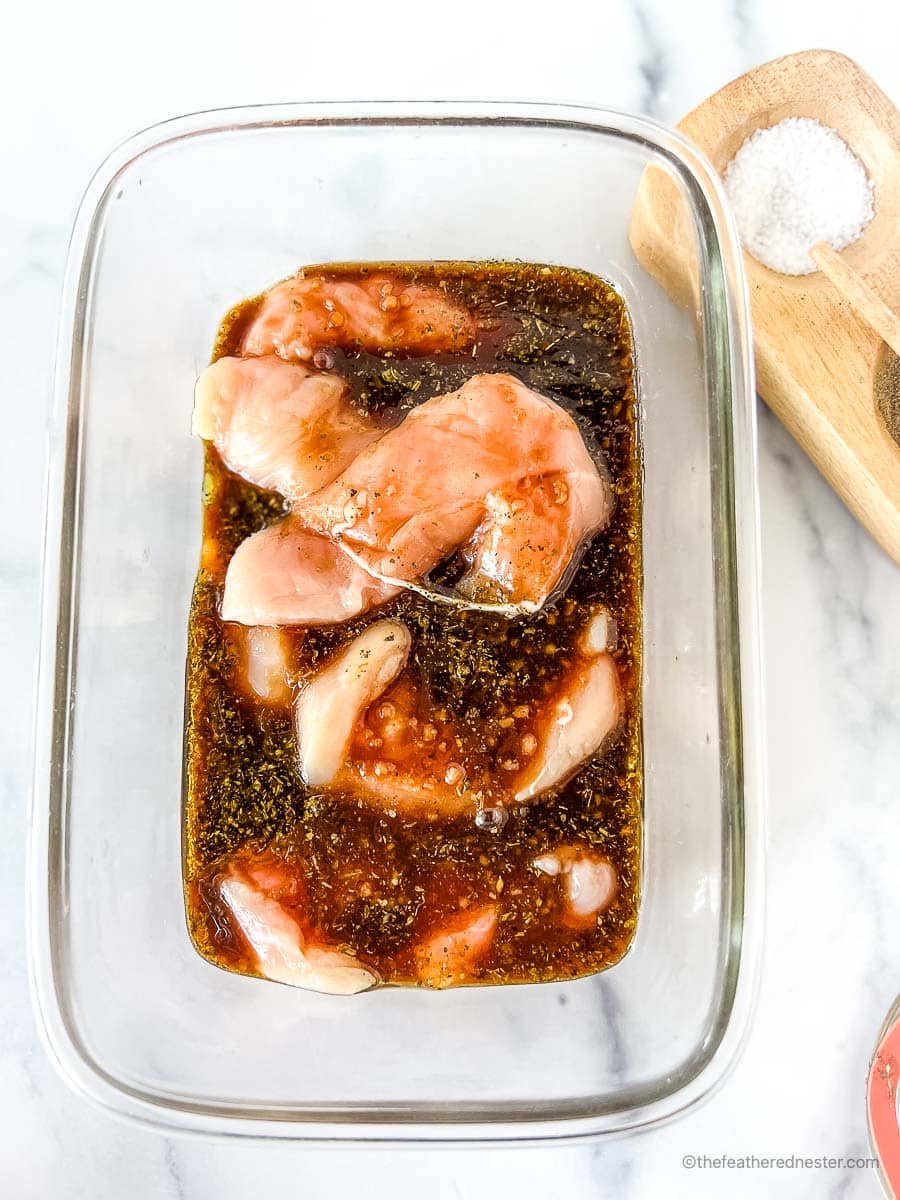 Ingredients and Substitutions
Liquid – There are 3 liquids used in this recipe. We used balsamic vinegar, which has a distinct tart flavor. Honey provides sweetness, while Dijon mustard balances out the flavors. You can also use white balsamic vinegar for a milder flavor. Or swap out the honey for agave nectar or maple syrup.

Herbs – We used garlic, oregano, basil, salt, and ground pepper as they add an aromatic flavor. You can also use garlic powder instead of fresh garlic for a milder flavor.
Note: Roll the dried herbs between your fingers to crush them and release the oils.
Instructions
Mix the Ingredients. In a medium bowl, combine vinegar, olive oil, honey, Dijon mustard, garlic, oregano, and basil.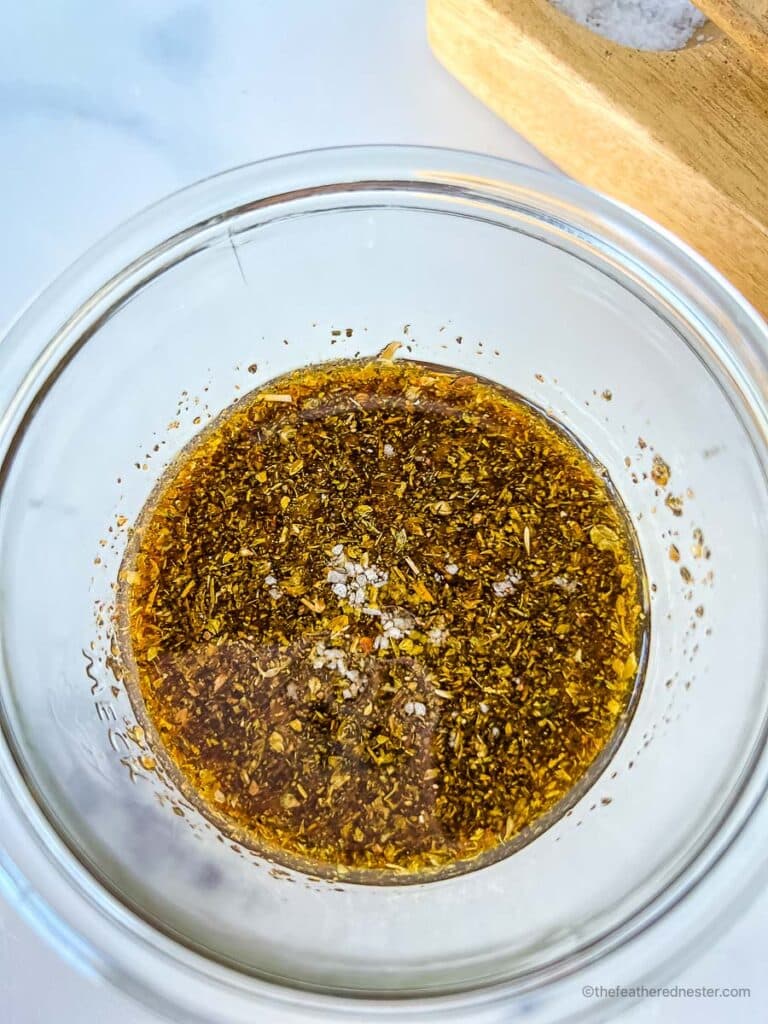 Whisk the Ingredients. Use a whisk and mix everything together until it's smooth. Season with salt and pepper to taste.
Taste. Give it a taste to see if you need to adjust the seasonings. Add more spices, vinegar, honey, or mustard to taste.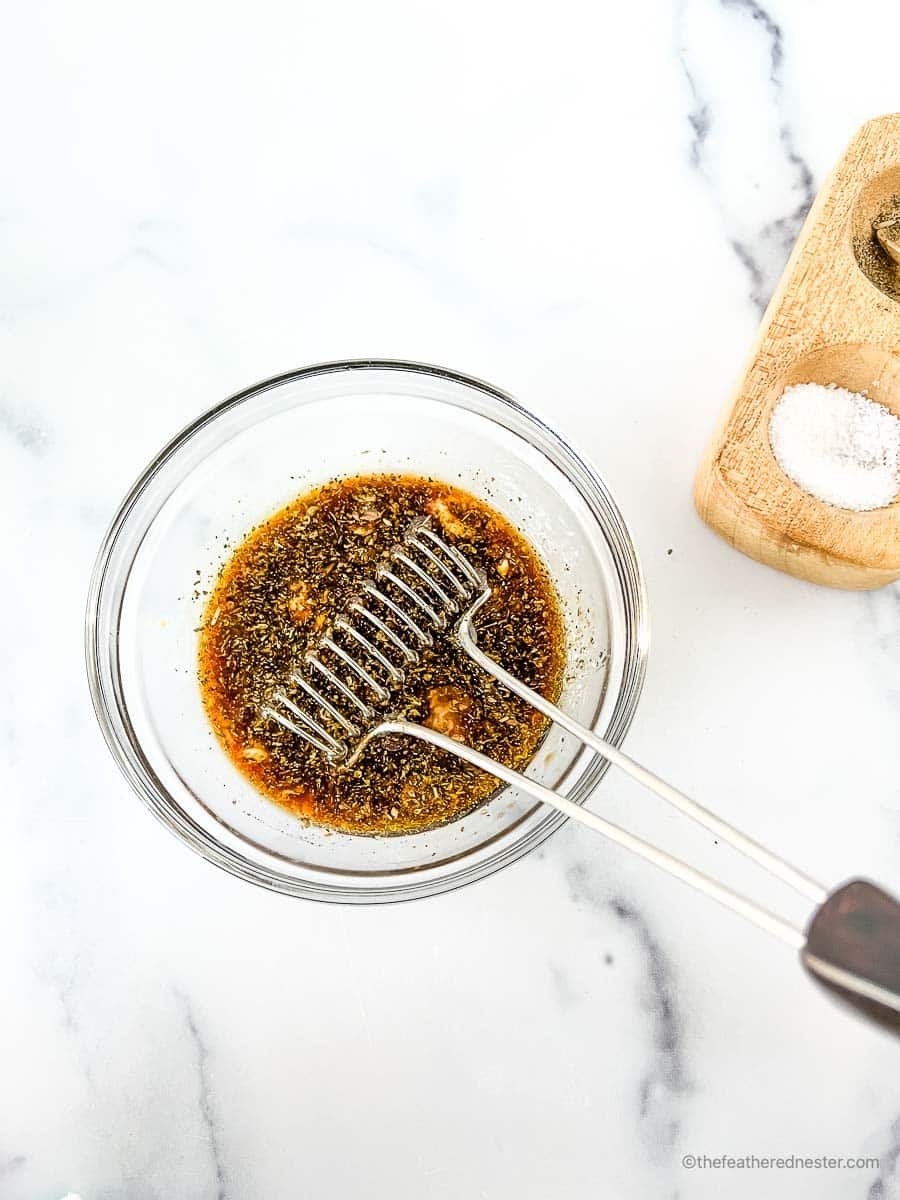 How to Serve
Once it's mixed, you can use it immediately or store it in the fridge for later.
If using immediately, place chicken in a large resealable bag and pour in the desired amount.
Seal the Ziploc bag, making sure to get all the air out. Gently massage the bag so the chicken is evenly coated, then put it in the refrigerator for 6-12 hours.
Use this as a make-ahead dinner: You can prepare it in the morning. Then, let the chicken marinate all day in the refrigerator. When it is time for dinner, it will be ready to cook.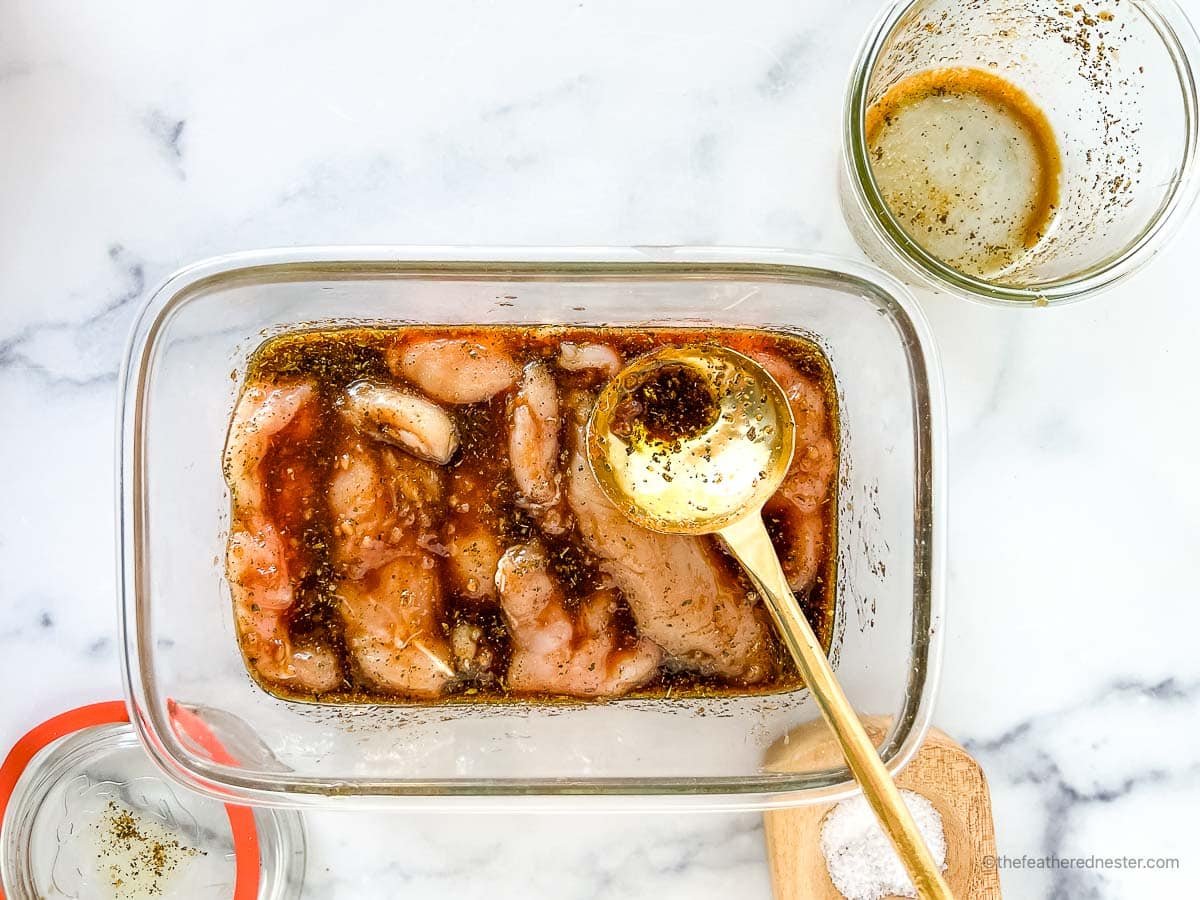 Recipe Variations
Add lemon juice for a fresh flavor.
Use breasts, thighs, or drumsticks.
For a spicier version, add cayenne pepper, red pepper flakes, or chili powder.
Use fresh herbs instead of dried ones for a more potent flavor.
How to Store
If you have any excess, unused honey balsamic marinade, put it in a sealed container and refrigerate for up to 5 days. Discard it as soon as you take the chicken out. Do not reuse it.
To freeze, just place it in a freezer-safe container and store it for up to six months.
When ready to use it, thaw it overnight in the fridge, then proceed with the recipe as normal.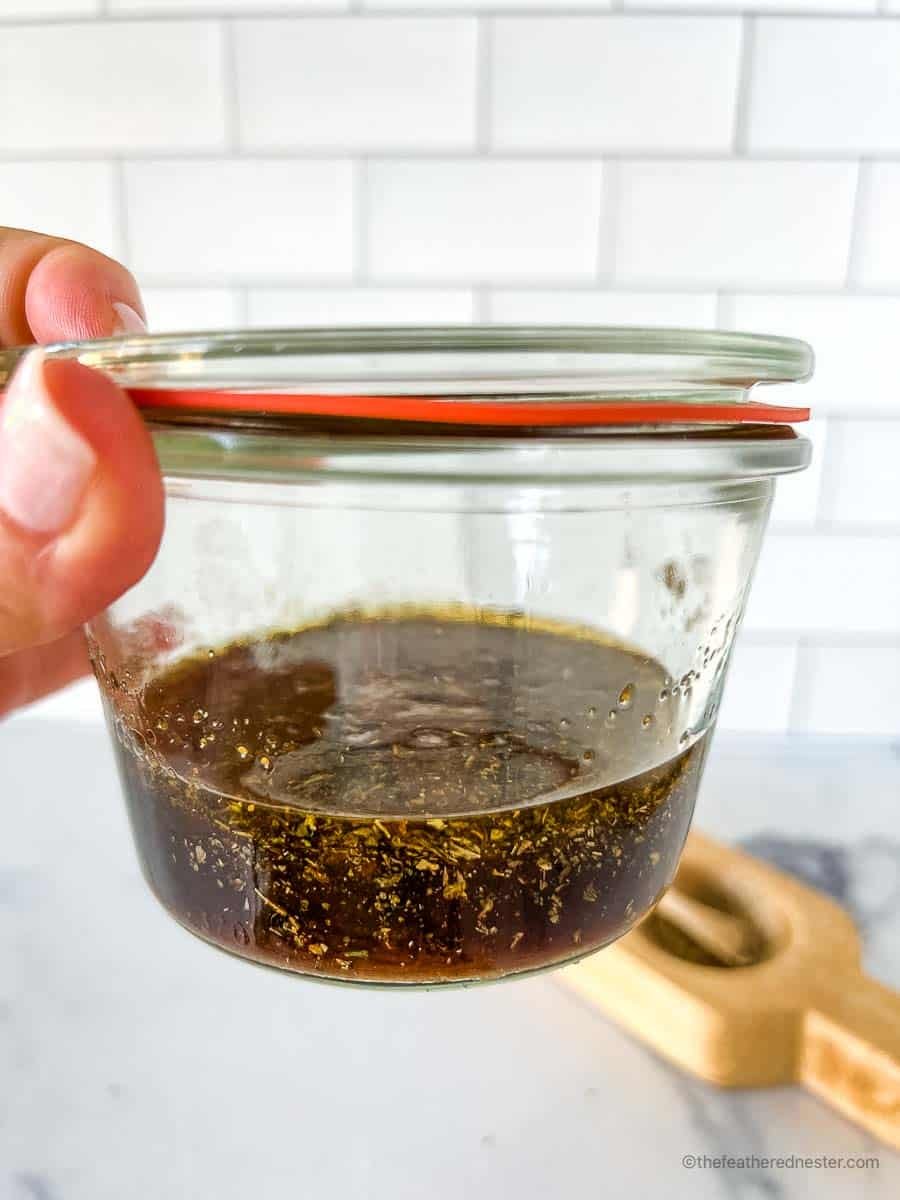 Frequently Asked Questions
How long can I safely marinade raw chicken in balsamic vinegar?
You can marinate for up to 12 hours. Any longer than that, the acid in the vinegar will start to break down the chicken, making it tough.
Do you rinse marinade off the chicken before cooking?
There's no need to rinse it before cooking. Rinsing could keep it from browning in the oven. Just pat it dry with paper towels, then continue with your recipe.
Can you cook chicken in the marinade?
No, you should not cook it in the marinade. The honey and sugar will burn when exposed to high heat.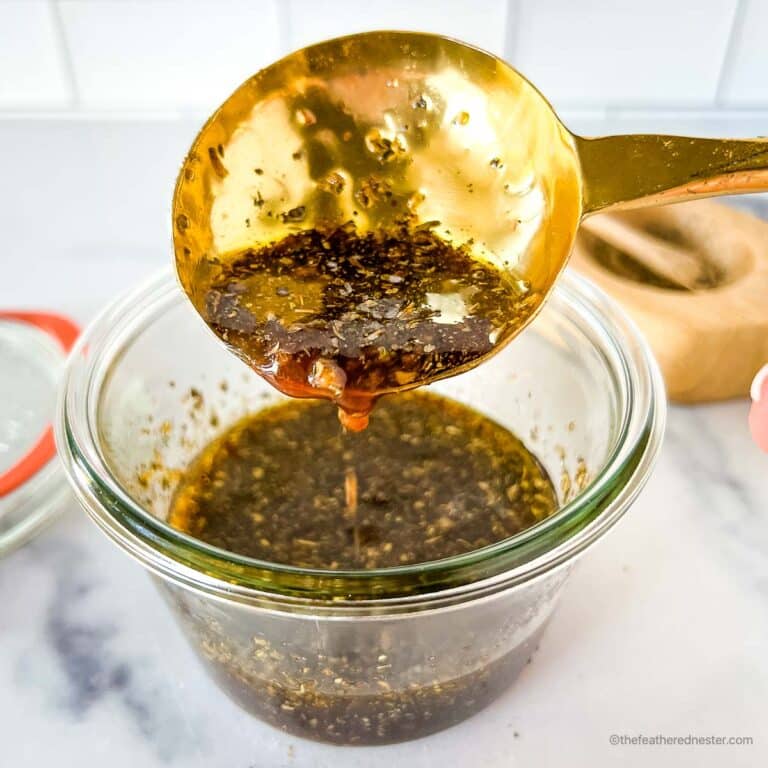 Balsamic Chicken Marinade
With balsamic vinegar, honey, and herbs, this balsamic chicken marinade recipe comes together in minutes to add sweet and savory flavors.
Ingredients
¼ cup balsamic vinegar (I like Costco's Kirkland brand)
2 tablespoons olive oil
2 tablespoons honey
1 tablespoon prepared Dijon mustard (I like Trader Joe's or Grey Poupon)
2 cloves garlic minced
1 teaspoon dried oregano roll the dried herbs between your fingers to crush them and release the oils
1 teaspoon dried basil roll the dried herbs between your fingers to crush them and release the oils
salt and freshly ground pepper white pepper is ideal
Instructions
Using a medium bowl, whisk together balsamic vinegar, honey, Dijon mustard, garlic, oregano, and basil. Add salt and pepper, to taste.

Marinade chicken pieces in this poultry marinade for 6-12 hours. Use this as a make-ahead dinner: prepare the marinade in the morning and marinate the chicken all day. Then, it's all ready when it's time to make dinner in the evening.
Notes
Dispose of the marinade as soon as you remove the chicken. Do not reuse marinade. To store any extra, unused marinade, place it in an air-tight container and refrigerate for up to 5 days.
Nutrition
Calories: 35kcal | Carbohydrates: 8g | Protein: 0.3g | Fat: 0.1g | Saturated Fat: 0.02g | Polyunsaturated Fat: 0.03g | Monounsaturated Fat: 0.1g | Sodium: 31mg | Potassium: 32mg | Fiber: 0.3g | Sugar: 7g | Vitamin A: 9IU | Vitamin C: 0.4mg | Calcium: 16mg | Iron: 0.4mg
PIN THIS POST!