This easy pork chop marinade has bright Asian flavors, with a bite from ginger that will tickle your taste buds! You can use this pork marinade recipe on steaks, chops, roasts, tenderloin, or any other meat of your choice.
What's a better way to prepare a tasty pork dish than with a marinade? This easy pork chop marinade recipe is all you need!
This marinade enhances the flavor of everything it touches and it also tenderizes the meat for a juicier, more flavorful experience.
Why We Love Our Easy Pork Chop Marinade
No fancy or expensive ingredients.
The ingredients are very simple, and even the substitutions are things you may already have in your pantry.

Versatile
This marinade is a multipurpose wonder! You can use it to add fantastic flavor to a roast, fish, seafood, and steaks, too.

Comes together in a snap!
All you have to do is combine the ingredients and let the pork marinate for at least an hour. No long prep time, so you can get dinner on the table fast!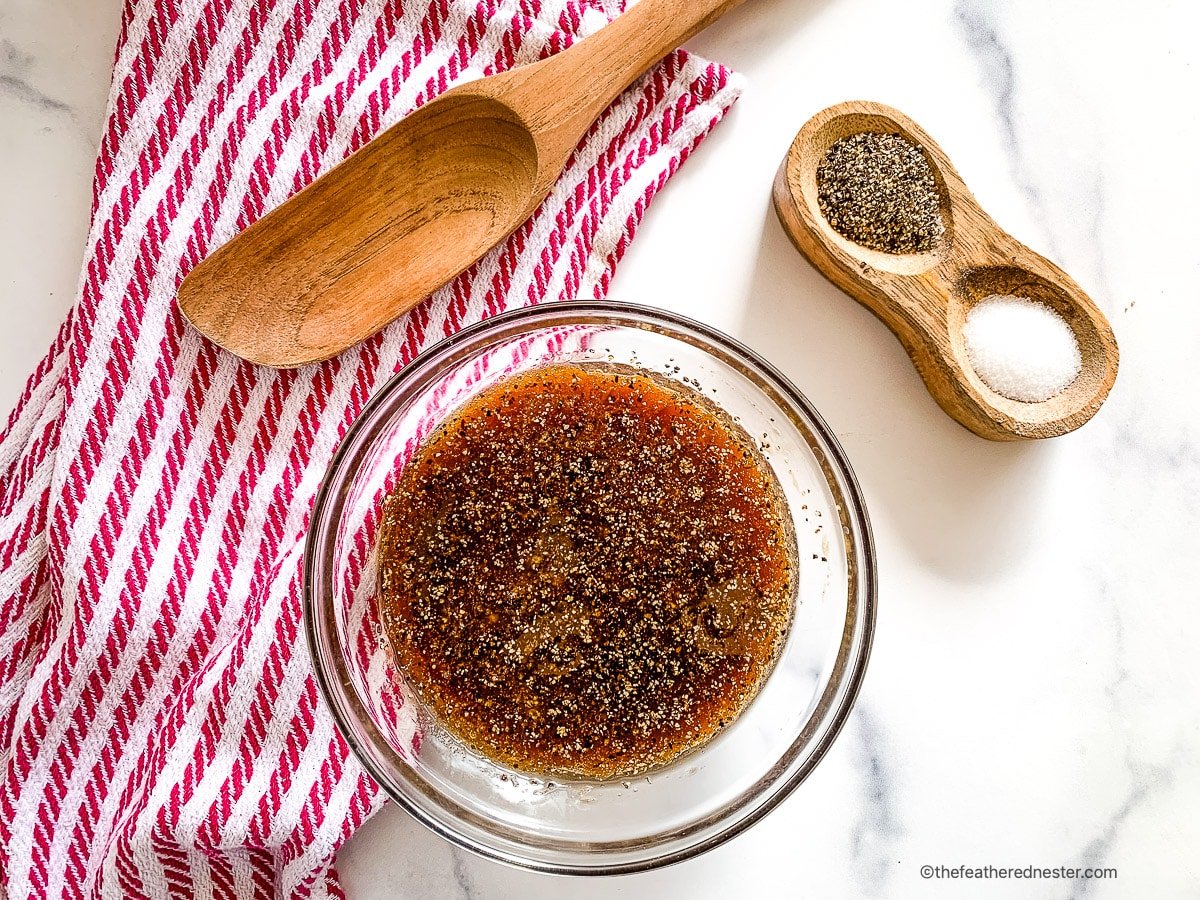 Ingredient Notes and Substitutions
Soy Sauce – this is the base of our marinade for pork, as it gives it a mellow, umami flavor that we want. Feel free to use low-sodium or regular soy sauce, whichever you prefer.

Ginger – this gives our marinade its signature zing, but if you don't have fresh ginger, you can substitute it with ginger paste or ground ginger.


Honey – this brings out the sweetness of the marinade and also helps to tenderize the pork. If you don't have honey, feel free to use brown sugar or maple syrup.

Seasoning – We used salt and black pepper to season our marinade. If you're using a regular soy sauce, you may want to leave out any additional sodium.
Essential Tools for Making Marinades
Pork Marinade Recipe Tips
Marinate the meat for at least an hour.
This will allow the flavors of the marinade to really sink in. For extra flavor, or to save time with your meal prep, you can let the pork marinate overnight in the fridge.

Let the pork sit at room temperature for 10-15 minutes before cooking.
This ensures that it cooks evenly, and also helps to create a nice sear on the pork chops.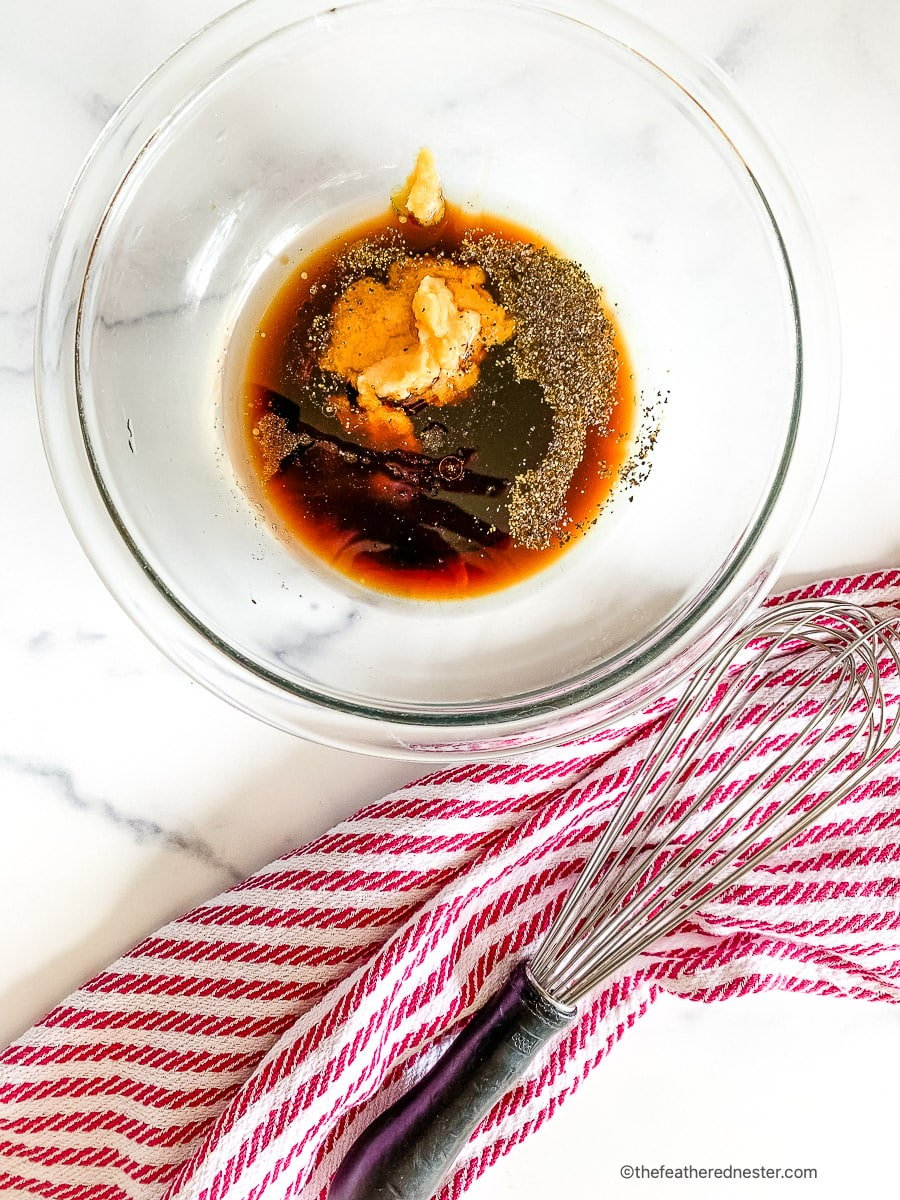 Use aromatics.
Adding garlic, scallions, and fresh herbs like rosemary or thyme can add a lot of flavors to your marinade. You can add them to the marinade mixture, or you can just sprinkle them on the meat before cooking.
Do not rinse the meat after marinating.
Rinsing off a marinade defeats the purpose, as the water will wash away most of the flavor.
Need Some Pork Dinner Ideas?

Try our Crockpot Ranch Pork Chops with a side of Easy Tater Tot Green Bean Casserole.

You can also make Juicy Baked Pork Steak with this marinade recipe.

Or, to warm up from the cold weather outside, make Instant Pot Pork Tenderloin With Potatoes and Gravy!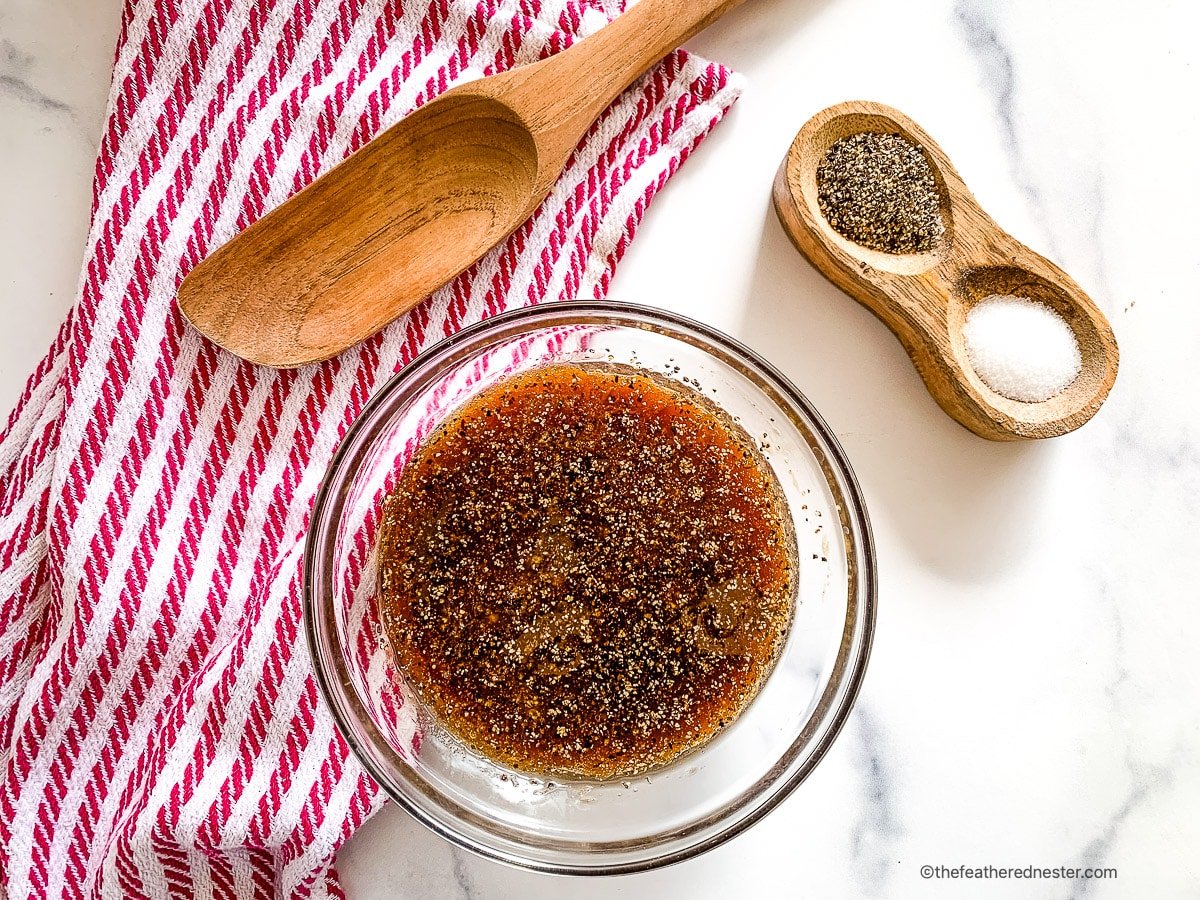 How to Store and Use Pork Chop Marinade
To store
Transfer your marinade to an airtight container and store it in the fridge for up to 5 days.
Freezing
If you want to make extra and use it later, this marinade for pork can be frozen for up to 3 months.
SPACE SAVING TIP
To save freezer space, store the Asian marinade in a freezer-safe Ziploc bag. Be sure to push out any air as you seal the bag. Then, lay the bag down flat in your freezer.
When you want to use your marinade for pork chops (or for any other use), transfer the bag to the fridge and let it thaw overnight.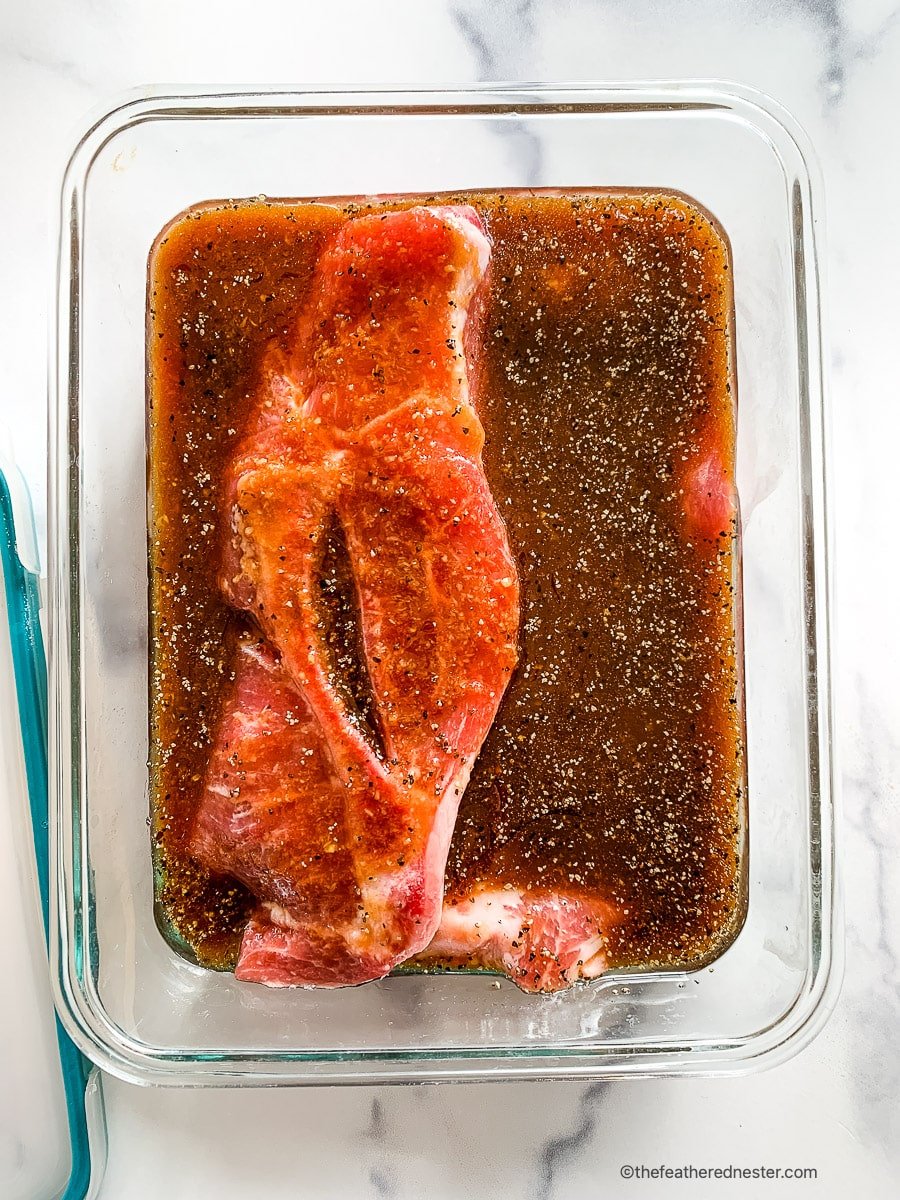 To use this easy marinade for pork chops, pour the mixture over the meat and marinate in the fridge for at least an hour.

Any leftover marinade that didn't touch the raw meat can be used to baste the pork while it's cooking. We usually set aside 1/4 cup or so to use for basting.
IMPORTANT NOTE
To prevent the risk of serious food poisoning, never reuse pork chop marinade, and don't serve it as a sauce or dip either.

When you are finished marinating and basting, immediately toss any remaining liquid into the trash.
Pork is safe to eat when the internal temperature at the thickest portion of the meat reaches 145ºF.
For an accurate reading, be sure that thermometer probe isn't touching any bones.

Always let the meat rest for five minutes before serving. This prevents the juices in the meat from running out… For the juiciest pork, you want those juices to stay inside!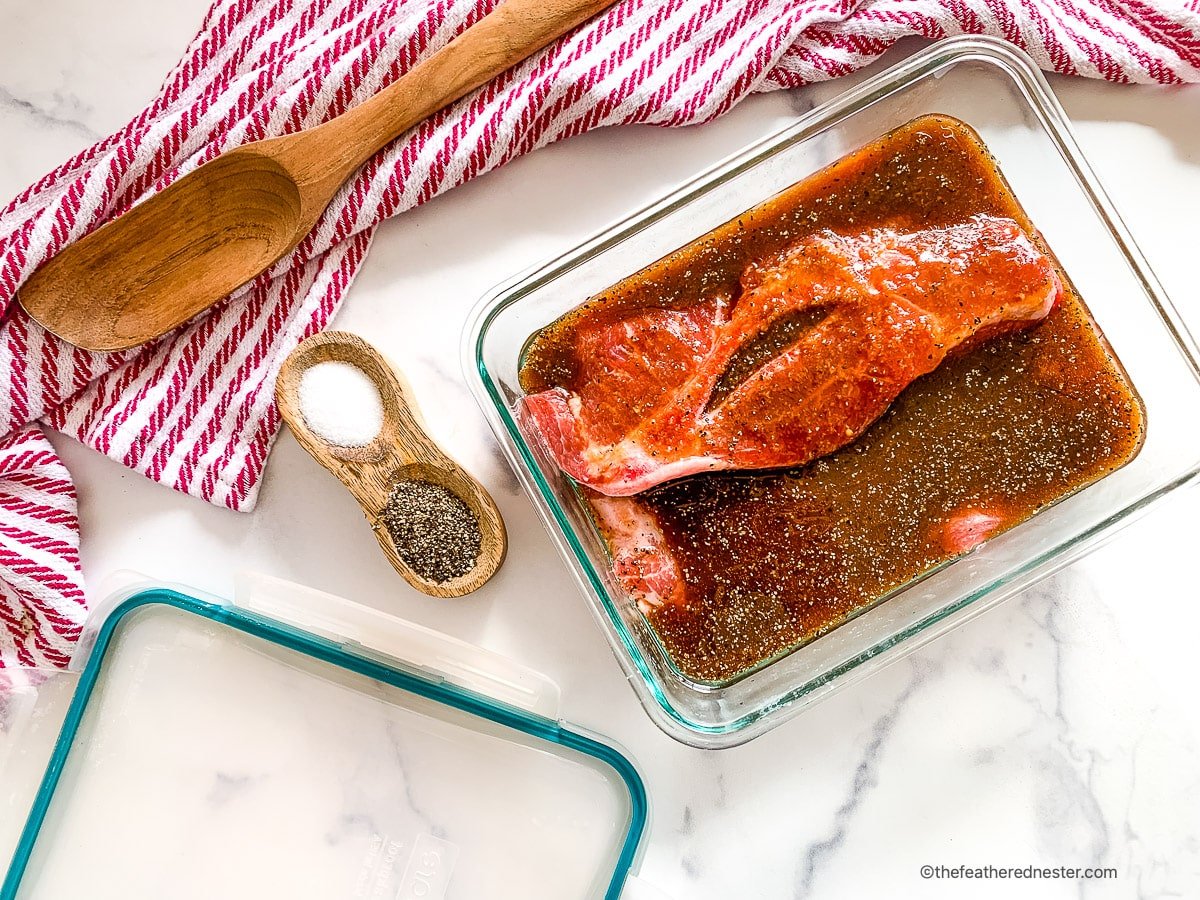 If you love flavorful marinades, the next time you make chicken for dinner, make this Balsamic Chicken Marinade. Your taste buds will thank you 🙂
Oh, and be sure to bookmark or print this easy pork chop marinade recipe. We have a new post coming soon, for baked pork steaks, and it's delicious with this!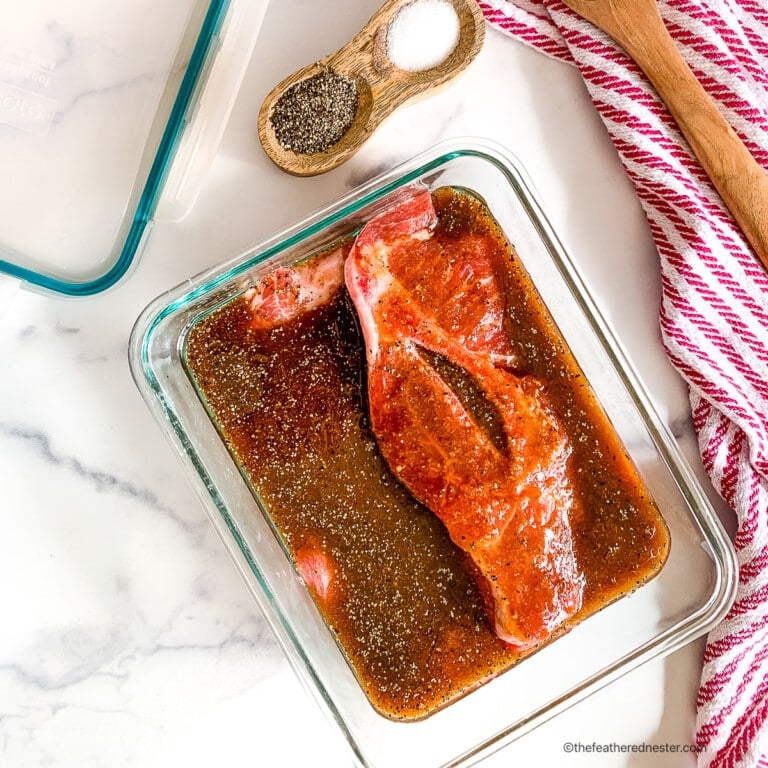 Easy Pork Chop Marinade
Our easy pork chop marinade has bright flavor, with a bite of ginger. You can use this pork marinade recipe on roasts, tenderloin or chops.
Equipment
1 small mixing bowl

1 glass measuring cups
Ingredients
⅓ cup low sodium soy sauce or regular soy sauce
⅓ cup olive oil
2 tablespoons honey
1 tablespoon finely grated ginger root (1-inch piece) *See notes for substitutes
1 teaspoon black pepper
1 teaspoon salt omit if using regular soy sauce
Instructions
Marinate the steaks
Add all ingredients to a small mixing bowl. Whisk well to combine.

Add pork to a gallon sized food storage bag or a large container with a lid. Pour marinade over the meat.Seal bag or close container, then transfer to the refrigerator. Marinate the pork for at least 30 minutes and up to 8 hours.

Before cooking the meat, drain and discard all of the marinade. Do not reuse or consume used marinade.
Notes
If fresh ginger is unavailable, substitute fresh with 1 tablespoon ginger paste or 3/4 teaspoon ground ginger.
This pork marinade recipe will give you 1 cup of liquid, which is enough to marinate about 2 pounds of meat. For larger cuts of meat, the recipe be doubled or tripled.
*nutritional facts shown are for 1/2 of the marinade recipe
Nutrition
Serving: 1serving | Calories: 90kcal | Carbohydrates: 3g | Protein: 0.1g | Fat: 9g | Saturated Fat: 1g | Polyunsaturated Fat: 1g | Monounsaturated Fat: 7g | Sodium: 291mg | Potassium: 16mg | Fiber: 0.1g | Sugar: 2g | Vitamin A: 1IU | Vitamin C: 0.1mg | Calcium: 2mg | Iron: 0.1mg
PIN THIS POST!