My effortless recipe creates the creamiest, tangiest and tastiest pork chops in the slow cooker. I use a packet of Hidden Valley ranch seasoning and evaporated milk to make this an easy "fix it and forget it" crock pot pork chops dinner without canned soup. These Crockpot ranch pork chops with cream cheese have an ultra-rich, creamy gravy sauce ideal for spooning over your sides like mashed potatoes, green beans, rice, or cauliflower rice for a complete comforting meal.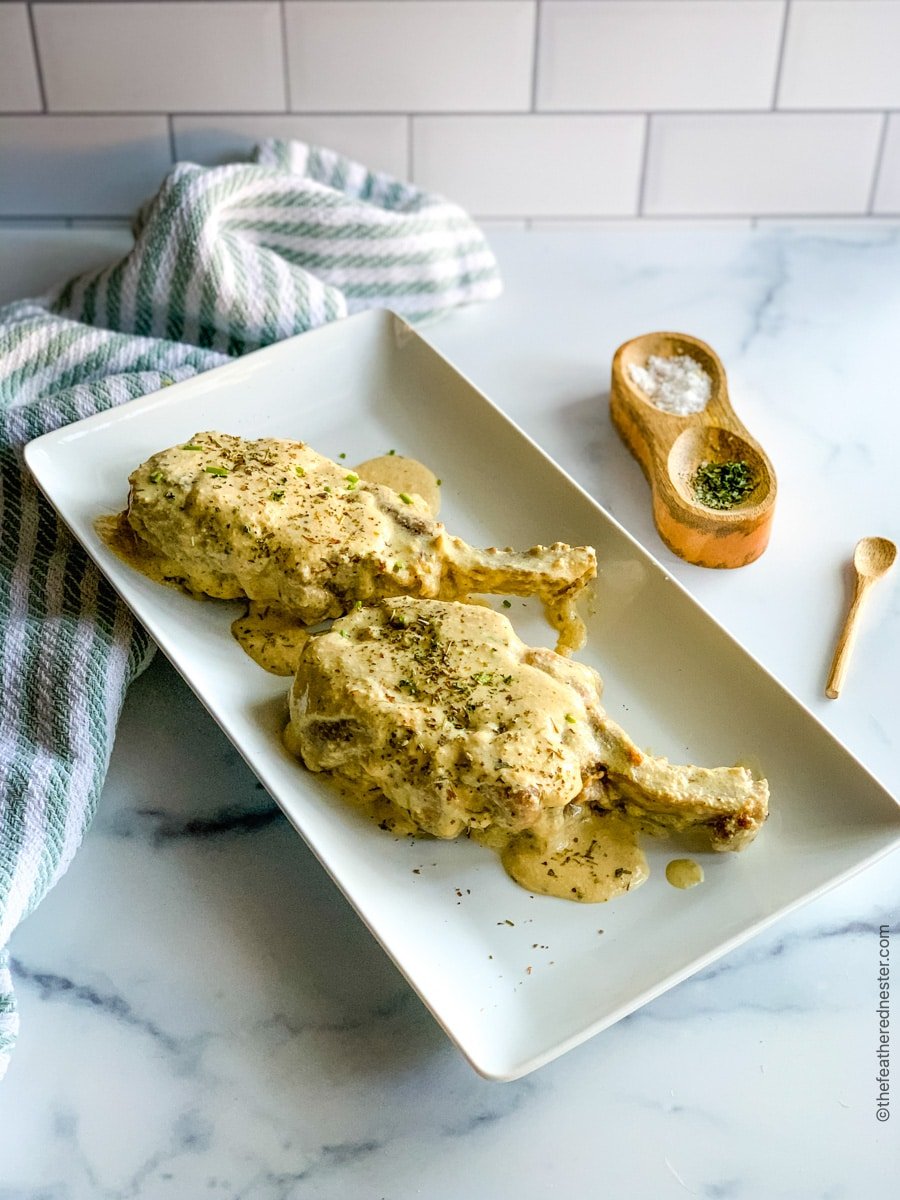 Tangy, creamy, and terrifically rich – Hidden Valley ranch pork chops made in the slow cooker check all of the boxes for a classic comfort food recipe.
I skip the canned soup and instead make these Crockpot ranch pork chops with cream cheese and evaporated milk. The result is a remarkably tasty, completely satisfying dish that's perfect for serving with any number of your favorite sides!
Ingredient Notes and Substitutions
Pork chops – See notes below for choosing the right cut.

Evaporated milk – This is thicker and creamier than regular milk, making it a good choice for this recipe. You can substitute it with heavy cream or half and half.

Hidden Valley Ranch packet – You can easily buy this in groceries or online.

Chicken bouillon – It adds flavor and depth to the recipe. If you don't have one. You can also use chicken broth or stock instead.

Corn starch (optional) – This is used to thicken the sauce. Omit this if you prefer a thinner sauce.
To keep your pork chops tender and moist, instead of tough and dry, it's important to choose the right cut of meat. Here's what to look for:
A bone-in, thicker (3/4″ – 1″) chop with great marbling throughout.
Look for those labeled center cut, blade chop, shoulder chop or sirloin chop at the store.
If you need help at the store, let them know you are looking for pork chops for slow cooking.
Lean cuts of pork chops do not work well in this recipe. Since they won't give you the same tender results, you should definitely choose a cut with a bit of fat and marbling on it for making Hidden Valley ranch pork chops in the slow cooker.
This recipe is known as a "dump and go" dish because of how terrifically easy it is to make. What is "dump and go?" Basically, all of the ingredients are loaded into the crock of a slow cooker, then the time is set, and you leave the Crockpot alone to work its magic. There is no pre-cooking (such as searing on the stovetop) necessary!
What if I want to sear my pork chops first?
This is a "dump and go" recipe, but if you have the time consider searing the pork chops first. First, it gives the pork a beautiful golden crust for a beautiful presentation. Second, who can resist that added flavor boost that seared meat provides?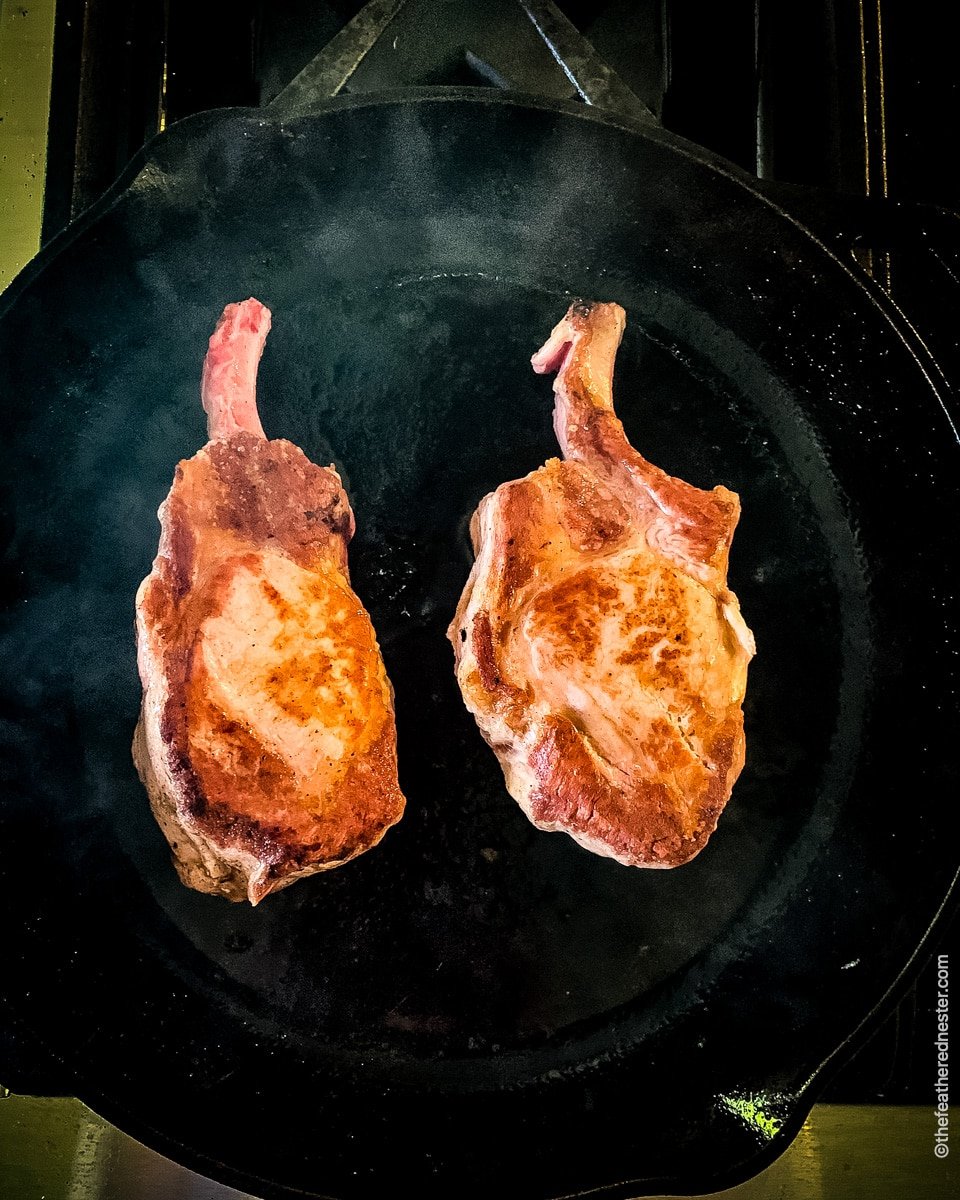 If you are looking for a highly rated slow cooker, this is the slow cooker I use. Some of the featured I like best are:
This slow cooker has a lid with a locking latches that are really handy for transporting the crock pot to events like potlucks and BBQs. Plus it keeps the heat in really well during cooking and during warming.
It also has a probe that lets you know when a roast or meal is at the perfect temperature. Then it turns the cooking cycle to the warm mode.
Since it's digital, as soon as the cooking cycle is over, it defaults to the warm setting keeping your food at the right temperature until you are ready to serve the meal.
Preparing the Pork Chops in 3 Easy Steps
Here are the 3 easy steps for making the most mouthwatering ranch pork chops in the slow cooker:
Firstly, place the pork in the crock of your slow cooker. In a medium bowl combine the evaporated milk, Hidden Valley ranch seasoning packet, and chicken bouillon.
Then, pour the evaporated milk mixture over the pork chops, and cover with the lid. Cook on LOW for 3-5 hours.
When the pork chops have reached 145ºF, remove them from the slow cooker to a plate. Add the cream cheese to the Crock pot, stirring until it melts into a rich, creamy sauce.
Pro Tip: I recommend cooking these pork chops on the low setting in the Crockpot. Cooking the right marbled chops low and slow allows the fat to keep the meat tender and juicy. So, I recommend using the low setting for the absolute best results.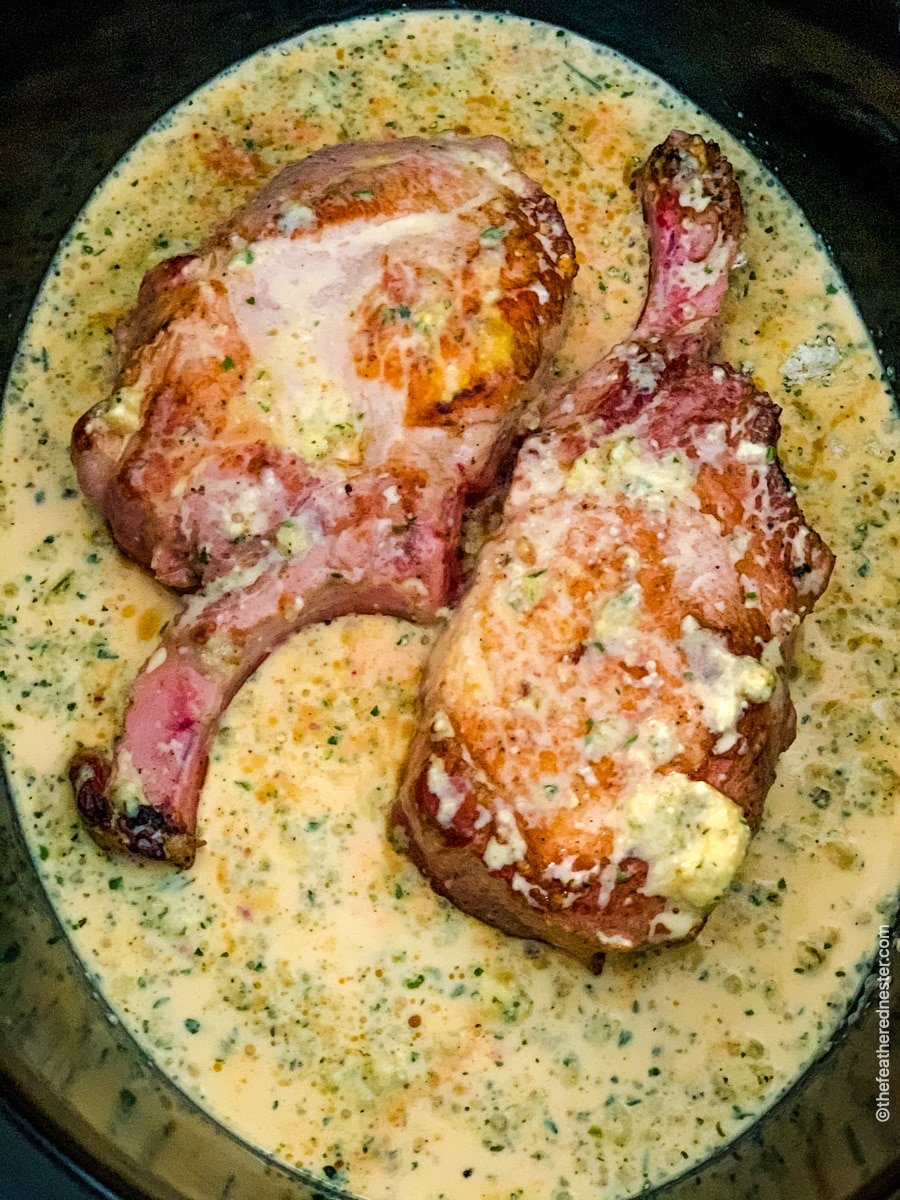 More Simple, Easy Recipes to Try:
Frequently Asked Questions
What can I use to substitute evaporated milk?
If you don't have or prefer not to use evaporated milk, you can make this easy pork chop recipe with a number of other ingredients. Try swapping with:
– 10 ounces of half and half
– 16 ounces of regular milk that you simmer and reduce down to 10 ounces, or
– 10 ounces of heavy cream
How can I make this a Keto-friendly recipe?
For a keto version of this crockpot Hidden Valley ranch pork chops recipe, simply eliminate the corn starch and decrease the evaporated milk to 7 ounces or add more cream cheese.
What should I serve with Crockpot Ranch Pork Chops?
Creamy, rich, and savory ranch pork chops are deliciously enjoyed over pasta, rice, or low-carb cauliflower rice, or potatoes. Serve along with a fresh veggie side dish, like steamed or roasted broccoli or green beans, for a complete meal.
How long will leftover pork chops keep well?
Leftovers can be stored in an airtight container in the fridge for up to 3 days. Because of the creamy, dairy-based sauce, I do not recommend freezing this pork chops recipe.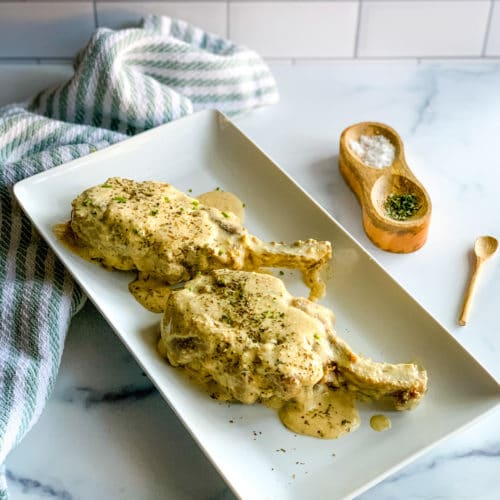 Crockpot Ranch Pork Chops with Cream Cheese
Slow cooker ranch pork chops are a creamy and flavorful dump and go or set it and forget it meal. Make this easy recipe in the Crockpot and enjoy with noodles, rice, or potatoes!
Ingredients
2 pounds pork chops, bone-in or boneless, 3/4" – 1" thick and well-marbled
1 can (10 ounces) evaporated milk
1 packet Hidden Valley Ranch seasoning mix (dried seasoning in a packet, see notes for making your own)
2 teaspoons Better than Bouillon chicken seasoning (can substitute with 1 cube chicken bouillon)
4 ounces cream cheese, room temperature
1 tablespoon corn starch (optional)
Instructions
Add the pork chops to the slow cooker. In a medium bowl, mix together the evaporated milk, dry ranch seasoning, and bouillon.

Pour the evaporated milk mixture over the pork chops. Set Crockpot to low setting and cook for 3-5 hours. The pork chops are done when they reach an internal temperature of 145º. In my slow cooker this only takes 3 1/2 hours for 1" pork chops. For the most tender and juicy pork, do not let them overcook.

Remove the pork chops to a plate. Add the cream cheese to the Crock pot, and stir until mixture is smooth and creamy. To thicken the cream sauce (if needed), mix 2 Tablespoons of cold water with 2 Tablespoons of corn starch. Add to cream sauce and cook until thickened. If not serving immediately, return the chops to the slow cooker and keep on warm until serving.
Notes
Well marbled bone-in or boneless pork chops will yield the best results. I prefer 1″ center cut, but sirloin chops, blade steaks, or loin chops will also work well. Can I make this without dry ranch dressing mix? Here's how you can make your own homemade ranch dressing mix: 2 Tablespoons buttermilk powder (optional), 1 Tablespoon garlic powder, 1 teaspoon dried parsley, 1 teaspoon dried chives, 2 teaspoon onion powder, 1 teaspoon dried dill.
Nutrition
Serving: 1serving | Calories: 370kcal | Carbohydrates: 7g | Protein: 37g | Fat: 21g | Saturated Fat: 10g | Cholesterol: 136mg | Sodium: 343mg | Potassium: 733mg | Sugar: 5g | Vitamin A: 367IU | Vitamin C: 1mg | Calcium: 152mg | Iron: 1mg
PIN THIS POST!
Try these other easy slow cooker recipes