Free up stovetop space and make the best, fluffiest boxed Rice-A-Roni in the Instant Pot. This foolproof Rice-A-Roni recipe is perfect to include in your weekly meal plan for an easy and delicious dinner side dish. You'll have perfectly cooked, fluffy rice in minutes every time.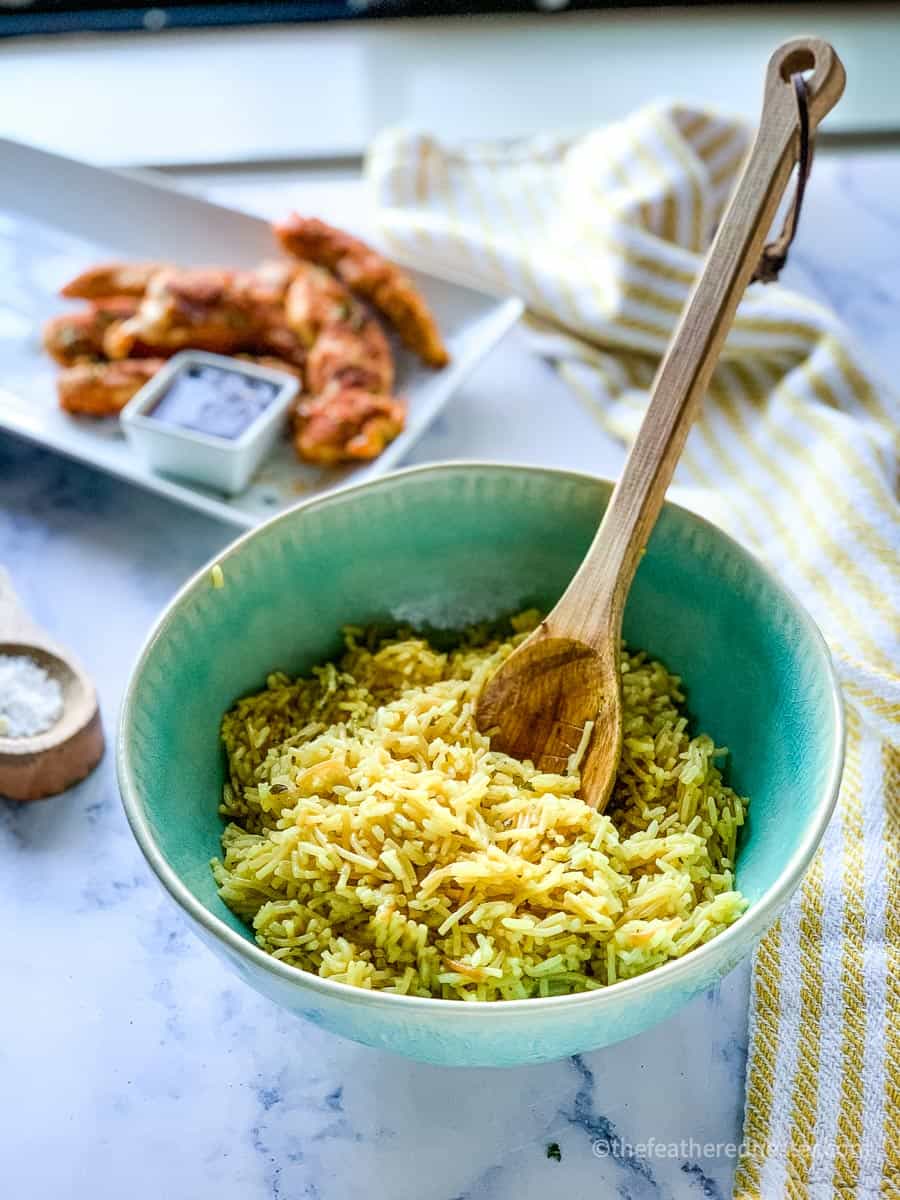 The Best Boxed Rice – Made in the Instant Pot
For the easiest, tastiest Rice-A-Roni, make it right in your pressure cooker. This Instant Pot Rice-A-Roni recipe has a hands-off approach, which means no stirring or standing over a hot stove. Plus, making it in the Instant Pot frees you to make the rest of dinner while it's cooking.
Making rice in the pressure cooker is similar to cooking rice in a rice cooker, except pressure cooking steams the rice with high pressure. This creates tender and flavorful rice each and every time!
My pressure cooker boxed rice recipe is perfect for those with a 3 quart Instant Pots (although this works equally well in the larger models!).
After owning a 6 quart Instant Pot for years, I purchased a smaller pot several months ago.
I use it more than I ever imagined – it is the perfect size for side dishes like Rice-A-Roni and mashed potatoes, for making hard-boiled eggs, and recipes like Salsa Chicken and Sour Cream Pork Chops.
The smaller pot is about the same size as a saucepan and is dishwasher safe.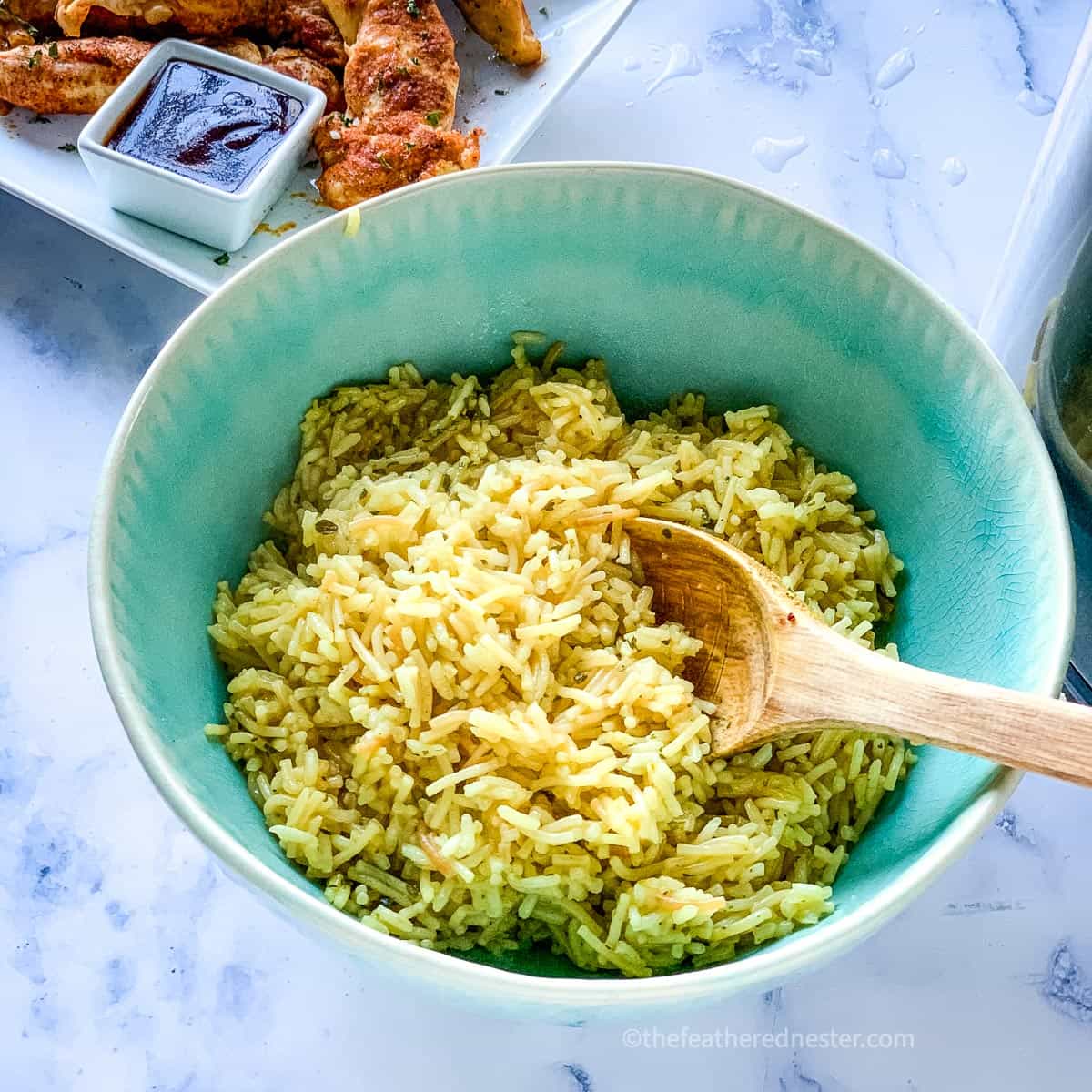 Ingredient Notes and Substitutions
You can use any flavor of Rice-A-Roni that you want to make this delicious side dish. I like using the low-sodium Chicken version.
Here is everything you need to make the best boxed rice in the Instant Pot:
Rice-A-Roni – You can use any flavor you like. You can also make your own by using brown rice and adding your favorite seasonings and aromatics.

Butter – You can substitute it for olive oil. However, butter gives more flavor than olive oil.

Chicken broth – I recommend you use low sodium. You can also use vegetable or beef broth. If you prefer to use beef broth, then I suggest using beef flavored Rice-A-Roni to match the flavor.

Water – If you want a richer flavor, omit this and use all broth instead.
How to Make Rice-A-Roni in An Instant Pot
This easy and delicious boxed rice recipe requires 3 simple steps to prepare in the Instant Pot:
First, use the sauté function of the Instant Pot to cook heat the butter or oil. Add the rice and cook for 3-4 minutes until golden, stirring frequently. Press cancel to stop sautéing.
Now add the broth, water, and the package seasonings, and stir to combine with the rice. Close the lid and seal the vent valve. Set the pressure cooker to manual pressure cook for 5 minutes.
Then do a quick pressure release per your Instant Pot's instructions. Use a spoon or fork to fluff the rice, and serve warm.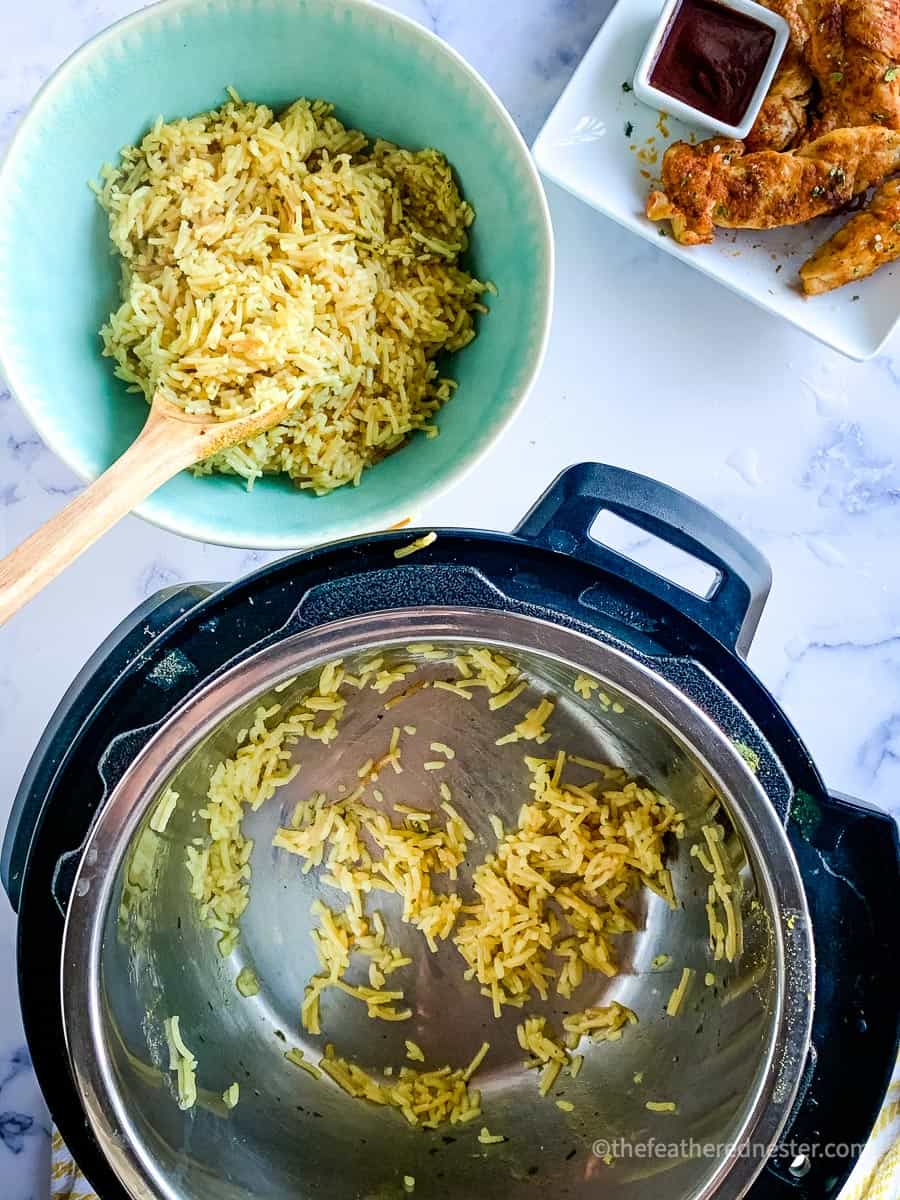 Frequently Asked Questions
How do you cook Rice-A-Roni with veggies in the Instant Pot?
If you want to include frozen vegetables in this recipe, simple place on top of the rice just before adding the lid. No need to stir or adjust cook time!
How do you store leftovers?
Transfer cooled Rice-A-Roni to a container with a lid, and keep in the refrigerator for 4-5 days. To reheat, add a splash of water and microwave in 30 second bursts until warm, stirring between heating. You can also reheat on the stovetop in a small saucepan over medium-low heat.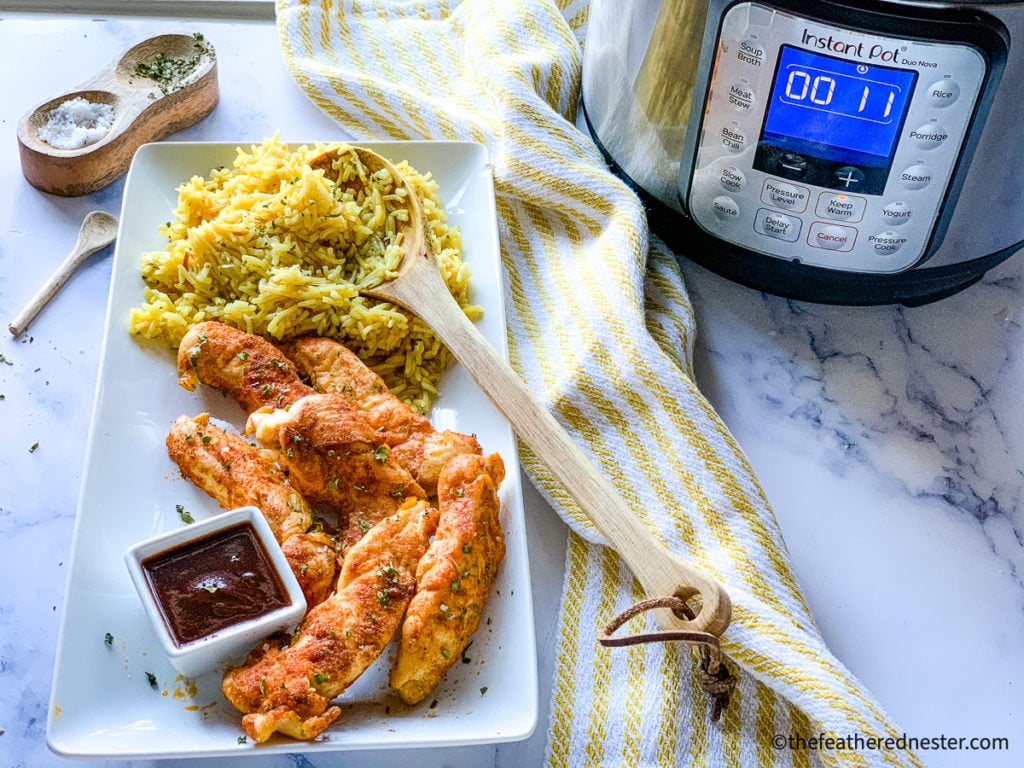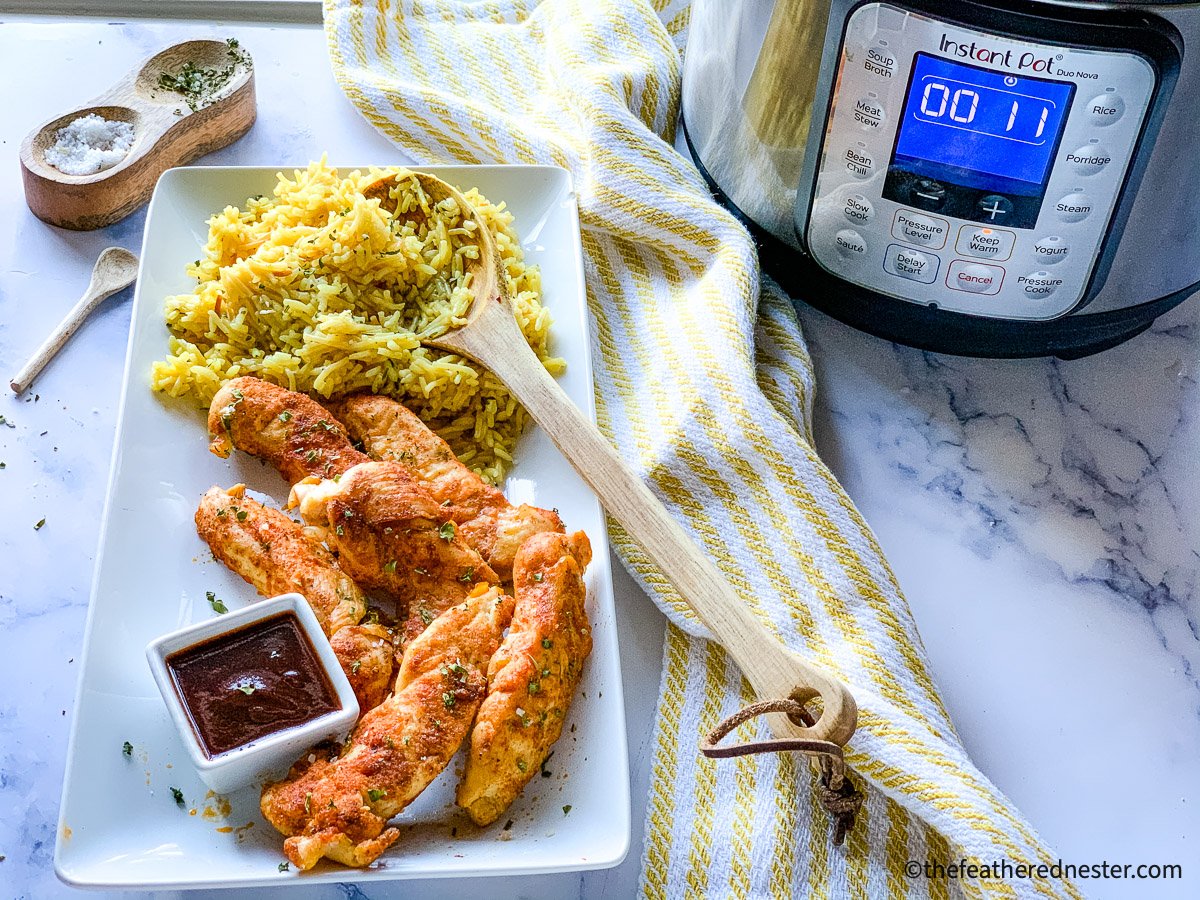 Here's the Full Recipe to Make Rice-A-Roni in the Instant Pot
Instant Pot Rice-A-Roni
This foolproof Instant Pot Rice-A-Roni recipe is perfect to include in your weekly meal plan for an easy and delicious dinner side dish. You'll have the fluffiest rice in minutes every time!
Ingredients
1 box (6.8 ounces) Rice-A-Roni (any variety)
2 tablespoons butter (can substitute olive oil)
¾ cup low sodium chicken broth
½ cup water
Instructions
Set pressure cooker to sauté and add butter or oil to the pot. Once pot is ready, add rice and sauté until the rice begins to turn golden (3-5 minutes). Press cancel to end sauté.

Add broth, water, and seasonings to rice and stir to mix. Close and seal lid, turn vent to seal (if needed). Set pot manually to high pressure for 5 minutes.

Once the pressure cooking cycle is complete, perform a quick pressure release by carefully turning or pressing the pressure release button (refer to your pot's instructions). Fluff the rice by stirring before serving.
Video
Nutrition
Serving: 1serving | Calories: 214kcal | Carbohydrates: 41g | Protein: 5g | Fat: 5g | Saturated Fat: 1g | Trans Fat: 1g | Cholesterol: 5mg | Sodium: 246mg | Potassium: 52mg | Fiber: 1g | Sugar: 1g | Vitamin A: 62IU | Calcium: 14mg | Iron: 3mg
PIN THIS POST!
Get More Simple, Easy Pressure Cooker Recipes