These buttermilk pork chops are brined for tenderness and flavor. They're perfect for a quick weeknight dinner or Sunday dinner. So, make our buttermilk brined pork chop recipe tonight!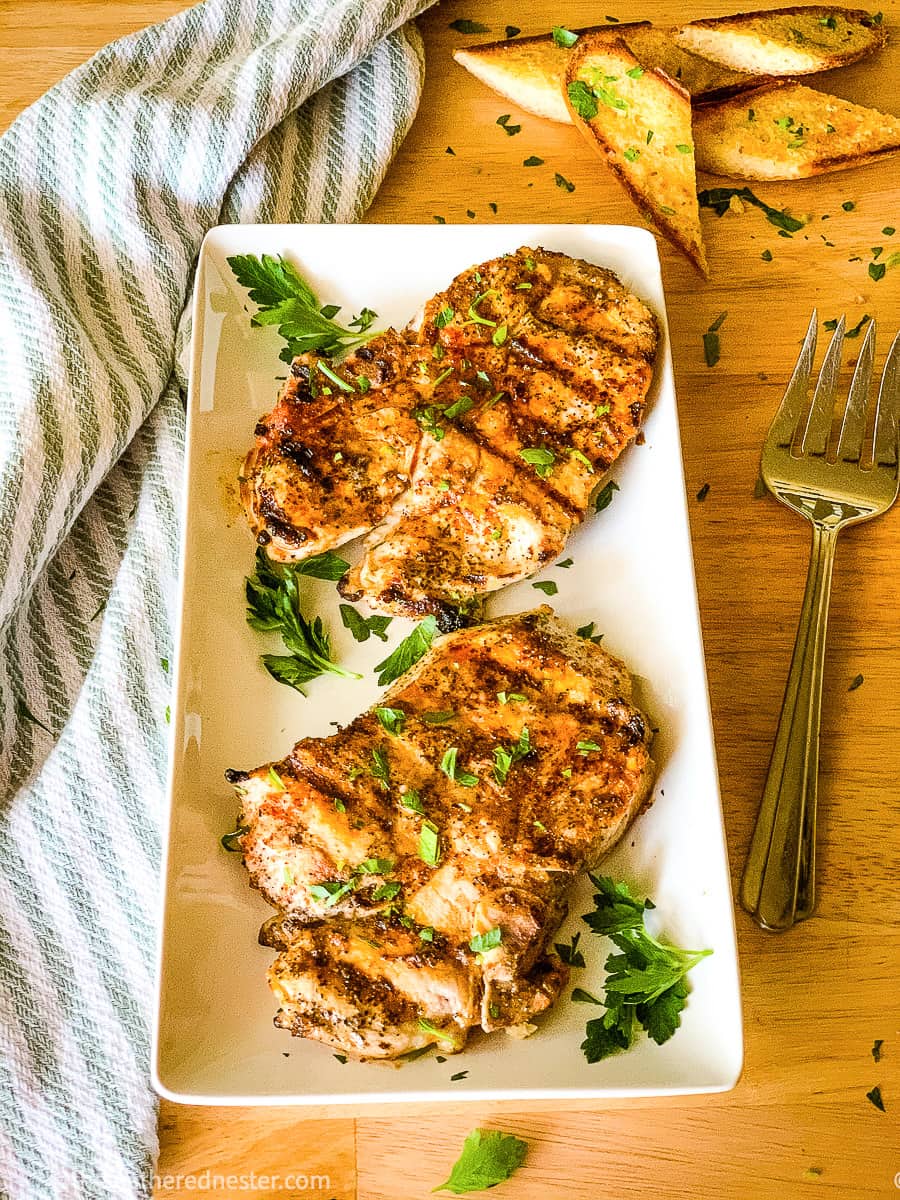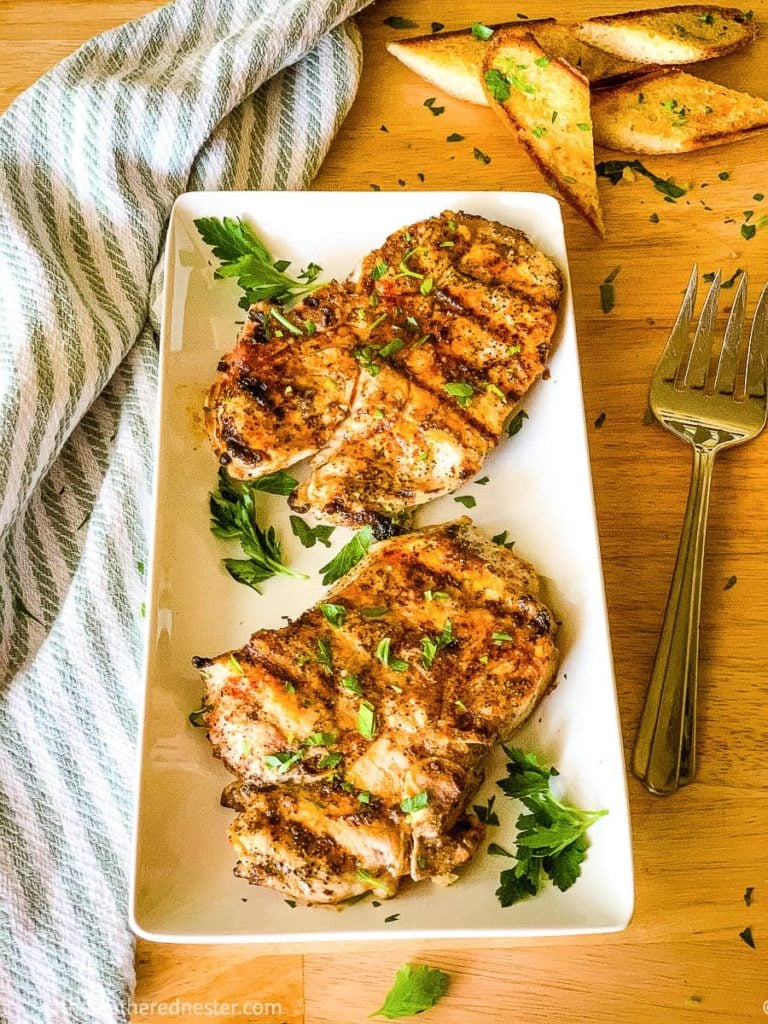 Why Use a Buttermilk Brine?
I've learned that buttermilk is the ideal brine for pork, chicken, and turkey.
It helps tenderize pork, keeps it moist during cooking, and seasons the meat. The acidity and calcium in buttermilk help break down the proteins in meat. That makes the meat tender.
Since pork contain a lot of water and little salt, using a salty brine creates a reverse osmosis process (see the chart below). Over time, it allows a natural shifting of moisture in the meat.
Learn how it works in this brining article, and why:
Marinated/brined pork and poultry are more flavorful, tender, and juicy.
It infuses flavor, while the acidity and calcium break down the protein rendering it more tender.
The reserve osmosis process keeps the meat juicy.
How Long Should I Brine Pork?
As you can imagine, brining is a long process. So, I recommend overnight for the best results or all day.
The reverse osmosis process takes about 8 hours. Although you don't want to overbrine your meats, so 8 to 24 hours is ideal.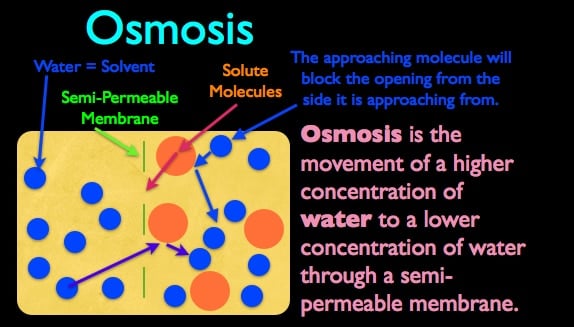 Ingredients for this Recipe
The ingredients for this recipe are simple. In fact, most of them are already in your pantry or fridge:
buttermilk
olive oil
garlic
bay leaves
hot sauce (or red pepper flakes)
bone-in pork chops
salt and pepper (or all-purpose seasoning)
optional: peppercorns for the marinade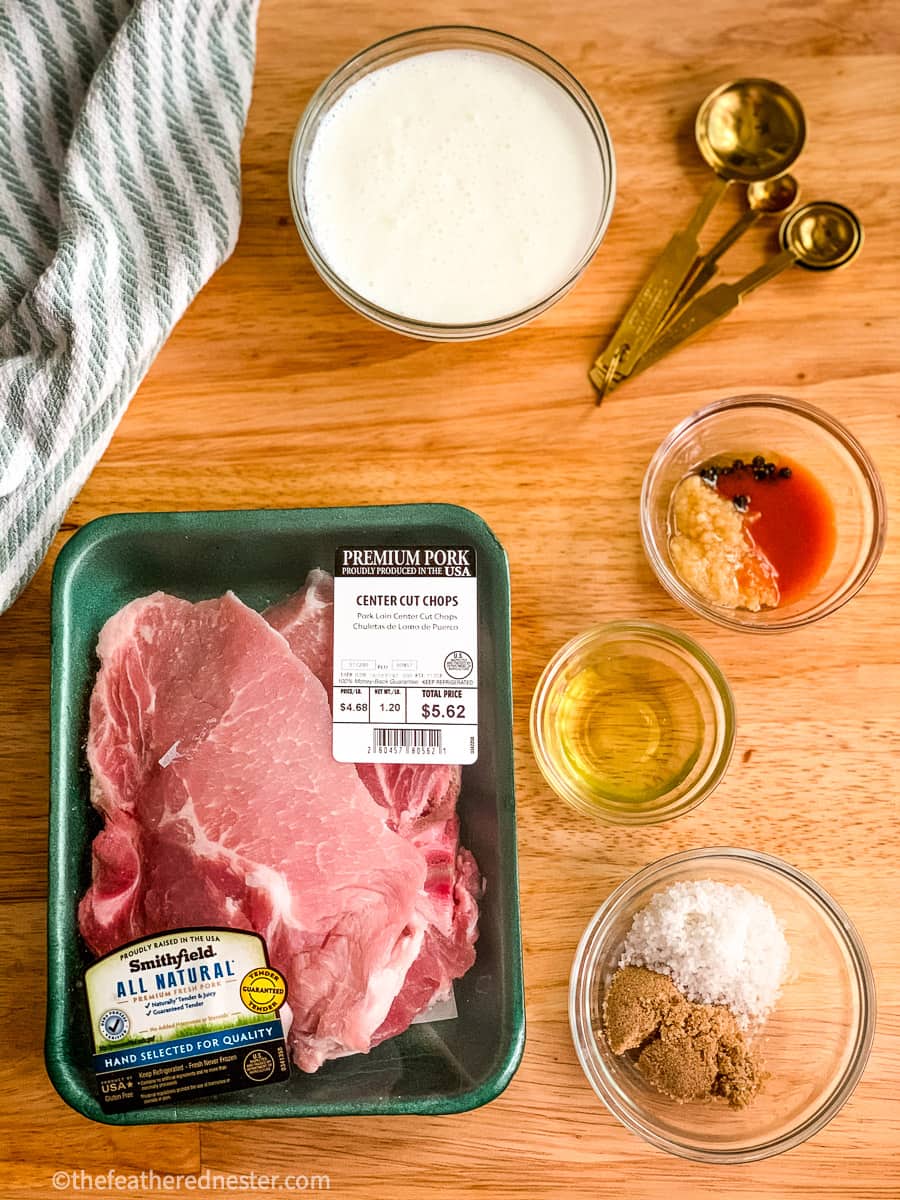 This buttermilk brined pork chops recipe is adaptable, like most brines and marinades are. You can use any type of buttermilk, including non-fat. It's the acidity, calcium, and sodium that do the work.
TFN Tip: Did you know that you can freeze buttermilk (as well as milk, cheese, and butter)? Since I don't use buttermilk very often, I freeze it an ice cube tray Once frozen, I pop the cubes out and store then in a Ziplock bag for up to 3 months in the freezer.
What Pork CUt Should I use?
I recommend using bone-in pork chops for this buttermilk brine recipe. Although my preference is center-cut, bone-in, other cuts will work, too. Look for well marbled cuts for the best results.
While testing this recipe, I tried different cuts of pork, including boneless. However, boneless loin chops were not quite as tender and juicy as the bone-in.
Typically, boneless chops are leaner with less fat marbling than bone-in chops. So, the cut of meat (pork) is important here.
To learn more about the differences, read this post on cuts of pork.
Prepare the Brine and Marinate
To get started, let's make the buttermilk brine. It is simple and easy, and it takes less than 5 minutes to make.
First, mix together the ingredients for the brine marinade.
Add pork chops and let them marinate overnight, covered, in the refrigerator for 8-24 hours.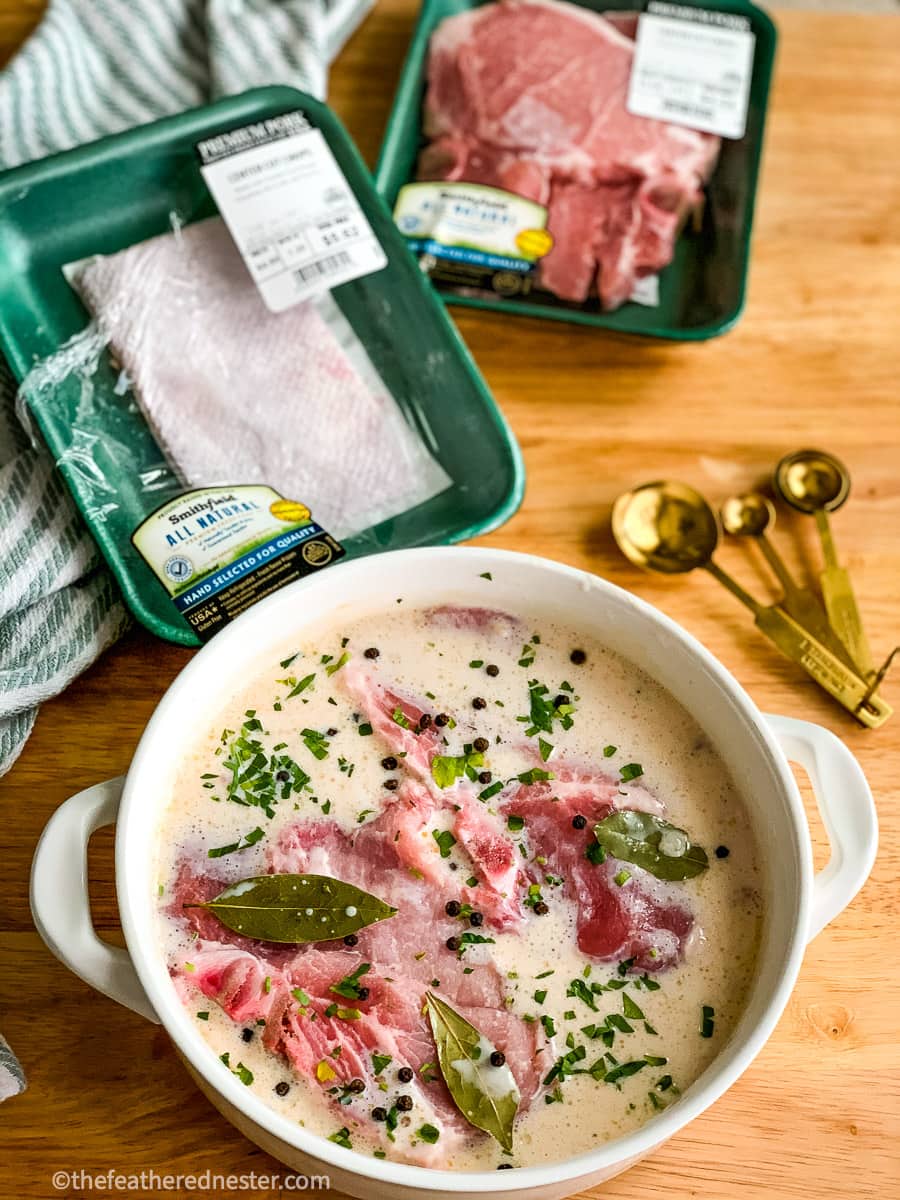 Cooking Methods for Brined Pork
There are several different cooking methods that work with this recipe. Our preferred method is grilling, but you can also get equally great results from frying and baking.
Before cooking:
Remove meat from the brine, and discard the brine.
Rinse off the chops and dry them with paper towels.
Coat with a thin layer of olive oil.
Season with salt and pepper or all-purpose seasoning (whatever is your preference).
Let rest at room temperature for 15- 30 minutes before cooking.
Then, you are ready to fry, air fry, make, or grill the pork chops. Get the full directions for these different cooking methods in the recipe below.
Frying
Fry them for a delicious low-carb and keto pork dinner. I love using my cast iron skillet or Dutch oven! Have them ready to serve in just 20 minutes or so.
Air Fry
Did you know you can air-fry a juicy pork chop in less than 10 minutes? Talk about the the ideal quick weeknight dinner!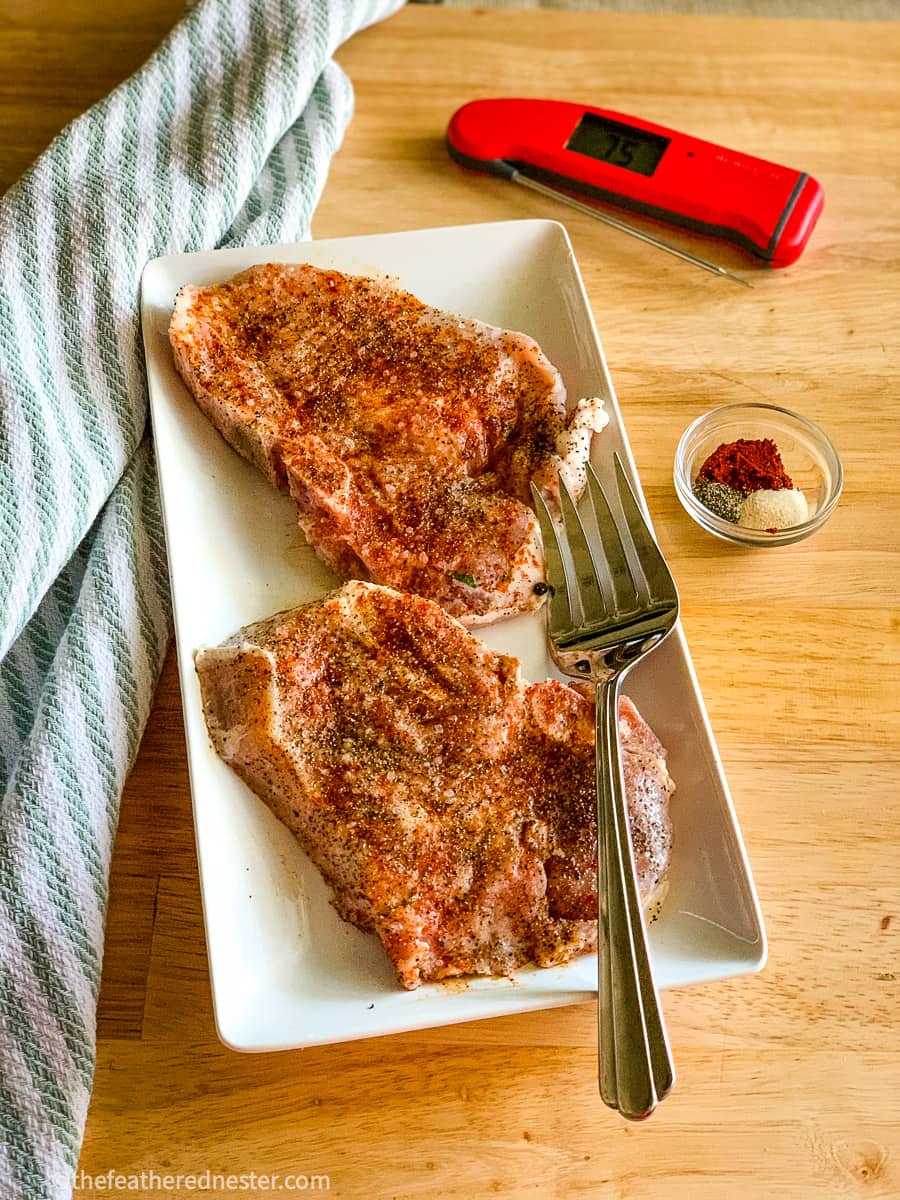 Baking
When you're busy in the kitchen, baking is the perfect fix-it-and-forget-it method. After all, baking frees you up to focus on the other parts of your dinner.
Grilling
Grilling is our favorite way of preparing meat. There's nothing like cutting into a perfectly grilled pork chop with those hallmark grill marks with that smoky grilled taste.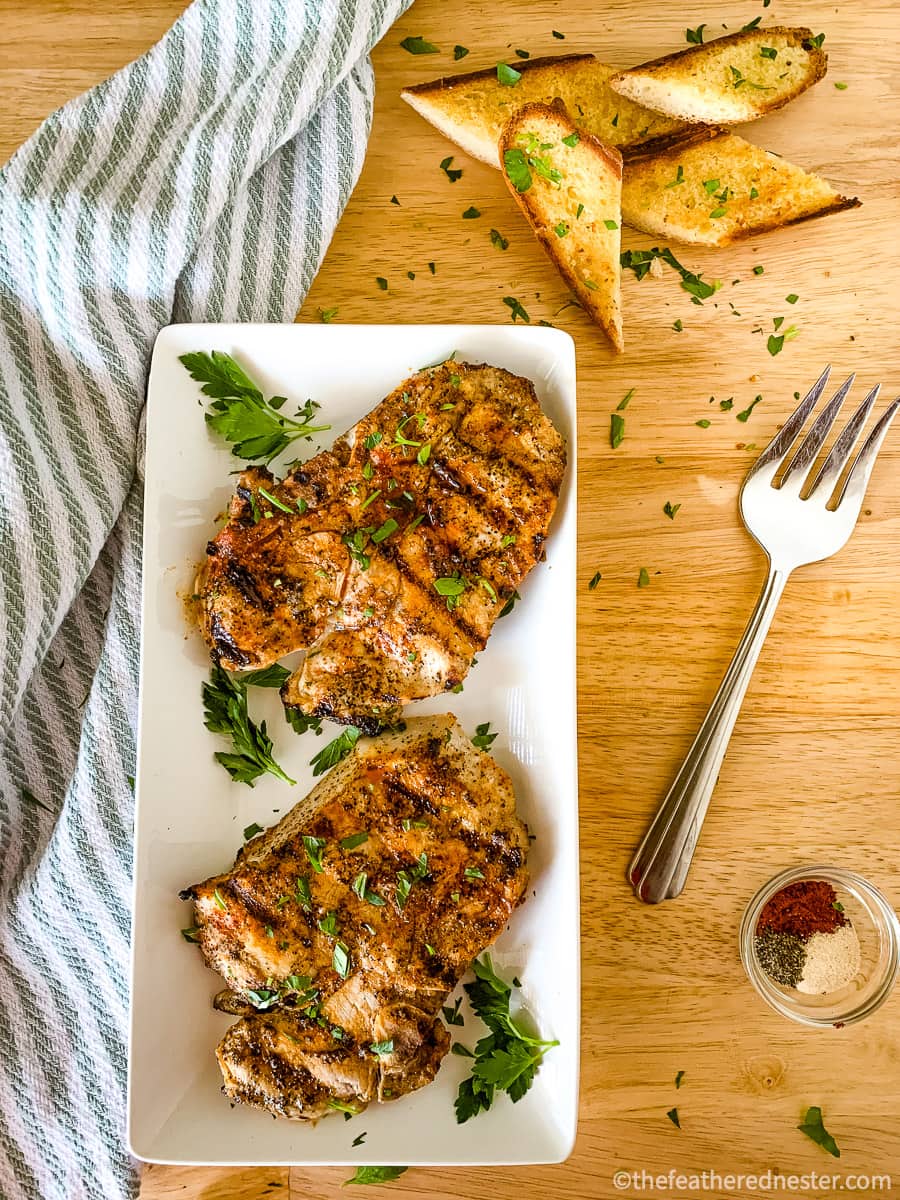 What should I serve with this recipe?
Of course, you want the perfect side dishes that go well with your tender, tasty pork chop! Here are some recipes to create the perfect dinner:
Serve them with loaded potato casserole, drop biscuits, and roasted green beans. And, a fruit cobbler would be the perfect dessert.
If you want more easy pork recipes, try our Instant Pot Sour Cream Pork Chops , Sheet Pan Pork Tenderloin, Pork Carnitas (Pulled Pork) Recipe, Crock Pot Ranch Pork Chops, and Juicy Baked Pork Steak.
Frequently Asked Questions
Will my pork have a buttermilk taste?
No, the pork chops will not taste like buttermilk. Rather, the buttermilk gives the pork chops a rich, tangy taste.
Does buttermilk tenderize the pork?
The acidity and calcium in the buttermilk help breakdown the proteins, and tenderize the pork.
How long do you marinate pork chops in buttermilk?
Marinate the pork chops in buttermilk for at least 8 hours, and up to 24 hours.
How can I tell if my pork chops are done?
Use an instant-read thermometer to check the internal temperature of the pork chops. If the temperature is 145ºF they're ready to serve after a 3-minute rest. This temperature is in line with USDA recommendations on cooking meat.
Buttermilk Marinated Pork Chops
Now you know how to make the best tender, juicy buttermilk pork chops. And how brining brings out the best in pork and poultry.
With this easy, make-ahead process to brine your meat, dinner is ready in less than 30 minutes.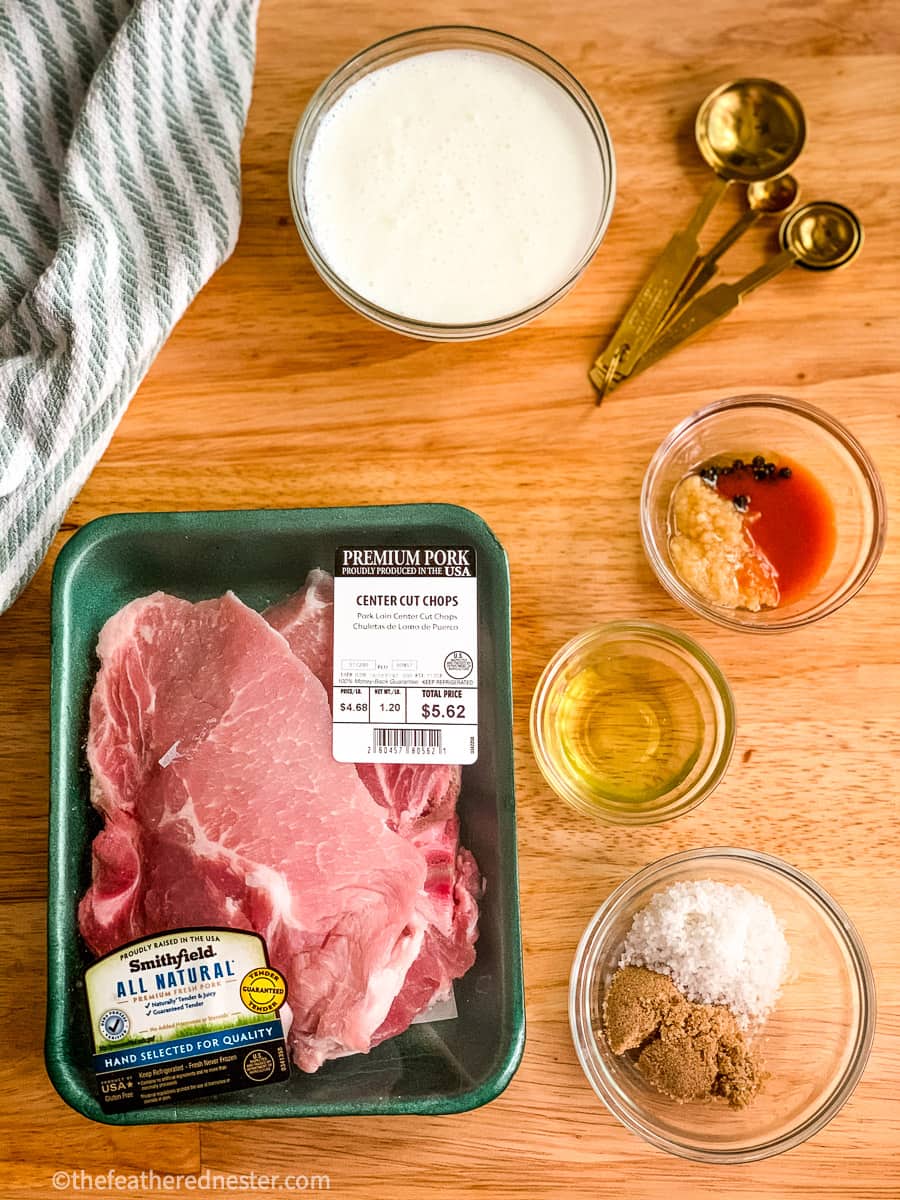 Buttermilk Brined Pork Chop Recipe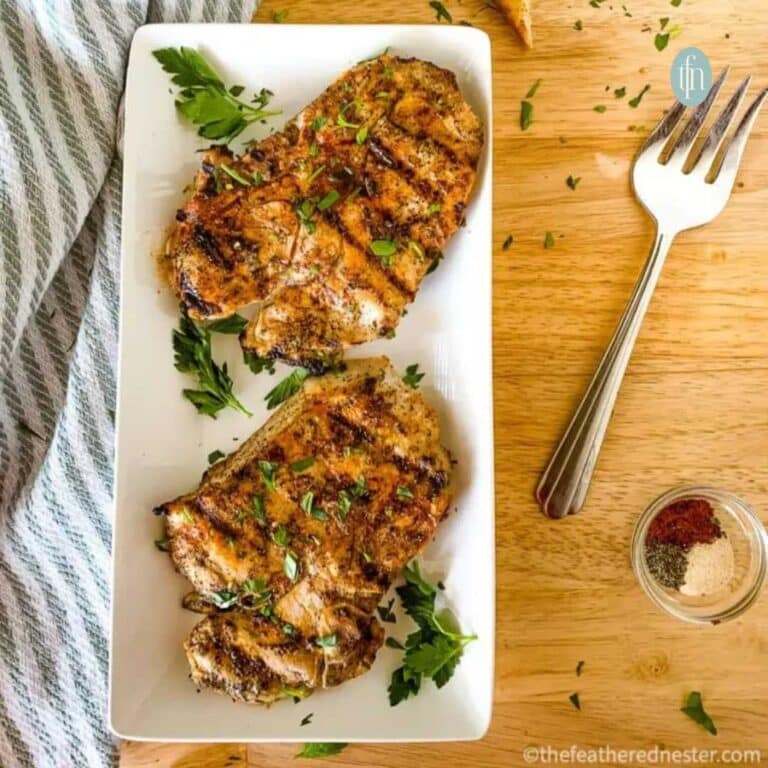 Buttermilk Pork Chops
Buttermilk tenderizes pork chops, keeping the meat moist, and creating a tangy and zesty flavor. Make these brined pork chops for dinner tonight!
Equipment
12-inch skillet - OR

broiling pan - OR

air fryer

digital cooking thermometer
Ingredients
1.5 cups buttermilk
2 tablespoons packed brown sugar
4 tablespoons olive oil divided
4 cloves garlic smashed
2 bay leaves
2 teaspoons hot sauce or 1 tsp red pepper flakes + 1 tsp vinegar
4 bone-in center cut pork chops
Kosher salt
ground pepper or black peppercorns
Instructions
Make the buttermilk brine: Whisk to combine buttermilk, brown sugar, 2 tablespoons olive oil, garlic, bay leaves, and hot sauce together in a large shallow mixing bowl or Ziploc bag.

Add the pork chops to the brine, ensuring they are completely submerged. Seal the bag, or if using a bowl, cover the top with plastic wrap. Refrigerate pork chops in buttermilk brine for at least 8 hours, and up to 24 hours.

After marinating, remove meat from the brine. Discard the brine, then rinse the pork chops well under running tap water. Use paper towels to pat the chops dry.

Rub or brush two tablespoons of olive oil over both sides of the chops, then season with salt and pepper or all-purpose seasoning. Let the meat sit at room temperature for 15 – 30 minutes.
Pan Frying
Preheat your skillet (cast iron is perfect for this!) on medium high heat and add 1/4" of cooking oil. Gently add pork chops to the skillet without overcrowding them. If your skillet is too small, fry them in batches.

Cook for 4-5 minutes per side. Use a meat thermometer to measure the internal temperature of the meat. Pork chops are done when they reach an internal temperature of 145º
Air Frying
Preheat your air fryer to 400º for 5 minutes. Cook pork chops in air fryer at 400 degrees for 5 minutes, then flip and cook for another 5 minutes.

Use a meat thermometer to measure the internal temperature of the meat. Pork chops are done when they reach an internal temperature of 145º
Oven Baking
Preheat the oven to 375º. Place the pork chops in an oven safe dish and bake for 15 minutes.

Use a meat thermometer to take the internal temperature of the largest pork chop. Pork is done when it reaches an internal temperature of 145º.

To give the pork chops a golden, seared look, place them under a broiler for 2-3 minutes.
Grilling Instructions
Preheat grill to medium high heat (about 375º) and lightly brush the grates with vegetable oil. Grill pork chops for 7 minutes per side over direct heat.

Use a meat thermometer to take the internal temperature of the largest pork chop. Pork is done when it reaches an internal temperature of 145º.
Serving Instructions
Let pork rest for 5 minutes before serving. Garnish with parsley, if desired.
Nutrition
Serving: 1 chop | Calories: 415kcal | Carbohydrates: 11g | Protein: 32g | Fat: 26g | Saturated Fat: 7g | Cholesterol: 100mg | Sodium: 237mg | Potassium: 633mg | Fiber: 1g | Sugar: 10g | Vitamin A: 149IU | Vitamin C: 1mg | Calcium: 123mg | Iron: 1mg
PIN THIS POST!