Bisquick Sausage Balls are the perfect solution when you're halfway through the season and wanting a new game day food to keep things interesting. Whip up this sausage appetizer for a savory snack idea worth cheering for!
Why We Love Bisquick Sausage Balls
Feeds a hungry crowd.
It can easily be doubled, making it the perfect dish for small social groups or huge hungry crowds alike.
The perfect party finger food!
Eat these bites on the go – easily walk and talk with them! They're a perfect New Year's Eve appetizer, for example, when you want to chat and catch up with friends.
Great for kids!
While we love our usual sweet and spicy meatball appetizers, these Bisquick sausage cheese balls keep things simple and classic with flavors everyone will love, even the kids.
Ingredient Notes and Substitutions
Ground Pork – We always use Jimmy Dean's hot breakfast sausage, but there's so much room for personal preference. Mild, ground pork with sage or a hot Italian will ball up and bake just fine — just make sure it's ground.
Cheddar Cheese – Sharp cheddar cheese is recommended, but creamy Monterey Jack, some Colby, or spicy Pepper Jack are good alternatives. Freshly shredded cheese will melt the smoothest and give the best results.
Bisquick Baking Mix – The original, classic mix you find in the yellow box. Don't have any? No worries — check out the tips below for how to DIY your own!
Green Onion – You can actually consider this an optional ingredient, but we really think these are worth adding! Onions introduce dimension, a pop of flavor, and a delicious aroma.
Recipe Variations
This sausage ball recipe is similar to the Jimmy Dean sausage balls recipe, but with one key difference: this one calls for mild sausage. You can make them spicier by adding jalapenos, chili powder, cayenne, or red pepper flakes to the baking mix.
For a healthier option, make turkey sausage balls, featuring a much leaner protein. You might combine the Heart Smart Bisquick with the turkey alternative for a sausage appetizer that you can really feel good about!
Bisquick Sausage Cheese Balls Recipe Tips
Make a homemade Bisquick mix on the fly.

It's incredibly easy to make your own baking mix with flour, baking powder, shortening, and salt. It's really inexpensive and you can make a lot in a short span of time!

For a thorough walkthrough, head on over to our homemade Bisquick guide.
Don't overmix the meatball mixture.
When combining the ingredients and forming the meatballs, be sure to use gentle pressure.
This will help you avoid dry and crumbly sausage balls.
Check the temperature to make sure they're cooked all the way through.
It's always a good idea to check the temperature of the meat with an instant-read thermometer to ensure it's cooked to at least 165°F.

If they need a little more time, pop them back in for a couple more minutes.
🎯 TFN Pro Tip
Put out a tray with a variety of dipping sauces.
The ground pork in Bisquick sausage balls pairs perfectly with spicy mustard or ranch dressing.
Sweet chili mango sauce can add a little more heat, but calm it down with a little bit of sweet, too! The flavor is a bit like our sweet chili meatballs, and you could recreate that sauce as well.
Our tangy 3-ingredient BBQ sauce is always a crowd favorite.And if the Bisquick sausage cheese balls just aren't cheesy enough for you, dip them into a tangy cheese dip!
Storing and Reheating
Let Bisquick sausage balls cool to room temperature before storing them in an airtight container. Reheat in the oven or let them reheat in the crockpot.
We recommend freezing before baking for meal prep. Lay them on a baking sheet, freeze them, and then transfer them to a freezer bag. Let them sit at room temperature for an hour before baking.
Serve in a slow cooker to keep warm.
One thing to note about this sausage appetizer, is that the meatballs don't stay warm for very long — particularly if you're serving them for a three-hour football game!
Keep them warm by serving in a crockpot. Move them right from oven to slow cooker by preheating the crockpot while the Bisquick sausage balls are baking, then throwing them in right when they're done.
Bisquick Sausage Balls FAQ
How long are sausage balls good for?
They can be refrigerated for up to 4 days or frozen for up to 3 months. The method for freezing is a bit different, though, so read the storage instructions down below for more guidance.
Why are my sausage balls dry?
It's possible that you have too much baking mix in the mixture. This is easy to catch before baking — they'll be crumbly and won't clump properly. If this happens, add a little milk!
It may also be because of the ingredients used. Pre-shredded cheese and low-fat ground pork both lack moisture and aren't suitable for making sausage balls with Bisquick.
How can you tell when sausage balls are done?
It's easiest with a digital cooking thermometer, as the internal temperature is the best indicator of fully cooked ground pork. They will also be golden brown on the outside.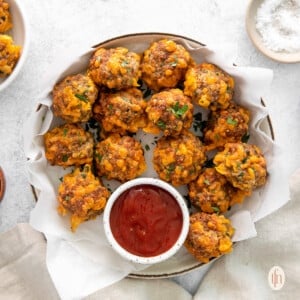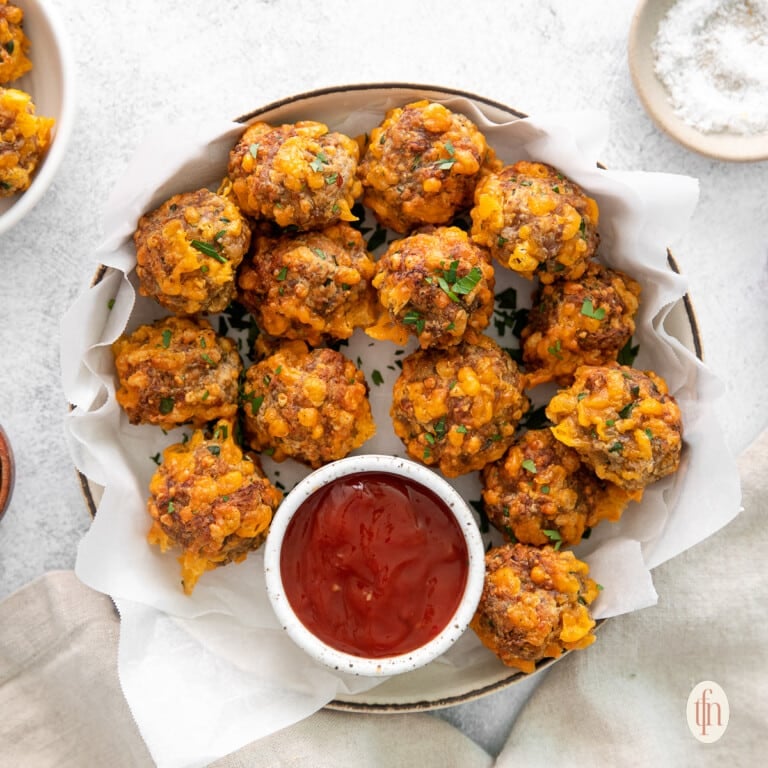 Bisquick Sausage Balls
Bisquick Sausage Balls stuff as much cheesy, savory goodness as you can fit in one bite! Serve this easy sausage appetizer next game day!
Equipment
Baking Sheet

parchment paper or aluminum foil
Ingredients
1 pound ground pork sausage (I like using Jimmy Dean hot breakfast sausage or hot Italian sausage)
4 cups (16 ounces) sharp cheddar cheese, freshly shredded/grated) (freshly shredded works best)
2 cups Bisquick baking mix (see notes below for how to make a DIY baking mix)
optional
½ cup green onion, green part, chopped
Instructions
Preheat oven to 375º Fahrenheit. Prepare the baking sheet by lining it with parchment paper or aluminum foil.

Add the ground sausage, shredded cheddar cheese, baking mix, and green onion (if using) to a large mixing bowl. Use clean hands, a potato masher, or stand mixer to mix the sausage ball mixture together. If using your hands, it is best to knead or fold the Bisquick and cheese into the ground sausage works best.

Use a medium scoop or large tablespoon to make 24 sausage balls, about the size of a golf ball. Place them on the prepared baking sheet.

Bake at 375º Fahrenheit for 15-20 minutes, until the meatballs are lightly golden brown in color. Use an instant-read thermometer to ensure the center of the sausage balls registers 145º Fahrenheit in temperature.

Serve with your favorite dipping sauce, like a marinara sauce or a zesty BBQ.
Video
Notes
Shred or grate your own cheese for the best results. Packaged shredded cheese contains anti-caking agents that can cause your sausage balls to crack and dry out.
If using a lower fat sausage, like chicken or turkey, add 2 tablespoons of milk or butter to keep the meatballs moist.
Make your own Bisquick pancake and baking mix with flour, baking powder, shortening, and salt.
To store: homemade sausage balls will keep well for up to 3 or 4 days in the refrigerator. Let the balls cool to room temperature before transferring to a sealed container and placing in the fridge.
To freeze: Form the sausage balls. Flash freeze meatballs before baking. Then store them in a freezer-safe container, like a Ziplock bag for up to 3 months. Let thaw at room temperature for an hour before baking.
Nutrition
Serving: 1meatball | Calories: 176kcal | Carbohydrates: 7g | Protein: 8g | Fat: 13g | Saturated Fat: 6g | Polyunsaturated Fat: 1g | Monounsaturated Fat: 5g | Trans Fat: 1g | Cholesterol: 34mg | Sodium: 365mg | Potassium: 82mg | Fiber: 1g | Sugar: 1g | Vitamin A: 203IU | Vitamin C: 1mg | Calcium: 155mg | Iron: 1mg
PIN THIS POST!
This post, first published in October 2021, was updated with new content on 9/16/2023.