Cream Cheese Corn Dip is a warm, creamy, spicy Mexican snack that's so good, it deserves the seat of honor on your party table! The jalapeno corn dip has a base of tangy cream cheese, dotted with pops of sweet corn, and a kick of heat from chiles. This may become your new favorite dip recipe!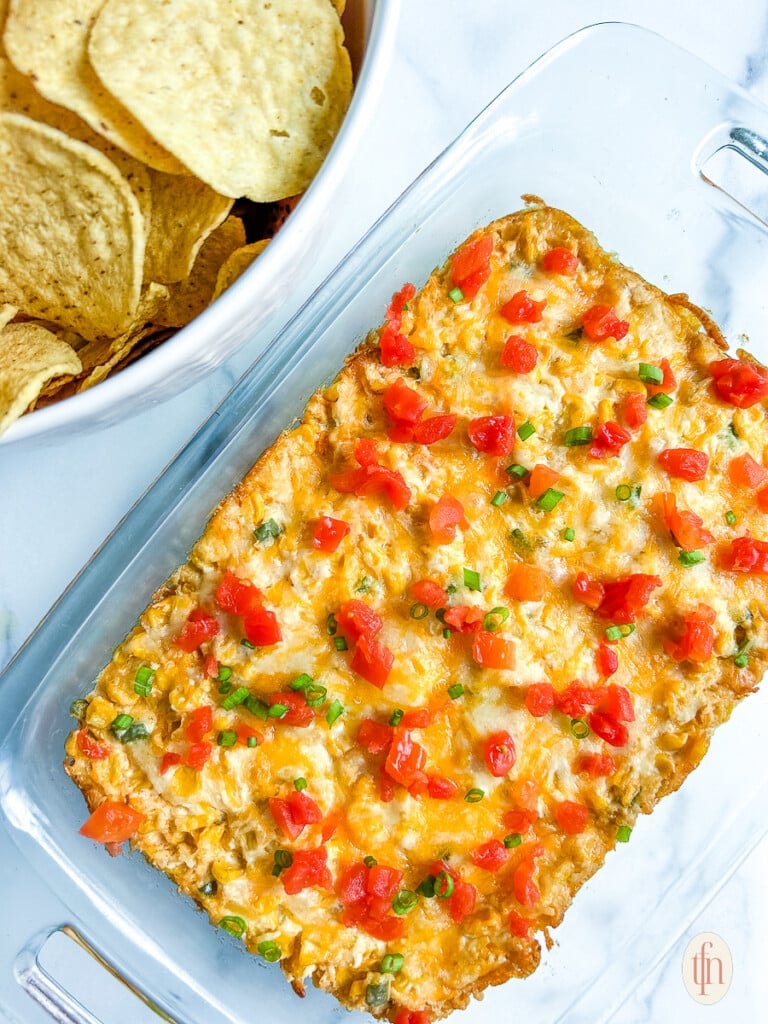 Why We Love Cream Cheese Corn Dip
The perfect combination of textures and flavors.
Each bite of this savory snack is exciting — sweet with one, and spicy the next! It's like a milder alternative to our smoked queso with chorizo.

Baking ahead is a breeze!
Throw it all together a couple of days before and slide it into the fridge. Then pop it into the oven 45 minutes before you have to leave and your party dip is good to go!

Corn dip with cream cheese is totally customizable.
Different cheeses, peppers, or spices — anything goes! Use what you like or what's sitting around.
Ingredient Notes and Substitutions
Colby Jack Cheese – This is a lovely, smooth cheese that's just the right balance of tangy and sweet. The best substitutes are cheddar, Monterey Jack, and Pepper Jack.
Canned Corn – It's easier and less expensive to use canned corn. And it's just as tasty! But you could also use frozen corn — just be sure to thaw it and pat all of the kernels dry with a paper towel to get all of the extra moisture out.
Jalapenos – Jalapeno corn dip makes the perfect hot appetizer! But if you want to serve your guests something with less intense heat, try a milder chile such as poblano or anaheim.
Garlic Powder – Garlic is one of the best ways to add tangy, sharp flavor to any dip.
Jalapeno Corn Dip Recipe Tips
Use freshly shredded cheese.
It might seem like a worthwhile shortcut to purchase pre-shredded cheese, but we don't recommend it. Pre-shredded options are coated to keep those shreds from clumping, so they don't melt properly when heated.

Therefore, we always say you should shred block cheese for the creamiest results. That will guarantee a smooth jalapeno cream cheese corn dip without chunks.

And with the lack of preservatives, the cheese has better flavor too!
Take time to oil or foil the baking dish.
Corn dip with cream cheese has a tendency to stick to the casserole dish, making it a nightmare to clean!

To make your life easy when it comes time to do the dishes, generously grease the baking dish or line it with foil. Foil is the easier option, of course, but also leads to extra browning around the edges.

Let the cream cheese come to room temperature.

In order to help the ingredients all come together smoothly, be sure to let the cream cheese sit out at room temperature for about 30 minutes to an hour before mixing it in.
TFN Safety Tip
Wear gloves when you're handling jalapenos.
Protect your skin, sinuses, and eyes from the jalapeno oils by wearing food-grade gloves, and wash your hands well afterward. The last thing you need is to forget for just a moment, and then rub your eyes without thinking. Ouch!
What to Serve With this Hot Dip
Jalapeno corn dip is delicious on its own, but there's nothing like going the extra mile! The best Tex-Mex toppings — like a cooling avocado crema, freshly diced onions or tomatoes, or a sprinkling of fresh herbs — are the metaphorical cherry on top.
As for dippers, the sky's the limit. We like it with anything crunchy and/or salty – tortilla chips, pretzels, celery sticks, carrots, bell peppers… you get the idea.
Really, the dippers are just a transportation device for the star of the show – the cream cheese corn dip!
Other Game Day Favorites
The flavors in this thick, warm dip will complement any of your other favorite game day food. The creaminess is welcome next to savory pork street tacos or BBQ chicken sliders, for example, and it could even be spooned onto Bisquick pizza dough, for an incredible pizza bread.
Cream Cheese Corn Dip FAQ
Does cream cheese make dip thicker?
It absolutely does! It's a very easy thickener and adds a similar flavor as Greek yogurt or sour cream, plus it's extra rich. All in all, it makes for a rather heavy, substantial jalapeno corn dip.
How do you keep cheese dip creamy?
Cream cheese plays a big role in keeping this corn dip creamy. Unlike working with Velveeta or a plethora of other cheeses, it keeps its consistency well, even as it begins to cool.

But if you plan on keeping the dip out for over an hour, then we recommend keeping it warm in a crockpot on low power. This will help to maintain the smooth, creamy consistency.
Can you freeze dip with cream cheese?
We don't recommend it. Most dairy-based recipes, whether they be dips or dressings, don't freeze well, and they take on an unappetizing texture after thawing out.
Storing and Reheating
Store any leftover cream cheese corn dip in the fridge – keep it covered and enjoy it within 4 days or so.
To reheat, place the whole dish back in the oven at 350°F. Or, if you're reheating individual portions, simply microwave in 15-second bursts, stirring in between.
Hot Cream Cheese Corn Dip
If you're tired of boring game day snacks, make our recipe for cream cheese corn dip! The cheesy, creamy warm jalapeno corn dip is so good!
Equipment
2-quart baking dish

non-stick cooking spray

large mixing bowl

large mixing spoon
Ingredients
30 ounces canned whole kernel corn drained
8 ounces cream cheese room temperature
¼ cup sour cream
½ cup shredded mozzarella cheese
1 cup shredded Colby Jack cheese divided
2 jalapeño peppers seeds and membranes removed, then finely chopped
1 teaspoon garlic powder
1 teaspoon smoked paprika
Instructions
Preheat oven to 350°F. Spray a 2-quart casserole dish with non-stick cooking spray, then set it aside.

To a large bowl, add corn, cream cheese, sour cream, mozzarella cheese, 1/2 cup Colby Jack cheese, jalapenos, garlic powder, and smoked paprika. Using a large spoon or mixing spatula, stir well to combine.

Transfer the mixture to prepared casserole dish, then use the back of a spoon to spread it into an even layer. Sprinkle remaining 1/2 cup Colby Jack cheese over the top.

Bake, uncovered, in preheated oven, for 25-35 minutes, until the edges bubble and just start to brown.

Remove from oven and garnish corn dip with your favorite Tex-Mex toppings, like sliced green onions, jalapeño slices, diced tomatoes, avocado crema, and/or chopped cilantro.
Notes
Substitutions
Cheddar cheese, Monterey Jack cheese, Pepper Jack cheese for Colby Jack cheese.
For less spicy heat, use a milder chile, like Poblano or Anaheim.
Frozen corn may be used, but must be thawed and patted dry with paper toweling to remove excess moisture.
Nutrition
Serving: 0.25 cup | Calories: 283kcal | Carbohydrates: 17g | Protein: 10g | Fat: 20g | Saturated Fat: 11g | Polyunsaturated Fat: 1g | Monounsaturated Fat: 5g | Cholesterol: 54mg | Sodium: 446mg | Potassium: 206mg | Fiber: 0.5g | Sugar: 2g | Vitamin A: 760IU | Vitamin C: 3mg | Calcium: 186mg | Iron: 1mg
PIN THIS POST!