Beer and cheese – is there any more perfect party snack combination? We think not! This tangy and flavorful Guinness cheese sauce is terrific to serve as a dip with tasty pretzel bites. Or enjoy as a fun fondue appetizer and scoop up with fresh veggies, apples, or pieces of crusty bread. One taste and you'll agree that this (better than Applebee's!) hot beer cheese dip is terrific to pair with nearly any savory dish!
The Best Beer Cheese Dip Recipe
It is hard to resist a good gooey, velvety cheese dip. And really, why would you even try?
I was inspired to make this tasty duo by an appetizer we had at an amazing restaurant we went to on Coronado Island back in October. It's similar to but way better than hot beer cheese dip served at Applebee's… The sauce is creamy, smoky and nutty, cheesy and addictively delicious.
What makes this the BEST beer bread dip is the simple quality ingredients included. The bechamel sauce is based on my macaroni and cheese recipe, but I added Guinness or German beer and a pinch of cayenne for the most delectable flavor.
Pair this recipe with homemad(ish) pretzel bites or pretzels for the full German cheese dip experience. I prepare them with frozen bread dough, so they're nearly effortless to prepare and are consistently tasty. The crispy, soft, slightly chewy and salty bites are perfect with the tangy Guinness beer and cheese dip!
But the fun doesn't stop there! This recipe is fabulous to make as a cheesy beer fondue to enjoy with veggies, apples, or other yummy pieces of bread.
The soft pretzel cheese dip – or fondue! – is ready to serve in less than 30 minutes, which is super handy when you need a quick appetizer or are planning to have company over.
Ingredients Needed to Make Hot Beer Cheese Dip
Butter – unsalted
All-purpose flour – use your preferred gluten free AP flour for a GF-friendly recipe
Heavy cream – see notes below for
Beer – I prefer Guinness Beer or Oktoberfest German Beer
Shredded cheese – we love cheddar and gruyere
Spices – paprika, garlic powder, cayenne pepper or crushed red pepper, and salt
For the most delicious, cheesy sauce that's ultra-creamy pair the sharp cheddar with Gruyere cheese. Gruyere (pronounced groo-YAIR) is a hard white, smooth melting Swiss Alpine cheese. It has a delightfully nutty, spicy, full flavor that pairs perfectly with cheddar cheese.
Which Beers Make the Best Cheese Sauce for Pretzels?
There are a few beers that I feel make the best cheese sauce for pretzels and bread. One of them is using Guinness beer for cheese dip. With Guinness cheese dip, you'll have a rich, cheesy dipping sauce every time.
My other favorite beers are the German beers, especially the Oktoberfest beers. They are often labeled as Festbiers and Amber Marzen beers, readily available in September and October and often throughout the year. You will love the German beer cheese dip that comes from these varieties of beer.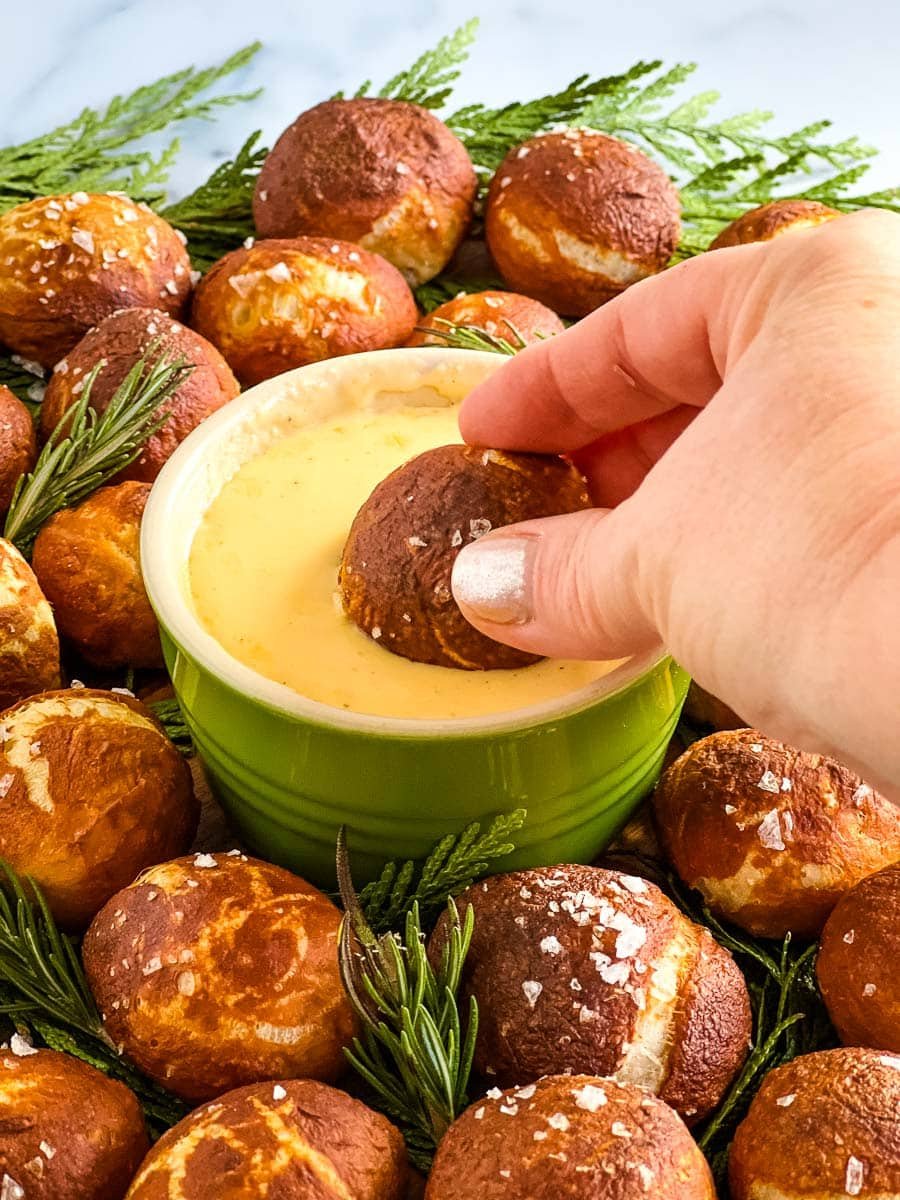 How to Make Pretzel Cheese Dip
First, make the roux. Melt the butter in a saucepan, then add the flour. Stir with a whisk until it has a pasty consistency.
Next, slowly add milk and add beer and cook on low until it becomes thickened.
Turn the sauce into a bechamel sauce by adding the cheddar and the gruyere cheeses, allowing them to melt.
Finally, add spices and continue stirring until the cheeses are completely melted and the sauce has thickened.
Serve the hot beer cheese dip as a pretzel cheese dip, a fondue cheese sauce, or beer bread dip.
Pair this amazing cheesy dip with these pretzel ball bites made from frozen bread dough:
Pretzel Balls from Frozen Ready-Dough
Pretzel balls are a tasty snack that is perfect for any occasion. Learn how easy it is to make the best, soft pretzel bites from frozen bread dough, using Bridgford Ready-Dough.
Check out this recipe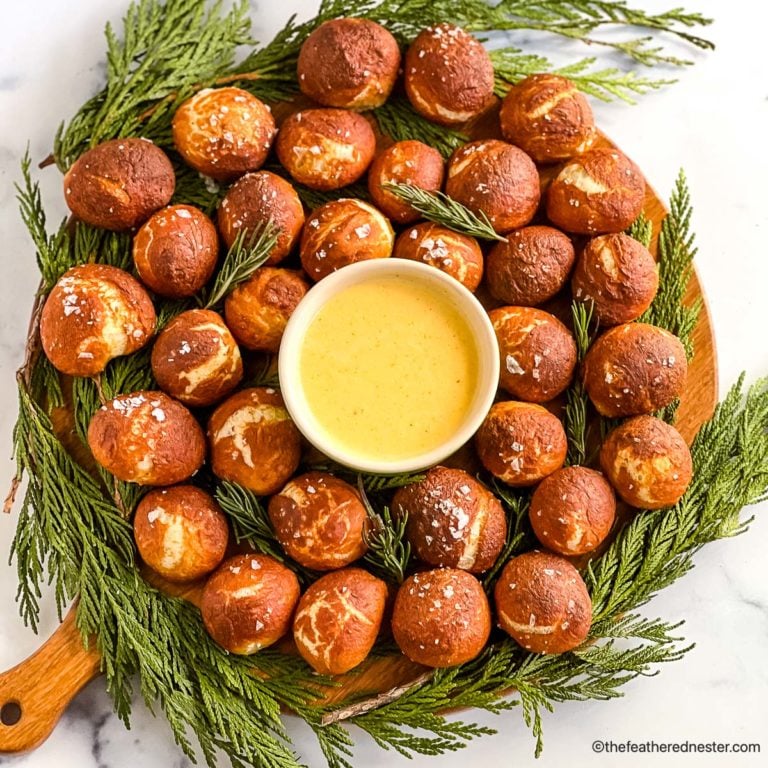 If you love appetizers, check out these easy appetizer recipes
Frequently Asked Questions
Can I make this cheese sauce recipe ahead?
Yes. After preparing the pretzel cheese dip recipe, refrigerate the sauce. To serve, reheat the sauce in a saucepan on low heat until heated throughout. Or, use a microwave to reheat the sauce at 50% power, for 30 seconds at a time until heated throughout.
My cheddar cheese sauce is not thick enough. How do I thicken the sauce?
Sometimes when the milk or beer is added too quickly, it takes the beer cheese sauce longer to thicken. If your cheese sauce is too thin, let it simmer on low for an additional 5 -10 minutes until it thickens.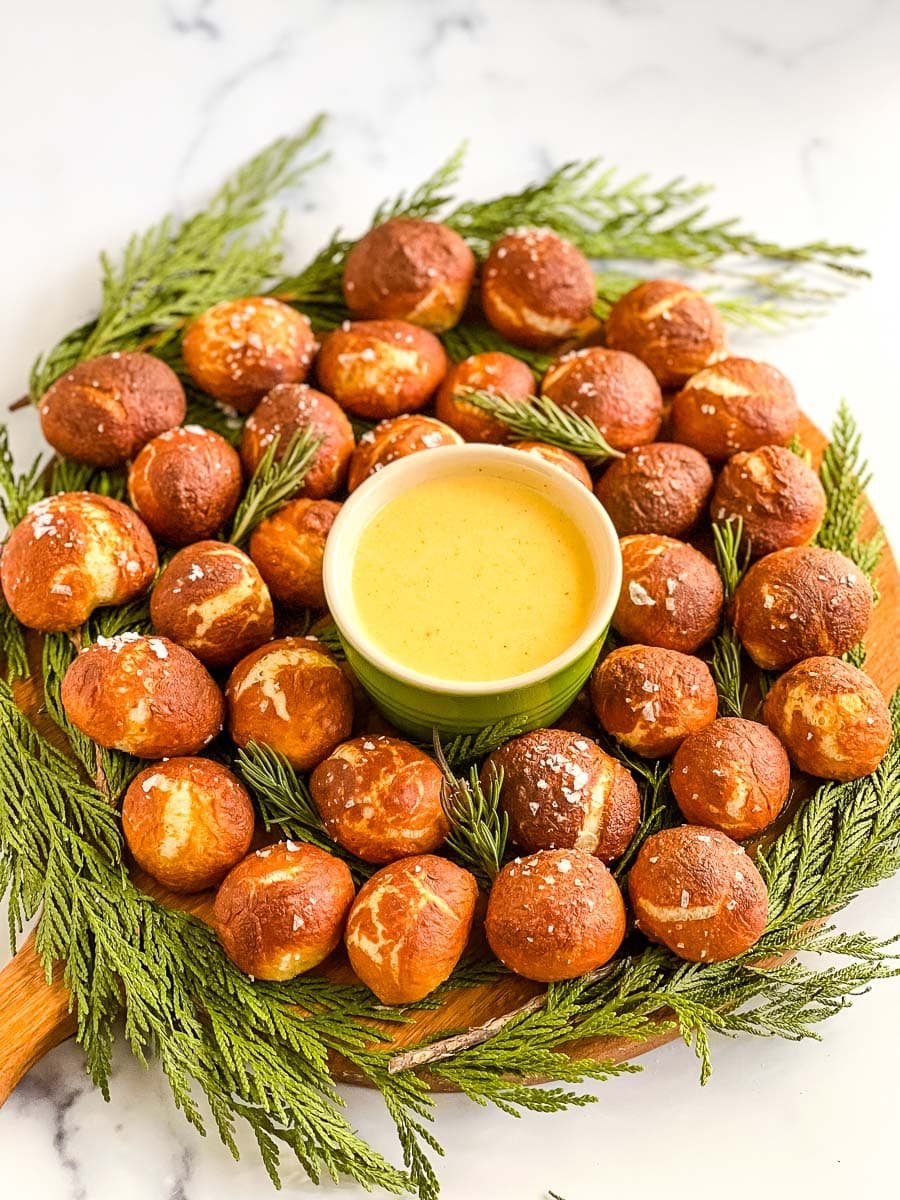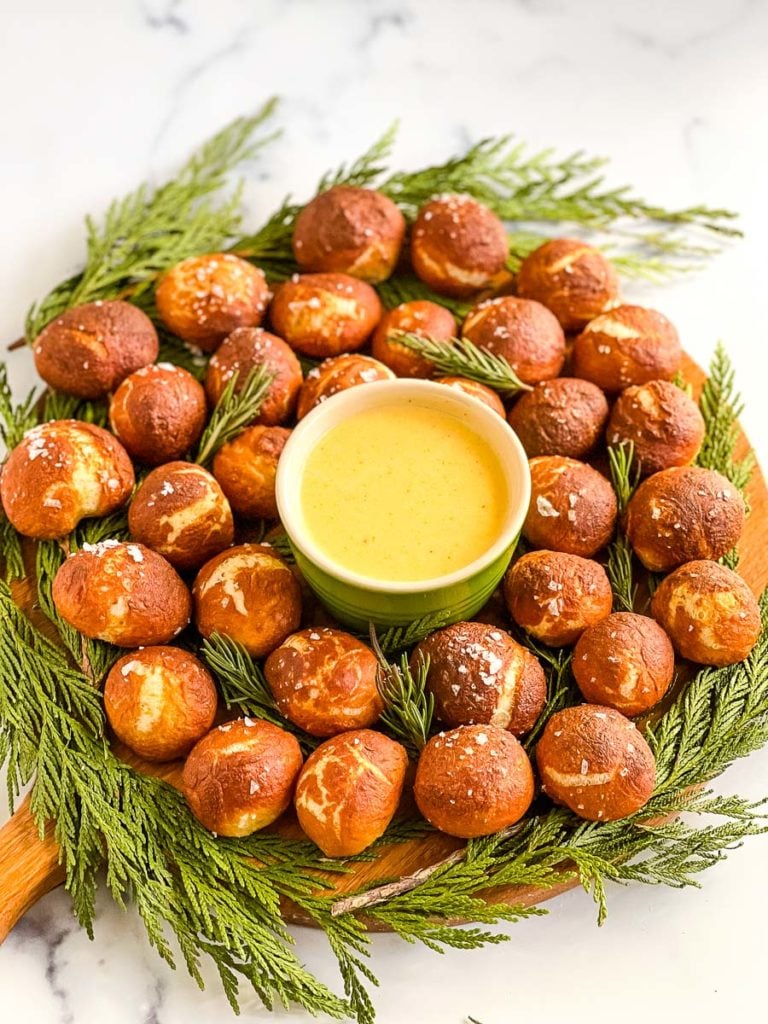 Best Hot Beer Cheese Dip Recipe
Pretzel Cheese Dip
This rich pretzel cheese dip isn't just for pretzels! You'll love this hot beer cheese dip for fondue, veggies, or as a beer bread dip. It's better than Applebee's beer cheese and guaranteed to be a big hit whenever you serve it.
Ingredients
2

tablespoons

butter

2

tablespoons

all-purpose flour

1

cup

heavy cream

(see notes for using half-and-half or milk)

1

cup

beer

4

ounces (1 cup)

sharp cheddar cheese, freshly shredded*

4

ounces (1 cup)

Gruyere cheese, freshly shredded*

(substitute with more sharp cheddar if you don't have Gruyere cheese)

1

teaspoon

paprika

1

teaspoon

garlic powder

pinch

ground cayenne or red pepper

(this gives a very mild spicy heat to the sauce)

salt, to taste
Instructions
In a medium saucepan, melt the butter until bubbly. Then add the flour, stirring with a whisk for 2-3 minutes, until it has a pasty consistency.

Slowly add milk, about 1/4 cup at a time, stirring well. Then add beer, about 1/4 at a time, stiring well. Stir in Cook on low heat until the sauce has thickened (3-5 minutes).

Stir in the sharp cheddar and the gruyere cheese to the sauce, allowing cheeses to melt. Add spices and continue stirring until the cheeses are completely melted and the sauce is thickened (about 5 minutes).

Serve the hot beer cheese dip as a pretzel cheese dip, a fondue cheese sauce, or beer bread dip.
Notes
Cream substitutes:
To substitute with half and half, use 1 cup of half-and-half and reduce beer to 3/4 cup
To substitute with milk, increase the flour by 1 teaspoon and reduce beer to 3/4 cup
*Pre-shredded cheeses contain anti-caking ingredients that can result in a less creamy cheese sauce. When possible, shred your own cheese for the absolute best results.
Nutrition
Calories:
264
kcal
|
Carbohydrates:
4
g
|
Protein:
9
g
|
Fat:
23
g
|
Saturated Fat:
14
g
|
Polyunsaturated Fat:
1
g
|
Monounsaturated Fat:
7
g
|
Trans Fat:
1
g
|
Cholesterol:
79
mg
|
Sodium:
173
mg
|
Potassium:
64
mg
|
Fiber:
1
g
|
Sugar:
1
g
|
Vitamin A:
820
IU
|
Vitamin C:
1
mg
|
Calcium:
267
mg
|
Iron:
1
mg
More Snack and Appetizer Recipes You'll Love