These tater tot appetizer cups are crispy, cheesy, filled with flavor, and perfect for party snacks or game day food!
Everyone will love crunchy tater tot cups filled with classic toppings like sour cream, bacon bits, and chives. Or, get creative and try your favorite sauces and extra goodies on these yummy baked snacks!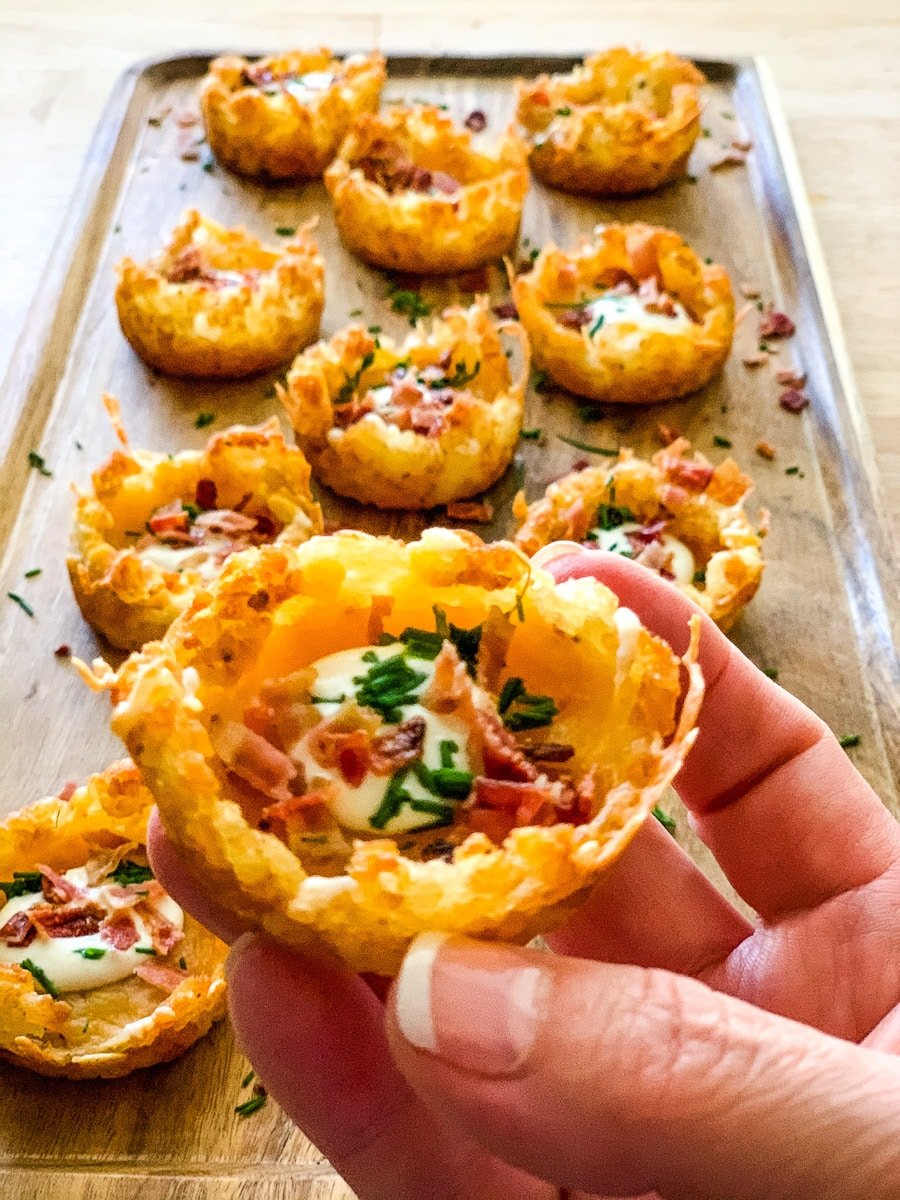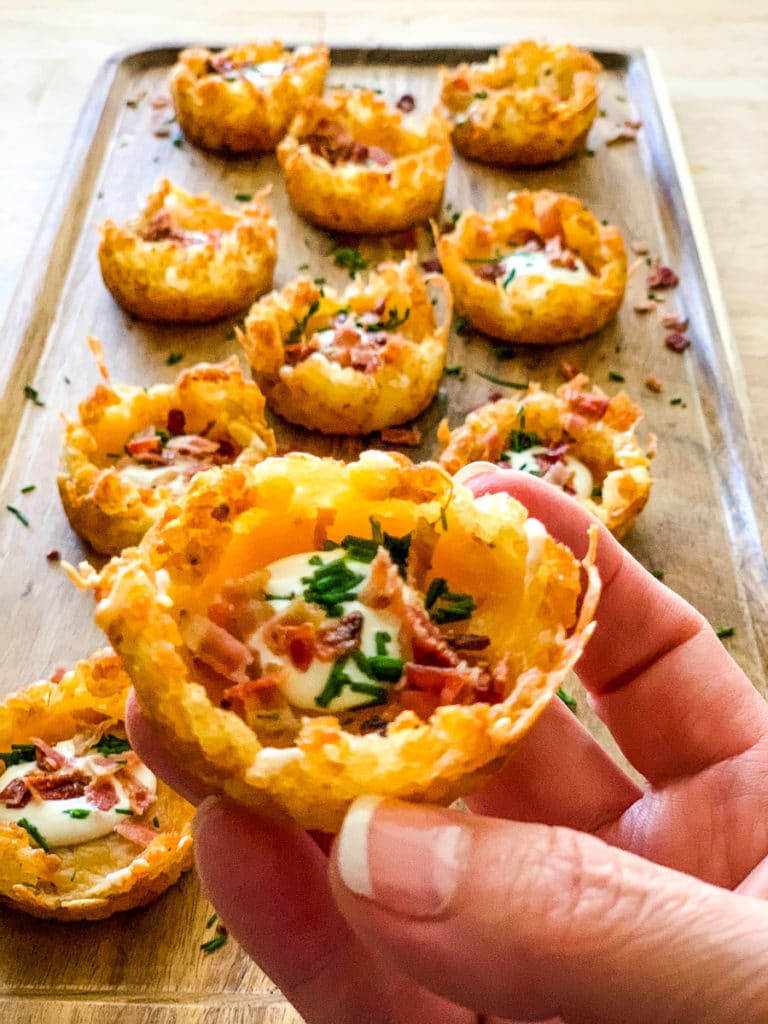 Tater Tot Appetizers
"Gimme your tots!" Do you remember that phrase from the movie Napoleon Dynamite? Well, tater tots have certainly come a long way from being just a last-minute freezer-to-oven side dish. They are now super trendy for making lots of creative tater tot appetizers and meals!
This simple appetizer recipe uses frozen tater tots as the edible base for a heavenly, tasty trio of cheese, bacon bits, and sour cream. How does that all sound?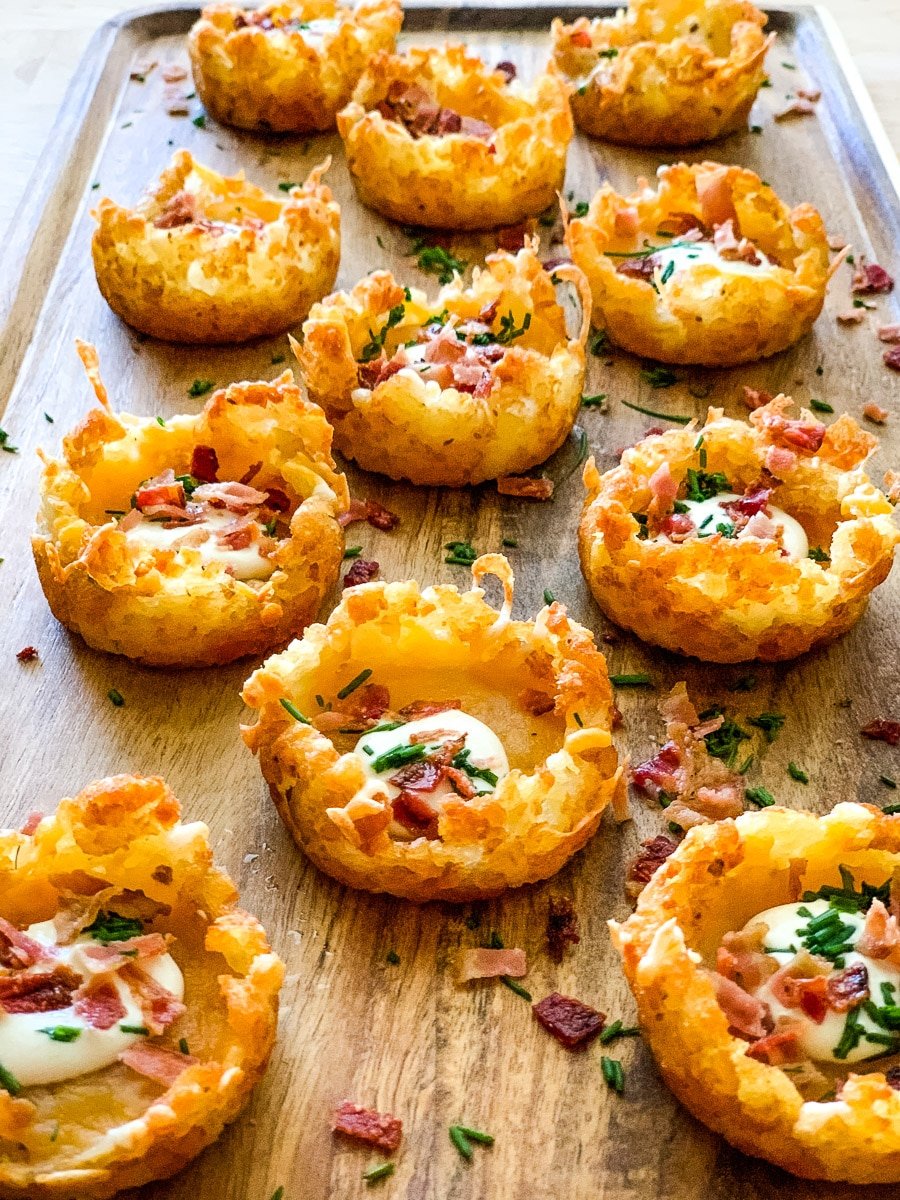 This crave-worthy game day snack is a handheld version of tachos, with flavors similar to a loaded potato casserole. But, this tater tot appetizer is much easier to make and, in my opinion, much tastier to enjoy.
One thing is for sure, tater tots aren't on any healthy foods list. But, hey, that's ok!
Sometimes you simply need an indulgent, delicious, comforting, and satisfying snack. So, go ahead and splurge on some tater tot cups!
Ingredient Notes and Substitutions
This incredibly easy tater tot appetizer is made with only a few simple ingredients. Here is everything you need:
Frozen tater tots – If you have time and want to make tater tots from scratch, go for it!

Freshly shredded cheese – We use sharp cheddar, but any flavor of shreddable cheese you enjoy will work.

Sour cream – If you want to cut the calories and fat, substitute with plain Greek yogurt or light sour cream.

Toppings – For these handheld appetizers, we use chopped chives and bacon bits. Other great topping ideas include spicy honey mustard, salsa or hot sauce, ranch dressing, and crispy French fried onions.
How to Make Tater Tots Appetizer Cups
Although there are a number of steps in the prep of this dish, they are really easy to make. And there are photos showing the step-by-step prep each step of the way!
In fact, this would be a good food activity to have kids help with. Plus, they are sure to love the tasty results.
The number of tots you place in each muffin tin depends on the size of the muffin pan you're using.
In the pictures here, I used a regular-sized muffin pan, adding 5 tater tots each.
The complete recipe below also includes instructions for using mini-muffin-sized pans.
Baking the Tasty Tater Tot Appetizer
Spray your muffin tin with nonstick spray. Then add a few tots to each muffin well, and bake the frozen tater tots in the oven. Let cool before moving on to the next step.
Then, depending on the size of your muffin tin, use a shot glass, small juice glass, or measuring cup to make the tater tot cups. Gently press the glass or cup into the cooked tots to create potato cups.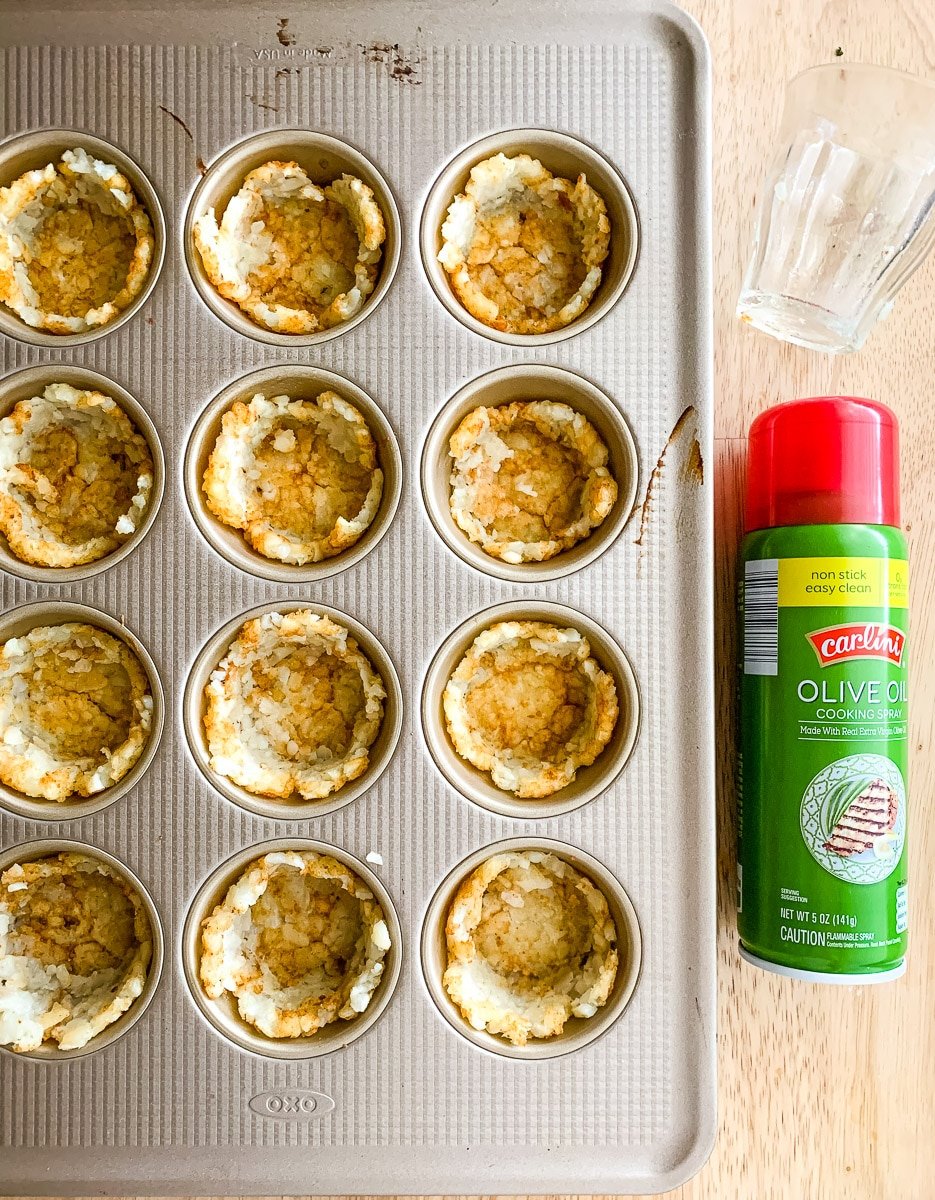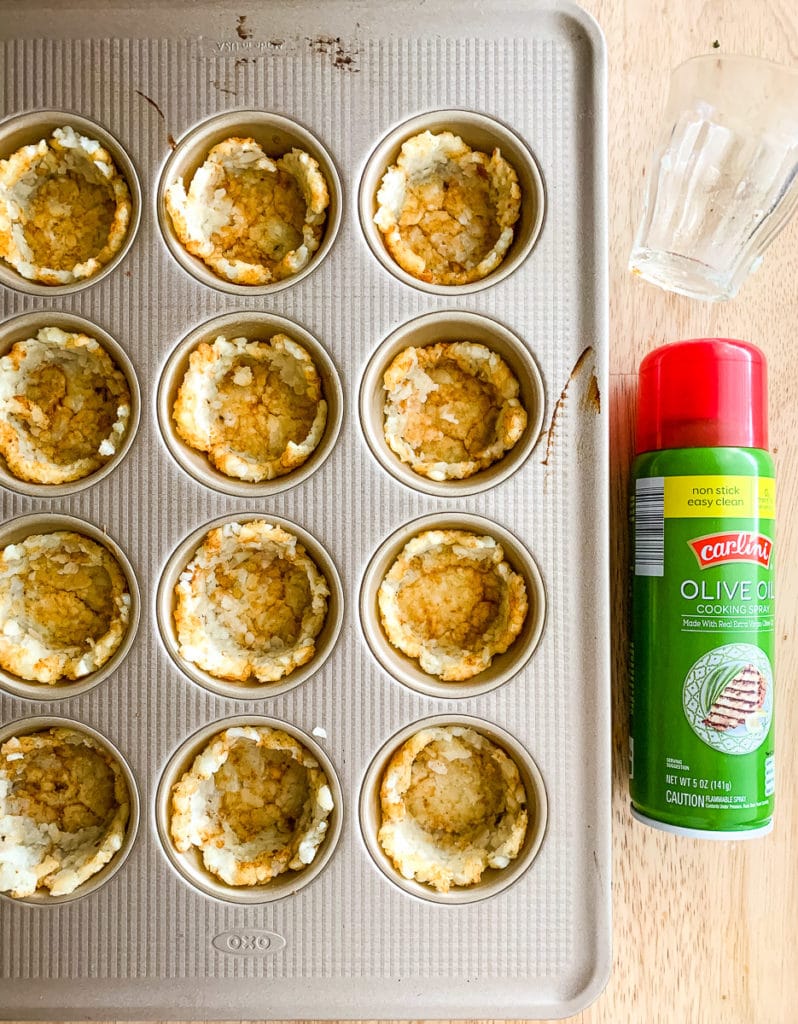 I used a small Duralex juice glass to create deep impressions in each group of tater tots. The photo below shows how to create the tater tot cups.
PRO TIP:
Leave a small gap between the glass and muffin tin opening. Twist the glass or container until the edges of the potatoes are close to the top of the muffin tin opening.
Bake again for a few minutes until crispy. Then it's time to fill the tater tots cups with cheese!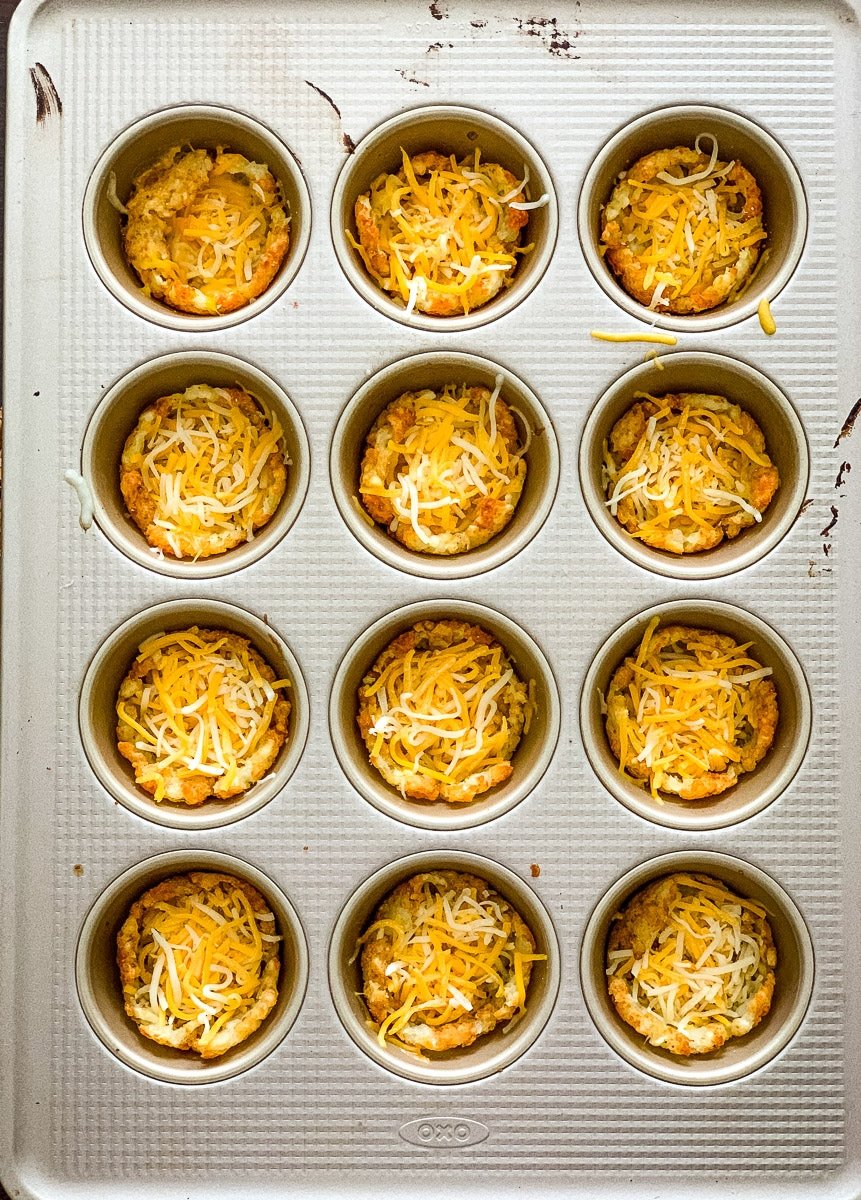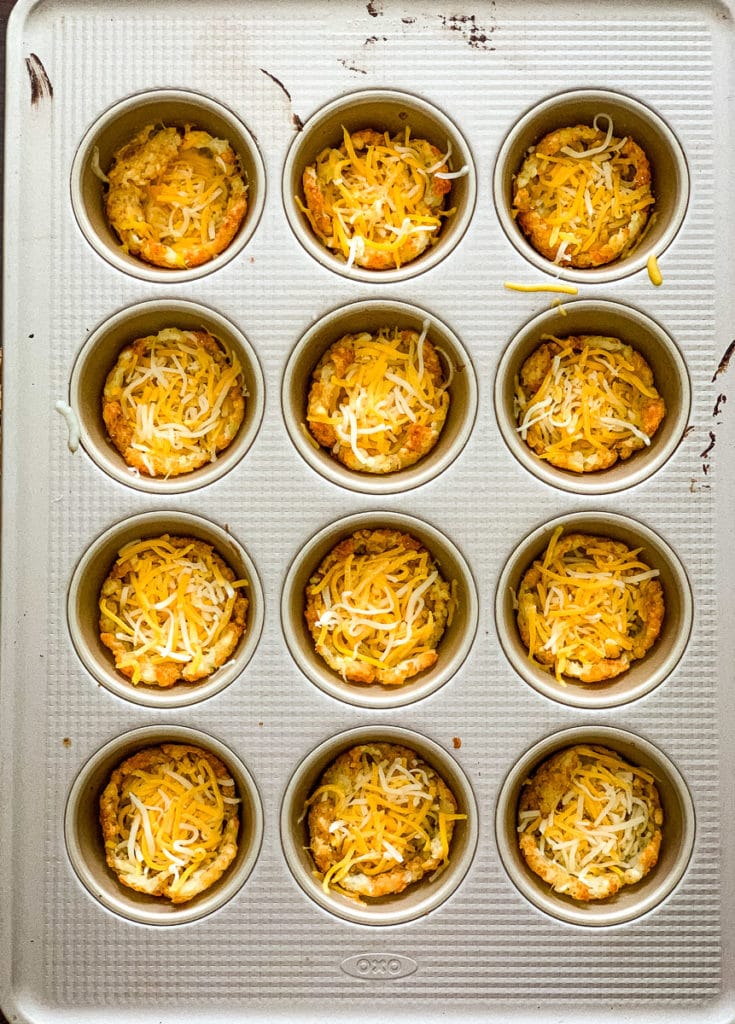 Add grated or shredded cheese to each tater tot cup. I used a small melon baller to measure and add the cheese to the cups.
Bake again for just a couple of minutes until the cheese is melted and your appetizers are almost done!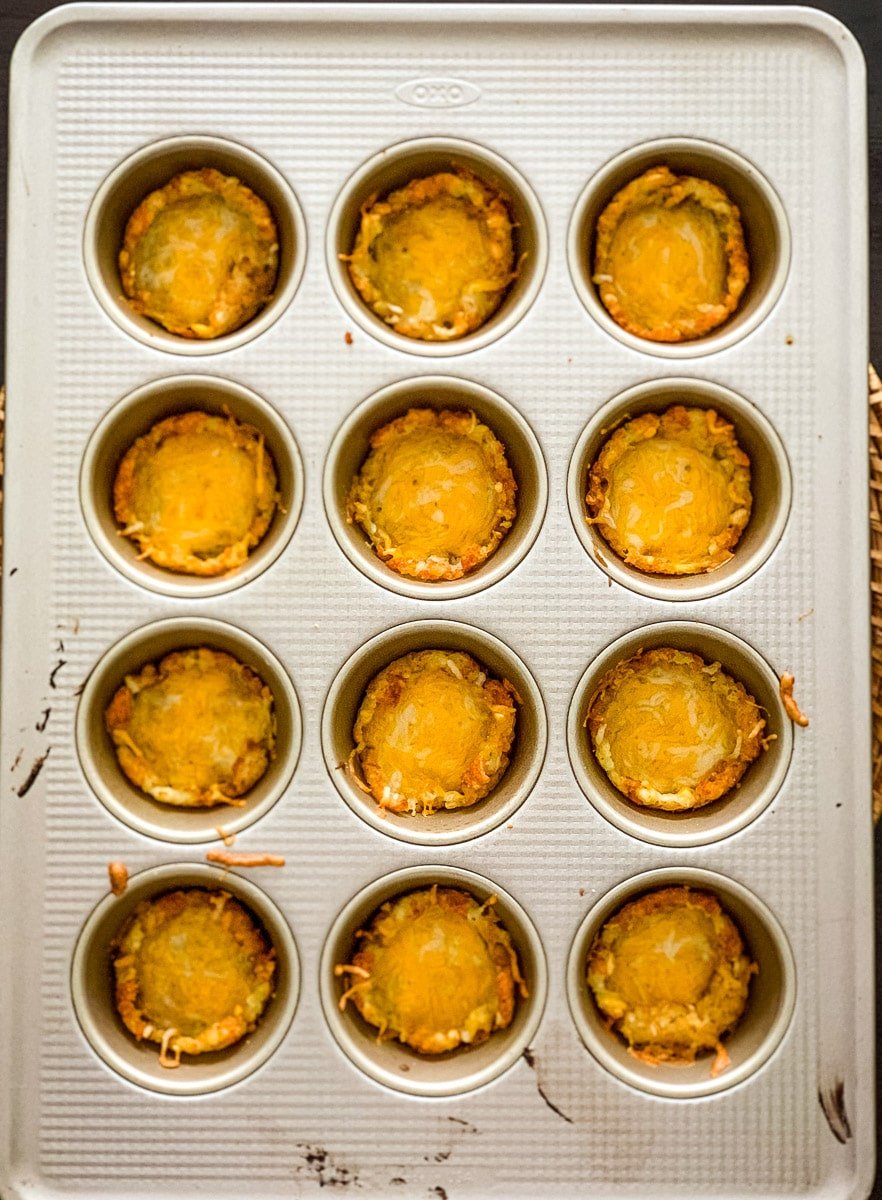 Lastly, top the cheese with chopped bacon bits, sour cream, sliced green onions, or chopped chives.
Get creative and add Tabasco sauce, a drizzle of ranch dressing, and/or BBQ sauce, zesty marinara sauce, or diced tomato.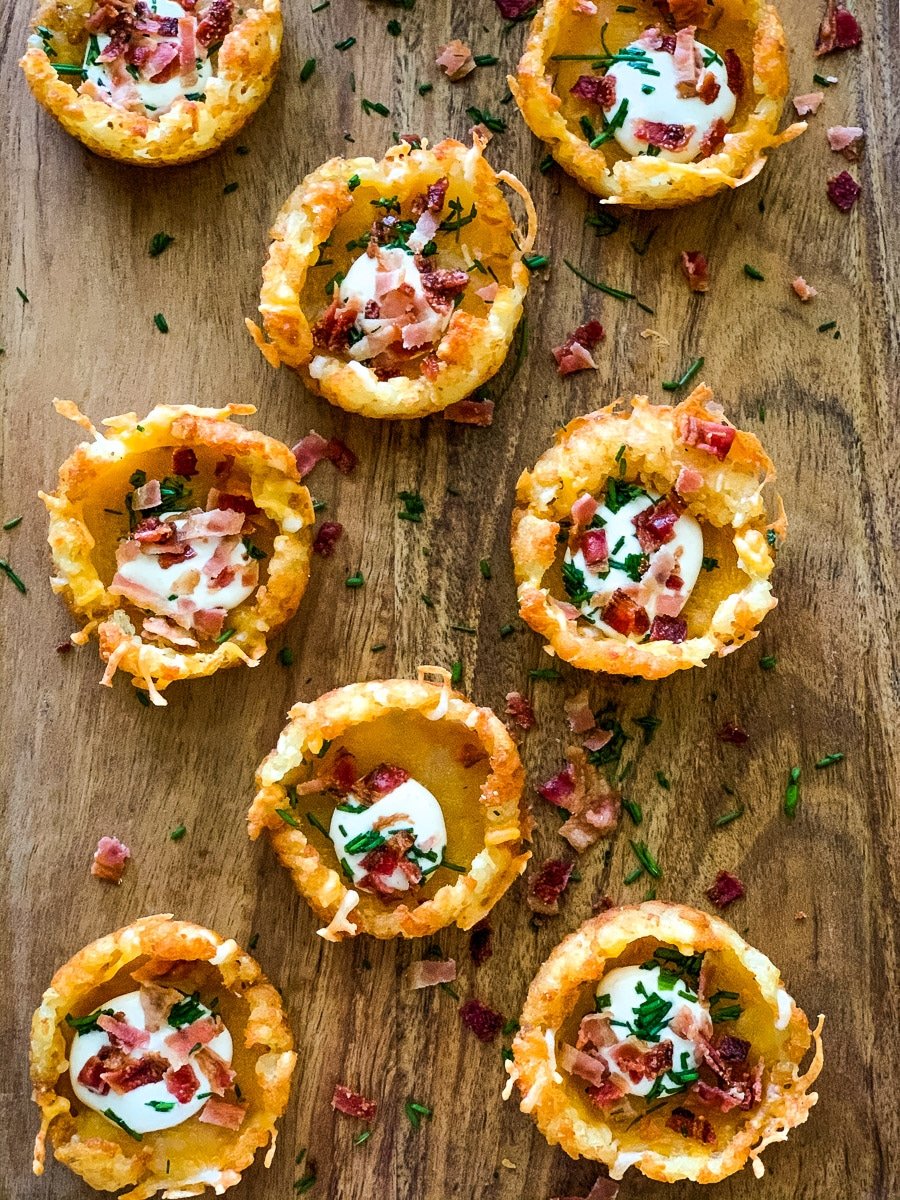 These tater tot cups are so yummy! Be sure to make enough though for each person to have plenty because they will definitely go quickly.
Other Easy Party Appetizers
Tater Tot Appetizer FAQ
Can I make these tater tot appetizers ahead?
You can. Follow steps 1-6 in the recipe, then refrigerate. Before serving, cover the muffin tin with foil and bake the tater tot cups at 400ºF for 10 minutes or until crispy and golden. Add toppings and serve.
How can I keep tater tot appetizers warm?
I recommend keeping them in a crockpot on the warm setting to keep them at 175ºF for serving.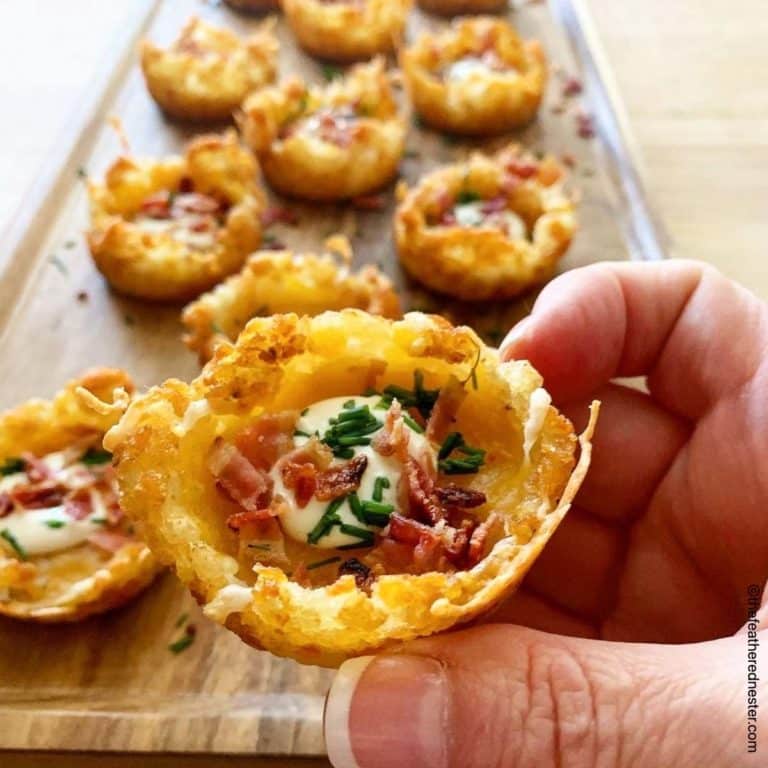 Tater Tot Appetizer Cups
Tater tot appetizer cups are a great appetizer for game day or after school snacking. Everyone loves these handheld stuffed tater tot bites!
Equipment
Muffin pan, regular or mini sized
Ingredients
48-60 frozen tater tots (16-oz bag)
¾ cup cheddar cheese, shredded
½ cup sour cream
4 slices bacon, cooked and crumbled
2 green onions, sliced (green part only)
Instructions
Preheat oven to 450ºF. Spray muffin pan cups with cooking spray.

For mini-sized muffin pan: Place 2-3 tater tots in each muffin cup.

For regular sized muffin pan: Place 4-5 tater tots in each muffin cup.

Place tater tots muffin pan on bottom rack of the oven and and bake 10 minutes. Remove the pan from the oven.

Spray bottom of shot glass or small juice glass with cooking spray. Use it (in a twisting motion) to press the tater tots in each muffin cup to make potato cup. Return to oven; bake additional 15 minutes or until deep golden brown.

Add 1 tablespoon of cheese to each potato cups. Bake for 4-5 minutes, or until the cheese has melted. Transfer to platter and let cool for 5 minutes.

Add sour cream, bacon, and green onion to each tater tot cup, and other garnishes. Serve warm.
Notes
To make tater tot appetizers ahead:
Follow steps 1-6 in the recipe, then refrigerate. Before serving, cover the muffin tin with foil and bake the tater tot cups at 400ºF for 10 minutes or until crispy and golden. Add toppings and serve.
this recipe inspired by a Kraft foods recipe.
Nutrition
Serving: 1serving | Calories: 115kcal | Carbohydrates: 10g | Protein: 3g | Fat: 8g | Saturated Fat: 3g | Cholesterol: 13mg | Sodium: 208mg | Potassium: 122mg | Fiber: 1g | Sugar: 1g | Vitamin A: 150IU | Vitamin C: 3mg | Calcium: 68mg | Iron: 1mg
PIN THIS POST!
For more meal inspiration, follow me on Instagram at https://www.instagram.com/thefeatherednester/ or on Facebook at https://www.facebook.com/houseon3rd/.
This post, originally published in August 2020, was last updated in January 2023.