Just say no to dried out meat! Let us show you how to tenderize pork chops 3 different ways, so you can have the tender, juicy chops you crave (and deserve!) for dinner tonight.
Many home cooks go their whole lives without knowing the benefits of tenderizing pork chops. But taking the time to brine, marinate, or use a meat mallet to tenderize pork makes a big difference in the overall texture, juiciness, and flavor.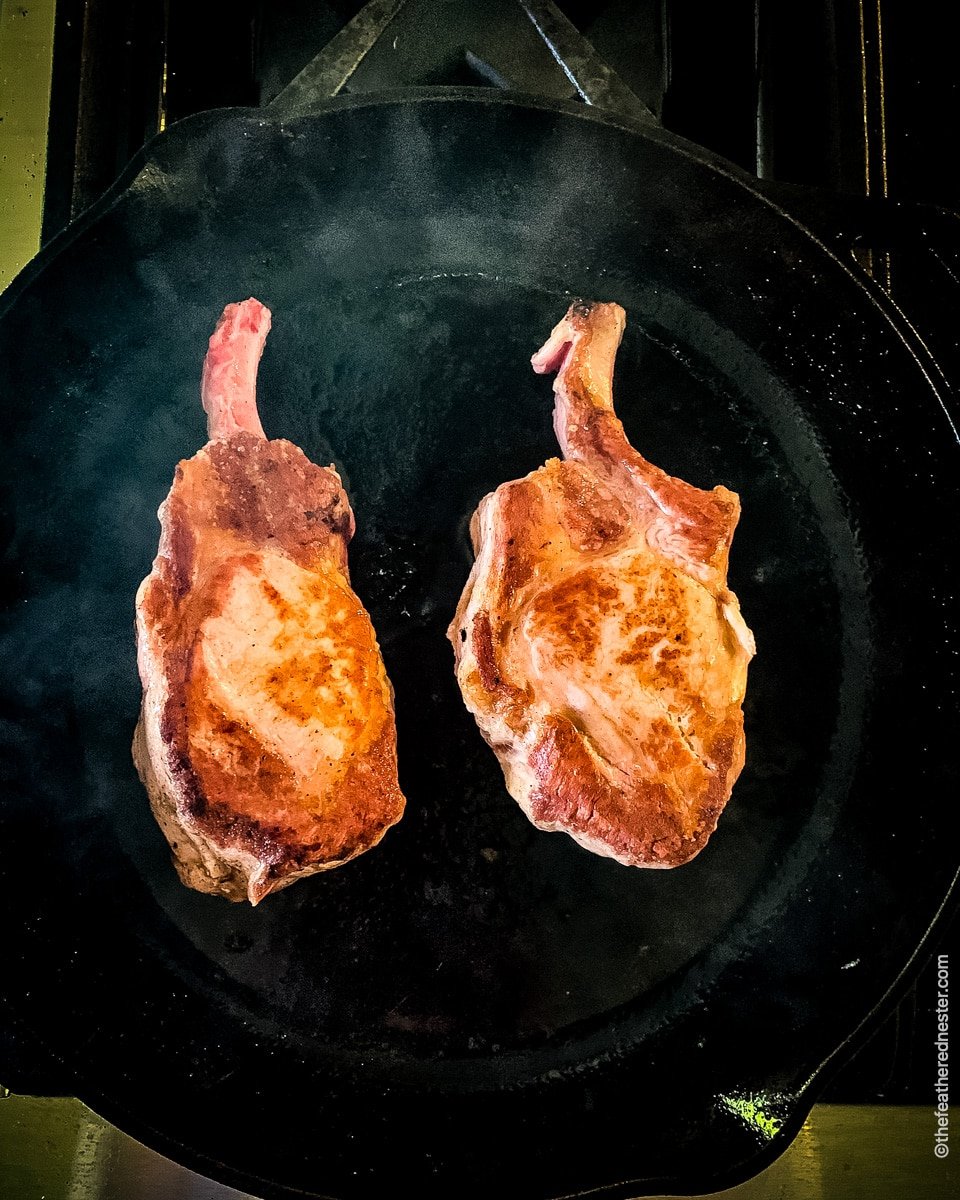 Why Learn How to Tenderize Pork Chops?
Increased overall tenderness. Tenderizing helps break down the muscle fibers, resulting in a more tender and juicy meat. Marinating, brining, or using a meat mallet transforms pork chops into the kind you can cut with a table knife.
Improved flavor absorption. Marinating and brining allows the spices and flavors to penetrate the meat more deeply. This makes the meat more tasty so each bite is packed with deliciousness.
It creates more versatile cooking options. No matter the cut of chops, once tenderized, you can pan-fry, grill, or bake them. Tenderized chops cook more evenly and more quickly, allowing you to experiment with various cooking methods to suit your schedule.
Quick Tips for Tenderizing Pork Chops
Trim excess fat before marinating, brining, or pounding. While we want the fat in marbling, we don't want excessive fat that might linger after cooking. Unless you're slow cooking or smoking, the fat doesn't render down enough, so it remains rubbery and unpleasant.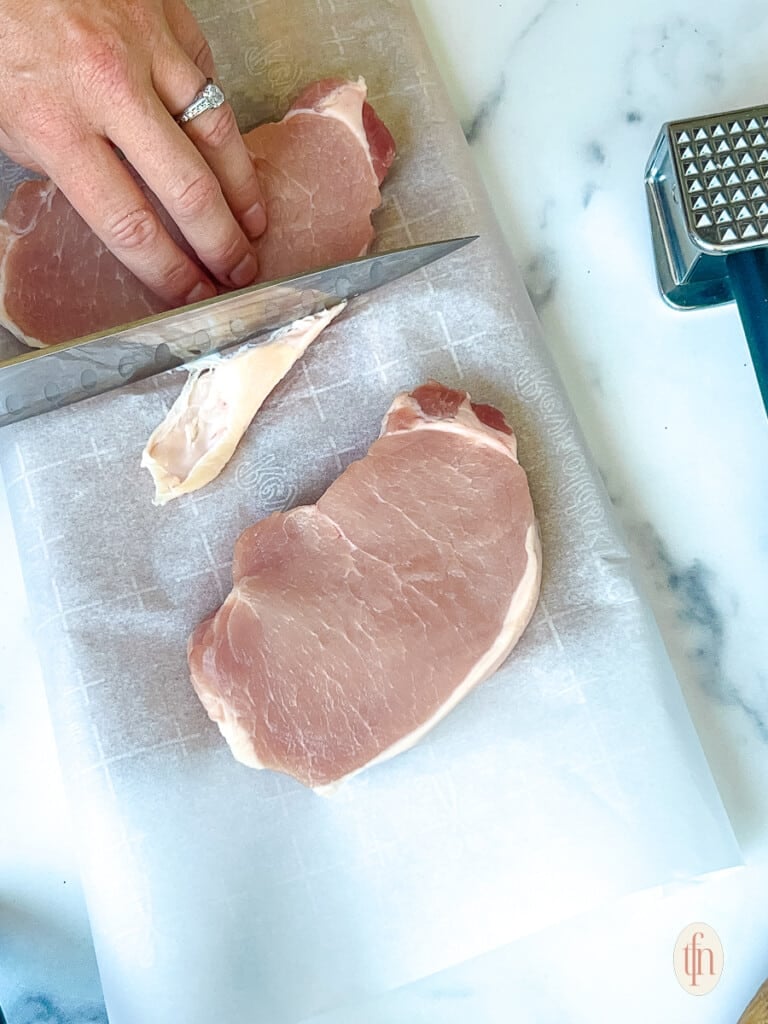 Seasonings and spices make a difference. An abundance of aromatics, like herbs, garlic, and scallions, add an intoxicating scent and flavor to meat — and become enormously effective during a prolonged marinade or brine.
It isn't all done beforehand! There are post-cooking steps to take. Basting and letting the meat rest once cooked are both quick, easy ways to tenderize pork in the home stretch.
Picking Out Delicious Cuts for Cooking
As with most meats, choosing a bone-in cut results in most flavor post-cooking. The marrow in the bone leaks out and flavors the surrounding meat.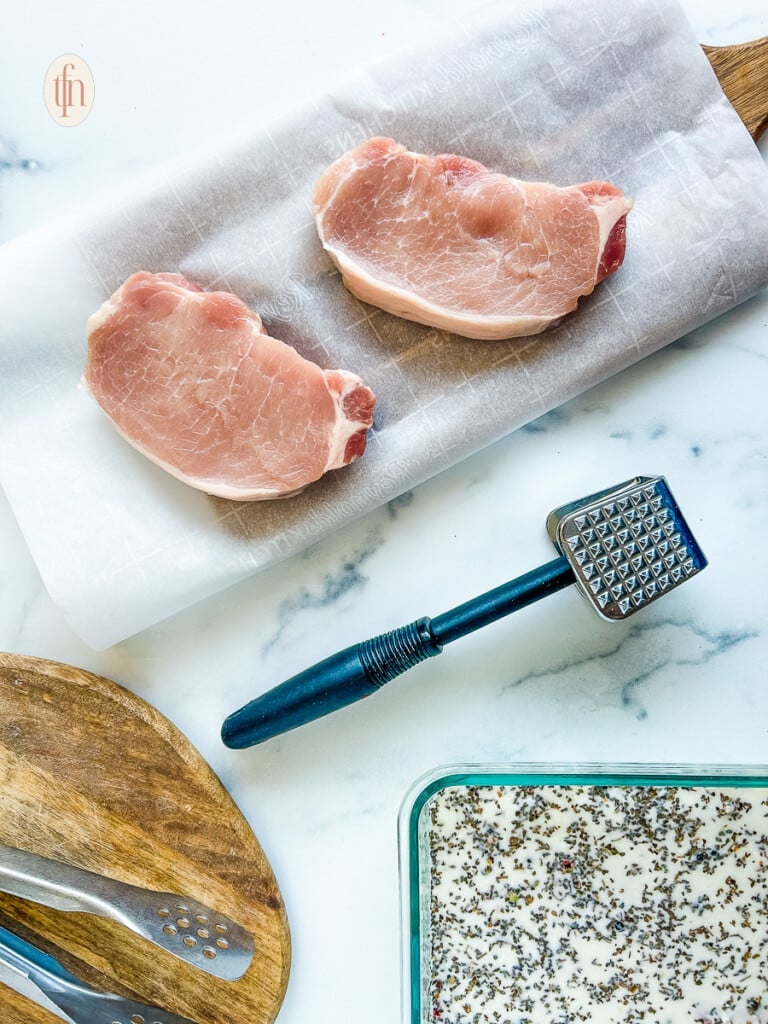 This is also why prime cuts have marbling throughout — not concentrated in one area of the cut — and are a pinkish-red color. The bone should be white or off-white, not dark.
Thicker cuts (at least 1") are ideal to prevent the meat from drying out as it cooks, but this depends on the endgame recipe and cooking method.
How to Tenderize Pork Chops 3 Different Ways
Tenderize pork with a meat mallet.
The trick to tenderizing pork chops with a mallet is to use both sides.
First, use the flat side to flatten the meat to a uniform thickness (ideally between ½" and ¼" thick). Then, use the spiked side to tenderize and indent the surface on both sides of the meat.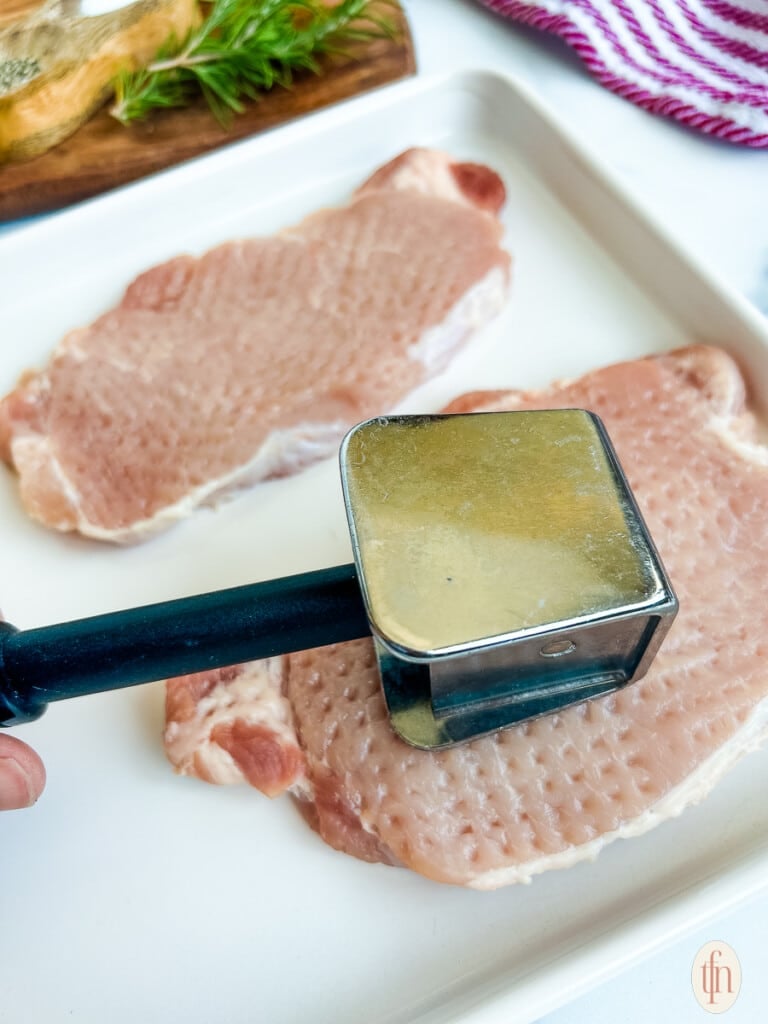 Note that this method can be used in conjunction with brining and marinating for best results.
Tenderizing pork chops by brining.
Most of us are familiar with marinating, but what is brining?
Brining is a process by which salt and water are soaked up via reverse osmosis. By soaking low-sodium meat in a salty brine mixture, everything you put into the brine works its way inside the meat to relax the tough muscle texture and flavor it from the inside out.
In addition to salt, we also recommend adding buttermilk to a brine. It breaks down proteins even more, for super tender buttermilk pork chops! Tenderizing with a brine also works for other proteins, particularly chicken and turkey.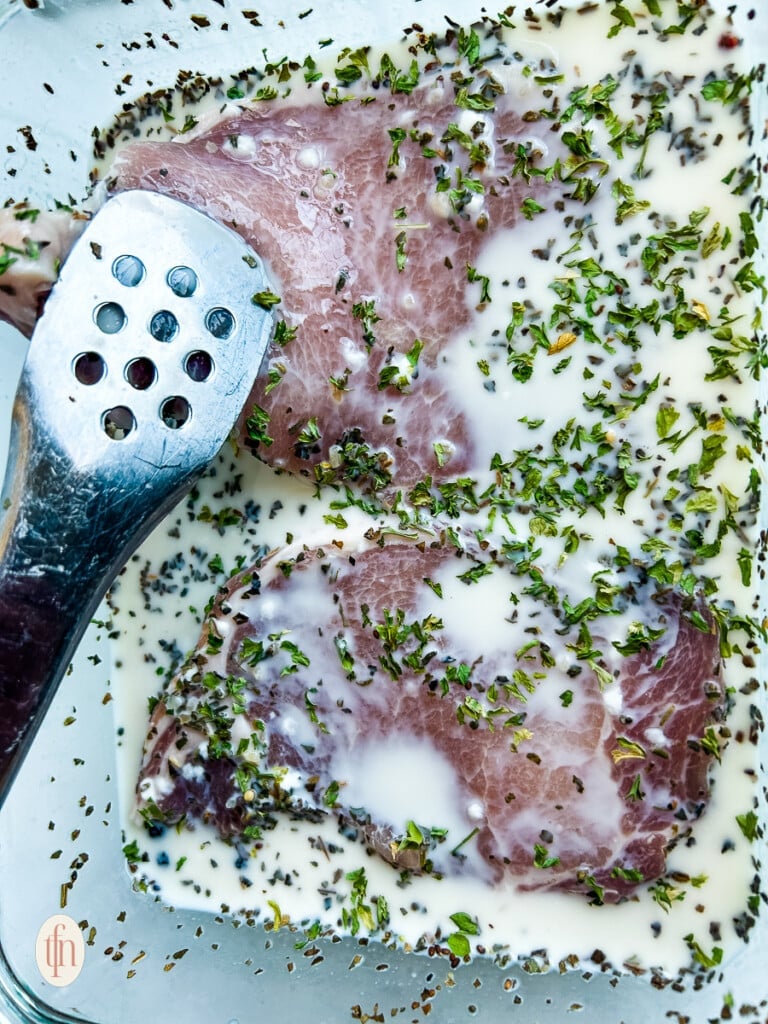 TFN Pro Tip
Brining is most effective if left to work for at least 8 hours, but no longer than 24 hours.

To see a detailed example of how to tenderize pork chops and other meats with this method, head over to our buttermilk brine recipe!
How to tenderize pork chops with a marinade.
Marinating is all about acidity to break down tough fibers — and using just enough of it.
Too much will break the protein down past tenderness and into tough, chewy territory. Alternatively, too little acid won't do the job. Our pork marinade recipe illustrates this delicate ratio.
It's a wonderful method for making use of inexpensive ingredients, maximizing the flavor of the meat without an abundance of salt, and helping the meat cook and caramelize perfectly.
This method works within an hour, but is most effective when left to soak overnight.
Tenderizing Pork Chops FAQ
Should I rinse marinade and brine off of meat?
You should rinse brine off, to remove excess salt from the surface of the protein. But never rinse a marinade off — that's pure flavor!
How does using a meat mallet help in tenderizing pork?
The texture on the surface of the spiked side of the mallet helps break down the muscle fibers, resulting in a more tender chop.
Does soaking pork chops in milk make them tender?
Yes, and it is possible to marinate in regular whole-fat milk if you don't have buttermilk.

Anything containing fat can be effective, including other dairy products like whole-fat yogurt. What's important is to avoid using low fat and no-fat dairy products.
Storing and Freezing
Marinades, depending on their ingredients, if kept refrigerated, will keep for 5 days. If frozen, they can be kept for as long as a few months.
And brines, again, depending on the ingredients, can be refrigerated for up to a week or frozen for a few months.
TFN Pro Tip for Food Safety
Brines and marinades that you use for raw meat should be thrown away immediately after removing the uncooked food! This is because raw proteins introduce unhealthy bacteria to the liquid, which makes it unsafe to consume and/or use again.
Renae Recommends These Tenderizing Tools