This Thanksgiving enjoy a perfectly roasted turkey breast that's prepped with a tangy, flavorful buttermilk brine. Not only is the breast the juiciest part of the turkey, it is much easier to brine and cook than a whole bird. Save yourself some time, money, fridge space – and hassle – by making a buttermilk marinated turkey breast for the holidays!
As an Amazon Associate I earn from qualifying purchases, at no extra cost to you. See my disclosure policy here.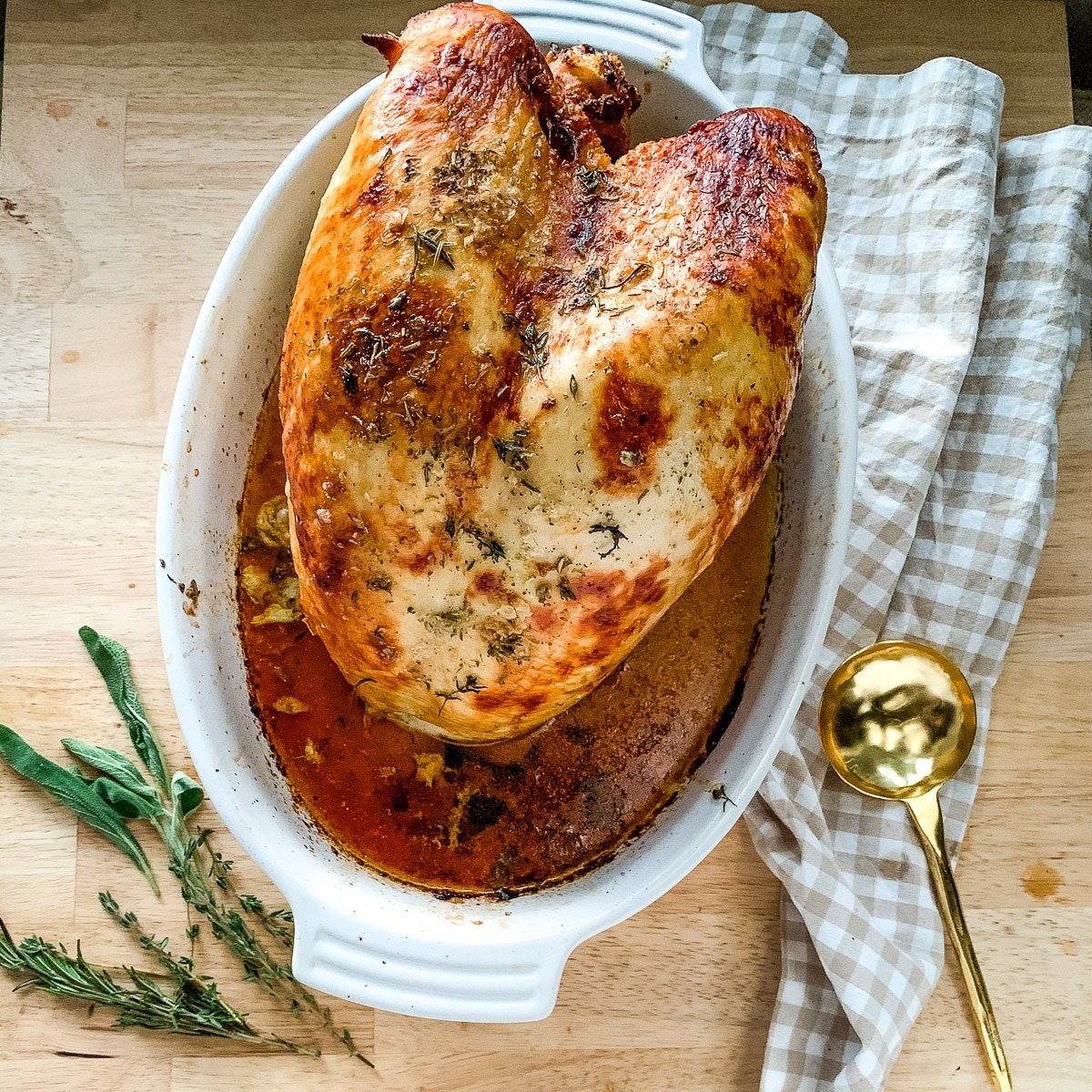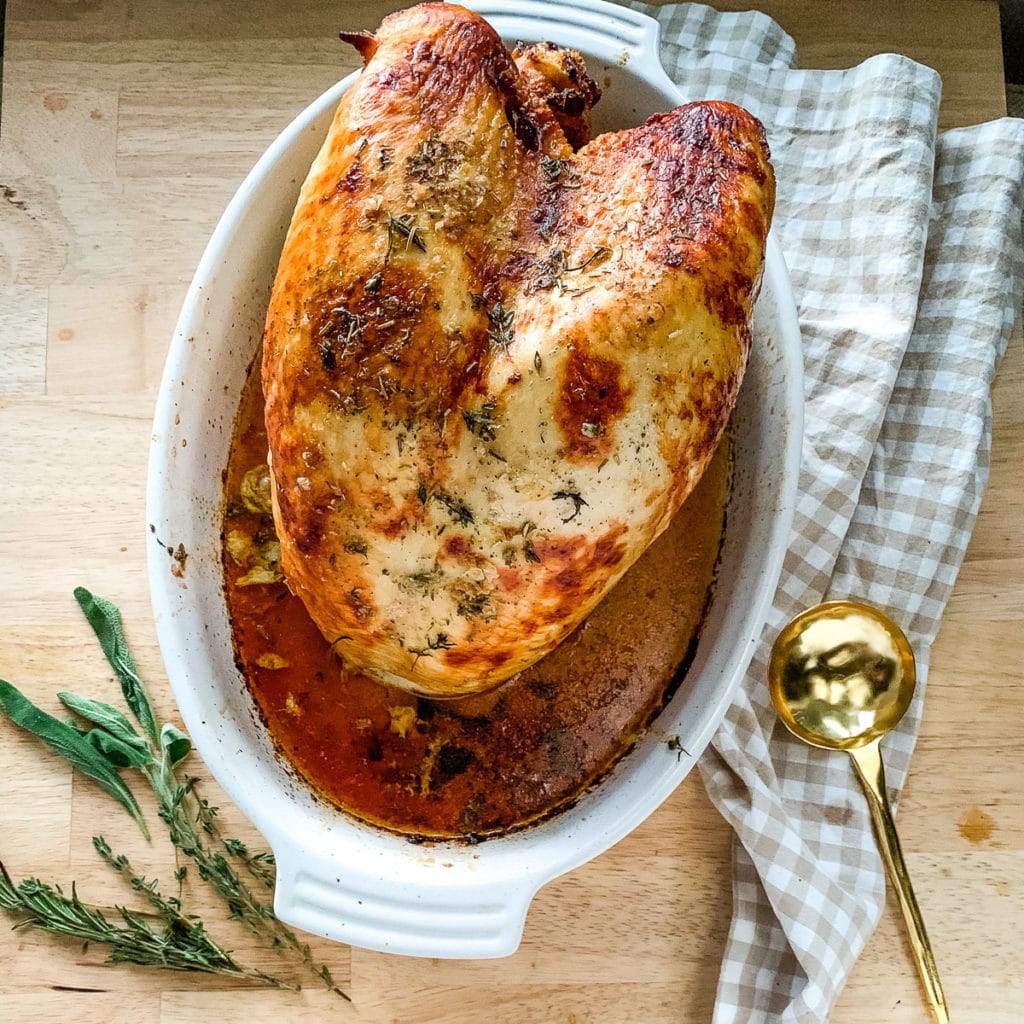 Buttermilk Marinated Turkey Breast
Soaking poultry and pork in saltwater brine produces tender, juicy meat. And, I've found that buttermilk is the ideal brine base for pork, chicken, and turkey. Plus, it adds a zesty flavor while keeping the meat incredibly moist.
The acidity and calcium in buttermilk help break down the proteins in meat.
Since meat contains a lot of water and a very little salt, brining is a reverse osmosis process (see chart below). Over time, the brining allows a natural shifting of moisture in the meat, making it more tender.
To learn more about how brining works in this article on the osmosis of brining.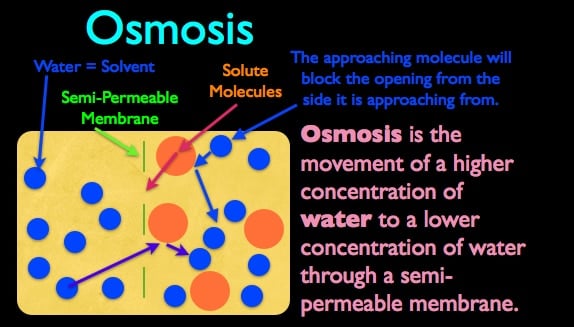 No time for brining? Air fry your turkey breast with this air fryer turkey breast recipe.
What Ingredients are in A Buttermilk Brine
A brine typically consists of a liquid, spices, and lots of salt. For this recipe we use buttermilk as the base of the marinade, plus water, salt, and these seasonings:
Dried basil
Coriander seeds
Black peppercorns
Yellow mustard seeds
Granulate garlic
Bay leaves
Our turkey breast is about 6-7 pounds, which is great for this brine recipe that will yield approximately 1.25 gallons of marinade.
How to Prepare a Buttermilk Brined Turkey Breast
You want to start the brining process a day or so before you plan to roast and serve the turkey breast. This will give it plenty of time to marinade and become super tender and juicy.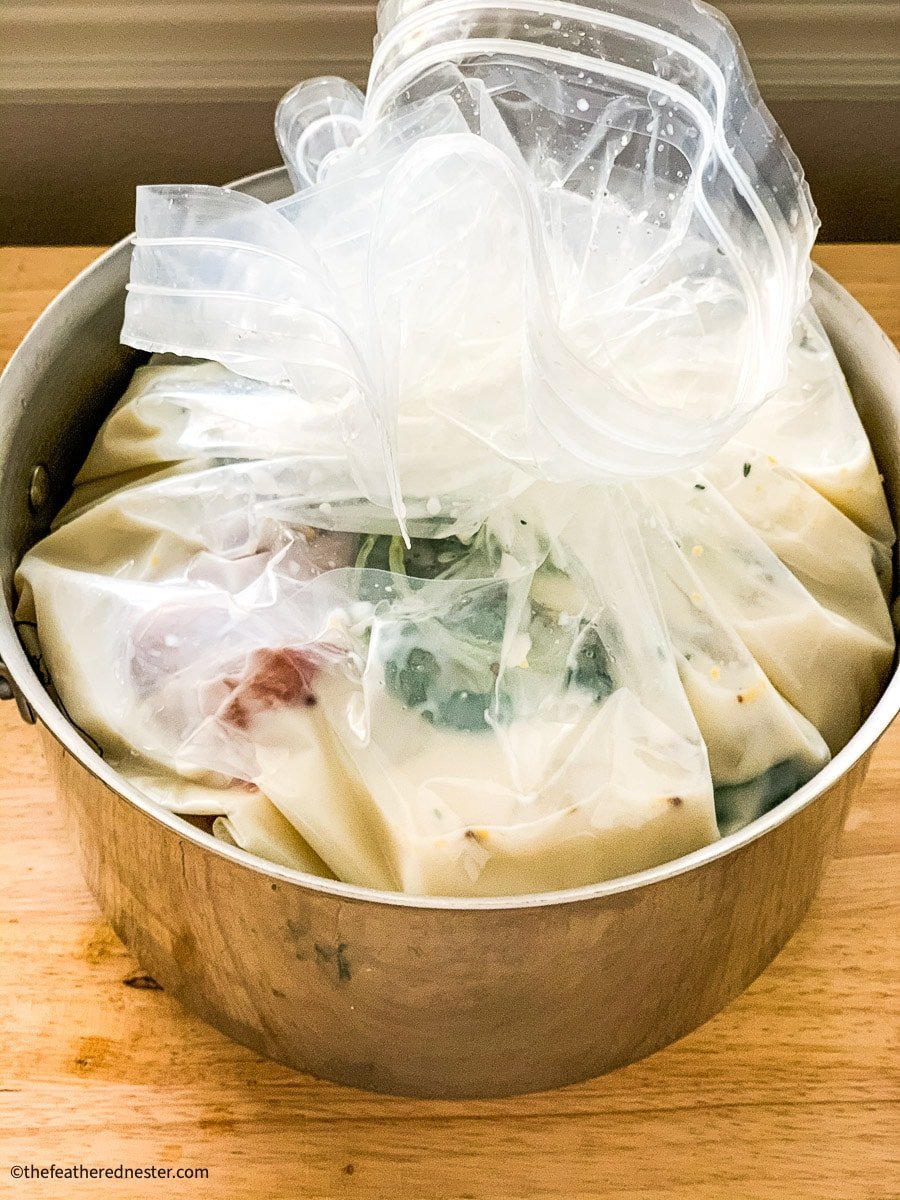 Follow these easy steps to make a tangy, tasty buttermilk brine and roasted turkey:
Make the brine. In a small saucepan combine the seasonings in water and bring to a boil, stirring consistently until the salt is dissolved. Remove from heat and allow the mixture to cool. Once cooled, mix together the brine seasonings and buttermilk in a large sauce pot.
Brine the turkey. Rinse the turkey breast in cold water, place in a brining bag, and pour the buttermilk brine over the breast to coat. Set the bag inside a large stockpot or other big container (just in case of a leak!), and place in the fridge. Allow the turkey breast to marinade for 24-36 hours, making sure to turn the bird occasionally.
Roast the buttermilk brined turkey breast. After a day or so in the fridge, you are ready to roast! Remove the turkey from the brine and give a quick rinse in cold water, pat the skin dry with paper towels, and rest to take off the chill from the refrigerator while you preheat the oven to 325 degrees F. Brush the skin with melted butter and roast in a roasting pan until the turkey reaches an internal temperature of 165 degrees F.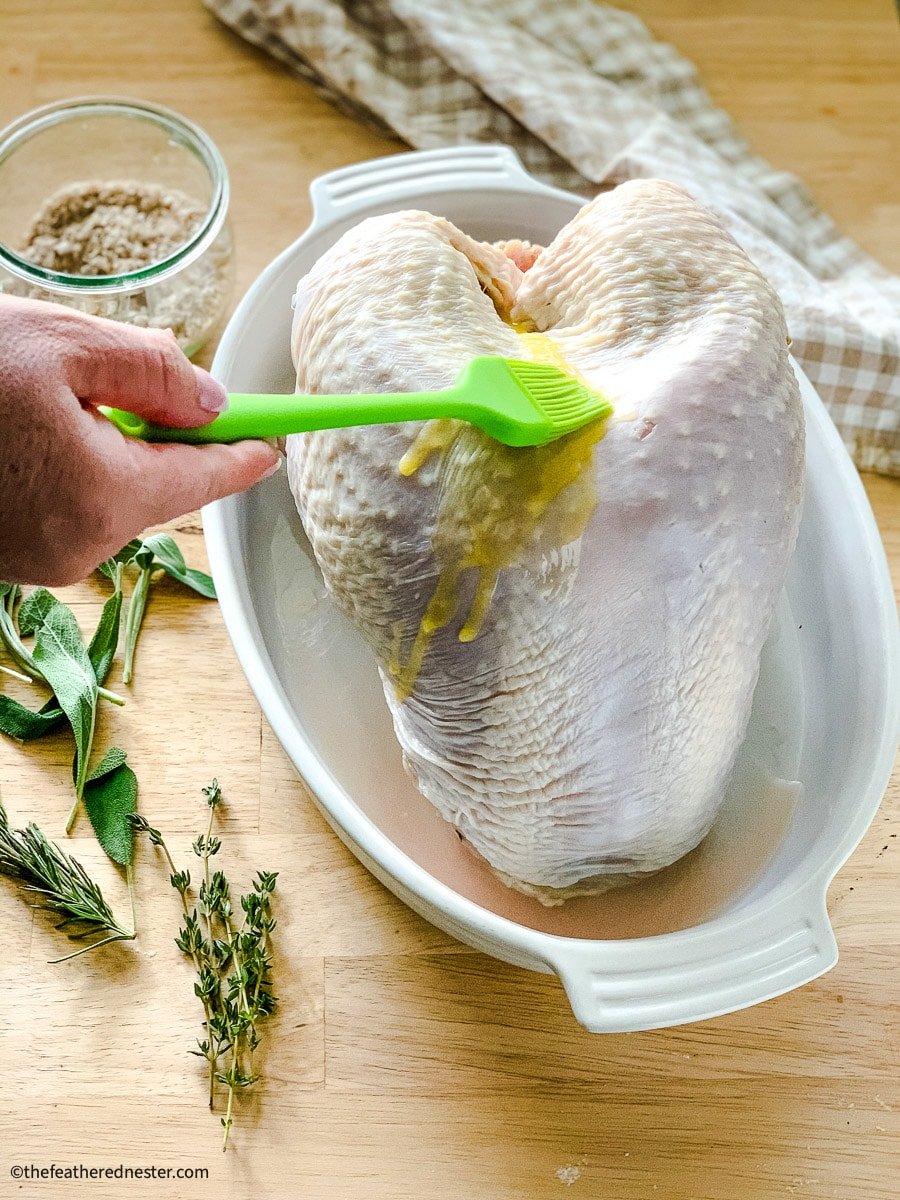 Get the Full Buttermilk Brined Turkey Breast Recipe Below!
Frequently Asked Questions
Can you brine a frozen turkey breast?
Yes, you can. If you have a frozen turkey, you can thaw it while you brine it. Give it an additional day to defrost. So, give your brining an additional day for a total of 36-48 hours.
Can this buttermilk brine recipe be adapted to marinade a whole turkey?
This recipe makes approximately 1.25 gallons of brine, perfect for an average turkey breast. A full medium-sized turkey, roughly 12-15 pounds, will require 2-3 gallons of brine. This recipe can easily be doubled and prepared in a 4-5 gallon bucket to brine a whole turkey.
What other proteins are good for preparing with a buttermilk brine?
A flavorful buttermilk brine is great for making juicy pork chops, chicken breasts, or a whole chicken.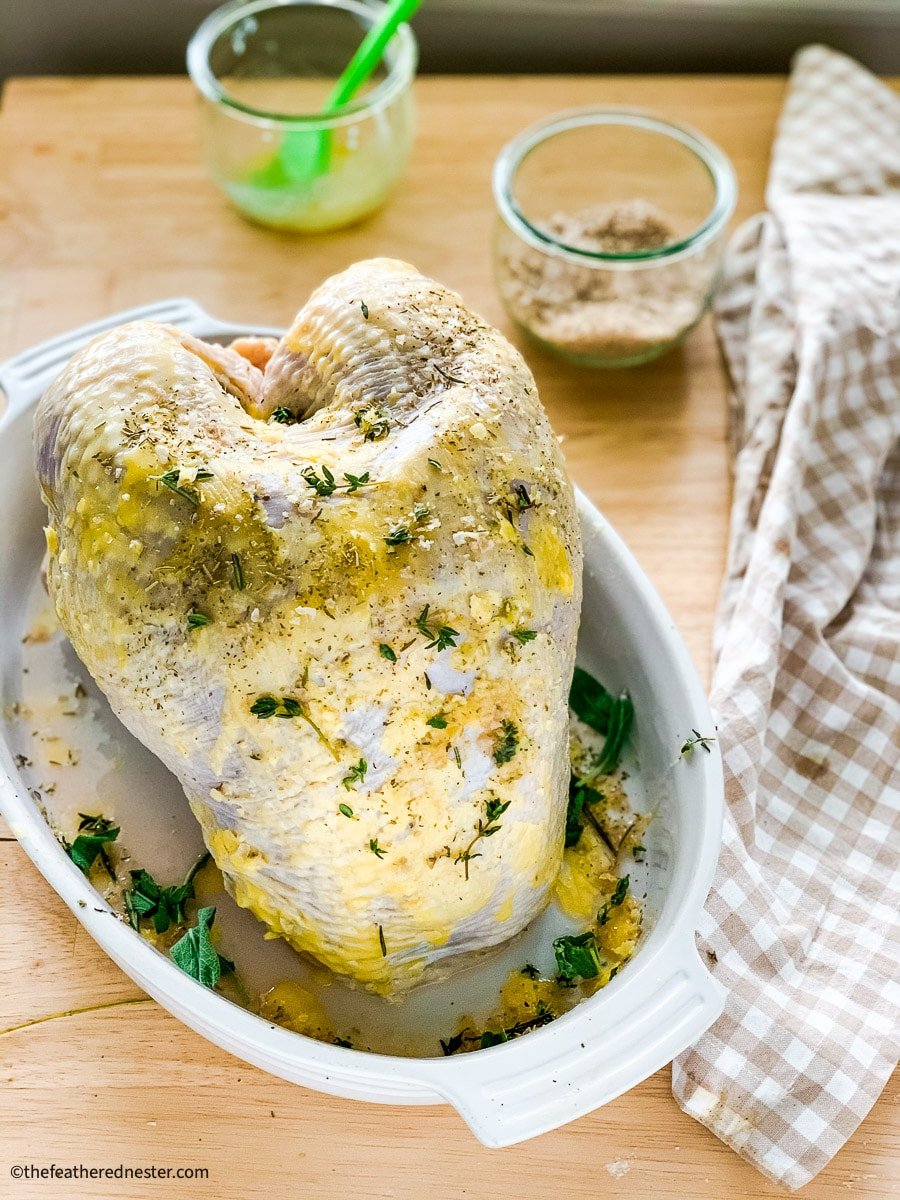 Easy Buttermilk Marinade Recipe
Buttermilk Brined Turkey
Soaking the turkey in a saltwater brine produces tender, juicy meat. This brine includes buttermilk, which adds flavor to the turkey breast and helps keep the meat incredibly moist.
Ingredients
3/4

cup

kosher salt

5

Tbs.

dried basil

5

Tbs.

coriander seeds

2

Tbs.

black peppercorns

2

Tbs.

yellow mustard seeds

1

Tbs.

granulated garlic

4

bay leaves

4

cups

water

4

quarts

buttermilk

1

fresh turkey breast, bone in (6-7 lbs)

2

Tbsp

melted butter
Instructions
In a saucepan over high heat, combine the salt, basil, coriander, peppercorns, mustard seeds, granulated garlic and bay leaves with the water and bring to a boil, stirring occasionally, until the salt is dissolved. Remove from the heat and let cool to room temperature. In a large pot, stir together the cooled brine mixture and buttermilk.

Rinse the turkey breast with cold water and place in a brining bag. Carefully pour the buttermilk brine mixture into the bag. Seal the bag, pressing out the air, and place in a large stockpot or other container large enough to hold the turkey. Refrigerate for 24 to 36 hours, turning occasionally.

Remove the turkey from the brine, Rinse the turkey breast with cold water and pat dry with paper towels. Let the turkey stand at room temperature for 15 minutes before roasting.

Brush skin of turkey breast with melted butter. Place into a roasting pan or casserole dish. Roast turkey for 15 minutes per pound, or until the center of the turkey breast is 165º F.
Notes
You can double this recipe to brine a whole turkey that is approximately 12-15 pounds.
Nutrition
Serving:
1
serving
|
Calories:
358
kcal
|
Carbohydrates:
29
g
|
Protein:
17
g
|
Fat:
20
g
|
Saturated Fat:
10
g
|
Cholesterol:
52
mg
|
Sodium:
11150
mg
|
Potassium:
810
mg
|
Fiber:
3
g
|
Sugar:
23
g
|
Vitamin A:
938
IU
|
Vitamin C:
1
mg
|
Calcium:
651
mg
|
Iron:
4
mg
Get More simple, delicious Poultry dinners