This buttermilk brined turkey breast is perfect for Thanksgiving or any family dinner! Although the breast is arguably the best part, it has a bland flavor, so making a zesty buttermilk turkey brine adds a much needed flavor boost. Get our tips for a tender, juicy poultry dinner that everyone raves about!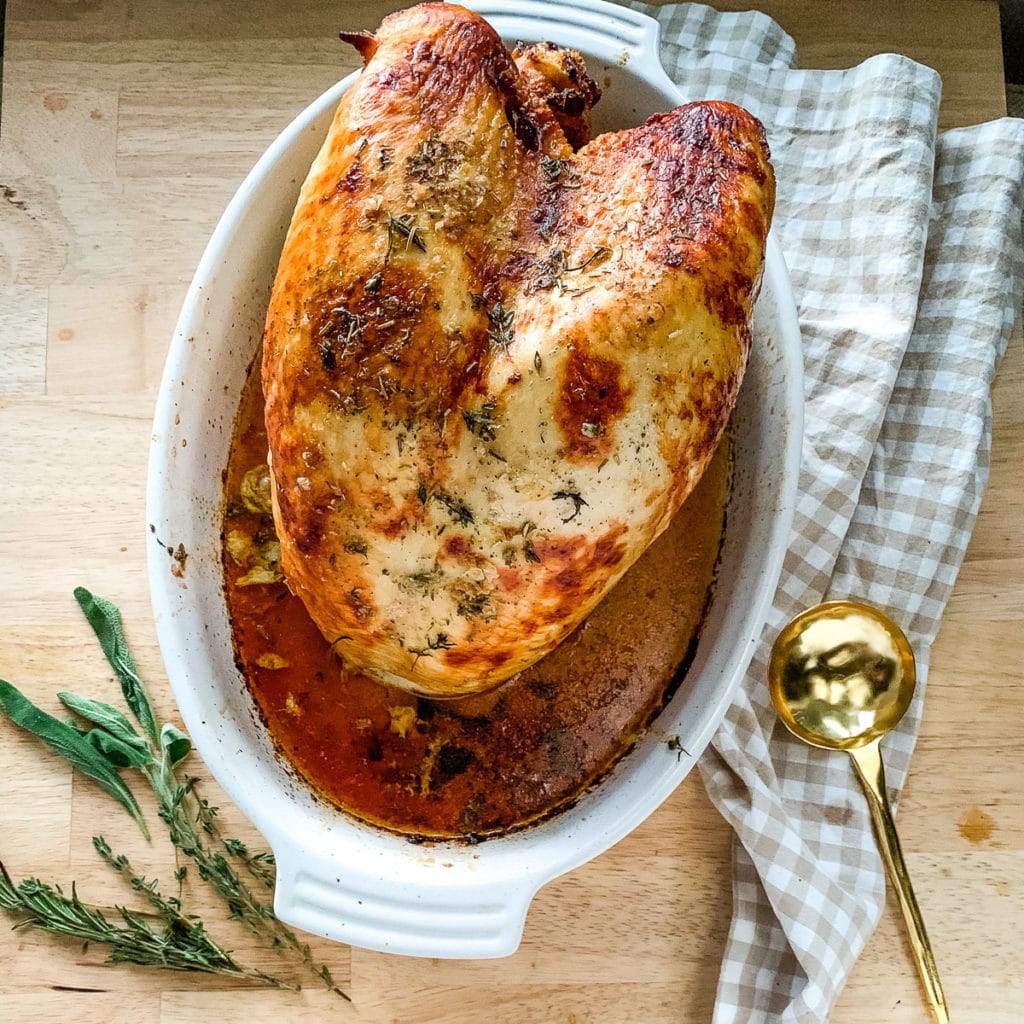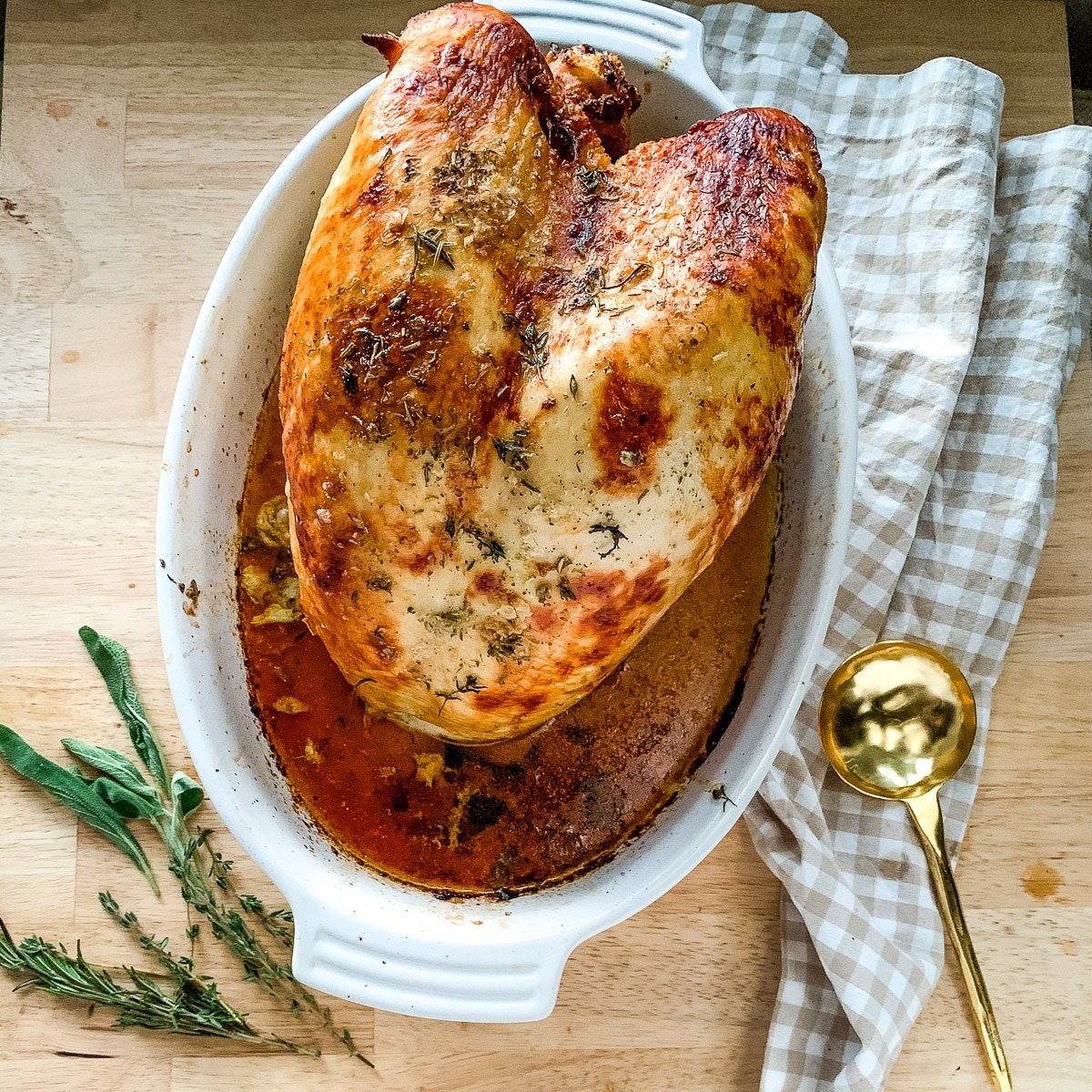 Let's face it, big turkeys take up a lot of space in the fridge. For smaller gatherings, save yourself some time, money, fridge space – and hassle – by making a smaller breast with a buttermilk turkey brine instead.
Why Make a Buttermilk Brined Turkey Breast?
So, what does brining poultry do? Well, we wondered that, too! Here's what we found out.
Soaking poultry in a saltwater brine makes it more tender, juicy, and tasty. The acidity and calcium in buttermilk help break down the proteins, making it more tender.
And, the brine process creates a reverse osmosis process that infuses the meat with salt for much needed flavor.
Over time, reverse osmosis creates a natural shifting of moisture that helps keep it moister.
Ingredients and Substitutions
Seasonings – the seasonings in brines help infuse added flavor, beyond salt. And, It's okay to use whole herbs, like bay leaves, since it's drained like marinade and discarded. We recommend basil, coriander seed, peppercorns, mustard seeds, and garlic, but you can substitute them with your preferred herbs and spices.

Buttermilk – I don't recommend using a substitution for buttermilk. Adding vinegar or lemon to milk will not have the same effect in this buttermilk turkey brine. You can use 2% milk fat or non-fat.

Salt – You can use any type of salt, but I prefer Kosher salt for a few reasons. First, the sodium level is consistent. Another reason is it comes in a box, so I always have enough on hand in the pantry. If you use sea salt or table salt, use 1 cup as a substitution. Kosher salt is less dense.

A breast is about 6-7 pounds, the ideal size for this buttermilk brine recipe. See the recipe tips below about how to brine a whole turkey!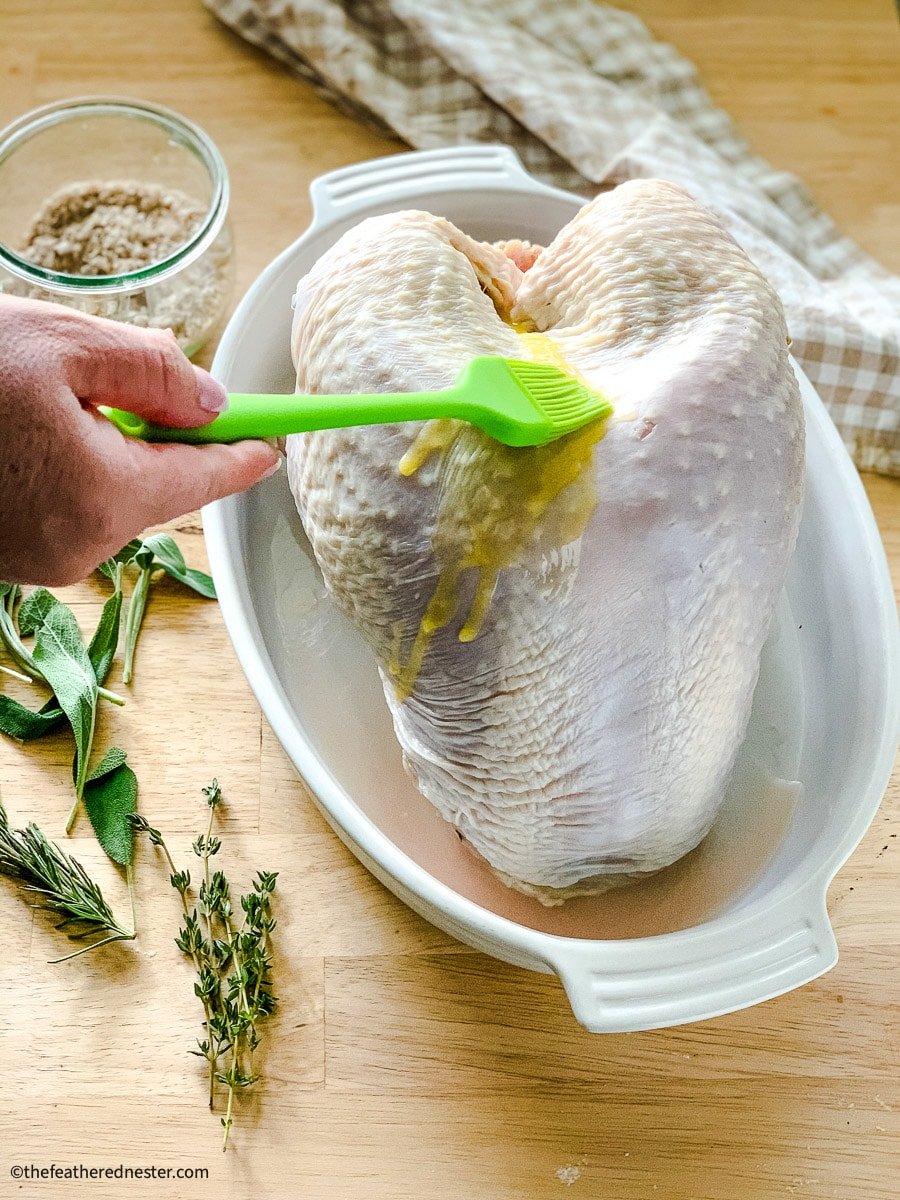 Equipment for Brining
Large saucepan to bring the salt, water, and spices to a boil.
A heavy-duty, brining bag to hold the meat and brine. Look for a 4-gallon size or one labeled for up to 7 pounds.
Large, non-reactive tall stock pot or jumbo-sized bowl to hold the brining bag. About 12 quarts in size is ideal.
Basting brush for melted butter.
To make this Turkey Recipe, Renae recommends (and uses) these supplies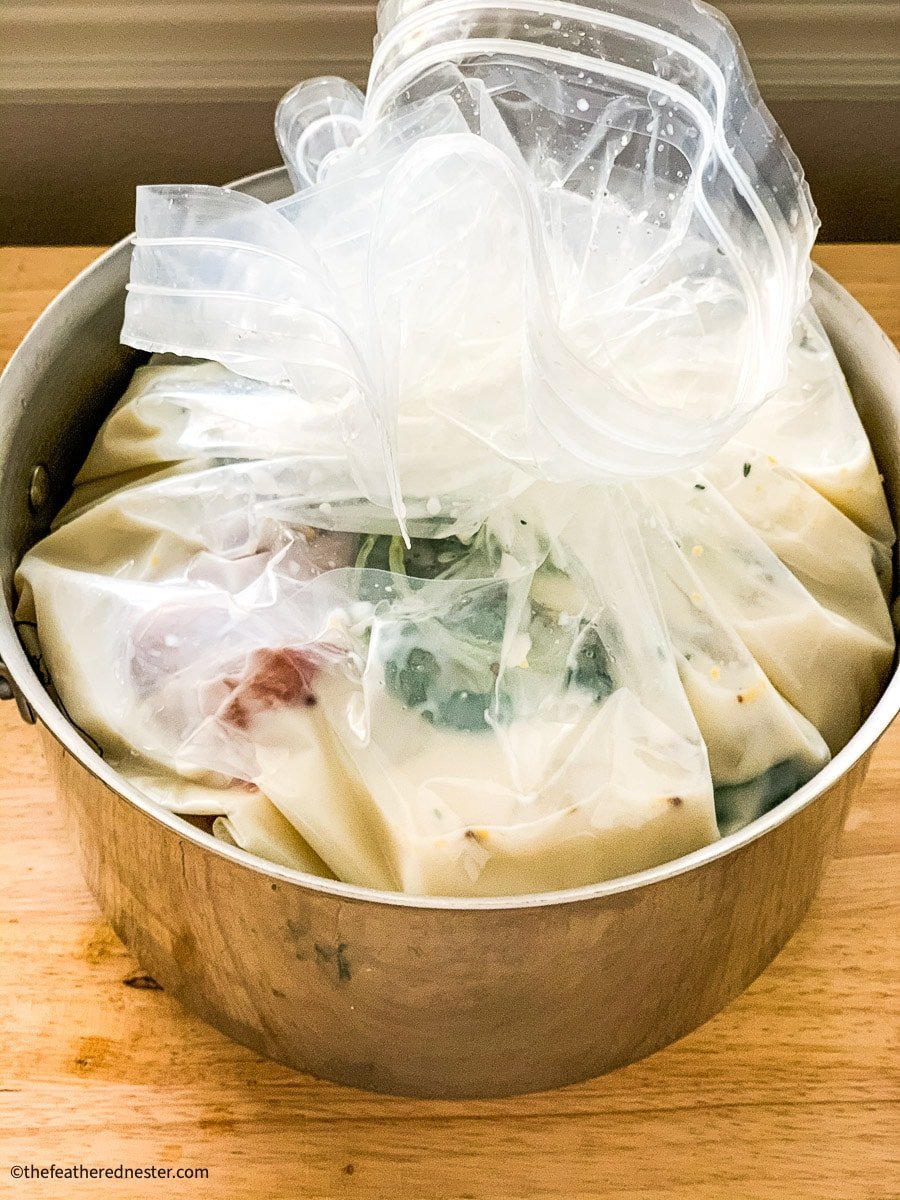 Recipe Tips for Making Buttermilk Turkey Brine
Start early! Brining takes at least a day. Plus, it takes a few hours for the brine mixture to cool. So, if you need 3 days to thaw your poultry – add a day to the process. If you have a frozen turkey, see our recipe tips below.

Rinse off the brining mixture and let air dry before roasting. To avoid overly salty poultry, remove it from the brine and rinse it thoroughly. Then, pat it dry with paper towels. Be sure to let it air dry for at least 15 minutes. Moisture will prevent getting that crispy, deep golden hallmark of the perfect roasted bird.

Thawing first isn't essential. If your breast is frozen, you can thaw while brining. Give it an additional day to defrost and brine in the fridge. So, plan for a total of 36-48 hours.

Double the recipe for a full-sized turkey. This recipe makes about 1-1/2 gallons of brine, perfect for an average-sized roast. For a medium-sized bird (12-15 pounds), double the recipe.

Submerge the meat completely. Use a tall stock pot or bowl to help the turkey breast stay covered with brine.

Let poultry rest before carving. When it comes to poultry, allow it to rest on the serving platter or a carving board before slicing. This lets the juices redistribute. If you cut it right away, the juices will run out leaving the meat drier.
Need some serving ideas? Wondering what to serve with this ultimate comfort food dinner? Our favorite sides to serve with poultry dinners are creamy mashed potatoes, fresh green beans, dinner rolls or 3 ingredients biscuits, and apple cake.
Frequently Asked Questions
Does brining a turkey make it better?
I think so! Although not scientific, over the years we have served both brined and non-brined turkeys and those brined typically turn out tastier and juicier.
Is turkey brining necessary?
No, it is optional. But, if you like flavorful, juicy poultry or pork, I recommend taking the time to brine it. The last thing you want your guests to remember is how dry or tough the main entree was on Thanksgiving or family dinner.
Can you brine a whole turkey with this recipe?
Yes. For whole turkeys up to 15 pounds, just double the recipe.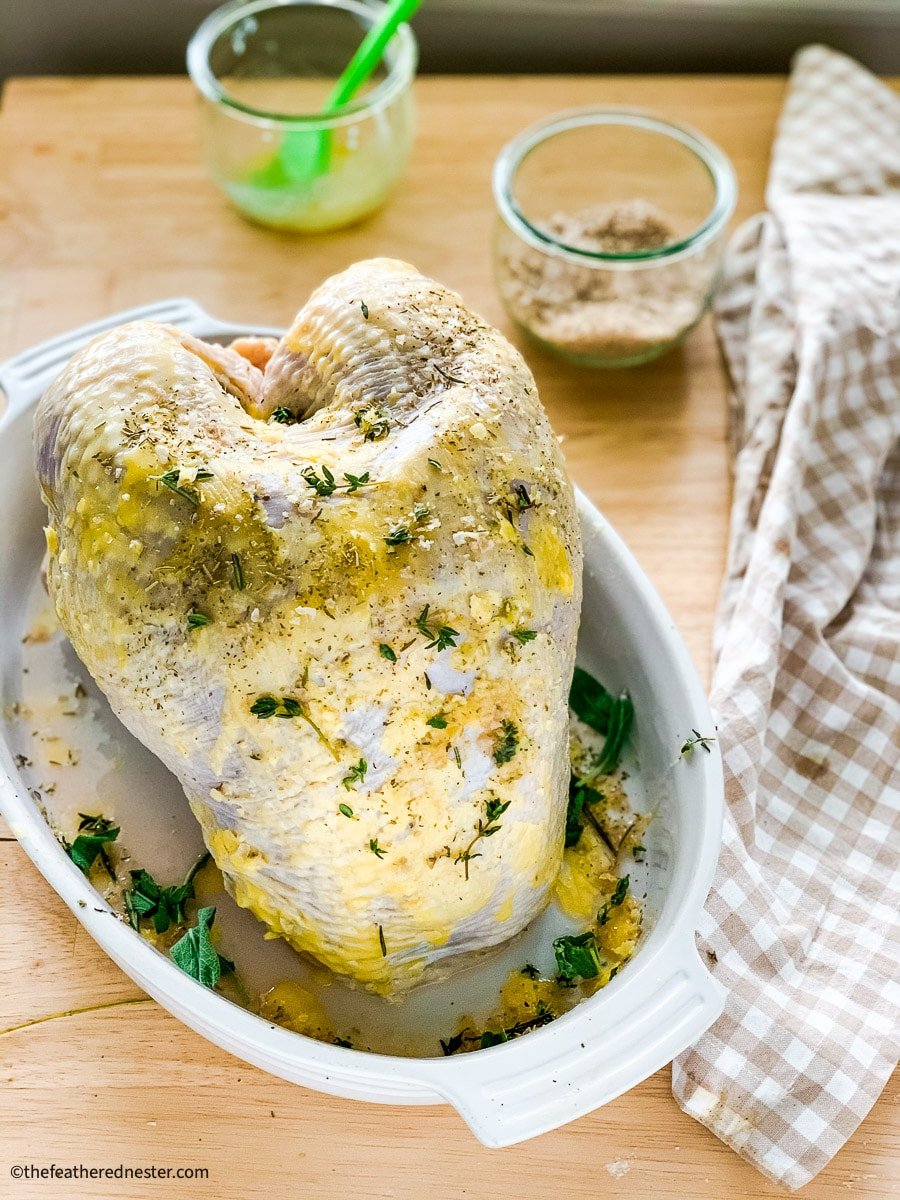 Buttermilk Brined Turkey
This buttermilk brined turkey breast is perfect for Thanksgiving or any family dinner! Making this zesty buttermilk turkey brine adds a much-needed flavor boost to the typically bland breast.
Equipment
large saucepan

heavy-duty brining bag - about 4 gallons

tall stock pot or bowl - about 12 quarts

basting brush
Ingredients
Buttermilk Turkey Brine
¾ cup kosher salt *see recipe notes below for substitutions
5 tablespoons dried basil
5 tablespoons coriander seeds
2 tablespoons black peppercorns
2 tablespoons yellow mustard seeds
5 cloves garlic , crushed
4 bay leaves
4 cups water
1 gallon (4 quarts) buttermilk
Turkey Breast
1 bone-in turkey breast (about 6-7 pounds)
2 tablespoons melted butter
Instructions
In a saucepan over high heat, combine the salt, basil, coriander, peppercorns, mustard seeds, crushed garlic, and bay leaves with the water and bring to a boil. Stir occasionally, until salt is dissolved. Remove from the heat and let cool to room temperature.

In a large pot or bowl, stir together the cooled mixture and buttermilk. Rinse the turkey with cold water and place it in a large heavy-duty brine bag. Carefully pour the buttermilk brine into the bag. Seal the bag, pressing out the air, and place it in a large, tall stockpot or another container large enough to hold the meat and keep it covered with the brine. Refrigerate for 24 to 36 hours, turning occasionally.

Preheat oven to 325º F.

Remove the poultry from the brine and rinse it with cold water. Then pat dry with paper towels. Let it stand at room temperature to air dry for 15 minutes before roasting.

Brush the skin of the meat with melted butter and place it in a roasting pan or casserole dish. Roast at 325ºF for 15 minutes per pound. Use an instant-read thermometer to check the internal temperature of the center of the breast (avoiding bone) until the center of the poultry roast is 165º F.

Remove the roast to a platter or carving board. Cover with foil and let rest for 25 minutes before carving.
Notes
Substitute 1 cup of sea salt or table salt for 3/4 cup of Kosher salt. You can double this recipe to brine a whole turkey that is approximately 12-15 pounds. **Nutritional facts only include the meat, not the brine **
Nutrition
Serving: 1serving | Calories: 322kcal | Carbohydrates: 6g | Protein: 46g | Fat: 14g | Saturated Fat: 5g | Polyunsaturated Fat: 0.3g | Monounsaturated Fat: 1g | Trans Fat: 0.1g | Cholesterol: 126mg | Sodium: 432mg | Potassium: 112mg | Fiber: 2g | Sugar: 0.2g | Vitamin A: 83IU | Vitamin C: 1mg | Calcium: 70mg | Iron: 2mg
PIN THIS POST!
This post originally published on November 14, 2020 was last updated on February 11, 2023.