For a delicious dinner for tonight and the rest of the week, make Instant Pot Mexican chicken! The spicy shredded meat is delicious and versatile, so you won't have to eat the same meal twice. Moist and tender, Instant Pot salsa chicken will become one of your favorite Mexican meal prep dinner ideas!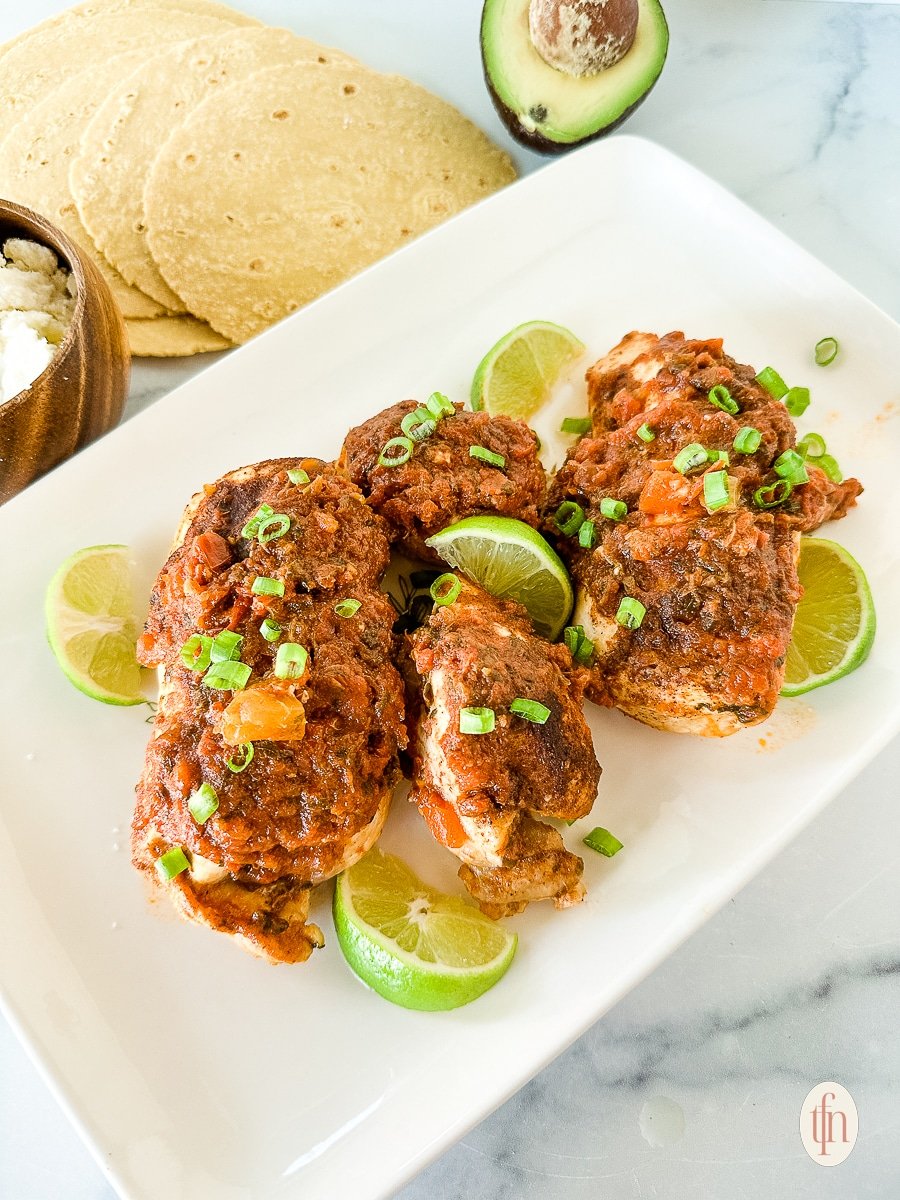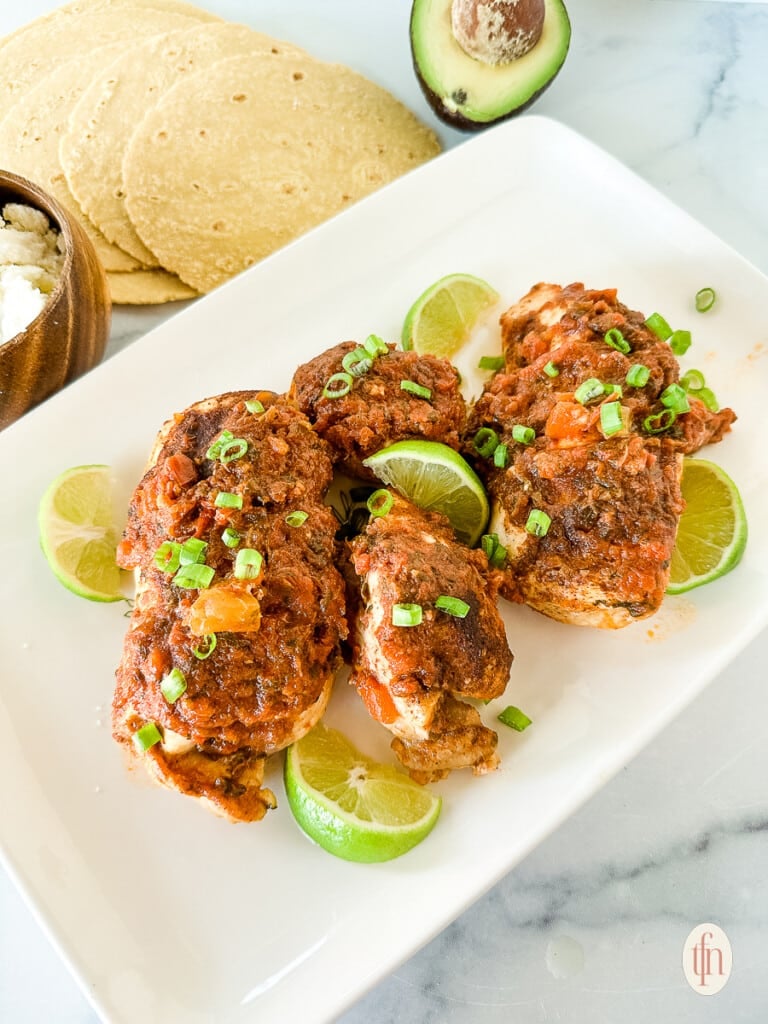 Reasons to Make Instant Pot Mexican Chicken
It's a cook once, eat all week recipe that's almost impossible to mess up — Mexican meal prep at its best!.
Versatile and Family Friendly
You can dress it up with different toppings like cheese, sour cream, fresh herbs, beans, and more!
Quick 30 Minute Meal
This recipe makes 8 servings as is, but you can also double or triple it without adding too much time to the clock.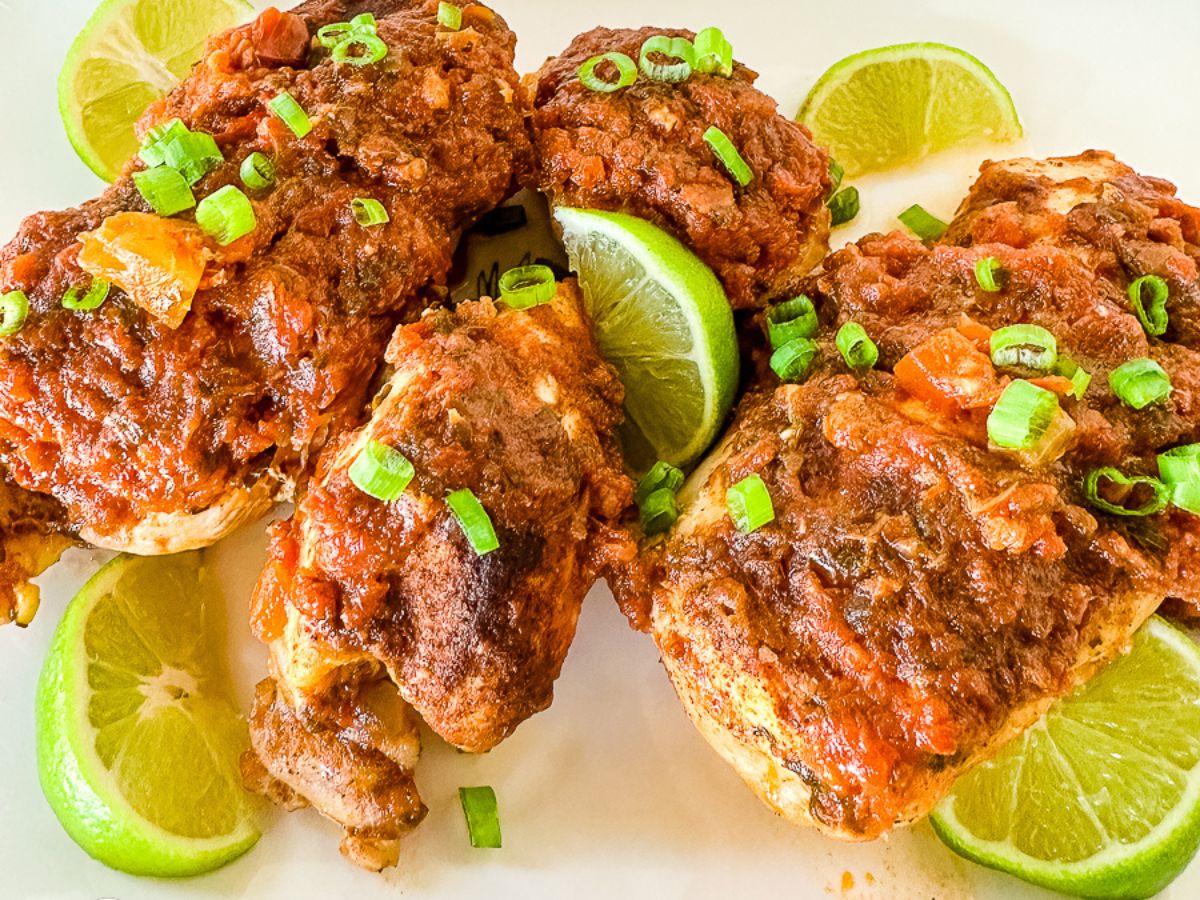 New to Instant Pot cooking?
Before you start making this recipe, we recommend that you read our post on how to use the Instant Pot, then grab our top 10 Instant Pot Tips and Hacks too!
Ingredient Notes and Substitutions
Boneless skinless breasts and thighs – We use a pound of each, for a balance of lean protein with the additional fat from the dark meat. But this is a versatile recipe! Use 2 pounds of breasts or 2 pounds of thighs if you have a preference, or any combination of the two.
Salsa – The salsa you choose will have a big impact on the flavor! Mild green or red salsa will keep the flavor tame, while a medium salsa will give the poultry more heat. We like to use a thick, chunky salsa.

You can use fresh salsa, but keep in mind that fresh salsas are thinner than canned varieties. As a result, the sauce for your Mexican chicken will be a bit more watery. You can adjust this by straining off some of the liquid.
Garlic powder – Freshly minced garlic is always delicious! You will need to use more, however – about 4 times as much – to get the same level of garlicky flavor.
Recipe Variations
Use enchilada sauce instead of salsa, for a smoother consistency.
If you do this, we recommend that you use 10 ounces of sauce and 2 ounces of water, to avoid getting a burn notice.
Increase the spicy heat.
Toss in some chili powder, paprika, or cayenne to make all of your future Mexican meal prep dinners a little more spicy.
Make it creamy.
Stir in 4 ounces of cream cheese to the mixture after pressure cooking to make creamy Instant Pot salsa chicken!
Instant Pot Salsa Chicken Recipe Tips
Don't overfill your pressure cooker.
If you are wanting to double or triple this Mexican chicken recipe, keep the capacity of your pressure cooker in mind. Be sure that the ingredients sit below the "fill line" marked on the inside of the inner pot.

Additionally, know that adding more meat will increase the overall cook time – a few extra minutes per pound of meat that you're adding
Use a digital cooking thermometer for food safety purposes.
To ensure that the breasts and thighs are cooked all the way through, make sure the internal temperature of each piece reaches at least 165º F.
Ways to Use Salsa Chicken Leftovers
Make a delicious Mexican soup! Start by making our recipe for Salsa Verde Chicken in your pressure cooker. Then, shred the meat and add 4 cups of chicken broth. Stir everything to combine, and you'll end up with something similar to our chicken tortilla soup recipe, but without the tortillas!
Chop up or shred the chicken to use in street tacos, on salads, sandwiches, burritos, or creamy chicken enchiladas.
TFN Pro Tip – Easy Way to Shred Chicken
Do you know the secret to easily shredding cooked chicken? Well, it's using a mixer!
It can be done right in the Instant Pot with a hand mixer, or in the bowl of a stand mixer. Just be sure to start with a low setting. Otherwise, you could have a mess of pieces flying out of the bowl.
Instant Pot Mexican Chicken FAQ
Why is my Instant Pot chicken rubbery?
You absolutely must allow for a natural release of pressure to cook the Instant Pot salsa chicken completely. A quick release will almost guarantee that the meat will come out rubbery and undercooked.
How long does chicken need to be in the Instant Pot?
It takes boneless thighs about 8 minutes of cook time and a 10 minute natural release to cook, while larger breasts require 12 minutes of cook time with a 10 minute natural release as well.

If you're making Instant Pot Mexican chicken with a combination of the two cuts, then go ahead and cook on high pressure for a full 12 minutes to ensure each piece is cooked all the way through.
Storing and Freezing Leftovers
Instant Pot Mexican chicken can be refrigerated and used for up to 4 days. If planning on shredding, we recommend doing so before refrigerating, to ensure that it falls apart easily.

If freezing the meat for Mexican meal prep dinners, wait for the food to cool completely before transferring to a freezer-safe container. Leftovers keep well in the freezer for about 3 months.
To make this Mexican chicken recipe, Renae recommends
Instant Pot Mexican Chicken Salsa
Instant Pot Mexican chicken is a fabulous, quick meal prep recipe. Make this flavorful salsa chicken to enjoy in tacos, burritos, and more!
Ingredients
1 pound boneless skinless chicken breasts
1 pound boneless skinless chicken thighs
12 ounces salsa
1 teaspoon salt
1 teaspoon garlic powder
Instructions
Gather your ingredients. Preheat your Instant Pot by setting it to sauté. Add olive oil to the bottom of the inner pot.

Lay the chicken pieces in the bottom. Pour sauce over the pieces, then sprinkle seasonings over the top. Place lid on Instant Pot and close the sealing lever.

Press cancel to end the sauté, then set the the pot to cook at high pressure for 12 minutes. When the cooking cycle is over, allow Instant Pot to naturally release pressure for 10 minutes. Then, initiate a quick release by turning the sealing lever.

Serve the salsa chicken as-is over cooked rice, or shred to use in burritos, tacos, enchiladas, or soup.
Notes
Variations for Instant Pot Chicken Salsa
Use Salsa Verde to make a Salsa Verde Chicken Soup by shredding the chicken and adding 4 cups of chicken broth.
Make Creamy Chicken Salsa by stirring in 4 ounces of cream cheese to the salsa after pressure cooking.
Use the chicken to make an easy Chicken Tortilla Soup.
Give leftovers a transformation and use the chicken in tacos or Creamy Chicken Enchiladas.
Nutrition
Serving: 4ounces | Calories: 223kcal | Carbohydrates: 1g | Protein: 21g | Fat: 15g | Saturated Fat: 4g | Cholesterol: 92mg | Sodium: 371mg | Potassium: 245mg | Fiber: 1g | Sugar: 1g | Vitamin A: 91IU | Calcium: 11mg | Iron: 1mg
PIN THIS POST!