Tender and fresh-tasting, Instant Pot rice pilaf is a wonderful vegetable rice recipe that pairs perfectly with just about any protein! It's simple to make, and healthier than plain white rice. We'll show you how to make fluffy vegetable rice pilaf in less than 30 minutes.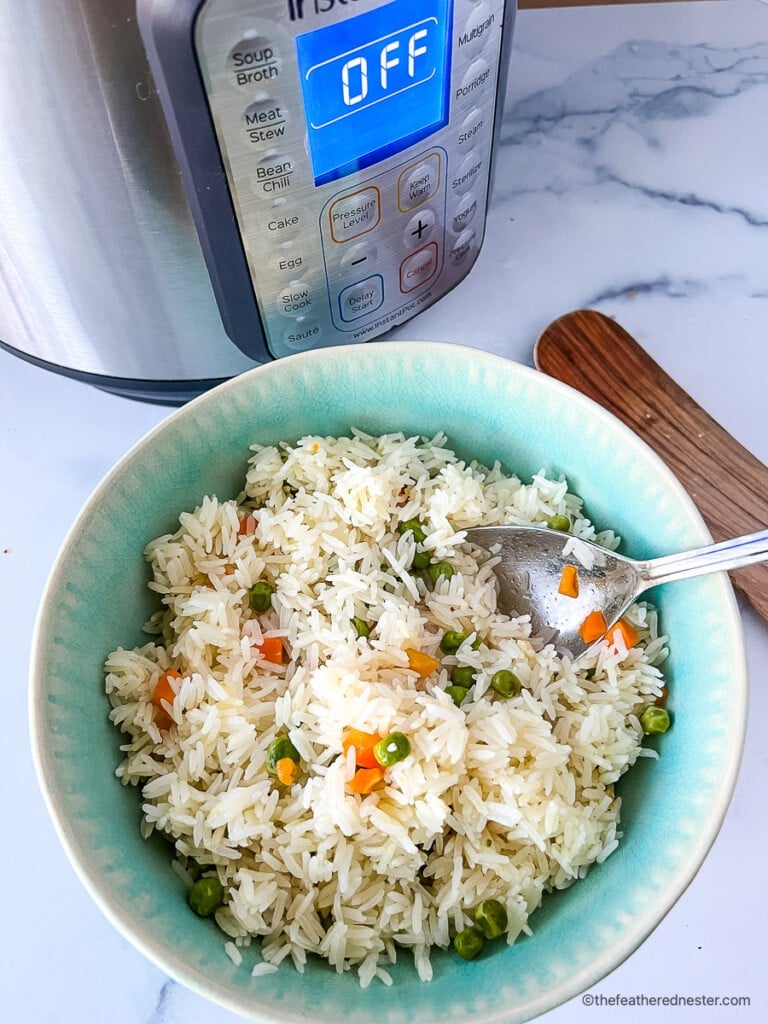 Why We Love Instant Pot Rice Pilaf
Use any fresh or frozen vegetables you like!
Savor your garden harvest throughout the year or save big with discount produce in the freezer aisle. And because frozen vegetables are picked at peak ripeness, you'll have healthy vitamins and minerals with each forkful!
Feeds a crowd!
This recipe makes a lot, so it's great as a potluck side, or make it stretch it out to serve with meals all week long. With healthy grains and veggies, it could even be a fantastic vegetarian main dish.
It's a quick, one-pot wonder!
No messing around with lots of prep work, and no stacks of dishes to clean – Instant Pot rice pilaf is super hands-off.
Ingredient Notes and Substitutions
White Rice – For this vegetable rice recipe, choose either a medium or long-grain variety, like jasmine or basmati. You can use Brown rice as a substitute, but you will need to add 15 minutes to the pressure cooking time.

Butter or Oil – What you use is a matter of preference. Butter adds more flavor but is high in fat and cholesterol. Oil gives a silkier texture, but it doesn't have the richness of butter.

Broth or Water – Liquid is needed to deglaze the pot and prevent a "burn" notice on the Instant Pot. Using mushroom or vegetable broth will keep this Instant Pot rice pilaf vegetarian.

The choice between broth and water is a matter of personal preference– bear in mind that the dish will take on the flavor of whichever liquid you use.
Mixed Vegetables – Either frozen or fresh vegetables are suitable. Carrots, peas, and corn are very popular because they come pre-diced and uniform in size, but don't hesitate to throw in any of your favorite vegetables!
New to Instant Pot Cooking?
Read How to Use the Instant Pot 101 first! And, then Tips & Hacks for the Instant Pot is terrific for new owners and seasoned IP-ers too!
Cooking Perfectly Fluffy Rice and Veggies
There's no easier way to prepare a rice dish than in an Instant Pot! Set yourself up for success by thoroughly rinsing the grains in cold water. Removing the starch beforehand will go a long way towards making sure your Instant Pot rice pilaf is fluffy – not sticky.
Avoid adding excess moisture by rinsing and draining any canned veggies. And if you're thawing frozen vegetables to use, pat them dry with a paper towel before using. Otherwise, you could end up with a mushy, watery side dish.
Our Best Tips for Success
For the best flavor, sauté the grains.
Add a little bit of oil into the bottom of the pressure cooker, set the unit to "sauté" and wait for it to get hot. Then you can add the jasmine (or whatever variety of rice you'll be cooking).
You only need to sauté the grains for a couple of minutes. At that point, you'll notice a nutty aroma; that's your cue to stop sautéing and cancel the setting.
Be sure to use hot cooking liquid.
Using water or broth that is already hot speeds up the entire process of making Instant Pot rice pilaf. This is because it helps the IP come to pressure more quickly.
Deglaze the pot.
After you add the broth, use a wooden spoon to scrape up any brown bits from the bottom of the inner pot. The technical term for those little bits is "fond".
It may look like burned food, but trust us; it is caramelized food, which adds flavor! We are fond of fond. 🙂
The other benefit of deglazing is that it makes cleaning the inner pot of your pressure cooker much easier.
Allow the pressure to release naturally.
The pressure cooking time for Instant Pot vegetable rice is 5 minutes on high pressure, but the rice will not be fully cooked after 5 minutes.
During the 10 minutes of natural pressure release, the food will continue to cook. Then, when you open the lid, you'll see beautiful, fragrant, and fluffy veggie rice!
Remember when we said that clean up is easy with this vegetable rice recipe? We meant it! Look at the photo below.
Want a few more rice recipes?

If healthy grains are your thing, you'll go wild for our Instant Pot wild rice recipe!
For a big flavor side dish, make our recipes for homemade Rice-A-Roni and chicken fried rice!

Or, if you just can't decide between brown, white, Jasmine, or Basmati, check out our ultimate guide on how to cook perfect rice.
Serving and Storing Leftovers
Unlike fried rice, which is fabulous the next day, Instant Pot rice pilaf tastes much better on the day you make it.
This pilaf has a mild flavor, so it's delicious with just about every possible protein! Our favorite main dishes to serve with rice are pork chops, crockpot Swiss steak, and bbq chicken tenders.
Even if you cook it perfectly, after several hours in the fridge the grains will turn a little sticky and gummy.
If you do have leftovers, refrigerate them in an airtight container and they'll keep in the fridge for 4 or 5 days. Leftover vegetable rice pilaf is actually fantastic to use in a pot of soup!
It works well and tastes delicious in chicken soup, navy bean soup, and tomato soup!
For This Vegetable Rice Recipe, Renae Used:
Instant Pot Rice Pilaf with Veggies
Instant Pot rice pilaf is an easy vegetable rice recipe for a scrumptious side dish! Use a pressure cooker to make perfect rice and veggies!
Ingredients
1 cups white rice any medium to long grain white rice
2 teaspoons butter or oil
1 cups broth or water. *See Notes
1 cup diced mixed vegetables frozen or fresh
Instructions
Rinse and drain rice well, and set aside.

Set the pressure cooker to sauté, then add butter or oil to the pot. When the pot is ready to sauté, add rice and cook for 3 minutes. Press "cancel" to end sauté function.

Add broth and frozen vegetables to the pot of rice. Use a wooden spoon to stir and combine, also scraping the bottom of the inner pot to deglaze it. Close and seal the Instant Pot lid, and turn or press the vent lever to seal (if needed). Set the pot manually to cook for 5 minutes at high pressure.

When the pressure cooking cycle is complete, allow a natural pressure release by leaving the pot undisturbed for 10 minutes. Then, initiate a quick release for remaining pressure, by carefully turning or pressing the pressure release button (refer to your pot's instructions). Remove the lid and use a fork to fluff the vegetable pilaf before serving.
Notes
Using hot liquid speeds up the cooking process because it helps your Instant Pot come to pressure more quickly.
Nutrition
Serving: 0.5cup | Calories: 146kcal | Carbohydrates: 29g | Protein: 3g | Fat: 2g | Saturated Fat: 1g | Polyunsaturated Fat: 0.2g | Monounsaturated Fat: 0.4g | Trans Fat: 0.1g | Cholesterol: 4mg | Sodium: 183mg | Potassium: 100mg | Fiber: 2g | Sugar: 0.4g | Vitamin A: 1665IU | Vitamin C: 3mg | Calcium: 17mg | Iron: 1mg
PIN THIS POST!