Instant Pot Wild Rice is a quick and tasty side dish! Find out our secret step that assures perfectly fluffy rice without the dreaded burn notice. Once you've made this in your pressure cooker, stove top cooking it will be a thing of the past!
Wild rice is a delicious and nutritious and healthy side dish, but it can be tricky and time-consuming to cook on a stovetop. If it isn't watched closely, it can boil over, turn out overcooked or undercooked, or stick to the bottom of the pot.
This wild grain recipe is easy to follow and only takes a few minutes in the pressure cooker. You'll love the flavor of this hearty side dish!
What is Instant Pot Wild Rice?
Wild rice is actually a type of grass seed that grows in shallow water. It has a nutty flavor and chewy texture, similar to that of brown rice.
It takes longer to cook than white rice and requires more liquid for cooking than many other types.
But the good news is that pressure cooking takes just a fraction of the time, requires less liquid, and is beyond easy!!
Why We Love Instant Pot Wild Rice
Much easier to make than traditional methods, like stove-top cooking.
It takes less time and tastes better.
The pressure cooker seals in all the flavors and moisture, producing perfectly cooked grains every time. Plus, it's ready in minutes!
Great meal prep recipe!
Cooking it in a pressure cooker is great for meal prep. You can make a large batch and store it in the fridge or freezer for later use.
Love Instant Pot recipes like this one? Try our Brown Rice, Jasmine Rice, Basmati Rice, and Coconut Rice.
What is the Ratio of Wild Rice to Water?
For this recipe, the ratio is 1 cup of wild rice to 1.5 cups of fluid. So, be sure to ignore what the instructions on the bag say.
The pressure cooker will seal in all the flavors and moisture, resulting in perfectly cooked grains every time.
How to Cook Wild Rice In Instant Pot
Rinse the wild rice.
Set Instant Pot to sauté, then add butter or oil.
Sauté in the butter or oil for 3 minutes.
Add water or broth, seal the lid, then pressure cook on High Pressure for 18 minutes.
When it's done cooking, let the pot sit undisturbed for 10 minutes, then do a quick release.
Fluff with a fork by stirring before serving.
Recipe Variations – Pressure Cooked Wild Rice
Add other ingredients to the mix, like cooked meats and vegetables, for a complete meal.
You could also add different broths, like vegetable or beef stock.
Consider adding spices like turmeric, cumin, or garlic powder for more flavor.
Serving Suggestions
This dish goes great with a variety of options. Try it as part of a hearty salad, in soup, or as a side dish for chicken, pork, or beef.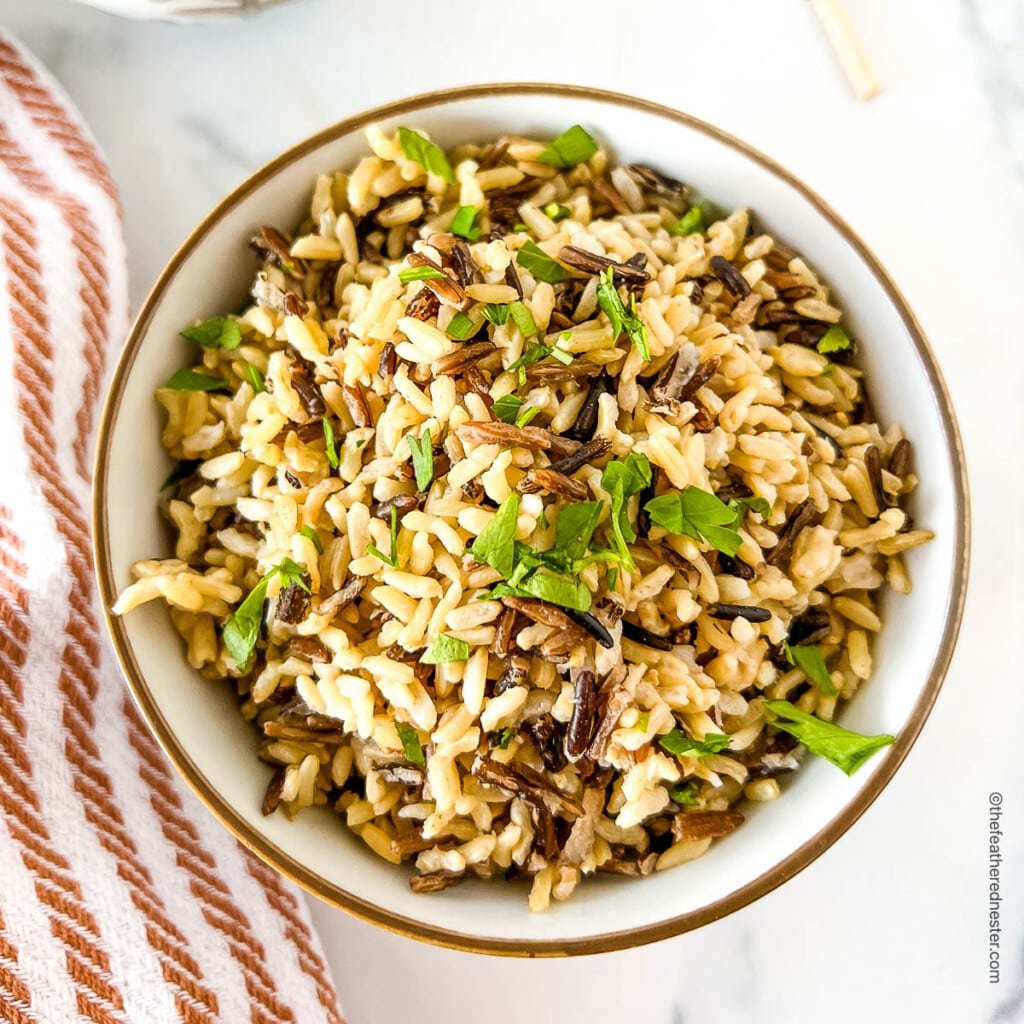 Storing and Reheating
Let cool, then store in an airtight container in the fridge for up to 5 days. This is also great for meal prep and can be frozen for up to 3 months.
To reheat, thaw it in the fridge overnight and then transfer it to a microwave-safe dish. Heat in the microwave for 2 minutes or until heated through.
For stovetop reheating, add a tablespoon of water to the pot and heat the leftover rice over low-medium heat. Stir, then heat until warmed through.
Frequently Asked Questions
Is wild rice healthier than brown rice?
Yes, it has more fiber and protein while being lower in carbohydrates and calories. Plus, it's a low-glycemic grain, meaning it won't spike blood sugar levels like some other grains.
Do you have to soak wild rice before cooking?
No, you do not need to soak it before cooking in the Instant Pot. The pressure cooker steams it so it's perfect every time.
What happens if you forget to rinse wild rice?
If you forget to rinse it before cooking it in the instant pot, the starch will gelatinize, resulting in sticky and clumpy grains. It's best to rinse it first to ensure it cooks perfectly.
Instant Pot Wild Rice
Instant Pot Wild Rice is the easiest method for perfectly cooked, fluffy grains of rice! This wild rice recipe will save you time, too!
Equipment
mesh colander or strainer
Ingredients
1 cup wild rice blend (I recommend Lundberg brand)
1 tablespoon butter or olive oil
1½ cups low sodium chicken broth or water
Instructions
Using a mesh colander, rinse and drain rice well, and set aside.

Set the pressure cooker to sauté and add butter or oil to the pot. Once the pot is ready, add the wild rice and sauté the rice for 3 minutes. Press cancel to end sauté.

Add broth or water to rice and stir to mix and deglaze the pot. Close and seal the lid, and turn or press the vent lever to seal (if needed). Set pot to high pressure for 18 minutes.

Once the pressure cooking cycle is complete, do a natural pressure release (leave the pot undisturbed) for 10 minutes, then initiate a quick release by carefully turning or pressing the pressure release button (refer to your pot's instructions). Fluff the brown rice by stirring before serving.
Notes
Store leftover brown rice in the fridge for up to four days in an airtight container. Reheat the leftovers in the microwave or stovetop (add 1 tablespoon of water) and cover the dish with a damp paper towel before microwaving. To meal prep or make ahead, cook a big batch (by doubling or tripling the recipe) then portion it out into individual containers. Use the same ratios of 1 cup of water or broth to 1.2 cups of wild rice. The cooking times remain the same.
Nutrition
Serving: 1serving | Calories: 121kcal | Carbohydrates: 21g | Protein: 5g | Fat: 3g | Saturated Fat: 1g | Polyunsaturated Fat: 0.3g | Monounsaturated Fat: 1g | Trans Fat: 0.1g | Cholesterol: 5mg | Sodium: 35mg | Potassium: 165mg | Fiber: 2g | Sugar: 1g | Vitamin A: 63IU | Calcium: 9mg | Iron: 1mg
PIN THIS POST!