This Great Northern Bean Soup is the perfect hearty and filling meal for a chilly winter night. The best part is, this bean soup recipe can be effortlessly made in a Crock Pot or slow cooker!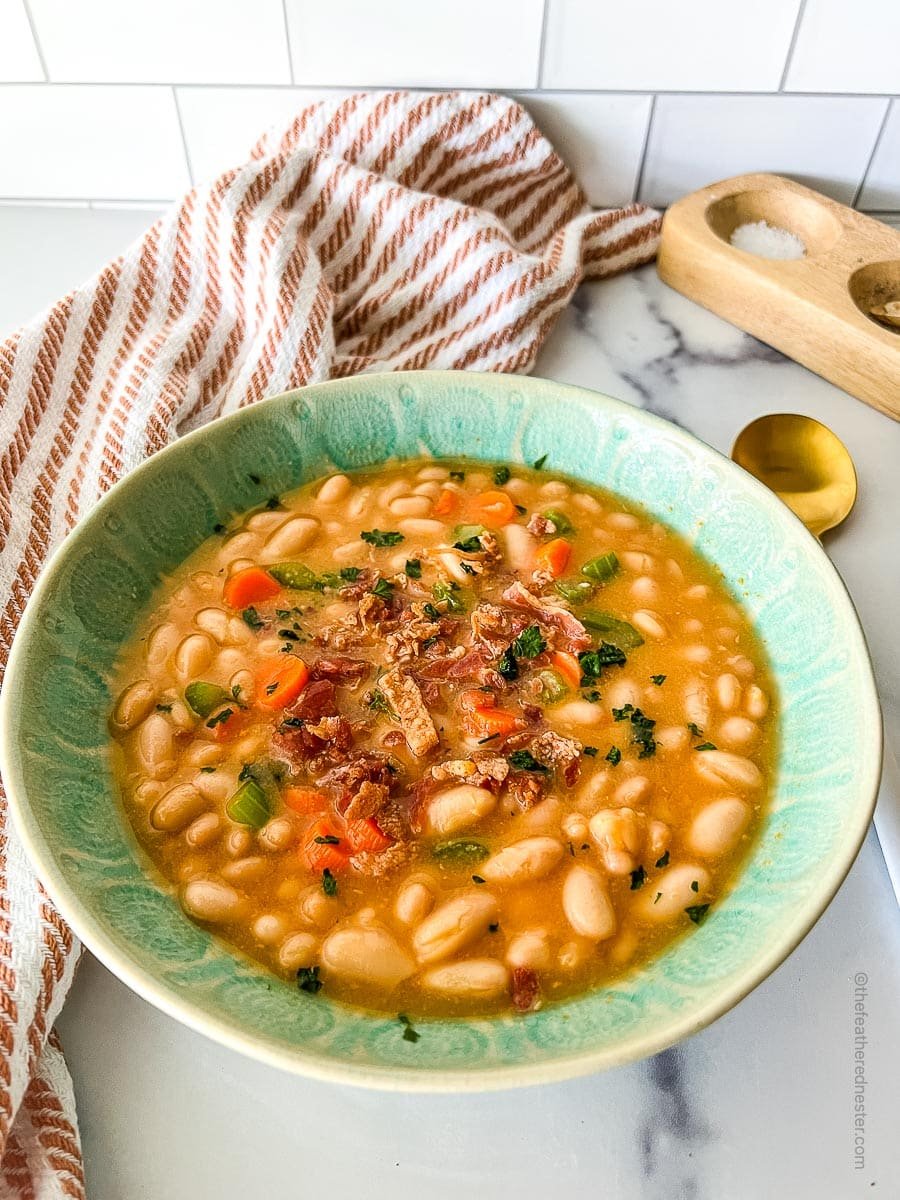 Why We Love Great Northern Bean Soup
Perfect for cold, winter nights
There's nothing quite like a warm and hearty bowl of soup on a cold winter day. This Great Northern Bean Soup is one of our favorite comfort food. It's simple to make, and the rich and flavorful broth is sure to satisfy!
Quick & easy recipe
This soup is perfect for busy weeknights and you can prepare it in the slow cooker so it practically cooks itself.
Budget-friendly dinner
This Northern beans crock pot soup is a classic recipe, and a frugal, economical way to put a delicious meal on the table.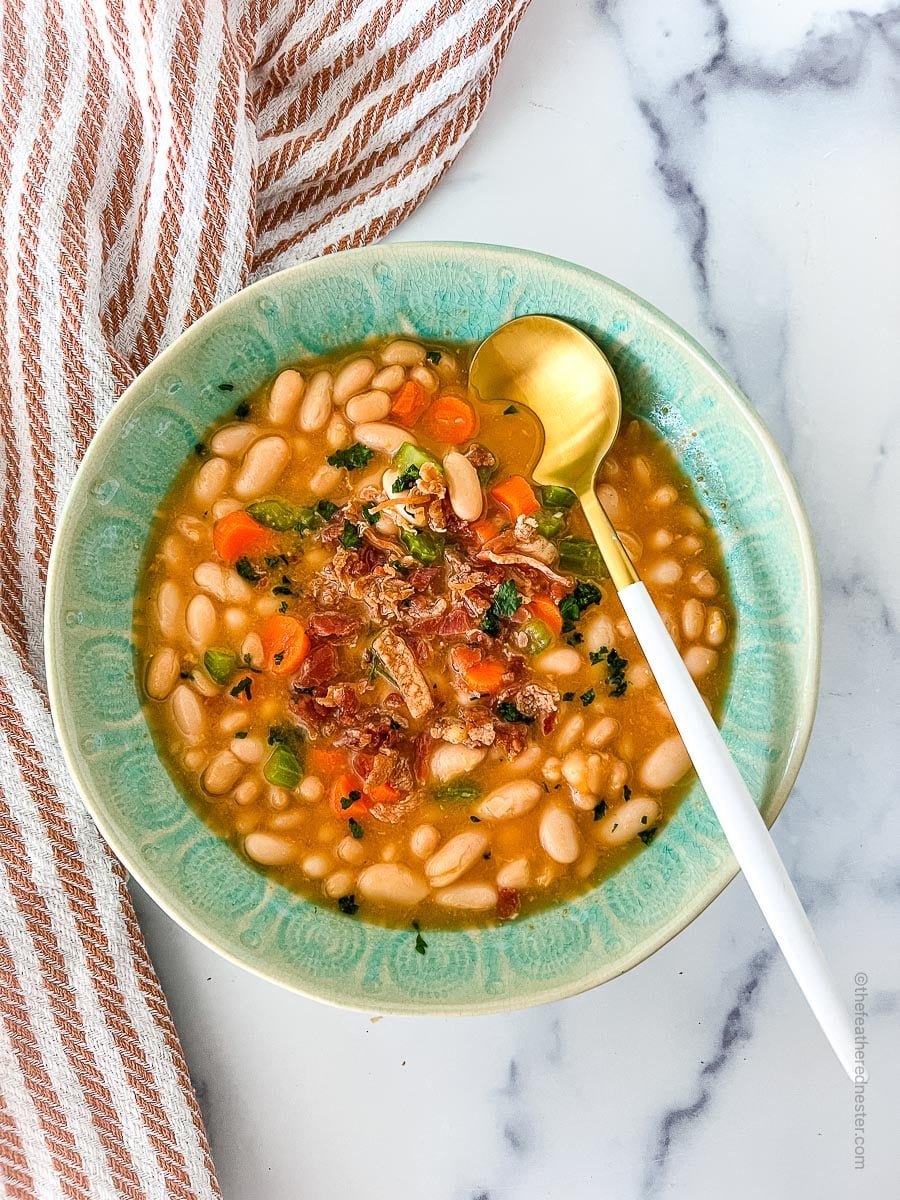 Love beans recipes? For similar recipes, try our Instant Pot White Beans, Slow Cooker Calico Beans, and Instant Pot Great Northern Beans. Or, if you're looking for a refreshing salad for the warmer months, try this Tuscan Bean Salad. It's full of flavor and goes with so many potluck dishes!
Ingredient Notes and Substitutions
Dried Great Northern beans
We use Northern beans in crock pot soup because they're large and hearty. You can substitute them with any other variety of dried white beans, such as navy or cannellini.

Chicken broth
The key to the incredible flavor is using a rich, flavorful stock or broth. If you don't have any chicken broth on hand, you can use chicken stock or vegetable broth instead.

Smoked ham hock
We like to add a ham bone, diced ham, or a ham hock to the soup for additional flavor. You can certainly leave it out if you're vegetarian, or prefer not to use pork products.

Veggies
We include carrots, celery, and onion. Because you will be dicing them, either regular or baby carrots will work.
Northern Beans In Crock Pot – Tips For Success
Soak the beans overnight, or for at least 4 hours.
This makes them cook faster, and also reduces the amount of the enzyme in the bean that causes some people to become gassy. The USDA recommends soaking dry beans before cooking.
Follow timing instructions for slow cooking.
Set your slow cooker to High heat and let everything cook for 4-6 hours. Then, switch to Low heat and continue cooking for 2 more hours. The longer it cooks, the more the flavors will develop.
For a creamier soup, mash beans in the pot.
After soup is done cooking, remove bay leaves and use a potato masher or stick blender to mash about half of the beans in the pot.

Great Northern Beans Recipe Variations
Use leftover holiday ham in addition to the ham hock, or in place of it.
For a vegetarian version of this dried bean soup, simply omit the meat and use vegetable broth in place of chicken broth.
You can also add other vegetables to this soup, such as potatoes, kale, or spinach.
For a spicier soup, add a pinch of red pepper flakes or some diced chiles.
Serving Suggestions
This ham and bean soup is delicious on its own, or you can garnish it with parsley and then serve it with some crusty bread for dipping. It's also great with a side of cornbread or biscuits.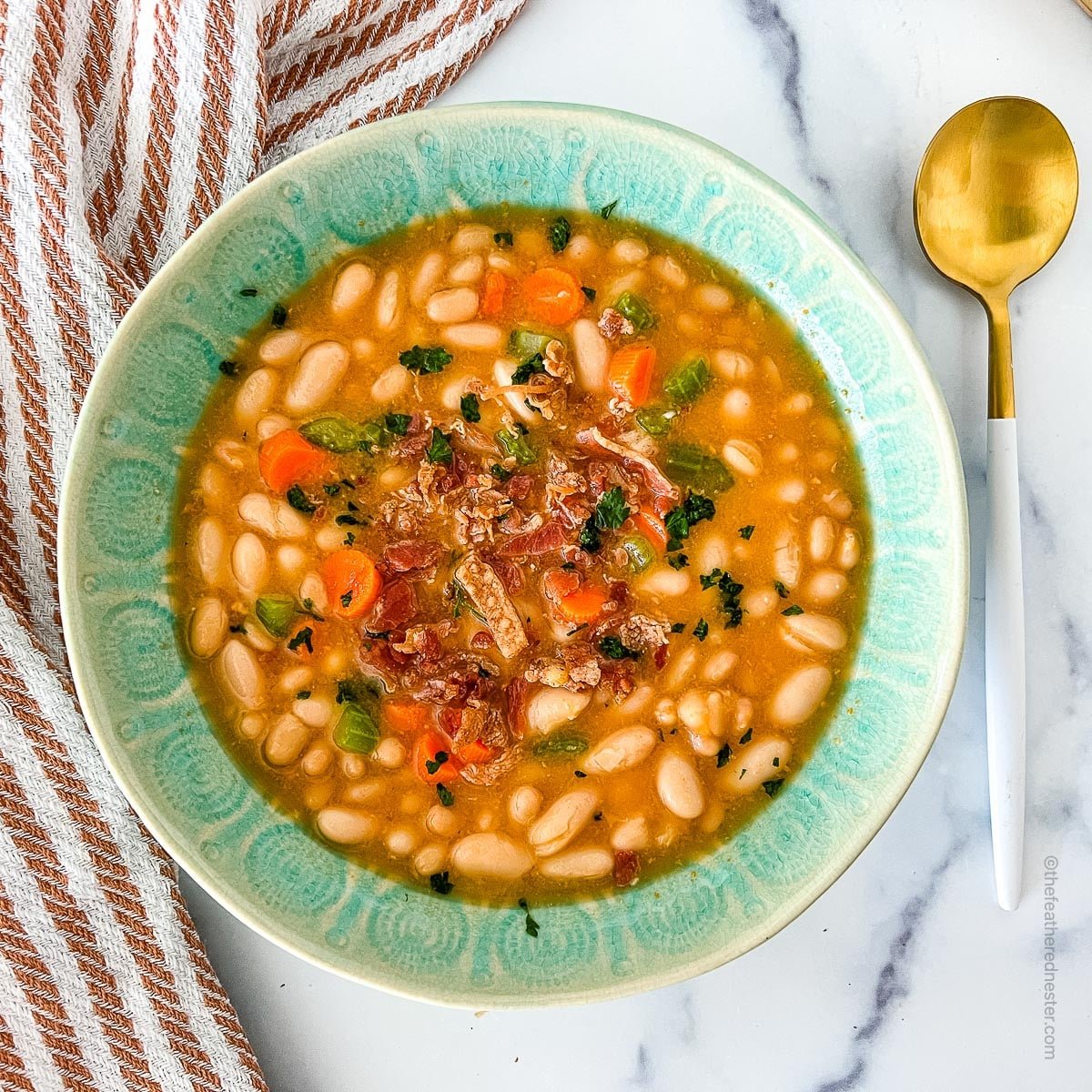 Storage, Freezing, and Reheating Instructions
This slow cooker ham and bean soup recipe are perfect for meal prep – simply prepare the soup ahead of time, and then reheat it throughout the week. It's even better the second time around!
To store, let the soup cool completely, then transfer it to an airtight container and store it in the fridge for up to five days.
To freeze, let the soup cool completely, then transfer it to a freezer-safe container and freeze it for up to three months.
When you're ready to eat, simply thaw the soup overnight in the fridge, then reheat it on the stove over low heat until it's hot. You may need to add a little water to thin it out, as the soup will thicken as it freezes.
Northern Beans In Crock Pot FAQ
Can I make this soup in the Instant Pot?
Yes, you can make this great northern bean soup recipe in an Instant Pot or other electric pressure cookers.
What is the secret to making good soup?

We suggest using fresh ingredients whenever possible, as they will provide the best flavor. You can also add some extra seasonings to taste, such as salt, pepper, or herbs.

Finally, don't forget to let the soup simmer for a while so that all the flavors have a chance to meld together.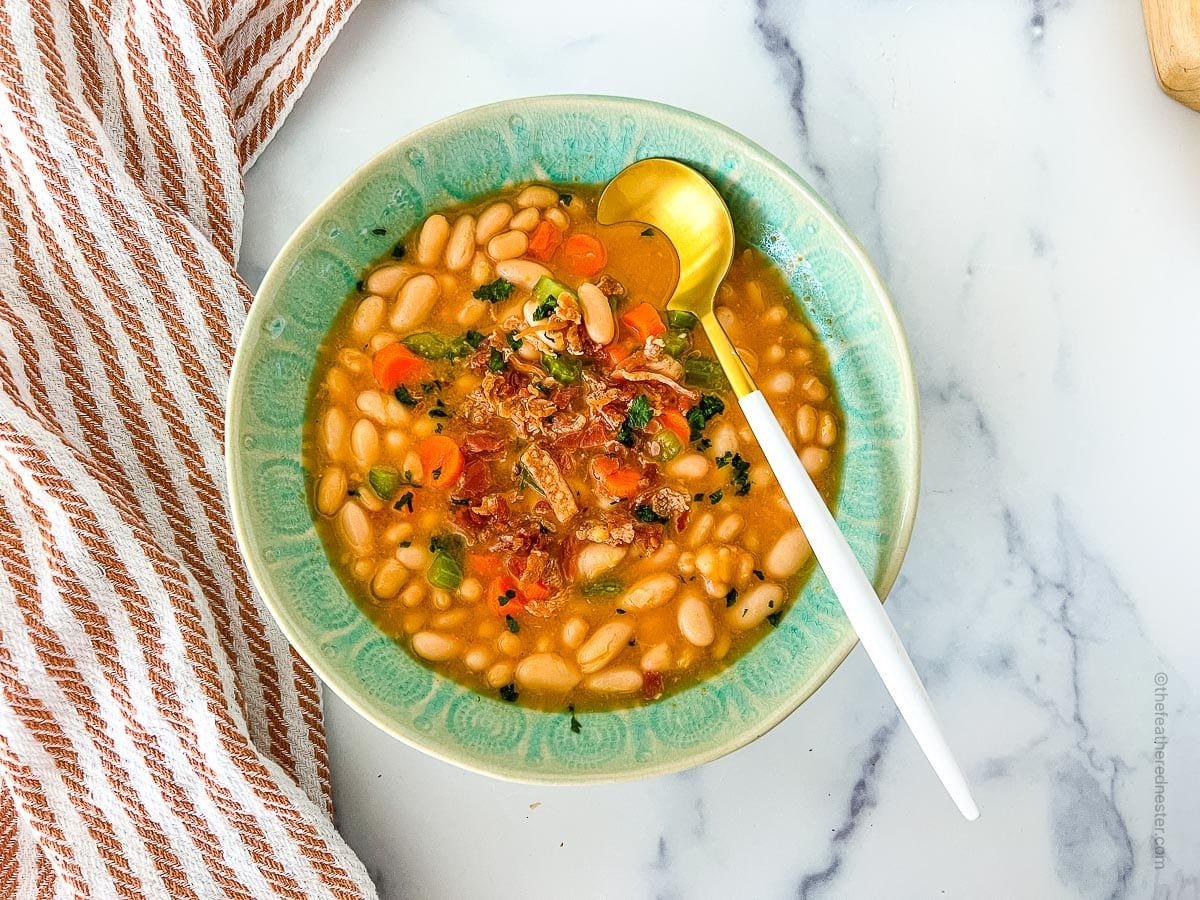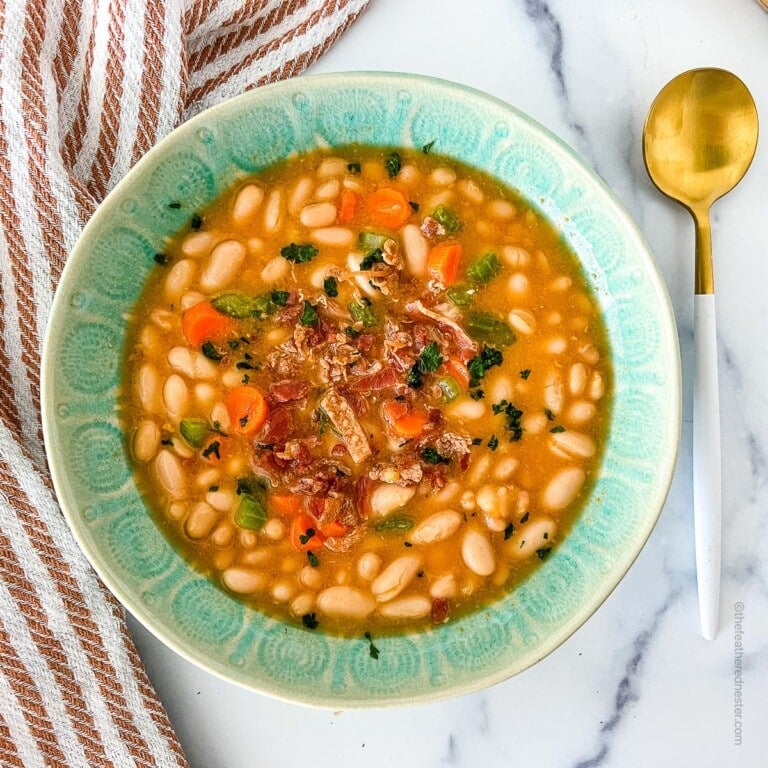 Great Northern Bean Soup
Hearty and filling, Great Northern Bean Soup makes the ideal dinner for cozy winter nights, or as a delicious make ahead meal.
Equipment
colander

potato masher - optional
Ingredients
1 pound dried Great Northern beans (pre-soaked, see notes)
3 cups chicken broth
2 cups water
1 smoked ham hock (or 1 cup of diced ham)
3 carrots peeled and sliced thinly or chopped
3 stalks celery sliced or chopped
1 large onion chopped
4 cloves garlic minced
2 bay leaves
1 teaspoon dried oregano
Instructions
Rinse your presoaked beans in clean water, and drain in a colander.

Add all ingredients to the slow cooker: great northern beans, broth, water, ham hock or ham, carrots, celery, onion, garlic, bay leaves, and oregano.

Cook on high heat for 4-6 hours, then on low heat for 2 hours. Remove bay leaves.

For a creamier bean soup, mash about 1/2 of the beans with a potato masher. Garnish with parsley, and serve with cornbread or biscuits.
Notes
Pre-soak beans: add 1 teaspoon of baking soda and 1/2 teaspoon of vinegar when soaking your beans.
Hot Soak: Hot soaking helps reduce intestinal gas. For each pound of dry beans, add 10 cups of hot water; heat to boiling and let boil 2 to 3 minutes. Remove from heat, cover, and set aside for up to 4 hours.
Quick Soak: For each pound of dry beans, add 10 cups of hot water; heat to boiling and let boil 2 to 3 minutes. Remove from heat, cover, and set aside for at least one hour.
Overnight Soak: For each pound (2 cups) of dry beans, add 10 cups of cold water and let soak overnight, or at least 8 hours.
Pre-soak instructions and recommendations are from the USDA website.
Nutrition
Serving: 1serving | Calories: 288kcal | Carbohydrates: 41g | Protein: 20g | Fat: 6g | Saturated Fat: 2g | Polyunsaturated Fat: 1g | Monounsaturated Fat: 2g | Cholesterol: 25mg | Sodium: 555mg | Potassium: 1011mg | Fiber: 13g | Sugar: 4g | Vitamin A: 4145IU | Vitamin C: 11mg | Calcium: 133mg | Iron: 4mg
PIN THIS POST!