As an Amazon Associate I earn from qualifying purchases, at no extra cost to you. See my disclosure policy here.
Slow cooker calico beans casserole is classic comfort food that the whole family will enjoy. Your favorite beans – like kidney, cannellini, and pork and beans – are combined in the crock pot to create that calico look – and mixed with tangy condiments for a deep, sweet and smoky flavor. Whether you prepare this calico bean recipe with bacon and ground beef, or as a vegetarian slow cooker beans recipe, this hearty dish will have everyone at the table (kids included!) coming back for seconds!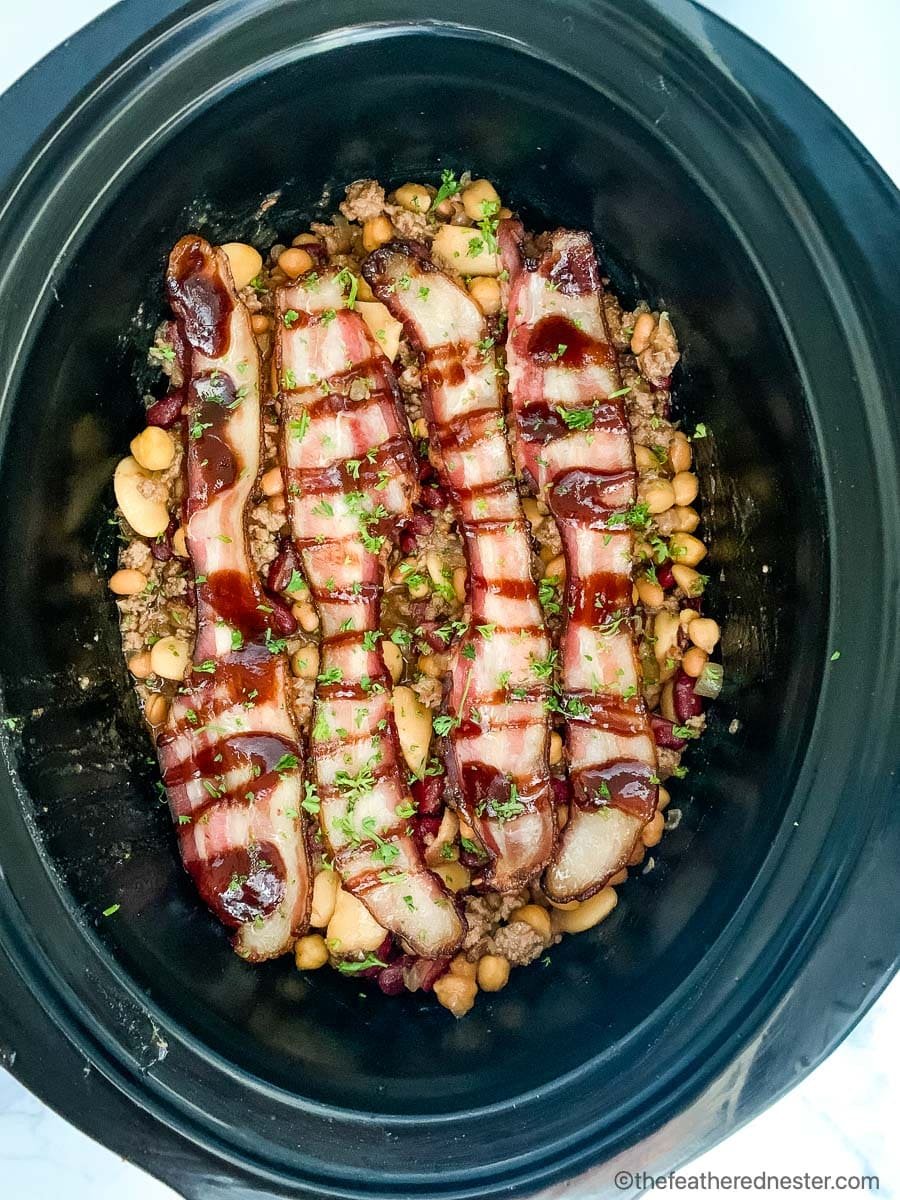 The Best Crock Pot Calico Beans
This easy calico beans casserole recipe is a classic dish made with a classic cooking method. It includes bacon and ground beef, canned beans, ketchup, and mustard, plus dashes of vinegar and brown sugar. And because everything is slow-cooked in the trusty crock pot, each bite is perfectly intense with savory, tangy and slightly sweet flavors.
Find out how to use dried beans (instead of canned beans) under ingredients and substitutions below or in the recipe. Dried beans turn this crock pot beans recipe into an even more budget-friendly dinner.
In addition to being wonderfully tasty, one of the many reasons we love to make slow cooker calico beans is how versatile the recipe is. Want a complete meal in one? Add fresh or frozen veggies! Have different cans of beans? Add 'em in! You can even skip the meat and easily make vegetarian calico beans in the crock pot.
Tweak ingredients to fit your needs and prepare a fantastic dish for family gatherings, potlucks, and BBQs. However, you choose to make this hearty casserole it is guaranteed to please a hungry crowd, including the kids.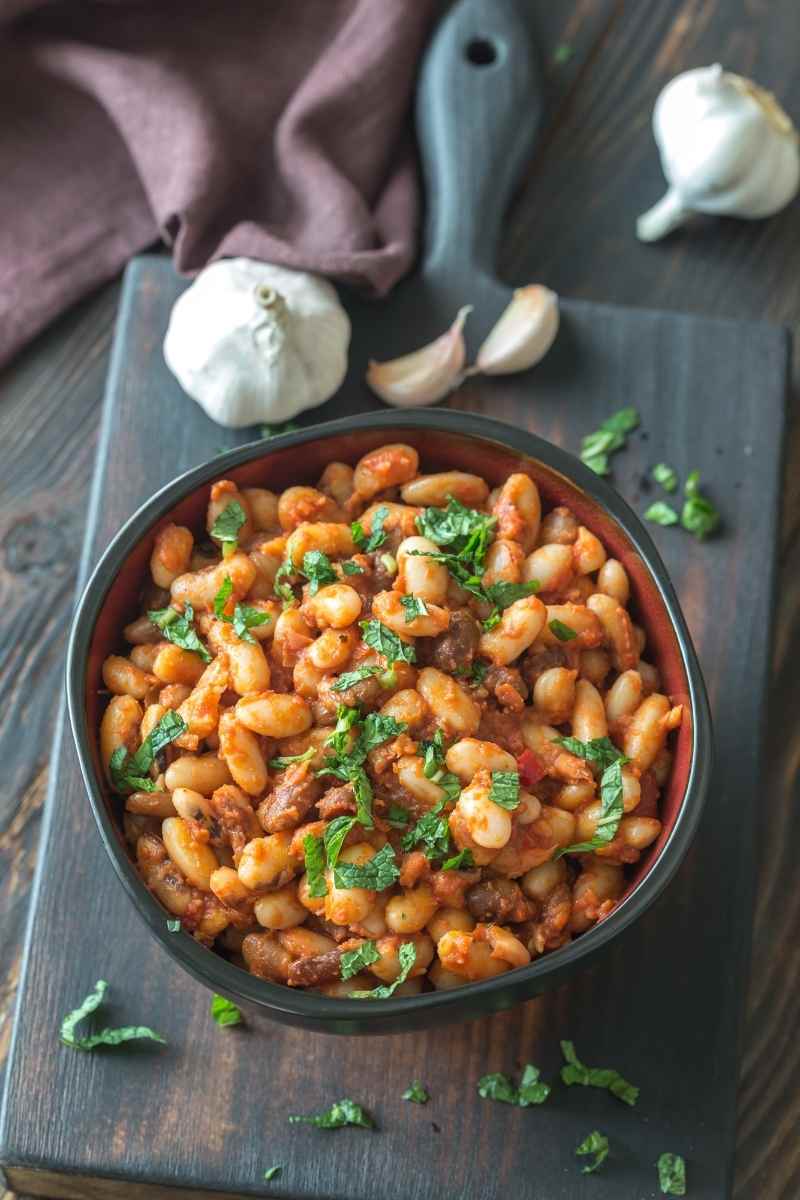 The recipe might be "set and forget" but I promise you won't be able to stop thinking about these delicious crock pot calico beans!
What Are Cowboy Calico Beans?
Many hearty "dump dinners" come from classic midwestern recipes, developed on the trail (or thereabouts) when cowboys and ranchers would make cast iron meals with whatever ingredients they had on hand.
In this spirit, homemade calico bean casseroles became popular as budget-friendly dishes that could make use of just about any pantry staples.
The recipes often include a variety of common canned beans that are all different colors. Hence the calico name, as it refers to the delightfully colorful combination of kidney beans, white beans, garbanzo beans, and more!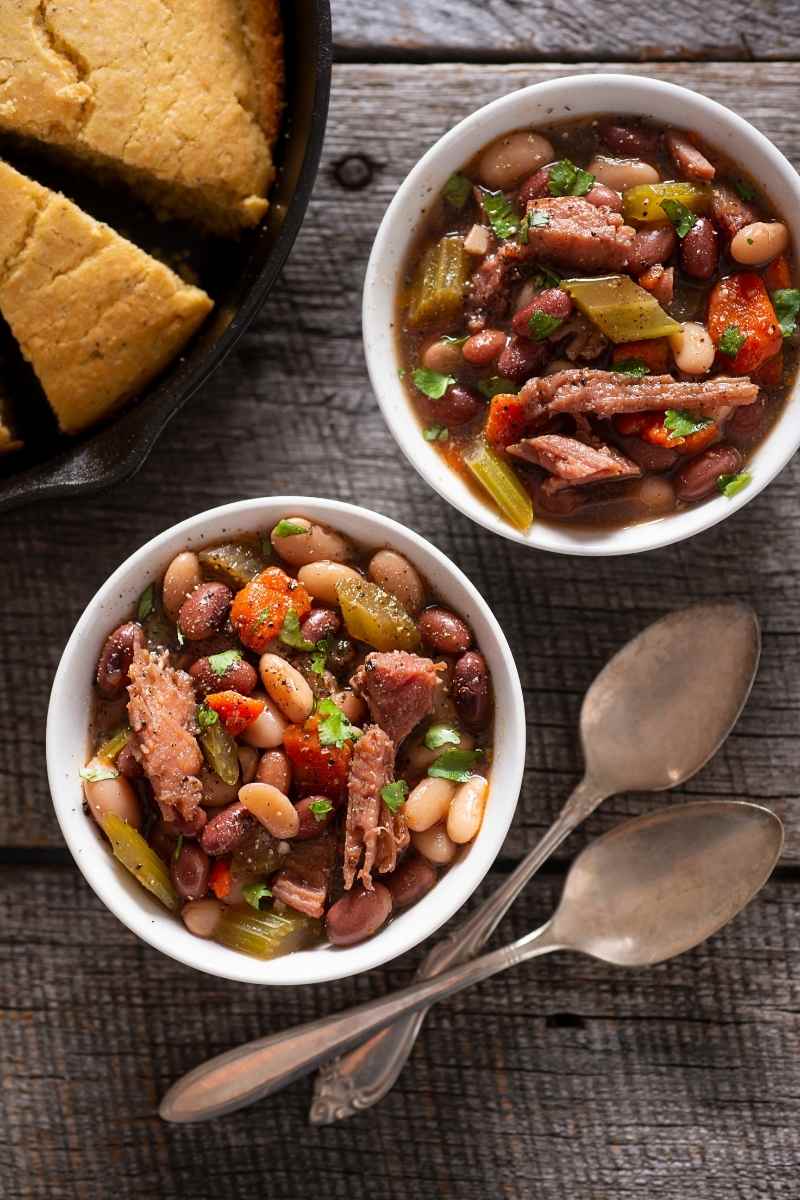 Did you know you can make cowboy calico beans fast and easy right in the Instant Pot? Check out our Instant Pot Calico Beans recipe! Or make them right in your oven with our Calico Bean casserole recipe.
Ingredients Needed For Slow Cooker Beans
Here are the simple kitchen staples you need to make our nearly effortless calico beans Crock-Pot recipe:
Bacon
Ground beef
Onion
Ketchup
Brown sugar
Yellow mustard
Apple cider vinegar
Pork and beans
Lima (butter) beans
Kidney beans
Garbanzo beans
Ingredient Substitutions And Additions
Use whatever canned beans you have. You can include one can each of several different kinds of beans, or use multiple cans of the same beans.
Add fresh cut or frozen green beans to make this a complete one-skillet dinner.
Make the dish extra meaty by swapping ground beef with ground pork sausage.
You can use turkey bacon and/or ground turkey in this cowboy calico beans recipe. Note that you'll need to add a tablespoon of cooking oil to saute the onion after cooking the lean turkey bacon.
Or leave out the bacon and ground meat altogether to make vegetarian calico beans in the crock pot. Again, add 1 tbsp of cooking oil to cook the onion.
For an even tangier, smokier taste swap the ketchup for BBQ sauce.
Add a tablespoon of liquid smoke for a boost of savoriness.
Include a tablespoon of molasses to give the slow cooker beans a sweeter, richer flavor.
Dried beans can be substituted for canned beans with added cooking time. See how to use dried beans with this Instant Pot Lima Beans recipe or Pinto Beans recipe or follow the directions in the recipe notes.
How To Make Cowboy Calico Beans in a Crock Pot
Making these cowboy calico beans in the crockpot is really easy! With these few steps, you will be serving up these tangy, delicious beans tonight.
Cook the ground beef, bacon, and onions in a large skillet. See my tips below for turning this into a dump-and-go meal!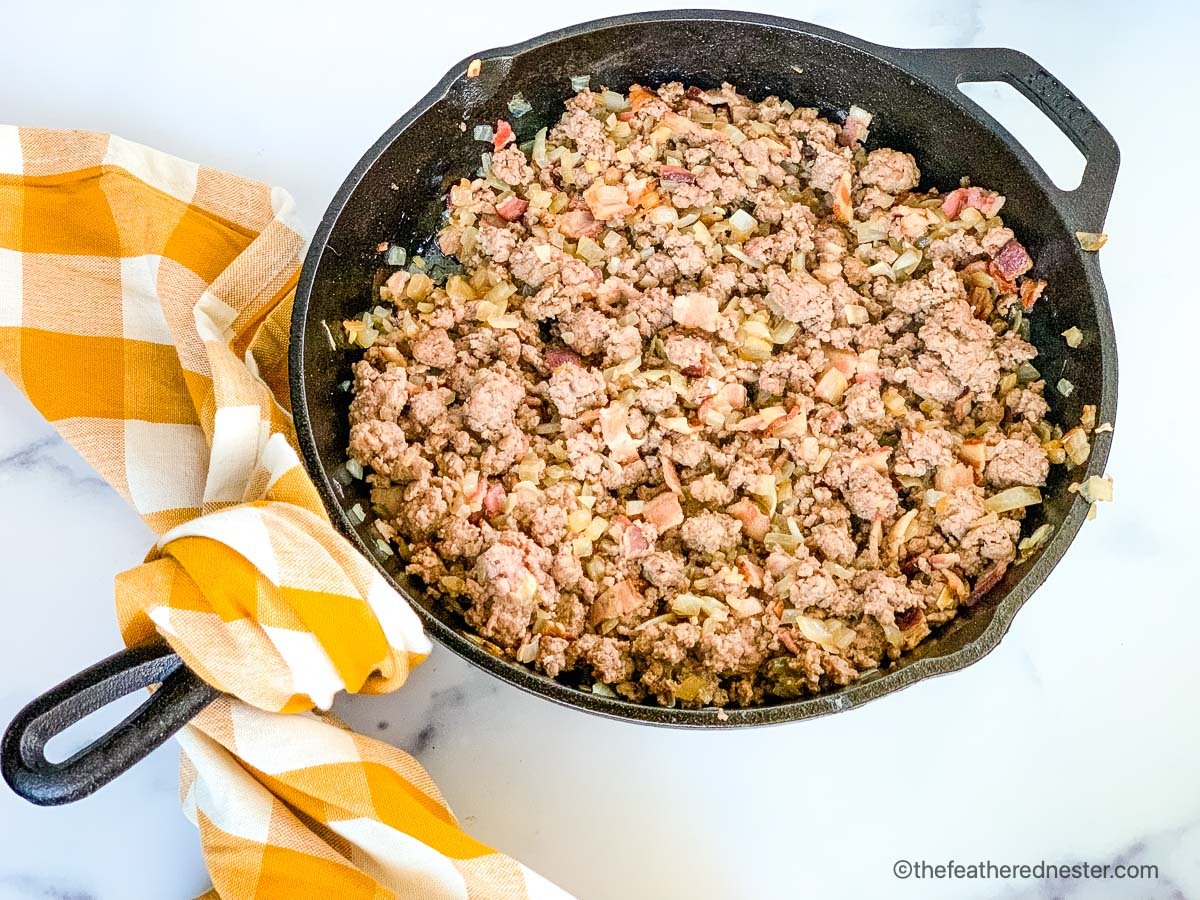 Pro Tip: A few minutes of meal prep will go a long way! To make this and other ground beef-based dishes easy dump-and-go-meals, prepare a large batch of ground beef in advance.
Sauté 5 pounds of ground beef at once in a large skillet, and separate into 5 small freezer bags. Then just pull out what you need to make slow cooker recipes without any unnecessary meal prep!
In a hurry? Make Instant Pot Calico Beans in the pressure cooker.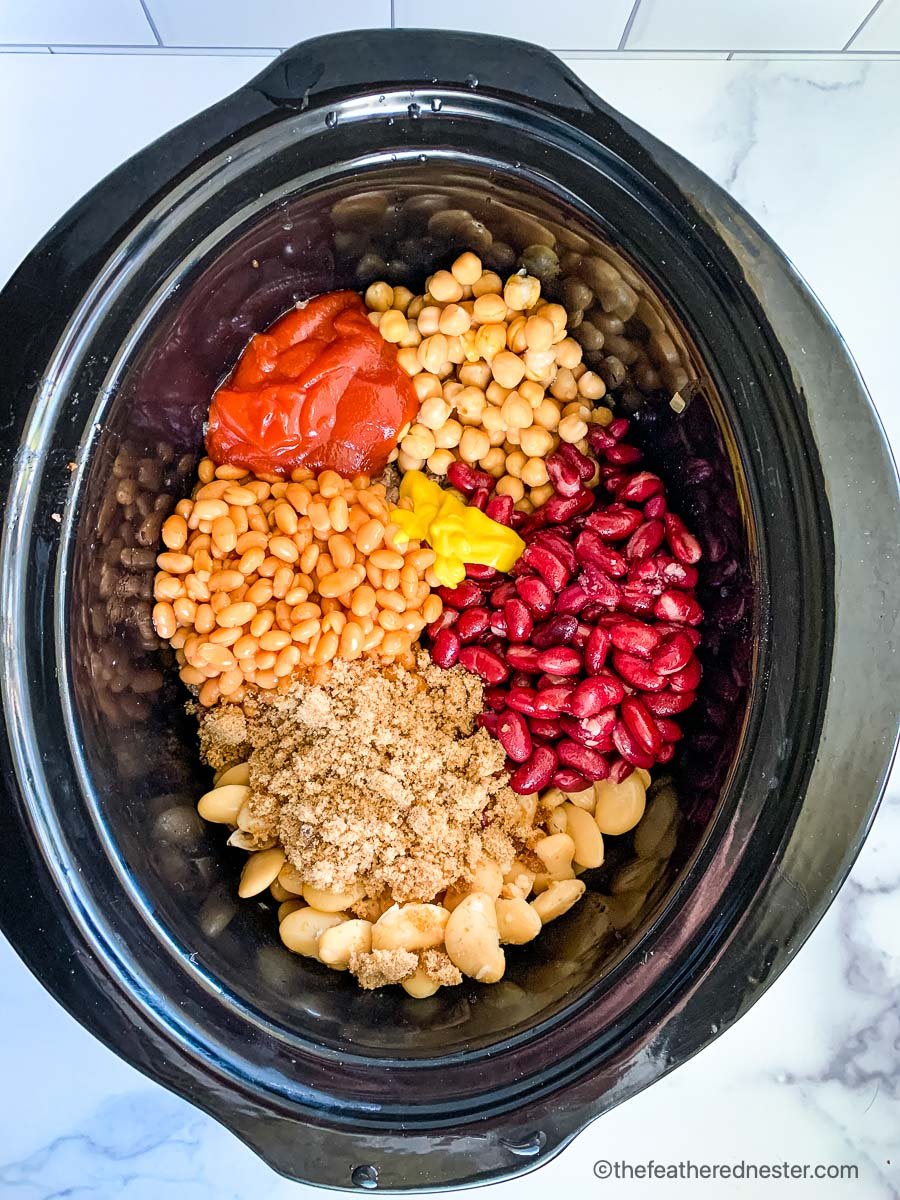 Set the slow cooker and you'll have the best calico beans ever in just 3-6 hours!
Garnish calico beans with crispy bacon bits, french onions, green onions, or shredded cheese before serving.
What to serve with Calico Beans?
One of my favorite things to serve with a hamburger and beans casserole is a delicious cornbread (this recipe is made without cornmeal!).
If cornbread isn't your thing, how about some easy, 3 ingredient biscuits ready in just 15 minutes? Choose from our tender drop biscuits or deliciously cheesy Cheddar Bay biscuits.
To add an element of healthy to these beans, serve them with a crisp fresh salad with a tangy tahini dressing.
Love Beans? You can Try our other Beans Recipes
Love bean recipes? You can try our easy and delicious Instant Pot Navy Bean Soup. You'll also love our Instant Pot Calico Beans and Instant Pot Lima Beans and Ham.
If you are looking for a healthy salad option, try our Tuscan Bean Salad. For a spicy dish, our Stovetop Chili con Carne is also a great choice. You may also want to try our Ultimate Instant Pot Pinto Beans.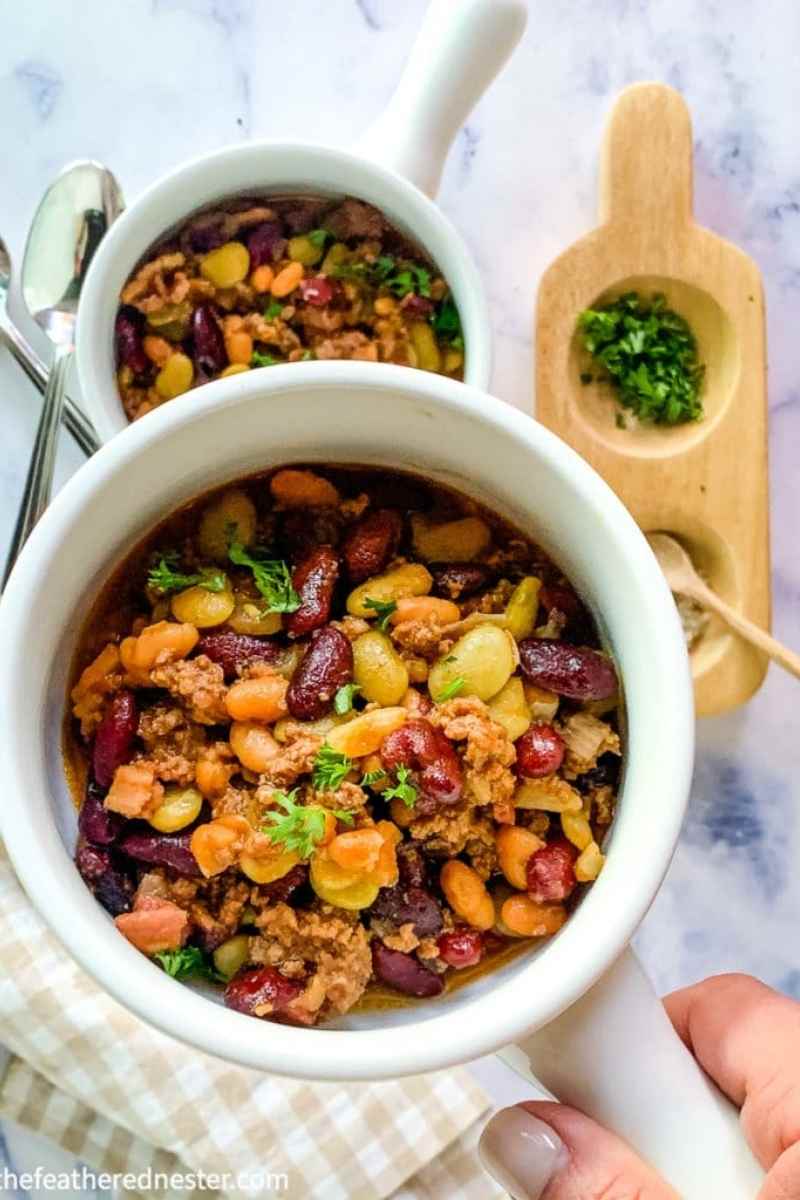 Frequently Asked Questions
Can I use other types of beans in this calico beans recipe?
Sure! Use whatever type of canned beans you have. You can include one can each of several different kinds of beans, or use multiple cans of the same beans. Or even add some green beans for a real color variation and a serving of green vegetables.
Are butter beans and lima beans the same?
Butter beans and lima beans are the same types of beans. Lima beans are immature and green in color. Butter beans are more mature and beige in color. But they are the same plant. The words lima bean and butter bean are also regionally used.
Can I use dried beans in this slow cooker beans recipe?
Yes, there are directions for using dried beans in the recipe notes. Learn how to easily pressure cook dried beans as a budget-friendly version of these crock-pot calico beans.
Full Crock Pot Calico Beans Casserole Recipe
Slow Cooker Calico Beans
These Crock Pot Calico Beans are ideal for an easy, hearty dinner, potluck dish, or a summer BBQ side dish. See my tips that make this the perfect dump-and-go slow cooker recipe that's ideal for busy cooks.
Equipment
Slow Cooker/Crock Pot

skillet
Ingredients
4

slices

bacon, thickly cut, diced

1

lb

lean ground beef

(I recommend 85/15 ground hamburger)

1

medium

onion, chopped

1

cup

ketchup

1

cup

brown sugar, firmly packed

2

teaspoons

prepared yellow mustard

4

teaspoons

apple cider vinegar or white vinegar

1

can (15 ounces)

pork and beans

1

can (15 ounces)

butter (lima) beans, drained

(see notes below for dried lima beans)

1

can (15 ounces)

kidney beans, drained

(see notes below for dried kidney beans)

1

can (15 ounces)

garbanzo beans or chickpeas, drained

(see notes below for dried garbanzo beans)

1-2

cups

water
Instructions
Cook the ground beef, bacon, and onions in a large skillet, until the ground beef is no longer pink and the onions are translucent. Drain fat from the skillet.

Add the beef mixture to the crockpot. Then stir in the ketchup, sugar, mustard, and vinegar to the pot. Add the canned beans and 1-2 cups of water, then combine stirring until well mixed. Cover with strips of bacon and drizzle with BBQ sauce, if desired.

Set slow cooker on the low setting for 6-8 hours or on the high setting for 3-4 hours. Garnish calico beans with crispy bacon bits, french onions, green onions, or shredded cheese before serving.
Notes
Using dried beans: Use 1/2 cup of dry beans for every 15 ounce can of beans. Soak dried beans overnight or quick soak them following the directions on the bag. For dried beans, add an additional 2 hours of cook time to the preferred slow cooker time and  1 cup of water or broth.
Substitute garbanzo, lima (butter), or kidney beans with black beans, pinto, or navy beans.
Leftovers will keep well stored in an airtight container in the refrigerator for up to 4 days.
Nutrition
Serving:
1
serving
|
Calories:
394
kcal
|
Carbohydrates:
25
g
|
Protein:
17
g
|
Fat:
20
g
|
Saturated Fat:
9
g
|
Polyunsaturated Fat:
2
g
|
Monounsaturated Fat:
11
g
|
Trans Fat:
1
g
|
Cholesterol:
70
mg
|
Sodium:
418
mg
|
Potassium:
372
mg
|
Fiber:
1
g
|
Sugar:
23
g
|
Vitamin A:
113
IU
|
Vitamin C:
2
mg
|
Calcium:
39
mg
|
Iron:
2
mg