This delicious stovetop chili is made in a Dutch oven, and it's perfect for a warm lunch or dinner on a cold or rainy day. Despite only having 4 ingredients, it has a rich, zesty flavor. Add your favorite toppings and serve the Dutch oven chili with cornbread or in a sourdough bread bowl. It's the ultimate comfort food!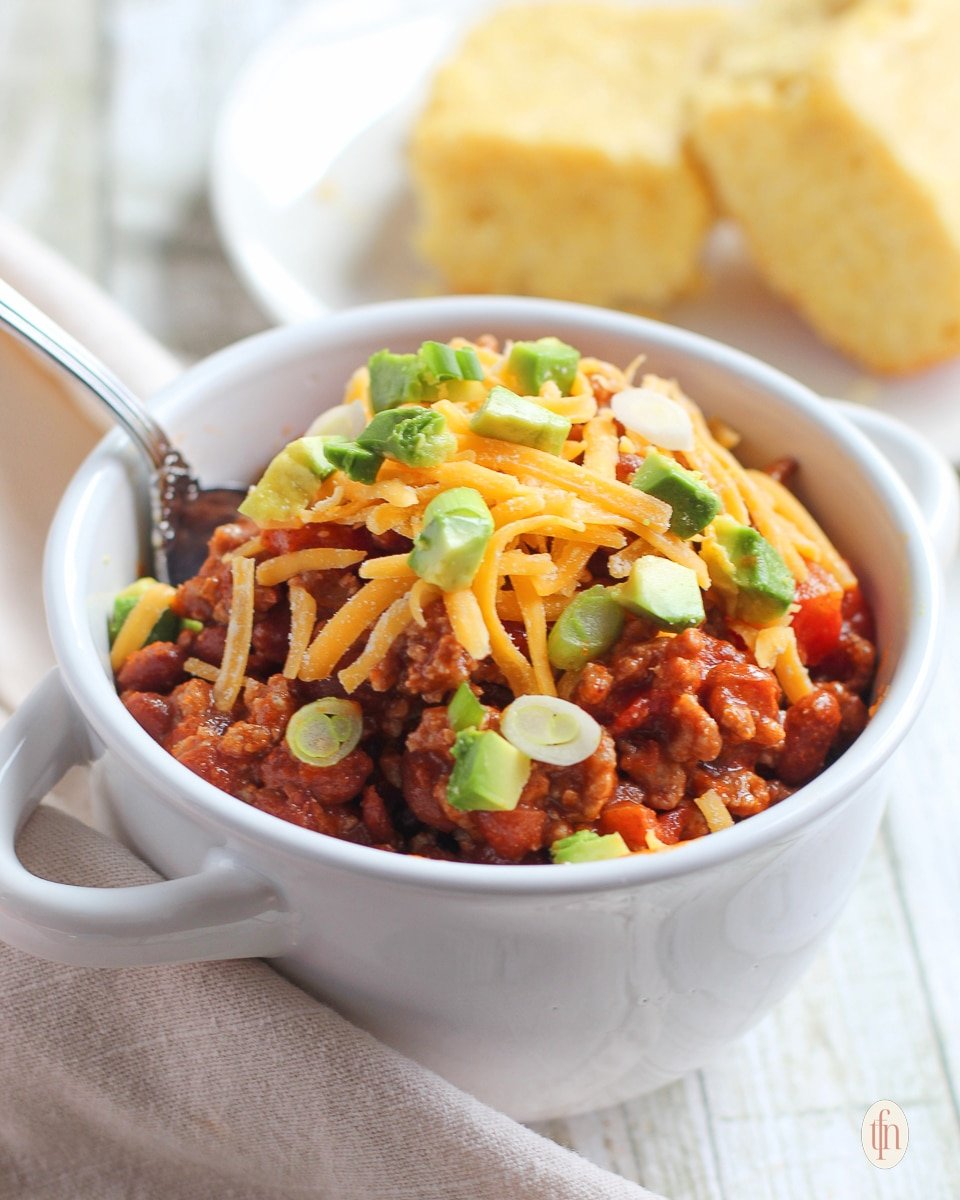 Why We Love Stovetop Chili
Perfect for busy weeknights.
Healthy, family-friendly dishes can take a while to make, and we don't always have a lot of time to cook. Fortunately, this 30 minute recipe fixes that problem!
Only requires a few ingredients.
You'll be surprised at the rich flavors that just 4 ingredients add to this dish.
One of the ingredients will forever change the way you make Dutch oven chili!
Multiple cooking options.
We designed this easy chili recipe for a stove, but there are also instructions in the recipe card for making it in a crock pot or Instant Pot.
Feeds a lot of people and can be made ahead.
Make a batch in advance to save yourself some time. It keeps in the fridge for up to 3 days.
Then, invite some friends over for a game day party and set up a chili bar!
Can be used to make other easy dinner recipes.
You can incorporate a batch into other family favorite recipes like chili tater tot casserole. Or, serve it over hot dogs with Velveeta cheese sauce, or as a delicious topping on baked potatoes.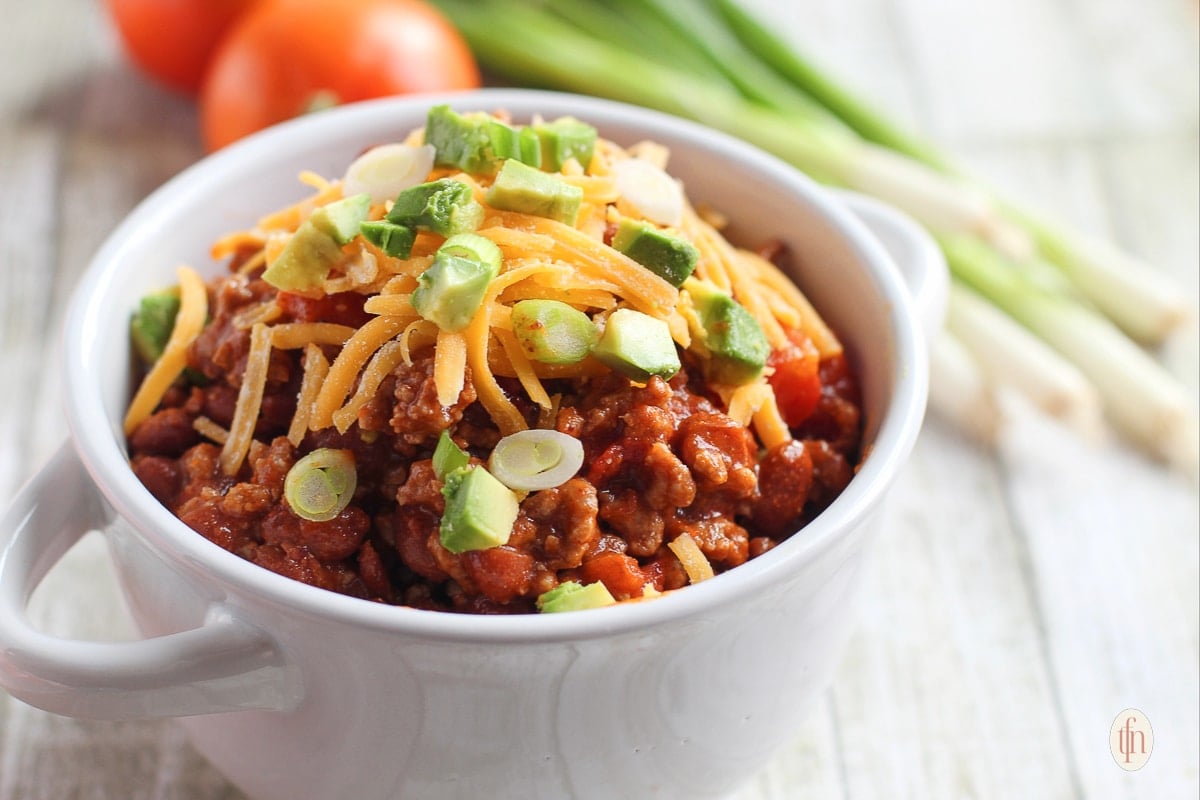 Ingredient Notes and Substitutions
Lean ground beef – We like to use 85/15 or 80/20. But if you don't have ground beef, you can use ground turkey or ground chicken instead.
Chili beans – A mixture of beans are the best beans for chili. This recipe uses a variety of canned beans for convenience and flavor. If you only have dried beans on hand, check our tutorial on how to cook dried beans.
Diced tomatoes with green chiles – like Rotel or Zesty Diced Tomatoes. They add a spicy and slightly tangy flavor to the recipe. If you don't have them, you can use regular diced tomatoes and add a can of diced green chiles.
Secret ingredient: Ground cinnamon – This adds a warm and sweet flavor to the recipe. It also helps balance the spiciness of the dish. You can omit it if you don't have ground cinnamon in hand.
🎯 TFN Pro Tip
This easy chili recipe can be tailored to your liking. We like to include beans, but you can add green peppers, celery, or any other vegetables you like.
Recipe Tips for Making Dutch Oven Chili
Drain the cooked ground beef, leaving about a tablespoon of fat in the pot.
Using just a little bit of fat adds a ton of flavor to the stovetop chili!
Be sure to drain the canned beans.
The only exception is if the beans come in a chili sauce. If so, you'll want to add the entire contents of the can to the Dutch oven.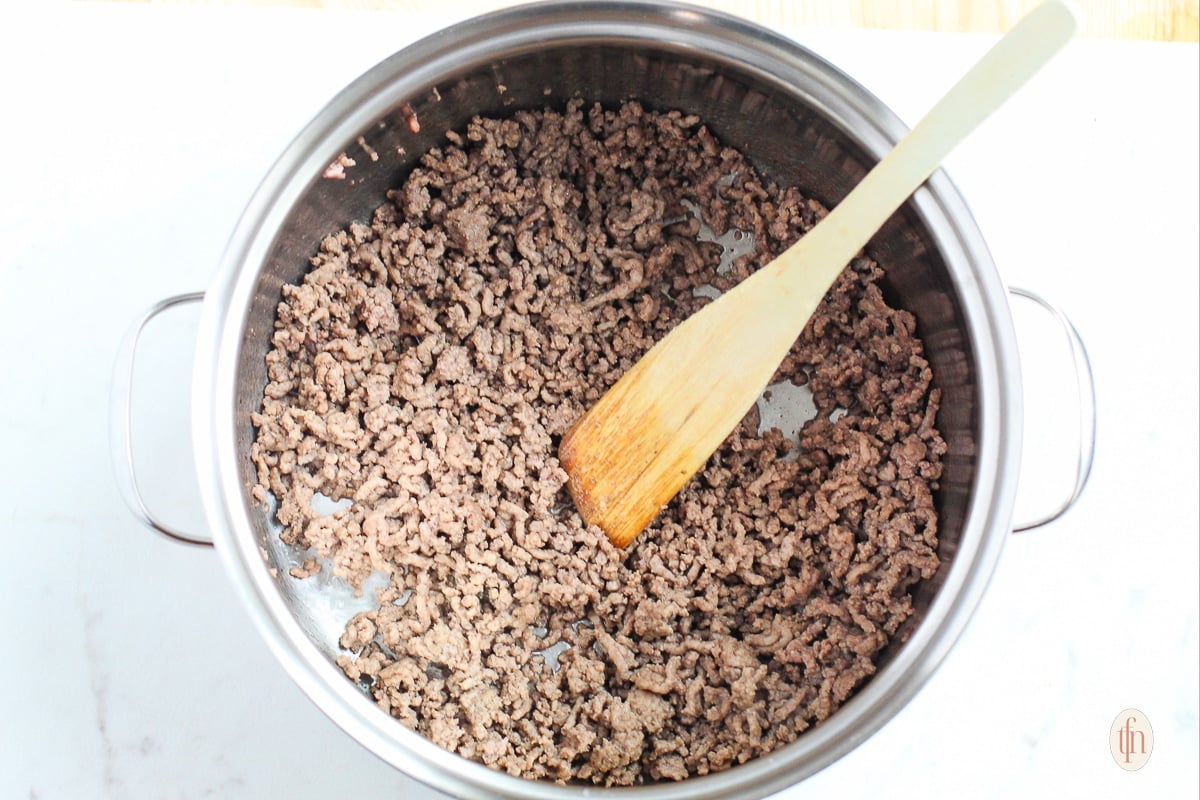 Taste and season as it cooks.
The ground beef chili will taste different at various points in the cooking process, so check as you go, adding extra seasoning to your liking.
Stovetop Chili FAQ
How long should chili on the stove simmer?
Cook it with the lid on and set to a high simmer for 30-45 minutes, or a low simmer for up to 2 hours. The longer it simmers, the more depth of flavor you will achieve.
Does chili freeze well?
Yes! If you're planning to store this meal for longer than a few days, pop it into the freezer. If kept in an airtight container, frozen chili will keep in the freezer for 4 to 6 months.
Should chili be soupy or thick?
The consistency can be thin or thick, whichever you prefer. For a thick consistency, simmer with the lid off. For more of a chili soup, add chicken broth or water, ¼ cup at time, until your perfect consistency is reached.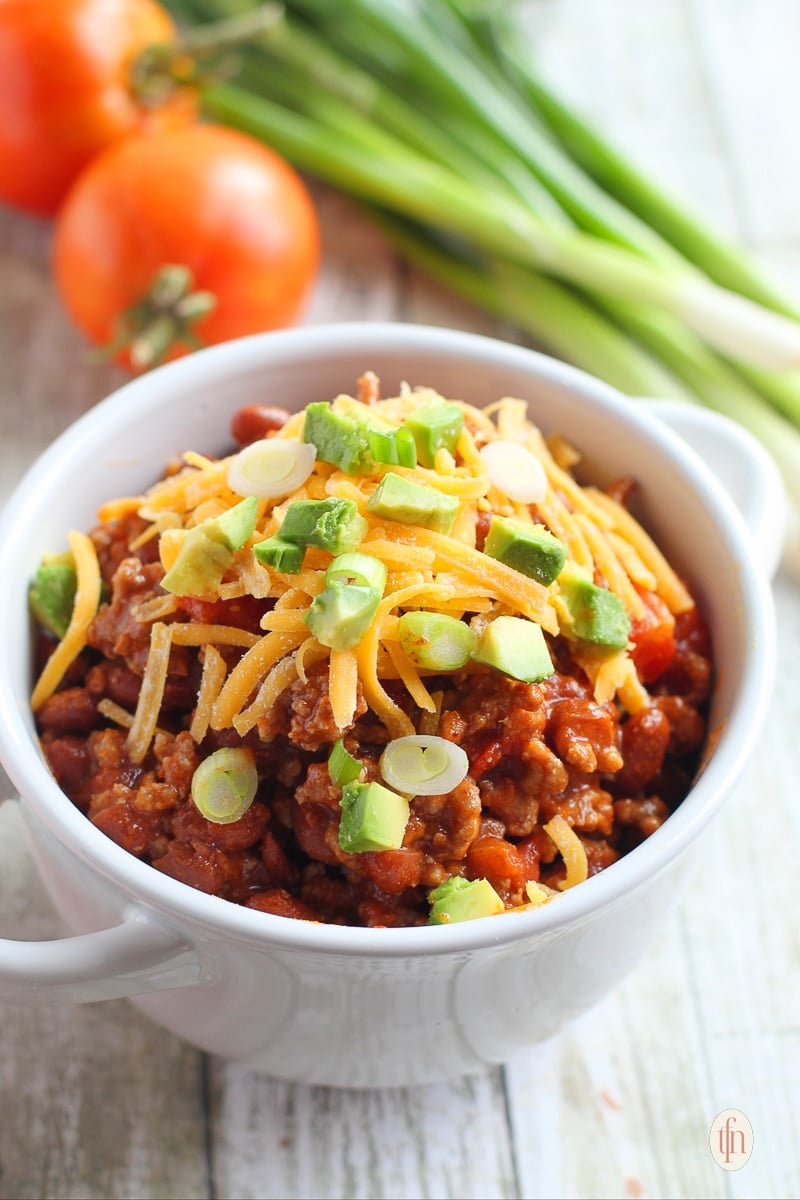 Storing and Reheating
If you're only storing the Dutch oven chili for a few days, keep it in a sealed container in the fridge. For longer periods of time, freezing is recommended. Be sure to let it thaw in the fridge before reheating.
To reheat this easy chili on the stove, place it in a saucepan over medium heat and stir it occasionally, until it reaches a temperature of 165°F. To reheat in a microwave, place it in a heat-safe container and cook on high power for 3-5 minutes.
Serving Suggestions
Stovetop chili is delicious on its own, but you can add even more flavor with classic toppings. Some of our favorite toppings are:
shredded cheddar cheese
chopped green onions
sour cream
chopped avocado
jalapeno or roasted jalapeno
crushed tortilla chips or corn chips.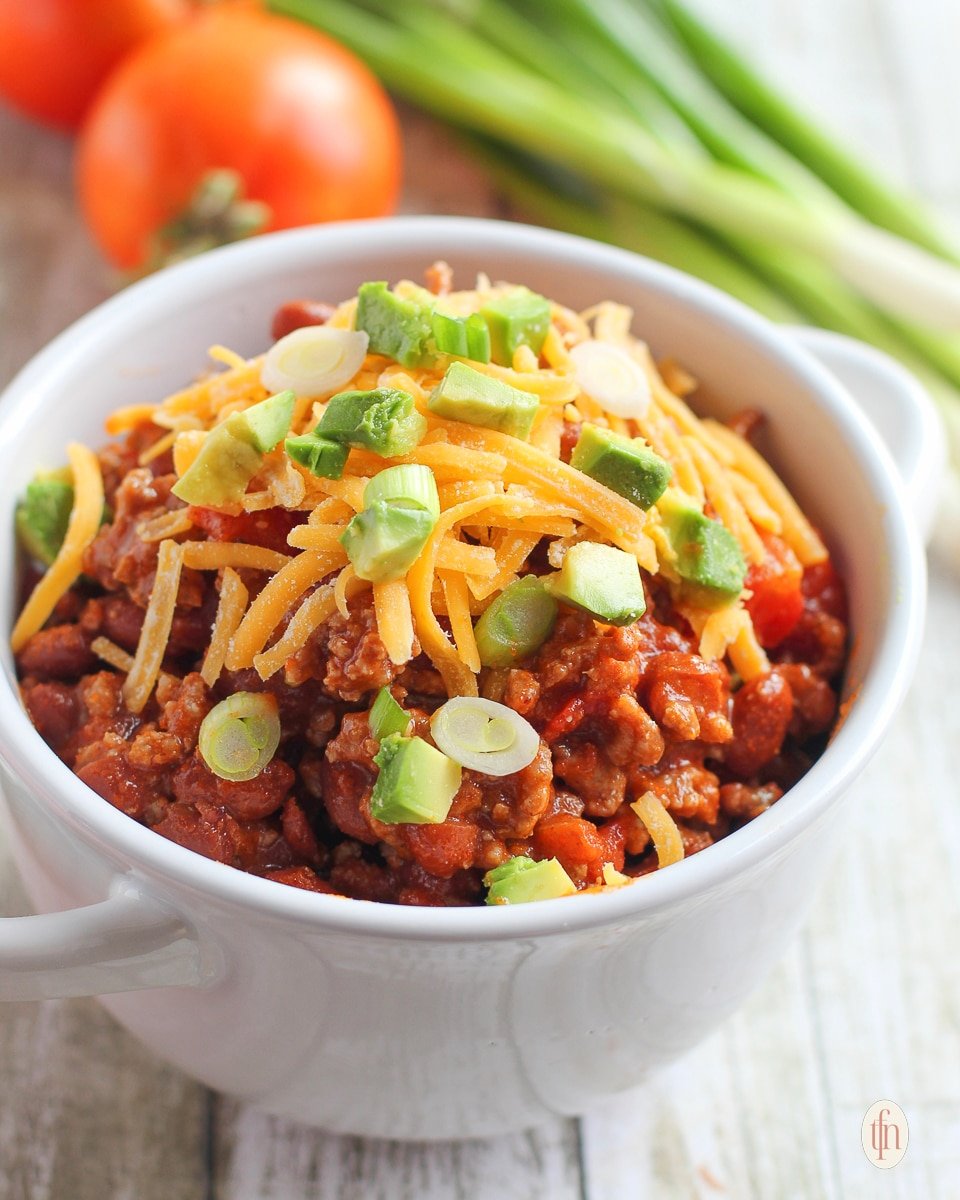 🎯 TFN Pro Tip
Add chili toppings to small serving bowls, then let your guests help themselves to whatever toppings they like.

To round out this 30 minute meal, consider serving it with a salad and sourdough garlic bread or garlic toast.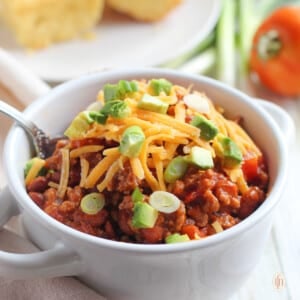 Our Favorite Stovetop Chili
Hearty stovetop chili is a budget friendly, stick-to-your-ribs meal, and you can make this Dutch oven chili recipe with just 4 ingredients!
Ingredients
1 pound lean ground beef we recommend 85/15 or 80/20
15 ounces canned chili beans or kidney beans
15 ounces canned diced tomatoes with green chiles (like Rotel or Del Monte Zesty Diced Tomatoes)
½ teaspoon ground cinnamon
Optional Toppings for Chili
shredded cheddar cheese
sour cream
jalapenos
diced avocado
corn chips or tortilla chips, crushed
Instructions
Add ground beef to a large Dutch oven over medium-high heat. Brown the ground beef, using a wooden spoon to break apart the meat as it cooks.

Using paper toweling, carefully soak up excess grease in the pot, leaving about 1 tablespoon of grease behind, for additional flavor.

Place the Dutch oven back on the stovetop over medium-high heat and stir in the chili beans and diced tomatoes. Using a a large spoon, stir to combine, then bring mixture to a boil.

Reduce heat to medium-low, stir in cinnamon, then let mixture simmer for about 20 minutes.Ladle into bowls and serve warm, topped with your favorite chili toppings.
Notes
Crockpot Slow Cooker chili: This chili can be made in a crock-pot. First, brown the meat and add it to the crock-pot with the can of chili beans and diced tomatoes. Cook on low for 4-6 hours. Instant Pot Chili: To make this easy chili recipe in the Instant Pot, saute the ground beef meat in the Instant Pot. Then, add all ingredients and cook on high pressure for 15 minutes. Let it naturally release for 5 minutes, then do a quick release. You can substitute diced tomatoes (without chiles) and use a chili seasoning packet to spice this to your liking.
Nutrition
Serving: 0.25 batch | Calories: 277kcal | Carbohydrates: 22g | Protein: 30g | Fat: 7g | Saturated Fat: 3g | Polyunsaturated Fat: 1g | Monounsaturated Fat: 3g | Trans Fat: 0.4g | Cholesterol: 70mg | Sodium: 856mg | Potassium: 1072mg | Fiber: 6g | Sugar: 8g | Vitamin A: 138IU | Vitamin C: 12mg | Calcium: 79mg | Iron: 6mg
PIN THIS POST!
This post, first published in July 2022, was last updated with new content in September 2023.