If you click on a link and make a purchase, I may receive a small commission at no extra cost to you. See my disclosure policy here.
Making the best Ultimate Instant Pot Pinto Beans from dried beans is about as close to "instant" as it gets. You don't even need to soak the beans before cooking them! Once you see how simple it is to make pinto beans in the pressure cooker, you will be a believer. Try this quick and easy no soak pinto beans recipe, and these delicious and tasty beans will become a regular meal in your household.
If you are like me, you have a few bags of dried beans in the pantry. Well, get them out and cook them tonight with this pressure cooker pinto beans recipe. You'll thank me tomorrow, and be adding these easy no soak beans to your regular menu rotation!
Pinto Beans Nutrition
Not only are pinto beans delicious, but they are also an incredibly healthful dish, too. Pinto Beans are high in plant-based proteins and are full of vitamins, minerals, and fiber. Yet, they're low in fat and calories.
Did you know? One serving of dry pinto beans contains:
Calories: 245kcal
Carbs: 45 grams
Fiber: 15 grams
Protein: 15 grams
Fat: 1 gram
For those seeking healthier, more plant-based meal options, beans are an ideal solution.
Try swapping out a higher fat, animal-based dinner once a week. And swap it for one that is primarily plant-based, like beans.
Cooking Pinto Beans Without Soaking
With this easy pressure cooker pinto beans recipe, there's no need to soak your dry beans. The beauty of pressure cooking is that pinto beans can be cooked without soaking. It takes a little longer but is almost effortless.
Just do a quick sauté with the bacon, onions, jalapeño, garlic, and spices. Then dump the beans and liquids and press start. That's it!
But, I usually do a quick soak method right in the Instant Pot. It's easy to do (nothing extra to clean!) and takes an hour.
While the beans are soaking, I get the rest of the ingredients together.
My Instant Pot Quick Soak Method
Here is how to do an Instant Pot quick soak method for dry beans in just 3 easy steps:
Add dry beans and 6 cups of water to the Instant Pot.
Press the "sauté" button until the screen shows "more." There are three settings to the sauté mode: less, normal, and more.
Bring the beans and water to a boil (it takes less than 5 minutes in my pot). Then press "cancel" and rest the lid or a plate on the top of the pot for an hour.
New to Instant Pot Cooking?
If you are new to Instant Pot cooking, read my Instant Pot Basics here. It covers how to safely use the Instant Pot and things you should know about pressure cooking. Then read this post on tips and hacks for the Instant Pot.
Ingredients For the Ultimate Pinto Beans Recipe
Dried pinto beans
Bacon
Onion
Jalapeno pepper
Garlic
Seasonings – oregano, chili powder, salt, and ground cumin
Chicken broth
Water
Lime juice
Cilantro
How to Cook Pinto Beans in the Instant Pot
This Ultimate Instant Pot Pinto Beans recipe is so easy to prepare! It takes just a few easy steps:
First, sauté the bacon until the fat is rendered, for about 3 minutes. Add the onions, peppers, garlic, and spices. Cook for a few minutes, until the onions are translucent.
Then pour in the broth to deglaze the pot, then add the water.
Secure the lid, seal the pot, and set the pressure cycle.
After the pressure cycle has completed, allow the pressure to naturally release for 10 minutes. Finish with a quick release by carefully turning the lever to release the pressure.
Lastly, stir in the lime juice and chopped cilantro just before serving.
Add your favorite toppings to the pinto beans to turn an ordinary looking bowl of beans into something extraordinary!
Some ideas for toppings are crumbled Cotija or shredded cheddar cheese, crushed tortilla chips, sliced jalapeno peppers, diced tomatoes and onions, salsa, and sour cream. How do you like to enjoy your Instant Pot Pinto Beans? Share your ideas in the comments!
See Below for the Full Recipe Below!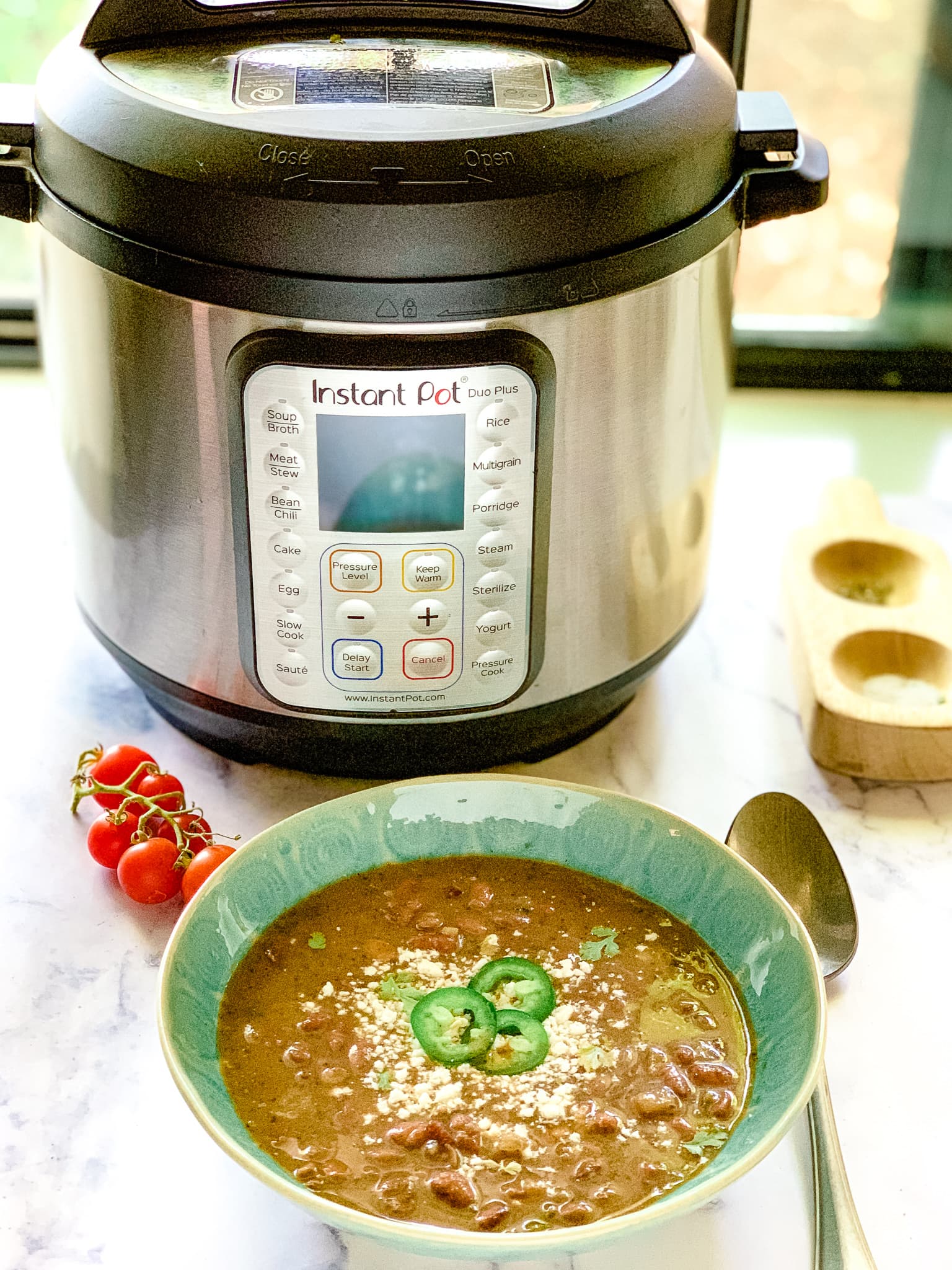 Frequently Asked Questions
Can I make these Ultimate Pinto Beans without an Instant Pot?
Yes. Soak the beans overnight or use the quick soak method. Follow steps 2-3 in the recipe directions below, using a large stockpot instead of the Instant Pot. Simmer the pinto beans on the stovetop for 4-5 hours.
Do I need to soak the pinto beans before using?
No, you can pressure cook the dry beans.
Can I make this pinto beans recipe vegan or vegetarian?
You can easily make this a vegan-friendly recipe by subbing bacon with oil to cook the onions and garlic, and using vegetable stock instead of chicken broth.
Can I use smoked ham hocks instead of the bacon?
Yes, you can substitute ham hock or salt pork for the bacon in this recipe.
Why would you Quick Soak Beans in the Instant Pot?
I do a quick soak in the Instant Pot, which is described in the recipe, because the beans are more likely to stay whole. I have had the beans split when I pressure cooked them without soaking. It is just cosmetic and does not affect the taste.
Get the Best Pressure Cooker Pinto Beans Recipe Here
Ultimate Instant Pot Pinto Beans
Get ready for the best pinto beans, made right in the Instant Pot. They are a flavorful and easy one-pot meal, perfect for a weeknight or the weekend.
The dried pinto beans do not need to be presoaked. Soaking them before pressure cooking lessens the chance of the beans separating, though that is purely cosmetic. See *recipe notes* for instructions on how to quick soak the beans right in the Instant Pot.
Equipment
Instant Pot (or any electric pressure cooker)
Ingredients
1

lb

dried beans

4

slices

bacon

chopped

1

yellow onion

chopped

1

jalapeno pepper

membranes and seeds removed, finely chopped

3

garlic cloves

minced

1

tsp

dried oregano

1

tsp

chili powder

1

tsp

salt

1

tsp

ground cumin

3

cups

chicken broth

hot

3

cups

water

hot

1

Tbsp

fresh lime juice

(juice of 1/2 lime)

1/4

cup

cilantro

chopped
Instructions
Set pressure cooker to sauté, add the bacon. Sauté bacon until the fat has rendered, about 3 minutes.

Add onions, jalapeño, garlic, and spices and sauce with bacon until the onions are translucent. Preheat the broth and water (I use a microwave) to speed up the cooking time. Add beans to the pot. Press cancel, add lid, seal pressure lever, and set machine on high pressure for 25 minutes for presoaked beans and 45 minutes for dried, non-soaked beans.

Allow pressure cooker to naturally release for 10 minutes, then initiate a quick release. To thicken the beans, cook on sauté with lid off until desired thickness, stirring occasionally. 

Add lime juice and cilantro before serving. Top with favorite garnishes and serve.
Notes
My Instant Pot Quick Soak Method: Add 6 cups of water to the Instant Pot. Set the Instant Pot on "S

auté

" then select "More" (usually that means pressing the

sauté

button twice until the screen shows the word "More"), add the beans, and bring to a boil. This should only take 5 minutes. Stir the beans. Press "Cancel" and let the lid simply rest on top of the Instant Pot. Let soak 60 minutes. Drain beans and rinse pot.
Nutrition
Serving:
1.5
cups
|
Calories:
252
kcal
|
Carbohydrates:
38
g
|
Protein:
15
g
|
Fat:
5
g
|
Saturated Fat:
2
g
|
Cholesterol:
7
mg
|
Sodium:
703
mg
|
Potassium:
897
mg
|
Fiber:
9
g
|
Sugar:
2
g
|
Vitamin A:
127
IU
|
Vitamin C:
13
mg
|
Calcium:
67
mg
|
Iron:
4
mg
Variations for this No Soak Pinto Beans Recipe
Pinto Beans with Ham Hocks. Add a smoked ham hock to the Instant Pot, and pressure cook it with the beans.
Pinto Beans with Salt Pork. Instead of bacon, use diced salt pork in its place.
For more meal inspiration, follow me on Instagram at https://www.instagram.com/thefeatherednester/ or on Facebook at https://www.facebook.com/houseon3rd/.
Shop my favorite Instant Pot accessories and cooking tools on Amazon: The Feathered Nester's Recommendations
Get more simple, easy Instant Pot recipes