Cooking dinner gets so much easier with this savory, satisfying Instant Pot Lima Beans and Ham Soup recipe. Dried beans or frozen lima beans are tasty and budget-friendly, and a flavorful precooked ham makes this a real family dinner. Plus, it is the perfect way to use up that leftover holiday ham!
Butter Beans vs Lima Beans: What's the Difference?
Actually, butter beans and lima beans are the same types of beans. Lima beans are immature and green in color. Butter beans are more mature and beige in color, but they are the same plant!
This recipe calls for lima beans, but you'll see that they lose their greenish color when cooking.
In fact, if butter beans vs lima beans are cooked, they both look and taste the same. So feel free to use whichever (lima or butter) beans are available to make this instant pot recipe.
Ingredients You Need for Instant Pot Lima Bean Soup
This hearty instant pot butter beans soup includes just a few simple ingredients.
Here is the complete list of all 7 ingredients needed:
Beans
Precooked ham
Chicken broth
Water
Onion
Garlic
Bay leaves
For the beans, use dried lima beans soaked overnight, a quick soak 1 hour method, or use frozen lima beans for this Instant Pot recipe.
Also, you can make this delicious soup with ham bone leftovers from Christmas or Easter to make this delicious lima bean soup recipe. Like from my Crock Pot Ham with Coke and Pineapple recipe. While any precooked ham will add great flavor, including an actual ham bone or ham hock takes the savoriness to a whole other level.
Equipment Used for this Recipe
These are popular brands for Instant Pot:
New to Instant Pot Cooking? Read How to Use the Instant Pot 101 first! And, then Tips & Hacks for the Instant Pot is great for new owners and seasoned IP-ers alike!
How to Soak Dried Baby Lima Beans in the Instant Pot
Follow the directions label on your beans to soak your dried baby lima beans or dried butter beans overnight. Or, I have instructions for how to quick soak dried beans right in the Instant Pot. You can also use frozen lima beans in this recipe.
Also, learn more about dried beans in this handy reference article.
Using dry lima beans in the Instant Pot makes this a real budget-friendly recipe. And, they are so really delicious when made with ham.
Lastly, if you do not have time to soak your beans, just add 20 minutes to the pressure cooking time to do a no-soak beans recipe. You can also see the frequently asked questions below for more information.
How to Make Instant Pot Lima Beans and Ham
This recipe is so easy you can make it in just 3 steps! It's the perfect family friendly dinner to make on a busy weeknight or lazy weekend when you want something super comforting but completely easy to make.
Here's the easiest way to make ham and lima bean soup (or butter bean) using the Instant Pot:
Combine all of the ingredients in the Instant Pot, and seal the lid.
Pressure cook for 25 minutes. Bring to a boil, and allow a natural pressure release for 10 minutes before doing a quick pressure release to make sure the beans are tender.
Remove the lid and saute the beans until they thicken, stirring frequently. Then season to taste with salt and pepper.
That is it! Soups with lima beans and ham are gluten-free, quick, and easy one-pot dish.
Then, you can serve this with my easy Bisquick Cornbread recipe!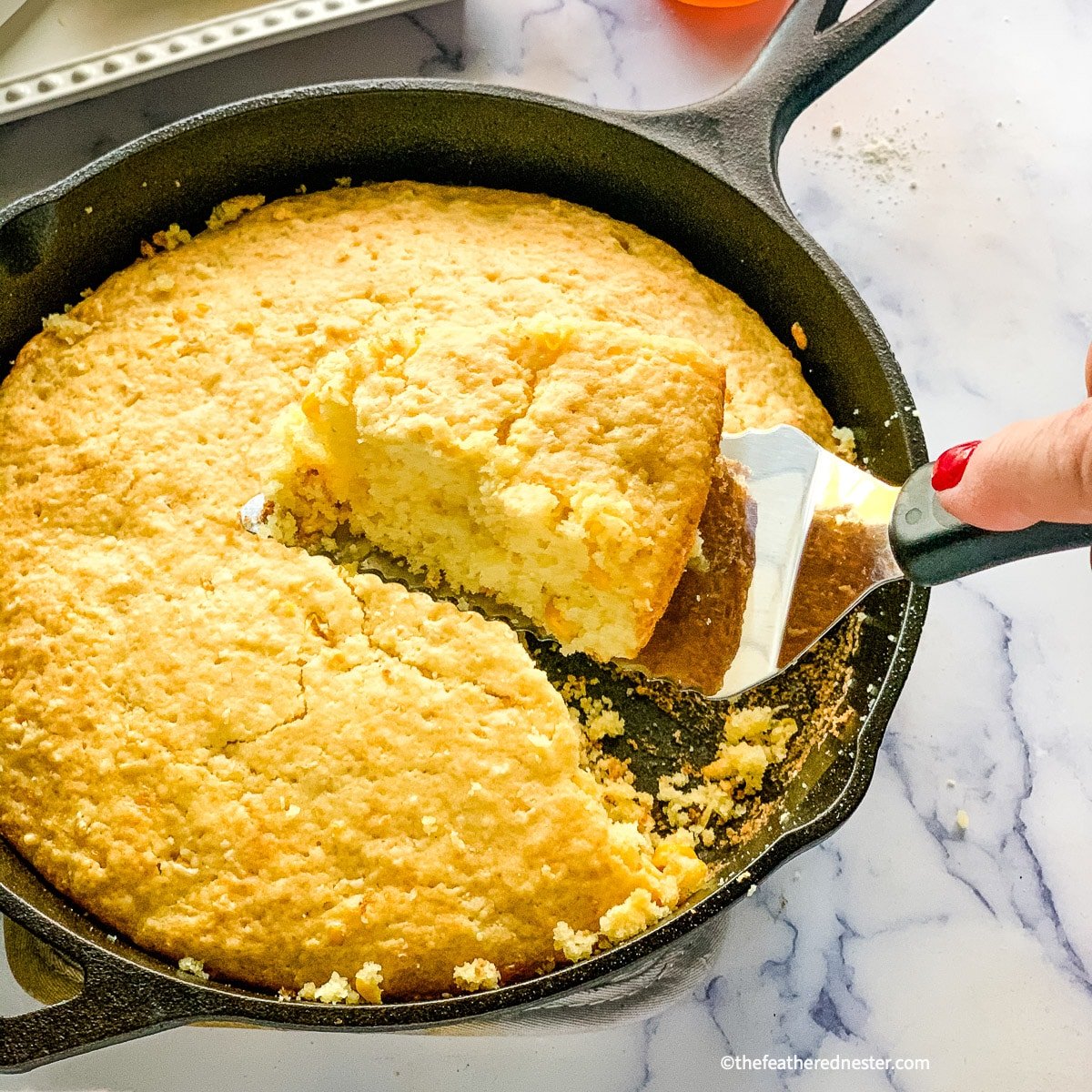 Other Ideas for Making this Recipe
Lima beans and ham hocks: Add a ham hock for extra flavor! I recommend cutting the ham back to 3 cups if the ham hock is meaty.
Lima beans with bacon: Swap out the ham for a pound of bacon, sautéed and diced.
Lima beans with vegetables: Add 1/2 cup of chopped carrots, 1/2 cup of chopped celery, or 1/2 cup of chopped bell pepper. Or you can add all three!
Try Our other bean recipes
For those who love to use Instant Pot, these Instant Pot Calico Beans, Ultimate Instant Pot Pinto Beans, and Instant Pot Navy Bean Soup are great options. If you want to try our slow cooker recipe, the Slow Cooker Calico Beans is another great option.
And if you are looking for a stovetop recipe, the Stovetop Chili con Carne is perfect. You may also want to try our Instant Pot Fresh Green Beans, Tuscan Bean Salad, and Calico Bean Casserole.
Frequently Asked Questions
Can I use canned beans in this Instant Pot Lima Beans recipe?
Yes, you can! Substitute the dried beans for three 15-ounce cans of canned lima beans or butter beans. And pressure cook for just 15 minutes.
What if I don't have time to soak the beans overnight?
You can use my quick soak method right in the Instant pot or add 20 minutes to the pressure cooker to skip soaking the beans overnight. Or, use frozen lima beans in place of the dried beans.
How should I store leftover Lima Bean Soup?
Keep your cooled leftovers in an airtight container in the fridge for up to 3 days. This soup will also freeze well for up to 3 months.
the Easiest Lima Beans and Ham Soup Recipe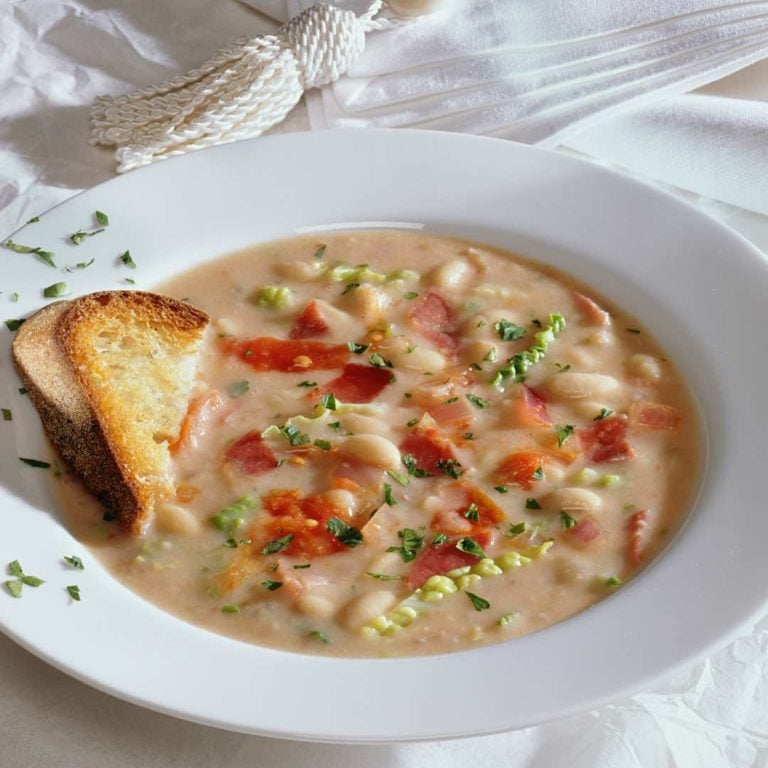 Instant Pot Lima Beans and Ham
Savory, satisfying Instant Pot Lima Beans with Ham soup uses dried or frozen beans and precooked ham for an easy and budget-friendly recipe.
Ingredients
1 pound dried baby lima beans, soaked overnight or quick soak (for non-soaked beans see notes below)
6 cups precooked ham, diced
3 cups chicken broth or stock, low sodium
3 cups water
1 small onion, chopped
2 cloves garlic, minced
2 bay leaves
Instructions
Add all ingredients to the Instant Pot or pressure cooker, ensuring you do not exceed the fill line of the pot. Lock pressure cooker lid into place seal pressure lever to seal (if needed). Cook at high pressure for 25 minutes.

After pressure cooking, allow pressure cooker to naturally release for 10 minutes, then initiate a quick release.

The beans will be soupy in texture. To thicken the beans, cook on sauté with lid off until desired thickness, stirring occasionally.
Notes
For non-soaked beans, add 20 minutes to pressure cooking time for a total of 45 minutes.
Nutrition
Serving: 1serving | Calories: 282kcal | Carbohydrates: 19g | Protein: 36g | Fat: 8g | Saturated Fat: 2g | Cholesterol: 82mg | Sodium: 2112mg | Potassium: 937mg | Fiber: 4g | Sugar: 2g | Vitamin A: 158IU | Vitamin C: 19mg | Calcium: 57mg | Iron: 5mg
PIN THIS POST!
more delicious soup recipes you'll love