This Crock Pot Ham with cola glaze recipe makes the most tender, wonderfully sweet and savory ham that's perfect for serving as the centerpiece for any holiday or dinner celebration.
The pineapple glaze creates a mouthwatering and memorable ham dish that the entire family will love. Plus, it's made with an easy pre-cooked ham in the slow cooker to free up oven space!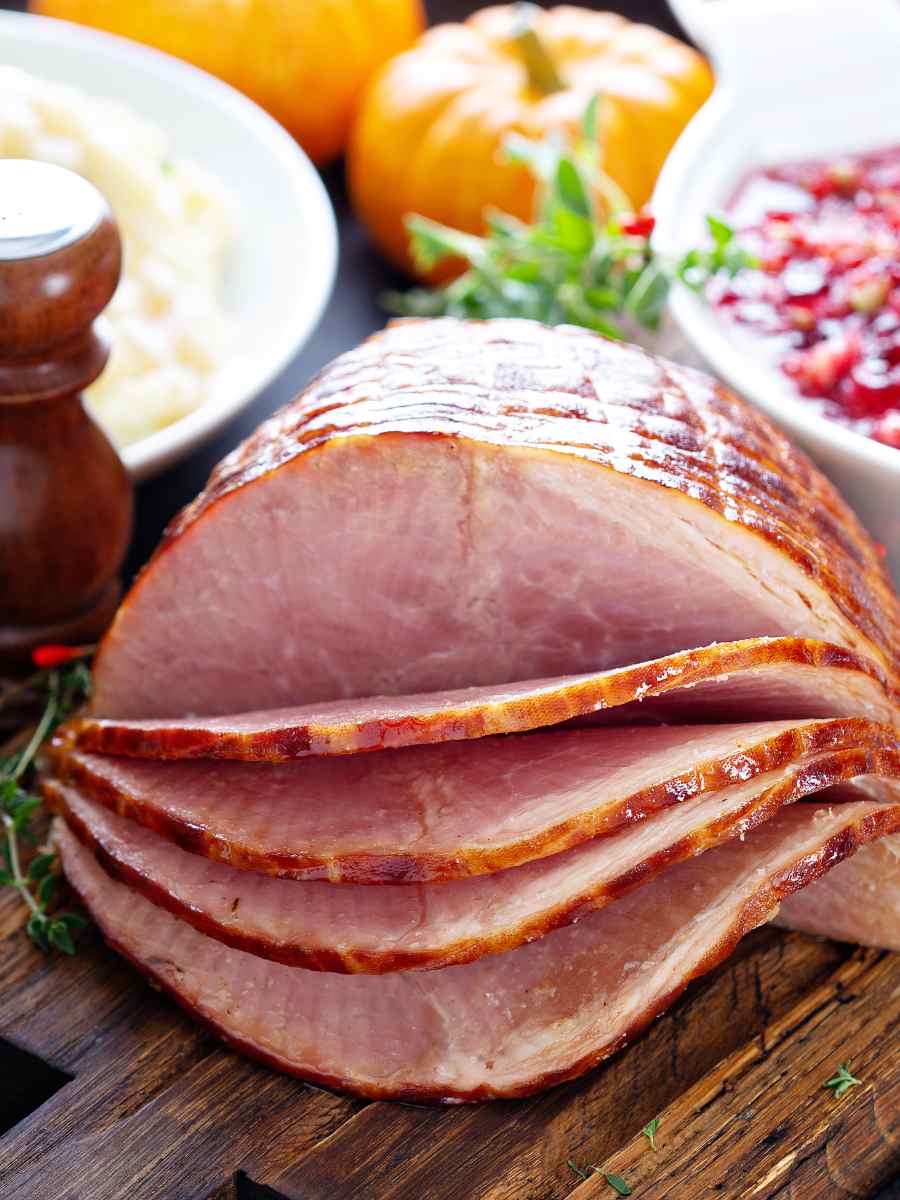 What are the Different Types of Ham?
Let's start with "what are hams?". Hams are legs of pork preserved through smoking or curing (or both!).
Wet curing uses salt, nitrates, sugar, and seasonings to preserve the ham. Curing is what flavors ham gives it that reddish-pink coloring.
Dry-cured hams are rubbed with a mixture of salt, spices, and other ingredients producing a saltier ham. Dry curing takes several months. This means the ham is usually drier and chewier – almost like a soft jerky. Probably not a good match with this coca-cola pineapple ham glaze!
After curing, hams are smoked in a smokehouse, adding flavor and color to the meat. Smoking also provides an added measure of preservation.
Learn more about choosing the right ham and the proper method of preparing it here.
TFN TIP:
Find out what type of ham you have by checking the label on your ham. You'll want the best ham for this Crockpot Ham with Coke recipe!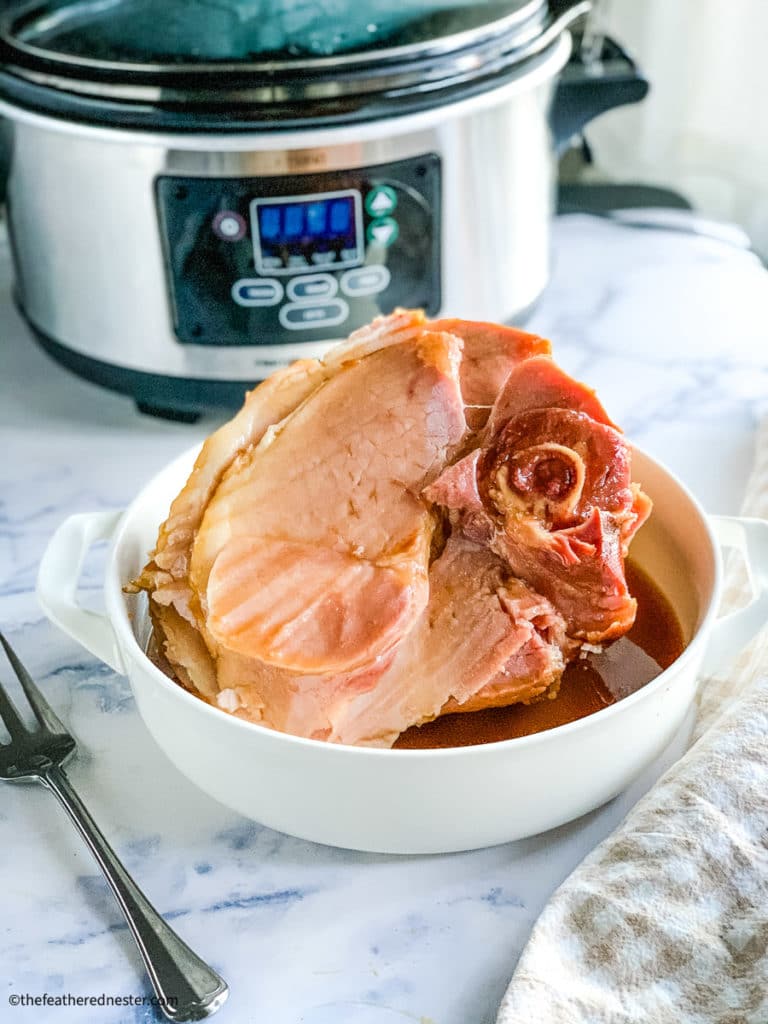 the different types of ham
City Ham vs. Country Ham
The primary difference between city ham and country ham is how the meat is cured. City hams are wet-cured and smoked. Country hams are dry-cured and smoked. Dry curing produces a saltier ham.
Shank End vs. Butt End
Shank end is the type of ham often served for Christmas or Easter dinners. The shank comes from the lower end of the leg. This cut has more fat and tends to be less tender.
The butt end is a leaner cut of ham. However, its name is a little misleading. Butt end ham comes from the upper end of the leg. It's easy to cut because it has one main bone through the ham.
Boneless vs Bone-In Ham
A bone-in ham gets more flavoring from the bone and tends to be a more moist ham. Plus, the bone can be used in soups and beans as a flavoring.
Boneless hams are processed with a uniform round, oval shape. These hams are slightly less flavorful but are easily sliced for serving.
For this Coca-Cola Ham in slow cooker recipe, you definitely want to use a wet cured ham – although the exact cut is up to you.
You can also find bone-removed hams. These hams have the bone removed without the processing that boneless hams go through.
Fully cooked vs. Partially cooked
Most hams are precooked or fully cooked (but check yours to be sure). Reheat them to an internal temperature of 145º Fahrenheit to avoid drying them out.
My favorite ham for this recipe is precooked spiral-cut ham. Not only is it the easiest to serve, but it looks lovely on the table.
While it can be a challenge keeping pre-cooked hams from drying out, re-cooking them in the Crock Pot with this cola mixture and pineapple glaze is ideal.
The result is a wonderfully moist, sweet, and tender ham that's perfect for enjoying on any special occasion!
Ingredients to Make Crock Pot Ham with Coke
A pre-cooked ham works best in the Crockpot for this easy recipe. Again, my favorite is a spiral cut for its ease of serving and lovely table presentation.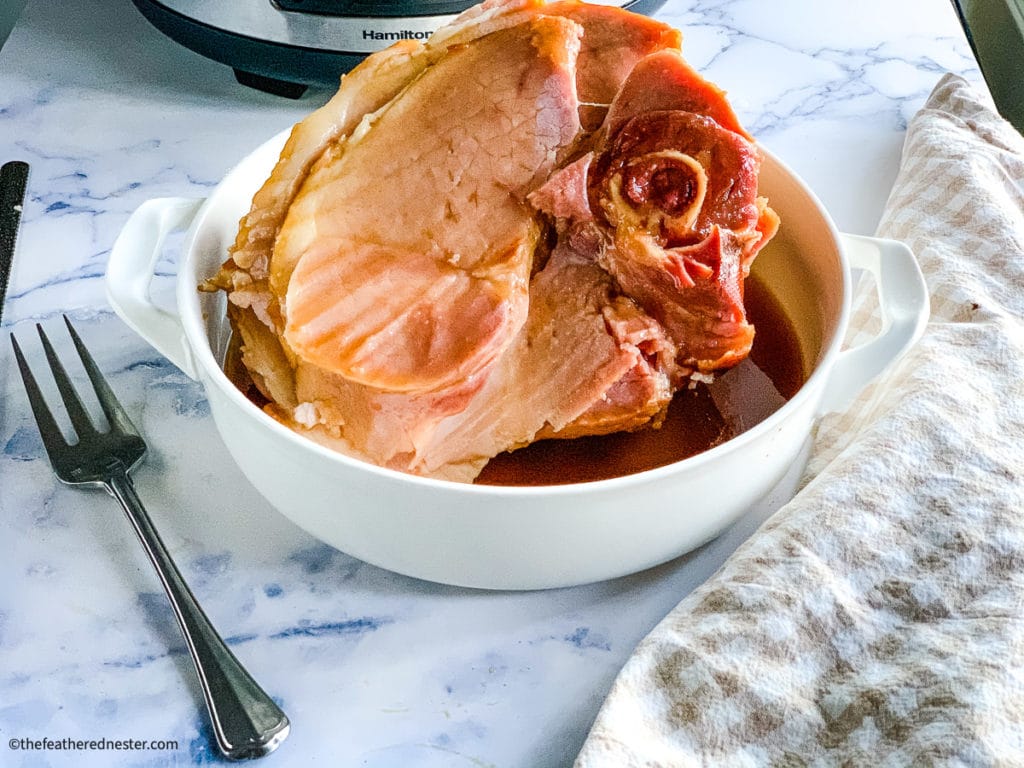 However, feel free to use your preferred type of ham as mentioned above. But a wet cured ham provides the best flavor!
And, of course, you need Coca-Cola for this Crock Pot Ham with Coke recipe. Otherwise, there are only 3 other ingredients to make the best slow cooker ham with a lovely pineapple glaze:
Brown sugar
Dijon mustard
Pineapple juice
If you prefer Dr. Pepper over Coca-Cola, you will love our Crock Pot Dr. Pepper Ham recipe!
How to Cook A Ham In A Crock Pot
I love to make this Crock Pot Ham with Coke recipe for Christmas and Easter or just about any big family meal. It is plenty to feed a crowd and looks so inviting and festive sitting on the table.
This main dish will seriously impress guests. But it's also an incredibly easy "set it and forget it" slow cooker recipe. That means you'll have more time for other things.
If you're worried that if you cook the ham in a Crock Pot that it might dry out. No worries here! The marbling throughout the ham and the steam generated by the slow cooker ensures a tender, juicy ham.
Steps to make the best Coca-Cola and pineapple glazed ham
In a microwave-safe bowl, combine all of the ingredients except for the ham. Microwave for 2 minutes and stir.
Meanwhile, place the precooked ham in the crock of your slow cooker. Once the glaze is ready, pour it over the ham to coat thoroughly.
Cover and cook on HIGH for 3-4 hours or LOW for 4-6 hours.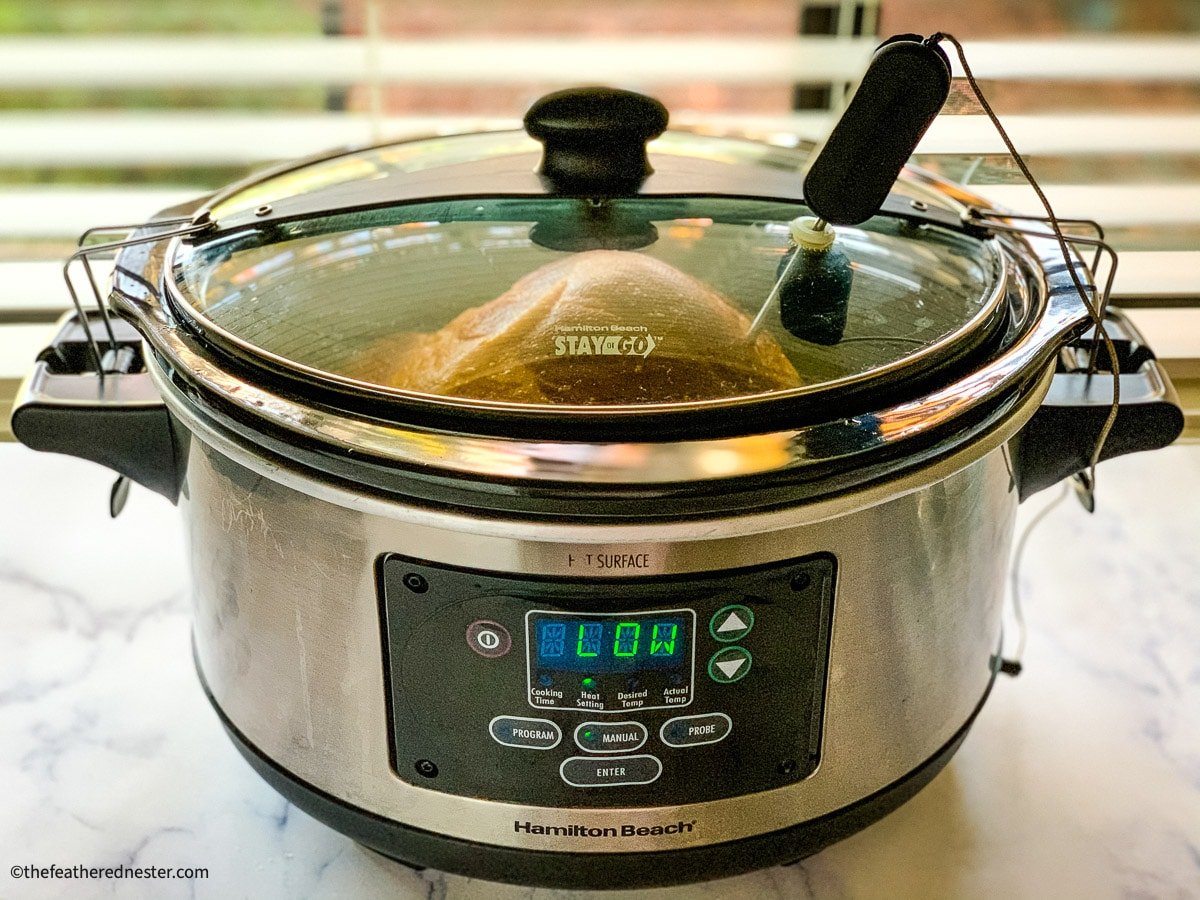 Remove the roast from the Crock-Pot and transfer the ham to a plate. Drizzle some of the cola pineapple glaze mixtures from the crock over the ham. Cover loosely with foil while it rests for 10-15 minutes before serving.
When cooking fully cooked hams, they need to reach an internal temperature of 145º Fahrenheit before serving.
TFN Tip:
For plenty of extra glaze to use on top of the ham, double the Coke and pineapple glaze mixture called for in this precooked ham in the Crockpot recipe. Use half of the glaze for cooking the ham, then save the rest to drizzle over the cooked ham before serving.
To make an extra glaze for the Crock Pot Ham with Coke: Mix 1 tablespoon of cornstarch with the cold mixture. Then, heat in the microwave until it's bubbly. Drizzle it right over the ham before serving.
Frequently Asked Questions
How much-precooked ham should I buy?
For a boneless ham, buy 1/4 to 1/3 pound per person. If purchasing a bone-in ham, you want 1/3 to 1/2 pounds per person. Certainly, it's always better to have a bit too much than not enough!
What other sodas can I use for this precooked ham in the Crockpot recipe?
Nearly any dark sugary soda is great for creating just the right caramelization… Therefore I recommend you try slow cooker ham with Dr. Pepper or root beer, Cherry Coke ham, or your favorite cola.
What sides go well with this slow cooker Coca-Cola ham with pineapple glaze recipe?
Serve this sweet and smoky ham with Instant Pot Mashed Potatoes (a no-drain recipe), Kale Salad with Tahini Dressing, or roasted or steamed veggies for a satisfying dinner.
And a side of Old Fashioned Yeast Rolls or Easy Drop Biscuits are perfect for Sunday suppers or celebrating the holidays!
Precooked Ham in the Crockpot Recipe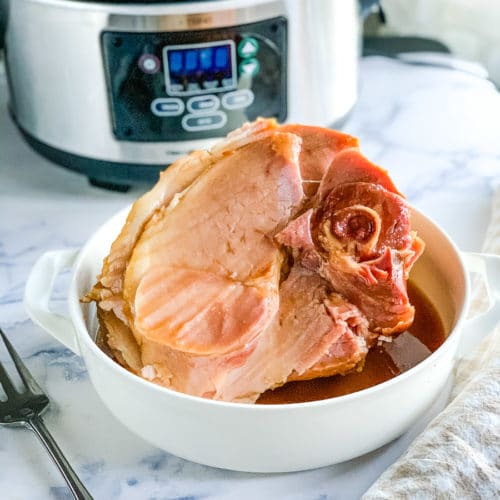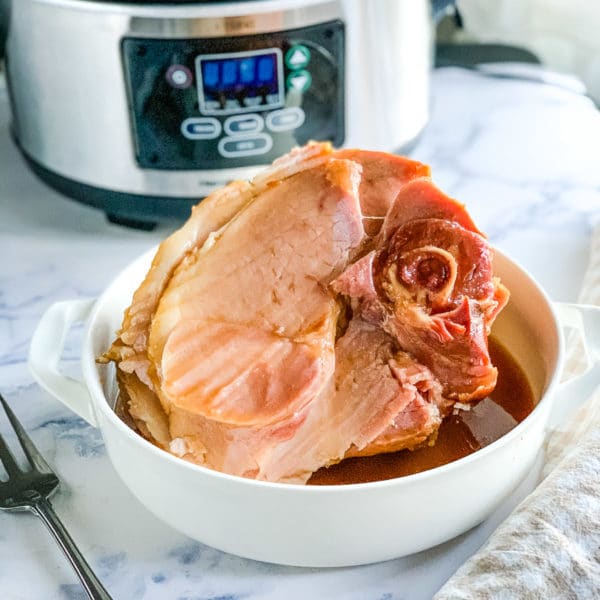 Crock Pot Ham with Coke
This super easy Coca Cola Crock Pot Ham recipe is made in the slow cooker with a precooked ham, and includes a sweet coke and pineapple glaze.
Ingredients
5-8 pound bone-in fully cooked ham
10 ounces Coca Cola
½ cup brown sugar, packed
1 tablespoons Dijon mustard, any brand
¼ cup pineapple juice
Instructions
Stir together the sugar, cola, mustard, and pineapple juice in a small, microwave safe bowl. Microwave for 2 minutes. (*see notes about doubling ham glaze for later use)

Place ham in the pot of the slow cooker. Pour the the glaze over the ham. If your ham is spiral sliced, be sure the glaze gets between the slices.

Cook on low for 4-6 hours or high for 3-4 hours until ham reaches an internal temperature of 145ºF.

Remove ham from the slow cooker and tent with foil. Drizzle ham with leftover cola mixture. Let rest 10-15 minutes before serving.
Notes
*For plenty of extra glaze to use on top of the cooked ham, double the Coke and pineapple glaze mixture called for above. Use half of the glaze for cooking the ham, and save the other half for drizzling over the cooked ham once it's done. Refrigerate ham for up to 5 days or freeze for up to 4 months.
Nutrition
Serving: 4ounces | Calories: 329kcal | Carbohydrates: 12g | Protein: 36g | Fat: 14g | Saturated Fat: 3g | Cholesterol: 138mg | Sodium: 2201mg | Potassium: 550mg | Fiber: 1g | Sugar: 12g | Vitamin C: 45mg | Calcium: 19mg | Iron: 2mg
PIN THIS POST!
Get more Crock Pot and Slow Cooker recipes