Dr. Pepper Ham is a fantastic holiday meal that's easy to make in your slow cooker. The glaze includes Dr Pepper, brown sugar, and pineapple, so it's sweet, tangy, and finger licking good!! Since oven space is always limited during the holidays, a crockpot ham is the perfect solution.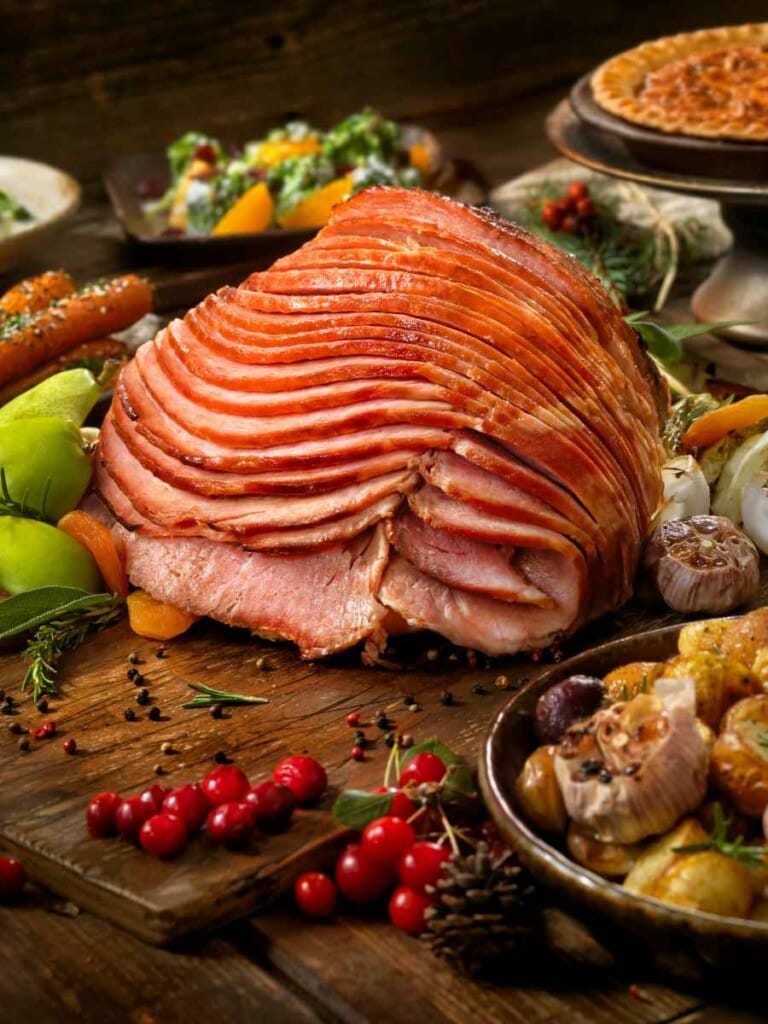 Cooking with Dr. Pepper (or any cola, for that matter), is a great way to create a flavorful glaze for ham. Our popular ham with cola glaze inspired us to make this Dr Pepper ham slow cooker recipe!
Dr Pepper Ham for Holidays or Anytime
If you're looking for something different than the classic Thanksgiving recipes everyone else makes, this is a great one!
This recipe is perfect for a holiday meal at Easter or Thanksgiving, or a special occasion. Because it's simple to make and can even be cooked ahead, it's also perfect for a weeknight meal.

And since it's made in the slow cooker, your oven is available to use for making casseroles, another or other side dishes.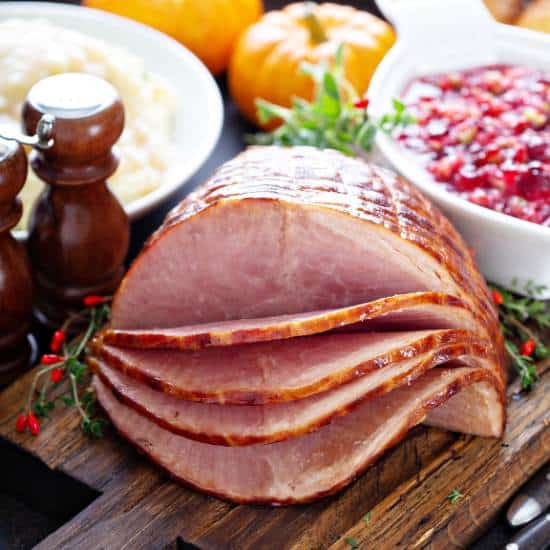 Ingredient Notes and Substitutions
The reason this crockpot ham recipe is so quick is because we use a fully cooked piece of meat. This way, you're just heating it up in the slow cooker. This cuts the cooking time way down!

We use a spiral sliced ham, mostly because it looks so beautiful on the table. You can use any type you want, as long as it's fully cooked.
The best liquid to cook the ham in is Dr. Pepper, but you can swap it out for a different dark soda, like Mr. Pibb, cherry cola, or root beer.
Need a use for your leftover ham?
Use your leftovers to make a fantastic Ham and Brie Breakfast Casserole for a weekend brunch!
Or, our recipes for Hashbrown and Ham Casserole and Ham Tater Tot Casserole are both great breakfast or breakfast for dinner ideas!
Kitchen Tools Needed
Notes for Making Dr Pepper Ham in Slow Cooker
Wait to make the glaze.
It's nice to be able to make things ahead of time, especially for a holiday meal. But, for the best flavor in your Dr. Pepper ham, you want to be sure that there's carbonation in the soda.
Pro Tip
For plenty of extra glaze to use, double the pineapple juice, brown sugar, and Dr. Pepper mixture in the recipe. Use half of the glaze over the meat as it cooks, and save the other half for drizzling over the crockpot ham when you're ready to serve.
Use an instant read thermometer to check the internal temp.
As mentioned earlier, you will be using a fully cooked ham. So, to avoid it from becoming dry, it's important to avoid slow cooking for too long.

The total cook time will depend on how much it weighs. On average, you will need to slow cook a Dr. Pepper ham on the Low setting for 4-6 hours, or on High for 3-4 hours.

To be sure it is hot and safe to eat, cook your ham until it reaches an internal temperature of 145ºF. I recommend checking the temperature every 2 hours, if possible.
Cover until ready to serve.
Take the ham out of the slow cooker and drizzle it with more of the Dr. pepper glaze. Then, cover it with foil and allow it to rest for 10-15 minutes before serving.
Glazed Ham Recipe Variations
Brown sugar – swap with molasses or honey
Pineapple juice – can swap with apple cider or orange juice
Dijon mustard – can use yellow mustard or honey mustard
Add spices – like cloves, allspice, or nutmeg.
Sweeter glaze – use more brown sugar.
Spicier glaze – add some cayenne pepper or black pepper.
Serving Suggestions
Serve your Dr. Pepper ham with mashed potatoes, fresh green beans, or any of your favorite holiday side dishes. Our favorite sides with ham are:
Storage and Reheating Instructions
Fridge:
Leftovers will keep in the fridge, covered, for up to 5 days. Store the leftover glaze in the fridge for up to 2 weeks. Reheat in the microwave before using.
Freezer:
Fully cooked and glazed ham can be frozen for up to four months. Make sure to wrap it tightly in a freezer-safe wrap. Thaw completely in the fridge before reheating.
Reheating Dr. Pepper Ham:
You can reheat individual slices of ham in the microwave on high power for 30-60 seconds, or until warmed. You can also reheat it in an oven-safe dish, covered with foil. Do this in a 350ºF. oven, until warmed through.
Crockpot Dr Pepper Ham FAQ
How do you keep ham from drying out?
The best way to keep the ham from drying out is to cook it in a slow cooker with some liquid, like Dr. Pepper. You could also cook the ham in a covered roasting pan with some water or broth in the bottom.

If you're cooking the ham on the stovetop, ensure you add enough liquid to cover it and watch it carefully, so it doesn't boil dry. Basting the ham with the pan juices or a little additional liquid will also help keep it moist.
Why did my ham turn out mushy?
Mushy meat is likely due to overcooking it. When cooking ham, use a meat thermometer to check the internal temperature.

It should be cooked to an internal temperature of 145ºF. It will start to dry out and become tough if it gets much above that.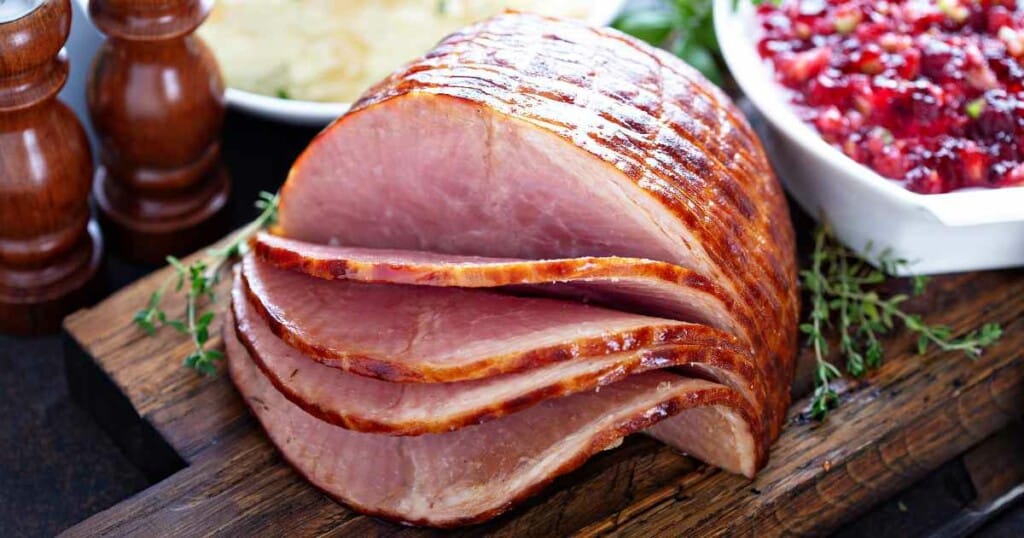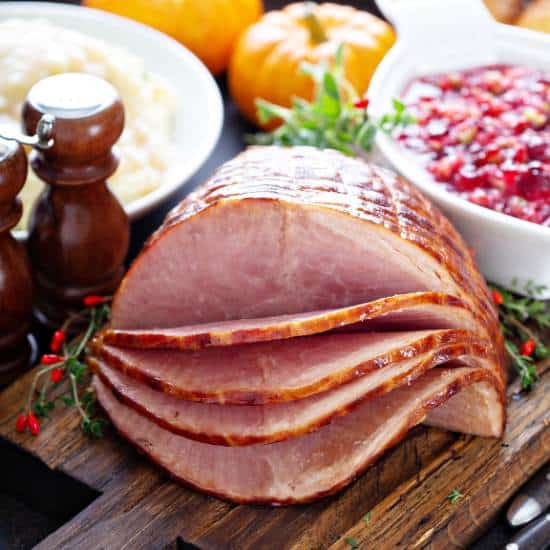 Dr Pepper Ham (Crockpot Recipe)
This Dr. Pepper Ham Slow Cooker recipe is an easy ham recipe using precooked ham. This dish is simple to make and includes a brown sugar pineapple glaze that gives it a fantastic flavor.
Equipment
Microwave safe bowl - – for mixing the glaze

foil - – for covering the ham
Ingredients
5-8 pounds bone-in fully cooked ham I recommend a spiral cut ham
10 ounces Dr. Pepper (can substitute with Mr. Pibb, Cherry Coke, or root beer)
½ cup brown sugar, packed
1 tablespoon Dijon mustard, any brand
¼ cup pineapple juice
Instructions
Stir together the sugar, Dr. Pepper, mustard, and pineapple juice in a small, microwave safe bowl. Microwave for 2 minutes. (*see notes about doubling ham glaze for later use)

Place ham in the pot of the slow cooker. Pour the the glaze over the ham. If your ham is spiral sliced, be sure the glaze gets between the slices.

Cook on low for 4-6 hours or on high for 3-4 hours until ham, reaches an internal temperature of 145º. I recommend checking the internal temperature of the ham every 2 hours as different slow cookers can vary with cooking times.

Remove ham from the slow cooker and tent with foil. Drizzle ham with leftover cola mixture. Let rest 10-15 minutes before serving.
Notes
*For plenty of extra glaze to use on top of the cooked ham, double the Dr. Pepper and pineapple glaze mixture called for above. Use half of the glaze for cooking the ham, and save the other half for drizzling over the cooked ham once it's done. Refrigerate ham for up to 5 days or freeze for up to 4 months.
Nutrition
Serving: 4ounces | Calories: 329kcal | Carbohydrates: 12g | Protein: 36g | Fat: 14g | Saturated Fat: 3g | Cholesterol: 138mg | Sodium: 2201mg | Potassium: 550mg | Fiber: 1g | Sugar: 12g | Vitamin C: 45mg | Calcium: 19mg | Iron: 2mg
PIN THIS POST!
This post, originally published in December 2022, was updated with new content in February 2023.