Maple Balsamic Brussel sprouts are an easy holiday side dish that no one else will be serving — and everyone will remember! Enjoy the sweet flavor of these earthy, succulent sprouts paired with tangy balsamic, spicy mustard, and caramel-like maple. Crispy and coated in a thick, sticky glaze, these candied Brussel sprouts will be gone in a flash!
Why We Love Maple Balsamic Brussel Sprouts
Candied Brussel sprouts take just 30 minutes, start to finish. Clean the kitchen, prepare another dish, or set the table in the meantime!
It's a light and healthy vegetable side dish. Like our pea pesto pasta salad and Blackstone vegetables, you can enjoy rich, robust flavors without compromising the health benefits of your garden favorites.
They're sweet, salty, and savory! Instead of getting a whole lot of one note, maple balsamic Brussel sprouts hold a hint of so many different flavors.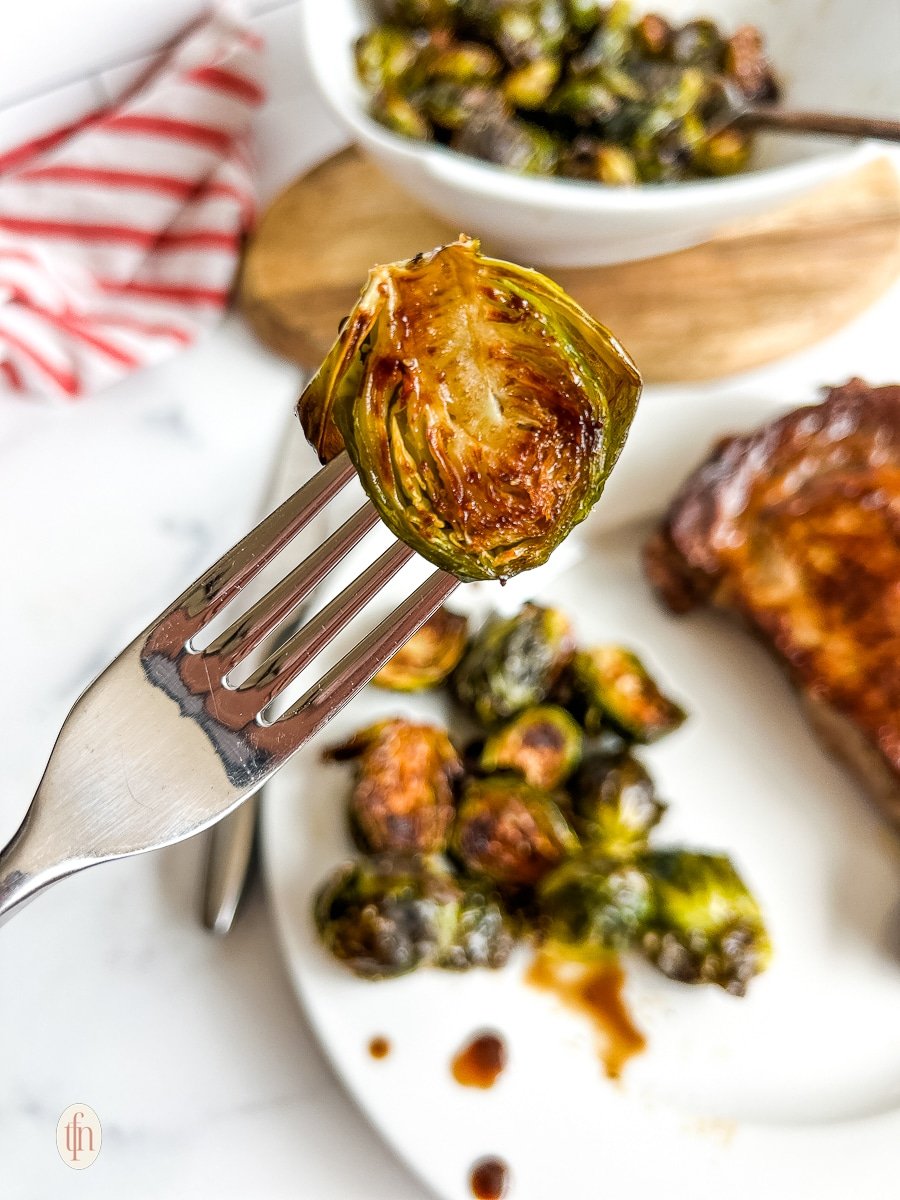 Ingredient Notes and Substitutions
Brussel Sprouts: Fresh veggies are always best for roasting! Avoid using frozen if possible.
Avocado Oil: This type of oil has a high smoke point which is great for roasting. However, regular canola oil or even olive oil are completely fine to use.
Pure Maple Syrup: This isn't the same as pancake syrup! Pure maple syrup has no added ingredients for sweetness or thickness with a gorgeous, deep caramel flavor. It can't be beaten or replaced!
Balsamic Vinegar: Red wine vinegar is the best substitute for maple balsamic Brussel sprouts, but it doesn't have quite the same tanginess.
Dijon Mustard: This creamy, spicy mustard is perfect for glazes. Stone ground or spicy brown are decent alternatives.
How to Clean Brussel Sprouts
The first step toward perfect maple balsamic Brussel sprouts are clean, neat veggies!
Start by removing each Brussel sprout from the stalk with a sharp knife (if they aren't already removed). Then remove the loose, large, outer leaves — this is important for crispness later on.
Rinse the brussels to remove dirt and debris, draining any excess water.
Finally, comb through the veggies to pick out any bruised, black, or otherwise damaged brussels from the bunch. If they're soft or mushy, they have to go! This is a good rule of thumb for preparing any green vegetable sides, especially our Instant Pot steamed broccoli and Instant Pot green beans.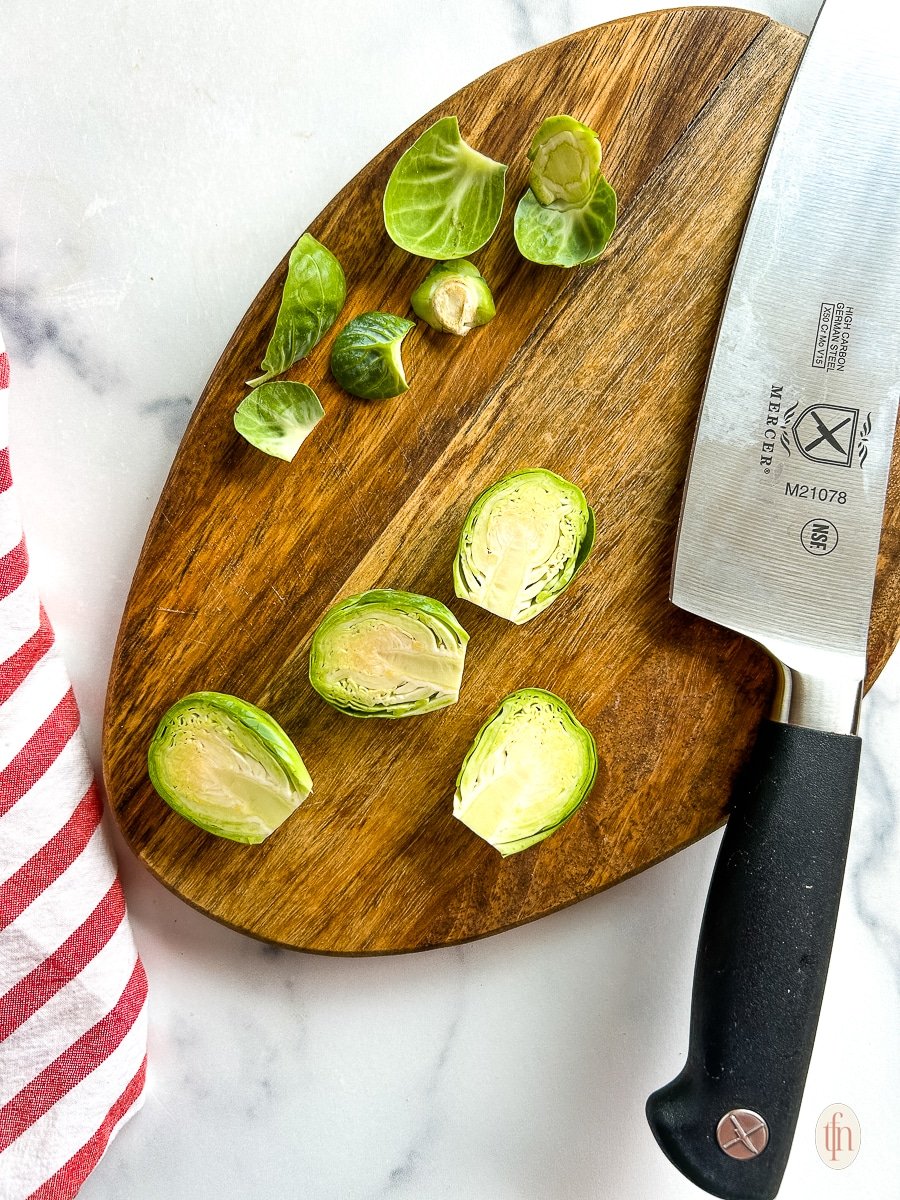 Candied Brussel Sprouts Recipe Tips
Take the time to evenly coat each sprout.

These lumpy sprouts can be difficult to coat well with just a toss! A large spoon or even your hands will help to mix everything up so that the entire surface of each sprout is seasoned and oiled.

This is really important! Otherwise, they won't cook evenly or achieve that deep, robust roasted flavor.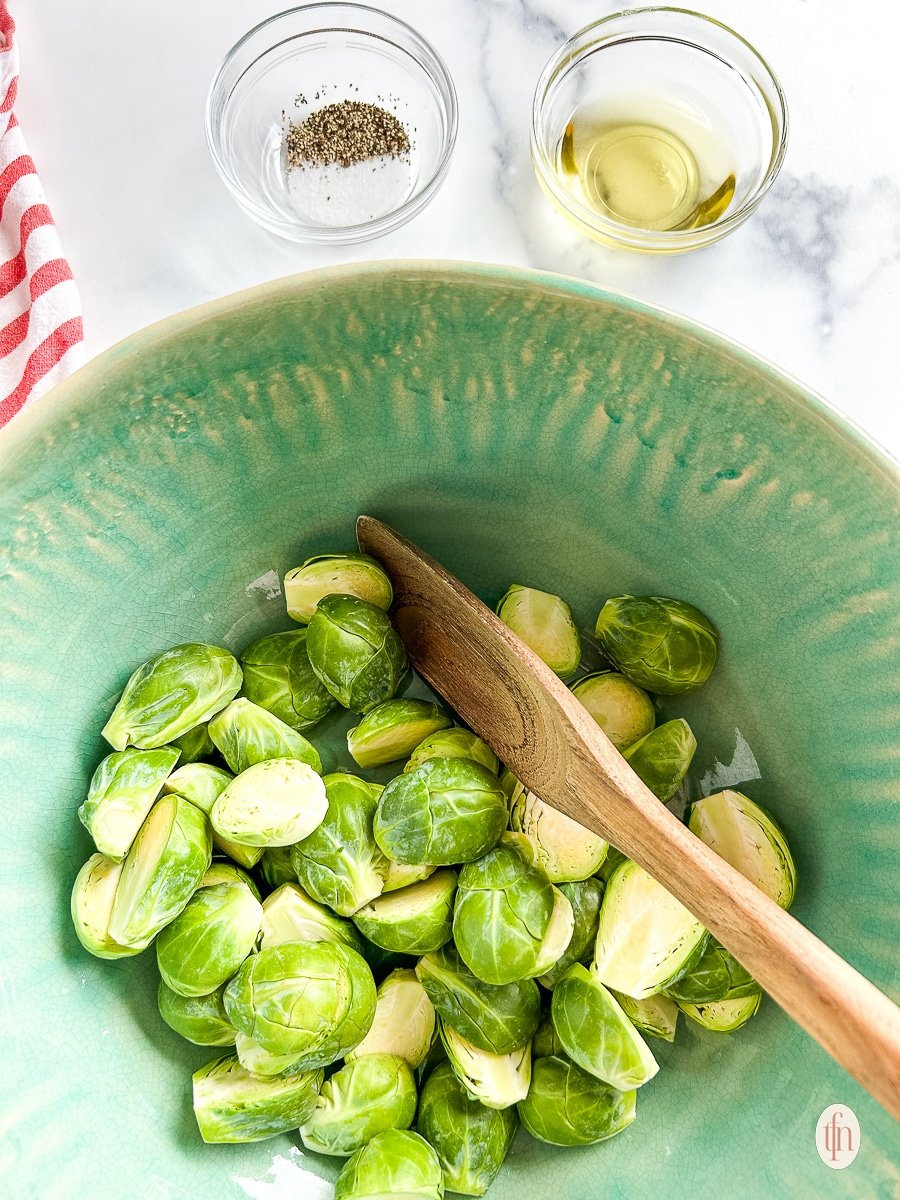 Make sure to place them cut-side down on the pan.

You'll have a much easier time laying and arranging the vegetables if you set them cut-side down — in other words, flat-side down.

Don't worry, that side will still cook! The hot pan will work to caramelize the flat bottom while the oven crisps the rest of your balsamic Brussel sprouts.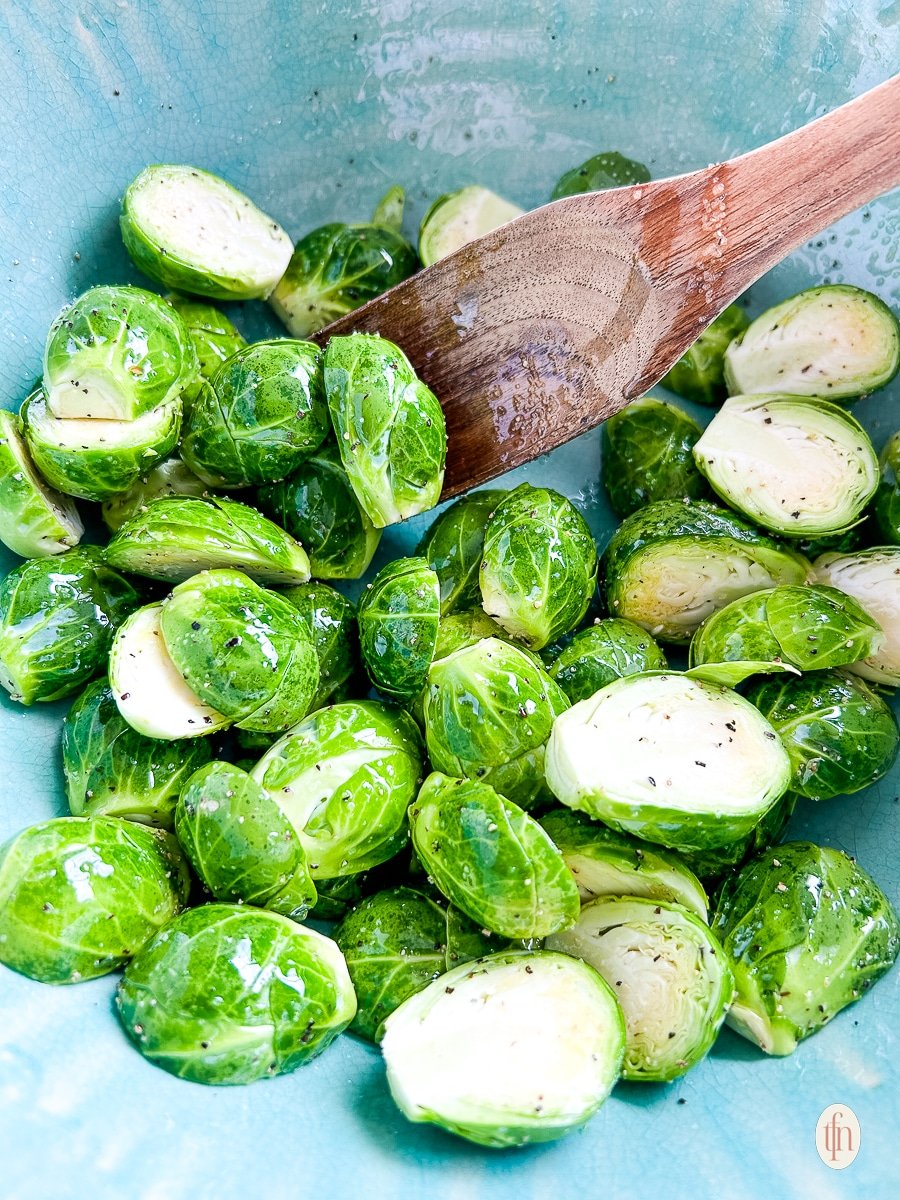 Keep them evenly spaced for perfectly crispy bites!

Roasting requires air circulation, hitting the food from all angles for even, thorough cooking.

That won't happen if the food is all crowded together, overlapping and covering one another! Instead, crowded vegetables steam, leaving them cooked but soggy and mushy.

Give the candied Brussel sprouts a bit of space between each so that they can cook and crisp just right.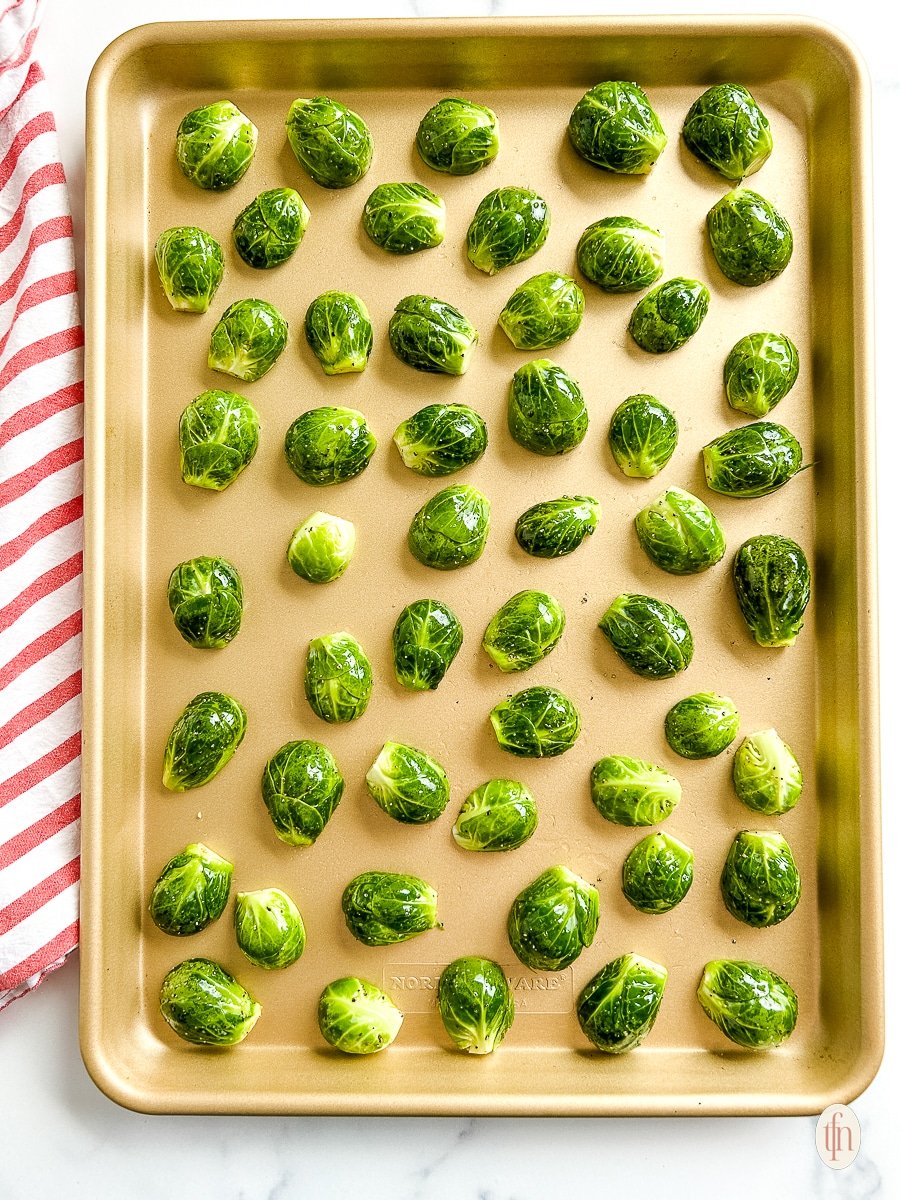 Cook the glaze until it reduces and thickens.

Be sure to simmer the glaze in a small pot on the stove until it reduces slightly so it's wonderfully thick.
Remove, glaze, and roast again.

Remove the sheet pan from the oven and place it on a trivet or hot pad.

Carefully drizzle the balsamic maple glaze evenly over the sprouts, or use a silicone basting brush to apply the glaze directly.

Return the pan to the oven and roast for another 5 minutes for perfectly crispy sprouts.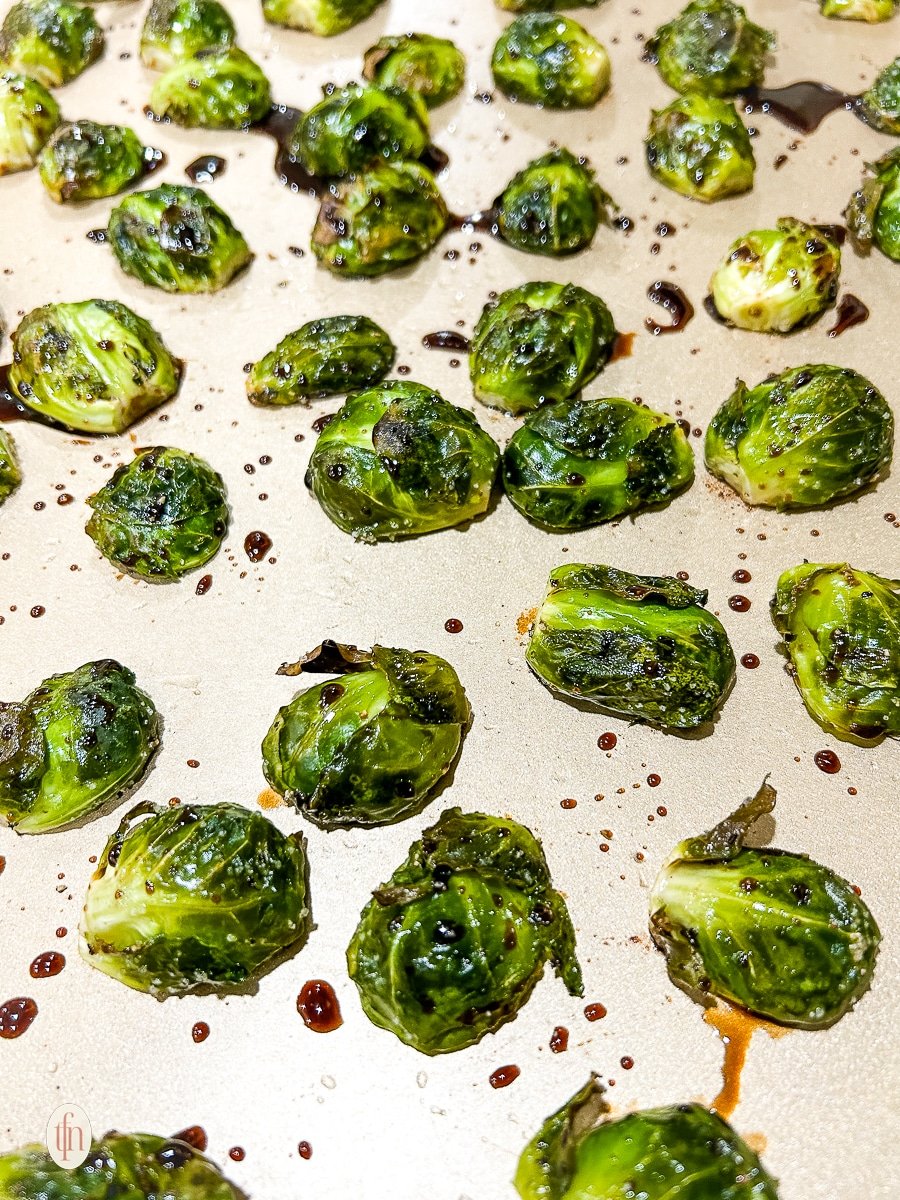 Maple Balsamic Brussel sprouts FAQ
How do I make Brussel sprouts taste better?
The trick is to roast them with some type of fat. Some just stir fry or even boil them, but roasting in oil is what truly mellows that bitter taste and highlights the savory, almost cabbage-like flavor of the Brussels.
Is it better to boil Brussel sprouts before roasting?
Some like to parboil — or partially boil — veggies in salt water before roasting to soften and reduce cooking time.

However, we want to be careful with maple Brussel sprouts to prevent them from getting too mushy or overcooked. At 425°F, they still only take 30 minutes to prepare — no boiling required!
Why won't my Brussel sprouts get crispy?
You need to use enough oil to ensure the vegetables roast past those first outer leaves. You also need to make sure they're evenly spaced and not crowded, so that the air circulates properly.
Keep the temperature high, over 400°F, and don't brush the glaze on too thick.
Storing and Reheating
Maple balsamic Brussel sprouts are best eaten immediately while warm and crisp! Leftovers can be refrigerated for 2 or 3 days but will lose texture with each passing day.

Reheat in the oven around 350°F until warmed through — a quick broil at the end will help get some of that texture back. An air fryer would be great, too!
Candied Maple Balsamic Brussel Sprouts
Maple Balsamic Brussel Sprouts are a quick one-pan side with tons of flavor. Try savory roasted candied Brussel sprouts for the holidays!
Equipment
1 medium mixing bowl

1 rimmed sheet pan - 13×18-inches (half sheet pan)
Ingredients
1 pound Brussel sprouts cleaned and halved *See Note 1
3 tablespoons avocado oil or canola oil
½ teaspoon salt
½ teaspoon fresh black pepper
Maple Balsamic Glaze
2 tablespoons pure maple syrup
2 tablespoons balsamic vinegar
1 teaspoon Dijon mustard
Instructions
Preheat oven to 425°F.

Add Brussels sprouts, oil and salt and pepper to a large mixing bowl, Using your clean hands or a large spoon, toss ingredients well to combine. **Ensure that all sprouts have a light coating of oil.

Dump contents of the bowl onto a rimmed 13×18-inch half sheet pan. Arrange the Brussel sprouts in a single layer on the pan, cut side down. **Avoid crowding the pan; Air needs to circulate around them or they will steam instead of becoming roasted and crispy.

Transfer pan to the oven and roast for 15 minutes, or until crispy and golden brown. Meanwhile, make the maple glaze.

In a small saucepan over medium heat, whisk syrup, vinegar and mustard to combine. Allow mixture to come to a simmer, then cook for 3 minutes, until glaze reduces and thickens. Remove sheet pan from the oven and place on a trivet or hot pad.

Carefully drizzle the balsamic maple glaze evenly over the sprouts, or use a silicone basting brush to apply the glaze directly. Return to the oven and roast for another 5 minutes.

Serve while warm.
Notes
How to Clean Brussel Sprouts
If the sprouts are still attached to the stalk, use a sharp paring knife to cut and remove them. Peel off and discard the larger, outer leaves, then transfer the sprouts to a colander.
Rinse under running tap water to remove any dirt/debris, then drain them well. Inspect the sprouts, and remove any bruised, black or damaged leaves. Discard any Brussel sprouts that are soft or mushy.
Nutrition
Serving: 0.25 pound | Calories: 177kcal | Carbohydrates: 18g | Protein: 4g | Fat: 11g | Saturated Fat: 1g | Polyunsaturated Fat: 2g | Monounsaturated Fat: 7g | Sodium: 336mg | Potassium: 478mg | Fiber: 4g | Sugar: 10g | Vitamin A: 857IU | Vitamin C: 96mg | Calcium: 63mg | Iron: 2mg
PIN THIS POST!