Creamy carrot pie is a breath of fresh air from the usual pumpkin pies, sweet potato pies, and heavy casseroles. It's a sweet and savory pie that is just as perfect as a holiday side as it is in the center of a dessert table!
Reasons to Make Carrot Pie
No special ingredients are needed. No more waiting in line at the grocery store for specific ingredients you'll only use once or twice a year!
Can be made ahead. If your holidays are full of travel, potlucks, and numerous family dinners, being able to bake ahead of time and freeze is a lifesaver!
It's a new, refreshing take on typical holiday desserts. With a slightly different set of spices, this recipe isn't reserved just for Thanksgiving. Easter and carrot dishes meant to be!
Ingredient Notes and Substitutions
Crust – Make things easy on yourself with a ready-to-bake crust, or make your own from scratch.
Carrots – Baby carrots soften quickly and don't require peeling!. If desired, you can purchase full-sized carrots and cut them down to a smaller size. You might even check out our 3 ways to make shredded carrots for an even quicker, easier time.
Evaporated Milk – Luckily, this ingredient has a pretty simple substitute! Heavy cream can be used in place of evaporated milk at a 1:1 ratio, but it will have a creamier, fattier flavor.
Maple Syrup – A classic pairing with carrots, this sweetener contributes a gorgeous caramel-like flavor that glazes the filling in the most delicious way.
Cinnamon – We recommend ground cinnamon over cinnamon powder, which is finer and can be more easily lost among the other seasonings.
Nutmeg – Allspice, cloves, and even pumpkin spice are possible substitutes.
Ginger – You could use the same substitutes as you would for nutmeg: allspice, pumpkin pie spice, or even more nutmeg or cinnamon.
Other Savory Pie Recipes to Try
Carrot desserts are great, but if you'd like another savory pie at the table this season, we have some great ideas!
Consider making Bisquick chicken pot pie (which could be a turkey pot pie with your Thanksgiving leftovers!) or Bisquick cheeseburger pie. They're delicious, convenient, and easy to make!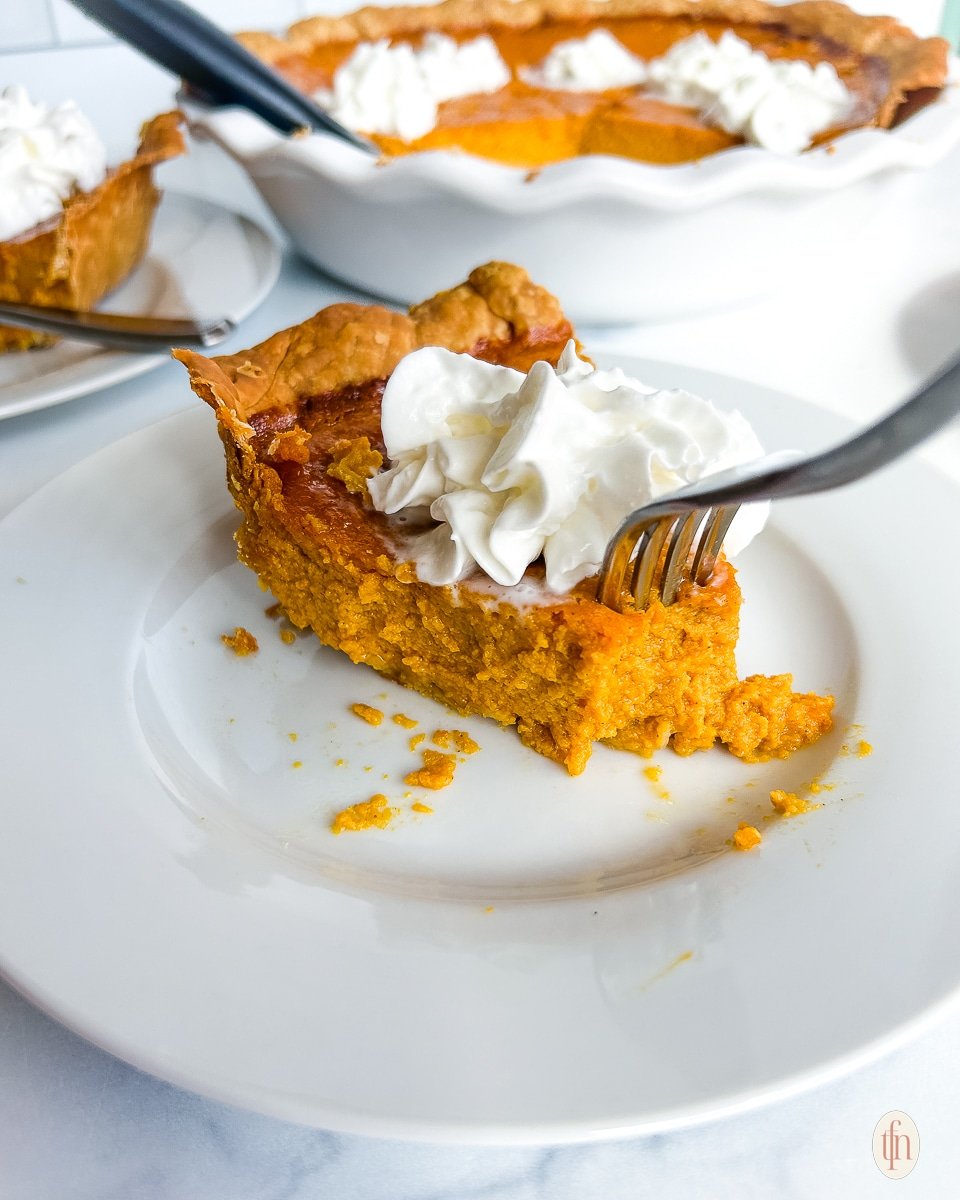 Tips for the Best Carrot Pie
Stick with heavy cream for the best consistency.
Using dairy with high fat content is essential for the filling to firm up and reach that creamy consistency.
Remember to blind bake the crust.
It doesn't take very long, and it is well worth the effort!

Whether store-bought or homemade, par baking (aka blind baking) accomplishes two things: it prevents the bottom from becoming soggy after the filling is introduced. It also prevents the crust from rising too much (and the edges from crumpling).

Luckily, the crust for your carrot pie can be blind baked 2 or 3 days in advance, saving you some time and oven space.
Tips for avoiding a watery filling.
Don't add too much water — just enough to cover the carrots by an inch or so while boiling.

After softening, drain the water and return to the stove so that the leftover moisture has a chance to evaporate away. Keep the carrots moving so they don't burn!
Cover the crust to avoid burnt edges.
This step is often skipped, but is an easy way to maintain the texture and appearance of the crust.

After adding the filling, cover the edges with aluminum foil or a crust guard. It's a worthwhile investment if you bake a lot of pies!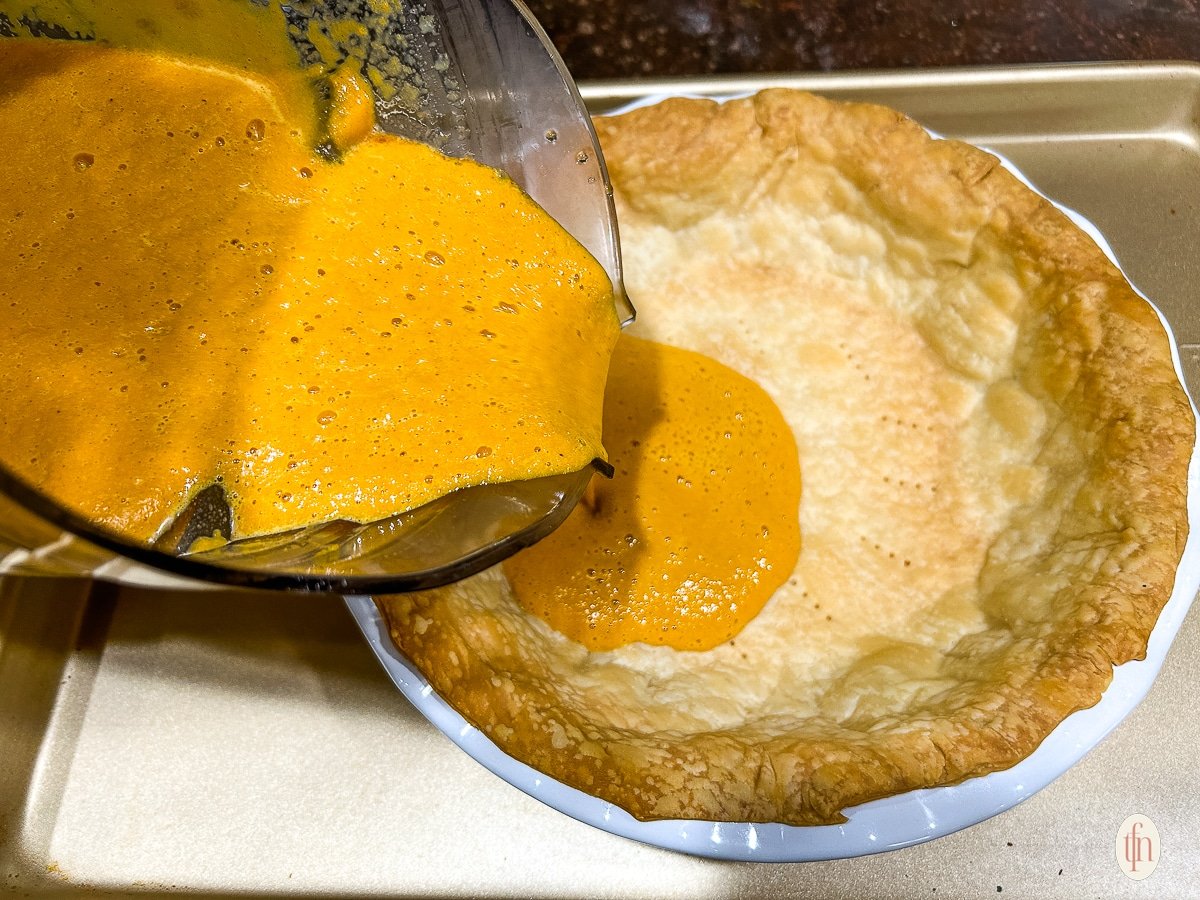 Is carrot pie sweet or savory?
It's actually both — Kind of like a sweet potato casserole, but without the marshmallow topping.

The carrots are naturally sweet, and the maple syrup contributes a light sweetness as well. But there is a lot of savory richness that comes from the baked carrots, heavy cream and warm spices as well.

Can you freeze carrot pie?
Yes, you can. Be sure to let it cool completely before wrapping in aluminum foil — and wrap it tightly! Any ice crystals can affect the overall consistency of the filling.

It keeps well in the freezer a couple of months. Be sure to thaw it in the fridge before serving.
Storing
Since this dessert contains cream and eggs, it must be refrigerated. After cooling, wrap in aluminum foil or transfer to a larger airtight container. Refrigerate for up to 4 days.
Carrot Pie
Carrot Pie is rich and creamy, with warm spices and a sweet maple flavor. Add this sweet and savory pie recipe to your holiday menu!
Ingredients
1 9-inch pie crust. ready-to-bake or homemade
1 pound baby carrots **See Notes for using large carrots
1 cup evaporated milk. or heavy cream
¾ cup maple syrup
3 eggs beaten
1 teaspoon vanilla extract
1 teaspoon ground cinnamon
¼ teaspoon nutmeg
½ teaspoon ground ginger
½ teaspoon fine grain kosher salt
Instructions
Preheat oven to 375ºF. Place unbaked crust in a pie plate, and set it on a rimmed baking sheet. Line the crust with a sheet of parchment paper or aluminum foil, and cover with a layer of pie weights or dried beans to weigh it down.

Parbake the crust in the preheated oven for 20 minutes. Remove pan from the oven and remove the weights and parchment/foil.

Using the tines of a fork, poke several venting holes in the bottom portion of the crust. Return crust to the oven and continue baking, uncovered, for 10-15 minutes, or until lightly golden in color.

Remove crust from oven and transfer to a wire rack to cool while you prepare the filling. Keep the oven heated to 375ºF.

Place baby carrots in a large saucepan and add water to one inch higher than the carrots. Bring to a boil over high heat, then reduce heat to medium and cover the pan with a lid.

Cook carrots for 12-15 minutes, or until fork tender. Drain excess water from the pan, then return it (and the carrots) to the stovetop burner. Let the carrots sit for a few minutes, to "steam" off any excess moisture.

Add the cooked carrots, evaporated milk (or cream), maple syrup, eggs, vanilla extract, and all seasonings to a high speed blender or food processor.

Blend until the mixture is smooth, about 1 minute. Pour the filling into the pie crust. To prevent burning the crust, cover the edges with aluminum foil, or use a crust guard.

Bake in preheated oven for 50-65 minutes, or until the center of the pie no longer "jiggles" and a toothpick inserted in the center comes out clean. The top of the pie should be slightly caramelized.

Remove from oven and let the pie cool for 30 minutes at room temperature. Then, transfer to the fridge for at least an hour to finish cooling. If you are pressed for time, you can skip the fridge and place the pie in a freezer for 20-30 minutes.
Notes
NOTES
To avoid a watery filling, only use enough water to cover the carrots by an inch. After they cook, drain the water, then return the pot with the carrots back to the stove to allow any excess moisture to evaporate. Only use evaporated milk or heavy cream. Do not use sweetened condensed milk, regular milk, or half and half. You need dairy with a high fat content to create a thick and creamy filling.
Nutrition
Serving: 1serving | Calories: 128kcal | Carbohydrates: 26g | Protein: 2g | Fat: 2g | Saturated Fat: 1g | Polyunsaturated Fat: 0.4g | Monounsaturated Fat: 1g | Trans Fat: 0.01g | Cholesterol: 61mg | Sodium: 70mg | Potassium: 229mg | Fiber: 2g | Sugar: 21g | Vitamin A: 7909IU | Vitamin C: 1mg | Calcium: 63mg | Iron: 1mg
PIN THIS POST!