This Green Bean Casserole with Tater Tots is a comforting hamburger hotdish with green beans and potatoes that's so yummy! Even better, this dinner casserole can be made ahead for meal prep with less stress!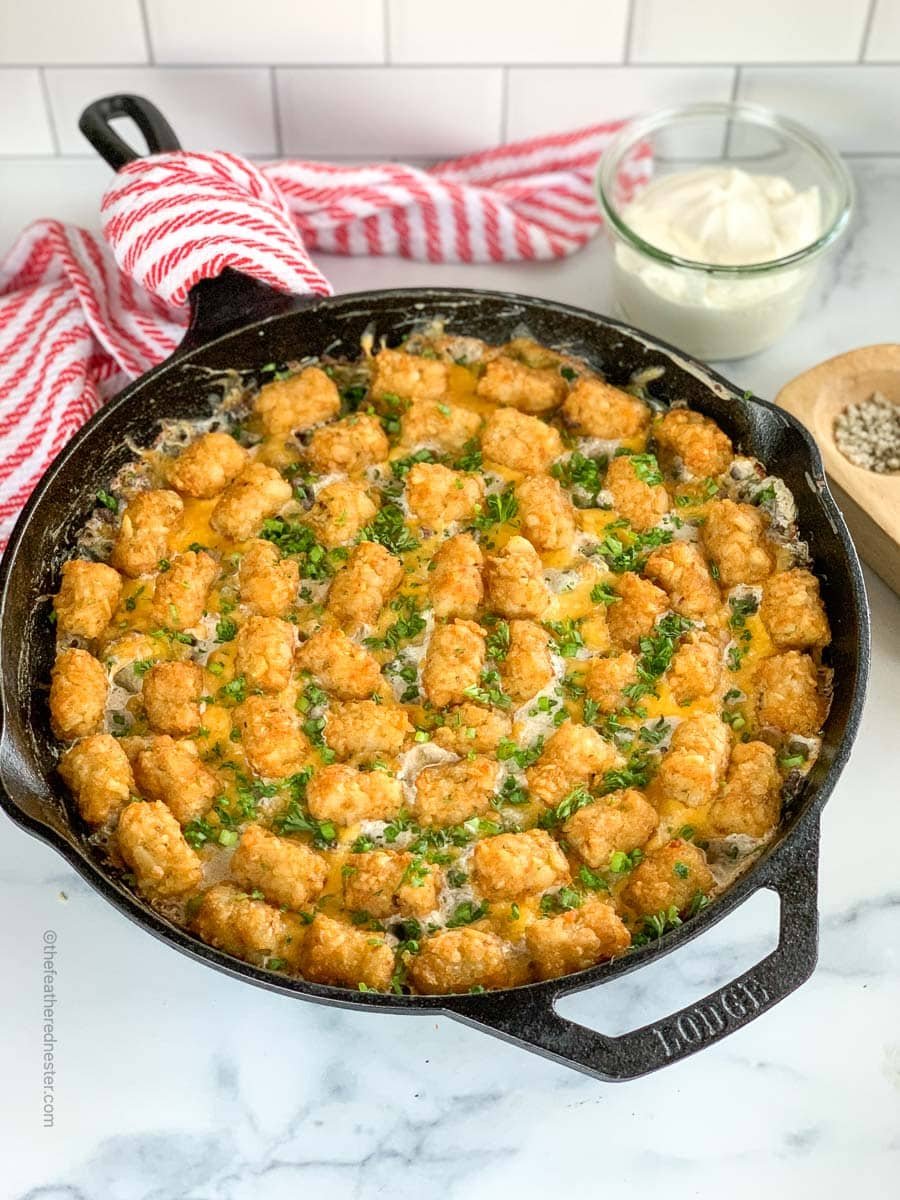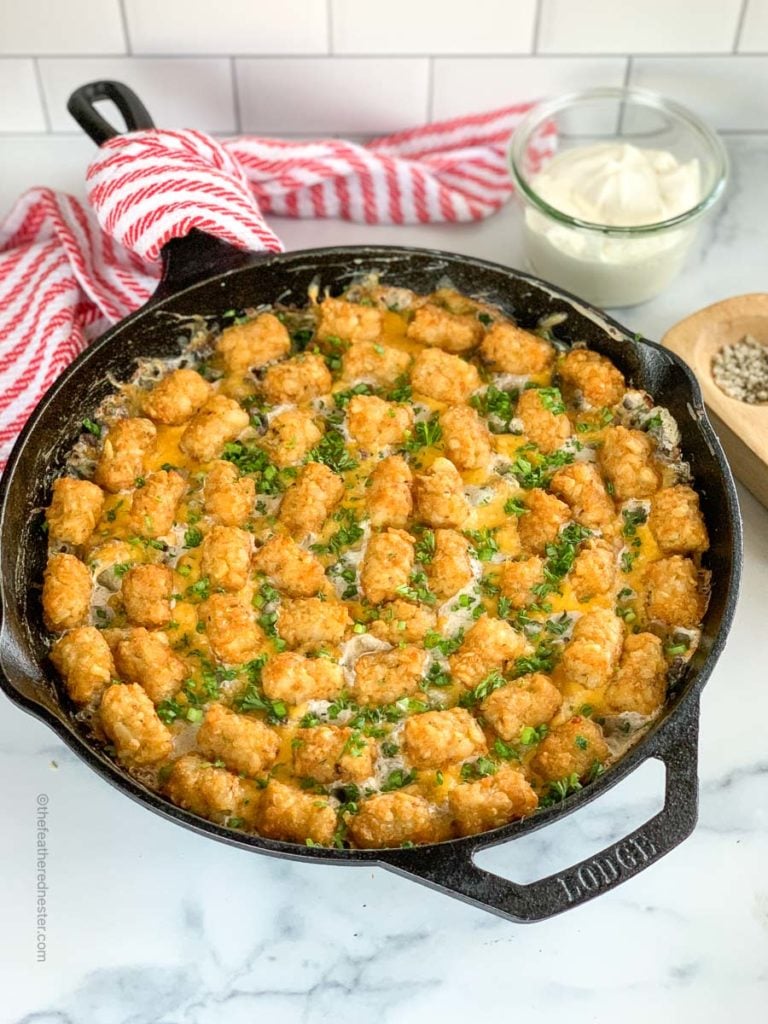 Who doesn't love a good comfort food meal? Comfort foods are the kind that make you feel warm and cozy inside. Things like mac and cheese, beef stew, and tater tot casseroles are favorites of ours!
Tater tot casserole, or hotdish, as it's known in the upper Midwest, isn't just delicious and comforting, it's also a great way to use up leftovers!
Green Bean Casserole with Tater Tots
Instead of making crispy potatoes the star of the dish, this version turns some of the focus to fresh green beans. This isn't the classic green bean side dish you may be used to enjoying on holidays, though. In fact, it's not a side dish at all!
Our hamburger hotdish is a full meal, with beef, green beans and potatoes in a creamy sauce! The best part is, even though it has green veggies, this meal is one that kids love just as much as adults!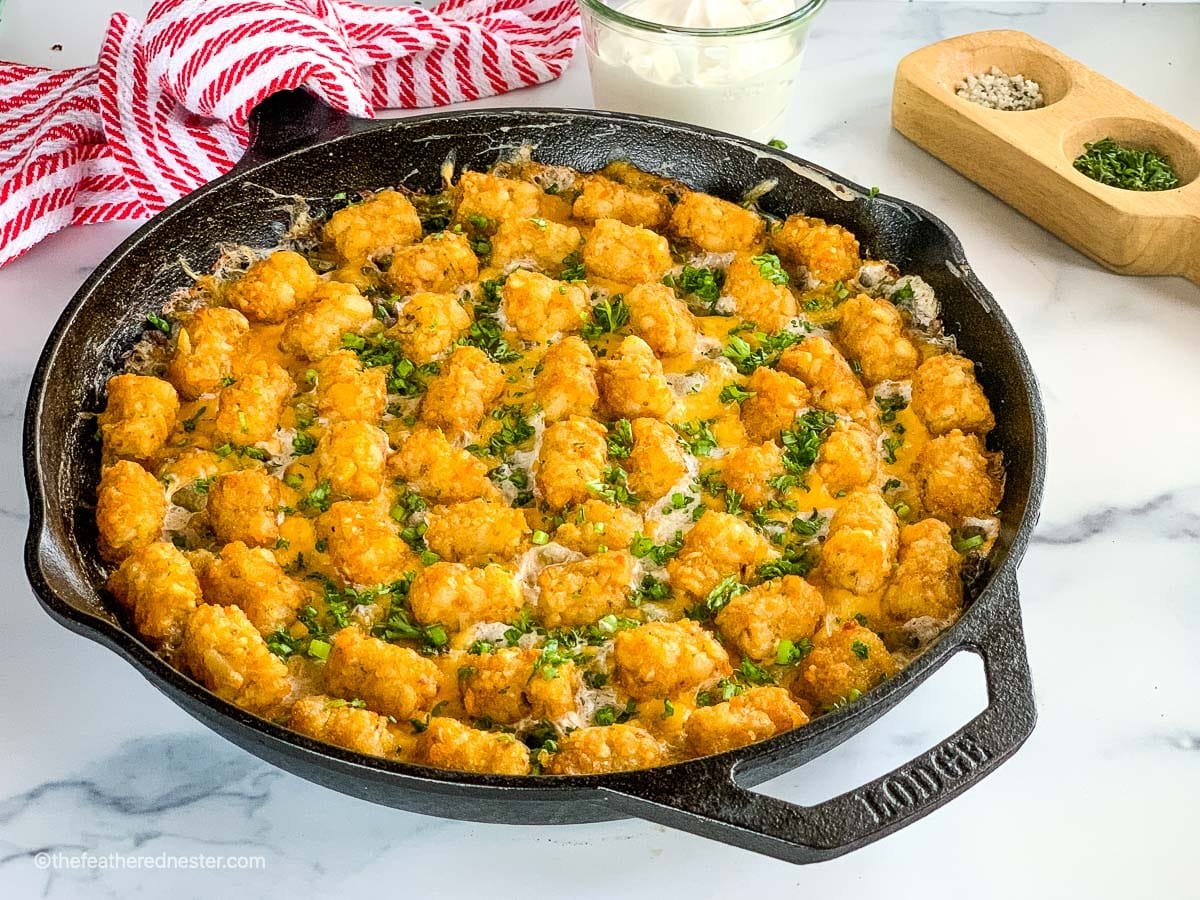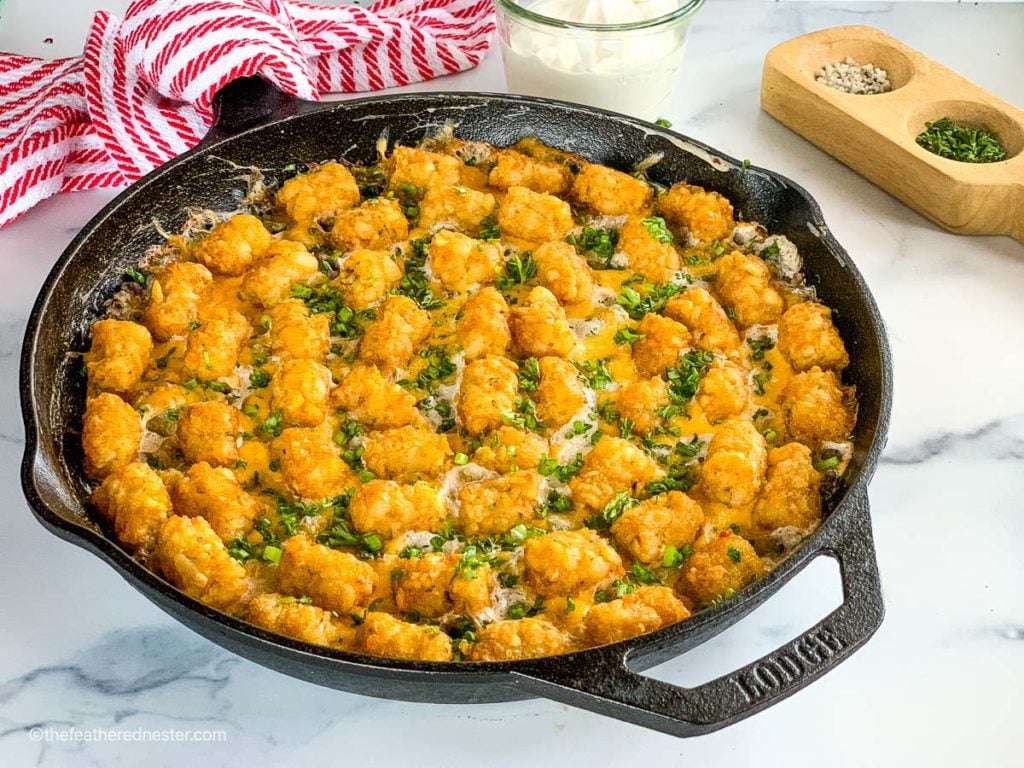 Do you LOVE tater tots?

Buy an extra bag or two, then make delicious tater tots appetizer cups or tachos to serve before the meal.

We also have tater tot casserole recipes with different proteins. You can make them with chicken, turkey, or chili in them!
Ingredient Notes and Substitutions
We recommend using 85% lean ground beef. If you need to use a blend with more fat, keep in mind that there will be a lot of grease to drain from the pan.
Almost any green bean casserole recipe (including this one) can be made with fresh, frozen, or canned green beans.
*For canned beans, we recommend draining the liquid through a colander, then rinse the veg with tap water to remove the metallic taste.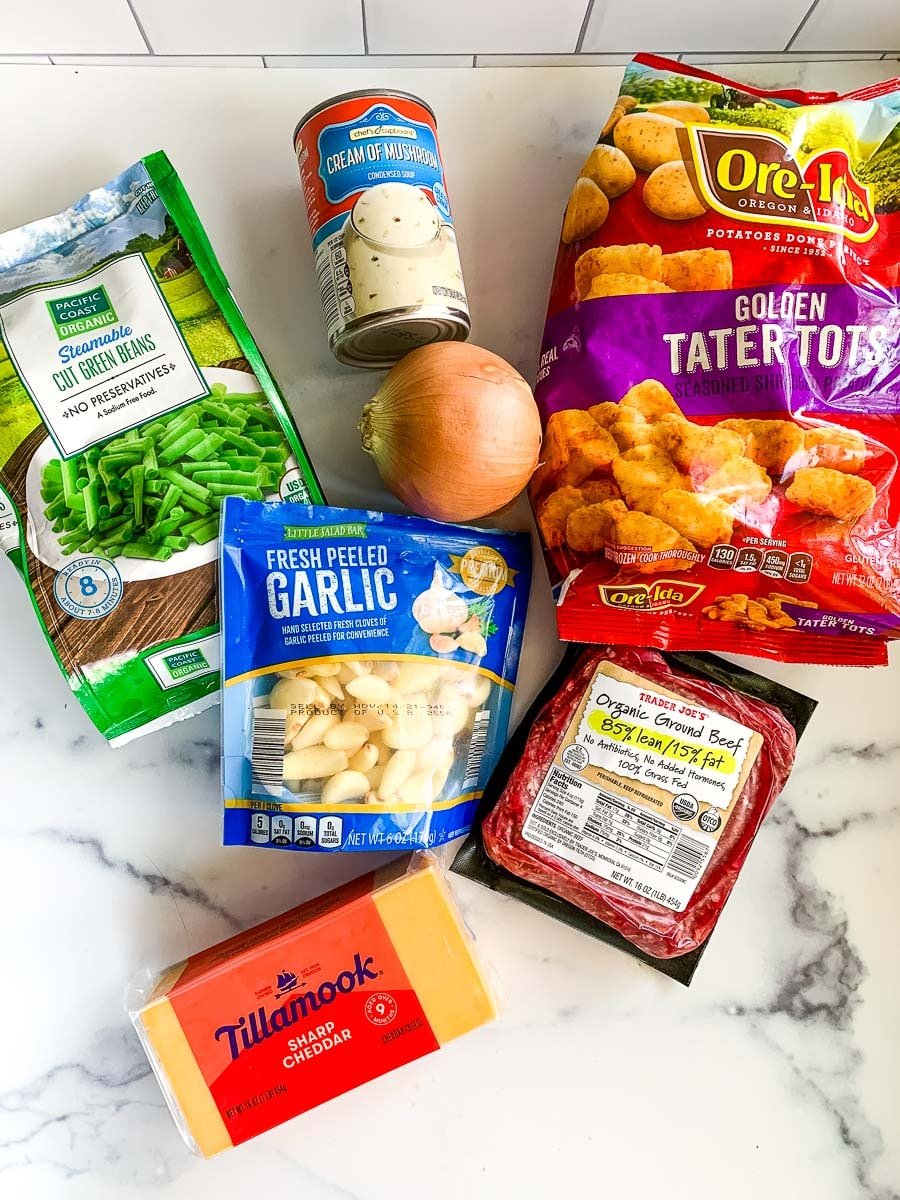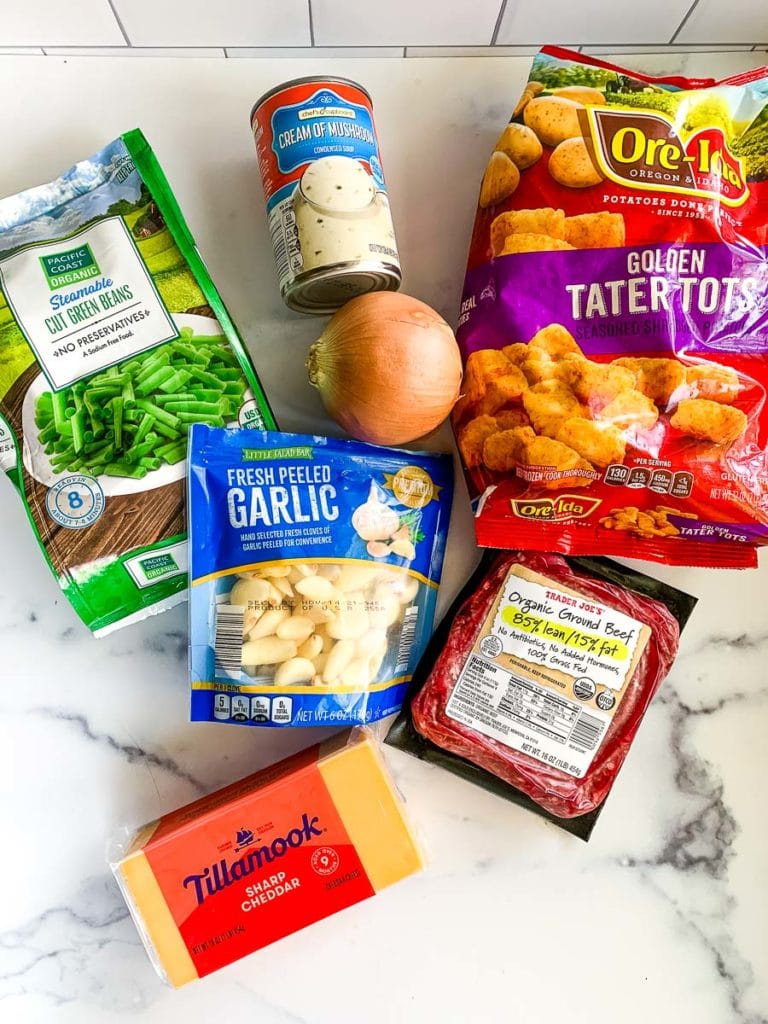 Aromatics – We include fresh onion and garlic to brighten the flavors of the green beans and potatoes. If necessary, dried onion powder and/or garlic powder are fine, too.


Condensed mushroom soup
If you're not a fan of mushrooms, cream of chicken and cream of celery are both good substitutes.


Cheddar cheese – freshly shredded or grated cheese is best. For a little kick, use shredded pepper jack in place of cheddar, or a combination of both!
Tips for Perfect Green Beans and Potatoes
This green bean casserole takes just a few minutes to assemble. If you aren't making it ahead, the dinner is ready to serve in just over 30 minutes.
A few helpful recipe tips: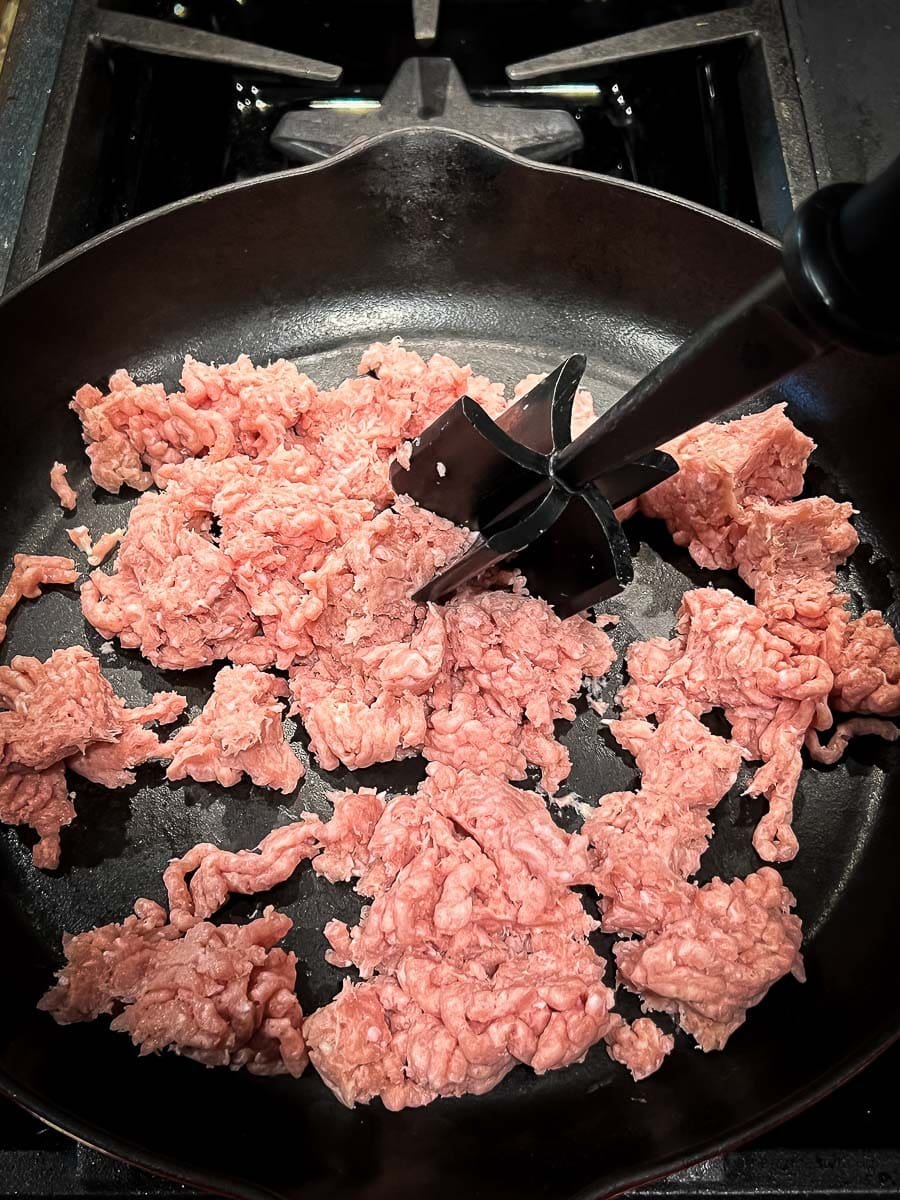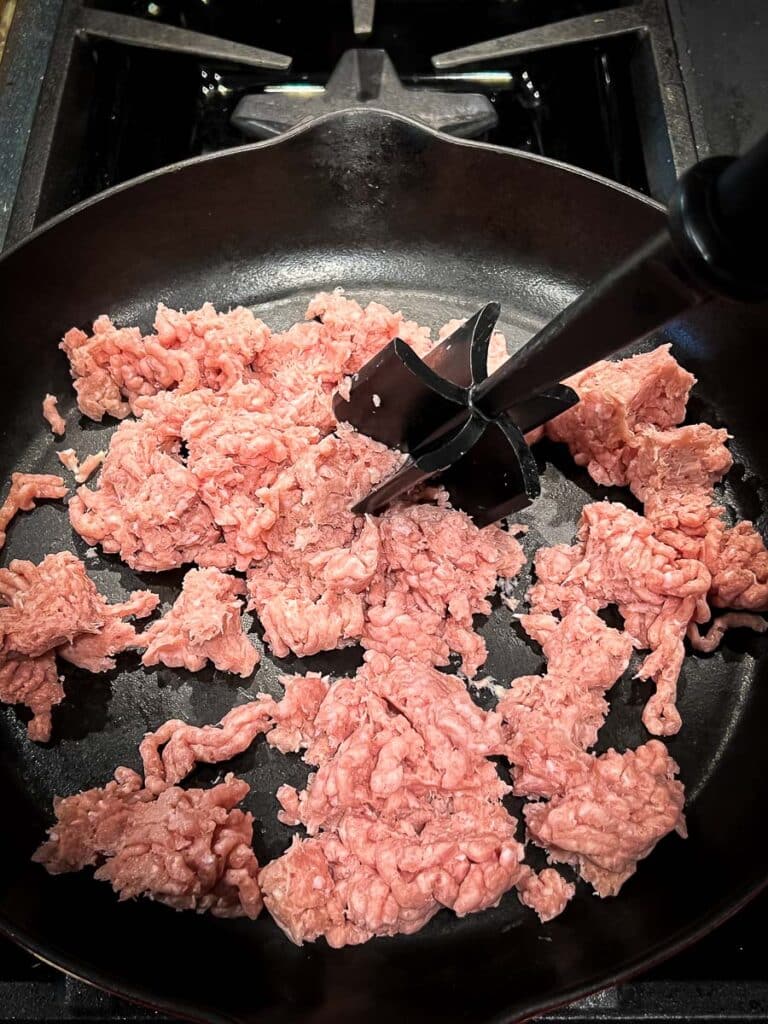 Fresh green beans work best.
Using frozen veggies is convenient; we use them when we make soup recipes. However, not for a green bean casserole. As they thaw, the frozen green beans and potatoes can become soggy.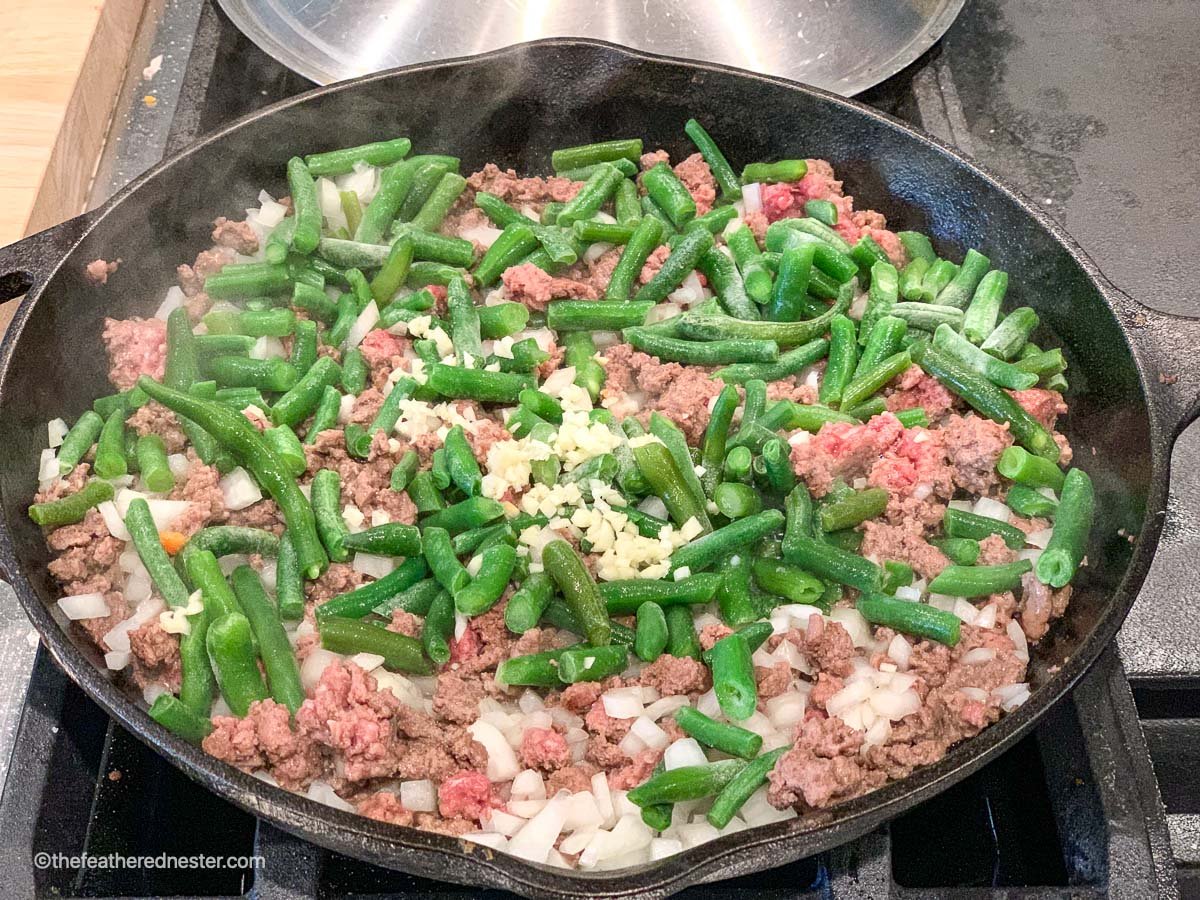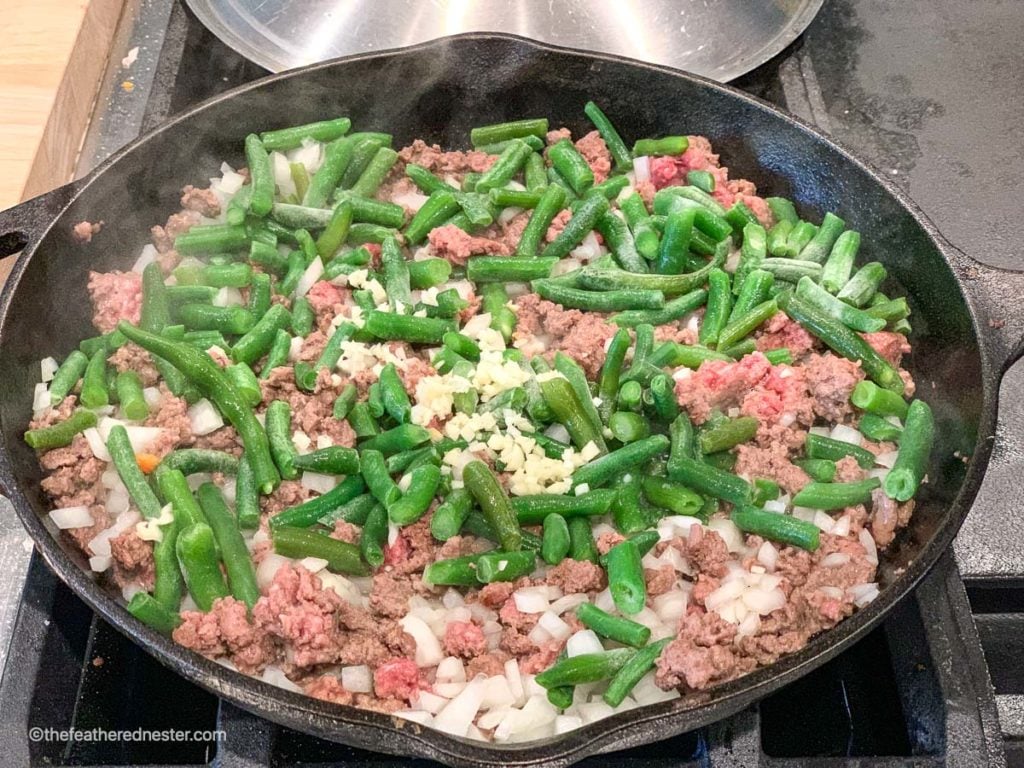 Cover the dish to prevent burning, if necessary.
After 15 minutes of baking in the oven, take a look at the top of the tater tot casserole. If the potatoes are looking too golden for your liking, lightly cover the skillet or baking dish with aluminum foil.
Use an oven-safe pan for easier clean-up.
For a one pan dinner, use a cast iron skillet, or a pan that's similar. This way, you don't have to use a casserole dish.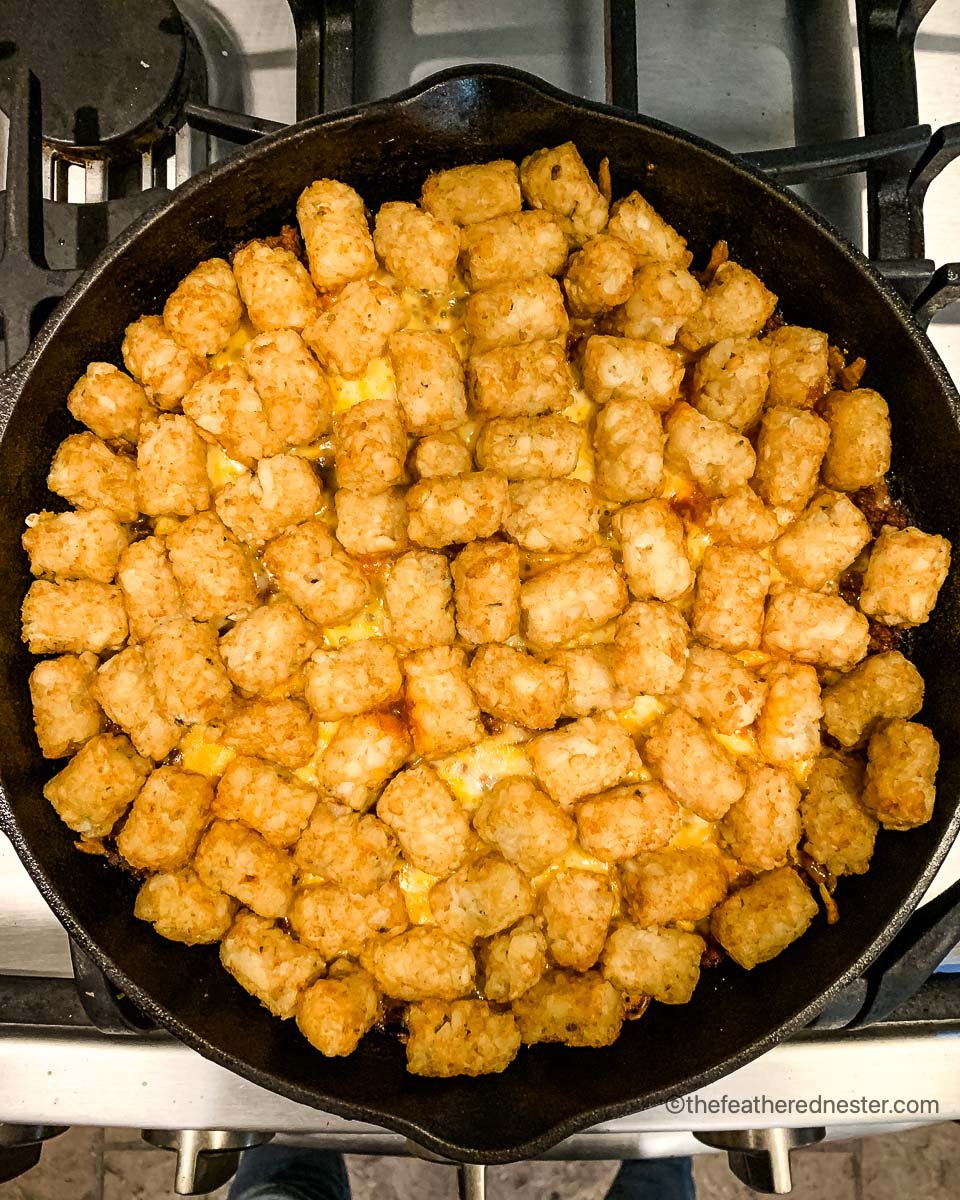 Make Ahead Casserole Instructions
The potato and green bean hotdish doesn't take too long to bake for dinner tonight. Or, you can make it ahead for easier meal prep on a busy night. If you need to serve a larger crowd, you can even prep two pans at the same time.
That way you can enjoy one casserole hot for dinner that night, and freeze the second to have ready for meal trains, holidays, family gatherings, potlucks, or anytime you need a dish to share.
TFN Pro Tip
If you are making ahead to freeze, assemble the hamburger hotdish in a foil pan. This way, the casserole can go straight from the freezer to the oven!
Simply put together the tater tot hamburger hotdish per the recipe but do not bake. Cover with a layer of aluminum foil (double wrap with foil if freezing). Then either keep in the refrigerator for up to 3 days before baking and serving, or freeze for up to 3 months.
There's no need to defrost the dish before baking! Preheat the oven to 375 degrees, and place the uncovered foil pan in the oven.
If cooking from frozen, add 15 minutes to the regular cook time, for a total of 45 minutes. Check on it after 30 minutes; if the top is browning too quickly, lightly tent the baking dish with foil.
What to Serve with A Hamburger Hotdish
Because the green bean casserole with tater tots already has beef, green beans and potatoes, it's a complete meal as-is. But homemade biscuits or rolls are the perfect addition to this comfort food dinner!
Garnish the top with sour cream, sliced green onions, or some fresh parsley. For an even heartier meal, add chopped bacon, too.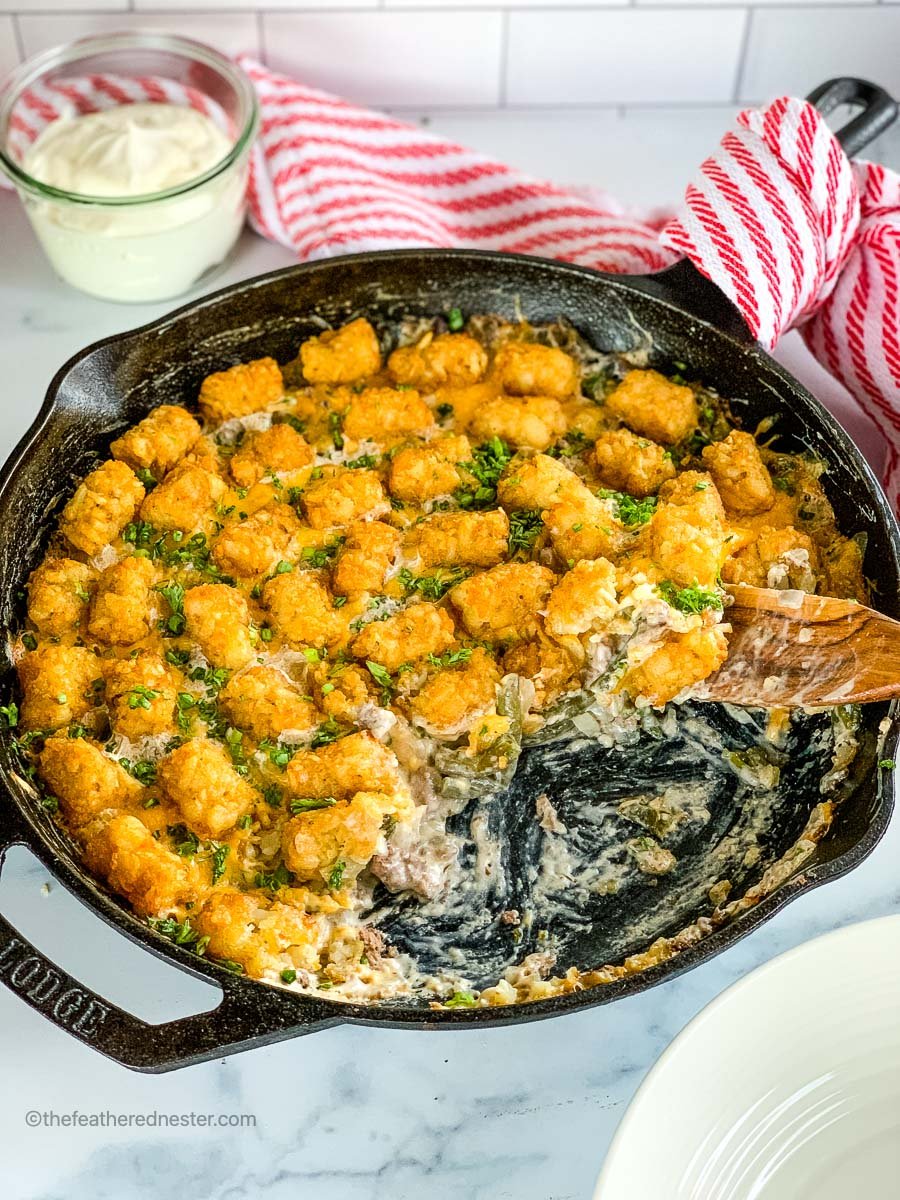 Green bean Casserole Recipe FAQ
How far ahead can I make green bean casserole with tater tots?
Once baked, the casserole will keep in the fridge for up to 3 days. Let it cool completely before covering the dish with a lid or foil.
Can I double or halve this hamburger hotdish recipe?
Yes! As written, this recipe will serve 6 people. For fewer servings, simply halve the ingredients and bake in an 8×8-inch casserole dish. If you double the recipe, use two 9×13-inch baking pans.
For Casserole Recipes, Renae Recommends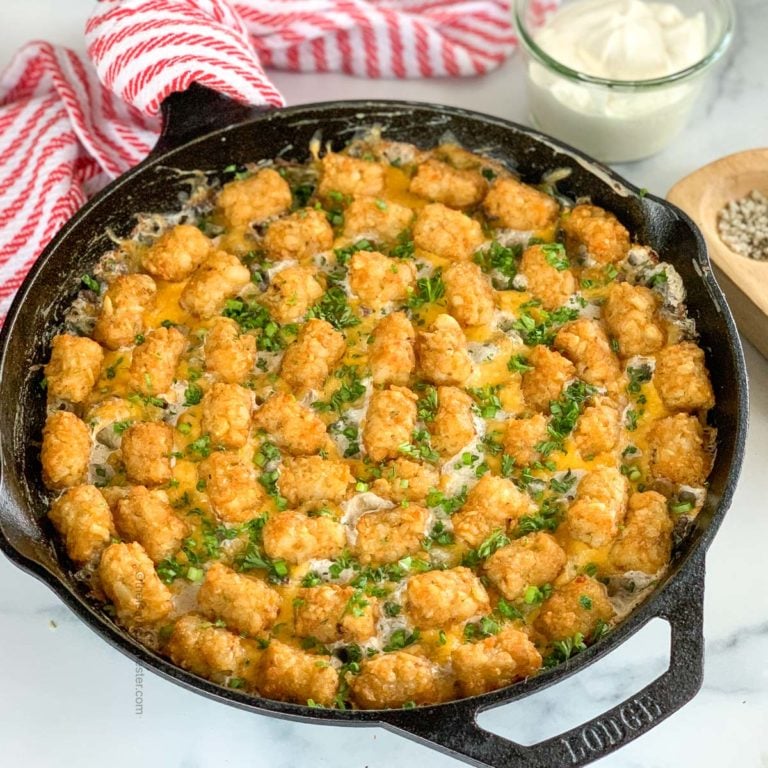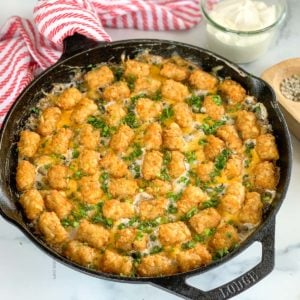 Beefy Green Bean Casserole with Tater Tots
Green Bean Casserole with Tater Tots is a delicious, hearty hamburger hotdish with green beans and potatoes. Prep it ahead to save time!
Equipment
10-12" cast iron skillet - or other oven-safe skillet OR

10-12" non-stick skillet - AND

2-quart casserole dish
Ingredients
1 pound lean ground beef 85/15 is recommended
2 cups green beans fresh or frozen, cut in 1" pieces. *See Notes
1 cup diced onion (1 small onion)
2 cloves garlic minced or pressed
10 ounces condensed cream of mushroom soup *See Notes
2 cups shredded cheddar cheese freshly shredded is recommended
2 cups frozen tater tots 16 ounces, or half of a 32-ounce bag
½ teaspoon salt or more/less, to taste
½ teaspoon ground black pepper or more/less, to taste
Optional Garnishes
sour cream
chopped green onion
chopped fresh parsley
Instructions
Preheat the oven to 425ºF.

Brown ground beef in a 10-12" skillet over medium heat. Add green beans, chopped onion, and garlic to skillet and saute until onions turn translucent. Drain fat from pan.

Add condensed soup to ground beef and vegetable mixture, and stir to combine. If your skillet is oven-safe, continue on to the next step. Otherwise, add the mixture to a 2-quart casserole dish.

Sprinkle the grated cheese evenly over the green bean casserole, then add an even layer of tater tots over the top.

Bake, uncovered, for 20 minutes, until the tater tots are crispy and golden brown, and the edges of the casserole are bubbly. Let cool 5 minutes before serving. Garnish with sour cream, sliced green onion, or parsley, if desired.
Notes
Green Beans – Substitute with one 14-ounce can green beans, drained.
Condensed Cream of Mushroom Soup – Substitute with a different condensed cream soup like chicken, celery, or potato.
Make Ahead Casserole Instructions:
Follow steps 1-3 of recipe card instructions, then cover and refrigerate casserole for up to 3 days.
When ready to serve, bake at 375º F for 35-40 minutes, until the tater tots are golden brown and the edges of the casserole are bubbly.
Let cool 5 minutes before serving. Garnish with sour cream, sliced green onion, or parsley, if desired.
Nutrition
Serving: 1serving | Calories: 490kcal | Carbohydrates: 22g | Protein: 24g | Fat: 34g | Saturated Fat: 15g | Polyunsaturated Fat: 2g | Monounsaturated Fat: 13g | Trans Fat: 1g | Cholesterol: 93mg | Sodium: 611mg | Potassium: 501mg | Fiber: 2g | Sugar: 1g | Vitamin A: 507IU | Vitamin C: 9mg | Calcium: 306mg | Iron: 2mg
PIN THIS POST!
This post, originally published Oct. 2021, was updated with new content March 2023.