A holiday favorite, this carrot casserole is a delightful and comforting dish that transforms ordinary carrots into a flavorful, oven-baked treat. The carrot dessert has a crumbly topping that makes it perfect for a Thanksgiving, Christmas, or Easter dish.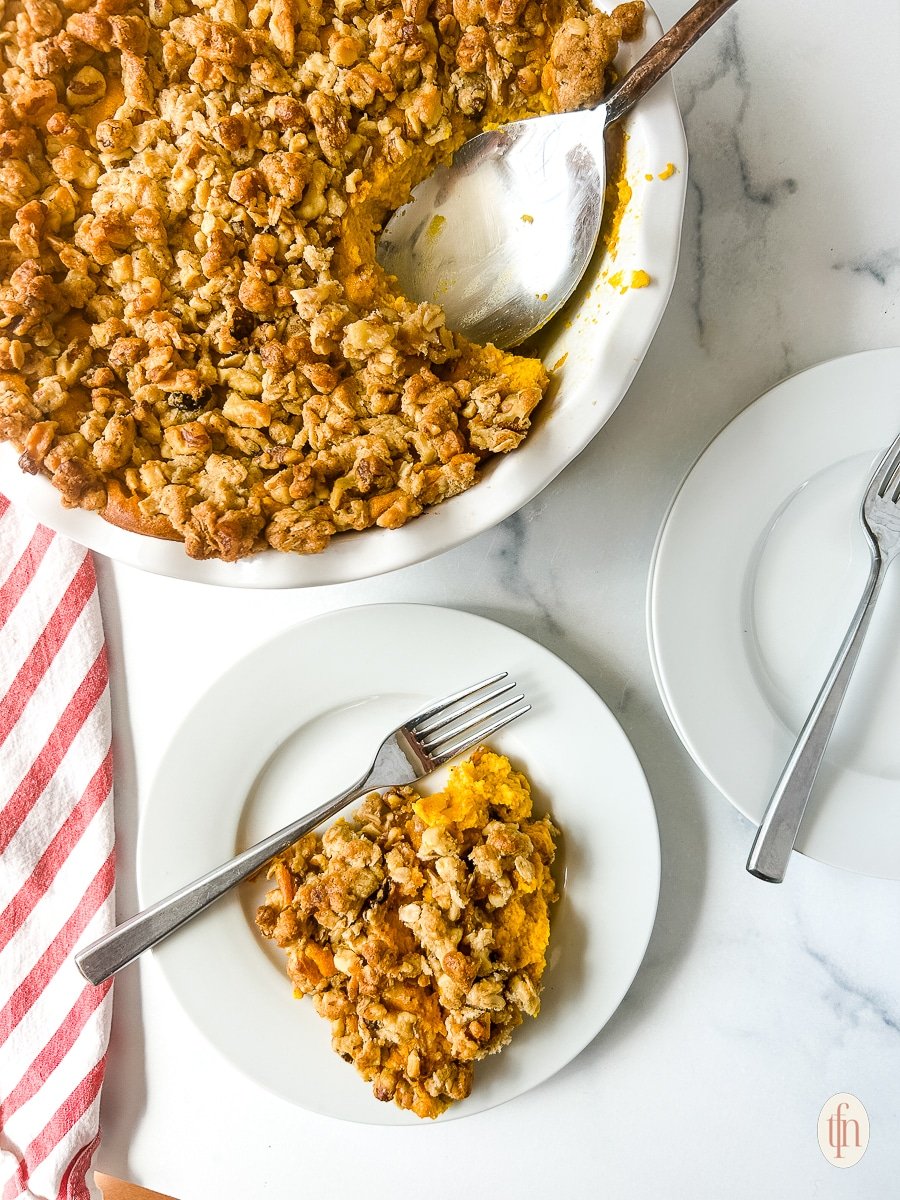 Why We Love This Holiday Carrot Casserole
Great for a party dish or to serve individually.
You can serve individual carrot souffles by dividing the batter between 8 small ramekins.
Easy to make ahead.
Make ahead casseroles are time savers, and they are great for potluck dishes, too.
Ready to eat in just one hour!
This whole dish can be prepped and baked in only an hour.
Want another easy treat for your holiday meal? Bake up an apple cobbler with cake mix, make some pumpkin custard, or an apple crisp.
Ingredient Notes and Substitutions
Casserole
Carrots: You can use baby carrots or whole carrots for this dish.
Butter: Unsalted butter is best but you can use salted. If you use salted butter, leave out any additional salt.
Maple syrup: Some other options to use are honey or cane sugar in place of maple syrup. The amounts you use will depend on the sweetener you use.
Eggs: Large, room-temperature eggs help make the dish fluffy.
Topping
Walnuts: You can use black walnuts or regular walnuts for this recipe.
Butter: Unsalted butter is best here as well.
Oats: Be sure to use old-fashioned oats rather than quick or one-minute oats.
Flour: All-purpose flour helps create a wonderful crumble.
Brown sugar: A little brown sugar helps the top get slightly crunchy and sweet.
Holiday Carrot Casserole Recipe Tips
Allow the carrots to completely dry before blending.

After draining them of water, let them steam dry in the pot before blending so no excess water gets in. This can make the pie mushy.
Blend the mixture until thoroughly combined.

This combines all the ingredients into a wonderfully smooth filling.
Mix the topping until it looks like coarse sand.

Use your fingers or a fork to mix the topping ingredients until they look like coarse sand. Be sure your hands aren't too warm – you don't want the butter to melt before it goes on the casserole.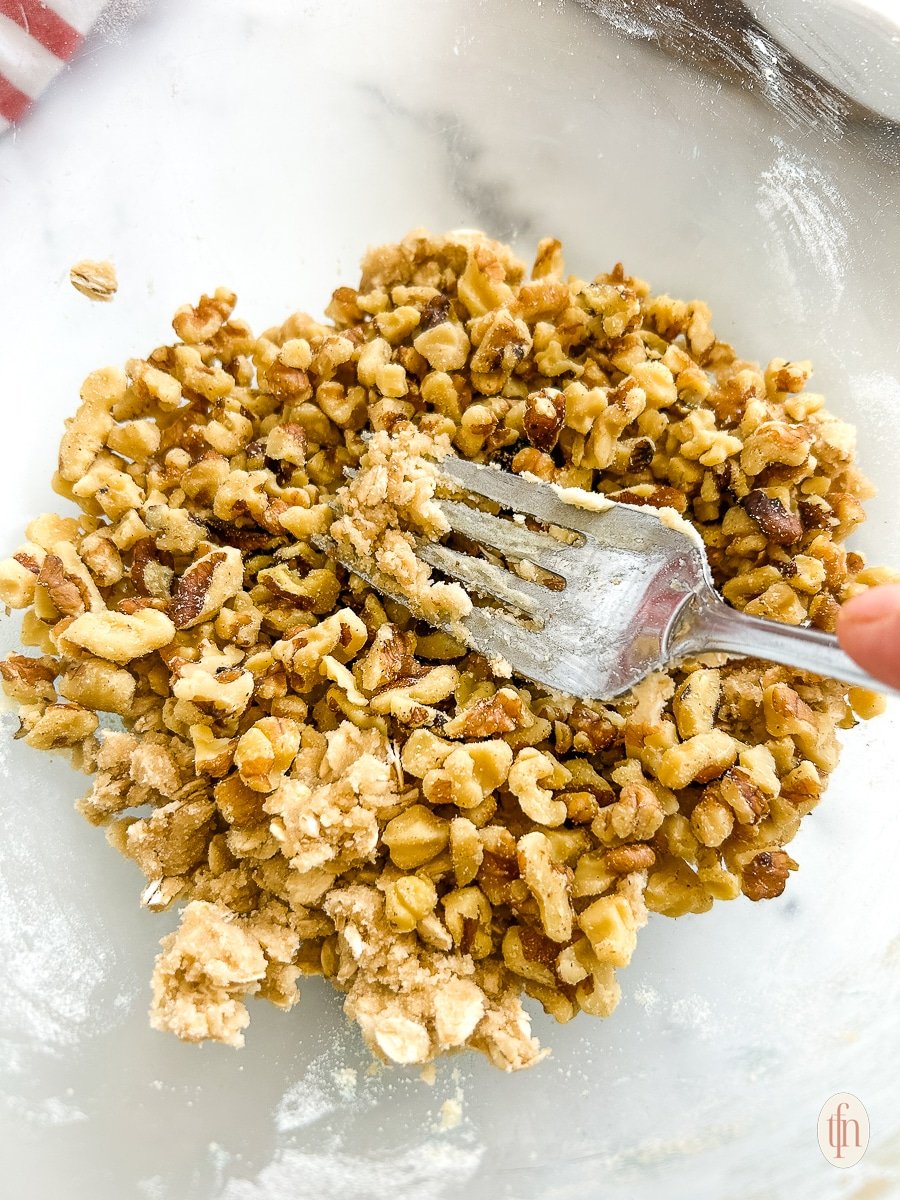 Bake until golden brown and bubbly.

You'll know when the casserole is done baking when the top is beautifully golden brown and bubbly.
🎯 TFN Pro Tip
You can cook the carrots up to 3 days in advance. Keep them in a covered container or Ziploc in the fridge until ready to puree and bake.
Carrot Casserole FAQ
What temperature do you bake carrot casserole?
The best temperature to bake this dish is at 350°F for about 45 minutes.
What else can you top carrot casserole with?
There are so many different options here! A great alternative to the oat crumble is to dust lightly with powdered sugar after it's removed from the oven.
Why is my carrot casserole watery?
If you didn't completely drain or dry the carrots after cooking them in water, they most likely transferred water to the pie and made it watery.

Be sure to thoroughly dry them before blending.
Storing and Reheating
Cover and refrigerate leftovers for 2-3 days.
To reheat, cover the dish with foil and place it in a 350°F. oven for 15 minutes.
You can also freeze your holiday dessert by double wrapping it in plastic wrap and aluminum foil. It will keep in the freezer for up to three months.
🎯 TFN Pro Tip
Be sure to label and date the container, so you remember what you've saved.
Holiday Carrot Casserole
Fluffy and sweet, this carrot casserole is like a dessert souffle, but easier to make! Bake this carrot dessert recipe for the holidays.
Equipment
2-quart casserole dish

2-quart saucepan
Ingredients
2 pounds baby carrots or regular carrots, peeled and cut into 2-inch chunks
4 ounces (1/2 cup) butter *if using salted butter, omit additional salt from this recipe
¼ cup pure maple syrup or honey, or 1/2 cup cane sugar
4 large eggs
5 tablespoons all-purpose flour
2 teaspoons baking powder
1 teaspoon coarse salt
1 teaspoon maple extract or vanilla extract
½ teaspoon ground cinnamon
¼ teaspoon ground nutmeg
⅛ teaspoon ground ginger
Brown Sugar Walnut Crumble Topping (Optional)
1 cup chopped walnuts
¼ cup butter
½ cup old-fashioned rolled oats (not quick cooking or instant)
¼ cup all-purpose flour
¼ cup light brown sugar
Instructions
Preheat the oven to 350°F.

Use non-stick baking spray or oil to grease a 9-inch round or square baking dish.

Place carrots in a 6-quart saucepan and add water to cover the carrots by an inch or two. Bring to a boil over high heat, then reduce heat to medium and cover the pan with a lid.

Cook carrots for 20 minutes, or until very soft and fork tender. Drain excess water from the pan, then return it (and the carrots) to the stovetop burner. Let the carrots sit for a few minutes, to "steam" off any excess moisture.

Transfer the carrots to the bowl of a large food processor or high speed blender. Add the butter and sugar, then cover with lid and puree.

Stop the processor and remove the lid. Using a rubber spatula, scrape down the insides of the bowl. Then add in the flour, baking soda, salt, vanilla, cinnamon, nutmeg, and cayenne. Cover with the lid again and puree, until smooth.

With the food processor running, open the top and drop the eggs into the puree. Once well combined, turn off the food processor.

Pour the carrot puree into the prepared pan; Using an offset spatula or the back of a spoon, smooth the mixture into an even layer.

Optionally, sprinkle crumble topping evenly over the top of the casserole before baking. To make the crumble, add walnuts, butter, oats, flour, and brown sugar to a medium mixing bowl. Using a fork or your fingers, combine the mixture until it resembles a coarse meal.

Bake carrot casserole on the center rack of the oven for 40 to 45 minutes, or until the top is puffy and light golden brown.

Serve while warm. **If you didn't add a crumble topping, if desired, dust with powdered sugar just before serving.
Notes
Save time by cooking the carrots up to 3 days in advance. Keep them in a covered container or Ziploc in the fridge until ready to puree and bake. To serve individual carrot souffles, divide the batter between 8 small (1-cup) ramekins. Cover and refrigerate leftovers for 2-3 days. Reheat for 15 minutes in a 350 degree preheated oven.
Nutrition
Serving: 1serving | Calories: 424kcal | Carbohydrates: 35g | Protein: 7g | Fat: 29g | Saturated Fat: 13g | Polyunsaturated Fat: 8g | Monounsaturated Fat: 7g | Trans Fat: 1g | Cholesterol: 128mg | Sodium: 657mg | Potassium: 429mg | Fiber: 5g | Sugar: 19g | Vitamin A: 16291IU | Vitamin C: 3mg | Calcium: 149mg | Iron: 3mg
PIN THIS POST!