We can't get enough of this chili tater tot casserole with cheese! It's a one-skillet recipe that takes a simple ground beef chili and flips it on its head! With the addition of crisp potato tots and shredded cheddar, this tater tot casserole is bold, hearty, and absolutely amazing. Make it for a game day meal, potluck dinner, or an easy weeknight meal – you won't regret it!
Why We Love Chili Tater Tot Casserole
A one pan meal means there's dishes to wash.
If you're like us, the last thing you want to do at the end of a long day is a lot of cleaning.
Main dish tater tot casserole recipe.
The roots of this iconic hotdish go back to the 1930's, when it was just a simple baked side dish of crispy tots, condensed soup, and cheese.

Over the years, home cooks began to add proteins and veggies, converting the classic into a complete meal!

This chili cheese tater tot casserole has lean hamburger, potatoes, and fiber-packed beans, so it's super hearty and filling!
No condensed soup!
Although it's a big time-saver, condensed soups have a lot of sodium and chemicals that not everyone wants or needs in their diet.
Instead, we use simple pantry ingredients to make the thick, creamy sauce. Serve it tonight as a "stick to your bones" dinner that's ready in under an hour. Or, make ahead this dish and freeze it for later!
Looking for other easy and hearty tater tot casseroles?
We have plenty of other versions to make! Our beefy green bean casserole with tater tots is fantastic way to use up your Thanksgiving leftovers, as is our turkey tater tot casserole.

For a healthier dinner, make our chicken version, or check out our entire collection of tater tot recipes.
Ingredient Notes and Substitutions
Meat – We use grass-fed, lean ground beef to keep the hotdish a bit healthier. Our preference is 80% lean ground sirloin, but anything with less than 20% fat works great.

Tomatoes – Can of diced tomatoes is used as it adds juiciness and flavor to this casserole. But you can use fire-roasted diced tomatoes for more smokiness.

Cheese – We prefer cheddar, for its good meltability. to amp up the spiciness of your chili casserole a bit, feel free to substitute with pepper jack or even a Mexican cheese like queso fresco, Oaxaca, or Asadero.

Tomato paste – This helps to thicken the chili and adds a ton of flavor.

Spices – chili powder, cumin, garlic powder, kosher salt, pepper. You can also add a teaspoon of ground red pepper for a kick of heat.
Tips for Making Chili Cheese Tater Tot Casserole
Drain any excess grease from the meat.
If you're using ground beef with more than 15 percent fat, you'll likely have some excess grease in the pan. Either carefully soak it up with paper toweling or drain it from the pan into a grease jar.
Cook the onion until just barely softened.
Raw onion is fantastic as a garnish on top of chili tater tot casserole, but in the chili? Not so much. The hotdish will go into the oven for final baking, so it isn't necessary to cook the onions completely through – just until they're soft and translucent.
No oven-safe skillet? It's not a problem! Just transfer the chili to a baking dish and continue with the recipe.
Sprinkle the chili with cheese, and top with frozen shredded potato tots. And, then bake it in the same skillet.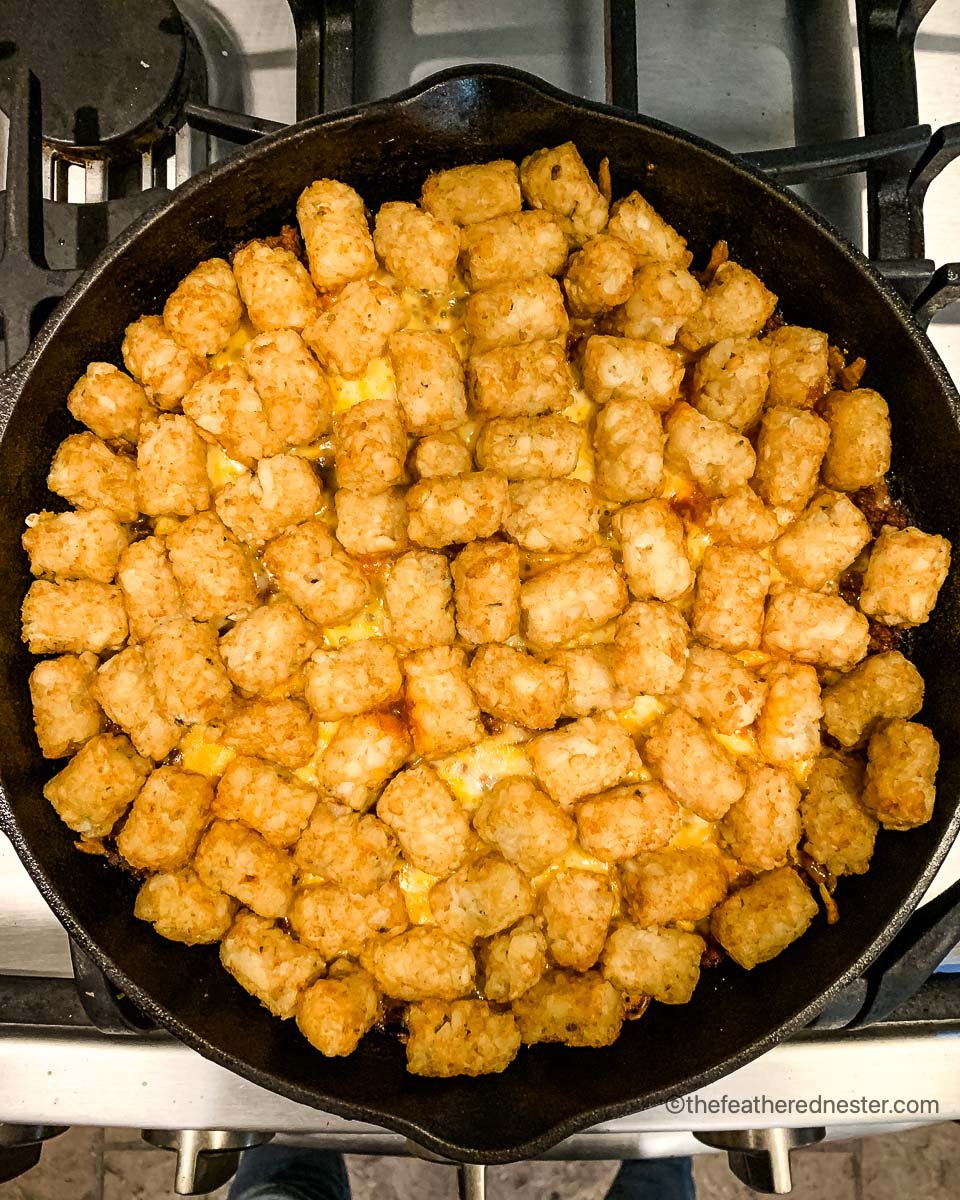 Then, just 30 minutes later it's ready to top with your favorite chili toppings.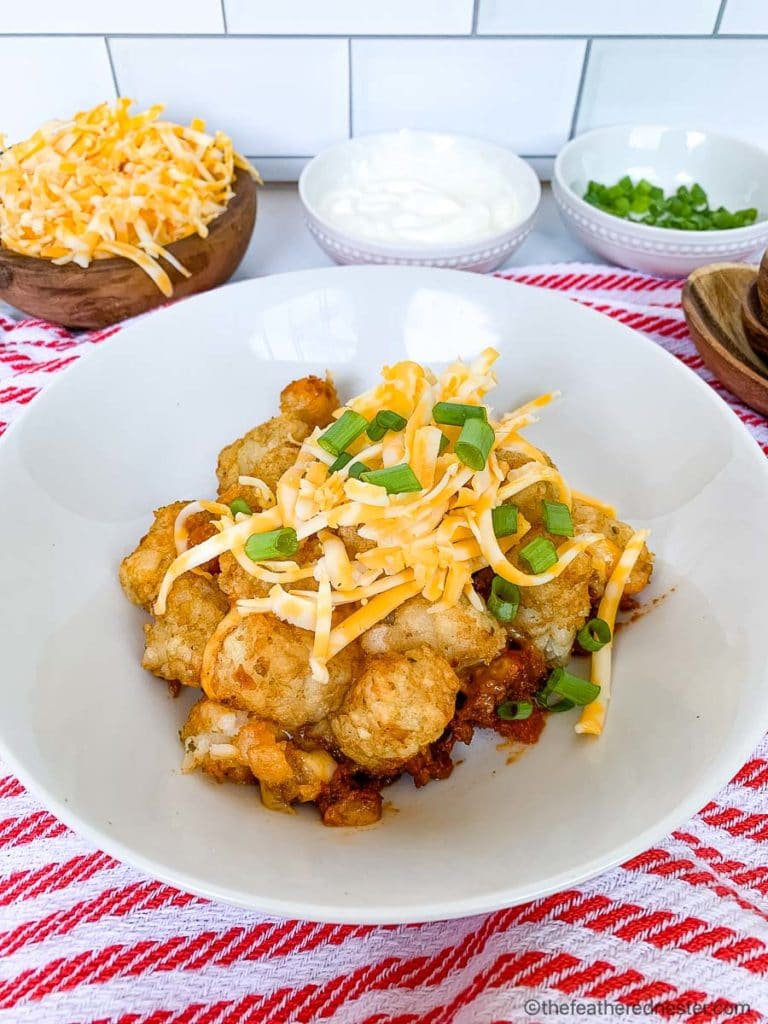 What to Serve with Chili Tater Tot Casserole
This hotdish can be enjoyed on its own as a one-skillet dinner. But good sides for a Tex Mex dish like chili casserole are cornbread or jalapeno cheddar biscuits. For a bit of green on the plate, go for something like a kale salad.
Make Ahead Instructions
You can easily prep ahead and keep the casserole unbaked in the refrigerator for up to 3 days. Just make the recipe as shown in a casserole dish. Then, let cool and cover the dish before putting it in the fridge. When you are ready, bake it at 400° F for about 30 minutes.
Having a ready-made dinner in the freezer is a great idea. First, follow steps 2-4 and prepare the chili in the skillet. Then, add it to an aluminum pan, sprinkle on the cheese, and add the frozen tater tots. Let it cool completely. To store, wrap the casserole in aluminum foil and freeze it for up to 3 months.
Frequently Asked Questions
How do you reheat frozen tater tot casserole?
As with most any other frozen baked dish, chili cheese tater tot casserole reheats beautifully in the oven. Cover the pan with foil and reheat in a preheated 350°F. oven for 40-50 minutes, removing the foil after 30 minutes.
How long do leftovers last?
Left over beefy chili casserole keeps well for up to 3 to 4 days in a sealed container in the refrigerator.
To Make Chili Cheese Tater Tot Casserole, Renae Recommends
Chili Tater Tot Casserole
Chili tater tot casserole is absolutely delish! Combining crispy tots, beef chili and cheese makes a hearty meal your family will love.
Equipment
10-inch cast iron skillet - or other medium-sized oven-safe skillet

13 x 9-inch casserole dish - (if you don't have an oven-safe skillet, transfer the casserole to a dish for baking)
Ingredients
1 tablespoon olive oil
1 medium onion diced
1 pound lean ground beef we prefer grass-fed sirloin, with no more than 20% fat
2 tablespoons chili powder
2 teaspoons ground cumin
1 teaspoon garlic powder
1 teaspoon kosher salt
½ teaspoon black pepper
6 ounces tomato paste
14 ounces canned diced tomatoes undrained
1 cup shredded cheddar cheese
30 ounces frozen tater tots
optional (for a bit of heat)
1 teaspoon red cayenne pepper
Instructions
Preheat the oven to 400ºF. If using a casserole dish, spray it with non-stick cooking oil and set aside.

Heat olive oil in a large skillet over medium heat. Add diced onions and sauté, stirring occasionally until they are translucent.

Add the ground beef, breaking it up with a hamburger chopper or wooden spoon over medium heat until it is no longer pink. Drain any excess fat from the pan.

Add seasonings, tomato paste, and diced tomatoes, mixing together. If your skillet is oven-safe, continue on to the next step. Otherwise, add the mixture to a round or oblong casserole dish.

Sprinkle the grated cheese evenly across the top. Then top the casserole with a layer of tater tots.

Bake at 400ºF uncovered for 25-30 minutes until the tater tots are golden brown and the edges of the casserole are bubbly.

Remove casserole from the oven and let cool at least 5 minutes before serving. Garnish with sour cream, sliced green onion, or parsley.
Notes
Make ahead instructions Follow steps 2-5 in the instructions for a casserole dish. Cover and refrigerate casserole for up to 3 days. When ready, bake at 400º F for 30-35 minutes until the tater tots are golden brown and the edges of the casserole are bubbly. Let cool 5 minutes before serving. Garnish with sour cream, sliced green onion, or parsley.
Nutrition
Serving: 1serving | Calories: 570kcal | Carbohydrates: 42g | Protein: 29g | Fat: 33g | Saturated Fat: 12g | Polyunsaturated Fat: 6g | Monounsaturated Fat: 11g | Trans Fat: 0.3g | Cholesterol: 86mg | Sodium: 1382mg | Potassium: 761mg | Fiber: 5g | Sugar: 2g | Vitamin A: 1204IU | Vitamin C: 11mg | Calcium: 326mg | Iron: 4mg
PIN THIS POST!