Who, besides me, thinks that stuffing is the best Thanksgiving dinner side dish? That means the stuffing must be Thanksgiving worthy: flavorful, tender, sturdy yet fluffy, perfect for sitting alongside mashed potatoes and soaking up gravy. After much trial and error over the years, this Sourdough Stuffing recipe has evolved. It's a real classic and a staple on our holiday table.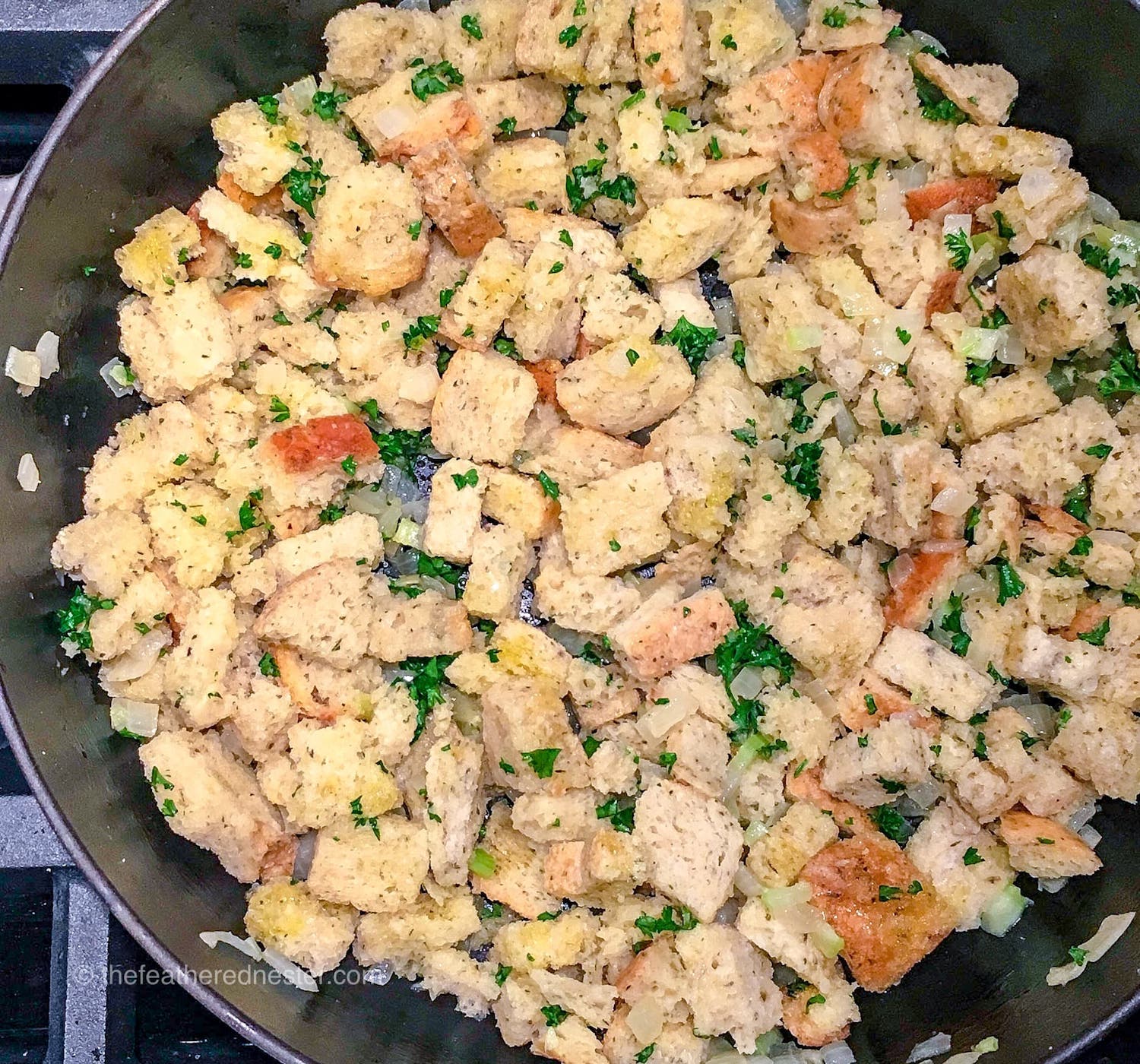 Want to make this completely from scratch? Use my overnight sourdough bread or sourdough sandwich bread sourdough recipes for this post.
It's the absolute best way to use up stale bread or bread that's past its prime. If you love soft, fresh bread as I do then you'll know what I mean!
You'll need an active starter to make any sourdough recipe. So, I'm linking my easy sourdough starter recipe. This fast sourdough starter is literally fail-proof thanks to my pro tips. And it has step-by-step instructions – perfect for a beginner.
Or use Boudin sourdough stuffing mix (I get it from Costco) or any high-quality sourdough stuffing cubes to make this sourdough stuffing. I talk more about this below.
There's nothing wrong with using a simple shortcut like this during Thanksgiving or Christmas!
Why Does Sourdough Make the Best Stuffing?
There is something magical about sourdough bread that gives stuffing that extra kick. Maybe it's the sourdough tang? Perhaps it is the crusty exterior and super moist inside? Whatever it is, it's my go-to bread for making stuffing.
Of course, the best bread you can use is homemade sourdough bread. It is generally the highest quality and has the fewest ingredients.
But, that is not an option for everyone. If you are buying sourdough bread to cut up and use, buy the best, real sourdough bread you can. Or use high-quality dried sourdough stuffing cubes.
My favorite is Boudin Sourdough Classic Herb Stuffing. I buy a big bag of it from Costco or Sam's Club. I've seen smaller bags of it available in local grocery stores.
Ingredients for our favorite stuffing recipe:
sourdough bread cubes
onion
celery
olive oil
broth
eggs
parsley
salt
lemon juice
butter
For 6-8 people, I use two 16 oz bags or the large bag of Boudin bread cubes (32 oz). Or use a whole loaf of sourdough bread for this stuffing recipe.
If you want to make less, just use half a recipe.
Kitchen Tools Needed
How to Make Sourdough Stuffing
My main tip when making sourdough stuffing as a Thanksgiving side dish is to make twice as much as you think you'll need.
Like almost everything delicious, this Sourdough Stuffing recipe starts with chopping onions. So, first and foremost, chop up your onions and celery.
Preheat your oven to 350º degrees.
Then add olive oil to a heavy skillet. I like to use my Staub brasier. Not only does it go from stove top to oven, but it has a nice heavy lid. The cast iron gives the sourdough stuffing crispness, but keeps the inside moist.
It's about 4 quarts in size which is large enough for most recipes. I use it a lot for baked macaroni and cheese and other pasta dishes. It's definitely a multi-use pot.
Next, add the chopped onions and celery to the skillet, and sauté on medium heat until they are translucent and softened.
While the vegetables are sautéing, add the bread cubes, parsley and salt to a large bowl. Then add the wet ingredients: broth, lemon juice, and oil/butter. Toss until the bread cubes are evenly coated.
Add the bread cubes mixture to the vegetables, and stir well.
Place in the oven and bake for 30 minutes with the lid on. Remove from oven, stir, and return to the oven without the lid for 10 more minutes.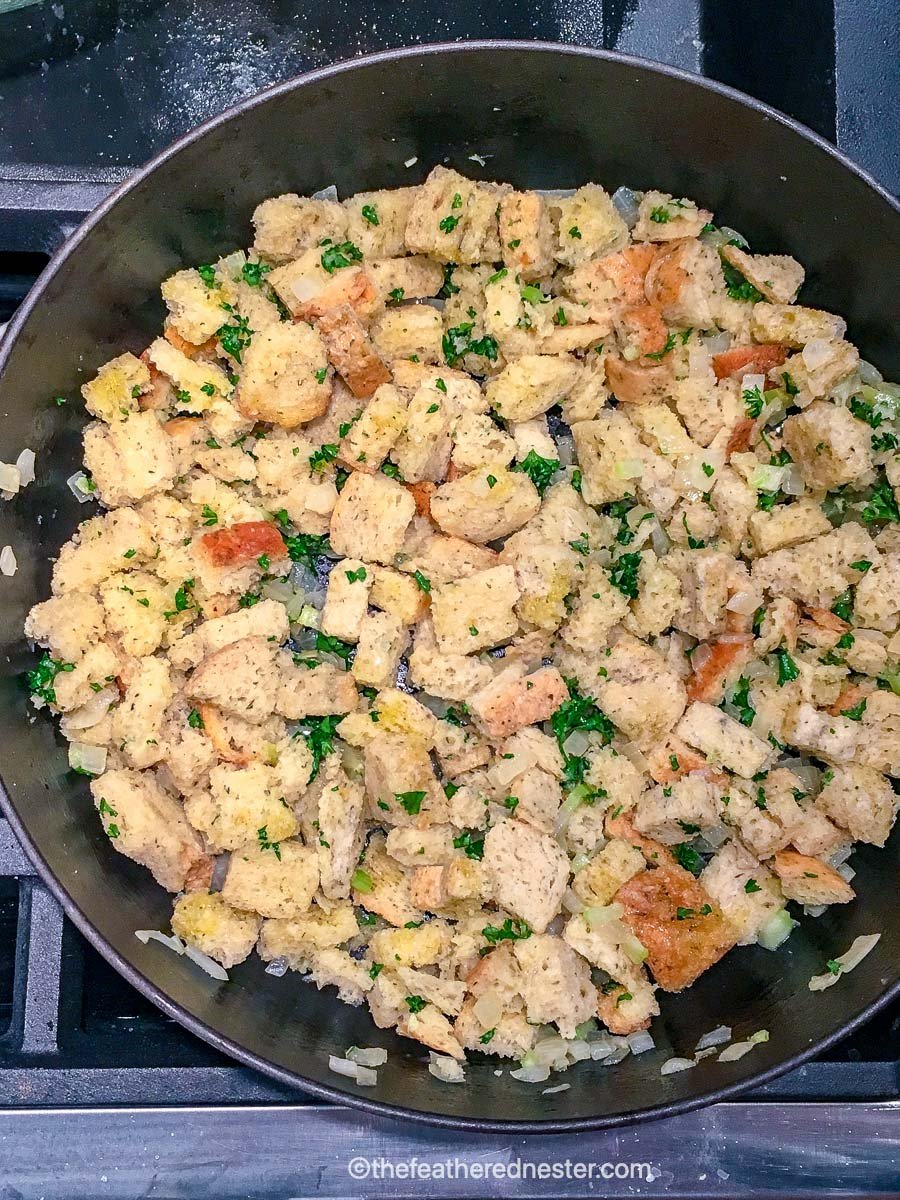 And, now you're ready to wow your guests with this delicious, moist, and perfectly tender Sourdough Stuffing.
Be sure to try my Top 5 Recipes for Thanksgiving!
Frequently Asked Questions
Is sourdough bread OK for stuffing?
Sourdough makes the best stuffing! This Sourdough Bread Stuffing recipe is perfect as a side dish for a holiday meal. I love using a rustic sourdough bread loaf to make this.
How do you dry sourdough for stuffing?
Give your bread a quick bake in a 350ºF oven to dehydrate the bread. Cut your loaf into evenly sized cubes or slices, and toast them for 15 to 20 minutes, or until lightly golden brown.
Sourdough Stuffing recipe
Sourdough Stuffing
Although this recipe calls for dried sourdough bread cubes, you can substitute regular bread cubes for this.
Ingredients
8 cups Sourdough dried bread cubes, seasoned (see note below)
3 onions, chopped
2 cups celery, chopped
2 tablespoons olive oil
4 cups broth, chicken or turkey
2 large eggs
1 cup fresh parsley, finely chopped
1 teaspoon salt
2 lemons, juiced
½ cup (1 stick) butter, melted
Instructions
Add olive oil to a large skillet and heat until oil is shimmering. Add onions and celery. Saute for 5 minutes, or until onions are translucent and celery is softened.

Preheat oven to 350 degrees F.

While vegetables are sautéing, add bread cubes to a very large bowl. Add parsley and salt. Mix eggs in with the broth until well blended. Slowly add broth, lemon juice, and butter while stirring.

Place in 4 qt casserole dish (or 11 x 13′). Add lid or cover with foil (spray the underside of the foil with cooking spray to keep the stuffing from sticking). Bake covered for 30 minutes. Remove from the oven, stir stuffing, and return to oven uncovered. Bake for 20 minutes longer.
Notes
If your bread cubes are unseasoned, season with 2 tsp ground sage and 2 tsp dry thyme.
Nutrition
Serving: 1serving | Calories: 154kcal | Carbohydrates: 17g | Protein: 4g | Fat: 8g | Saturated Fat: 4g | Cholesterol: 39mg | Sodium: 616mg | Potassium: 147mg | Fiber: 2g | Sugar: 3g | Vitamin A: 720IU | Vitamin C: 8mg | Calcium: 59mg | Iron: 1mg
PIN THIS POST!
Here's more favorite holiday Recipes
For more meal ideas and dinner prep, follow me on Instagram https://www.instagram.com/thefeatherednester/ or Facebook https://www.facebook.com/houseon3rd/