For a small holiday gathering, a roasted turkey tenderloin is the perfect entree, but don't stop there! Make this simple oven baked turkey to pair with your favorite sides for a family-friendly dinner that's delicious any night of the week.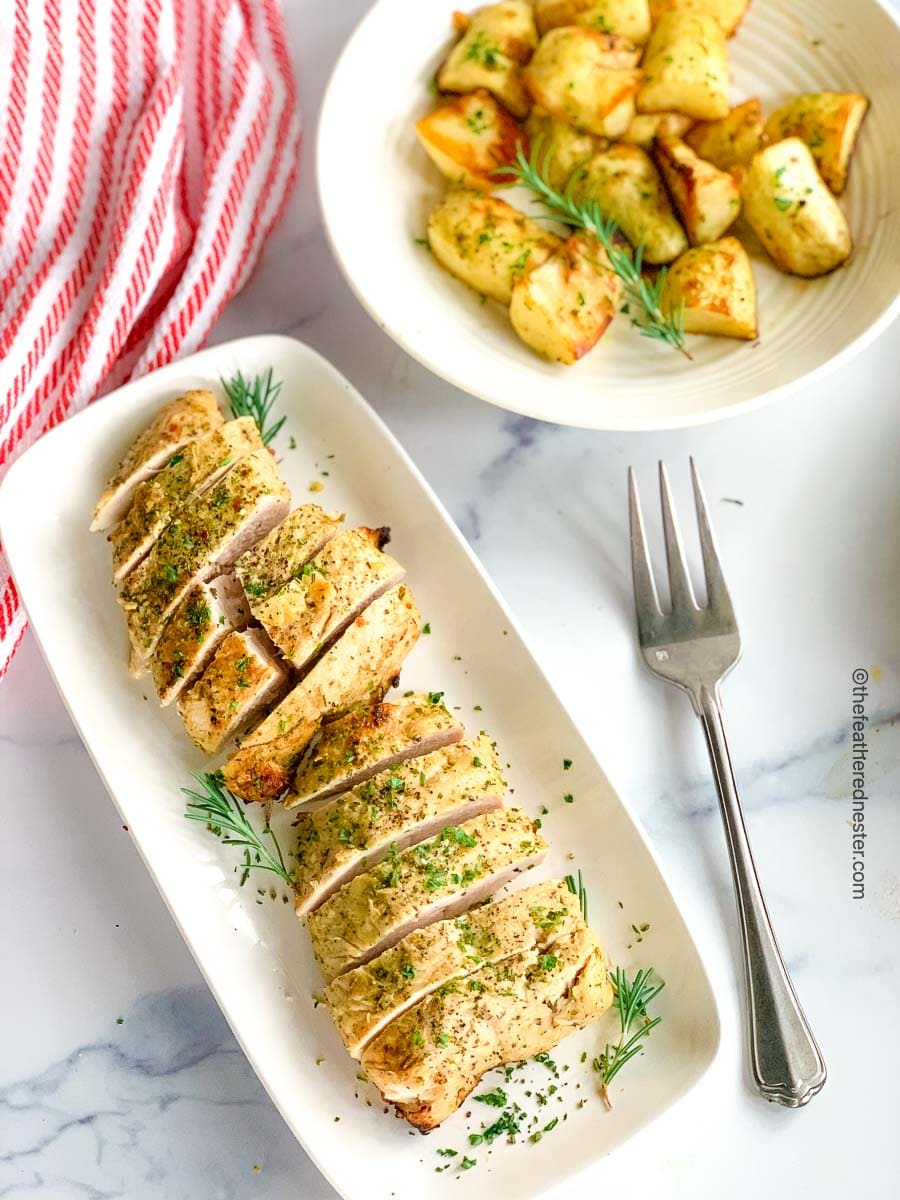 Why We Love Turkey Tenderloins
Versatile
Like chicken breasts, turkey tenderloin is incredibly versatile. There are plenty of ways to season and cook it. You can bake turkey tenderloin in the oven, slow cook it in a crock pot, or even toss it on your grill.
Perfect for a small family gathering.
Two tenderloins is enough to serve up to 6 people. Unless you like a lot of leftovers, you don't have to cook a full sized bird for Thanksgiving.
Incredibly juicy meat, every time.
What's the secret? Add incredible flavor simply by marinating the tenderloins before cooking with your preferred method.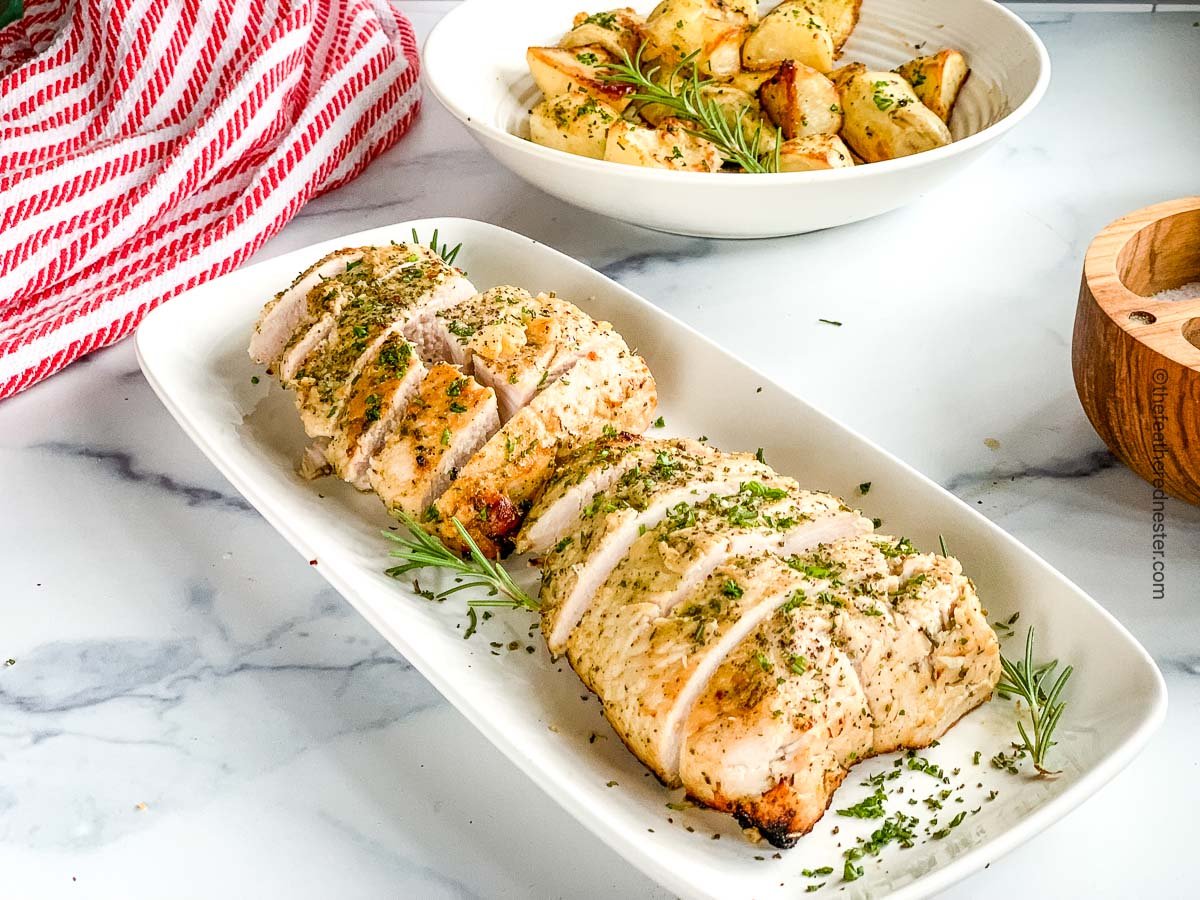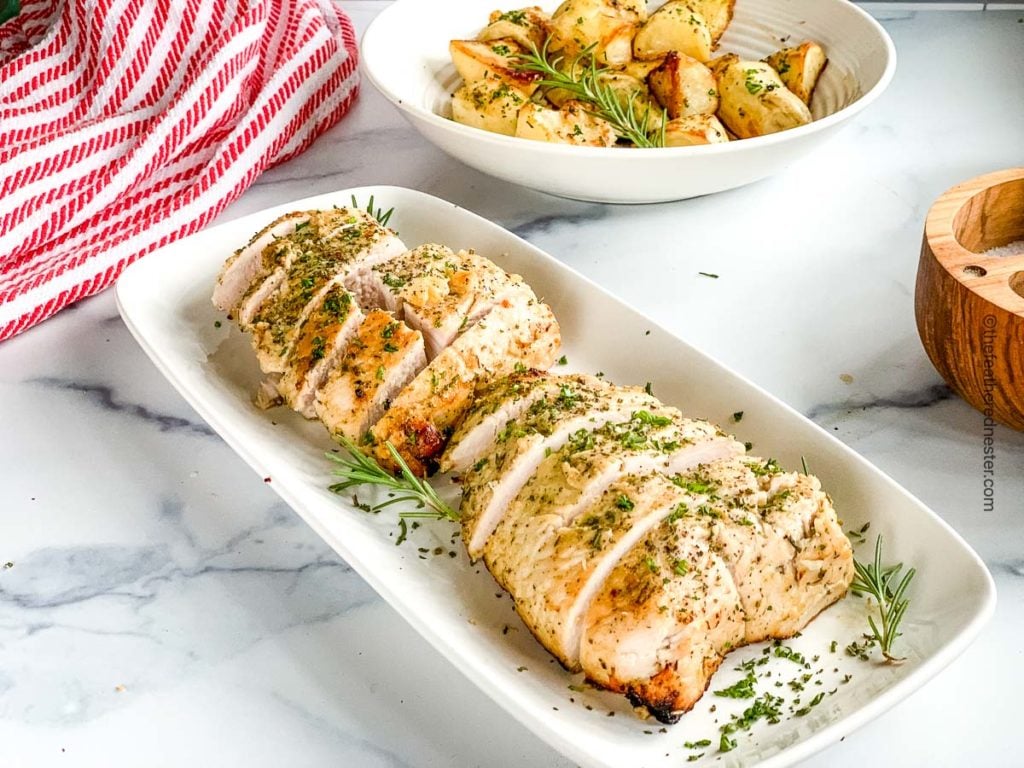 What is a Turkey Tenderloin?
The tenderloin cut is a thick strip of boneless and skinless meat, cut from between the bird's breasts. Similar to a chicken tenderloin, the turkey tenderloin is partially attached to the breast.
Since it doesn't get much of a workout when the bird is alive, the meat is particularly tender. That makes this cut of meat a convenient, delicious, and healthy alternative to chicken breast and other poultry cuts.
Check out our Instant Pot turkey tenderloins recipe with mashed potatoes and gravy for the ultimate in comfort dinners!
Ingredient Notes and Substitutions
Turkey tenderloin – Tenderloins are typically sold in packages of two. Our favorite brand to use is Jennie-O and we can find them year-round at Walmart.
Marinade
Olive oil – Can also use any neutral flavored oil.
Apple cider vinegar – Adds tang and acidity to the marinade. You can also use white wine vinegar or balsamic vinegar.
Honey – Balances out the tang from the vinegar and adds sweetness. Maple syrup or agave nectar can be used as a substitute.
Dijon mustard – Can also use regular yellow mustard if you don't have this on hand.
Crushed cloves – You can also use garlic powder as a substitute.
Seasonings – We use dried thyme, dried rosemary, sea salt, and pepper. You can swap them out and use your favorite herbs and spices if you want to.
Tips for the Best Baked Turkey Tenderloins
Don't skip the marinade.

Whisk together the marinade ingredients in a large bowl. Place the turkey in the bowl, or add to a large sealed zipper bag along with the marinade. Toss to coat.

Cover and refrigerate the meat for at least 1 hour and up to 8 hours (or overnight).
Thoroughly preheat the oven to 400°F.

To create a nice crust on the outside of the tenderloin, be sure the oven is super hot. The crust locks in the juices, so the meat is moist and delicious!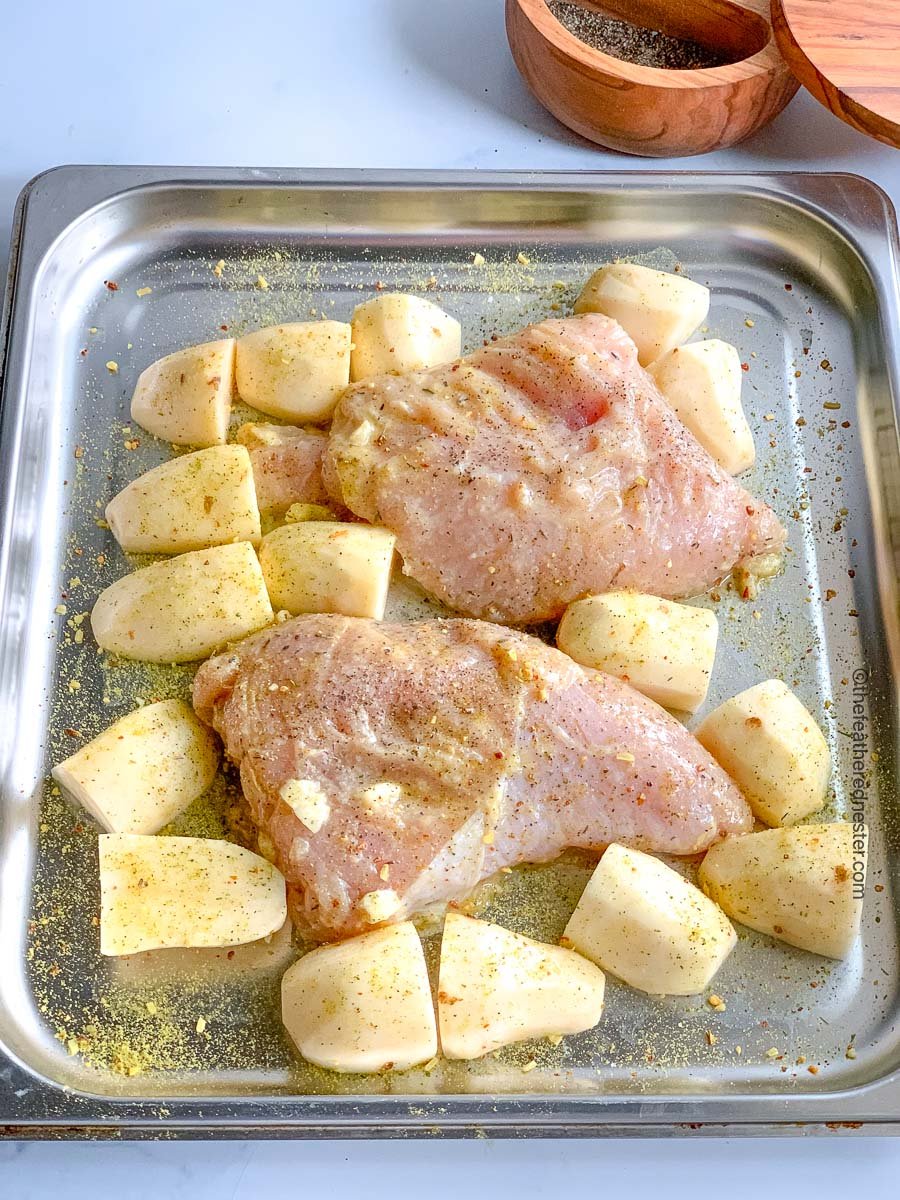 Check for doneness after 30 minutes of roasting.

Be sure to use a digital, instant read thermometer for the most accurate reading. When the internal temperature reaches 163°F., the baked turkey breast tenderloins are ready to come out of the oven.
Rest the meat for 10 minutes before slicing.

Lightly cover the roasted turkey with a sheet of aluminum foil so it stays warm. During the 10 minutes of rest time, the meat will continue to cook. This way, when you slice into the roasted turkey tenderloin, the internal temp will be 165°F and it will be perfectly juicy!
Serving Suggestions
Everyone will love this delicious Thanksgiving turkey dinner! Serve it with Jiffy cornbread dressing, mashed potatoes, cranberry sauce, and pumpkin custard pie for dessert!
Turkey Tenderloins FAQ
Is turkey breast the same as tenderloin?
Yes and no…the turkey breast tenderloin runs between and is attached under the breasts. It's typically sold separately from a bone-in turkey breast.
How long does leftover turkey tenderloin stay good?
Leftovers from this meal will last up to 4 days if stored in a sealed container and kept in the refrigerator. They also are great to freeze! Once cooled, transfer them to a freezer-safe zipper bag, and keep them stored for up to 3 months.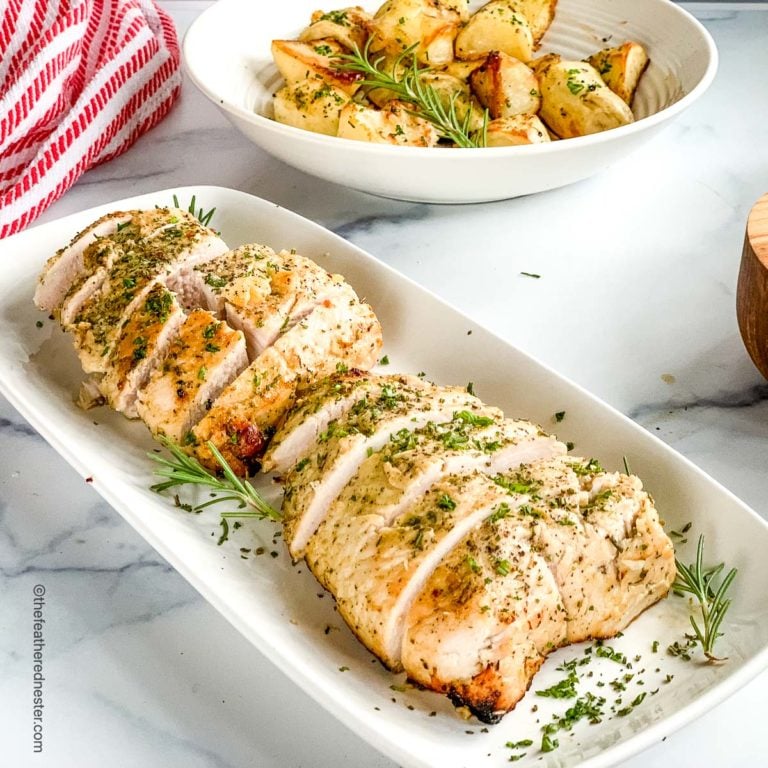 Roasted Turkey Tenderloins
These lean, juicy, oven roasted turkey tenderloins are ready in less than an hour. Serve for a small Thanksgiving dinner or meal anytime.
Equipment
Roasting pan or shallow oven-safe casserole dish
Ingredients
2 turkey breast tenderloins (about 1½ pounds)
Turkey Tenderloin Marinade
2 tablespoons olive oil
2 tablespoons apple cider vinegar
2 tablespoons honey
1 tablespoon dijon mustard
3 garlic cloves, crushed
½ teaspoon dried thyme (or 6 sprigs fresh thyme)
½ teaspoon dried rosemary (or 1 sprig fresh rosemary)
1 teaspoon sea salt
¼ teaspoon pepper
Instructions
In a large bowl, whisk together the olive oil, vinegar, honey, dijon mustard, garlic, herbs, and seasonings until evenly combined.

Place the turkey in the bowl (or in a gallon-sized Ziplock bag) with the marinade and toss to coat. Cover and refrigerate for 1 to 8 hours to allow the flavors to infuse with the turkey tenderloins.

Preheat the oven to 400 degrees F (roast or bake setting). Spray roasting pan or shallow casserole dish with cooking oil.

Remove the tenderloins from the marinade and discard the marinade. Add turkey breast tenderloins to the roasting pan or dish. If desired, add a hearty vegetable, like potatoes to the roasting pan with the turkey tenderloin.

Roast in the oven for 30-35 minutes. Turkey tenders are done when a thermometer inserted into the thickest part of the tenderloin, registers 165 degrees F. Remove the turkey from the oven and let rest for 10 minutes, before slicing and serving.
Notes
Roasted turkey tenderloins will last up to 4 days stored in a sealed container in the refrigerator. They also are great to freeze! Once cooled transfer them to a freezer-safe zipper bag, and keep them stored for up to 3 months.
Nutrition
Serving: 1(4 ounces) | Calories: 187kcal | Carbohydrates: 6g | Protein: 26g | Fat: 6g | Saturated Fat: 1g | Polyunsaturated Fat: 1g | Monounsaturated Fat: 3g | Cholesterol: 51mg | Sodium: 493mg | Potassium: 13mg | Fiber: 1g | Sugar: 6g | Vitamin A: 6IU | Vitamin C: 1mg | Calcium: 5mg | Iron: 1mg
PIN THIS POST!