If you love pumpkin desserts, then pumpkin custard pie is likely to become one of your all–time favorites! This egg custard pie includes cinnamon, ginger, allspice, and cloves, so it truly tastes like fall, and the filling is unbelievably smooth and creamy. Even better, making one is easy as pie with a pre-made crust!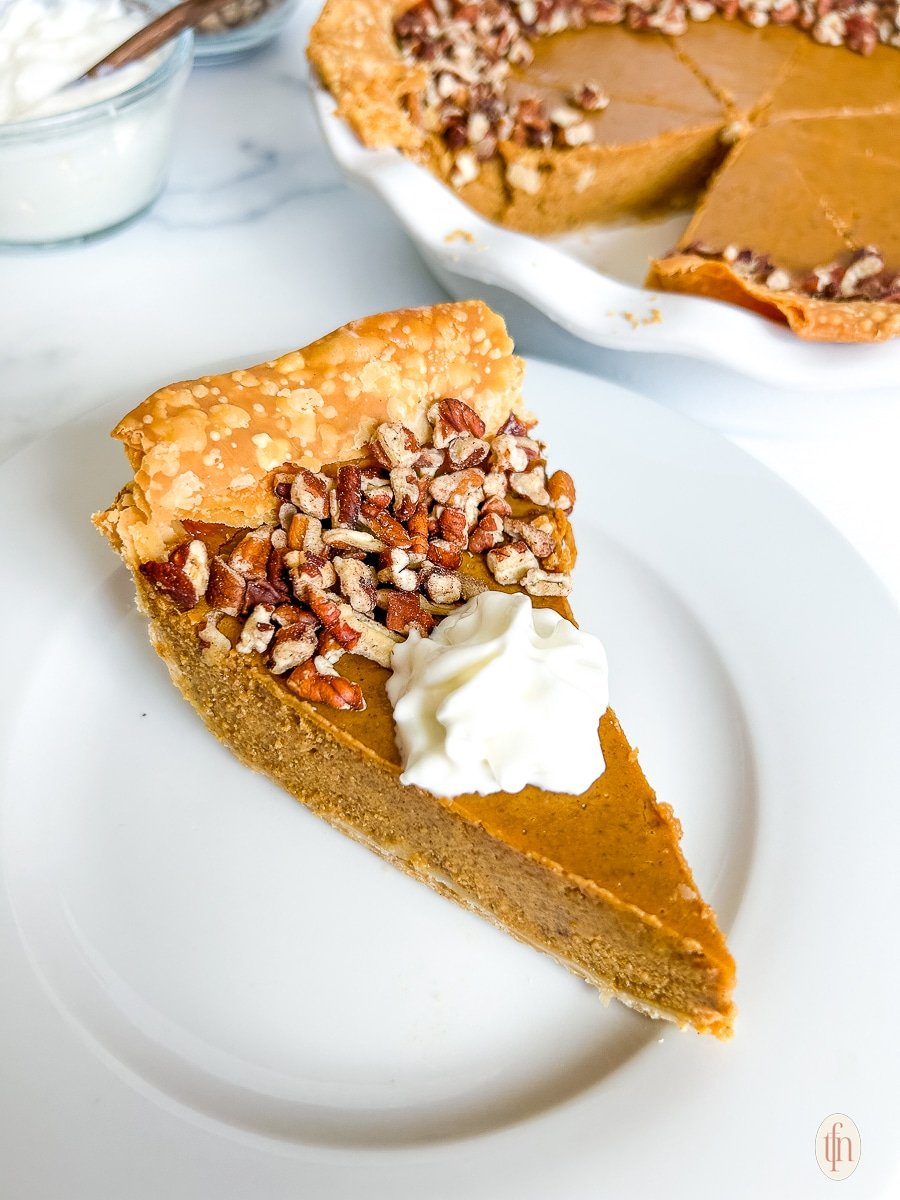 Why We Love Pumpkin Custard Pie
Uses our tried and true pumpkin custard recipe.
This classic custard firms up perfectly every time. You can use it for two different, but equally perfect holiday desserts.
Two different crust options.
If you don't enjoy making pastry dough from scratch, this recipe is calling your name!
Can be made ahead to save time.
Unlike traditional pumpkin pie filling, which tends to dry out after a couple of days, an egg custard pie stays fresh and creamy in the fridge for up to a week.
Ingredient Notes and Substitutions
Spices
We recommend cinnamon, ginger, allspice, and cloves for warm flavors. However, feel free to opt out of any of those spices if you prefer. Or, you can substitute pumpkin pie spice for all of the individual spices. Use what's already in your drawer or cabinet.
🎯 TFN Pro Tip
The shelf life of dried spices depends on how long ago they were manufactured. One great way to ensure that the dried seasonings and spices in your kitchen are fresh and flavorful is to declutter and organize your spice drawer every couple of months.
Pumpkin Puree
Use the canned version and double-check that it is not pie filling. Pie filling has all sorts of ingredients added, including sugar. You want only pureed pumpkin for this recipe.
Pie Crust
The recipe for this pumpkin custard dessert calls for an unbaked pie crust. For convenience, you can buy a premade crust from the store. Or, if you have a favorite crust recipe, feel free to use it.
Pumpkin Custard Pie Recipe Tips for Success
Use the right tools for blind baking the crust.

Lining the crust with a sheet of foil and pie weights or dried beans will prevent the crust from bubbling or puffing up when there is no filling to weigh it down.
Remember to create venting holes!

Halfway through the process of par-baking (aka blind baking) the crust, pull it from the oven and remove the foil and weights. Then, use a fork to prick a few holes in the crust before you return it to the oven to finish baking. These venting holes allow steam to escape while the crust is baking.
Whisk well to prevent lumps in the pumpkin custard filling.
Cover the edges of the crust to prevent burning.
We recommend using a pie crust guard or aluminum foil.
For the best results, bake until the edges of the crust are deep golden in color.

Sure signs of a perfectly baked egg custard pie are a golden crust and a puffy-looking filling that barely jiggles when shaken.
Egg Custard Pie FAQ
What is the difference between custard and egg custard?
Simply put, custard is thickened with cornstarch, whereas egg custard uses whole eggs and milk to create a smooth, thick texture perfect for pies and dessert sauces.
How do you keep pumpkin custard pie from being runny?

Custard pies firm up as they cool down, so the key is to give it plenty of time to cool to room temperature. We recommend at least 2 hours, or chill it in the fridge for about 45 minutes.
What ingredient thickens custard pie filling?
Egg yolks are the key ingredient. The three eggs in this egg custard pie recipe help create a thick filling with a smooth and creamy consistency.
Serving Suggestions
This creamy pumpkin pie is delicious as-is, or with a bit of whipped cream on top.To boost the flavor, add some maple syrup, chopped nuts, or a sprinkle of cinnamon sugar over the top. It's sure to be a big hit!
Pumpkin Custard Pie
Pumpkin custard pie is a scrumptious treat with warm pumpkin flavors in an egg custard pie. This recipe makes a great Thanksgiving dessert!
Ingredients
1 pie crust 9-inch, unbaked **See Notes
15 ounces canned pumpkin puree (not pie filling)
¾ cup packed brown sugar
1 cup evaporated milk
3 large eggs beaten
2 teaspoons vanilla extract
2 teaspoons ground cinnamon
1 teaspoon ground ginger
½ teaspoon ground allspice
¼ teaspoon ground cloves
½ teaspoon salt
Instructions
Preheat oven to 375ºF. Place unbaked crust in a pie pan, and place onto a rimmed baking sheet. Line the crust with a sheet of aluminum foil, then cover with a layer of pie weights or dried beans.

Parbake the crust in preheated oven for 20 minutes. Remove pan from the oven and remove the weights and foil. Using the tines of a fork, poke several venting holes in the bottom of the crust. Return crust to the oven and continue baking, uncovered, for 10-15 minutes, or until lightly golden in color.

Remove crust from oven and set on a wire rack to cool while you prepare the filling. Keep the oven heated at 375ºF.

To a large mixing bowl, add pumpkin puree, sugar, milk, eggs, spices, and salt. Using a hand mixer set at medium speed, mix the filling until smooth, about 2 minutes. (Alternatively, use a hand whisk to mix the filling.)

Pour pumpkin custard filling into the baked pie shell. If desired, cover the edge of the crust with a crust guard or use foil to cover it. *This helps prevent the crust from burning or becoming too dark.

Return pie to the oven and bake for 55-60 minutes, or until the edges of crust are deep golden in color, the filling is puffy, and the center barely jiggles when shaken.

Cool at room temperature for at least 2 hours before serving. **Alternatively, place the pie in the refrigerator to speed up the process.
Notes
Pie pastry can be purchased already lined in a pie plate and ready to bake, or you can use a sheet of homemade pastry crust. If you choose to make your own, place it in a 9-inch pie plate.
Nutrition shown is for 1/10th of a pie.
Nutrition
Serving: 1 slice | Calories: 268kcal | Carbohydrates: 39g | Protein: 6g | Fat: 10g | Saturated Fat: 4g | Polyunsaturated Fat: 1g | Monounsaturated Fat: 4g | Trans Fat: 0.01g | Cholesterol: 79mg | Sodium: 301mg | Potassium: 288mg | Fiber: 2g | Sugar: 25g | Vitamin A: 8452IU | Vitamin C: 3mg | Calcium: 134mg | Iron: 2mg
PIN THIS POST!