Add decluttering and organizing a spice drawer to your deep cleaning list! It only takes a few simple steps depending on when spices expire and how often you use them for the dishes you enjoy cooking the most. And when everything is in its place, you'll be able to grab and use your seasonings with your eyes closed — almost!
Why Declutter Your Spice Drawer?
You'll know exactly when spices expire and need to be replaced, saving back-and-forth trips to the grocery store.
You'll learn which seasonings you use a lot — and which you don't.
It's a great habit to get into!
Organizing the kitchen pantry takes a little longer the first time. After that, if it's done once or twice a year, it becomes a quick and easy task.
Special Note from Renae
As a food blogger, I have about 100 different spices and seasonings in my kitchen – far too many to fit in a small spice drawer. So, I keep them in a shelving unit attached to my pantry. (I've shared photos of my pantry organization a number of times in my Instagram stories).
But, I realize that many people keep their spices in a drawer near their stove. So, I went to my daughter's house, to declutter her spice drawer!
This is Heather's collection, before organizing…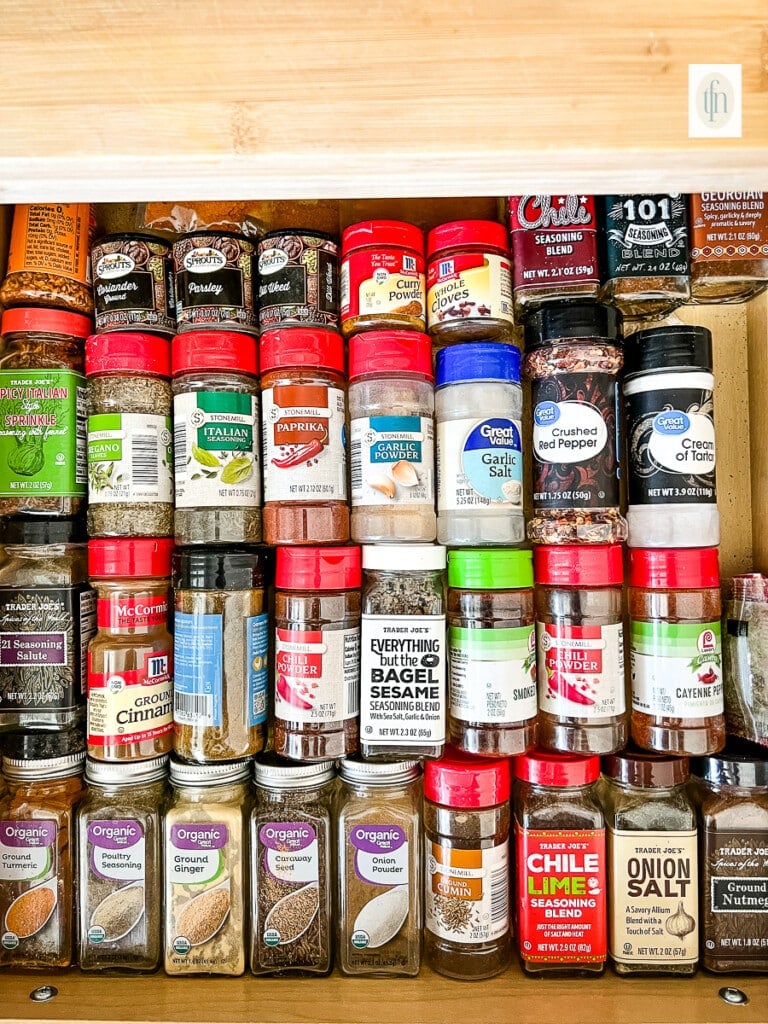 After decluttering and organizing – using metal, clear topped, food safe tins for a clean, uniform look!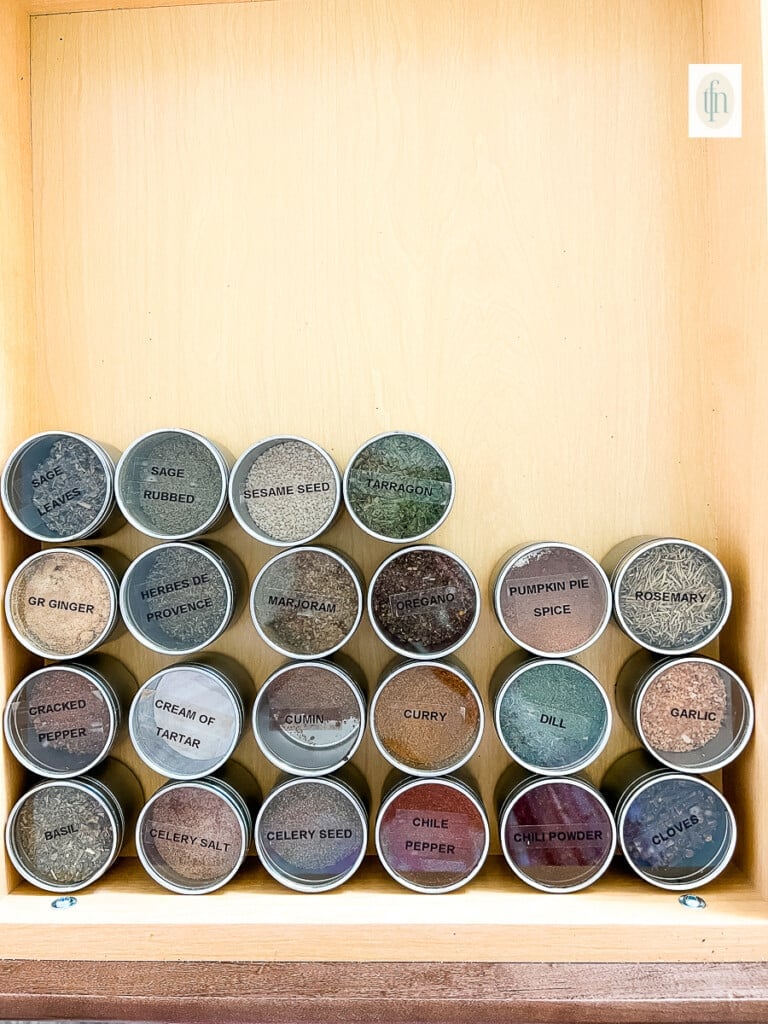 5 Easy Steps to Cleaning and Organizing a Spice Drawer
Empty the drawer.

The best way to organize a spice cabinet or drawer is to start with a blank canvas. Go ahead and remove all of the bottles (and anything else that's stuffed in the drawer). Toss out the contents of any bottles that are mostly empty.
PRO TIP:
Keep empty containers and bottles that are in good condition. Recycle or repurpose them, or if nothing else, reuse them to store your restock of new spices.
So, can you use spices past the expiration date? Possibly, but consider this:

While it's safe to use spices past the use by date, they don't do their job well. Old seasonings lack flavor, and they don't have much aroma either.
We recommend throwing out seasonings that have been in the spice cabinet for more than 6 months.
When we find duplicate containers of the same spice and they aren't older than the use by date, we condense them into one.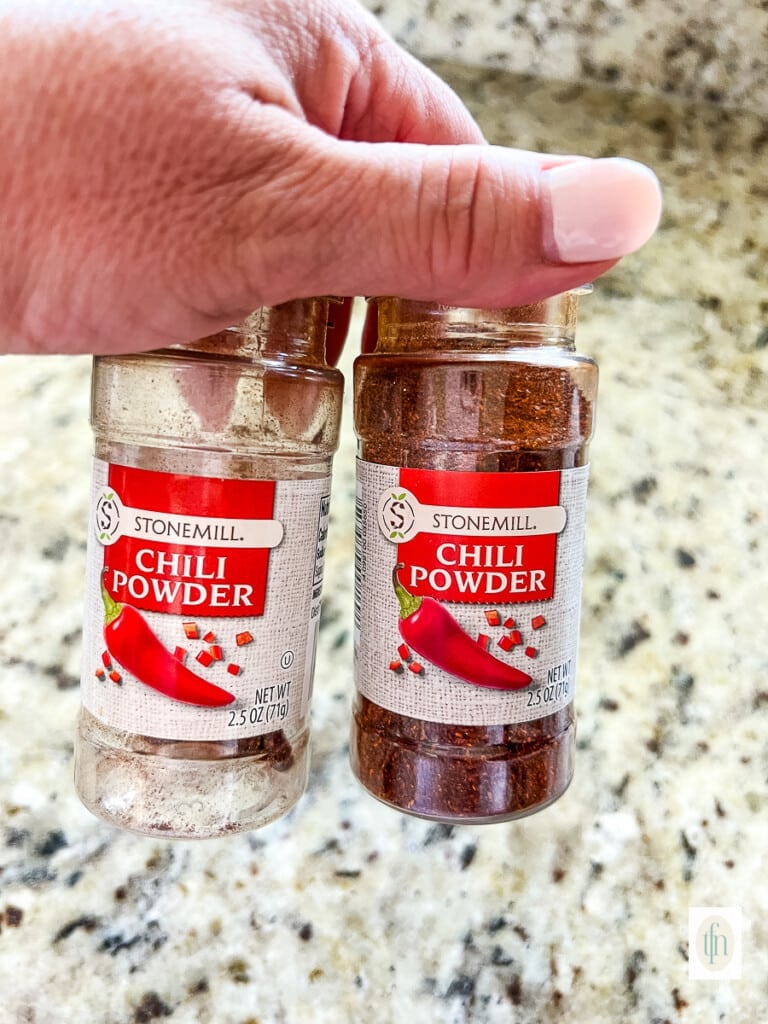 Oh, and while you're in there, throw out your stash of restaurant sauce packets, too! If you haven't used them in the past few months, chances are, you won't use them anytime soon. 😉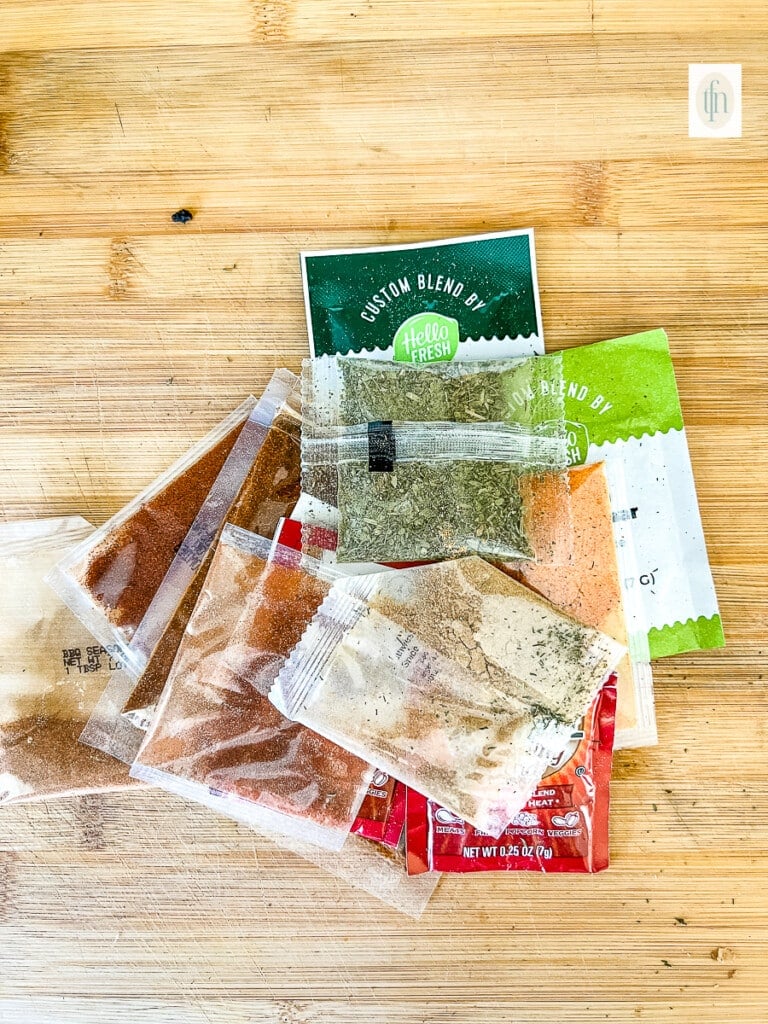 Clean and disinfect, inside and out.

This step might seem unnecessary, but trust us on this. Cleaning the outside of your spice drawer will remove any bacteria that may be lingering on the handle.

Even if you're extra careful, it is easy to cross contaminate surfaces. For example, when you open the drawer to take out the chicken taco seasoning while you're working with raw chicken breast.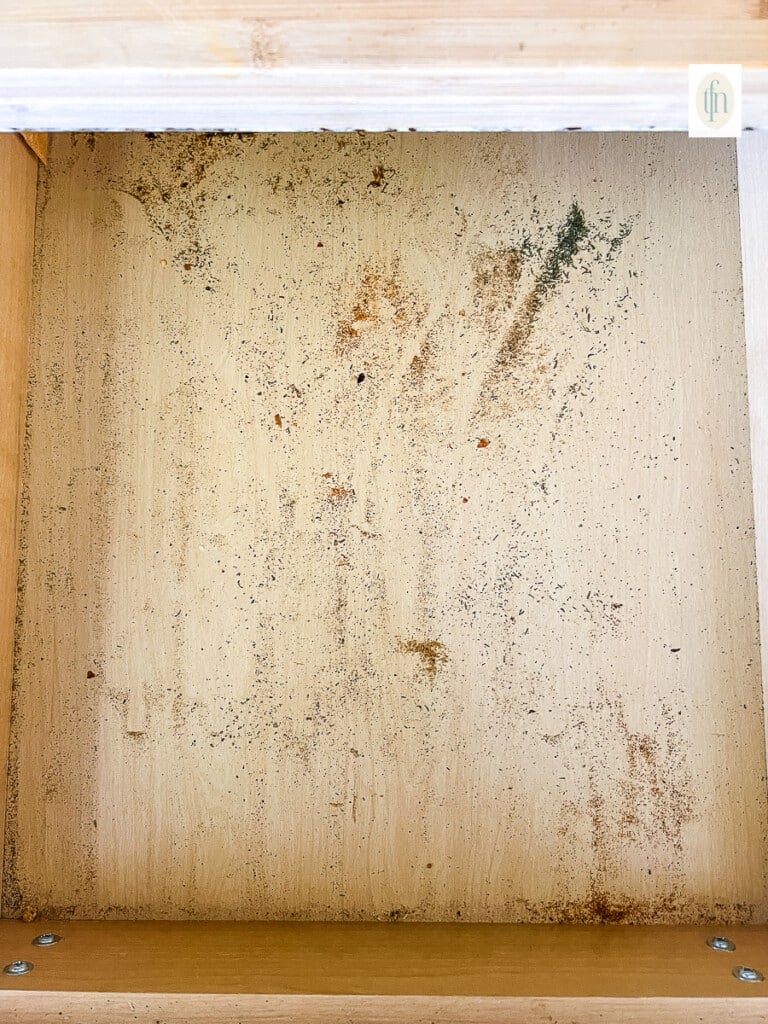 Not only that, but over time, dust can settle on walls, and even inside of drawers. A handheld vacuum is great for larger messes, but doesn't do a very good job of cleaning up ground spices from the tiny corners of a spice drawer.
We suggest using food-safe disinfecting wipes and a microfiber cloth instead. Not only are they free of bleach and other harmful chemicals, they also slip easily into tiny nooks and crannies.
Wash (and dry!) any empty jars or bottles.

Bottles with homemade labels, or jars with old labels that you'd like to replace, are easiest to scrape clean with a bit of Goo Gone and a plastic scraper. This dynamic duo has helped us reuse old jam and pickle jars for years!

Let the jars dry completely before refilling to keep seasonings fresh and prevent clumping.
PRO TIP:
Need to organize the spice cabinet or drawer quickly? Use a hair dryer – it helps dry the insides of bottles faster than air drying.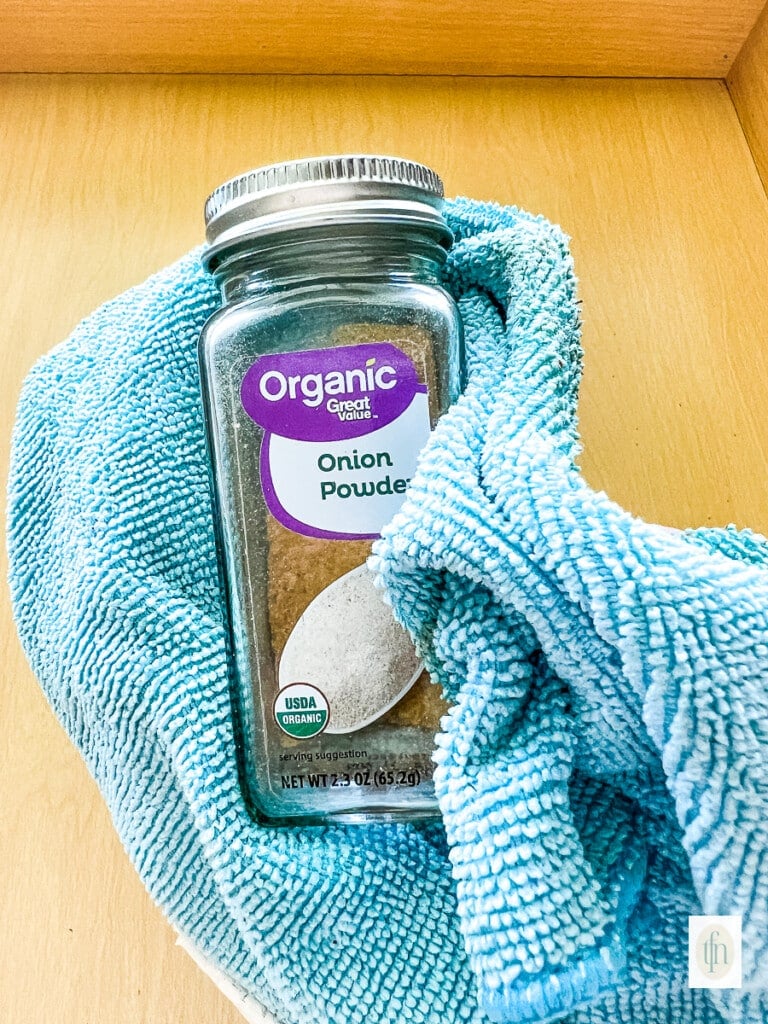 Refill and label the bottles.

Use a label maker or labels and a Sharpie to mark the date you opened the spice on the bottom of the container. This ensures optimal freshness and flavor.

A small funnel makes filling small bottles easier. Funnels are a cheap, easy investment, and you can use them for other kitchen-related tasks, too.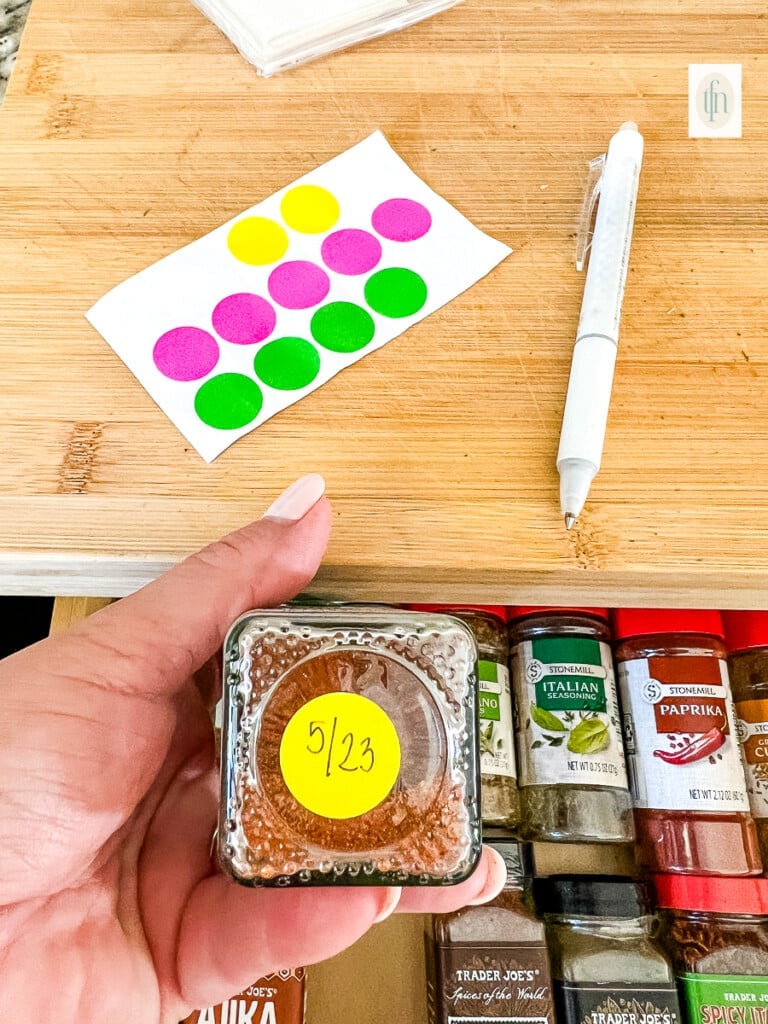 5. Use an insert or drawer spice rack to stay organized.
Using spice tins with labels and an organizer, like a spice rack insert, will keep each bottle firmly in its place. After all, there's almost no point in going through all the effort to declutter a spice drawer if everything's just going to roll around the second you close it!
PRO TIP:
If using spice tins doesn't work for your space, you might like these containers instead. We love them because there's an opening on one side for measuring spoons, and a shaker on the other side.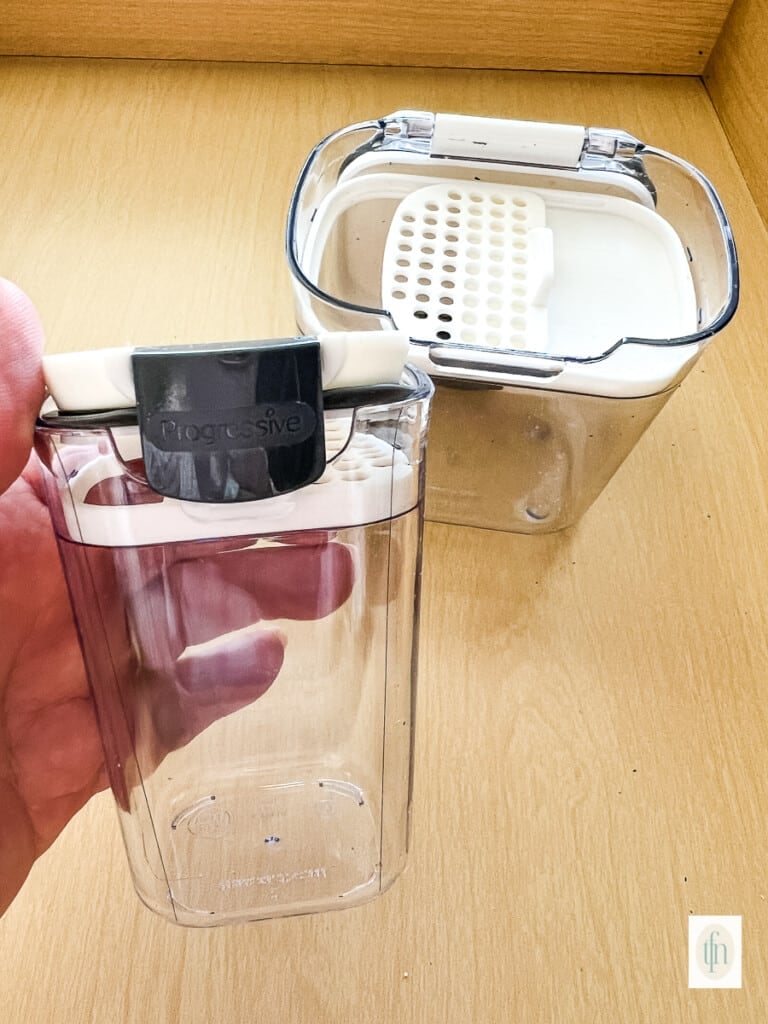 How you decide to organize is up to you — by cuisine, type of seasoning, expiration date, etc. In time, the method that works best for you will reveal itself!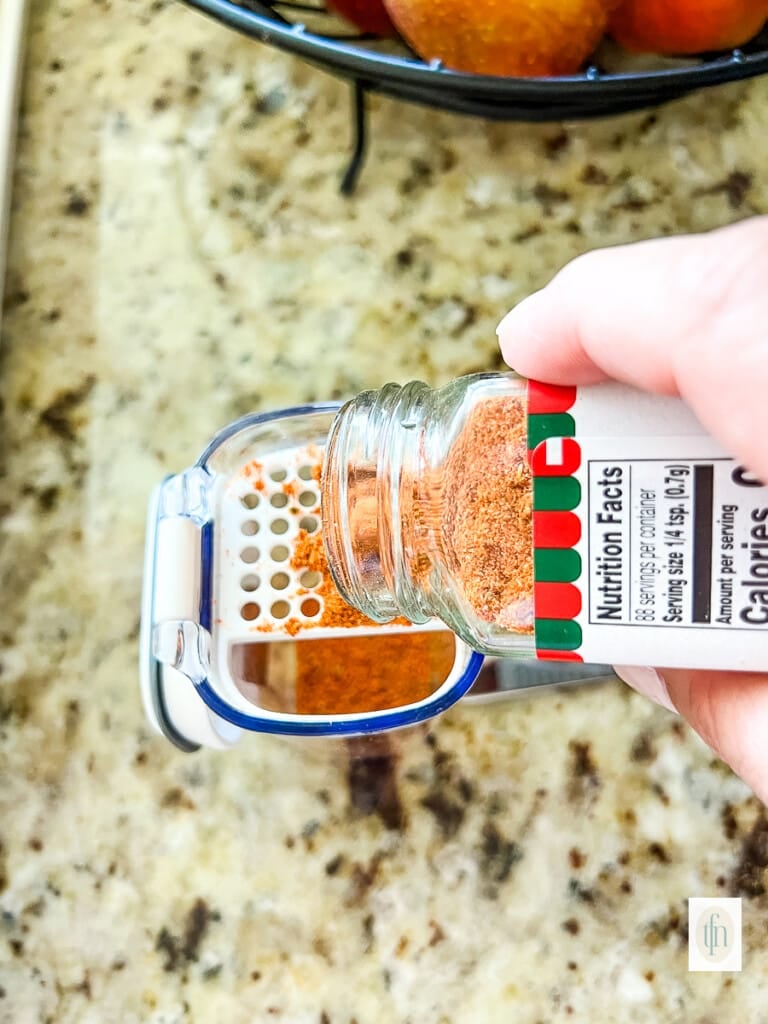 Do Spices Expire?
Do spices go bad or expire?
It depends. Whole peppercorns, mustard seed, saffron and spices in pods, like cardamom, last longer than ground seasonings such as paprika, chili powder, and garlic powder.

Dried herbs and similar spices expire quicker than whole ones, but not as quickly as ground ones. This includes your dried rosemary and oregano.
Tips to Stay Organized
Keep them dry by using silica gel packets, a small container of baking soda, or another natural moisture absorber inside the cabinet.
Stick to a spring cleaning schedule so that each time you need to declutter a spice drawer, it's quick and painless!
Don't replace the seasonings you hardly use. Did you toss two almost-full bottles of nutmeg? Don't replace them — instead look for substitutions among your more commonly used seasonings.
How do you organize a spice rack?
Organizing a spice cabinet or wall rack system is similar to organizing a spice drawer! Empty it, clean and refill the bottles, then order them in a logical way that matches your kitchen needs.
Racks can be great for easy access, and they don't accumulate the same dust and odors. However, they take up a good bit of counter space. Ultimately, it's all about preference and what works best for your available space.