Turn your bedroom into one you'd see in a 5-star resort – the first step is to learn how to layer a bed like they do! From the top down, we'll help you fill your space with bedroom linens and pillows, as you see in magazines. We're sharing all of the tips and layered bedding ideas you need to create a room that feels warm and inviting. It's time to transform your space into a haven that you actually enjoy spending time in!
Benefits of Learning How to Layer a Bed
Your bed becomes the centerpiece of the room, matching an overarching interior style or jazzing up an otherwise unassuming space.
The space actually becomes more versatile as you can remove or add layers to accommodate temperature changes or personal needs.
You can customize your bedding to suit the season and/or temperature. If your tastes change with the color of the leaves, you can have fun with small, impactful adjustments. Or, when things cool down, you can swap in flannel sheets to keep things cozy.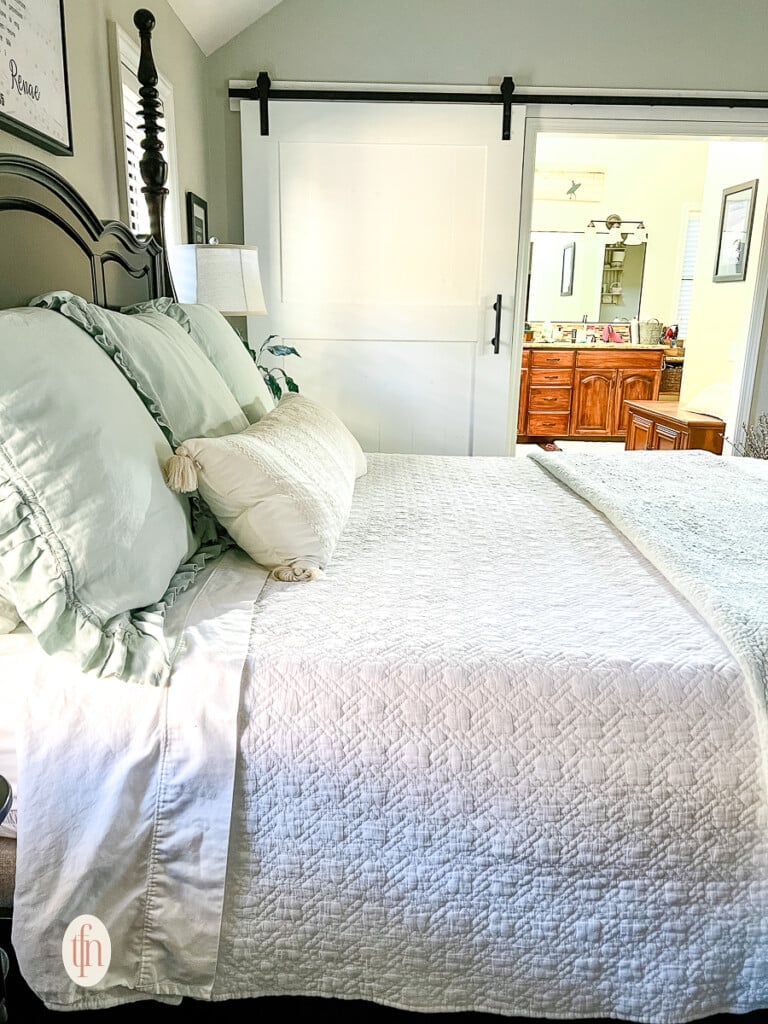 How to Layer Bedding From Bottom to Top
Mattress
The mattress is the foundation of your layered bed, so don't overlook its importance! Featherbeds are ultra-soft, down-filled mattress pads — a personal favorite. There are also down-alternative hypoallergenic featherbed options. When you lay on one, it feels like you're resting on a cloud!

Using a high-quality mattress topper can make the bed amazingly more comfortable – especially if you have an older mattress. Many offer cooling support if you sleep warm or have wool inside for durability and all-temperature comfort.

A mattress pad can protect and extend your mattress's life. Many are waterproof and machine washable. Other mattress pads are heated and moisture wicking.
Sheets
Most people use two sheets – the fitted sheet and the top sheet. Did you know there are other options?

A new hotel trend is the triple sheeting or three-sheet method. This uses a fitted sheet and two top sheets. In between the two top sheets are either a blanket or a comforter, depending on the season.

The top sheet can be omitted if you prefer, or if you like using the European custom of a fitted sheet and filled duvet cover instead. If you're a hot sleeper, you may not want that extra layer of bedding.
Blankets and Quilts
Quilts and blankets provide additional warmth and texture. Add them over your sheets for that extra coziness.

Using a lightweight quilt, as shown below, is how we layer our bed during spring and summer.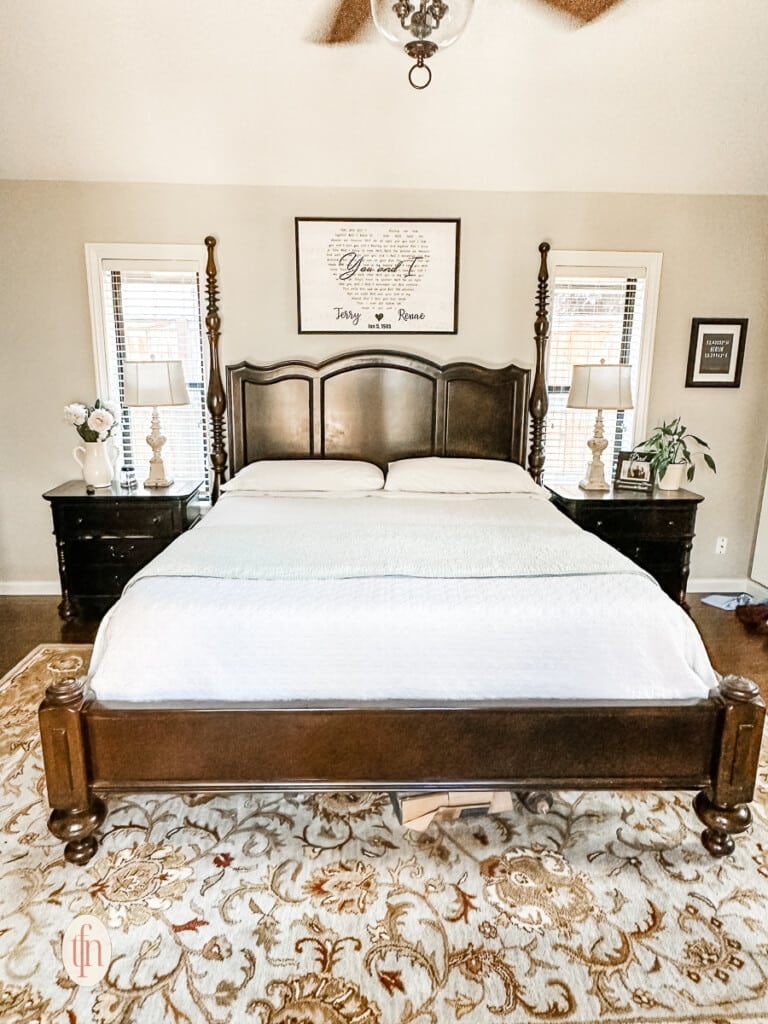 Duvet, Bedspread, or Coverlet
A duvet's pillowy layer adds height, style, and shape to the bedding. If you use one, it's important to invest in a duvet cover to extend its lifespan.

Duvets come in a variety of fills – from a classic down duvet insert, to a hypoallergenic down alternative insert, to cooling, moisture-wicking inserts.

If you have a duvet or comforter as the top layer of your bedding, then having a soft blanket or throw can add a pop of color or texture at the foot of the bed.
TFN Pro Tip
To make inserting the duvet into the cover easy, look for a duvet insert with strings on the four corners, and a duvet cover with loops sewn into the interior corners.

Assembly is simple:
a) Turn the duvet cover inside out.
b) Tie the duvet's strings to the loops on the cover.
c) Turn it inside out. Violá, your duvet is covered in a few minutes!
Pillows and Shams
Sleep quality should be your first concern, and you should test out your sleeping pillows before purchasing to assess their comfort, if possible. A good pillow can help you sleep soundly and promote healthy sleep.

Don't forget the importance of the pillowcase! Hypoallergenic protectors, luxurious silk, or budget-friendly satin covers will protect your pillow and are machine washable.

When layering the bed, we prefer stacking all the pillows vertically: sleeping pillows, then queen or king-sized pillow shams, and the Euro shams in front.

Throw and Accent Pillows
Throw pillows of various shapes and sizes are great for design, adding dimension, and even for propping up in bed. These are not meant for sleeping on.

Try to keep your accent pillows to a minimum, and be sure to have a place to store them – like a bench or blanket rack – at bedtime.
Different Types of Fabric for Bedding
Here's a quick look at some of the different materials and fabrics you'll come across shopping these layered bedding ideas:
In our in-depth guide to sheets, we discuss whether some of the pricier brands (we're looking at you, Boll & Branch and Pottery Barn) are worth the investment.
Our Top Layered Bedding Ideas
Ways to layer a bed for a more luxurious experience:
A hypoallergenic mattress stays fresher longer thanks to dust mite resistance and anti-allergy material. Great for guest rooms!
Layer a bed with a coverlet, folded near the foot of the bed, for style rather than practicality to complete your color scheme. It provides little to no warmth — after all, it's for the aesthetics.
Create a very plush appearance by adding inserts or using extra-large blankets or duvets.
Beautiful shams or accent pillows are great for adding height and luxury! Standard shams are, well, standard-sized, while Euro shams are particularly large and give your bed that 5 star resort or hotel look.
Mix and match colors and textures.
Layer a bed like a designer by ensuring that no two layers are identical. If your sheet color is dark gray, consider a bright white duvet. A patterned quilt of a similar color scheme can tie it all together.
Choose either warm tones OR cool tones, and then vary shades and intensity from there. Be careful not to go too bold with your bedding colors. At the end of the day, the bedroom should be a calming space just like when you're relaxing at a luxury hotel!
One important thing to mention in discussing how to layer a bed is to stick with basics on the bottom and place textures on top. For example, use plain, solid-colored sheets with fun, funky blankets.
Stay seasonal and practical.
Your throw pillows, covers, and blankets are the easiest to adjust through the seasons. Therefore, having weighted and warm as well as cool and breathable options for your top layers is key to staying comfy from season to season.
It's also a practical way to introduce seasonal color schemes and patterns that can be easily switched during the holidays (hello, Christmas red). Or who doesn't love a floral springtime throw, after all? After all, throws and throw pillows are inexpensive but fun ways to express your favorite holidays and seasons.
Don't forget the floor!
If your bedroom isn't carpeted, we recommend adding an area rug to help frame the bed as a centerpiece of the room. It also promotes feelings of warmth and comfort in your resting space.
How to Layer Bedding FAQ
How many layers go on a bed?
This depends on temperature and weight preferences, first and foremost, so how many layers can vary on personal preference. It generally hovers somewhere between four and eight depending on the number of blankets, pillows, and sheets.
Is there a correct way to make a bed?
As long as you start with the mattress and work your way up to sheets, blankets, and pillows, you're doing it right. Also, be sure to keep the patterned side of the fabric facing up.
To layer a bed like a hotel, you can also take time to fold hospital corners on your top sheets and oversized blankets.