As an Amazon Associate I earn from qualifying purchases, at no extra cost to you. See my disclosure policy here.
In honor of fall, let's make pumpkin shaped bread bowls for all the yummy soups we'll be serving as the weather cools. Learn how to make bread bowls from frozen bread dough loaves. It's as easy as thaw, shape, and bake! Get the bread bowl recipe below and serve up your soup, stew, or dip in style.
Fall is my favorite season of the year! Bring on the pumpkin spice, apple crisp, and lots of yummy soups please.
It's Soup Season!
As soon the calendar turns to September, it's soup season! What better way to enjoy a delicious meal of soup, chowder, stew, or chili than in a homemade bread bowl?
Bread Bowl Ideas
Plus, you'll find plenty of uses for these homemade pumpkin shaped bread bowls. They can hold cheese dips, spinach dips, or veggie dips. Or, add them to a cheese or charcuterie board.
They are the perfect edible fall décor, ideal for any setting this holiday season. Just imagine how stunning they would look on your Thanksgiving table.
When coming up with this frozen dough recipe idea, there were two musts.
First, the bread bowls had to look like real pumpkins, but be soft and chewy. Second, the prep so easy that kids could help make them.
As you'll see this recipe idea meets both.
Homemade Bread Bowls from Frozen Dough
You probably thought that making bread bowls would be complicated. Not when you are making homemade bread bowls from frozen dough.
Let me assure you that this bread bowl recipe is so simple that your kids can help with the prep. And, they will be so excited about seeing how their pumpkin bread bowls turns out. Plus, it might even encourage them to clean their bowls at dinner!
Fun Ways for Using Frozen Dough
I have to share how much fun it's been finding new ways to use frozen dough to make simple, easy (but stunning!) meals. Ready-Dough is easy and so versatile! Just thaw, create, bake, and serve. It is that effortless. You're free to focus is on creating something nutritious and tasty for your family.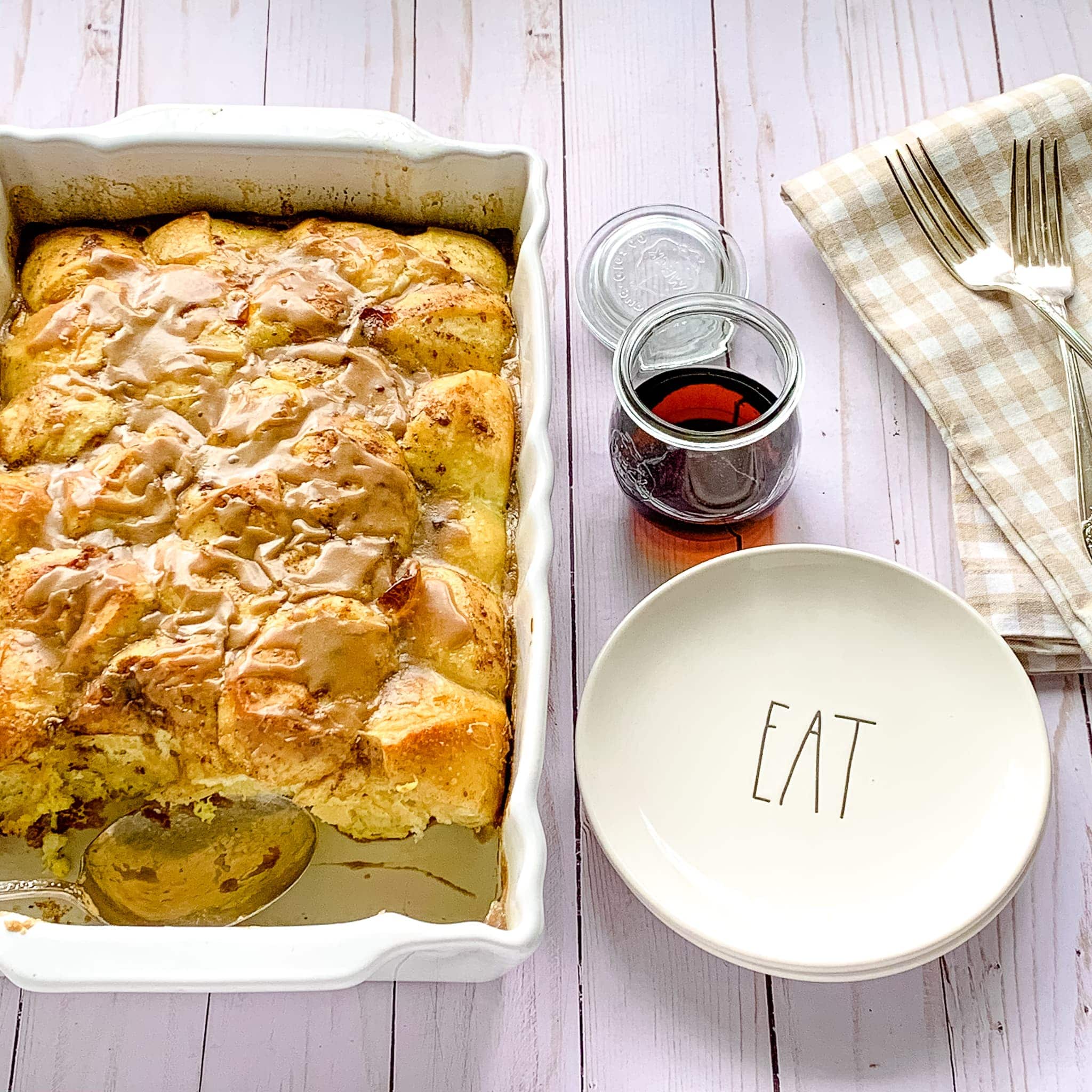 As a refresher, here are the some of the recipes I've made using frozen bread dough:
So, let's get making another great recipe with frozen dough!
What's Needed to make Homemade Pumpkin Shaped Bread Bowls
Egg
Cooking spray
Pastry or basting brush
Cotton string or twine
Scissors
Serrated knife with a sharp point
How to make Bread Bowls from Frozen Dough
You'll need a bag of Bridgford's Ready-Dough. There are three pre-made frozen bread loaves in each bag. Each loaf will make 3 medium or 2 large bread bowls.
Take out what you need, and follow the directions below for defrosting frozen dough.
How to Defrost Frozen Dough
There are two ways to thaw frozen dough:
1. Defrost frozen dough effortlessly in the refrigerator overnight. Place the frozen bread loaves on an oil sprayed sheet pan (or use parchment paper). Cover with plastic wrap that has been sprayed with cooking oil on the side facing the dough. Don't skip this last step, otherwise you'll wind up with a sticky mess. Let thaw in the refrigerator overnight, or for 8 – 10 hours.
2. For a quicker, but just as easy method, defrost the frozen bread loaves on your counter at room temperature. Place the frozen dough on an oil sprayed sheet pan (or use parchment paper). Cover with plastic wrap that has been sprayed with cooking oil on the side facing the dough. Don't skip this last step, otherwise you'll wind up with a sticky mess. Let defrost for 2-3 hours. The dough should still be cold.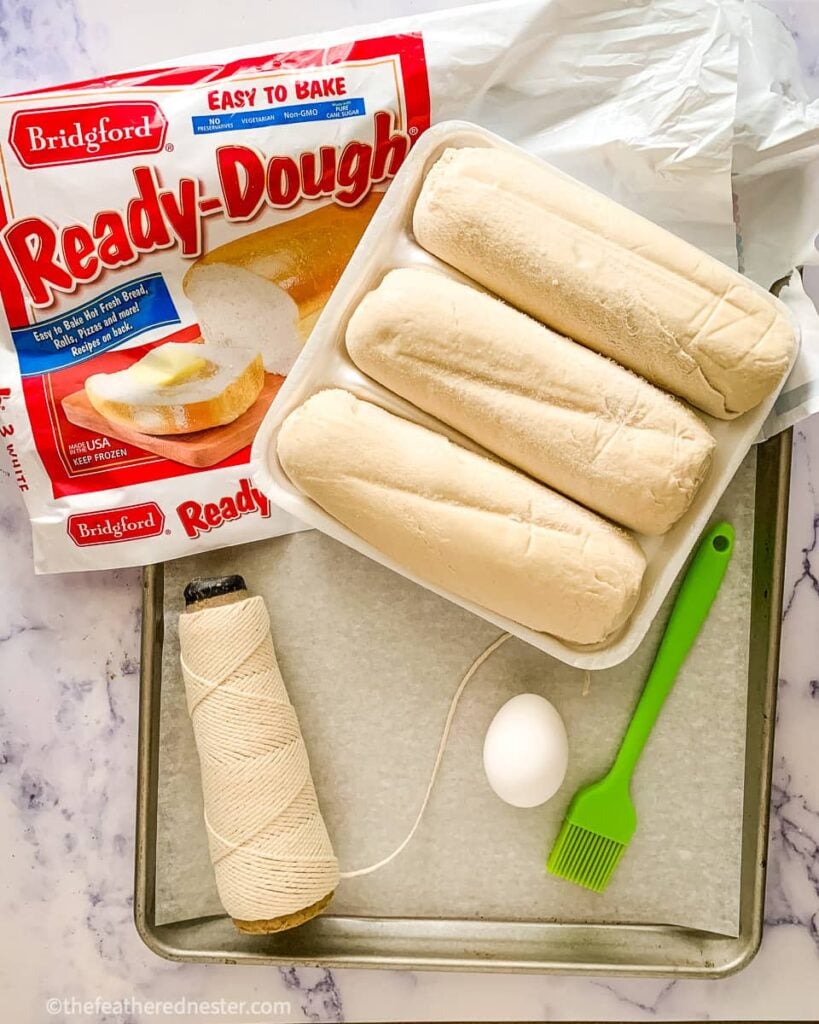 Shaping dough for Pumpkin Bread Bowls
For larger bread bowls, divide each loaf of dough in half. For medium sized bread bowls, divide into thirds.
Smooth the small piece of dough into a ball, stretching and smoothing the top and tucking the dough under. Two to three times to imitate pumpkin shapes. Then firmly pinch the underside of the bread dough.
Cut 3 strings of cotton string or twine (the kind you use to tie up roasts) to about 18" long. Lay them on the baking sheet in a wheel spoke pattern.
Place the pumpkin bread dough balls right in the center of the twine. Do this for each of the bread dough balls, without the strings overlapping subsequent balls.
As you can see in the photo, I just moved them to the sides. After the dough rises, you'll be pulling the strings up over the dough before baking.
Cover the dough balls with plastic wrap sprayed with cooking oil on the side that faces the dough. Let rise until double in a warm, draft free location for 2-3 hours
Baking the Pumpkin Shaped Bowl
Preheat oven to 350º.
Remove plastic wrap. Lift the twine up, spreading it evenly to imitate pumpkin sections. Tie the twine together about 3" above the top of the dough. Let the tied string rest on the top of the dough ball. Carefully trim excess string.
Using a fork and small bowl, mix the egg until completely blended together. Brush the egg all over the top and sides of the dough.
Bake for 25 minutes, until the pumpkin bread bowl is golden brown.
Let cool and gently remove the twine.
To complete the look of a pumpkin, use parsley stalks or leafy celery tops as pumpkin stalks.
How to Cut Bread Bowls
Here's how to cut bread bowls easily and safely. You'll need a serrated knife with a sharp point.
Hold the tip facing down at a 45º angle and cut a circle around the widest part of the bread bowl.
Lift the top off of the bread bowl.
To make room inside the bowl, run your fingers inside flattening excess bread.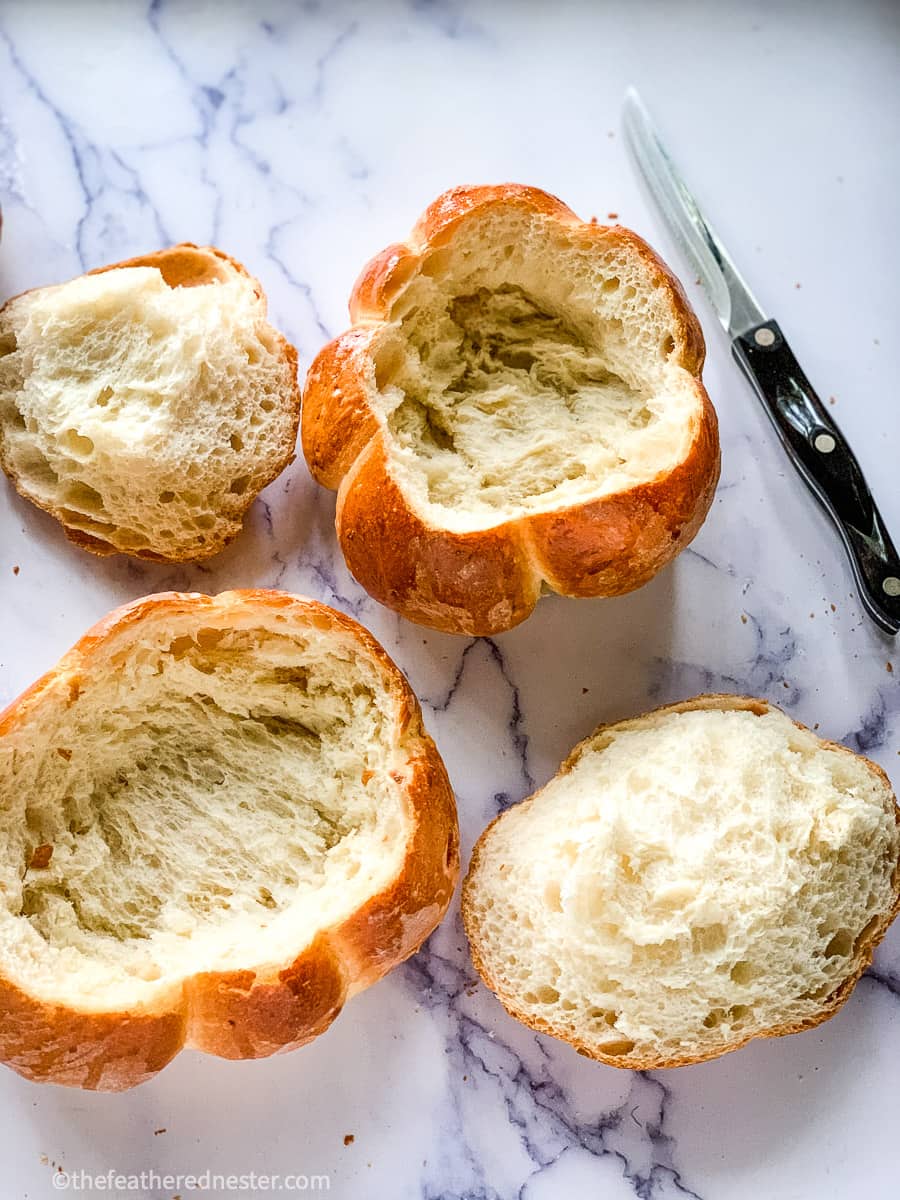 Best Soups for Bread Bowls
Although these bread bowls are soft and pliable, they held up with broth-based soups and stews during recipe testing.
Here are my recipes for the best soups for bread bowls:
Get the Bread Bowl Recipe
homemade bread bowls from frozen dough
Bridgford's Frozen Dough
I rely on Bridgford Food's Ready-Dough and rolls throughout the year. Whether it's a few rolls for dinner, dough for easy homemade pizza, or making monkey bread – their products always deliver the absolute best results.
Bridgford does the prep, with quality non-GMO ingredients, so you don't have to.
TFN tip: for a stress-free holiday, keep plenty of Bridgford's frozen dough on hand! Their Ready-Dough and Parkerhouse Rolls are so easy and versatile! Just thaw, bake, and serve. It's really that effortless! And, if you keep them in your freezer, they're ready when you need them.
Look for their Ready-Dough, Parkerhouse Rolls, and Monkey Bread at your local grocery store and Wal-Mart locations.
Get your discount coupon for Bridgford's frozen dough here. You can find Bridgford Frozen Bread & Rolls at a retailer near you here.
This post was sponsored by Bridgford Foods. All views are my own and based on my own personal experience using Bridgford's products.