I love a juicy, grilled burger with all the fixings and once you taste these absolutely delicious Grilled Turkey Burgers, you won't miss the ground beef. Get my surprisingly simple ingredients that transform ordinarily humble turkey burgers into the best turkey burgers around.
As an Amazon Associate I earn from qualifying purchases, at no extra cost to you. See my disclosure policy here.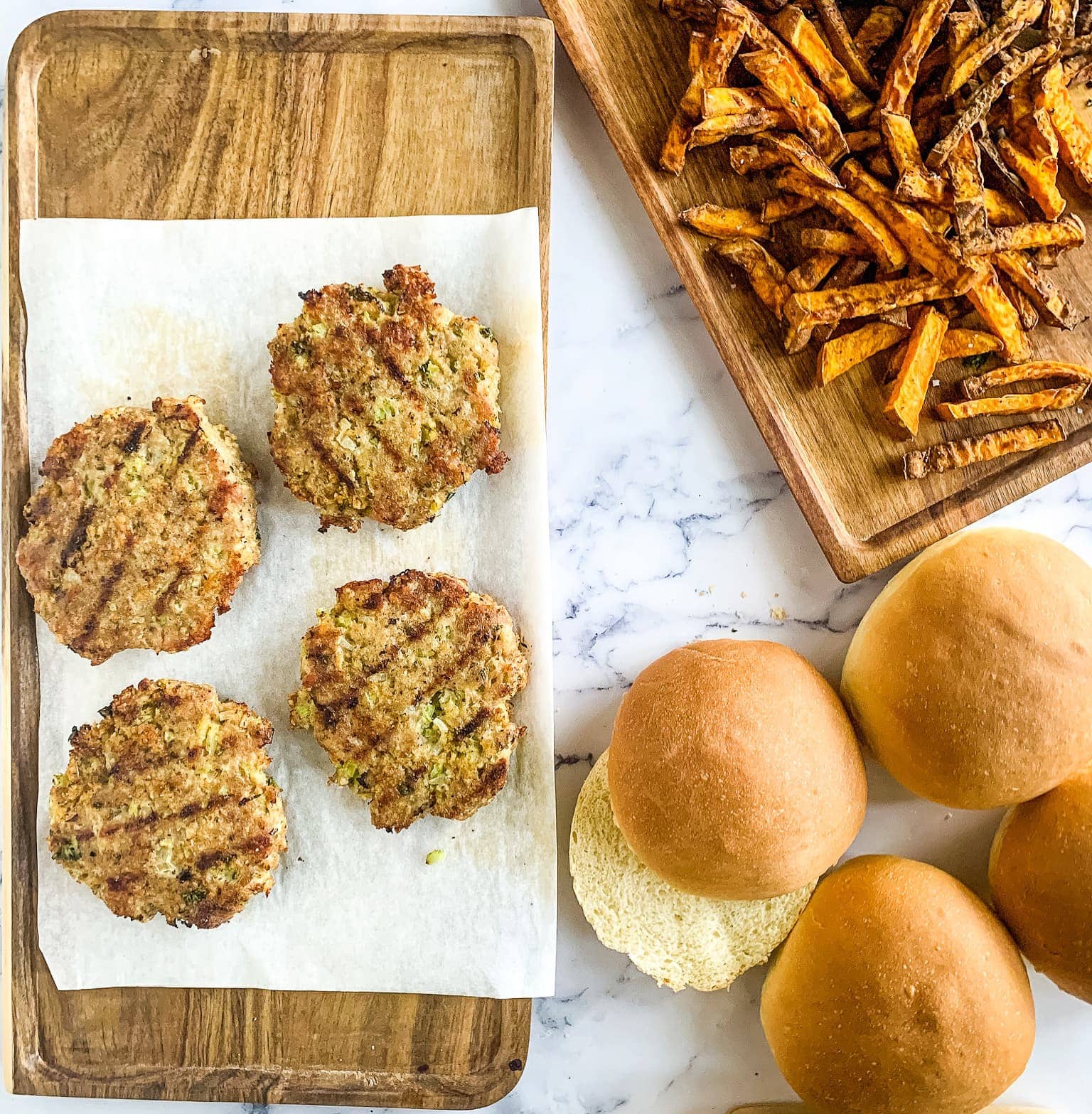 We are fortunate to live in an area where you can easily grill year-round. And, we do. At least once or twice a week my husband grills our dinner. So, grilling is how we like doing things, though I cover the other methods below.
I actually created this recipe a few years ago and shared it in a weekly dinner menu. But, it is so good that I decided it deserves its own recipe post. This tried-and-true recipe is simply the best-grilled turkey burgers we have ever had.
Be sure to try my quick and easy burger buns (shown above) to make the most delicious burger ever!
What you Need for the Best Turkey Burgers
lean ground turkey
egg
bread crumbs or cubes (gluten-free is fine)
onion
fresh parsley
ranch dressing seasoning (see substitutions in recipe notes)
I recommend using ground turkey that comes in a plastic tray, rather than in a tube. The ground turkey that comes in plastic trays tends to be firmer in texture and less "wet."
This recipe is so adaptable that I've used fresh bread, gluten-free bread, panko, and even dried sourdough bread crumbs. Use whatever you have on hand, and I provide equivalents below in the recipe.
I love the flavor that ranch dressing seasoning gives to the turkey burgers.
But, you can easily substitute it with a homemade seasoning blend. I've shared my favorite ranch dressing seasoning substitute in the recipe. I created this substitute seasoning blend because most ranch dressing seasonings contain MSG, which I am very sensitive to.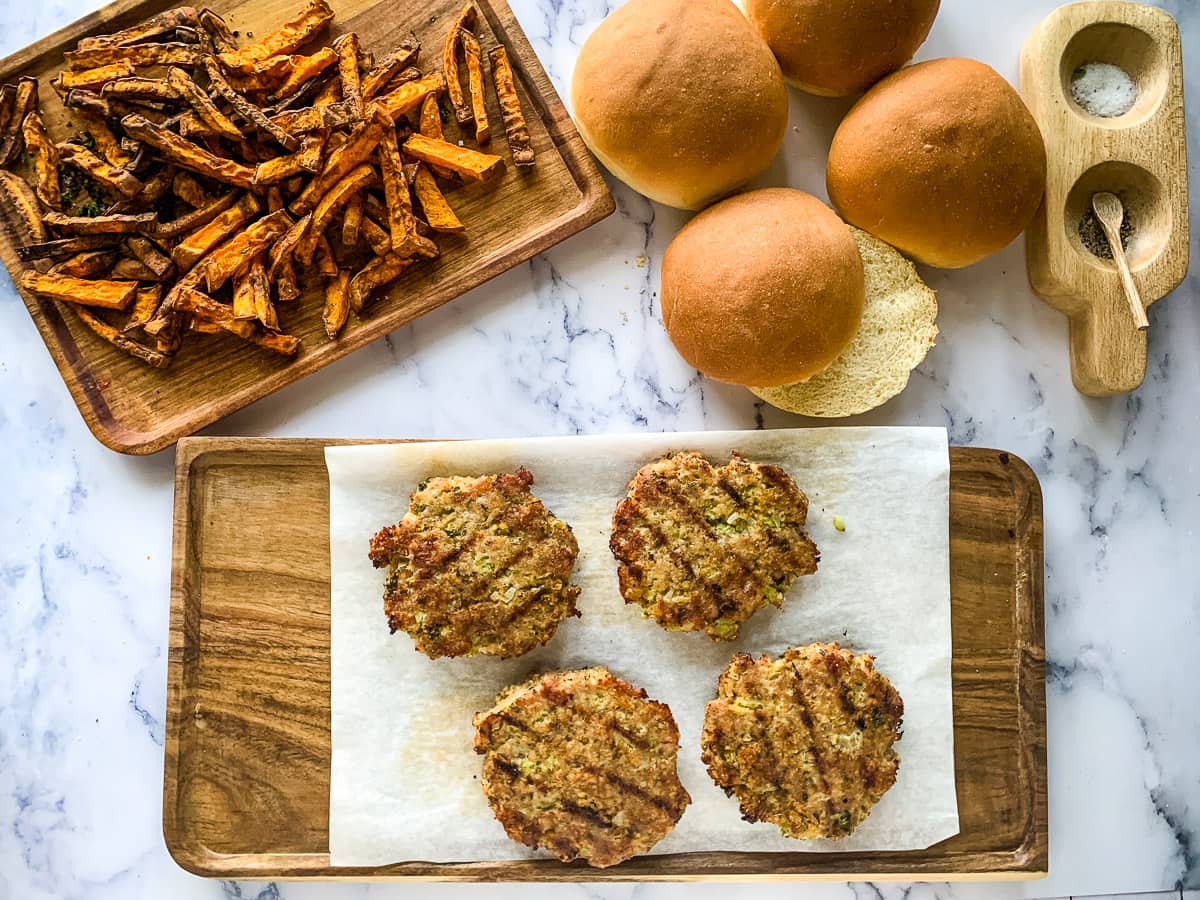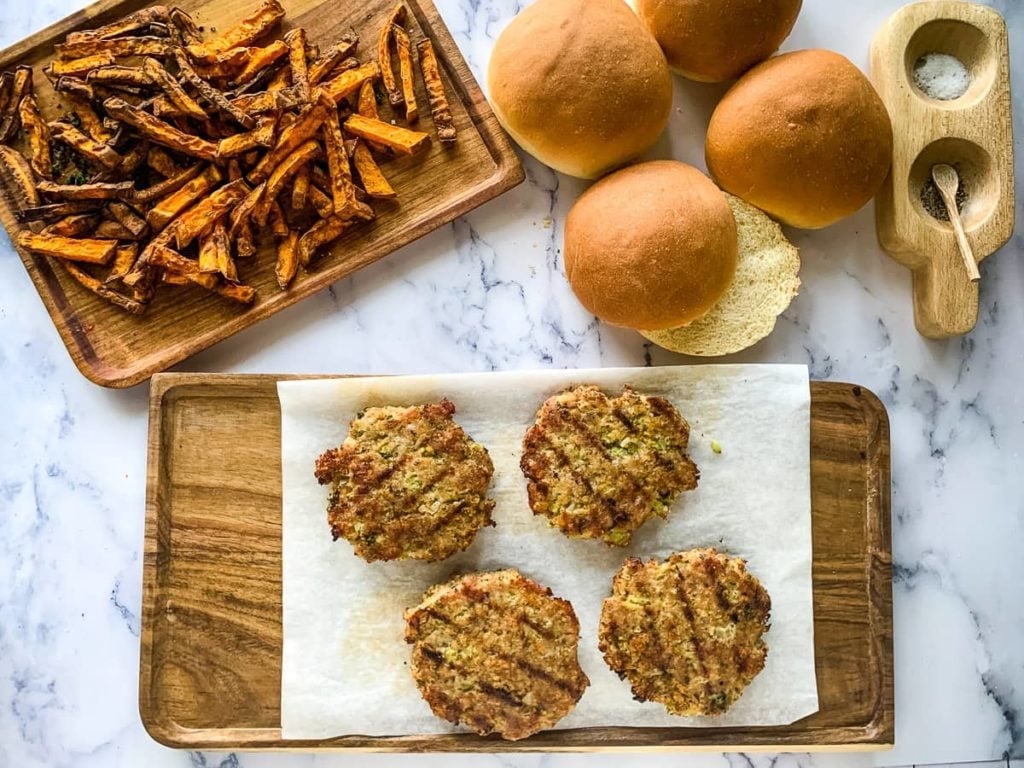 What Makes These Turkey Burgers so Good
A number of things ensure these turkey burgers are loaded with flavor:
Grilling the turkey burgers gives them that amazing chargrilled flavor. Although you can make a tasty turkey burger in a skillet or under the broiler, the taste isn't quite the same.
Ranch dressing seasoning gives these turkey burgers an amazing flavor. It is the special ingredient that really transforms these burgers. Poultry tends to be a little bland, but these burgers are bursting with flavor.
The perfect amount of chopped onion. Sometimes onion can make or break a recipe. Here, it definitely helps make it.
How to Make Perfect Ground Turkey Burgers
Making the best and juiciest burgers is a really simple process:
Add the egg, bread crumbs, onion, fresh parsley, and ranch seasoning to a bowl.
Break the ground turkey into pieces and add to the bowl. Mix it well with clean hands or a folk.
Separate into 4 pieces. The meat mixture will be sticky. So, use wet hands to create the patties.
Refrigerate at least 15 minutes before cooking. This helps the turkey patties together during cooking. These patties can be made the day prior, and kept in the refrigerator covered.
Then grill, pan fry, or broil according to the directions in the recipe below.
These burgers are really the juiciest and tastiest burgers! Thanks to my special ingredients, you won't have to worry about bland turkey burgers. You'll proudly serve these burgers at your next outdoor cookout.
Once you try these burgers, you are likely to start making them frequently as we do. So, I've included some fun variations below (after the recipe) to keep things fresh.
WHAT GOES WELL WITH TURKEY BURGERS?
Elevate your burgers to the next level with these delicious buns and sides: Quick & Easy Hamburger Buns, Smoked Mac & Cheese, Summer Greens, Loaded Potato Casserole.
Frequently Asked Questions
How to grill turkey burgers without falling apart?
We use a grilling mat on our grill when cooking burgers, fish, and veggies. I highly recommend getting one if you grill often. If you don't have a grilling mat then clean and well grease your grill grates before preheating the grill. Once you add the burgers to the grates, do not move them until they have seared on the one side (about 5 minutes) and it's time to turn them over.

Another tip that helps your burgers keep from falling apart is to let them refrigerate a few hours before grilling.
How long to grill turkey burgers?
About 5 minutes per side. Use a temperature probe to check the internal temperature of your patties. Since they are poultry, they should be 165º if done.
What can I do to keep the turkey burgers from drying out?
This recipe makes the juiciest turkey burgers. Overcooking is the #1 cause of dry turkey burgers. Use a thermometer to check the internal temperature of your burgers every few minutes.
My burger mixture is really wet. Is this normal?
Ground poultry is generally "wetter" than ground beef. My tips for the perfect turkey burgers: dampen your hands to form the patties and refrigerate your patties before cooking.
Can I make the patties ahead?
Yes, you can make them a day or two ahead. Form the patties and cover them with plastic wrap or aluminum foil to keep them from drying out.
I don't have dry ranch dressing seasoning. What can I use instead?
Here is my easy dry ranch dressing substitute: 2 tablespoons Buttermilk Powder (optional), 1 tablespoon garlic powder, 1 teaspoon dried parsley, 1 teaspoon dried chives, 2 teaspoons onion powder, and 1 teaspoon dried dill. Mix together and use in place of 1 package of seasoning.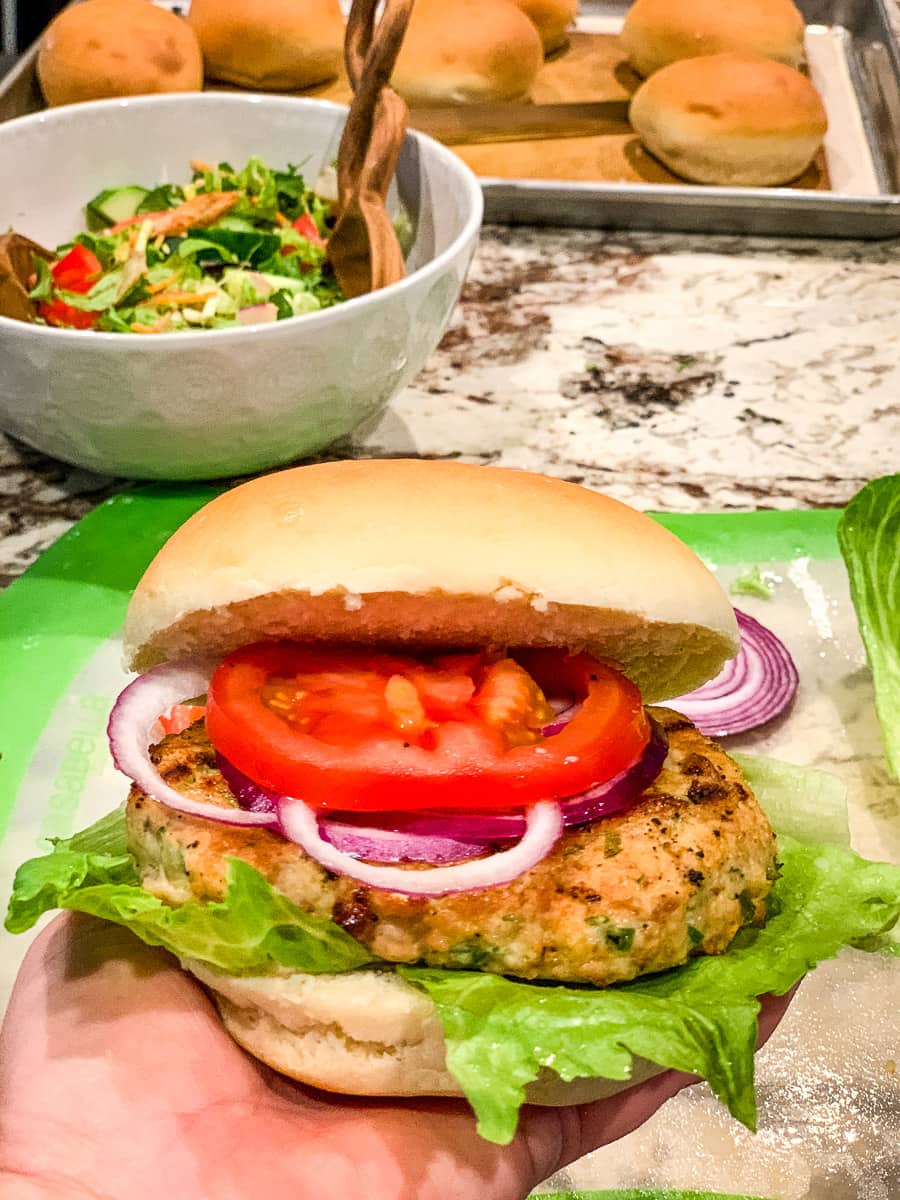 Get the Easy Recipe
Turkey Burgers
These burgers are so delicious, you'd never know they have turkey instead of beef! Check out my recipe for 40 minute homemade buns for the best meal ever.
Equipment
Grill, Broiling Pan, or Skillet
Ingredients
1

large egg

lightly beaten

2/3

cup

dry bread crumbs

(see notes for substitutions)

1

tablespoon

minced fresh parsley

1

pound

lean ground turkey

1

packet

Hidden Valley Ranch Seasoning

(see notes for substitutions)
Instructions
In a small bowl combine the egg, bread crumbs, onion, parsley, and seasoning. Crumble turkey over mixture and mix well. Mixture will be sticky, so wet your hands to shape the patties. This recipe makes 4 patties.

Place the patties in the fridge for at least 15 minutes before cooking. This allows the burgers to firm up and helps to keep them from falling apart during cooking.
Grilling directions:
Clean and grease the grill grates very well before preheating. Using a grill mat ensures that your patties won't fall apart during grilling. Grill over medium heat for 5-6 minutes on each side. The burgers are done when the internal temperature reads 165°.
Broiling directions:
Place the burgers on a broiling pan, about 4" from broiler. Broil for 5-6 minutes on each side. The burgers are done when the internal temperature reads 165°.
Skillet directions:
Preheat a heavy skillet (a cast iron skillet works great) over medium-high heat. Add burgers and let sit without moving until browned, about 5 minutes. Turn burger and let brown on the other side. The burgers are done when the internal temperature reads 165°.
Notes
Bread Crumbs: Use 2/3 cup of dried bread crumbs or 2 slices of fresh bread cut into 1/2″ cubes. For gluten-free, use gluten-free bread.
Ranch seasoning substitute: 2 Tablespoons Buttermilk Powder (optional), 1 Tablespoon garlic powder, 1 teaspoon dried parsley, 1 teaspoon dried chives, 2 teaspoon onion powder, 1 teaspoon dried dill. Mix together.
Nutrition
Calories:
234
kcal
|
Carbohydrates:
17
g
|
Protein:
31
g
|
Fat:
4
g
|
Saturated Fat:
1
g
|
Cholesterol:
103
mg
|
Sodium:
731
mg
|
Potassium:
385
mg
|
Fiber:
1
g
|
Sugar:
1
g
|
Vitamin A:
172
IU
|
Vitamin C:
1
mg
|
Calcium:
43
mg
|
Iron:
2
mg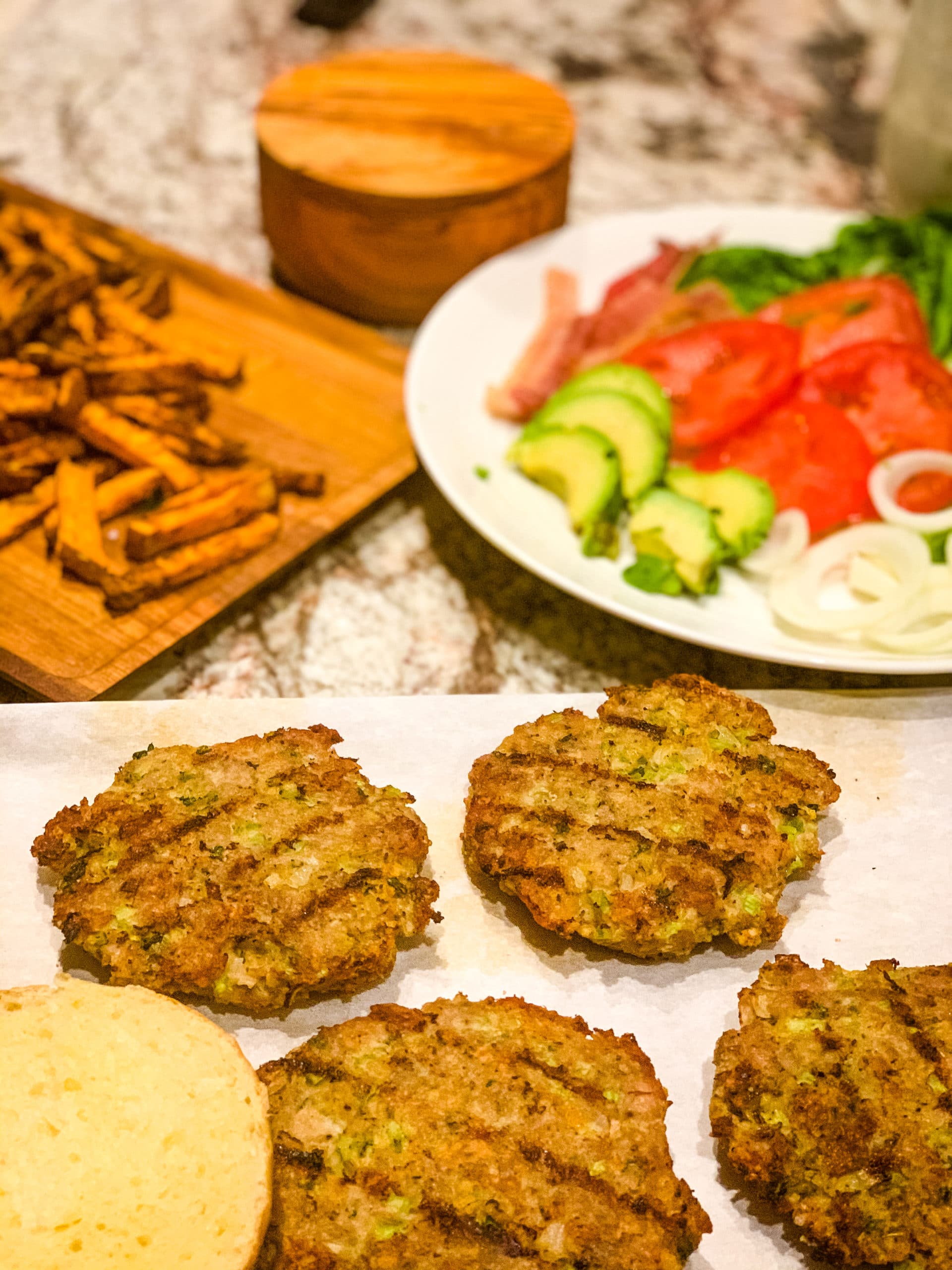 Homemade Turkey Burger Variations
Turkey Chile Burgers: Mince a mild green chile and add it to the turkey mixture for a mild heat.
Turkey Pepper Jack Burgers: Mix 1/2 cup of grated pepper jack cheese into the turkey mixture.
Smoked Turkey Burgers: add a few soaked wood chips to foil or a metal smoker box, and place just under the grill grate. Or, add 1 teaspoon of liquid smoke to the turkey mixture.
Turkey Cheeseburgers: Mix 1/2 of grated cheddar or American cheese to the turkey mixture.
Get More Poultry Recipes!