We love turkey burgers on the grill with all the fixings! Get my surprisingly simple ingredient that transforms ordinarily humble, tasteless ground turkey burgers into the best around.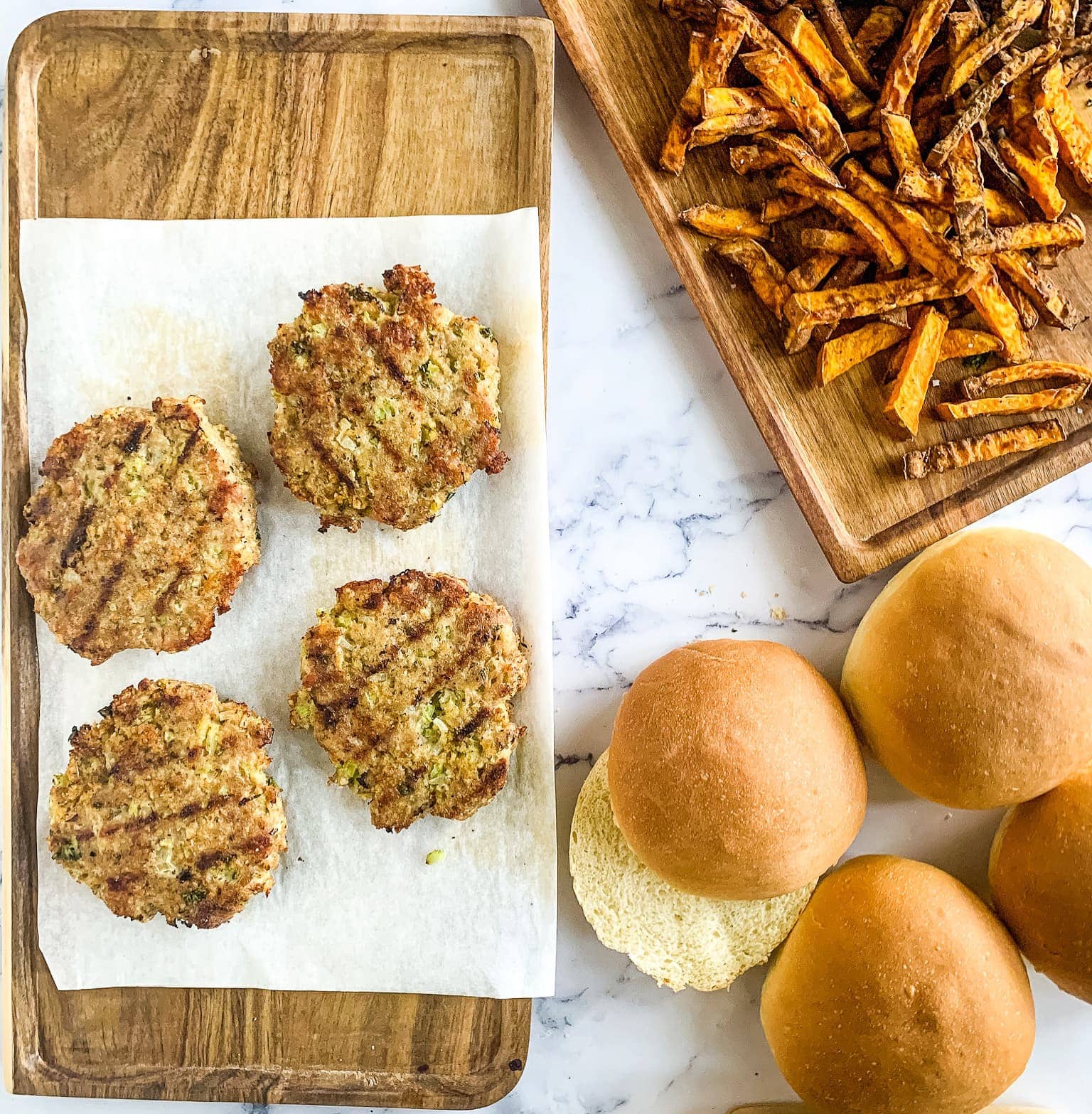 WHY WE LOVE TUrkey burgers on the grill
When our doctor told us to cut back on red meat, I was crushed. Juicy grilled hamburgers are a spring and summer staple on our outdoor kitchen's grill.
That inspired me to develop a recipe that would give us that smoky, beefy flavor from ground poultry. It's so good that I shared it in a weekly dinner menu and now I'm sharing it here. This tried-and-true recipe is simply the best-grilled turkey patties we have ever had.
Try my quick and easy burger buns (shown above) or sourdough burger buns to make these most delicious hamburgers ever!
Ingredients and Substitutions
lean ground turkey – or use ground chicken for an equally yummy burger substitution! I recommend 85% lean ground meat for the juiciest poultry burger.

what holds them together – the egg and bread crumbs bind with the ground meat to keep it together. This recipe is so adaptable that I've used fresh bread, gluten-free bread, panko, and even dried sourdough bread crumbs.

seasonings – along with chopped onions, our secret ingredient – dry ranch seasoning – makes these absolutely tasty! I love the flavor that ranch dressing seasoning gives to the turkey burgers. But, you can easily substitute it with a homemade seasoning blend to avoid the MSG in many prepared ranch dressing seasoning.
Cooking tip: all ground meat is not created equal. If you buy ground poultry in a tube, blot it with paper towels before mixing the burgers. It tends to be more wet and have had issues with our it crumbling on the grill, compared to that sold in trays.
Equipment used
To make Grilled Turkey Burgers, Renae recommends (and uses) these supplies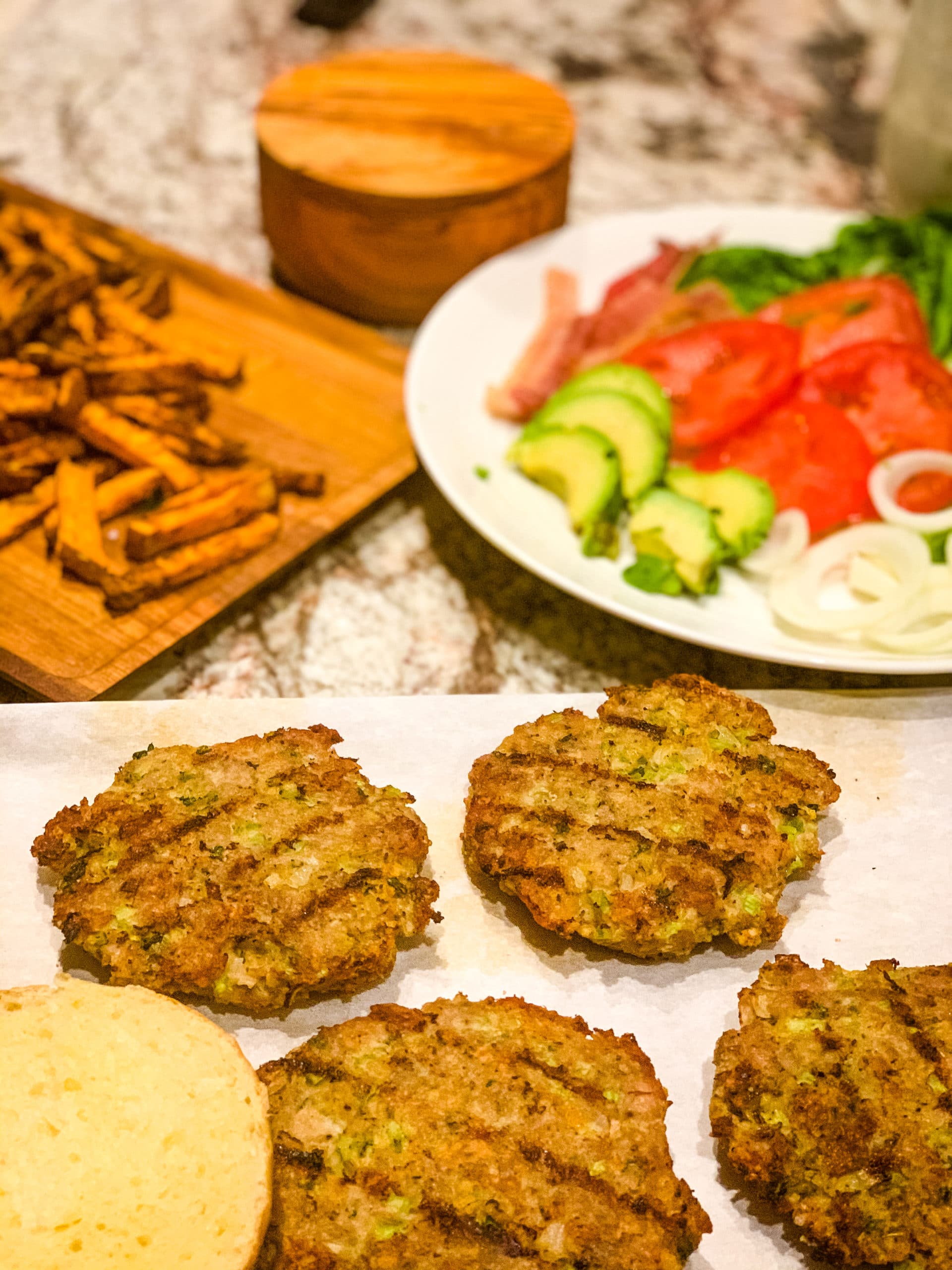 What Makes a Good Ground Turkey burger
Making turkey burgers on the grill gives them that amazing chargrilled flavor. Although you can make a tasty burger in a skillet or under the broiler, the taste isn't quite the same.

Ranch dressing seasoning gives these turkey patties a flavor boost. It's the special ingredient that really transforms them. Poultry tends to be a little bland, but these burgers are bursting with flavor.

Use wet hands to mold the patties. The ingredients can be a little sticky. Using damn hands to form the patties keeps them from sticking to your hands.

Refrigerate for 15 minutes before grilling. Let the hamburgers rest in the fridge for at least 15 minutes beforehand. Why? Prepping the ground patties tends to warm the fat, so cooling then makes them sizzle when they hit the grill.
Serving suggestions: Elevate your meal with these tasty sides: Smoked Mac & Cheese, Summer Greens, Loaded Potato Casserole.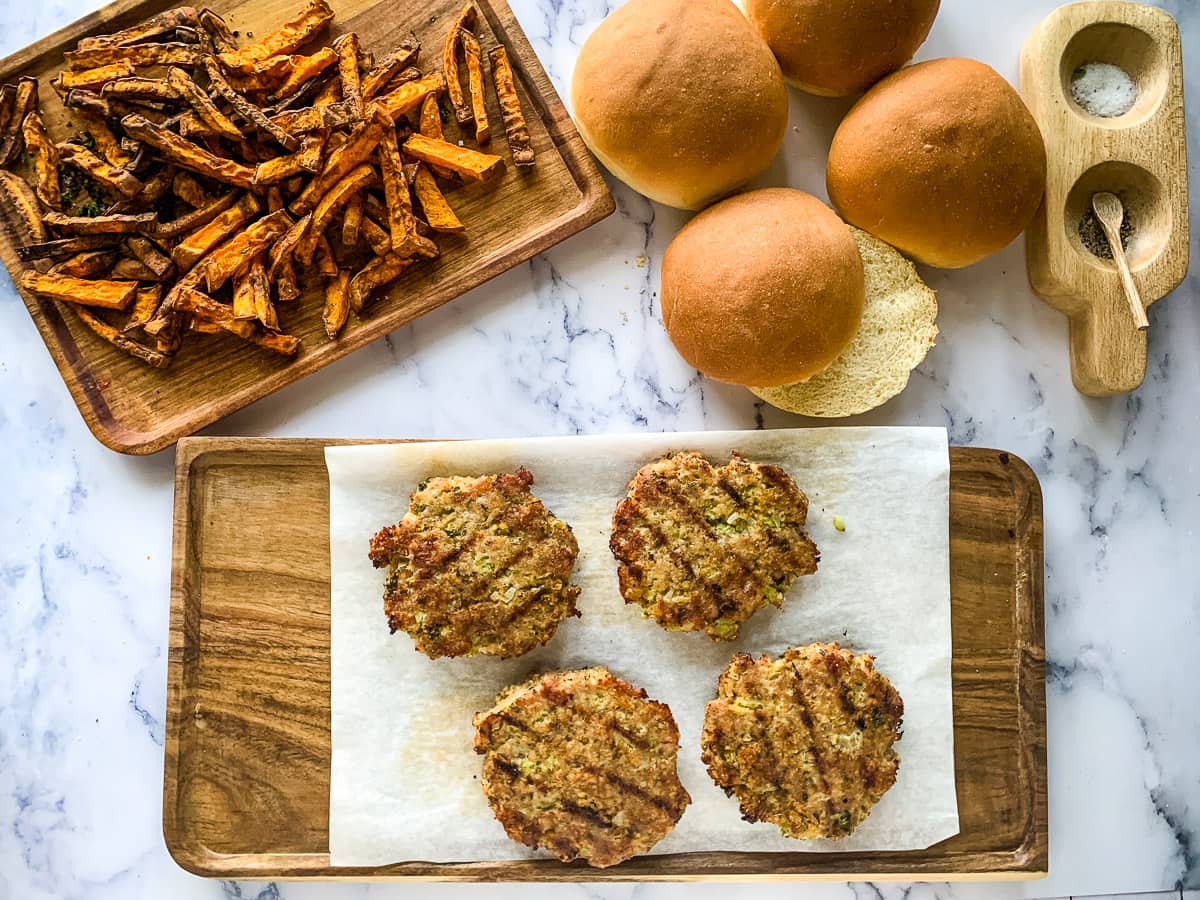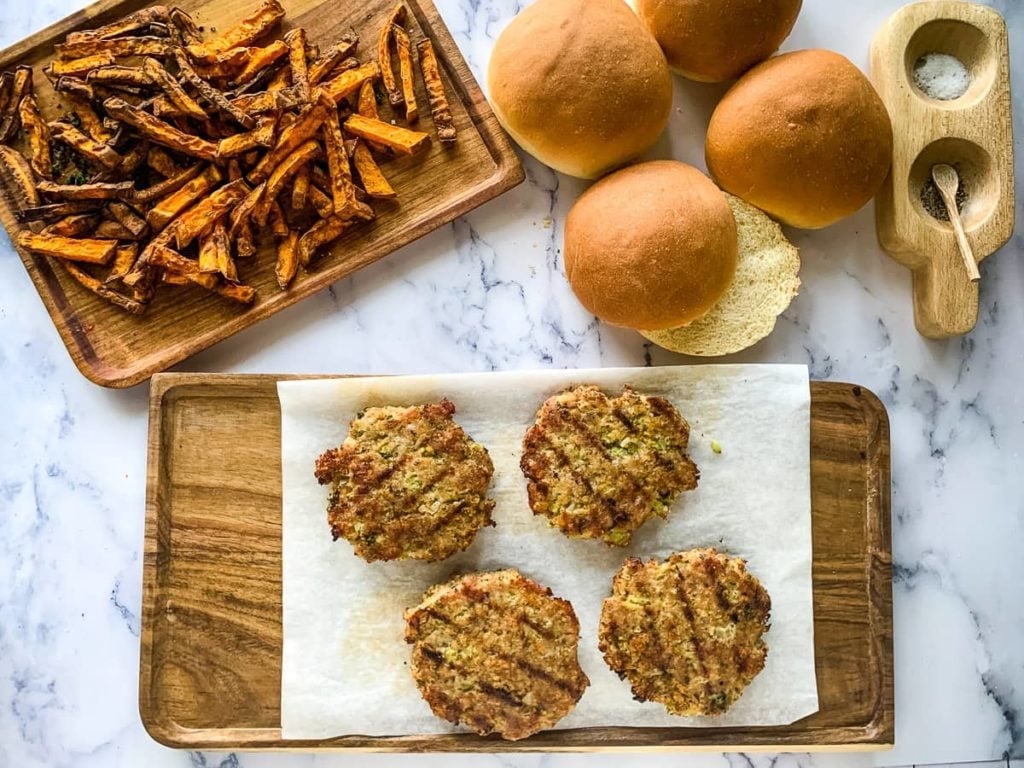 Recipe Variations
Mix in diced green chiles: chop mild green chiles or use add 2 tablespoons of canned chopped chiles and mix it to the ground meat for Southwestern flavor.

Top with pepper jack cheese: top with a slice of pepper jack cheese on the burger after removing from grill.

Make it smokey: mix in 1/4 teaspoon of liquid smoke to the meat mixture.
Frequently Asked Questions
How to make turkey burgers on the grill without falling apart?
If this is a problem for you, use a grilling mat for ground meat, fish, and veggies. Or clean and grease your grill grates well, and grease them before preheating the grill. Once you add the patties to the grill, do not move them until they have seared on the one side (about 5 minutes) and it's time to turn them over.
What can I do to keep the turkey burgers from drying out?
Overcooking is the #1 cause of a dry turkey burger. Use a thermometer to check the internal temperature of your meat every few minutes.
Can I make the patties ahead?
Yes, you can make them a day or two ahead. Form the patty and cover with plastic wrap or aluminum foil to keep them from drying out in the fridge.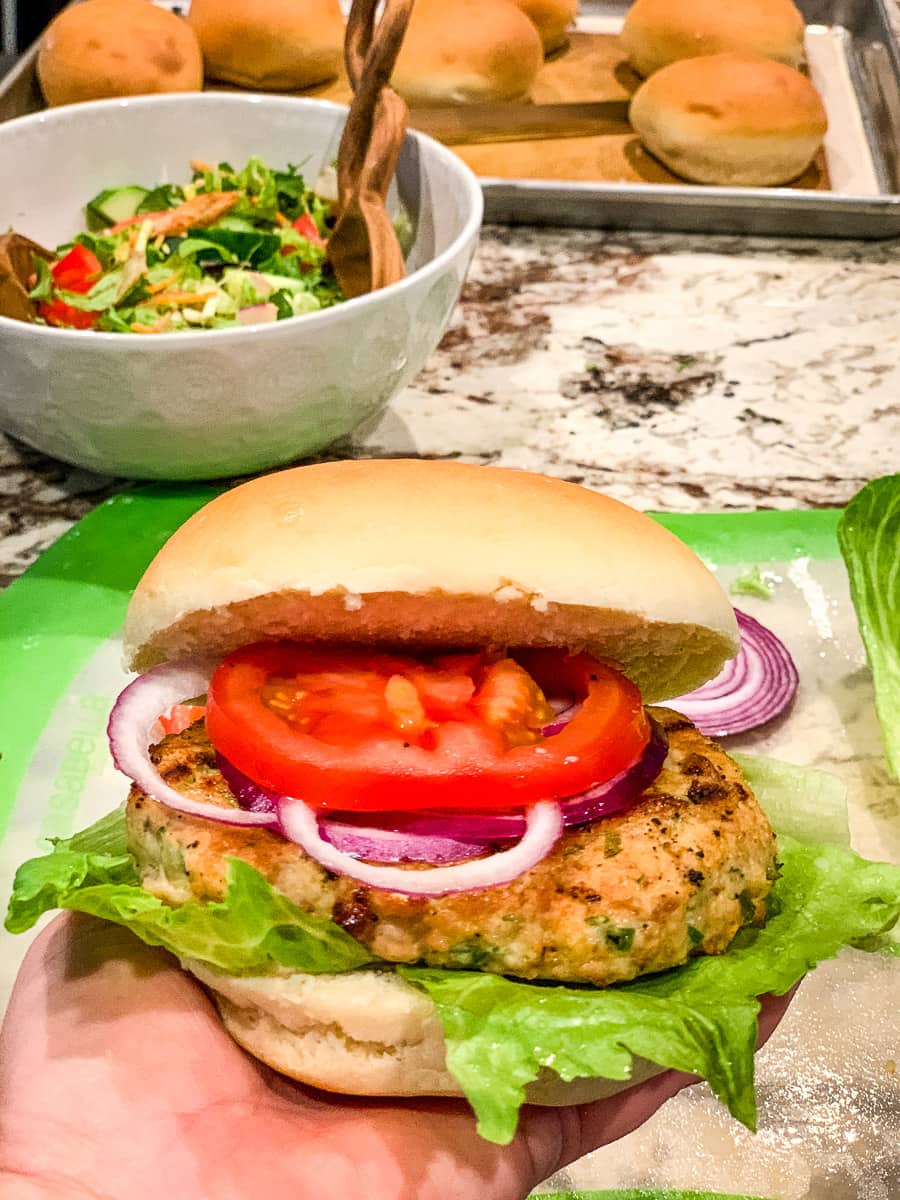 Turkey Burgers on the Grill
Turkey burgers on the grill are so delicious, you'll never know they're made with ground turkey! Our recipe and pro tips will help you make this fabulous meal.
Equipment
bowl for mixing

gas. charcoal, or electric grill
Ingredients
1 large egg lightly beaten
⅔ cup dry bread crumbs (see notes for substitutions)
½ cup onion chopped
1 tablespoon fresh parsley minced
1 packet (about 2 tablespoons) dry ranch seasoning (see notes for substitutions)
1 pound ground turkey (80% – 85% lean)
Instructions
In a small bowl combine the egg, bread crumbs, onion, parsley, and seasoning. Crumble turkey over mixture and mix well.

The mixture may be sticky, so wet your hands to shape the patties. This recipe makes 4 patties.

Place the patties in the fridge for at least 15 minutes before cooking. This allows the ground meat to firm up and helps to keep them from falling apart during cooking.
Turkey Burgers on the Grill
Clean and grease the grill grates very well before preheating. Preheat the grill to 350ºF or medium heat.

Grill for 5 minutes without moving, before turning and grilling the other side. Check the temperature after 10 minutes. Poultry is fully cooked when the internal temperature reads 165°.
Notes
Substitutions: Use 2/3 cup of freshly dried bread crumbs or 2 slices of fresh bread cut into 1/2″ cubes. For gluten-free, use gluten-free bread. Dry ranch dressing seasoning substitute: 2 tablespoons buttermilk powder (optional), 1 tablespoon garlic powder, 1 teaspoon dried parsley, 1 teaspoon dried chives, 2 teaspoon onion powder, 1 teaspoon dried dill. Mix together and store in an air tight container.
Nutrition
Serving: 1burger | Calories: 234kcal | Carbohydrates: 17g | Protein: 31g | Fat: 4g | Saturated Fat: 1g | Cholesterol: 103mg | Sodium: 731mg | Potassium: 385mg | Fiber: 1g | Sugar: 1g | Vitamin A: 172IU | Vitamin C: 1mg | Calcium: 43mg | Iron: 2mg
PIN THIS POST!
This post, originally published on June 25, 2020, was last updated on February 11, 2023.