If you have a small family, this turkey tenderloin Instant Pot recipe is perfect for your holiday meal! Using the pressure cooker ensures a perfectly juicy turkey breast tenderloin every time. The best part about this turkey tenderloin recipe is that the poultry, potatoes, and gravy all cook together in one pot!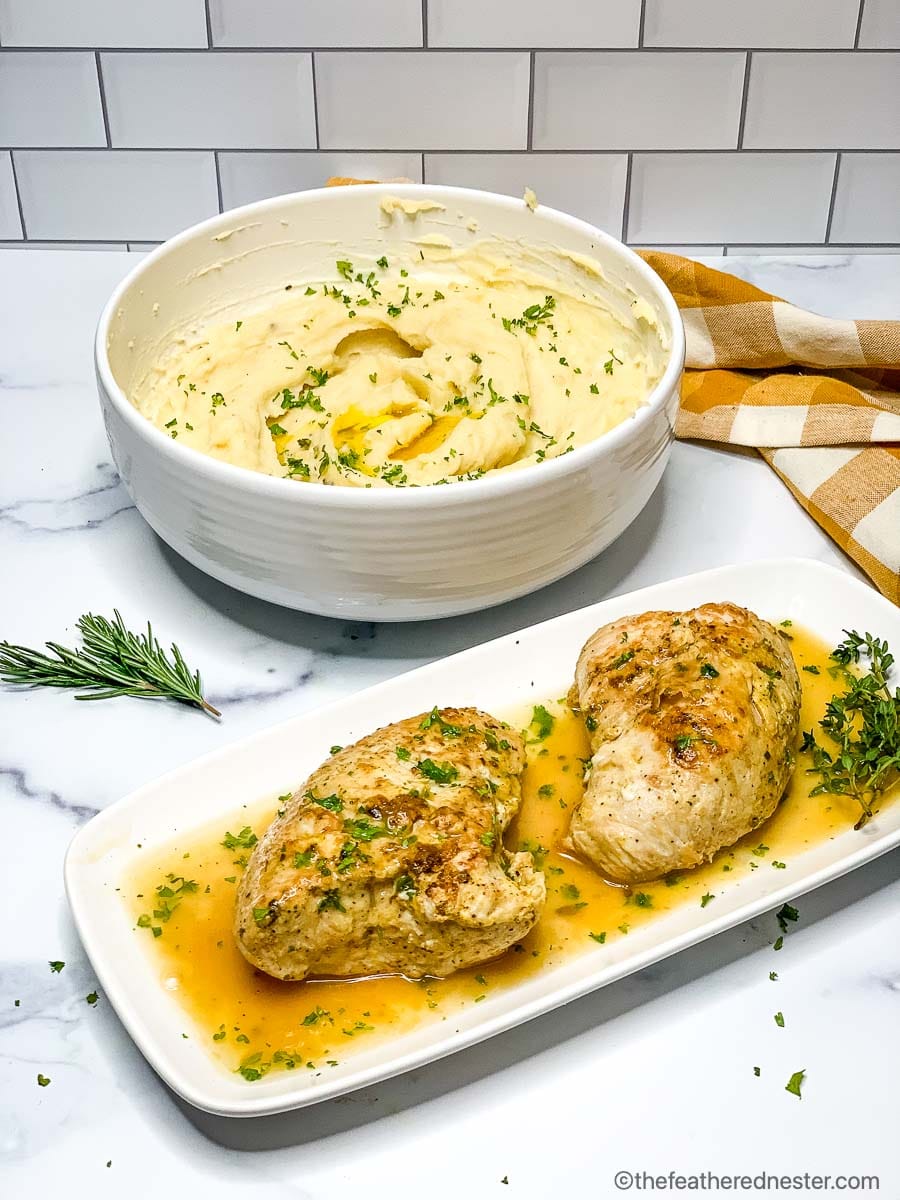 This turkey tenderloin Instant Pot recipe makes a complete meal that's ready to enjoy in under an hour, and everyone will love this easy dinner!
Why We Love Our Turkey Tenderloin Instant Pot Recipe
Perfect Thanksgiving turkey recipe for a small family.
This recipe makes enough to serve 6 people, so it's a great holiday meal for small families, or just a nice and easy weeknight meal.
Doesn't use up premium space in the oven!
Save your oven space for baking things like sweet potato slices, stuffing, and a batch of sourdough dinner rolls.
Nearly impossible to overcook.
One of our favorite things about Instant Pot cooking is the ability to set it and forget it! When you remove the lid, your turkey and potatoes will be just about ready to serve.
New to Pressure Cooking?
Before you jump into this recipe, we have some helpful tips on using an electric pressure cooker. Check out our post, Tips and Hacks for the Instant Pot.
Turkey Tenderloin vs. Turkey Breast
The tenderloin is attached to the breasts but is technically not the same as what we know as turkey breast. The breasts can be a bit tougher, while the tenderloin stays soft and is great to cook with nearly any method.
Ingredient Notes and Substitutions
Turkey tenderloins – We love using the Jennie O brand. You can find them year-round at Walmart stores or at most grocery stores and retailers in the fall. Most packages contain 2 tenderloins, with a total weight of about 1 1/2 pounds.

Turkey tenderloins are a thick section of meat cut from between the bird's breasts. Because it is an area that doesn't get much of a workout, the tenderloins are known for being wonderfully tender.

All-purpose seasoning – Or use your favorite blend of spices like salt, black pepper, onion powder, garlic powder, paprika, and any other spices you like.

Olive oil – Used for searing the meat. You can also use any type of oil like vegetable or canola oil.
For the Potatoes
Chicken broth – This enhances the flavor of our sauce.
Potatoes – Russet, Red, or Yukon Gold work best with this recipe.
Milk – This gives a rich and creamy taste to the sauce. You can also half and half, or cream if preferred.
Butter – This can be substituted with margarine or ghee for a nutty flavor.
Garlic butter – If you don't have one, you can make your own garlic butter by mixing softened butter with minced garlic or garlic powder.
Salt and pepper – This boosts the flavors of this recipe.
Cornstarch slurry – Just mix cornstarch and cold water to thicken the sauce for making gravy.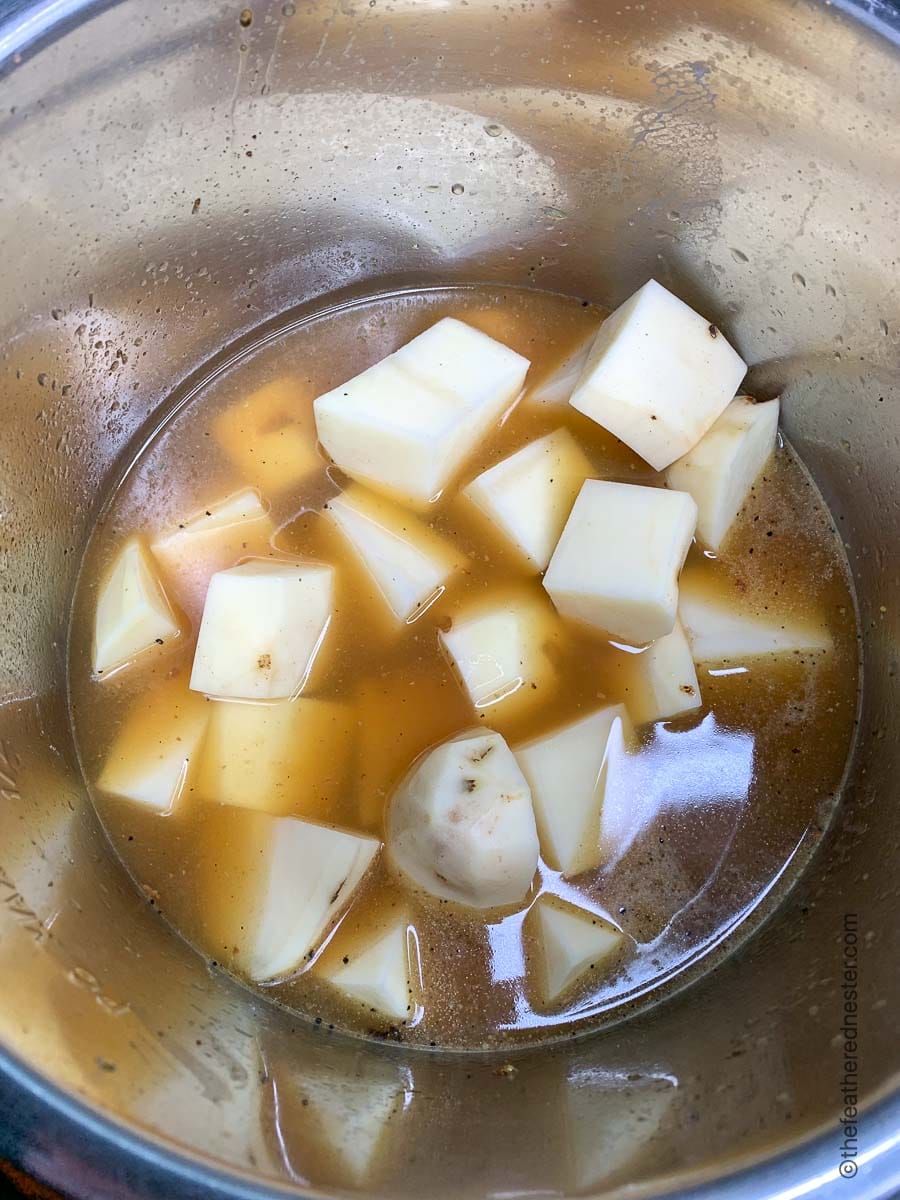 Juiciest Turkey Breast Tenderloin – Recipe Tips
Cook the turkey on all sides for the most flavor.
Set the instant pot to sauté and add olive oil. Rub the tenderloins with the seasoning. Then sear the turkey breast tenderloins so that each piece is evenly browned.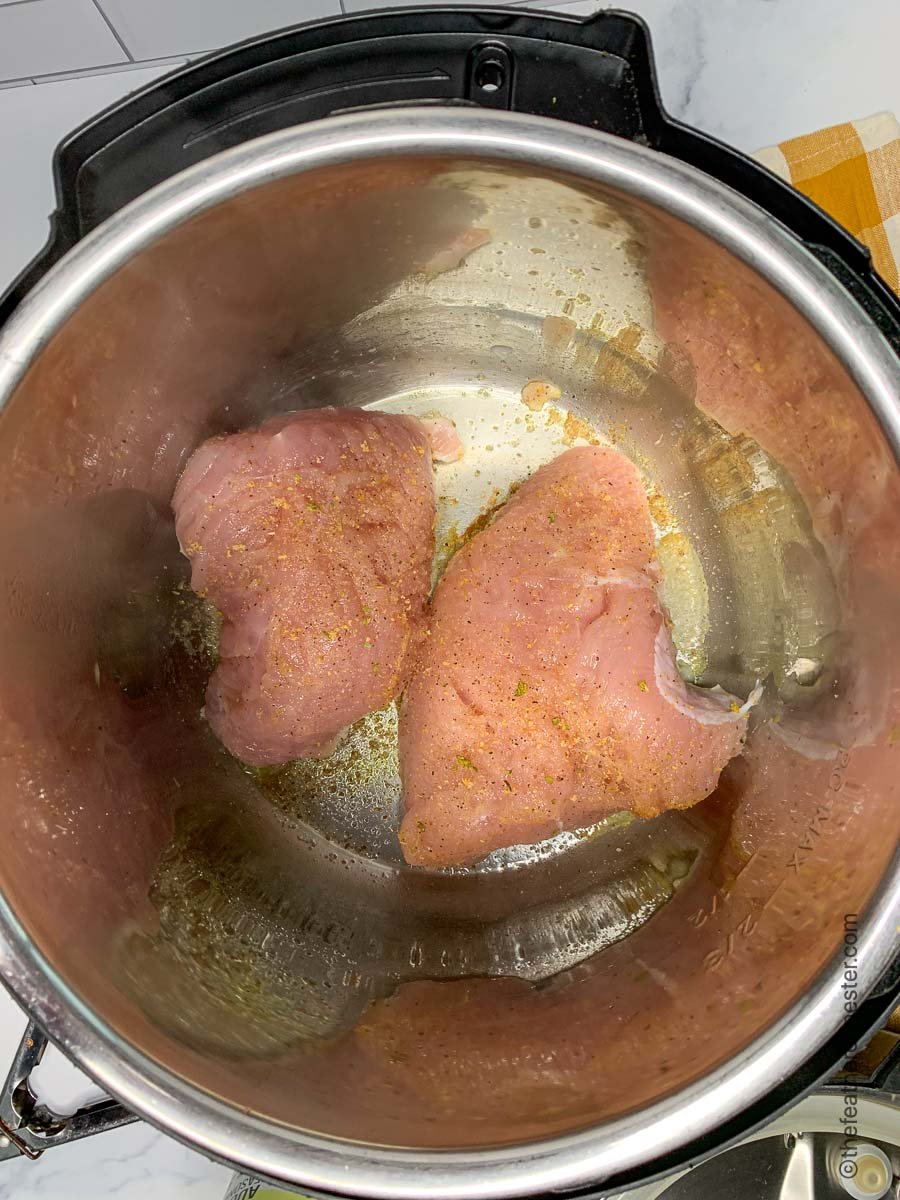 2. Deglaze the pan with the broth.
This starts the process of making flavorful gravy.
3. Use a slotted spoon to scoop out the cooked potatoes, leaving the broth behind.
You want to keep that broth goodness in the pot to make the gravy later.
4. Thicken up broth with cornstarch and water.
Mix the corn starch and cold water together in a cup. Whisk this mixture into the broth until smooth. Continue to whisk as the gravy gets thick and bubbly. When it reaches the thickness you like, carefully ladle the gravy into a serving dish and turn off the IP.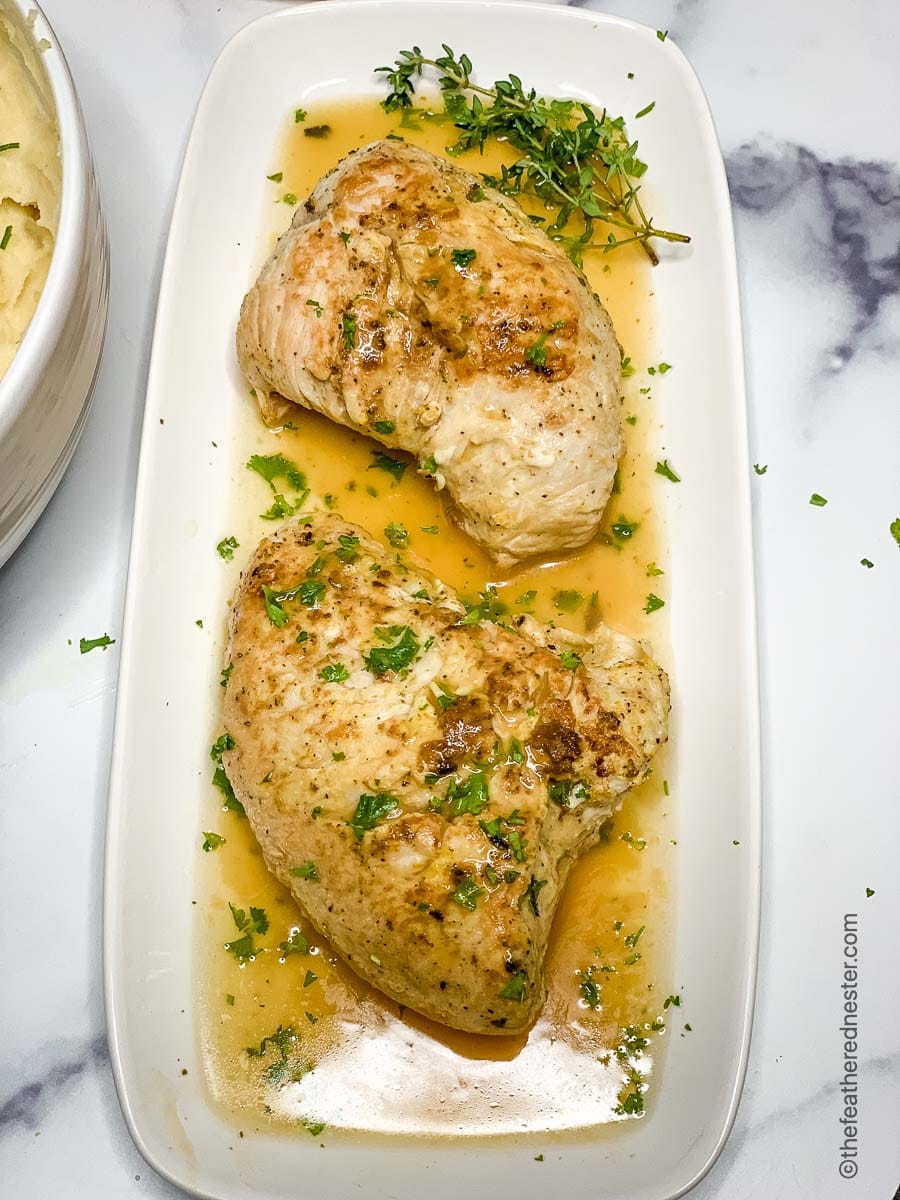 Serve with roasted or sauteed green beans, Brussels sprouts, carrots, or other hearty vegetables you love. Another side that's perfect for Instant Pot turkey tenderloins is Sourdough Stuffing. And, of course, no dinner table is complete without Bisquick drop biscuits or easy 3 ingredient biscuits, and an apple cobbler.
Instant Pot Turkey Tenderloin FAQ
What is the perfect temperature turkey tenderloin should be when cooked?
The temperature should be at least 165 degrees Fahrenheit. Check for doneness by inserting a meat thermometer into the thickest part of the tenderloin breast.
How do you slice and serve Instant Pot turkey breast tenderloin?
The meat should rest for at least 10 minutes after pressure cooking before it's cut. This lets the juices redistribute and keeps the turkey nice and juicy. Once rested, slice the tenderloin into 1-inch sections.
How long will leftovers keep well?
Leftovers will last for up to 4 days in the refrigerator. Let everything cool completely and transfer to individual airtight containers before placing them in the fridge.
Serving Suggestions
Tender turkey, creamy mashed potatoes, and savory gravy are basically a meal in themselves. However, there are a lot of veggie sides that are great to prepare for a completely well-balanced dinner.

Serve with roasted or steamed green beans, Brussels sprouts, carrots, or other hearty vegetables you love.
Another side that's perfect with our turkey tenderloin Instant Pot recipe is sourdough stuffing. And, of course, no dinner table is complete without Bisquick drop biscuits or easy dinner rolls and an apple cobbler.
Turkey Tenderloin (Instant Pot Recipe)
This turkey tenderloin recipe makes juicy, tender turkey breast tenderloin in the Instant Pot, plus mashed potatoes and gravy, in 40 minutes!
Ingredients
For the Turkey Tenderloins
For the Mashed Potatoes
6 potatoes red or Yukon Gold, cut into 3-inch quarters (peeling is optional)
3 cups chicken broth or stock, low sodium or regular
⅓ cup whole milk half and half, or cream
4 tablespoons butter
1 Tablespoons garlic powder
salt and black pepper
For the gravy
2 tablespoons cornstarch
2 tablespoons cold water
Instructions
For the Turkey and Potatoes:
Set Instant Pot to sauté mode by pushing the sauté button. Add olive oil. Rub all-purpose seasoning over all sides of the turkey tenderloins.

When the pot is ready, brown each tenderloin on all sides, until lightly golden. This takes about 3-4 minutes. While the turkey is searing, prepare the potatoes.

Remove the breast tenderloins and let rest on a plate. Add the broth to the pot and stir to deglaze the pan.

Press the cancel button. Add potatoes to the bottom of the pot and place the turkey tenderloins on top. Twist on the Instant Pot lid, turn the pressure lever to seal (if needed), then press the high-pressure button and set for 8 minutes.

When pressure cooking is complete, do a natural release for 10 minutes (let the pot rest undisturbed), then perform a quick release (turn or depress the pressure valve).

Transfer turkey to a serving platter and cover loosely with foil.
Mash the Potatoes:
Using a slotted spoon, add the potatoes to a large mixing bowl. Add milk/cream, butter, and seasoning. Mash the potatoes with a potato masher or hand mixer. Cover with foil or a lid.
Make the gravy:
Press the sauté button until it says HIGH. In a cup, mix the corn starch and cold water. Using a whisk, stir the mixture with the broth until smooth. Continue stirring until the gravy is thick and bubbly.
Serving Tips
Slice tenderloin breasts into 1" slices before serving. Drizzle gravy over. Add a sprig of rosemary to the serving platter for garnish.
Notes
Leftovers will last for up to 4 days in the refrigerator. Let everything cool completely and transfer to individual airtight containers before placing in the fridge.
Nutrition
Serving: 1serving | Calories: 428kcal | Carbohydrates: 41g | Protein: 24g | Fat: 19g | Saturated Fat: 8g | Polyunsaturated Fat: 2g | Monounsaturated Fat: 8g | Trans Fat: 1g | Cholesterol: 84mg | Sodium: 2057mg | Potassium: 1366mg | Fiber: 5g | Sugar: 2g | Vitamin A: 308IU | Vitamin C: 50mg | Calcium: 57mg | Iron: 3mg
PIN THIS POST!