This easy Cajun turkey brine will transform your Thanksgiving meal into something extra special! The sweet and spicy flavors may not be what you'd expect for a traditional holiday meal, but after tasting just one bite of your juicy bird, you may never want to make it any other way!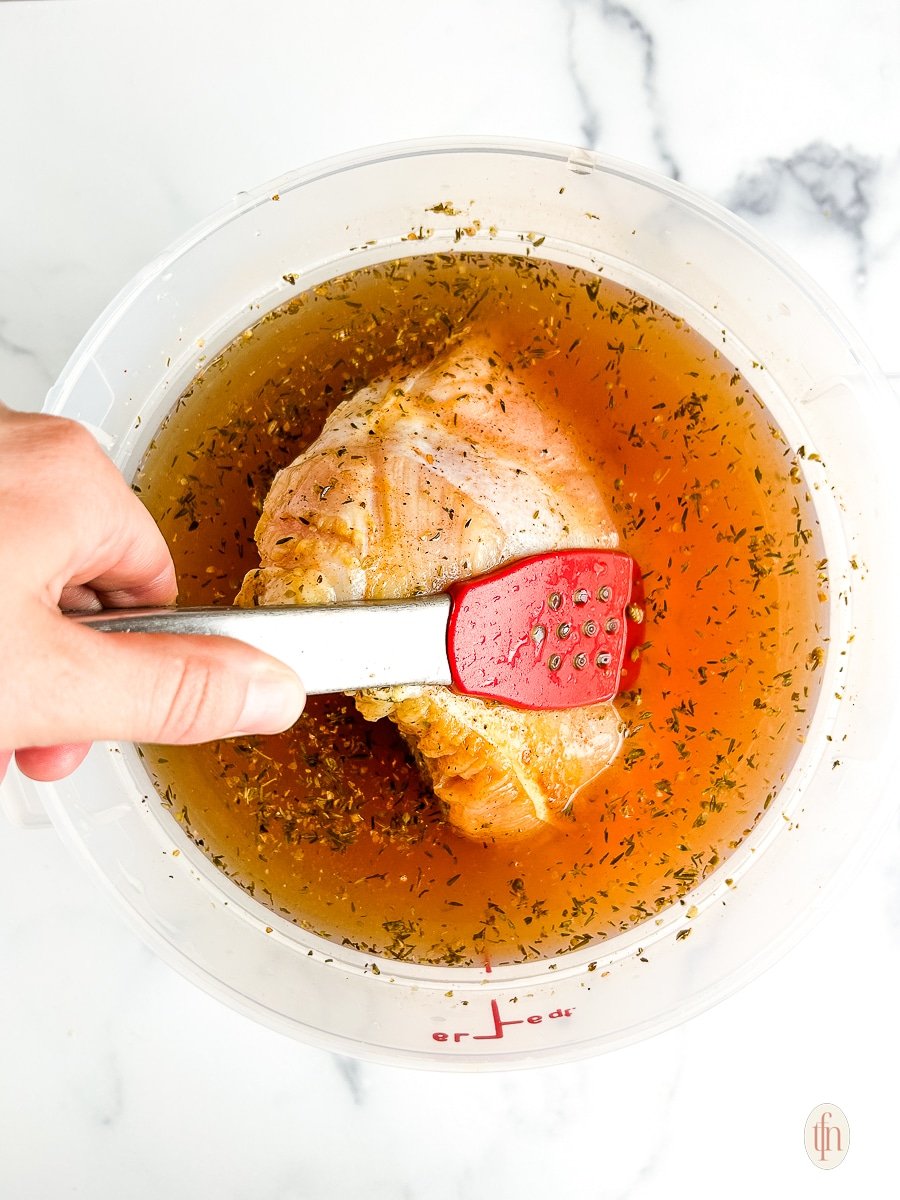 Why We Love Easy Cajun Turkey Brine
Makes enough to brine large turkeys or smaller portions.
This Cajun brine recipe makes enough to prepare a 12-pound turkey, and it can be doubled for larger birds if you need to.

Can be used to brine other types of poultry.
It's not just for turkey! You can add the fantastic Cajun flavor to a roast chicken, duck, pheasant, or really, any other waterfowl you want to make. We haven't tried it on a beef roast, but we can't think of any reason why it won't work!

Super easy to prep for an incredibly tender and flavorful bird.
Making the brine takes just a few minutes. The hard part is waiting for it to work its magic on your turkey! For a smaller meal, consider making a Buttermilk Brined Turkey Breast.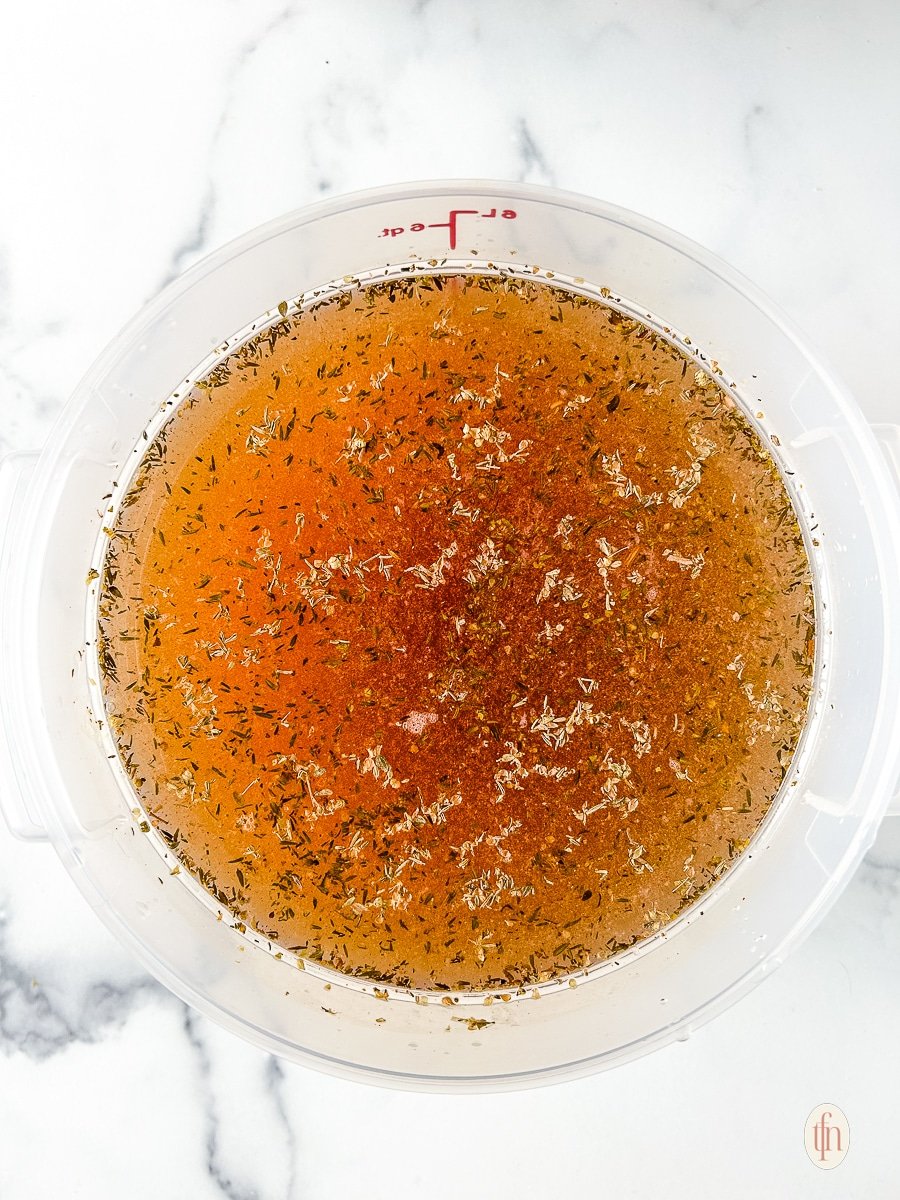 Ingredient Notes and Substitutions
Sea salt: Salt is one of the most important ingredients for creating a juicy bird. Be sure to use a coarse grain – not iodized table salt.
Brown sugar: A little bit of brown sugar adds a slight sweetness to the spicy seasonings in the Cajun turkey brine.
Creole mustard: You can use this or ground mustard powder.
Garlic: It wouldn't be Cajun without garlic! Use cloves for the best results, but garlic powder will get the job done if you can't get your hands on fresh.
Lemon juice: A little acid balances the flavors, and also helps to tenderize the turkey.
Creole seasoning: We use a blend of seasoning that includes paprika, cayenne pepper, onion powder, garlic powder, thyme, oregano, and black pepper. If it's more convenient, use a store-bought blend.
Serving a smaller crowd?
If a turkey is too big for your gathering, or you just don't care for the flavor, consider using our balsamic chicken marinade to roast a chicken instead!
Tips for Preparing Your Cajun Turkey Brine
Bring the ingredients to a FULL rolling boil.
Add the salt, sugar, mustard powder, garlic, and lemon juice to the water and bring it to a heavy boil. That full boil is needed to completely dissolve the salt and sugar.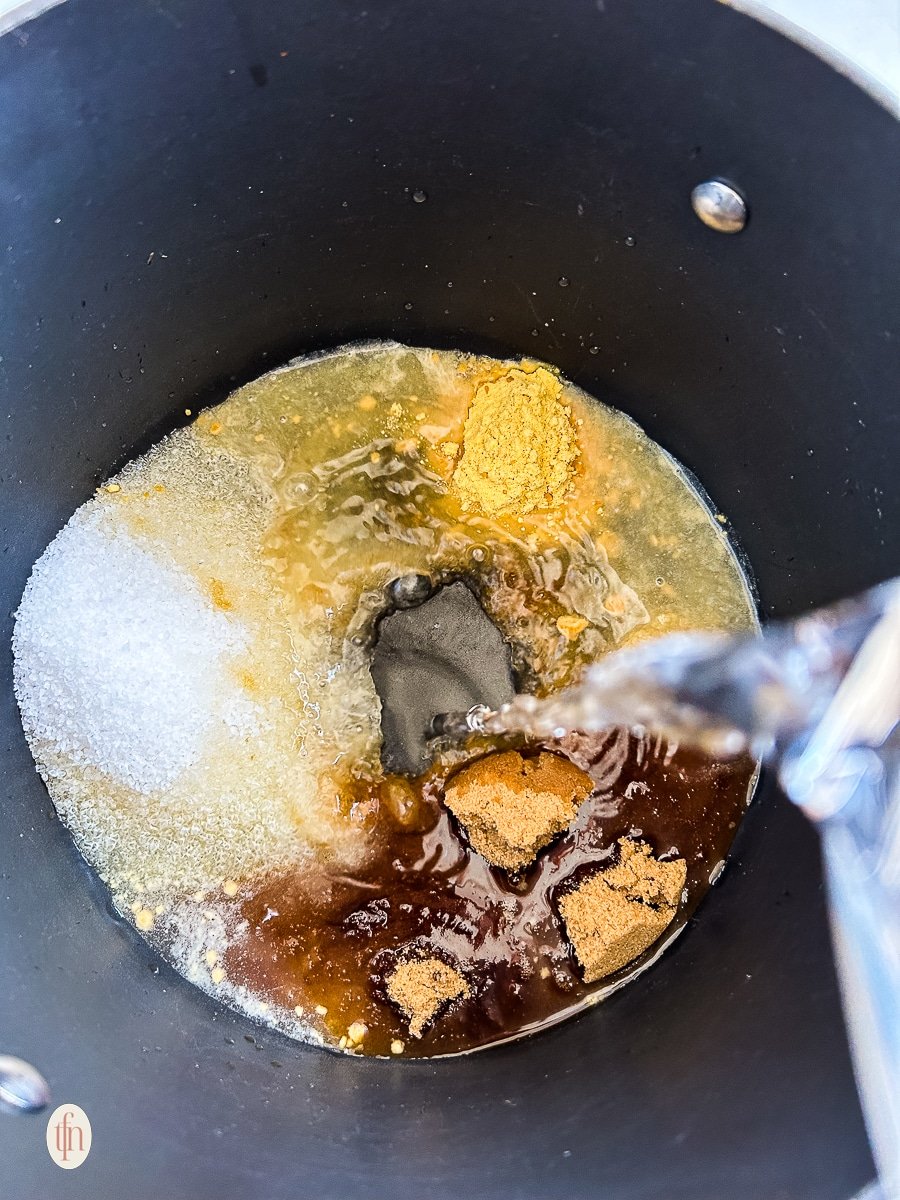 Allow it to cool completely to room temperature.
Be sure to allow the mixture to cool completely before putting it in the fridge.

If you refrigerate the turkey brine while it's still hot, you risk increasing the temperature inside your fridge. If that happens, other foods in there can spoil.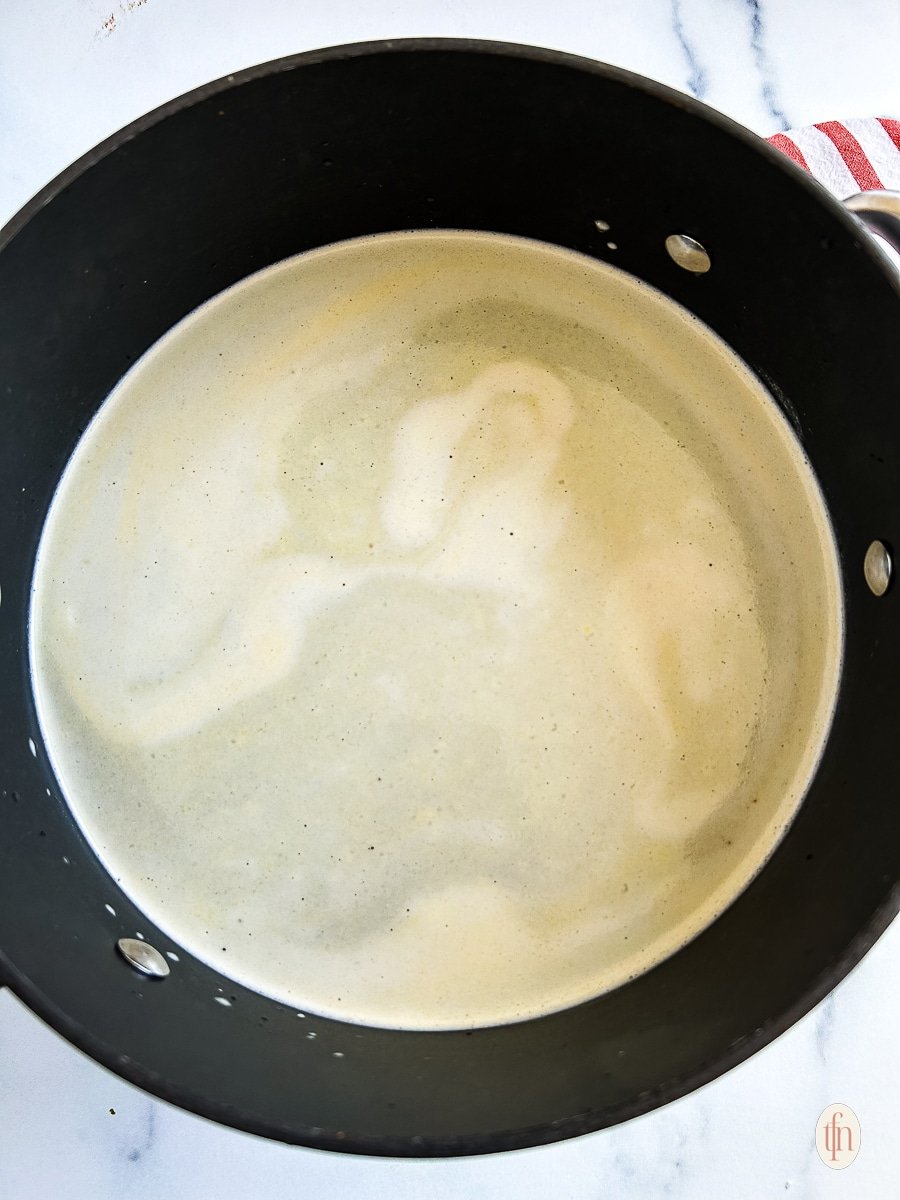 Use a 5-gallon bucket or very large stockpot to brine the Cajun turkey.
Make sure whatever you use can be refrigerated or chilled for the entire brining period. Also, be sure the container is deep enough to completely submerge the bird in brine.

Another option is to use a cooler with ice. However, if you go that route, remember to check every few hours and add more ice if necessary.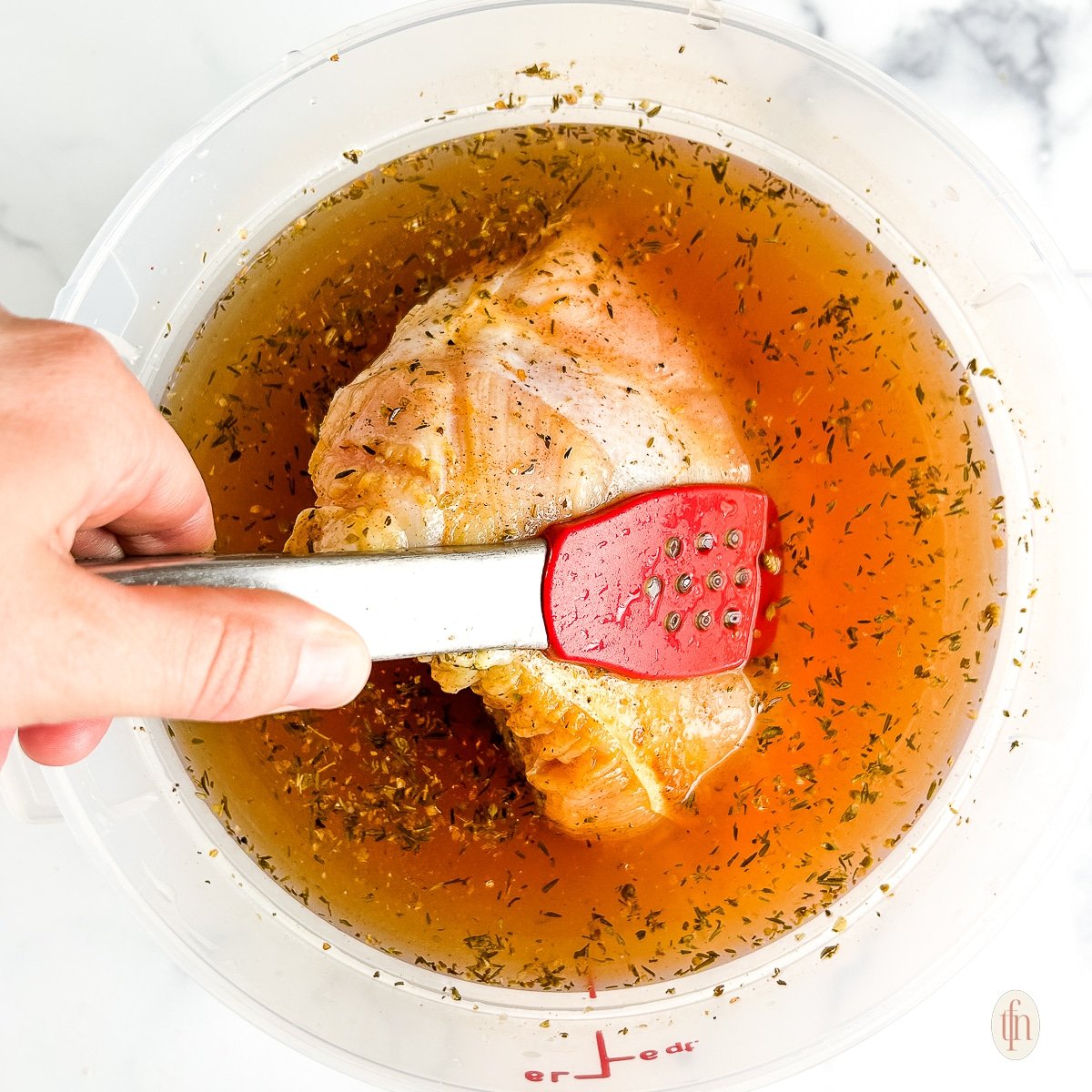 Cajun Turkey Recipe
When the brining process is complete, rinse the brine off of your bird under running tap water. Be sure to rinse out the cavity really well, too.
Then, follow the recipe of your choice to cook the turkey! You can make an oven-roasted turkey, deep fry it, or even season it with a dry rub and make a smoked turkey.
Treat a brined Cajun turkey just like you would any other uncooked bird. Store it in a refrigerator until it's time to cook it up.
Turkey Brine FAQs
What's the difference between brine and marinade?
Brine is a salt solution that breaks down the tissues of meat, making it more tender. The process usually takes 24 – 48 hours. A marinade is a flavor enhancer that coats the outside of the meat. To add flavor only requires 30 minutes to an hour of marinating time.
How long to brine a turkey breast?
If you're only brining a breast, you don't need to keep it in the brine for as long as you would a whole turkey. 2-4 hours should be plenty of time.
How long to brine a whole turkey?
To fully brine a whole turkey, we recommend letting it sit in the salt solution for at least 12 hours, but preferably 24 hours.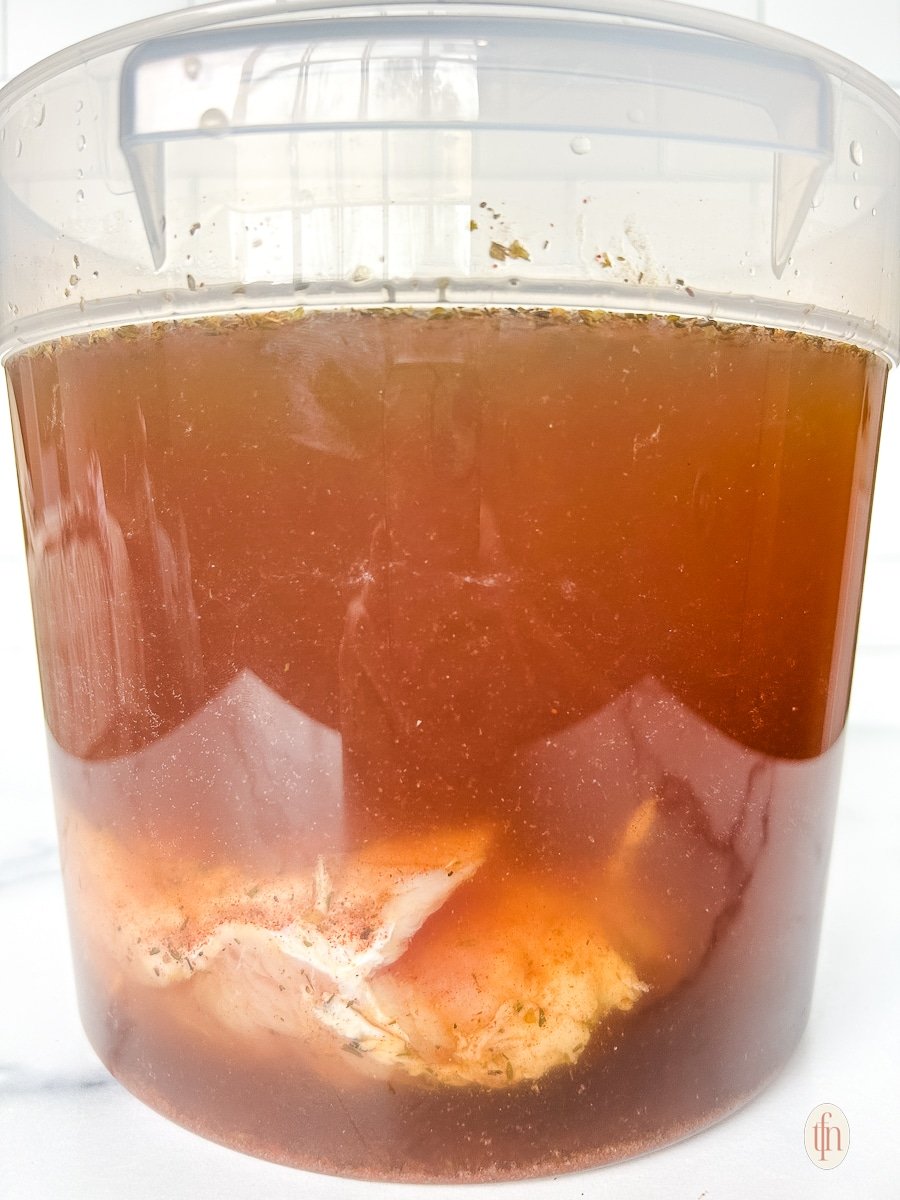 Storing and Reheating
Store unused brine in an airtight container in the refrigerator for up to five days.
You can also freeze the unused brine if you'd like. Pour it into large containers, and label it with the date it was made. It will keep well in the freezer for up to three months.
To thaw, put the container in the refrigerator overnight or heat it in the microwave if you need it the same day.
🎯 TFN Safety Tip
Once it's been used, throw out the Cajun turkey brine.

To avoid getting sick from bacteria in the uncooked meat, you should never reuse marinades or brines that were in contact with raw meat.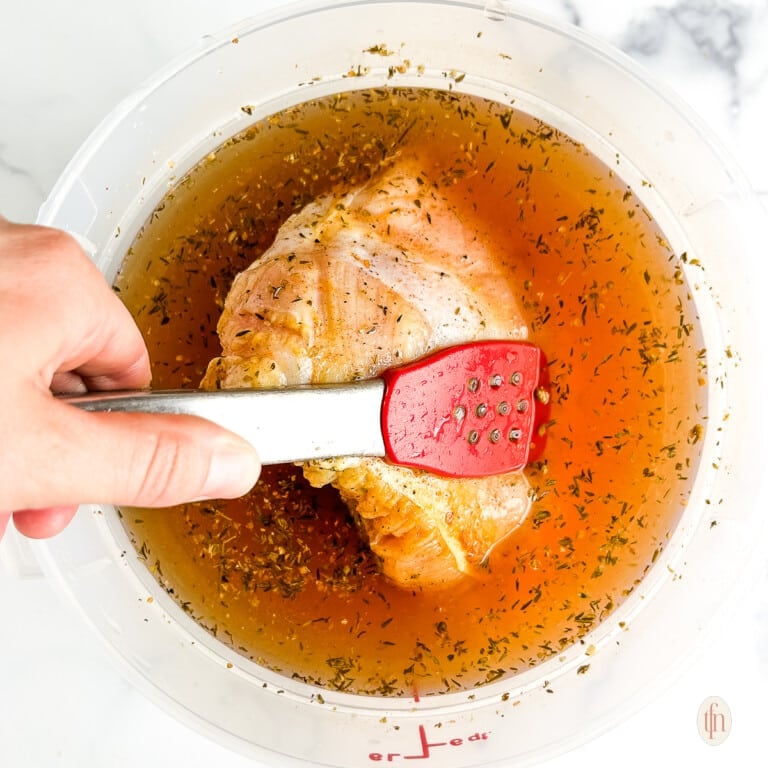 Cajun Turkey Brine (for Breast or Whole Turkey)
Cajun turkey brine adds incredible New Orleans flavor to a breast or whole bird. Our brine recipe yields enough for a 12-pound Cajun turkey.
Equipment
1 large non-reactive container - we used a plastic brining bucket
Ingredients
1 gallon water
1 cup sea salt or kosher salt (don't use iodized table salt)
½ cup brown sugar
¼ cup prepared creole mustard or 2 tablespoons mustard powder
4 cloves garlic minced
¼ cup lemon juice (juice of 1-2 lemons)
Cajun Seasoning
1 tablespoon sea salt
1 tablespoon smoked paprika
1 teaspoon cayenne pepper or 1.5 teaspoons for spicier flavor
2 teaspoons onion powder
1 tablespoon garlic powder
2 teaspoons dried thyme
1 teaspoon dried oregano
1.5 teaspoons ground pepper black or white
Instructions
To a large stockpot over medium-high heat, add 1 gallon of water, kosher salt, sugar, mustard, garlic and lemon juice.

Add the cajun seasoning blend to the pot and bring mixture to a full rolling boil.

Boil for 1 minute, or until salt and sugar dissolve, then turn off the heat and let the brine cool to room temperature.

When the brine reaches room temperature, transfer to the refrigerator to chill.

When you're ready to brine your turkey, place it in a clean, 5-gallon bucket or stockpot. Add the chilled brine and 1 gallon of cold water.

Brine the poultry in the fridge for at least 12 hours, and up to 48 hours. Before cooking, remove bird from brine and rinse under cold tap water. use paper towels to pat the turkey dry.
Notes
This recipe may be doubled for brining turkeys larger than 12 pounds.
Nutrition
Serving: 1 batch brine | Calories: 572kcal | Carbohydrates: 138g | Protein: 7g | Fat: 4g | Saturated Fat: 1g | Polyunsaturated Fat: 1g | Monounsaturated Fat: 2g | Trans Fat: 0.01g | Sodium: 121073mg | Potassium: 791mg | Fiber: 10g | Sugar: 111g | Vitamin A: 4455IU | Vitamin C: 31mg | Calcium: 468mg | Iron: 9mg
PIN THIS POST!