If you want simple meal ideas, or something delicious to serve on game day, this collection of tater tot recipes is exactly what you need!
We have tater tot recipe ideas for breakfast, appetizers, easy dinners, and snacks. Whatever meal you make them for, these comfort food favorites will be a hit.
Many people think that tater tots are just for kids. But what they don't know is that a simple bag of frozen, bite sized potatoes can be used in a variety of recipes, and for almost any meal of the day!
Why We Love Tater Tot Recipes
We are sharing some tater tot recipe ideas that prove how amazing the tiny potato puffs can be. They are very easy to make and taste great – what's not to love? They're also:
Versatile
They are a great substitute for potato ingredients in recipes. For example, you can easily use frozen tater tots instead of hash browns for our Loaded Hashbrown Potato Casserole.

Time saver
If you have ever peeled potatoes for Instant Pot Garlic Mashed Potatoes, you will appreciate that potato tots are already prepped and ready to bake.
What are Tater Tots?
Tater tots are crave-worthy, poppable puffs of shredded or grated potatoes. They're most popular in the United States and Canada.
The most popular way to use tater tots is in casseroles, but they are also delicious for breakfast, as cheesy appetizers, and of course game day snacking. They are great plain, or with dipping sauces like ketchup, honey mustard, ranch dressing, and BBQ sauce.
Look for them in the frozen foods section of your grocery store, near the other frozen potatoes. If you are the adventurous type, you can even make them from scratch.
Many people prefer them pan fried or deep fried. But, you can bake them, which makes them a bit healthier than sides like French fries. Making air fryer tater tots is a healthy method, too.
Tater Tot Recipe Ideas
From cheesy appetizers to breakfast casseroles, here are some fantastic ways to cook with everyone's favorite frozen potatoes!
Appetizers and Snack Food ideas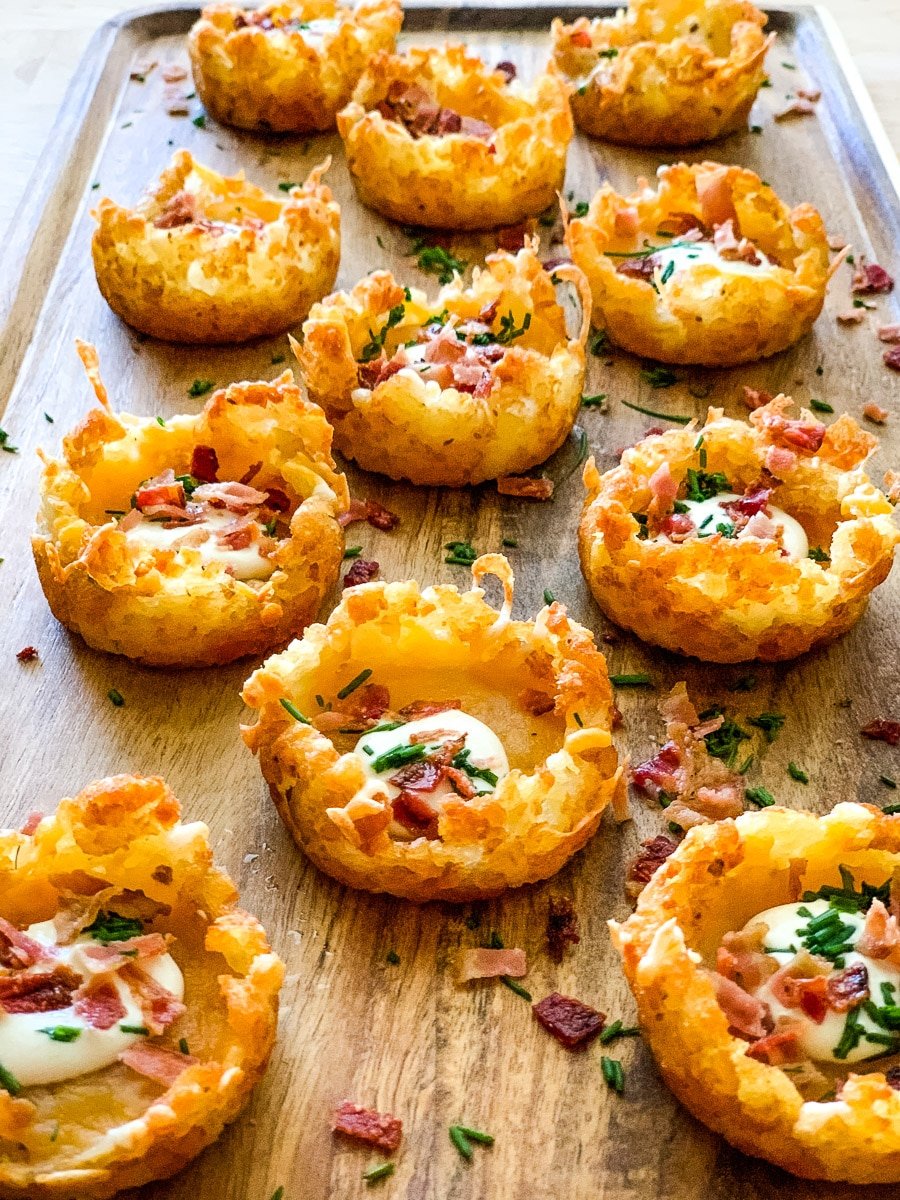 Loaded Tater Tots Appetizer
With just the twist of a glass, tater tots are transformed into a cheesy, crispy, delicious appetizer.
Simple Meal Ideas – Tater Tot Casseroles
If you love easy casserole recipes, be sure to keep a bag of frozen tots on hand.
They are a quick and easy way to prepare a meal, and these tater tot recipes are a hit for dinner and a fabulous potluck meal idea!
Tater Tots for Breakfast
If you like hash brown casserole but want to switch things up, grab one of these tater tot recipes. They are all easy to make, and a family favorite for breakfast or brunch!