Make perfectly fluffy, unbelievably flavorful garlic mashed potatoes in the Instant Pot – with no need to drain! Our nearly effortless, foolproof pressure cooker mashed potatoes recipe includes chopped garlic, butter, and sour cream.
Pair with your favorite entree for a comforting meal that will please everyone at the table!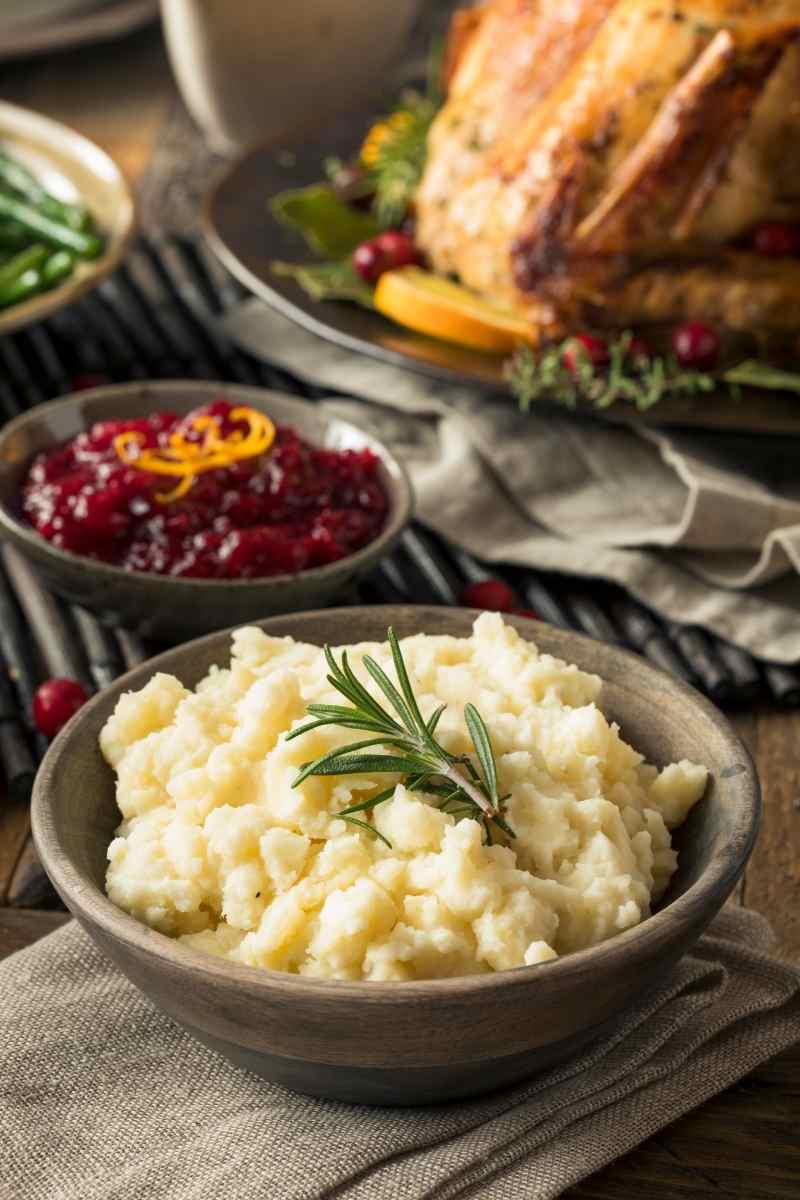 Are you new to the wonderful world of pressure cooking?
Be sure to check out our guide for How to Use the Instant Pot!
Reasons to Make Instant Pot Garlic Mashed Potatoes
No peeling is necessary.
Unless you truly want to remove the skins, just leave them on. Talk about a time saver! Plus, there is no draining needed.

It's a make ahead side dish.
No more rushing to make your side dish at the last minute. This garlic mashed potatoes Instant Pot recipe creates fluffy taters in 20 minutes, but you can make them up to 3 days ahead if you want!

A healthier potato side dish.
You don't need as much butter for this recipe, making it healthier than a traditional stovetop method.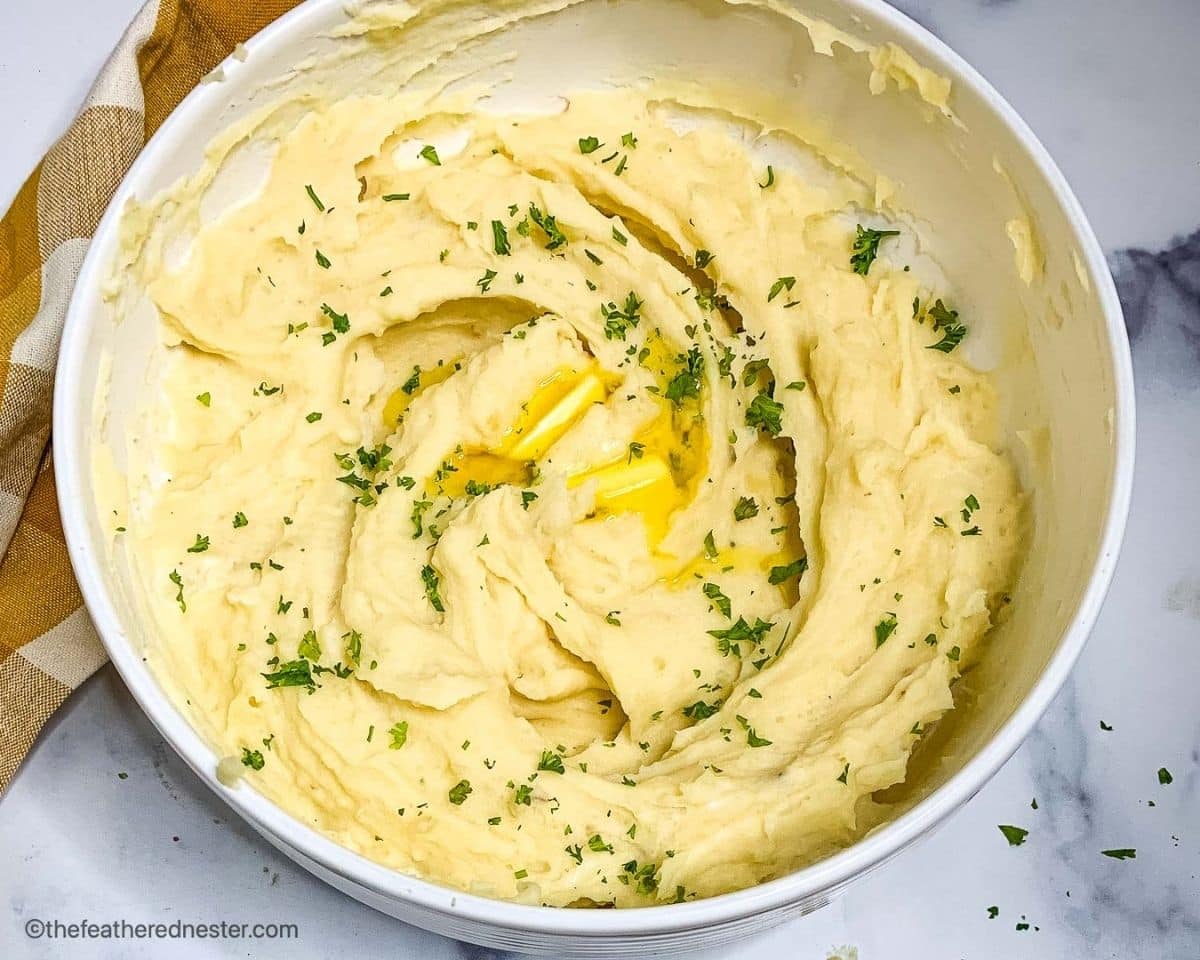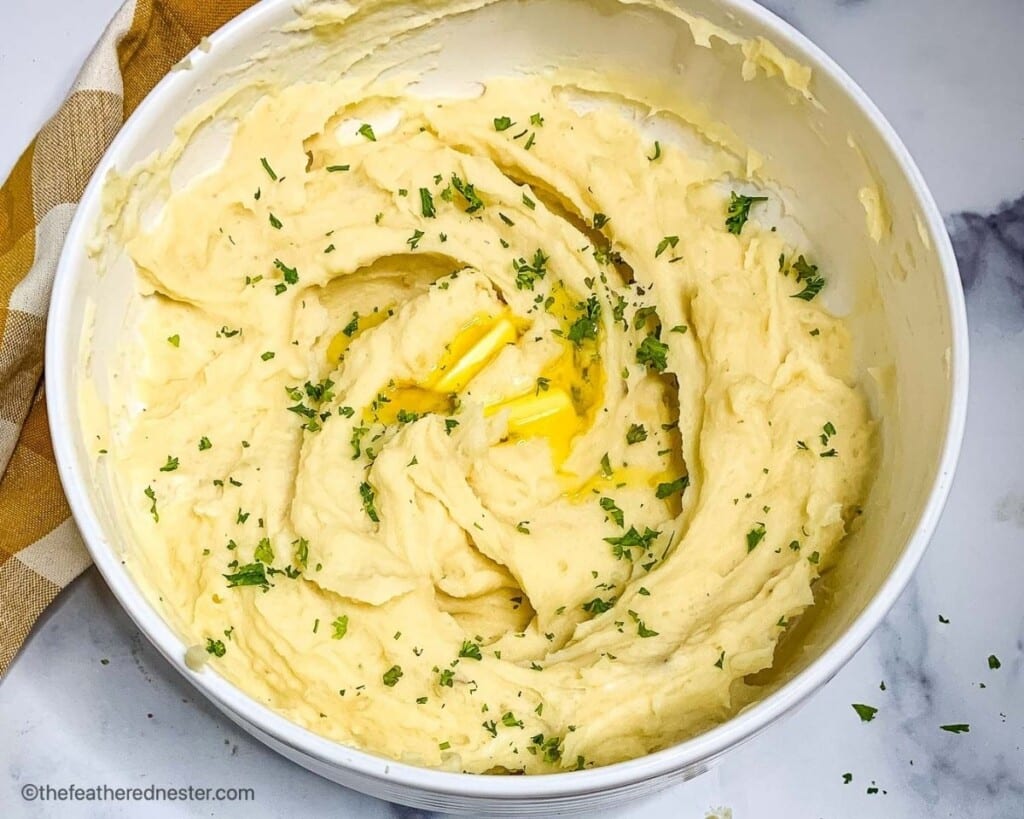 Simply add chopped potatoes and broth to the pressure cooker and let the IP work its magic. Then release the pressure, mash the taters right in the pot, and stir in minced garlic, butter, and tangy sour cream.
Love IP potato recipes?
You will also love our Instant Pot mashed red potatoes, and smashed potatoes.
Ingredient Notes and Substitutions
Potatoes – Yukon gold potatoes or russet potatoes, or your favorite potato for mashing can be used. Leave the skins on or peel the potatoes – your choice!
Broth – We used chicken broth, but vegetable or beef broth will work too.
Garlic – Fresh garlic is best, but if you don't have any on hand, use garlic powder instead. Or use roasted garlic for an extra rich, mellow garlic flavor.
Sour cream – this gives the potatoes a nice tangy flavor. You can also substitute sour cream with heavy cream, half and half, or buttermilk. Or lighten up the dish even more by using low-fat Greek yogurt instead of sour cream.
Butter – adds richness and flavor. You can use ghee, margarine, or olive oil instead of butter if desired.
(Optional) Chives – to garnish, if you like.
Looking for an Instant Pot potato recipe to feed lots of hungry people?
Our Instant Pot loaded potato casserole recipe uses 5 lbs of potatoes!
Tips for the Best Garlic Mashed Potatoes in Instant Pot
Seriously, this is the easiest recipe to make traditional-style mashed potatoes! There are no worries about the pan boiling over on the stovetop, over boiling the cut potatoes and turning them to mush, or draining a pot of boiling water.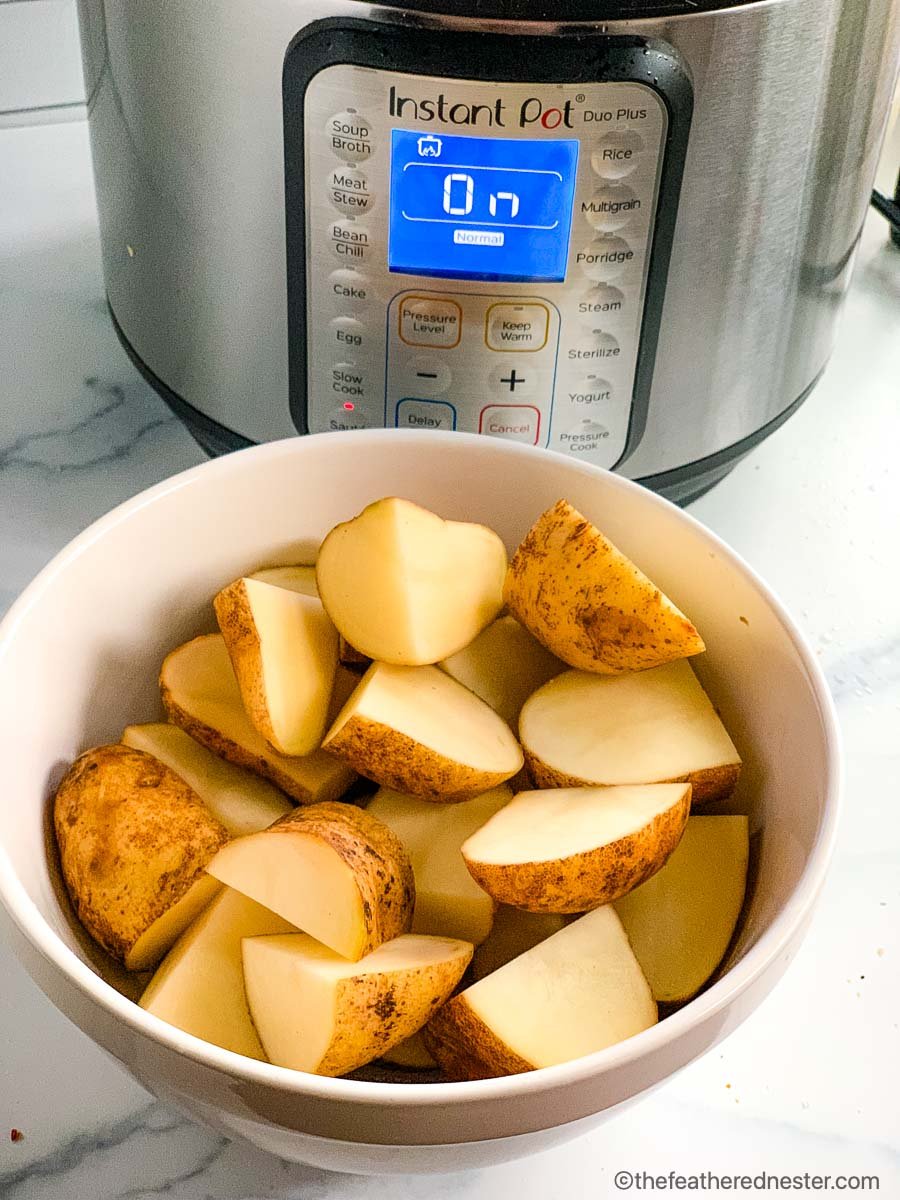 Aim for similar sized pieces.

This will ensure that your potatoes cook evenly. When they're overcooked, garlic mashed potatoes become pasty and unpleasant to eat.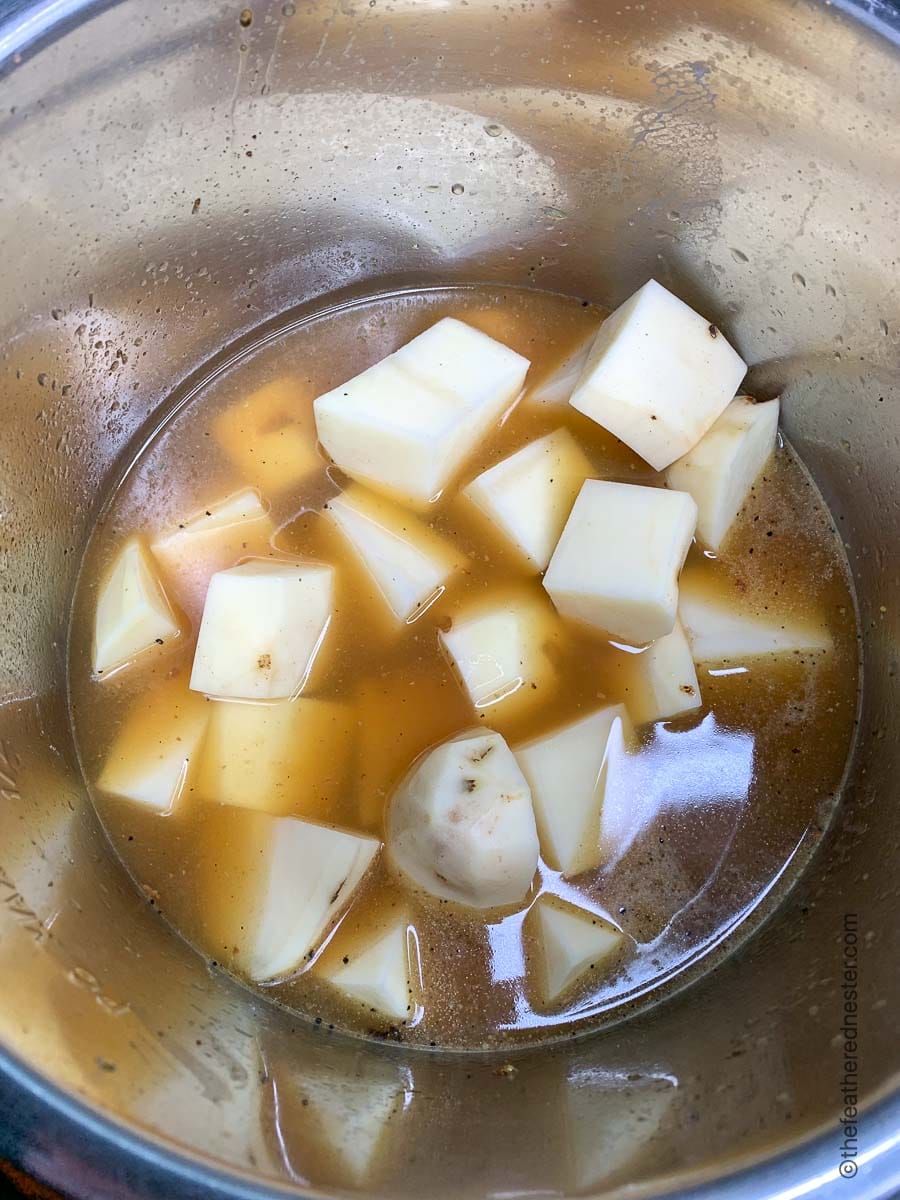 Perform a natural release of pressure.

When the initial cook time is over, leave the pressure cooker alone for 10 minutes, then do a quick release. Broth may be visible at the bottom of the pot, but it dissapears once you mash the potatoes.
Recipe Variations
Make cheesy garlic mashed potatoes Instant Pot style by mixing in 1/4 cup of cheese with the garlic, butter, and sour cream. Try shredded cheddar, parmesan, or Colby Jack cheese.
Add some crispy bacon or pancetta for a bit of salty, smoky flavor.
Instant Pot Garlic Mashed Potatoes FAQ
Do I need a trivet or a steamer basket to make IP mashed potatoes?
Nope! Just add the taters and broth to the bottom of the pot. Most of the cooking liquid will absorb during cooking, and what's still left after pressure cooking will be mixed in with the other ingredients.
How much do 6 medium potatoes weigh?
As potato sizes can vary, we estimate that 6 medium potatoes weighs around 1 1/2 pounds. We recommend figuring on 1/2 to 1 whole medium potato per person/serving.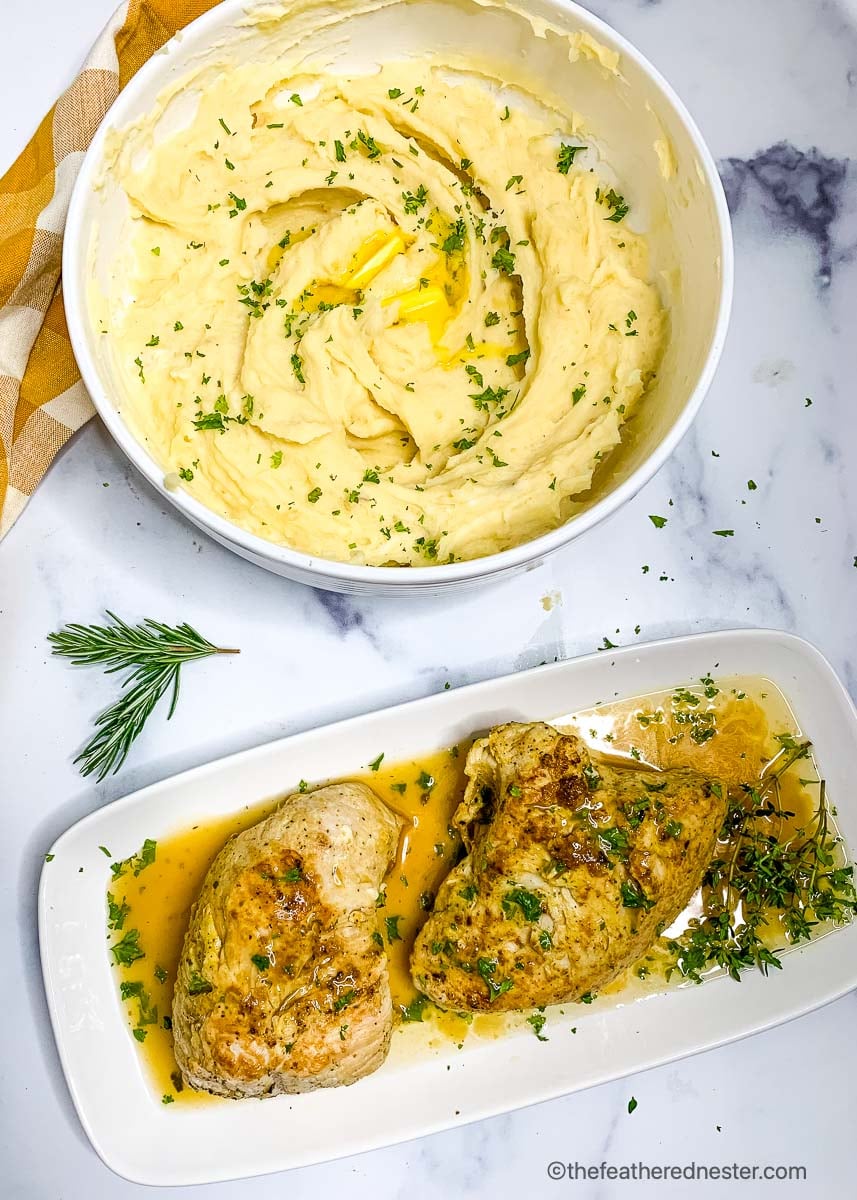 Instant Pot Garlic Mashed Potatoes
Pressure cooking produces the fluffiest best tasting Instant Pot garlic mashed potatoes. This recipe is lower in fat and calories than stovetop recipes!
Ingredients
6 medium russet potatoes or Yukon gold or red – scrubbed and cut in quarters (for large potatoes, cut into eighths)
1 ¼ cup chicken broth
3 cloves garlic peeled and finely chopped or minced, or 1 teaspoon dried garlic powder
¼ cup sour cream or heavy cream or half-and-half
2 tablespoons butter
Optional
chopped chives
salt and pepper to taste
Instructions
Add the potatoes, chicken broth, and garlic to the bottom of the Instant Pot (don't use the trivet). Add lid, close sealing lever, and cook at high pressure for 7 minutes.

After the pressure cycle is complete, allow pressure to naturally release for 10 minutes, then initiate a quick release by turning the sealing lever.

There will be broth visible at the bottom of the pot, but once you mash the potatoes, it will be completely absorbed.

Mash potatoes with a potato masher right in the pot or remove potatoes to a serving bowl to use a hand mixer for even creamier whipped potatoes. Stir in sour cream and butter. Top with fresh chives and ground pepper, if desired, before serving.
Notes
This dish can be made ahead. After step one, allow the potatoes to cool. Place them into a gallon-sized freezer bag and refrigerate for 1-3 days or freeze for up to 3 months. To serve, thaw the frozen potatoes in the refrigerator. Then reheat (in the microwave or stovetop). Mash and mix with sour cream and butter, and serve.
Nutrition
Serving: 1serving | Calories: 221kcal | Carbohydrates: 38g | Protein: 5g | Fat: 6g | Saturated Fat: 4g | Polyunsaturated Fat: 1g | Monounsaturated Fat: 1g | Trans Fat: 1g | Cholesterol: 15mg | Sodium: 233mg | Potassium: 957mg | Fiber: 5g | Sugar: 2g | Vitamin A: 182IU | Vitamin C: 46mg | Calcium: 43mg | Iron: 2mg
PIN THIS POST!