Make the creamiest, richest, most delicious Instant Pot mashed red potatoes with only 4 ingredients. This easy recipe takes under 30 minutes to make, and no peeling is required! Simply pressure cook, drain, and mash with butter and cream cheese, for a perfectly delicious side dish.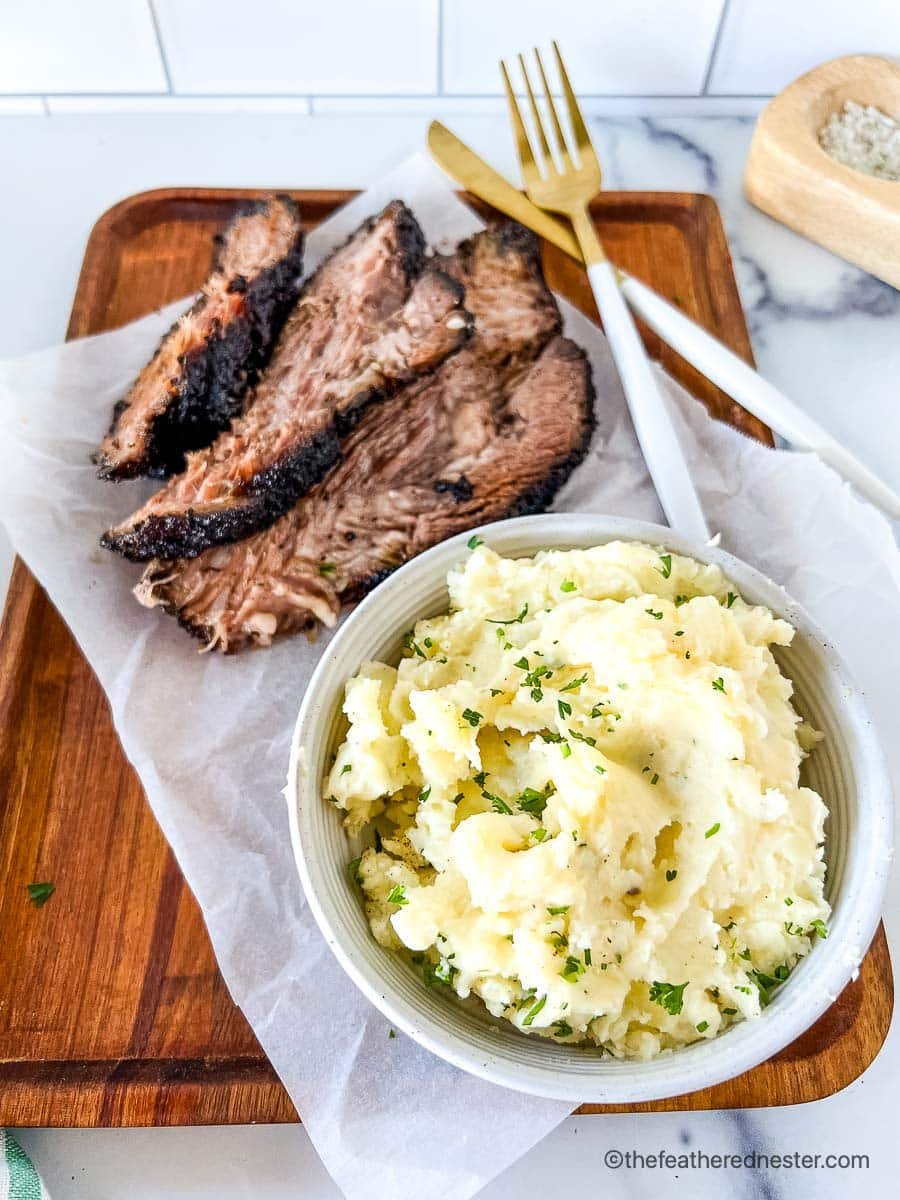 Why We Love Instant Pot Mashed Red Potatoes
This fantastic dish combines two of our favorite pressure cooker potato recipes, but using red instead of white – IP mashed potatoes and smashed potatoes.
Quick and easy to make. You can cook this recipe in under 15 minutes, and unlike boiling potatoes on a stovetop, you don't need to babysit. This recipe is pretty much hands-off!
Few ingredients – We only use butter and cream cheese, and the texture and flavor are amazing!
Can be made ahead. If you'd like, you can make this recipe up to 3 days ahead of when you plan to serve. It saves so much time, especially during the busy holidays!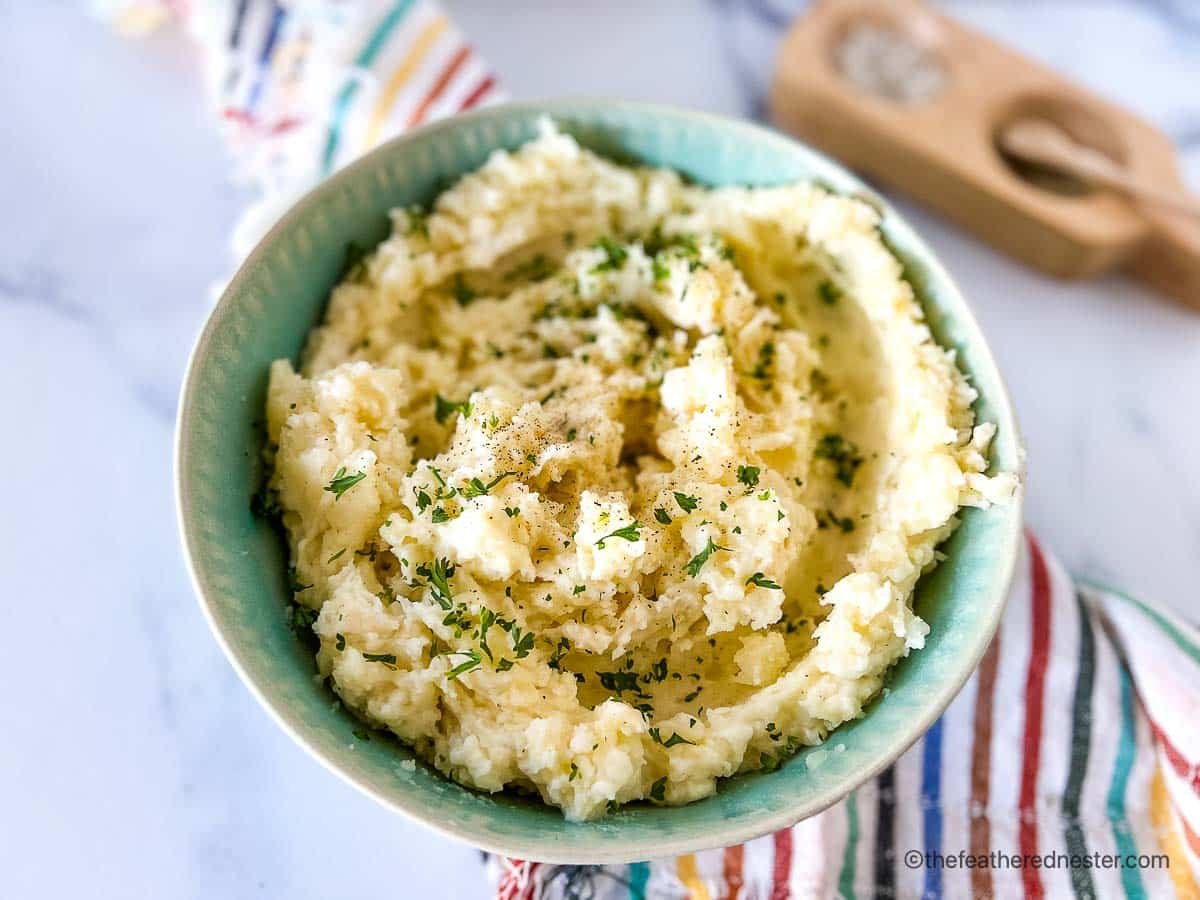 This recipe is a great side dish. But don't be surprised if people think they are the best part of the meal!
New to Instant Pot Cooking? Read How to Use the Instant Pot 101 first! And, then Tips & Hacks for the Instant Pot is terrific for new owners and seasoned IP-ers alike!
Ingredient Notes and Substitutions
Red potatoes – Because they will be cut into chunks, the size of the red potatoes doesn't matter too much. That being said, smaller ones are easier to cut.

If you want to make this dish but don't have any red-skin potatoes, you can use Yukon Gold. It's what we use in the recipe for Instant Pot Smashed Potatoes. Oh, and if you have an air fryer, consider making air fryer red potatoes!
Broth or Stock – We use chicken broth for additional flavor, but vegetable broth or beef stock can be used instead. In a pinch, water will be fine.
Unsalted Butter – If all you have is salted butter, that's fine. Just know that you may not need to add any additional salt to the dish. Always taste them first, just to be sure.
Cream cheese – For the best flavor and results, we recommend using full-fat cream cheese for this recipe. Low-fat cream cheese tends to be overly watery.
🎯 TFN Pro Tip for a lower calorie dish
To lower the calories in this potato side dish, use full-fat, plain Greek yogurt instead of cream cheese.
Tips for Perfect Red Mashed Potatoes
Use a quick release of pressure to avoid over cooking.

Add the red potatoes to the pot and pressure cook them for 7 minutes. Use a quick-release method as soon as they're done cooking.
Drain them well.

Be sure they are well-drained before mashing. We recommend using a slotted spoon to transfer the cooked potatoes to a bowl. This will help remove as much liquid as possible. Then, add broth back in while you mash to get just the right consistency.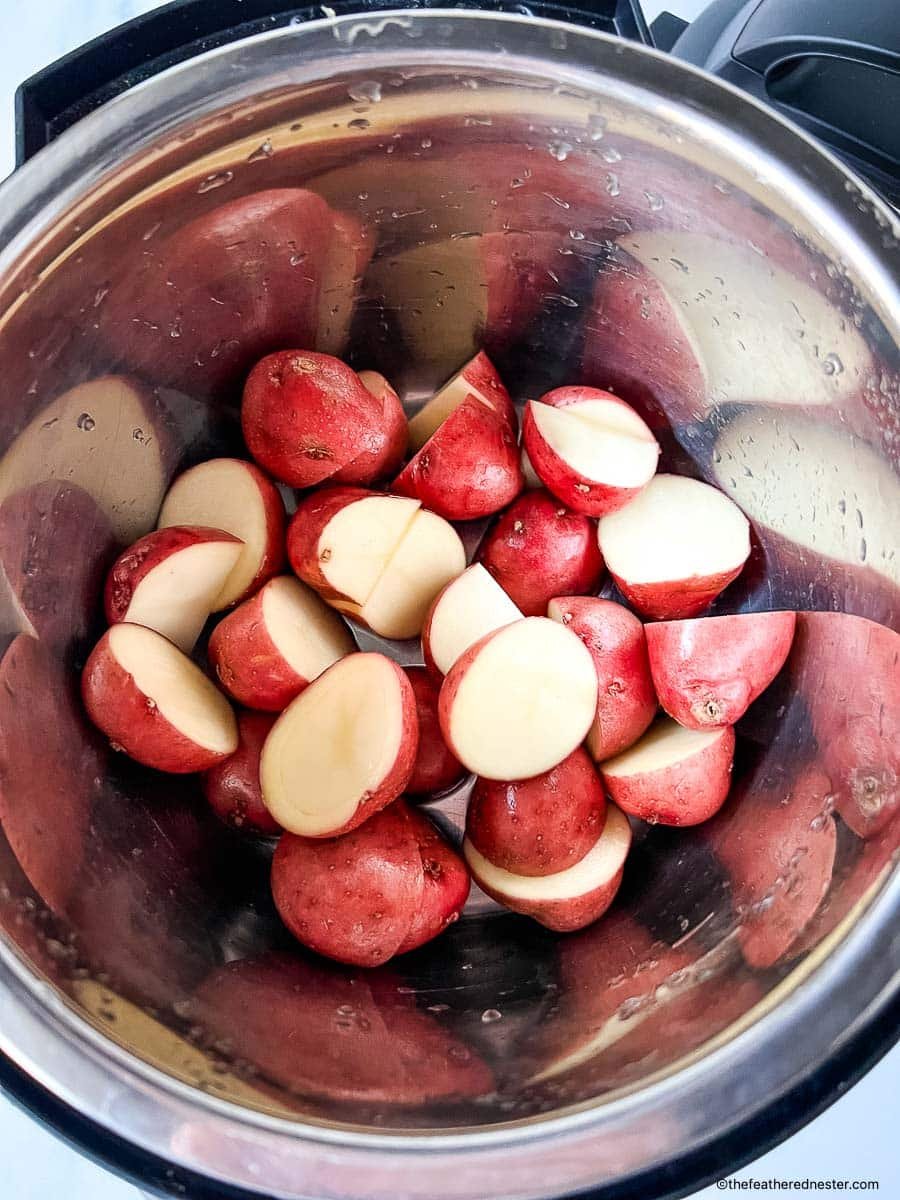 Reserve some of the cooking liquid.

You won't need a lot – just about 1/2 cup. The liquid will help loosen the consistency of the mashed red potatoes in the Instant Pot.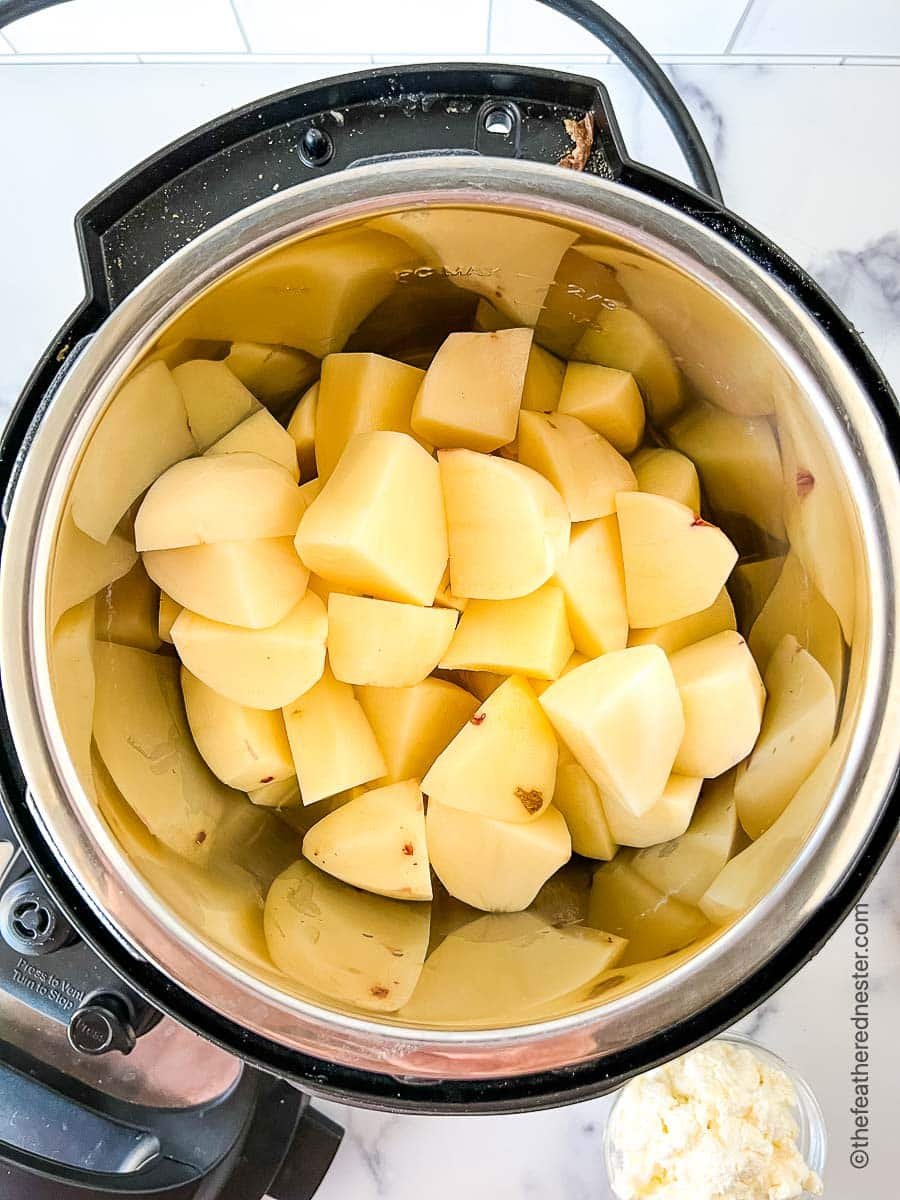 Don't over mash.

Keep in mind that red potatoes are starchy, so the longer you work them, the gummier the consistency will become. Use a light touch and mash just until they're creamy.
🎯 TFN Pro Tip – avoid using electric mixers
We do not recommend using a hand mixer to make Instant Pot mashed red potatoes. The high speed and heat of the mixer will quick turn your side dish into a gummy, pasty mess.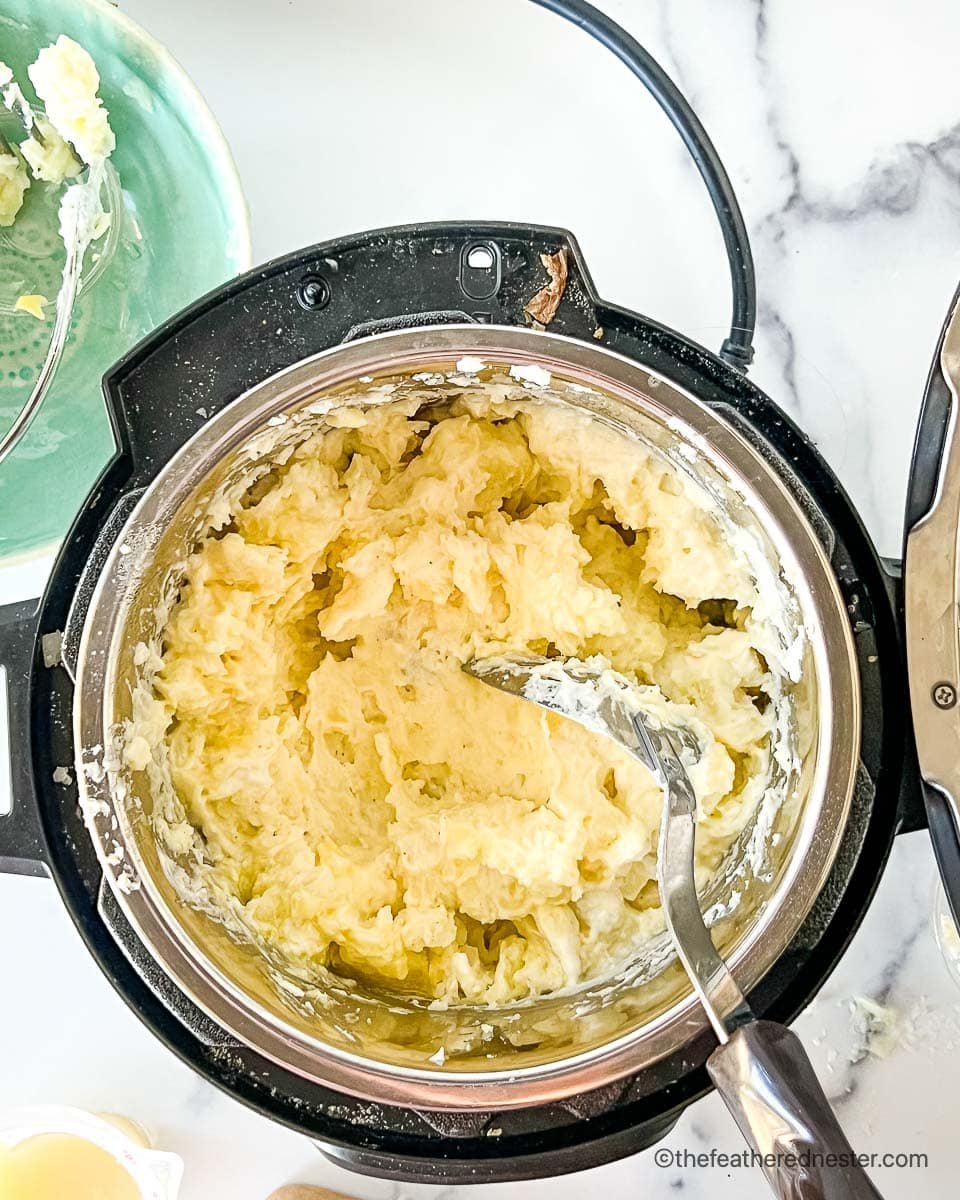 Wait until the end to add seasonings.

To avoid oversalting the mashed red potatoes, wait until you're finished mashing. Then, taste taste and add only as much salt and pepper as needed.

You can also garnish with parsley, chives, or grated parmesan before serving.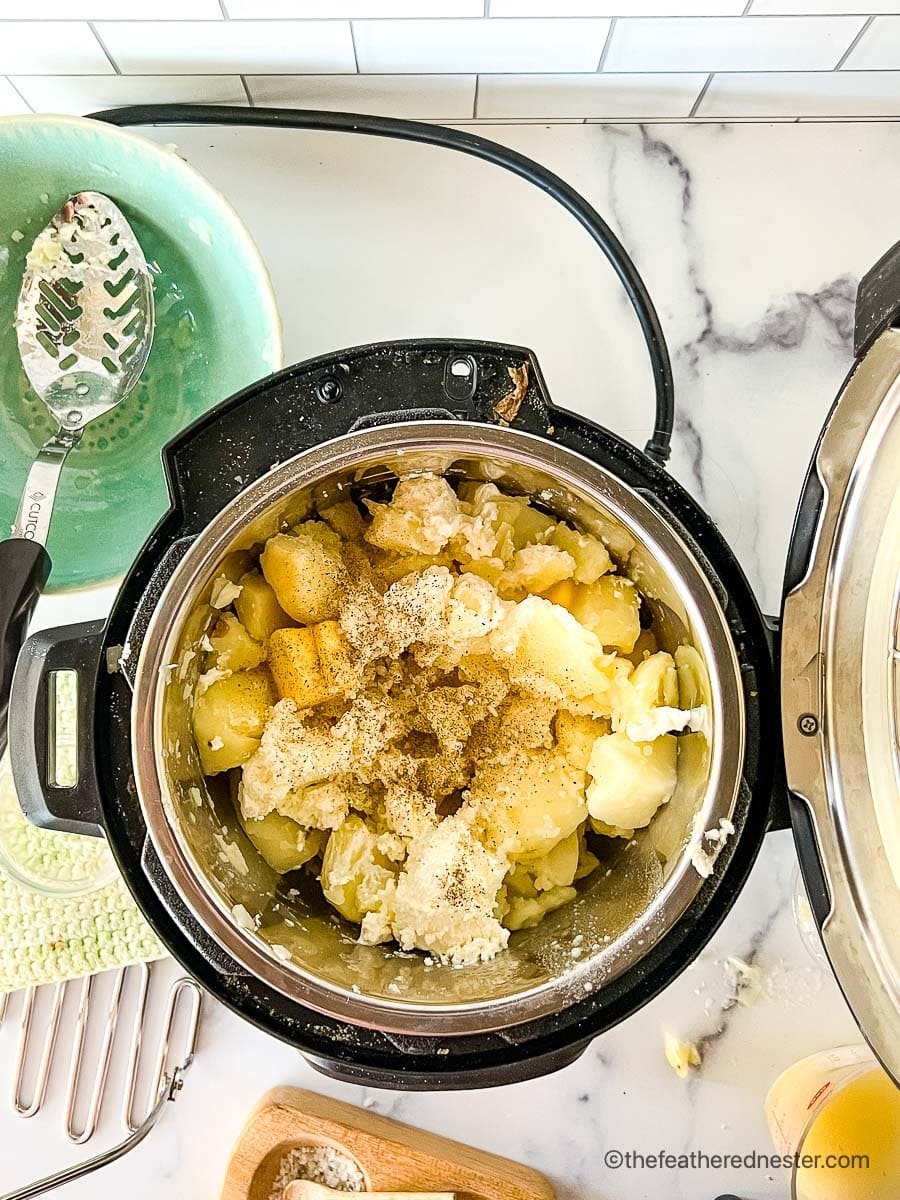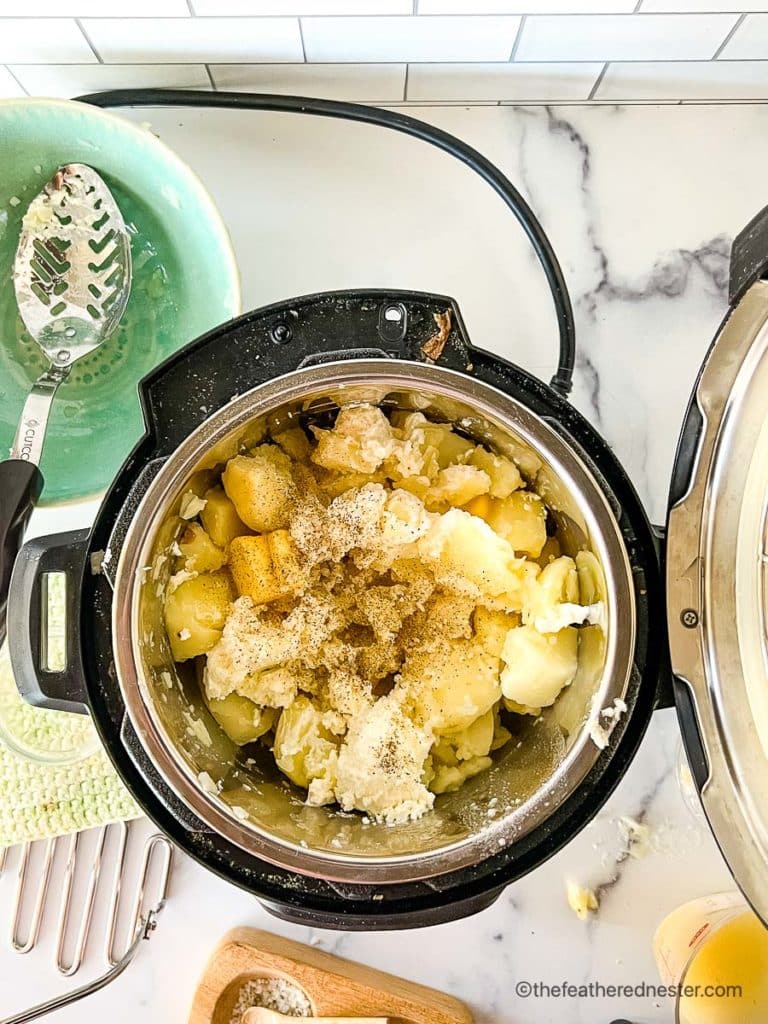 This recipe is made with red-skinned potatoes, which are lower in starch than Yukon Gold or Russet potatoes. Red potatoes tend to be less fluffy, but very creamy in texture.
If you're looking for a dish that has a bit more flavor and a lot of fluffiness, make our Instant Pot Garlic Mashed Potatoes recipe.
Recipe Variations
Cheesy: Add 1/4 cup of grated cheddar cheese to the mix. This will give them a delicious flavor.
Herbed: You can also mix in other herbs like chives, rosemary, or thyme.
Red potato salad: Make a cold potato salad by adding a 1/2 cup of mayonnaise, 1/4 cup of diced onion, and 2 tablespoons of diced celery.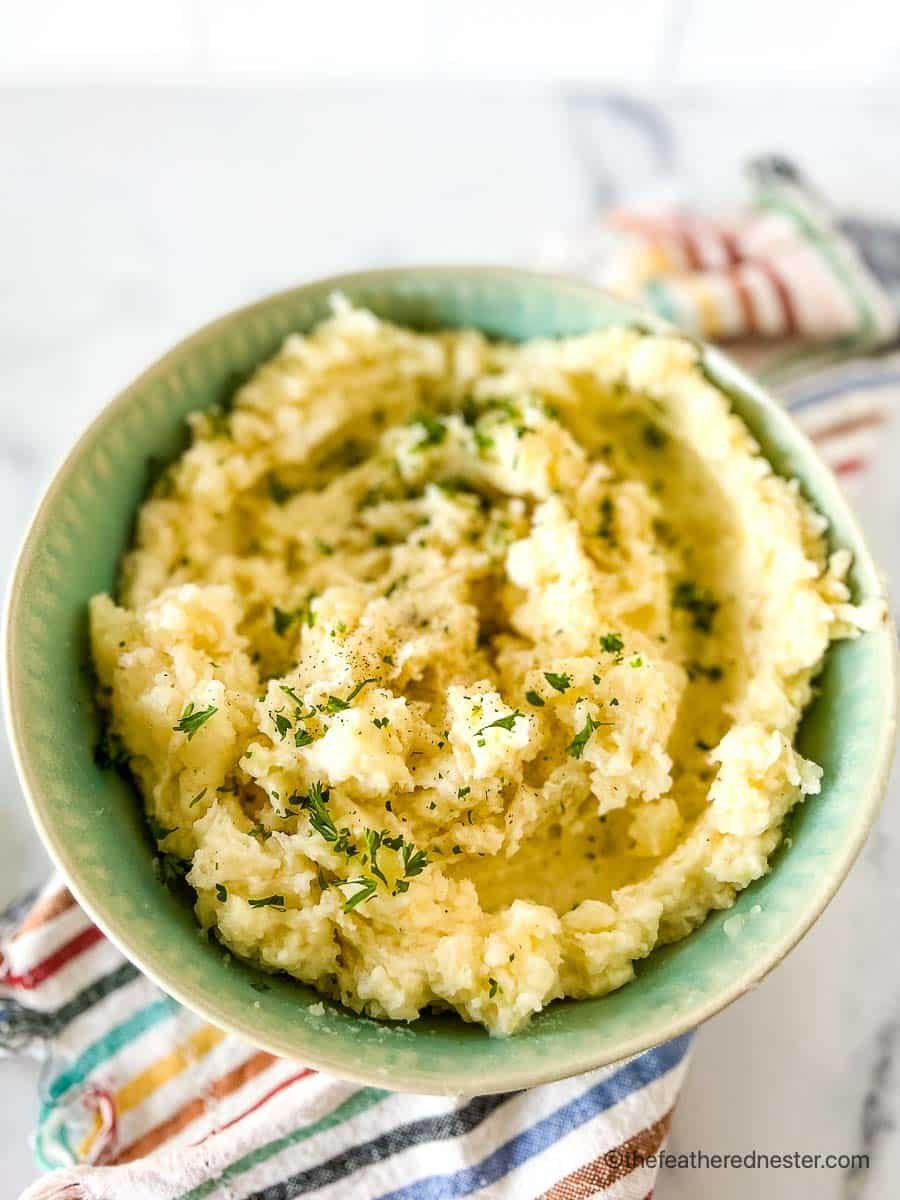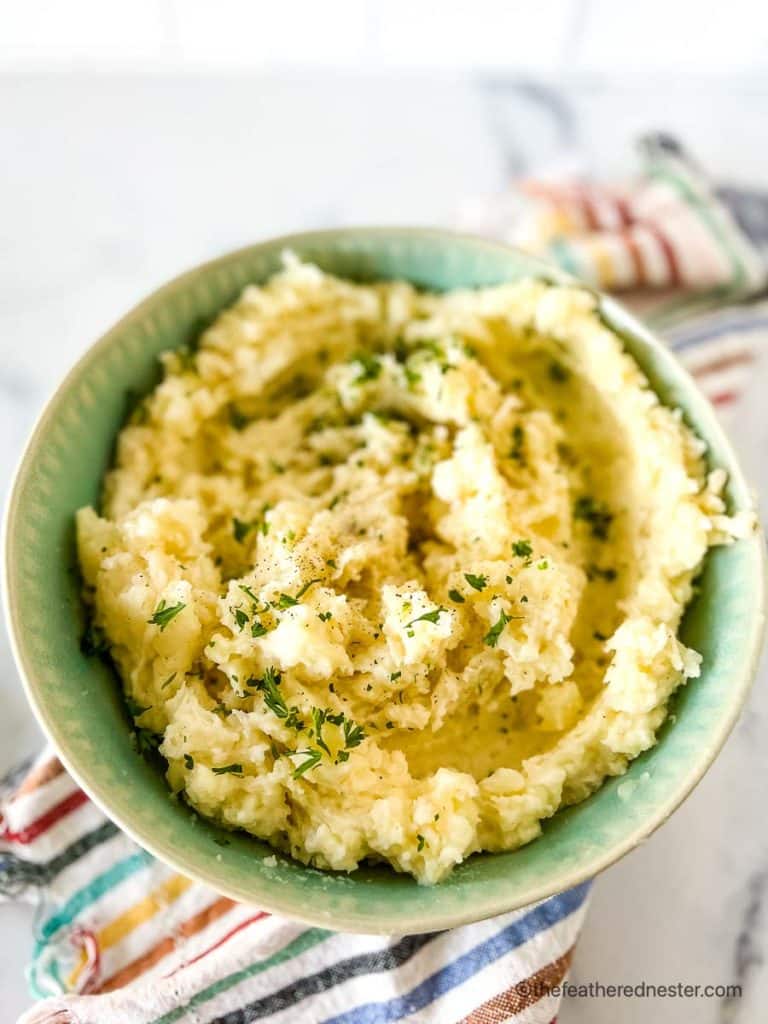 Instant Pot Mashed Red Potatoes FAQ
Why did my mashed potatoes turn out gummy or pasty?
This happens when they are mixed too much. They can also happen when they absorb too much water. That's why we like to use a pressure cooker. These cookers use less water and steam them instead.
How do I make vegetarian mashed potatoes?
If you want to make this recipe vegetarian, you can swap the chicken broth with vegetable broth.
Serving Suggestions
Red mashed potatoes pair well with so many different entrees! We serve them with everything from steak and pork chops to baked chicken tenderloins and turkey tenderloin.
They also pair well with roasted vegetables like maple balsamic Brussel sprouts, carrots, and Instant Pot green beans.
Instant Pot Mashed Red Potatoes
This quick + easy-to-make mashed red potatoes Instant Pot recipe creates a delicious potato side dish that goes well with nearly any protein!
Ingredients
2½ pounds red potatoes scrubbed and peeled, cut into 2" chunks
1 cup chicken broth or vegetable broth, reduced sodium if desired
4 tablespoons unsalted butter
4 ounces cream cheese softened
salt and black pepper
Optional Garnish
parsley, chives, or grated parmesan
Instructions
Add red potatoes and chicken broth to the pressure cooker. Twist the lid to lock it, and turn or press the sealing lever to seal. Set Instant Pot to cook at high pressure for 7 minutes.

Once pressure cooking is complete, use the quick release method to depressurize the pot. Using a slotted spoon, remove the potatoes to a bowl. Reserve 1/2 cup of the chicken broth from the pressure cooker and set aside.

Add butter and cream cheese to the potatoes, along with 1/4 cup of the reserved broth.

Mash the potatoes with a potato masher until they are creamy. For the best results, do not use an electric mixer. Red potatoes become gummy or pasty easily when over-mixed. Add more reserved potato broth, if needed, 1 tablespoon at a time.

Add salt and pepper to taste. Garnish with parsley, chives, or grated parmesan before serving, if desired.
Notes
Instead of using the reserved chicken broth and cream cheese, use 1/4 cup of milk and add more (up to another 1/4 cup) if needed for creamy red potatoes.
Nutrition
Serving: 1serving | Calories: 270kcal | Carbohydrates: 31g | Protein: 6g | Fat: 15g | Saturated Fat: 9g | Polyunsaturated Fat: 1g | Monounsaturated Fat: 4g | Trans Fat: 1g | Cholesterol: 41mg | Sodium: 173mg | Potassium: 922mg | Fiber: 3g | Sugar: 3g | Vitamin A: 500IU | Vitamin C: 16mg | Calcium: 41mg | Iron: 2mg
PIN THIS POST!