This post may contain affiliate links. If you click on a link and make a purchase, I may receive a small commission at no extra cost to you.
The trusty, versatile potato has long been a mealtime favorite. And thanks to the Instant Pot, it's now easier than ever to make a variety of dishes in a flash with barely any effort. This Instant Pot Smashed Potatoes recipe uses baby red potatoes, savory bacon, and parmesan cheese for a tangy, cheesy side that's a fun twist on traditional mashed potatoes. Plus, potatoes are steamed in the pressure cooker for a healthier dish – and then are topped with more cheese and fresh chives to create the perfect comfort food side dish!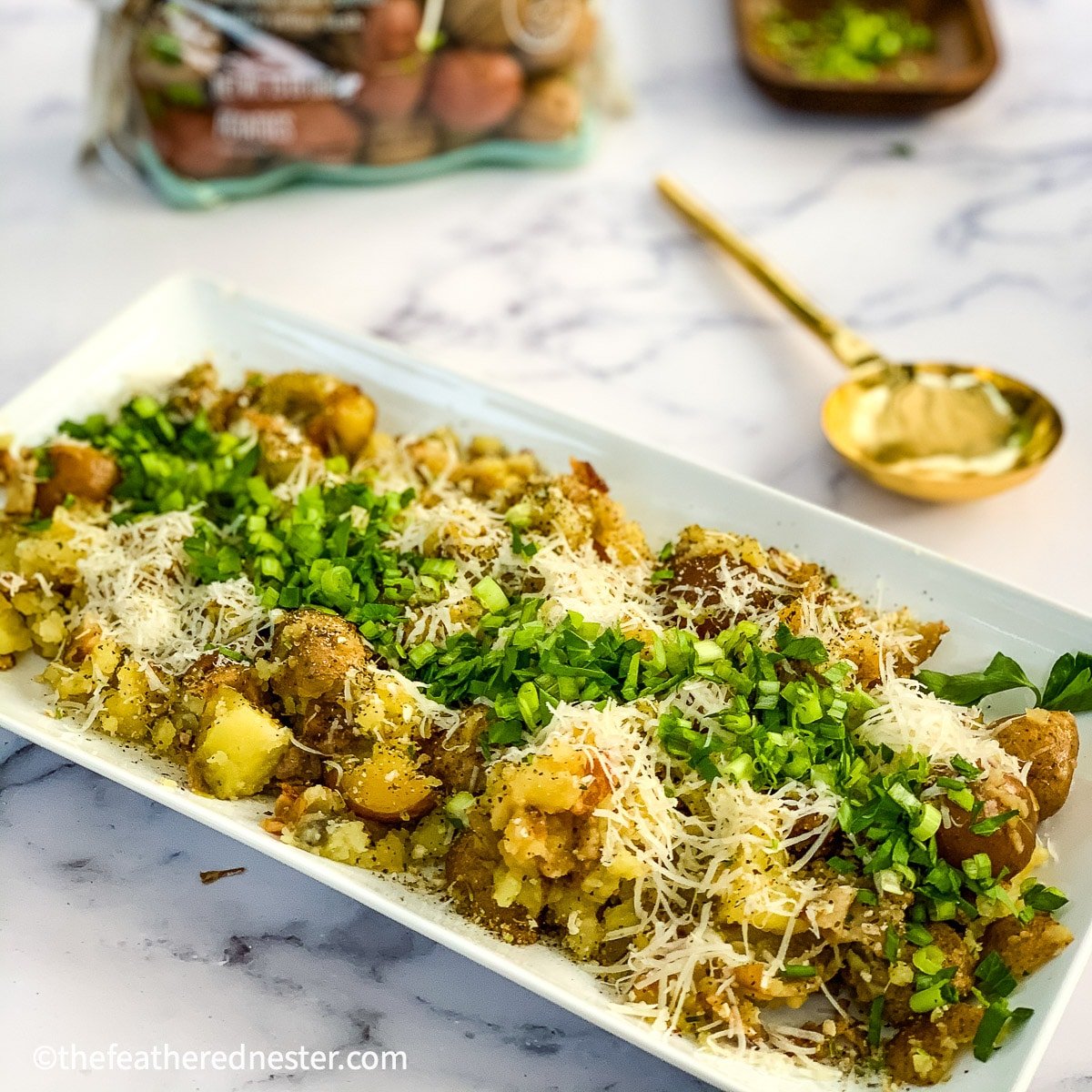 Why Use an Instant Pot to Make Smashed Potatoes?
Boiling potatoes on the stovetop uses a lot of water and is pretty labor-intensive. Pressure cooking, on the other hand, requires a fraction of the amount of water and actually steams the potatoes to effortlessly cook to perfection.
In case you are unfamiliar, a pressure cooker is a sealed pot with a valve that controls the steam pressure inside. As the pot heats up, the liquid inside forms steam, which raises the pressure in the pot. This high pressure steam has two major effects:
Quickly raises the boiling point of the water in the pot. Typically water-based foods cooked on the stove, like soups and steamed veggies, are only able to get as hot as boiling water (which is 212°F). However, because the Instant Pot uses the steam's pressure, the boiling point gets as high as 250°F. Food is able to cook much faster with this higher heat.
Forces liquid into the food. Not only does pressure cooking with steam increase the temperature, it also helps to tenderize foods more thoroughly and quickly.
Essentially, foods that are cooked in a pressure cooker are infused with flavor and therefore just taste better every time. And that's exactly what happens in this Instant Pot steamed potatoes recipe! Each bite absolutely bursts with savoriness from the chicken broth.
Not only are the insides of red potatoes cooked in the Instant Pot delicious, the extra-high heat of the pressure cooker causes the exterior of the potato to caramelize. The result is a terrifically tender, slightly crispy smashed potato. Loaded with tangy parmesan cheese, salty bacon, and fresh chives, its a hearty, gluten-free side dish that is guaranteed to make everyone at the table happy!
New to Instant Pot Cooking? Read this first! How to Use the Instant Pot 101. My Tips & Hacks for the Instant Pot is terrific for new owners and seasoned IP-ers alike!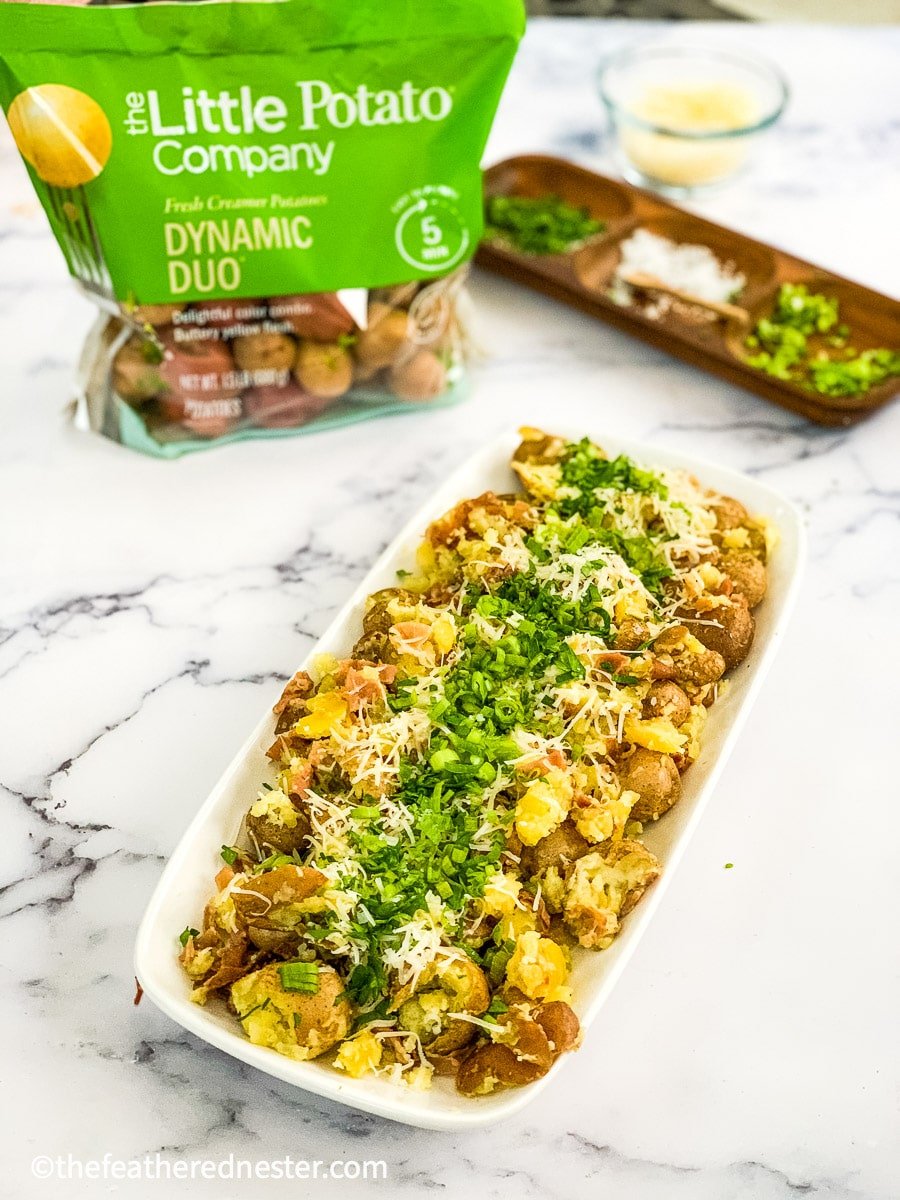 Ingredients for Steamed Instant Pot Smashed Potatoes
Here is everything you need to make the easiest, cheesiest smashed Instant Pot potatoes:
Bacon
Garlic
Small red potatoes
Chicken broth
Parmesan cheese
Green onions
How to Make Instant Pot Smashed Red Potatoes
This satisfying side dish only requires a few steps and is ready in less than 30 minutes. Instant Pot parmesan potatoes are perfect for making on a busy weeknight, or enjoying as part of a big family Sunday dinner.
Here is the easy recipe for making cheesy, savory smashed baby red potatoes in the Instant Pot:
First, use the saute function to cook chopped bacon in the Instant Pot. Deglaze the pan with chicken broth, add the potatoes, and close and seal the lid. Cook on high pressure for 8 minutes.
Once done, do a quick release to vent the steam. Open the lid, slightly smash the potatoes, and stir in some of the parmesan cheese.
Then, transfer the smashed red potatoes to a serving dish. Top with the remaining cheese and chopped fresh green onions.
See Below for the Full Instant Pot Smashed Potatoes Recipe!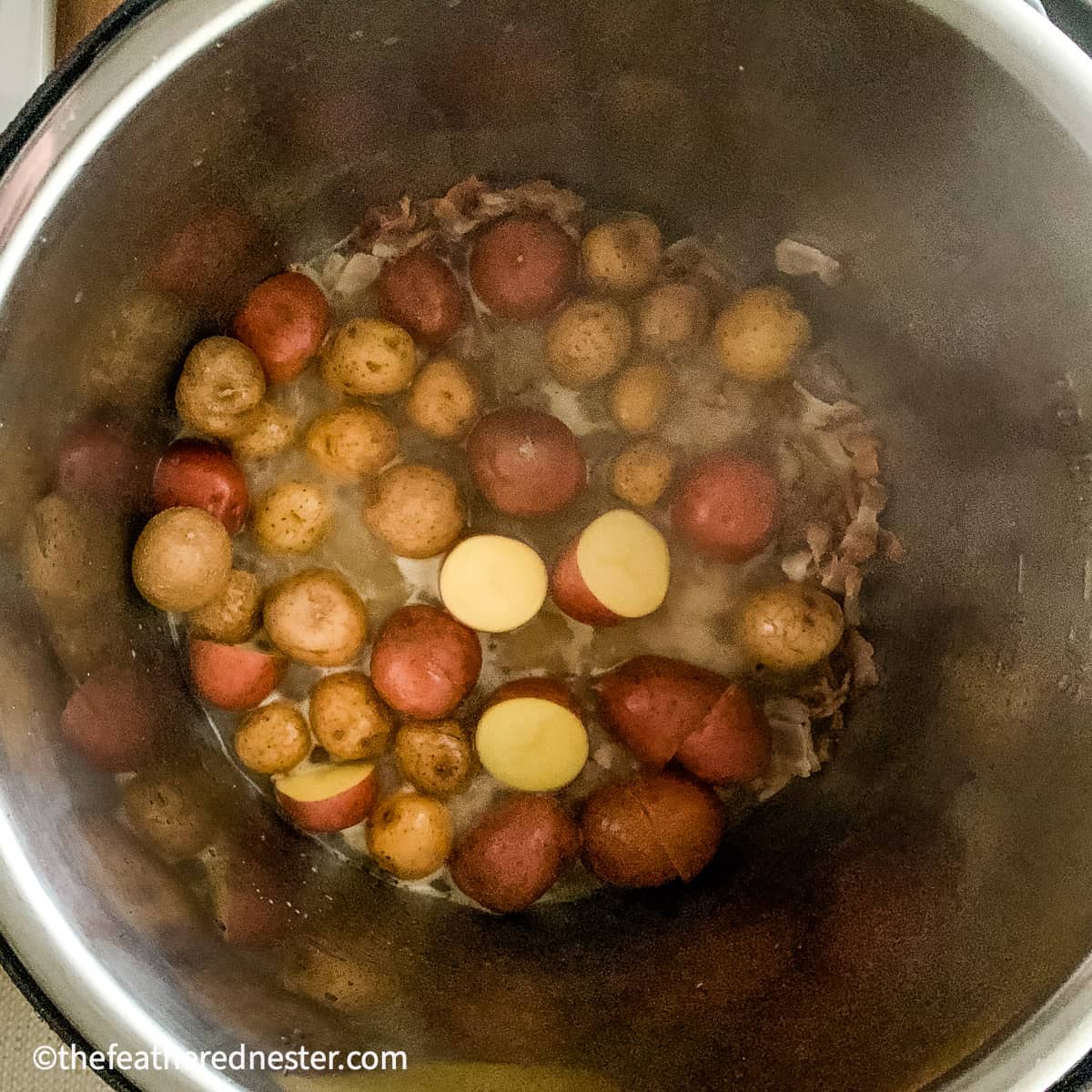 How do I make vegetarian Instant Pot Smashed Potatoes?
Substitute the bacon for 1 tablespoon of butter, and swap chicken broth with vegetable broth to make savory meat-free smashed red potatoes.
Can I use potatoes other than red potatoes?
Yes! I prefer baby red potatoes to make Instant Pot steamed smashed potatoes because I love their earthy flavor. But feel free to use chopped yellow Yukon gold potatoes, or even russet potatoes if you like.
What if I don't have a pressure cooker?
Make this smashed potatoes dish on the stovetop by boiling the potatoes in water. Cook the bacon using whatever method you prefer most (fry in a skillet, cook in a microwave) while the potatoes boil. Drain the potatoes when done and lightly smash with a masher.

Then, add some of the parmesan and chopped bacon, and stir. Cover the pot with a lid to allow the cheese to melt slightly. Place on serving dish, add more cheese and green onions before enjoying.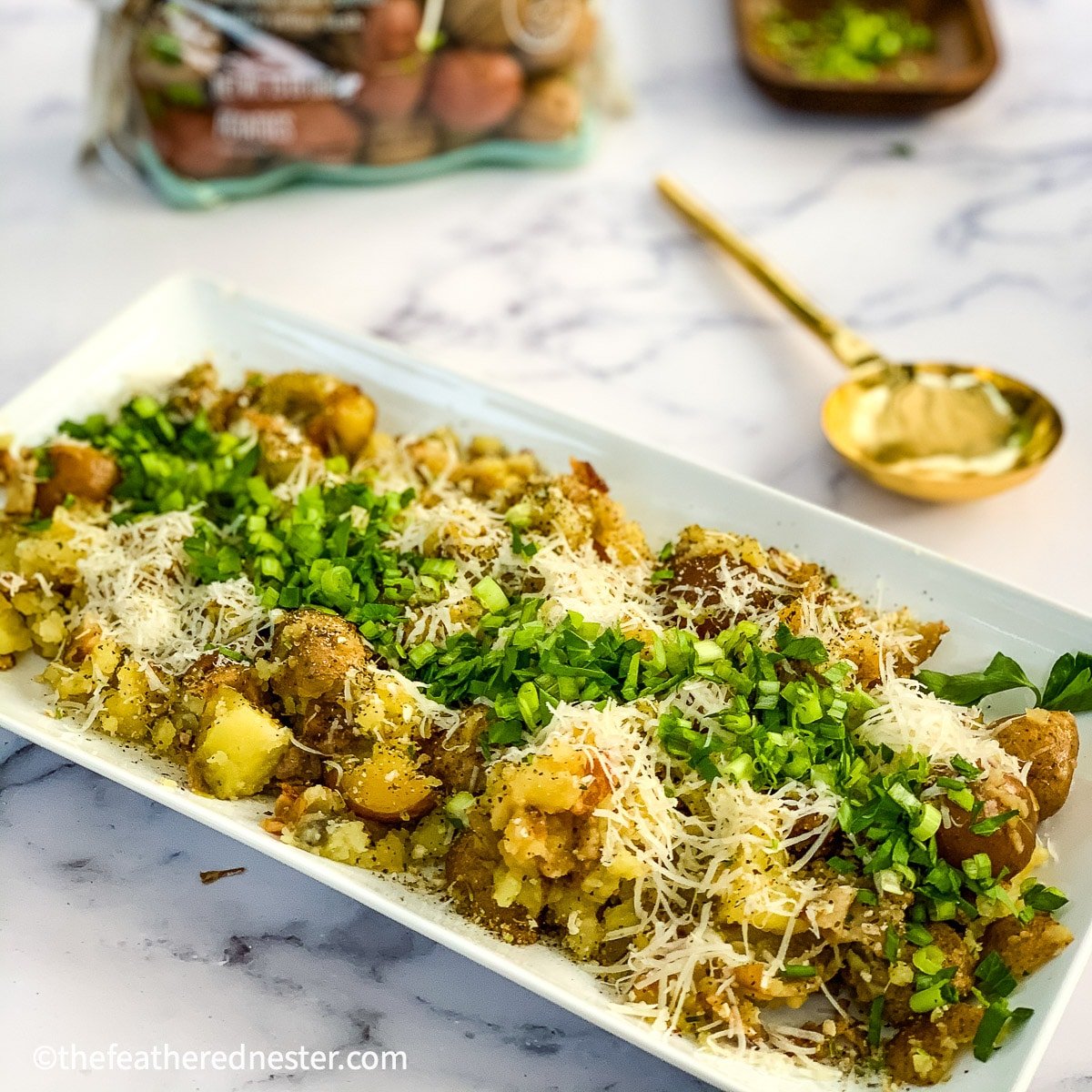 Get the Instant Pot Smashed Potatoes Recipe Here:
Instant Pot Creamy Smashed Potatoes
This steamed Instant Pot Smashed Potatoes recipe uses baby red potatoes, bacon and parmesan for an easy, deliciously cheesy twist on mashed potatoes.
Equipment
Instant Pot (or any electric pressure cooker)
Ingredients
4

slices

bacon

2

garlic cloves, minced

1

lb.

small red potatoes, scrubbed

1/2

cup

chicken broth, reduced sodium

1/2

cup

parmesan cheese, grated, divided

1/2

cup

green onions, chopped, green parts only
Instructions
Set Instant Pot to sauté and cook garlic and bacon until fat has rendered, about 3 minutes. Add broth and allow the pan to deglaze, about 1-2 minutes. Add potatoes, press cancel, lock on the lid, and set Instant Pot to high pressure for 8 minutes.

Once pressure cooking is complete, use the quick release method to depressurize the pot. Gently smash the potatoes in the pot with a potato masher and sprinkle on 1⁄4 cup of parmesan cheese.

Place potatoes on a serving plate, top with the rest of the parmesan cheese and green onions and serve.
Notes
Optional: For a crispier topping, add the air fryer lid to the Instant Pot and cook for 5-10 minutes at 350º. Or broil the potatoes in your oven to crisp the top.
Nutrition
Serving:
1
g
|
Calories:
97
kcal
|
Carbohydrates:
13
g
|
Protein:
5
g
|
Fat:
3
g
|
Saturated Fat:
2
g
|
Cholesterol:
6
mg
|
Sodium:
155
mg
|
Potassium:
392
mg
|
Fiber:
2
g
|
Sugar:
1
g
|
Vitamin A:
148
IU
|
Vitamin C:
8
mg
|
Calcium:
112
mg
|
Iron:
1
mg
Try these other delicious side dishes:
Follow me on Pinterest for the latest in simple, easy food inspiration:
For more meal inspiration, follow me on Facebook and Instagram!