This calico baked bean casserole is a dish that will make many people happy. It is easy to make and has a lot of flavors. This bean hamburger casserole is mixed with bacon, ground beef, and vegetables if you like. Plus, you can even cook this gluten-free cowboy calico beans recipe in one skillet!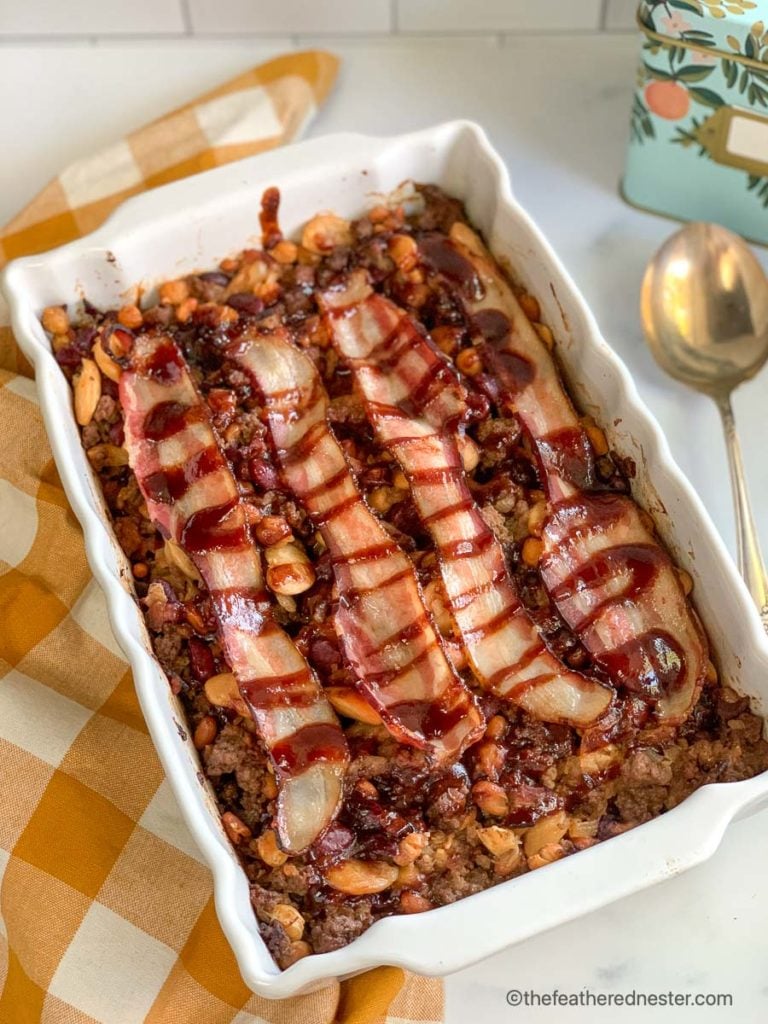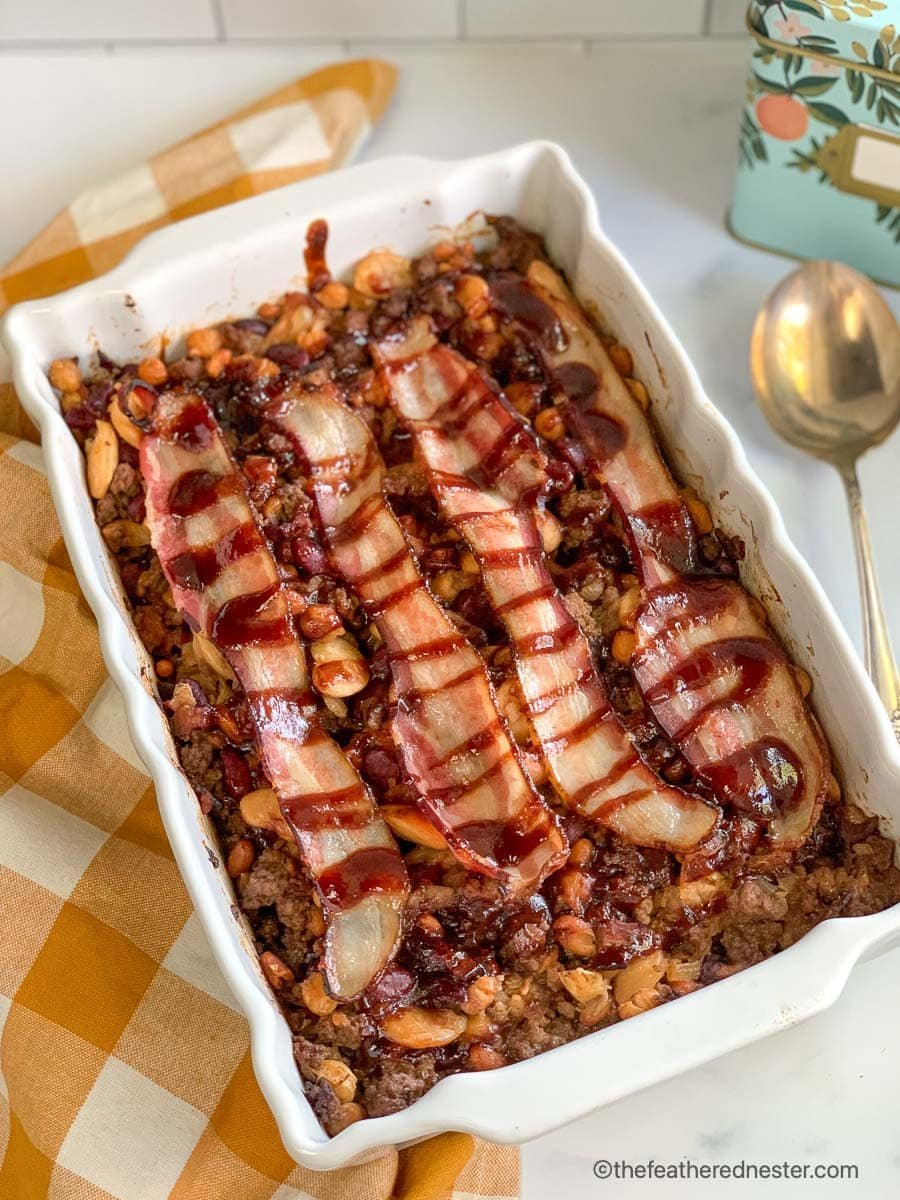 The Best Calico Beans and Hamburger Casserole
Calico bean casseroles are a great meal to have for dinner. Because they are easy to make and they are affordable. You can also make it with your available kitchen staples. They are good for weekday dinners or for when you want a filling meal.
You can make a delicious meal quickly by combining cans of beans in your pantry with any meat you like. But, don't be fooled by the ease of this hamburger and calico bean casserole recipe.
Because the ingredients for this dish are simple and gluten-free. But when they are all put together, they create a bold taste. So, the calico cowboy beans get a delicious and tangy-sweet kick from the mix of ketchup, mustard, vinegar, and brown sugar.
This bean casserole is great because it is simple to prepare. Because it is easy to replace the beans with the ones you have on hand. The calico bean casserole can also be made in a single pan.
Also, you can choose to cook the calico bean casserole with ground beef and veggies in an oven-safe skillet pan. Or, you can put them in a baking dish. These calico baked beans will be ready to eat in just 30 minutes.
Are you in a hurry? You can make this Instant Pot Calico Beans recipe instead.
What Are Calico Beans?
What are calico beans? The word calico means a kind of color in this case its beans. Because there is usually a brown, white, and red beans mixture all combined together in one pot.
So we included a traditional mix of beans, kidneys, baked, butter, and garbanzo in this recipe. Because of the different beans, the casserole is colorful and tasty!
Ingredient Notes and Substitutions
This simple yet satisfying calico baked bean casserole is made with classic pantry staples and happens to be gluten-free.
Bacon – We used pork bacon but you can swap it with turkey bacon. Since turkey bacon has less fat add 1 tbsp of oil to the skillet after the bacon has cooked (if needed).

Ground beef – you can also use ground turkey.

Ketchup – you can also swap this with BBQ sauce for even tangier and smokier calico baked beans.

Brown sugar – For a sweeter flavor, you can also add molasses and/or a teaspoon of liquid smoke for a more savory taste.

Yellow mustard – For a spicier flavor, you can also add Dijon mustard.

Apple cider vinegar – For a tangy flavor, you can also add red wine vinegar.

Beans – we used Pork and beans, butter beans (lima beans), kidney beans, and garbanzo beans (chickpeas) for this recipe. However, you can use any kind of canned beans that you have. You can use cannellini beans, broad beans, soybeans, pinto beans, or other kinds of beans.
Equipment used for this Recipe
How to make the Best Cowboy Calico Beans
In a large skillet, cook the bacon, ground beef, and onions. But I like to use a cast-iron skillet for this dish. Cook until the ground beef is no longer pink and the onion is translucent. After that, drain off any excess fat from the pan.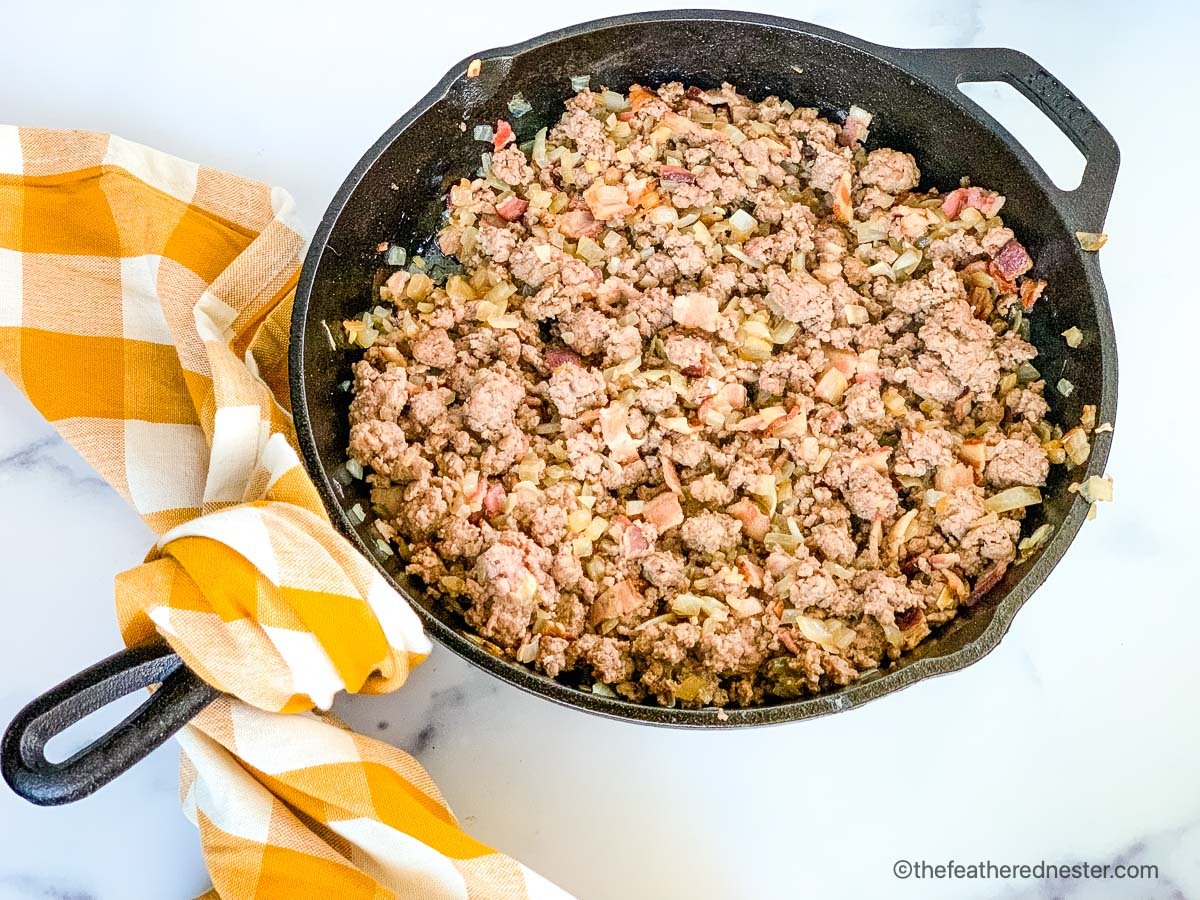 Then, stir the ketchup, sugar, mustard, and vinegar in a skillet. Then add the drained beans and pork and beans. Stir until they are mixed well together.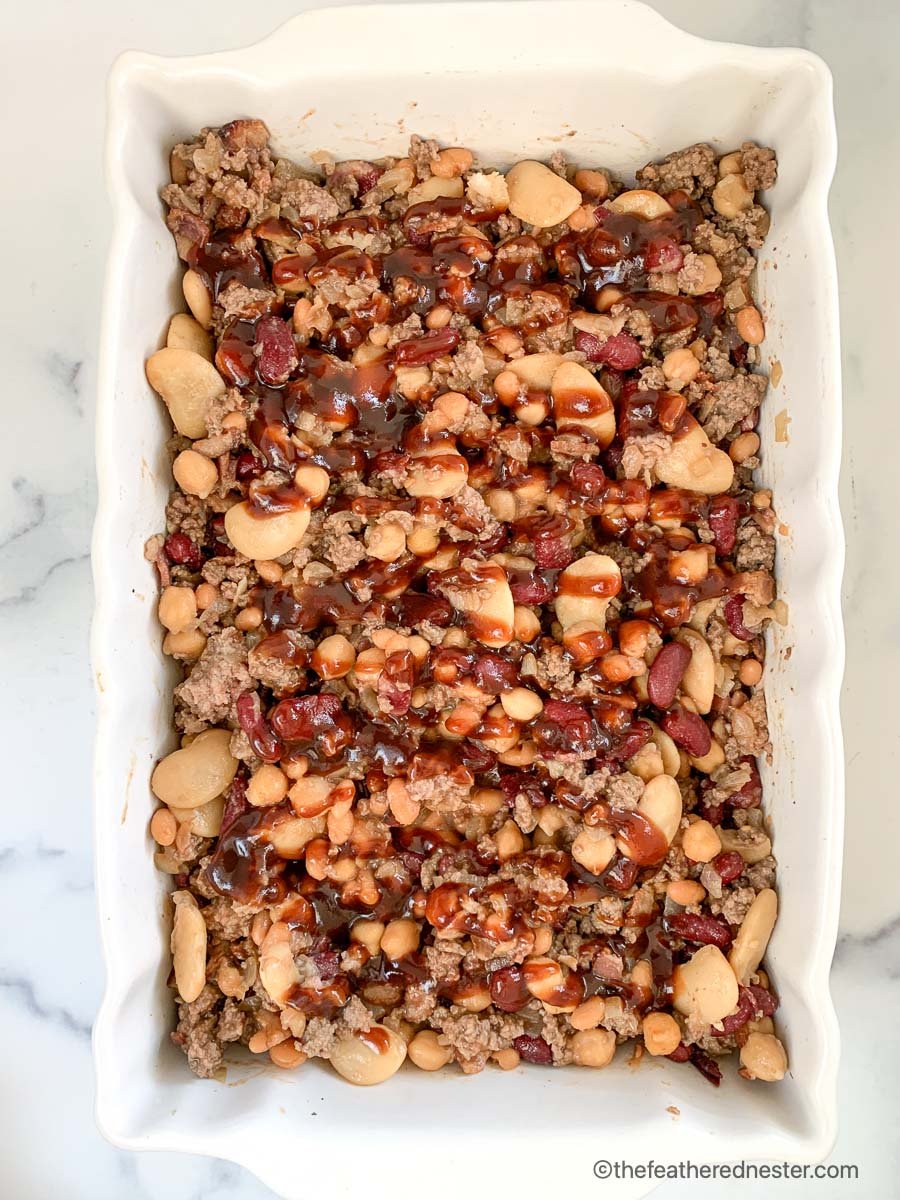 Then, add bacon and a drizzle of barbecue sauce for a tangy, crispy topping!
Lastly, cover the calico bean casserole dish or skillet and bake for 20-25 minutes. The baked beans will be bubbly when they are done.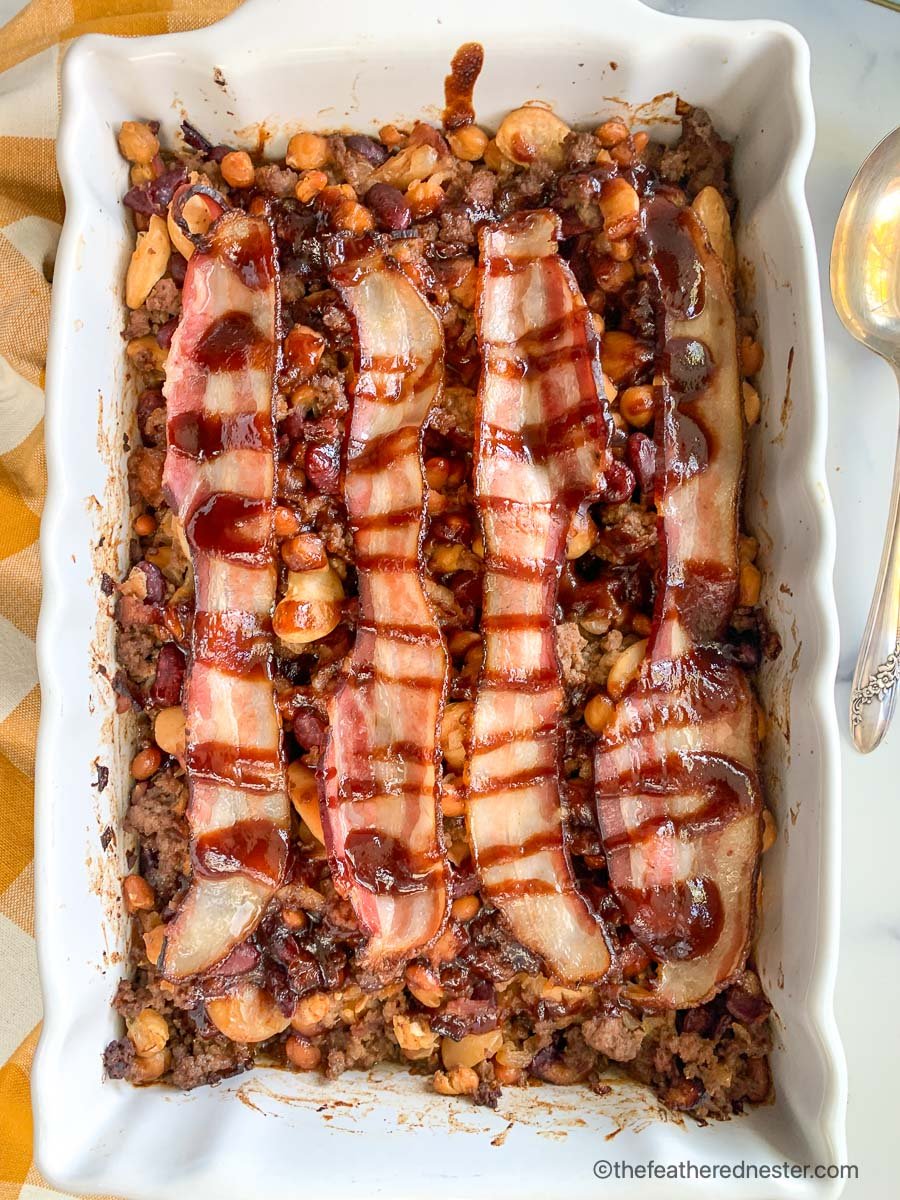 You can then garnish the top of the casserole with crispy cooked bacon bits, french onions, green onions, or shredded cheese before serving.
What to serve with Calico Beans?
One of my favorite things to serve with a hamburger and baked bean casserole is cornbread. But if cornbread isn't your thing, Try our easy 3 ingredient biscuits that are ready in 15 minutes. Or maybe some tender drop biscuits or cheesy Cheddar Bay biscuits.
To add some healthiness to these beans, serve them with a crisp fresh salad with tahini dressing.
If You're Looking for Other Bean Recipes, Try these
We love cooking beans, and we have a few recipes to share. These bean recipes are sure to please any palate. For a salad lover, this Tuscan Bean Salad is a must-try. If you love spicy foods, this Stovetop Chili con Carne is a perfect choice.
For soup lovers, these Instant Pot Navy Bean Soup and Instant Pot Lima Beans and Ham Soup are perfect for a comfort meal. And for those who like to eat beans as a main dish, these Instant Pot Calico Beans and Slow Cooker Calico Beans are both hearty and filling.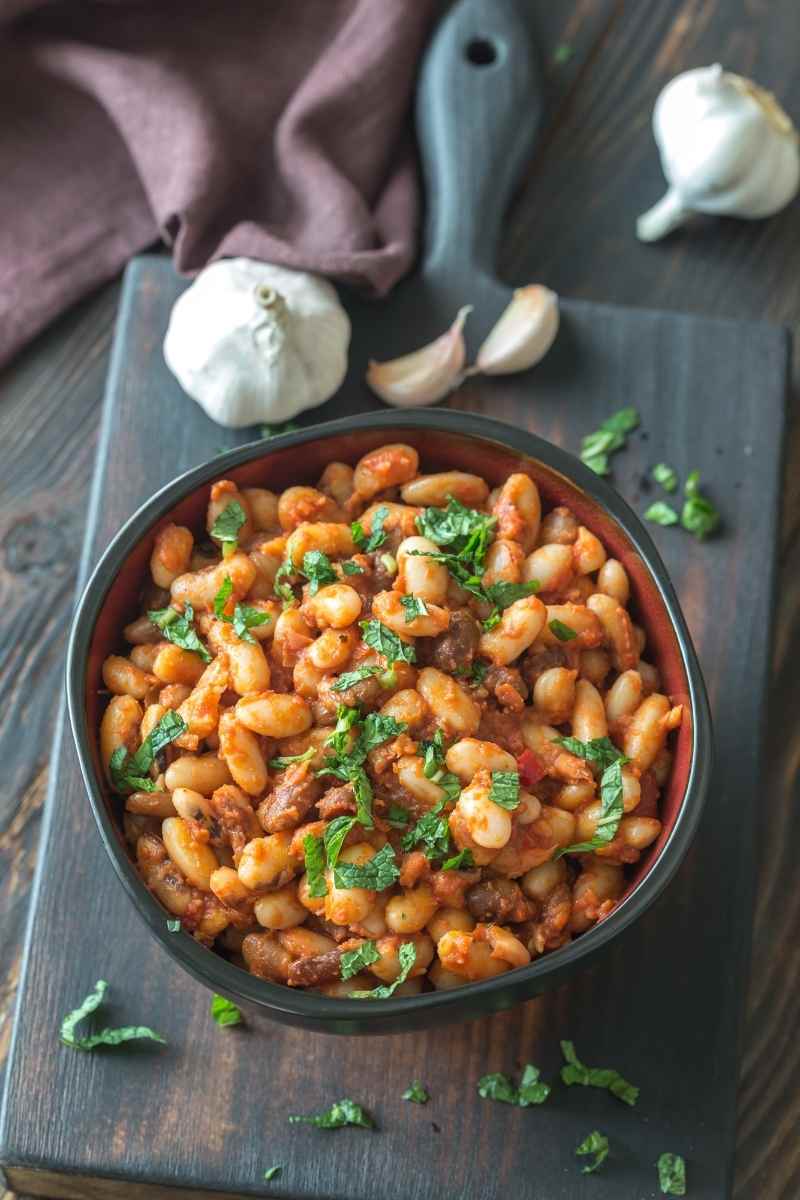 Frequently Asked Questions
What can I do to add more sauce to these calico cowboy beans?
You can add an 8 ounce can of tomato sauce, or a 16 ounce can of drained diced tomatoes or crushed tomatoes.
Hamburger and Calico Beans Casserole Recipe
Calico Bean Casserole
These baked calico beans are perfect for a hearty dinner, potluck dish, or a summer barbeque. Canned beans make this hamburger and bean casserole a tangy and delicious but super easy dinner that's ideal any night of the week.
Equipment
12" skillet (or 3 quart skillet)

3 quart casserole dish (if skillet isn't oven safe)
Ingredients
4 slices bacon, thickly cut, diced
1 pound lean ground beef (I recommend 85/15 ground hamburger)
1 medium onion, chopped
1 cup ketchup (see how to substitute with BBQ sauce in notes)
¾ cup brown sugar, firmly packed
1 Tablespoon prepared yellow mustard
4 teaspoons apple cider vinegar or white vinegar
1 can (15 ounces) pork and beans
1 can (15 ounces) butter (lima) beans, drained
1 can (15 ounces) kidney beans, drained
1 can (15 ounces) garbanzo beans or chickpeas, drained
Instructions
Preheat oven to 350ºF.

Cook the ground beef, bacon, and onions in a large skillet (I prefer to use cast iron for a one pot recipe), until the ground beef is no longer pink and the onions are translucent. Drain excess fat from the skillet.

Stir in the ketchup, sugar, mustard, and vinegar to the skillet. Add the canned beans and combine, stirring until well mixed. If your skillet is oven-safe, skip to step 4. Add calico beans mixture to a 3 quart casserole dish.

Cover skillet or casserole dish, and bake for 20-25 minutes, until bubbly. Garnish calico beans with crispy bacon bits, french onions, green onions, or shredded cheese before serving.
Notes
Substitute garbanzo, lima (butter), or kidney beans with black beans, pinto, or navy beans. Substitute ketchup, brown sugar, and mustard with 2 cups of BBQ sauce. Leftovers will keep well stored in an airtight container in the refrigerator for up to 4 days.
Nutrition
Serving: 1serving | Calories: 363kcal | Carbohydrates: 40g | Protein: 20g | Fat: 14g | Saturated Fat: 5g | Polyunsaturated Fat: 2g | Monounsaturated Fat: 6g | Trans Fat: 1g | Cholesterol: 63mg | Sodium: 610mg | Potassium: 506mg | Fiber: 1g | Sugar: 36g | Vitamin A: 216IU | Vitamin C: 3mg | Calcium: 43mg | Iron: 2mg
PIN THIS POST!