There is nothing better than this easy Crock Pot Smothered Chicken dinner that's hearty, healthy, and family-friendly. This slow cooker dump-and-go recipe combines just a few wholesome ingredients in one pot for a super simple and amazingly delicious meal that everyone will love!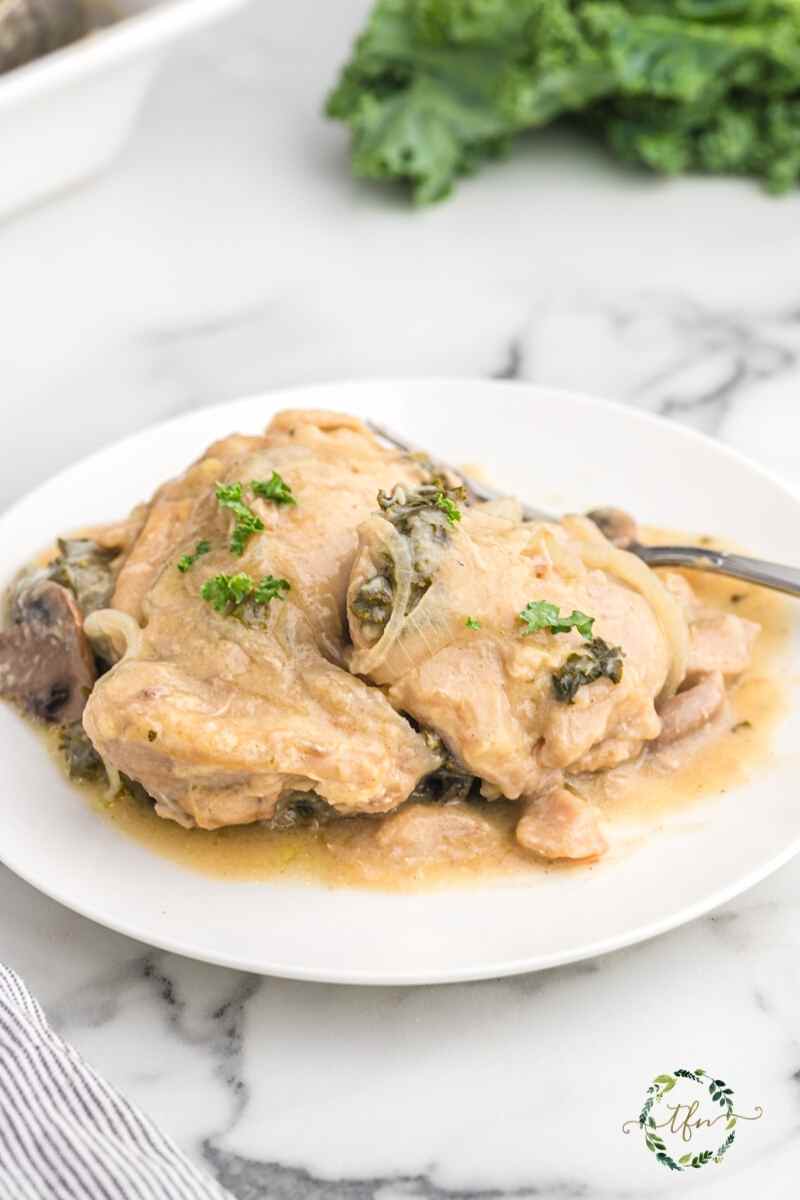 Why We Love Crockpot Smothered Chicken!
We love simple dinners that are tasty, versatile, and on the healthier side. And this easy chicken dump recipe is everything you want. Everything is cooked together in a slow cooker. Serve it as-is or with various sides.
Also, this creamy smothered chicken thighs recipe includes fresh kale or spinach for a pop of flavor and healthy goodness.
But, it is such a rich and delicious creamy dish that everyone – including the kids – won't notice that they are happily eating their veggies.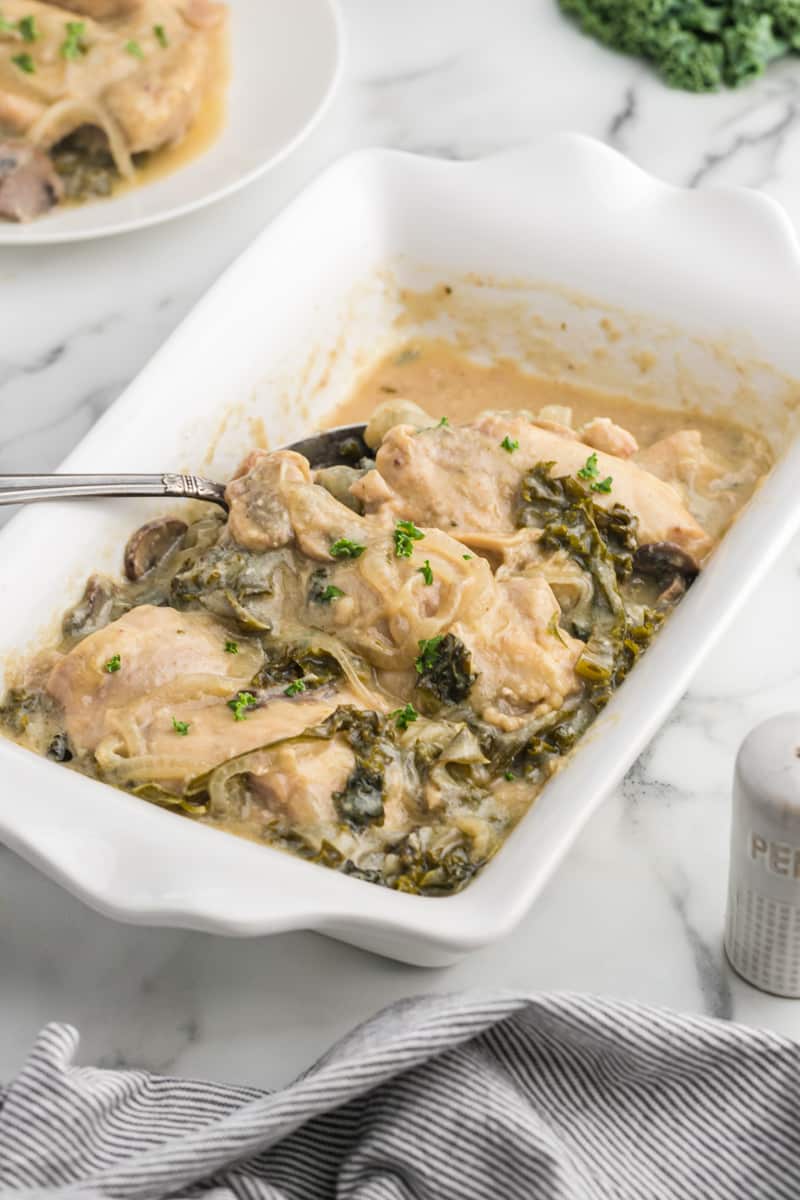 What Is Slow Cooker Chicken?
You can make this healthy recipe in a crockpot (slow cooker) as a set and forget it dinner. All you need to do is load the crock with ingredients and cook as per the recipe below!
If you've got a bit more time for prep, you can choose to brown the chicken beforehand. Sear it for a few minutes on each side in a skillet to get a beautiful golden color.
Or, if your slow cooker offers the option to sear before slow cooking, take advantage of that!
Everyone loves a one-pot meal. Searing or browning does help to create an even more flavorful, golden topping, but it's not necessary.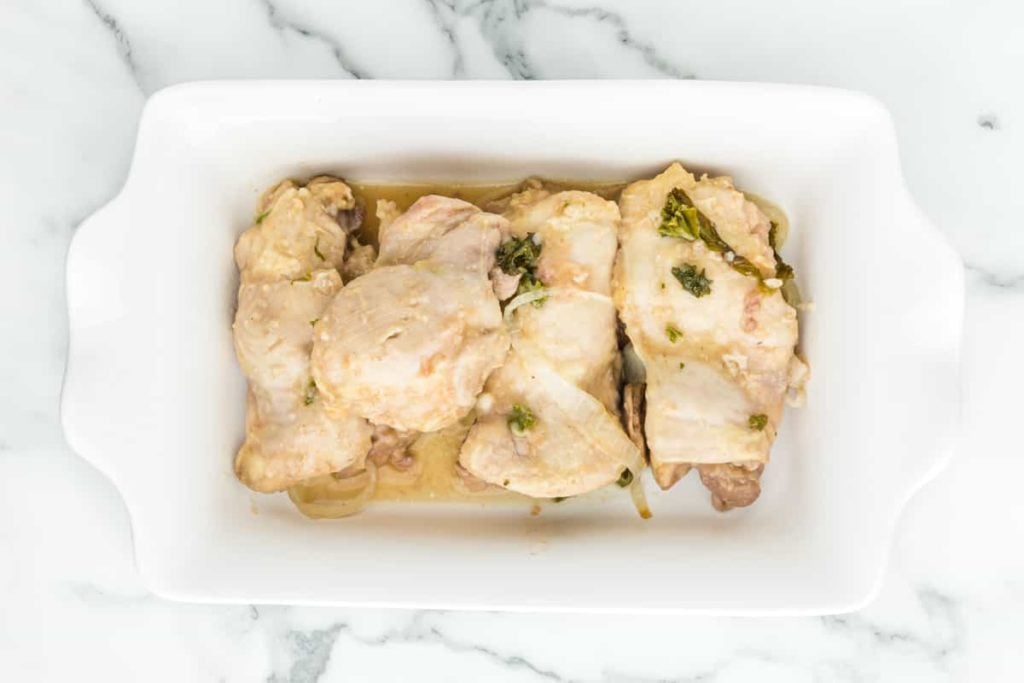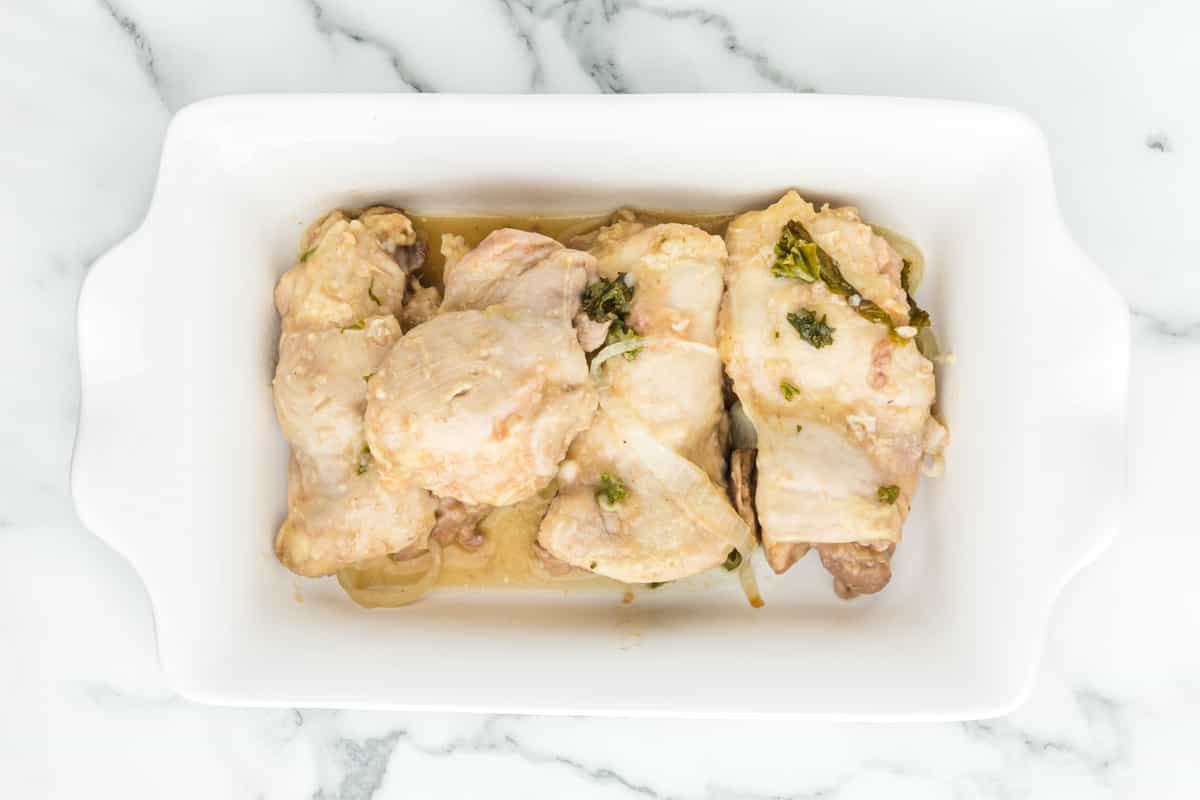 Ingredients
This simple and savory, comforting dish recipe calls for a handful of familiar ingredients. Here's everything you need to make this recipe:
Bone-in or boneless chicken thighs
Yellow onion
All-purpose flour
Lawyr's – or your favorite seasoning
Low-sodium chicken broth
Kale or Spinach
Mushrooms (optional)
Milk
Corn starch
Kale is the heartiest of the leafy greens. Because it stays terrifically tender through the slow cooking process and, along with the mushrooms, adds a yummy deep earthy flavor.
This recipe has a rich sauce that is savory and full of flavor. Also, try these Chicken Slow Cooker Enchiladas.
How to Make Creamy Chicken and Kale
This easy slow cooker recipe only requires two main steps for juicy chicken with a creamy, luscious sauce.
The first step is to load the Crock-Pot with chicken thighs drenched in a mixture of flour and seasonings.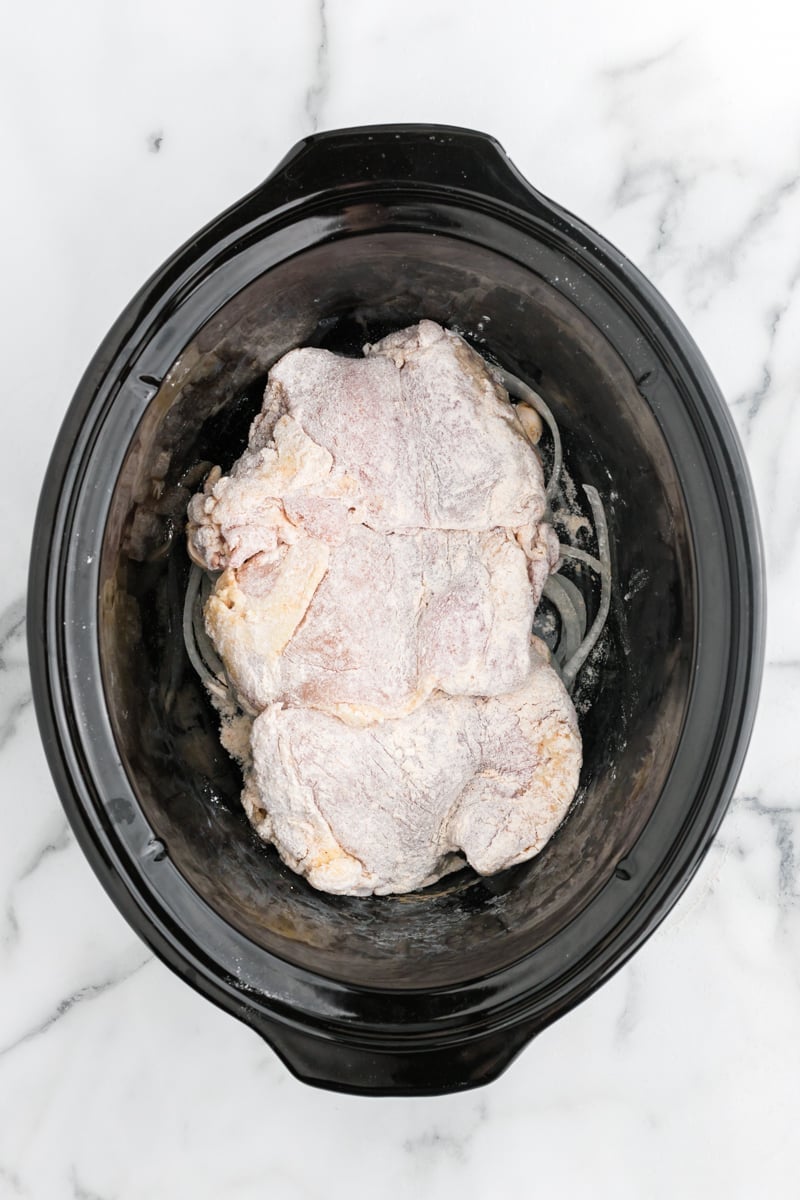 Then layer the chicken with the onions and kale, and add the broth.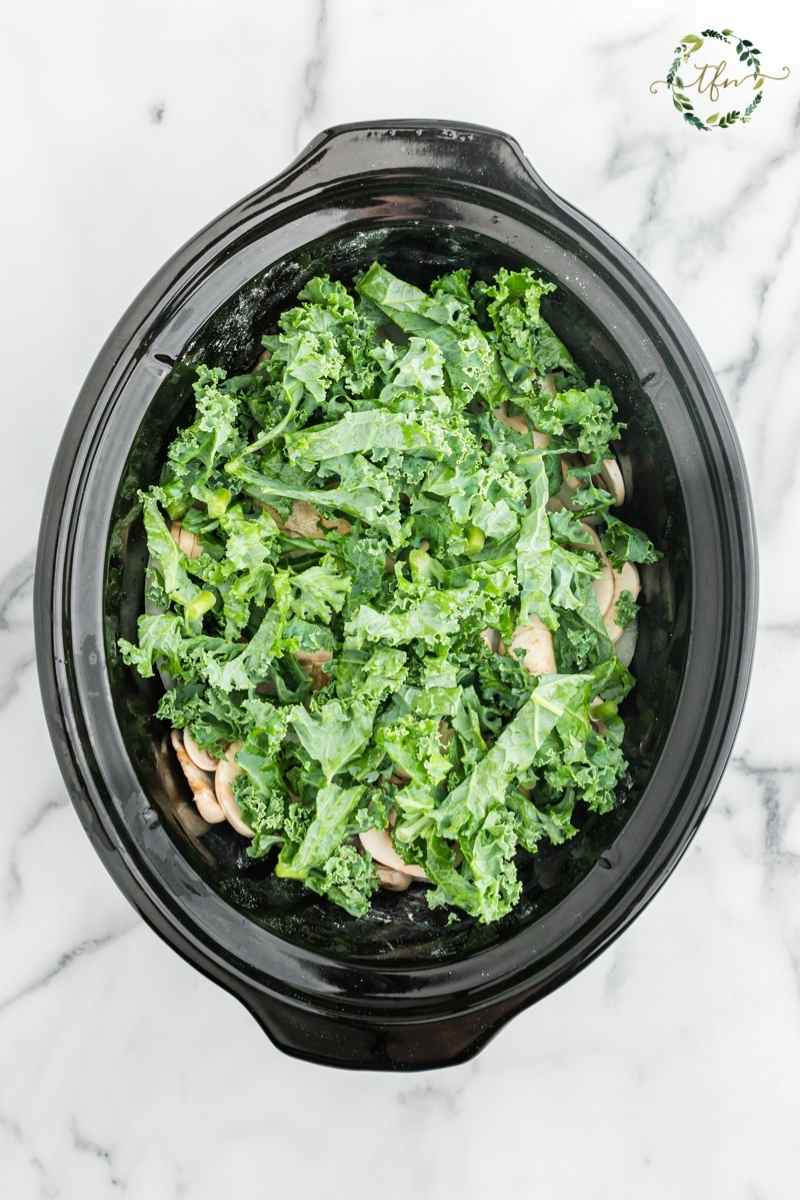 Cover and cook on LOW for 6 hours or HIGH for 3 hours.
Remember to check the temperature of the thighs with an instant-read thermometer. They should be at least 165º F.
Next, it's time to make the gravy:
Once done, remove the chicken from the slow cooker and set it on a plate.
For the gravy: make a slurry in a small bowl by combining the milk and cornstarch. To shorten the thickening process, microwave the mixture for 30-45 seconds.
Stir this mixture into the crock until smooth. Then mix it in the crock pot.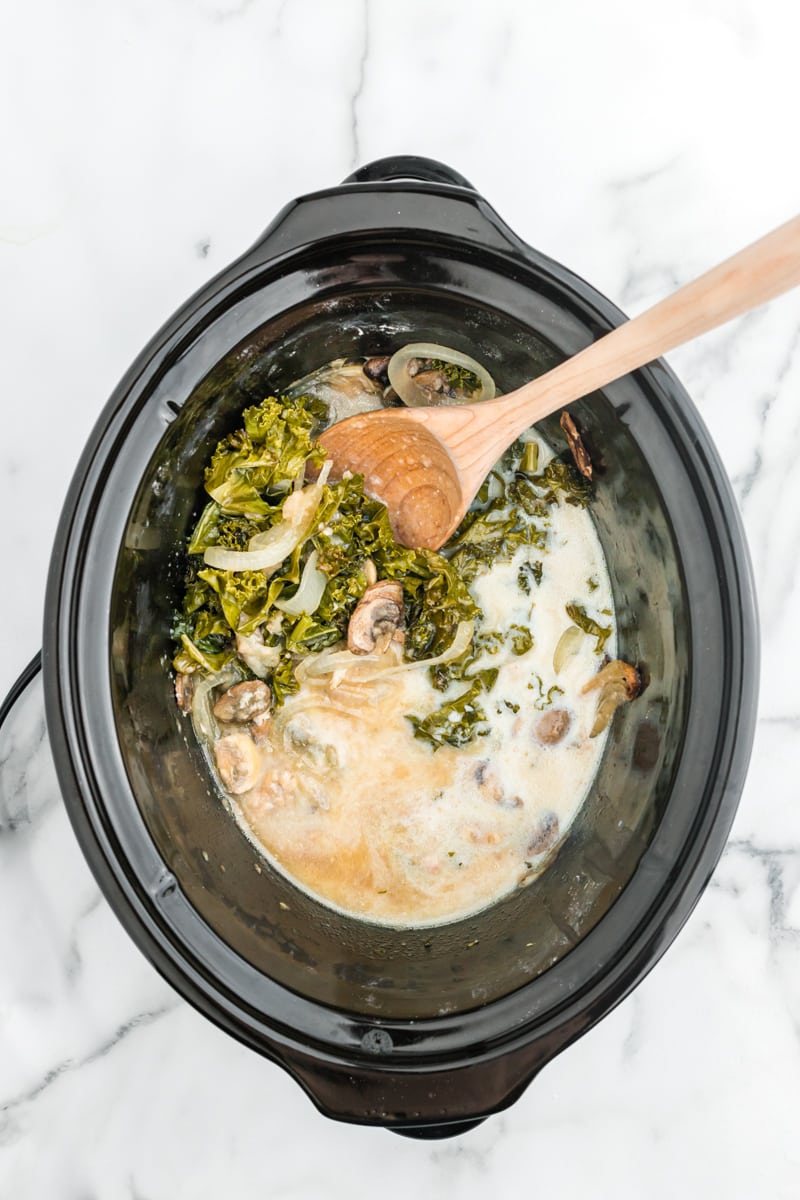 The sauce will continue to thicken as it cooks and then cools. Then serve warm as-is or with your fave side dishes.
Leftovers will keep well for up to 3 days in the fridge. Because of the kale and cream sauce, you shouldn't freeze this meal.
What sides go well with this dish?
Our favorite sides are Instant Pot Mashed Potatoes, our Loaded Potato Casserole, Easy 3 Ingredient Biscuits or Drop Biscuits, and Apple Cobbler or Strawberry Cobbler for dessert.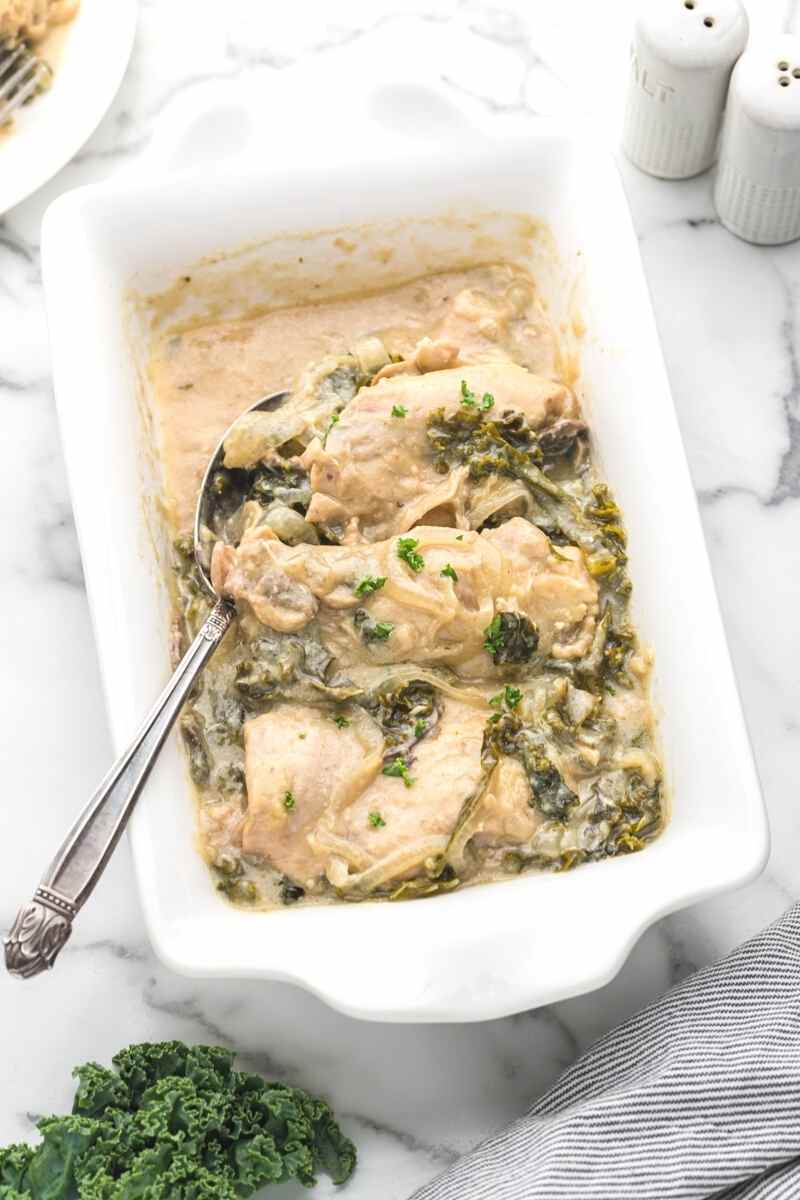 Frequently Asked Questions
What goes well with a smothered chicken in a slow cooker and kale?
Enjoy this savory, saucy dish over egg noodles, rice, or mashed potatoes.

For a low-carb or keto-friendly dinner, serve with cauliflower rice or steamed veggies.
Can I make this recipe with other types of chicken?
Yes, you can. Use bone-in, skin-on thighs for browning first, but you can also use boneless skinless thighs or breasts if you're planning to make them as a dump-and-go dinner.
How do I make this creamy-smothered chicken a gluten-free dish?
Swap all-purpose flour for your favorite gluten-free friendly alternative to easily make this a gluten-free dinner recipe. Rice flour is great for a light coating that won't change the flavor profile.
Crock Pot Smothered Chicken
Slow cooker smothered chicken is a creamy and flavorful dump and go or set and forget it meal. Make this easy recipe in the Crock Pot and enjoy on noodles, rice, or potatoes!
Ingredients
2 pounds chicken thighs (4-6 bone in or boneless thighs)
1 small yellow onion, sliced
½ cup all purpose flour
1 tablespoon Lawry's or your favorite seasoning
¾ cup low sodium chicken broth
4 stalks kale, sliced into thin ribbons (approx. 2 cups)
1 cup mushrooms, sliced (optional)
½ cup whole milk
1 tablespoon corn starch
Instructions
Mix flour and seasoning. Dredge chicken thighs in flour mixture. Place chicken on the bottom of the slow cooker, cover with onions and mushrooms.

Add the chicken broth and top with sliced kale. Cook for 6 hours on low, or 3 hours on high.

The chicken is done when it reaches an internal temperature of 165º. (Boneless chicken thighs may be fully cooked in as early as 2 hours on a high setting). Remove the chicken to a plate.

In a small bowl, stir milk and corn starch together until smooth. To speed up the thickening process, microwave mixture for 30 to 45 seconds before adding to slow cooker.

Add cream mixture to the crock pot, stir until well mixed and smooth. Return chicken to slow cooker and dip in the sauce. Spoon the kale and creamy sauce over chicken when serving.
Video
Nutrition
Serving: 1thigh | Calories: 350kcal | Carbohydrates: 12g | Protein: 24g | Fat: 22g | Saturated Fat: 6g | Cholesterol: 128mg | Sodium: 1281mg | Potassium: 395mg | Fiber: 1g | Sugar: 2g | Vitamin A: 200IU | Vitamin C: 2mg | Calcium: 36mg | Iron: 1mg
PIN THIS POST!
Get more Crock Pot Slow Cooker Recipes