Our Cream of Jalapeno Soup is a spicy, exciting take on a creamy comfort stew! It's as creamy as it is spicy, with a bunch of fresh herbs and a heaping helping of smooth, fatty avocado to tone down the heat. We hope that you'll give this unique, spicy vegetable soup a try — it's a combination like no other!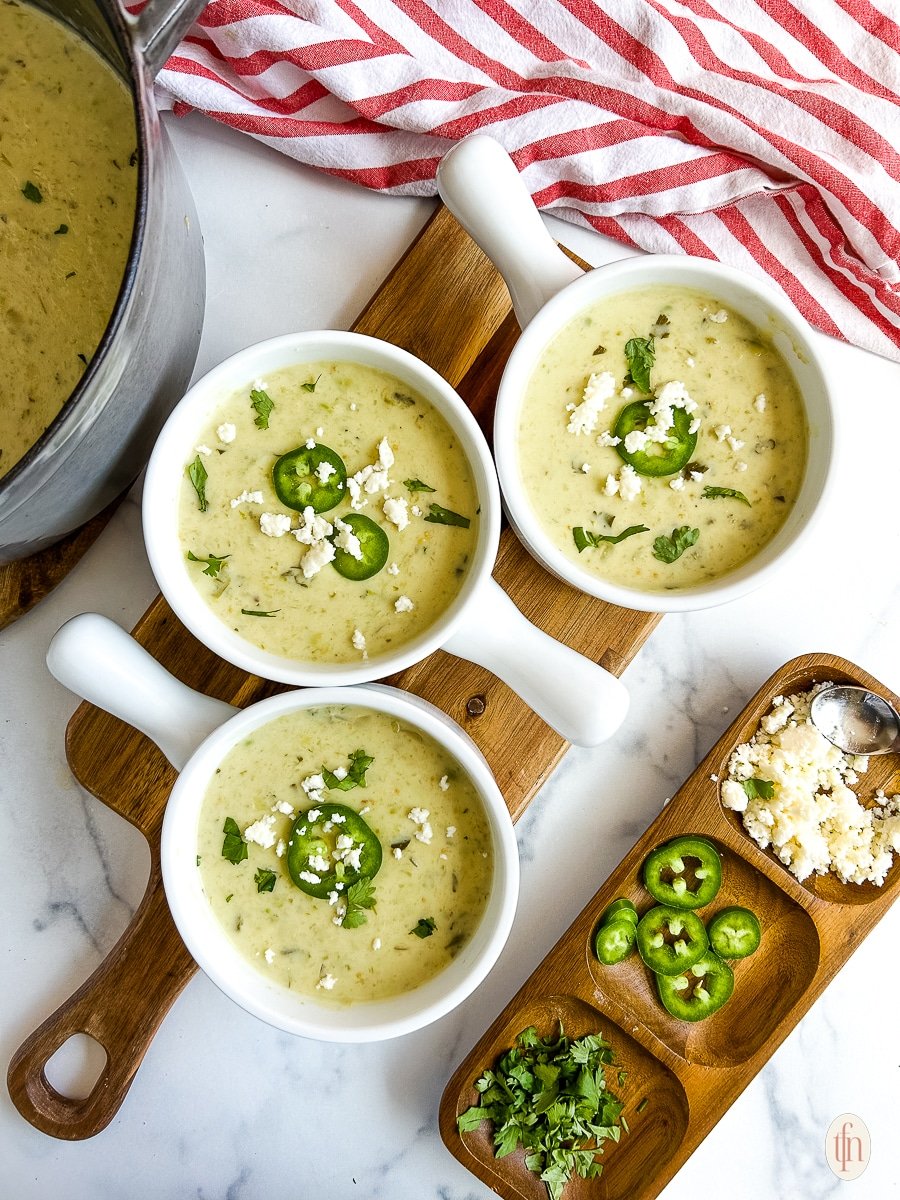 Why We Love Cream of Jalapeno Soup
It's a comfort food perfect for cooler days!
Nothing will warm you up better than soup with jalapenos on a chilly or rainy day.
It's quick.
Less than 15 minutes from start to finish!
It's spicy, but not too spicy!
Unlike several of our other pepper-based recipes, like spicy wonton cups and stuffed jalapeno poppers, this herbal cream-based soup isn't all about heat.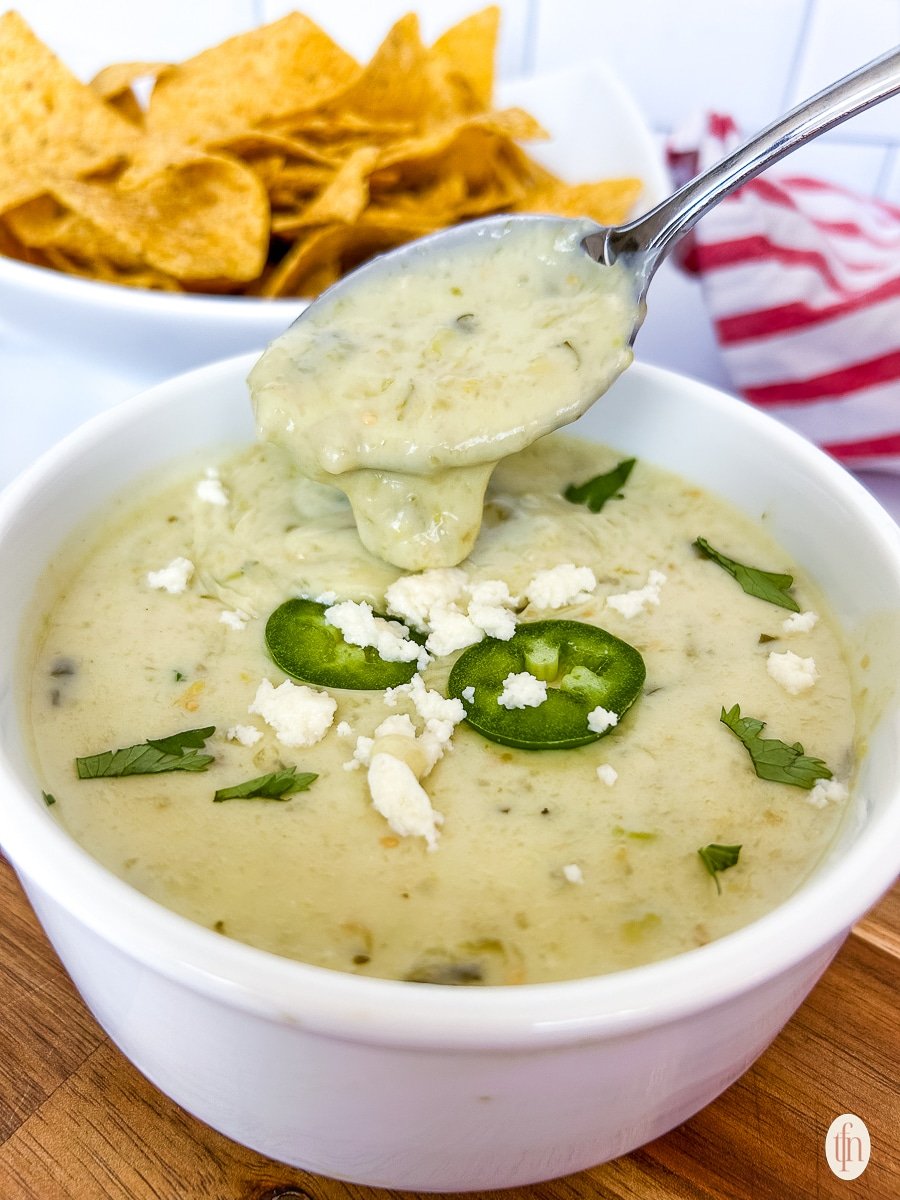 Ingredient Notes and Substitutions
Jalapenos – Choose any jalapenos or spicy peppers you like for this soup.
Onion – Sweet and sharp yellow onions are ideal for spicy vegetable soup! White and red onions are good second choices.
Salsa Verde – Bright, acidic salsa verde is tomatillo, lime, and jalapeno based — perfect for cream of jalapeno soup! Alternatively, for less heat, use canned tomatillo puree.
Chicken Broth – The best substitutes are vegetable or mushroom broth. Keep it refrigerated until use. We explain why in the tips section below!
Heavy Cream – Whole or 2% milk is not suitable for this spicy soup. They do not add the same thick, fatty creaminess we need. You can, however, use half and half.
Avocado – For a bit of guidance on how to pick a ripe avocado — and the best equipment for mashing — check out our avocado spread recipe.
Tips for Making Our Spicy Vegetable Soup
Wear gloves when handling the peppers.

We recommend wearing gloves when stemming, seeding, and mincing the peppers.

Otherwise the the heat will linger on your fingers and touching sensitive skin, like your face, will cause it to burn.

Be sure to wash your hands thoroughly as well.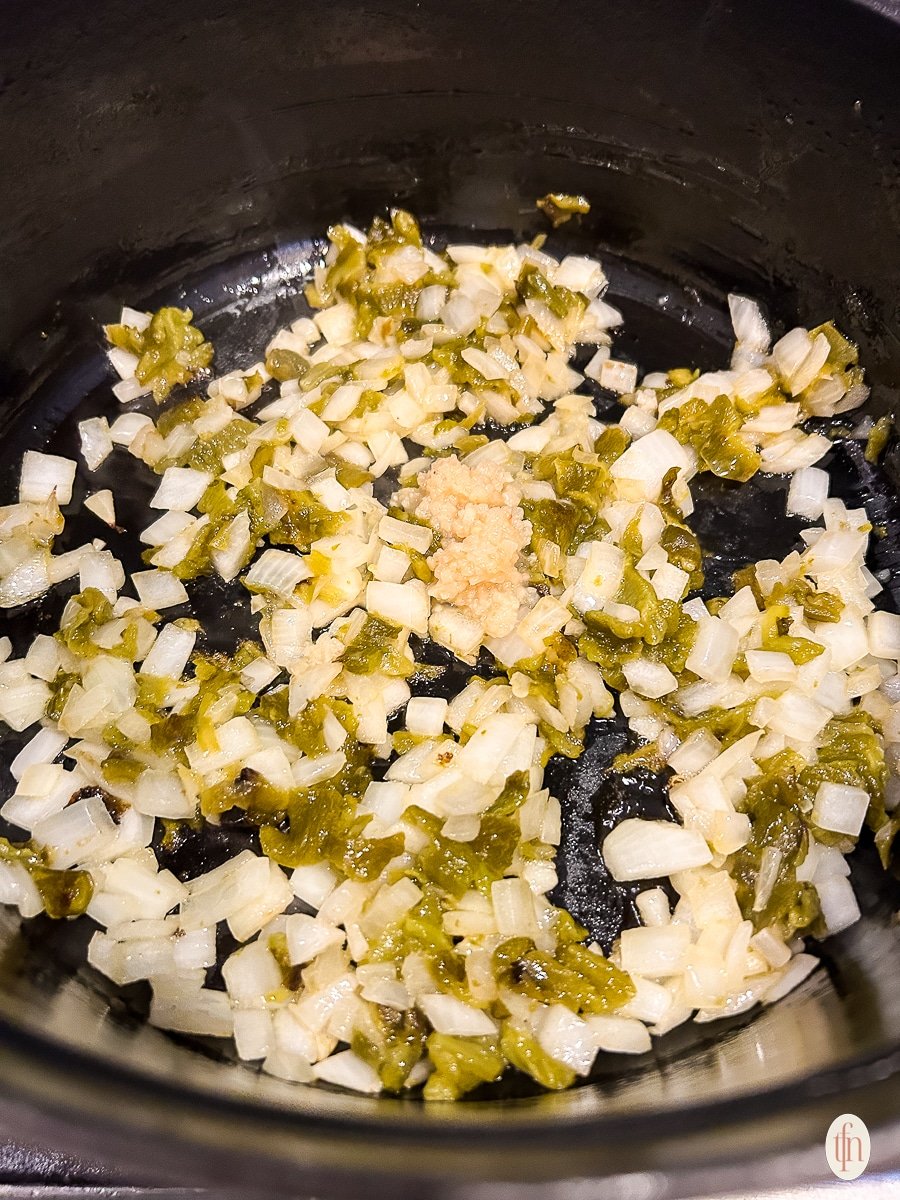 Use cold broth for the cornstarch slurry.

Cornstarch thickens very quickly once it's introduced to warm liquid.

As a result, you want to use a cold liquid to create the slurry. Otherwise, it'll clump, lump, and create a gooey mess that won't work to thicken your spicy soup.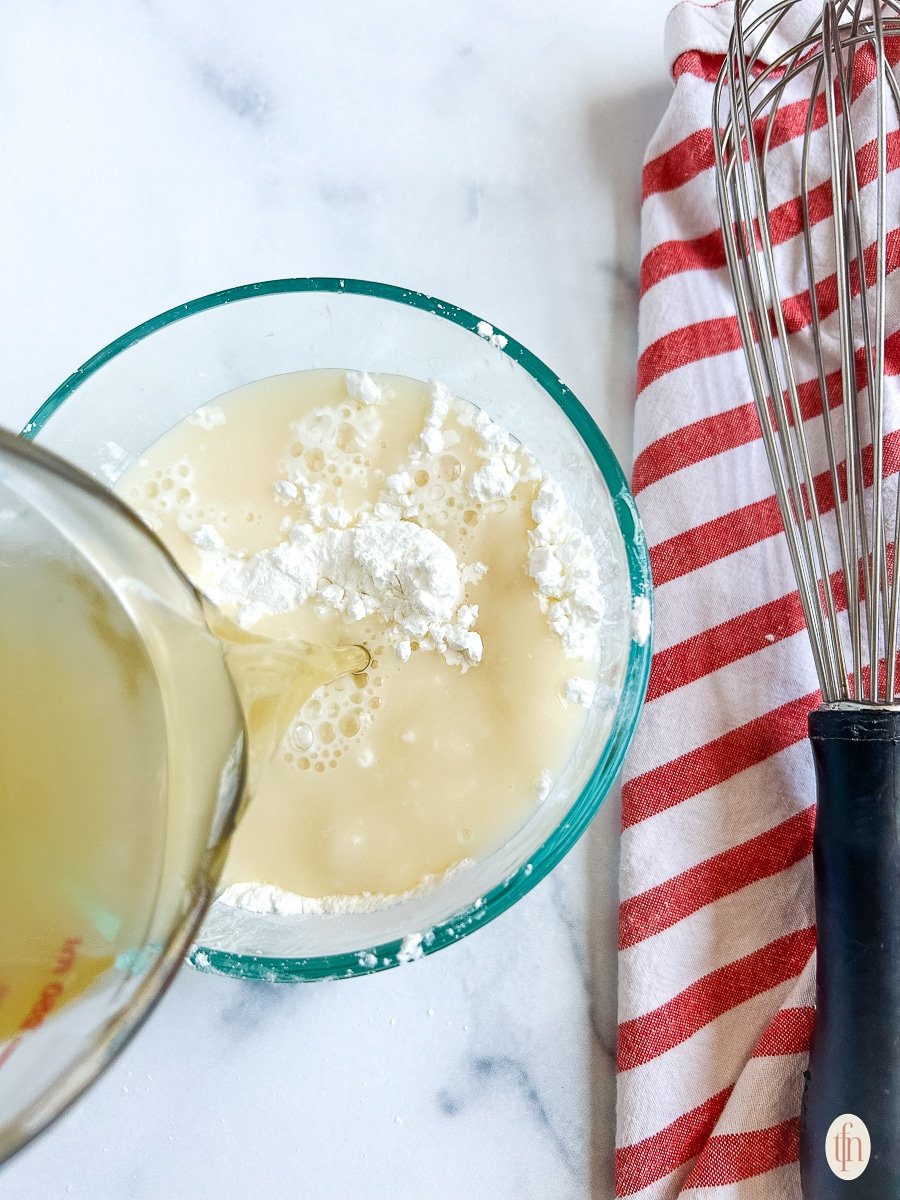 Slowly, gradually add the cream on a lower heat.

One very common mistake in preparing creamy soups is accidentally denaturing the cream.

This happens when it heats up too much too quickly, causing the protein in the cream to separate. It isn't harmful but has a very unpleasant texture.

Avoid this by bringing down the heat to a low simmer and stirring constantly while adding the cream to the mixture.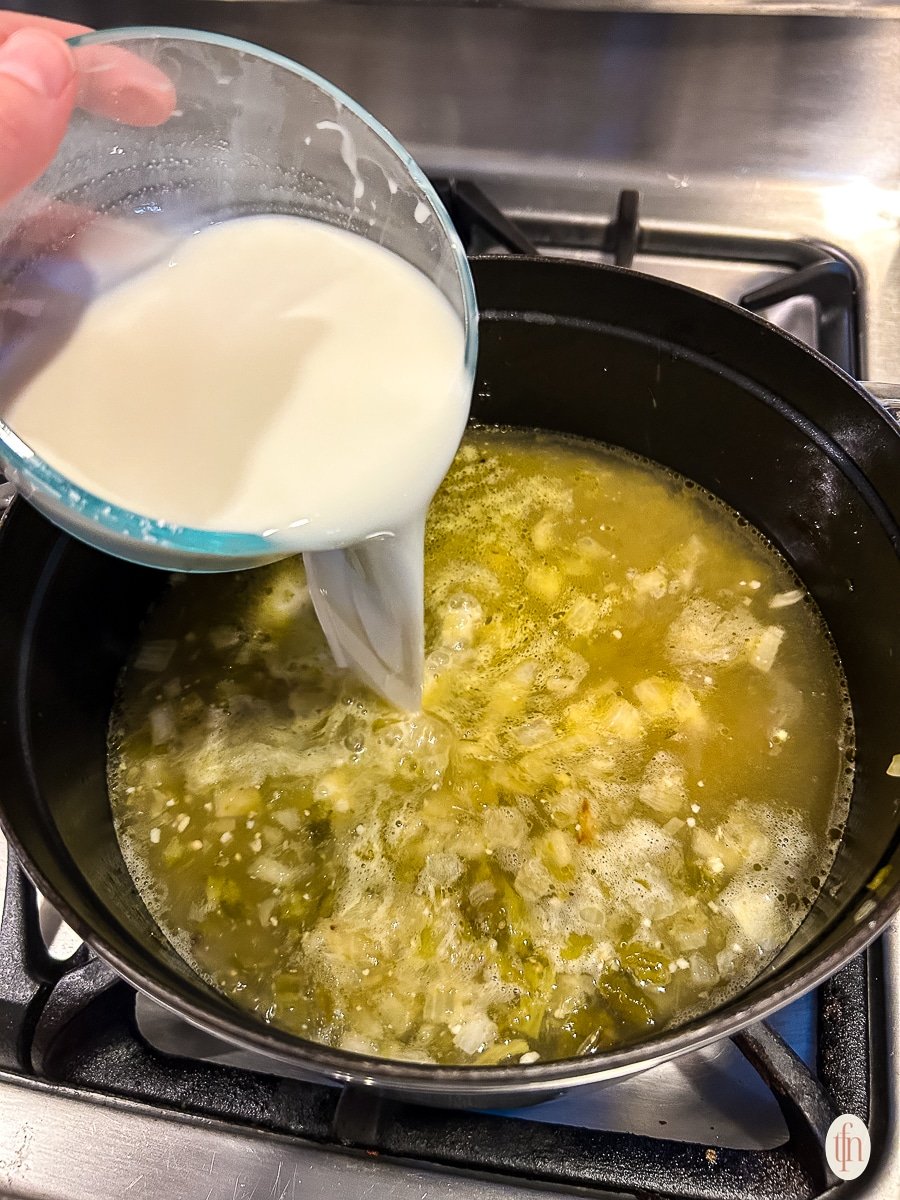 Soup Variations
Many like to make their cream of jalapeno soup cheesy! This also helps to build that thick, creamy, silky texture.
We recommend using smooth Velveeta cheese, like we do in our beefy Velveeta cheese soup, because of how easily it melts. And as our jalapeno cheddar sourdough demonstrates, you can never go wrong with cheddar!
Consider stirring in Greek yogurt or sour cream to really amp up that fatty, luscious texture in this spicy soup. It really takes the heat down to a minimum too.
Or to add body and bulk to your spicy vegetable soup, you could introduce potatoes, corn, or beans to the pot.
We enjoy the flavors of savory black beans with spicy peppers — almost as much as we like them on their own in our black bean soup — and smooth, creamy pinto beans would fit right in.
Roast the peppers for a tremendous, robust flavor.
It's well worth taking just a few extra minutes to roast the chiles rather than using raw chili peppers.
It adds a delicious smoky flavor that gives the whole pot a unique warmth! It also makes them a bit less spicy.
We have a quick, easy walkthrough on roasting these chiles in our roasted jalapenos recipe.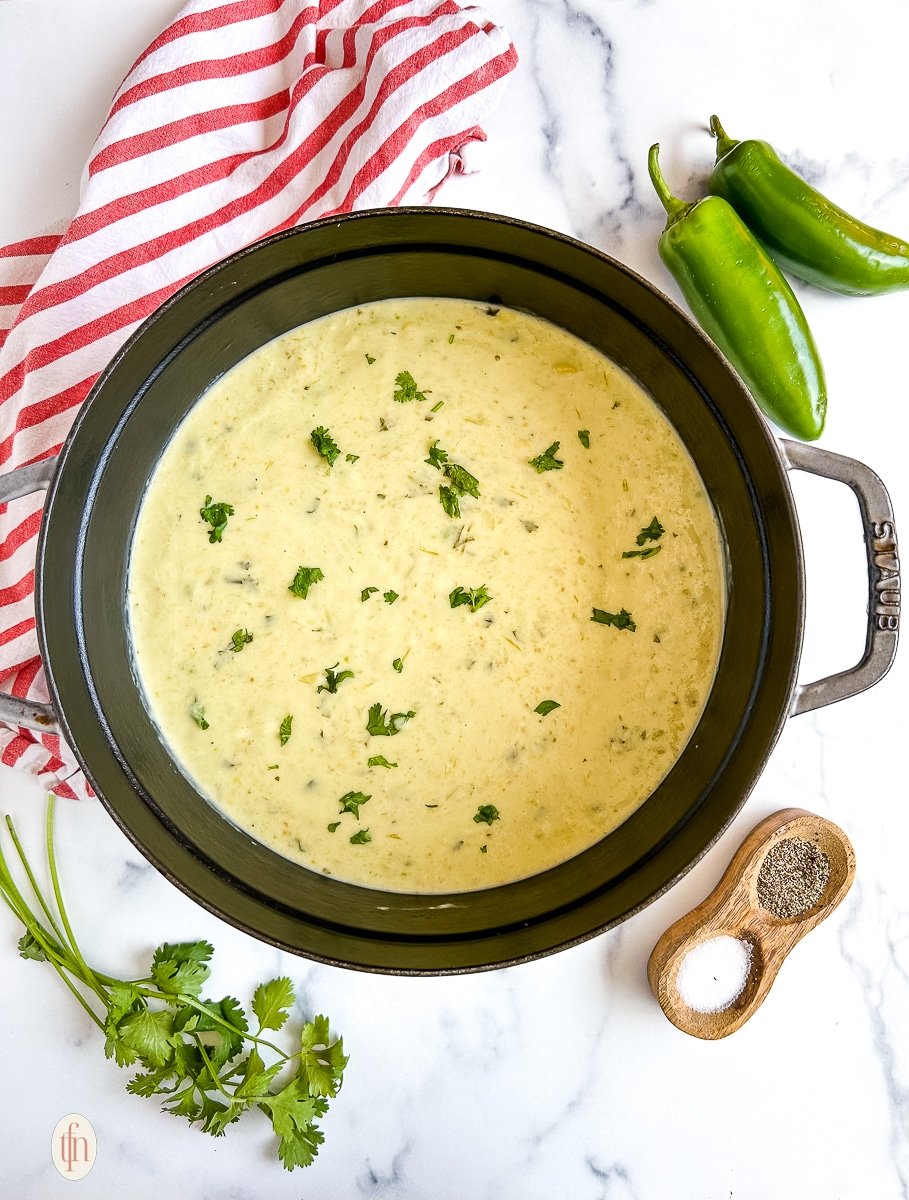 Cream of Jalapeno Soup Recipe FAQ
How spicy are jalapenos?
This pepper's heat varies depending on its harvest and variety. It falls anywhere between 2,500 and 8,000 on the Scoville scale.

For comparison, poblanos are between 1,000 and 2,000and serranos are between 10,000 and 25,000 on the same scale, placing jalapenos squarely at a medium-level heat.
What gives homemade soup depth of flavor?
It's all about herbs and acidity.

Jalapeno soup is automatically quite acidic due to the peppers and onions in the recipe. Followed by fresh, lemony cilantro, we have all the pieces for a complex yet perfectly balanced cream of jalapeno soup!
How can I make cream soups thick?
We like to use a cornstarch slurry. It thickens more effectively than flour with less, and therefore doesn't have as much of an impact on taste.

You can even make the slurry with broth, as we do here, to ensure that there is no effect on the flavor at all.
Storing and Reheating
Consume any leftovers within 3 days, refrigerating in an airtight container in the meantime. The large amounts of cream shorten the shelf life of this soup.
Reheat slowly on low heat on the stovetop, stirring all the while. Avoid microwaving as it could heat up the contents too quickly, altering the texture.
Do not freeze cream of jalapeno soup. It will not thaw nor reheat with the same texture or flavor and is best when made fresh.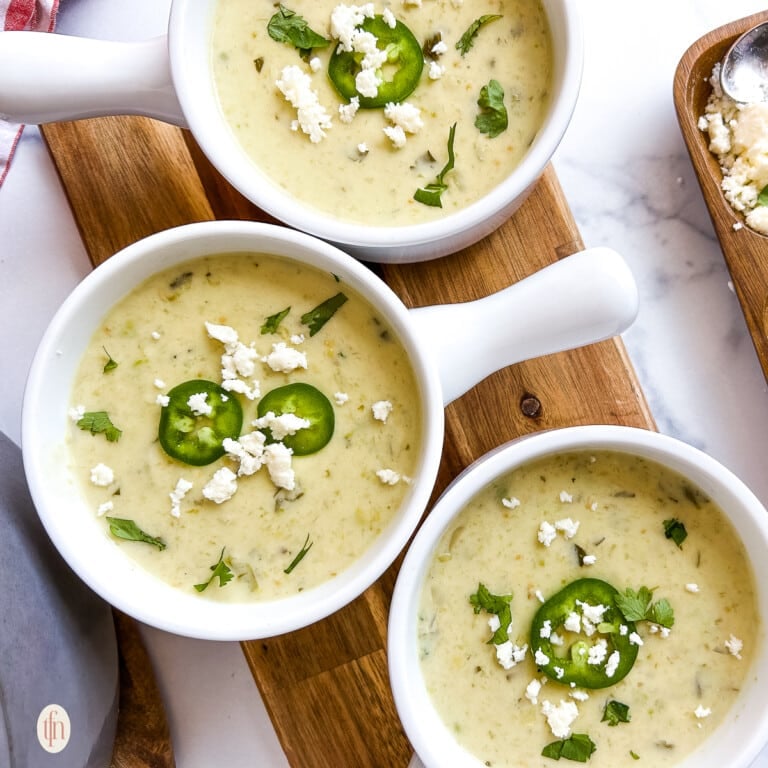 Cream of Jalapeno Soup
Cream of Jalapeno Soup is a tasty meal that will warm you from tongue to toes! Make this recipe for spicy vegetable soup in only 15 minutes.
Equipment
4 to 5 quart Dutch oven with lid - or heavy bottomed soup pot

small whisk

small prep bowls
Ingredients
2 tablespoons unsalted butter *See Notes
5 jalapeños stemmed, seeded, and minced, *slice one and reserve for garnish – *See Notes
1 onion finely chopped
3 cloves garlic minced
28 ounces salsa verde or canned tomatillo puree – *we used four 7-ounce cans salsa verde
4 cups cold chicken broth divided
½ cup cornstarch
2 cups heavy cream or half and half
1 avocado pitted, peeled, and mashed
1 bunch cilantro stemmed and chopped, divided
salt and black pepper to taste
½ cup crumbled cotija cheese *optional, for garnish
Instructions
In a 4 or 6-quart Dutch oven or heavy pot, melt the butter. Add the jalapeños and onions and sauté for 5 minutes. Add garlic and continue cooking for another 1-2 minutes, until onions are soft and translucent.

Meanwhile, whisk together 1 cup of cold chicken broth and cornstarch in a measuring cup or bowl to make a slurry (thickener). Set aside.

To the sautéed vegetables, add salsa verde (or tomatillos), remaining 3 cups chicken broth, and the cornstarch slurry.

Stir to combine and bring to a boil, stirring occasionally, until thickened. Add heavy cream and mashed avocado and turn the heat down to simmer – low. Add 3/4 of the chopped cilantro and simmer for 5 minutes, stirring occasionally.

Season with salt and pepper to taste. Ladle into bowls and garnish with remaining cilantro, jalapeno slices, and cotija cheese just before serving.
Notes
Butter – If using salted butter, you may not need to season with additional salt. Taste the finished jalapeno soup first to determine if it's needed.
For a nice smoky flavor, use our recipe for making roasted jalapenos, and use them instead of raw chiles.
Nutrition
Serving: 1 cup | Calories: 392kcal | Carbohydrates: 22g | Protein: 5g | Fat: 32g | Saturated Fat: 17g | Polyunsaturated Fat: 2g | Monounsaturated Fat: 9g | Trans Fat: 0.1g | Cholesterol: 85mg | Sodium: 1370mg | Potassium: 438mg | Fiber: 3g | Sugar: 10g | Vitamin A: 1729IU | Vitamin C: 12mg | Calcium: 100mg | Iron: 0.4mg
PIN THIS POST!