This Instant Pot Chili Mac is pure comfort food – beefy, cheesy, and SO delicious! With diced tomatoes, onions, and bell pepper, it delivers on the vegetables. But, thanks to the ground beef, it doesn't skimp on flavor. This cheesy pasta dish will be a weeknight favorite for everyone in your family.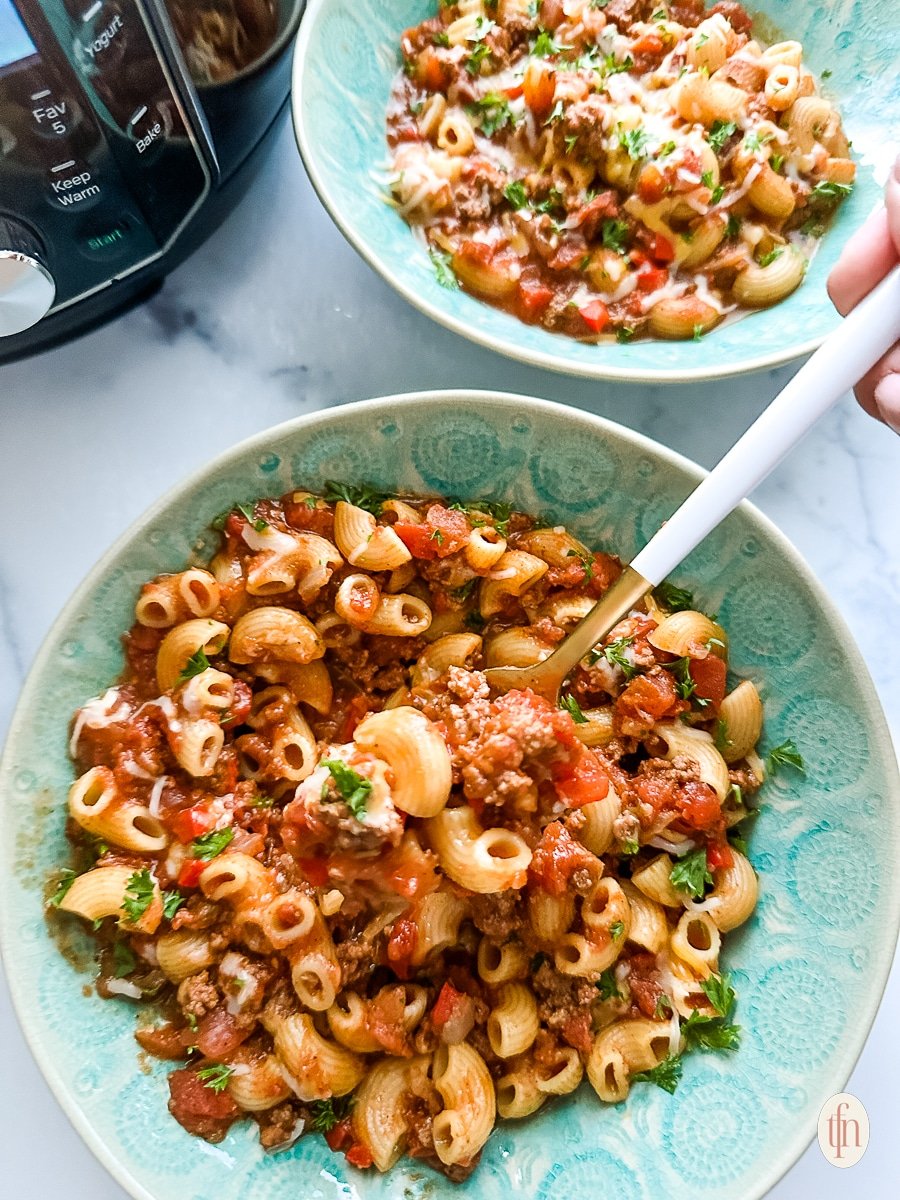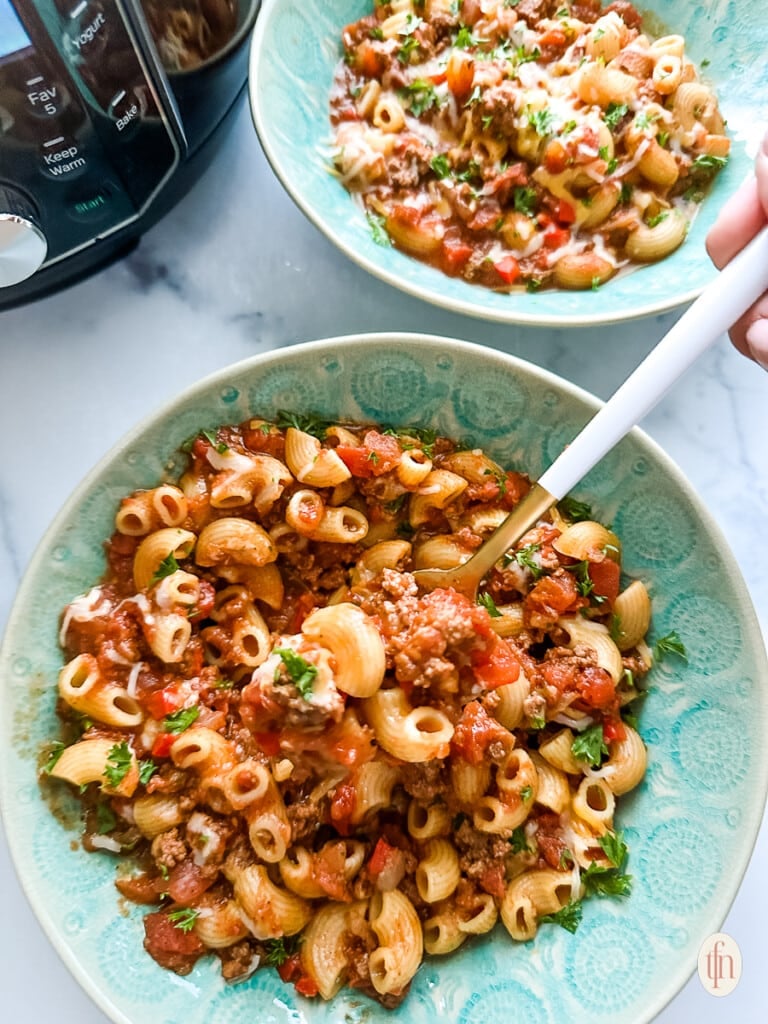 Why We Love Instant Pot Chili Mac
Quick and easy meal idea.
This Instant Pot goulash is a 30-minute recipe! It doesn't matter if you've had a long, busy day or not – dinner will be ready with very little effort on your part.

It's the ultimate comfort food.
A warm bowl of American goulash is absolutely perfect for a cold fall or winter day. If you're watching your carbs, you can always make a big batch of stove top chili instead.

Kids love it.
With creamy macaroni and cheese, chili mac is a dish your kids will ask for again and again.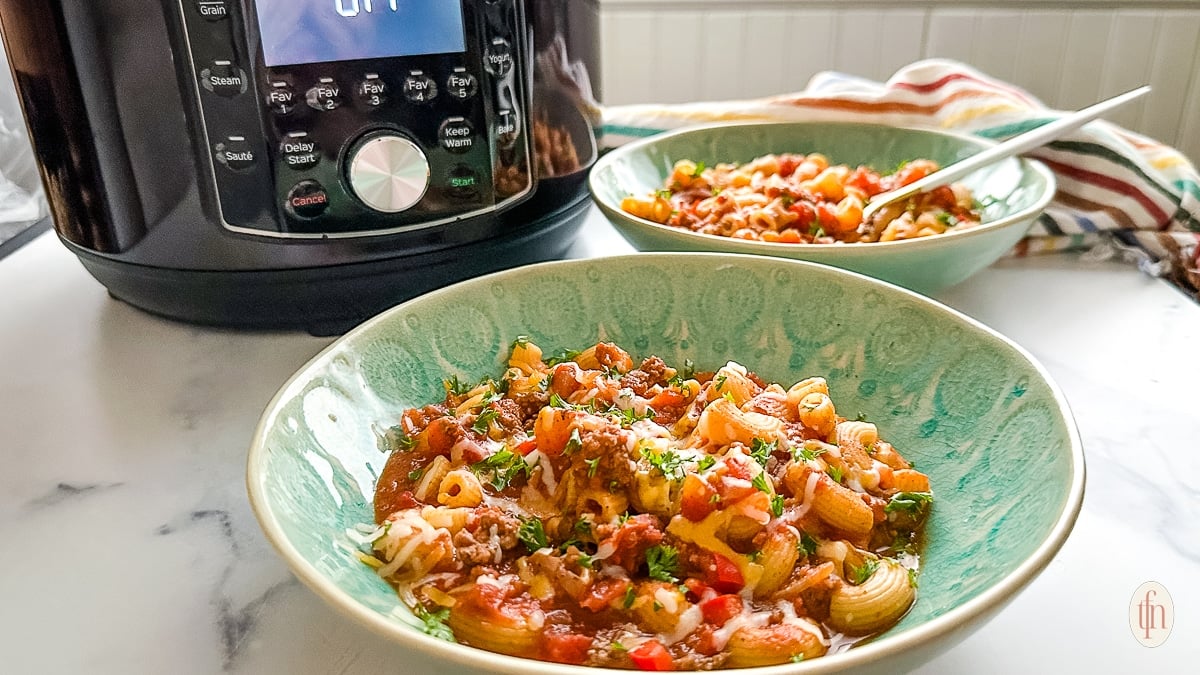 Ingredient Notes and Substitutions
Lean ground beef: We recommend using an 80/20 blend for this chili macaroni recipe. To prevent the pasta from being greasy, it's best to avoid using anything with more fat content than that.
Onions: White, yellow, and red onion all work well in chili-based pasta dishes, so use whatever you have on hand.
Bell pepper: You can use red, yellow, or green bell peppers for this dish.
Tomato puree: This gives this homemade goulash a bright and rich tomato flavor.
Pasta: Chili with macaroni is the classic way of making this dish, but any small pasta of your choice will work.
Brown sugar: A little sweetness goes a long way in balancing the acid from the tomatoes in your chili. To substitute the brown sugar, add a teaspoon of white vinegar instead..
Colby Jack cheese: Sprinkle a little cheese for the ultimate topping. You can use another cheddar blend if you'd like.
🎯 TFN Pro Tip
A few minutes of meal prep saves time in the end!
To assemble this (and other ground beef-based dishes) as easy dump-and-go meals, or for game-day food, prepare a large batch of ground beef in advance.

Sauté 5 pounds of ground beef in a large Dutch oven or heavy-bottomed pot. Then, separate it into 5 small freezer bags and toss it into the freezer. Be sure to label the bag so you know what's inside!

This way, you can pull out what you need to make slow cooker and Instant Pot dishes – like this Instant Pot Chili Mac recipe – without any last-minute sautéing!
Helpful Tips for Making Instant Pot Goulash
Saute the onion and peppers to avoid crunchy veggies.

Some IP users say that sauteing vegetables before pressure cooking them isn't necessary, but we disagree. Just 3-4 minutes of softening eliminates the crunchy texture and sweetens the flavor of the onion and bell pepper.

Overall, it'll make your meal taste even better!
Break up the hamburger as it cooks.

We love using a meat chopper, but even a wooden spoon works fine. The point is to avoid having big clumps of ground beef in your chili mac.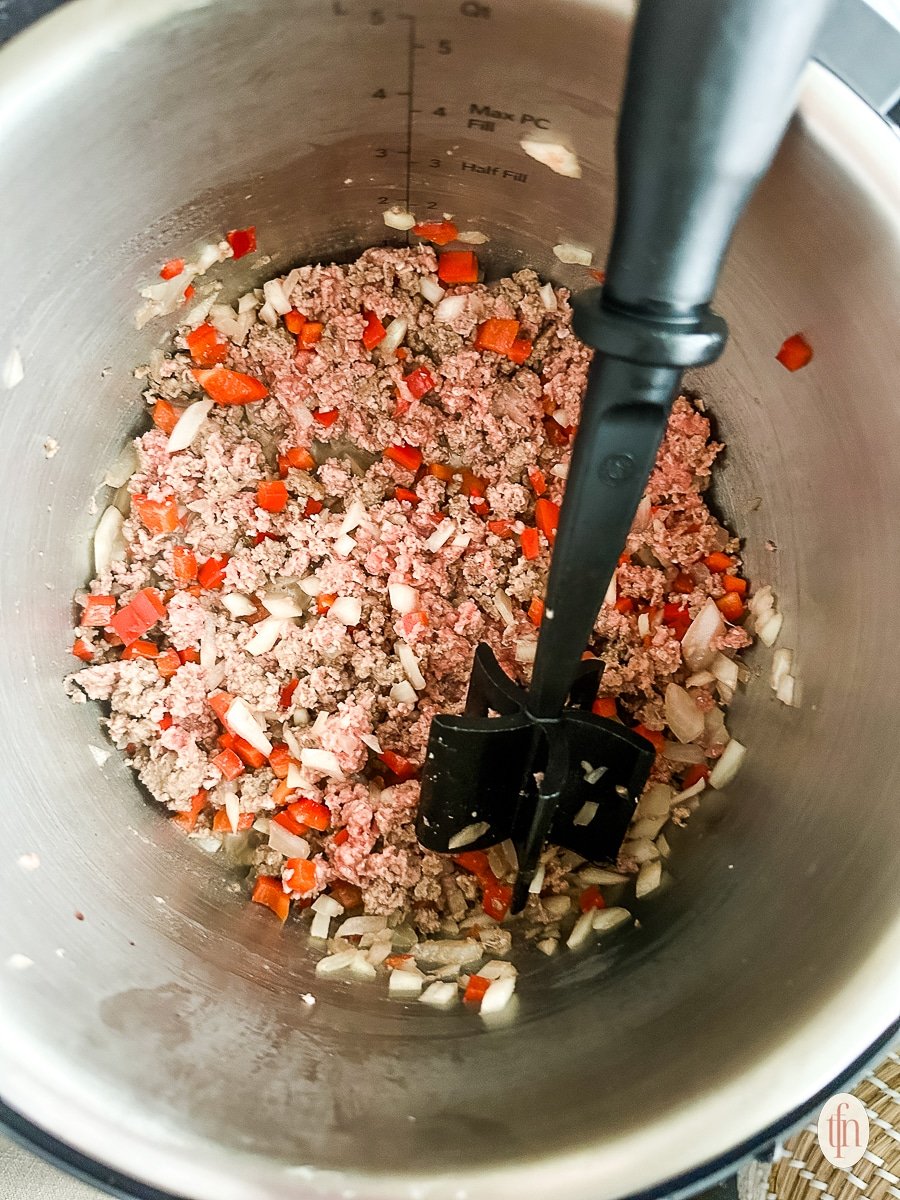 Use hot water to shorten the pressurizing time.

When you're in a hurry to make dinner, every minute you can save cooking is a gift! Using hot water helps the IP come to pressure more quickly, which shortens the overall cooking time for the Instant Pot goulash.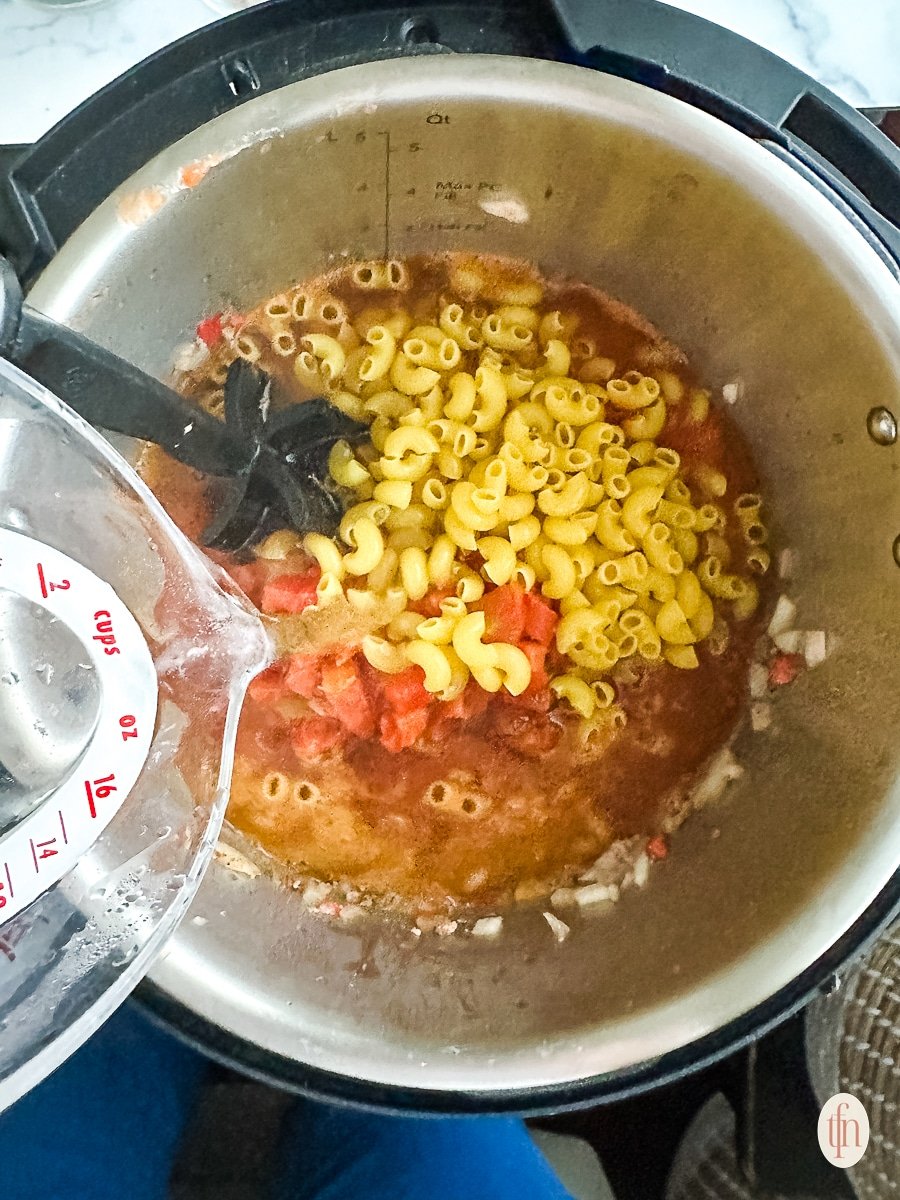 Perform a quick release of pressure.

Once the pressure cooking is complete use the quick-release method to release the steam. To avoid burning your hands or arms, use a long-handled spoon to slide the lever from sealing to venting. Also, be sure the venting hole is facing away from you.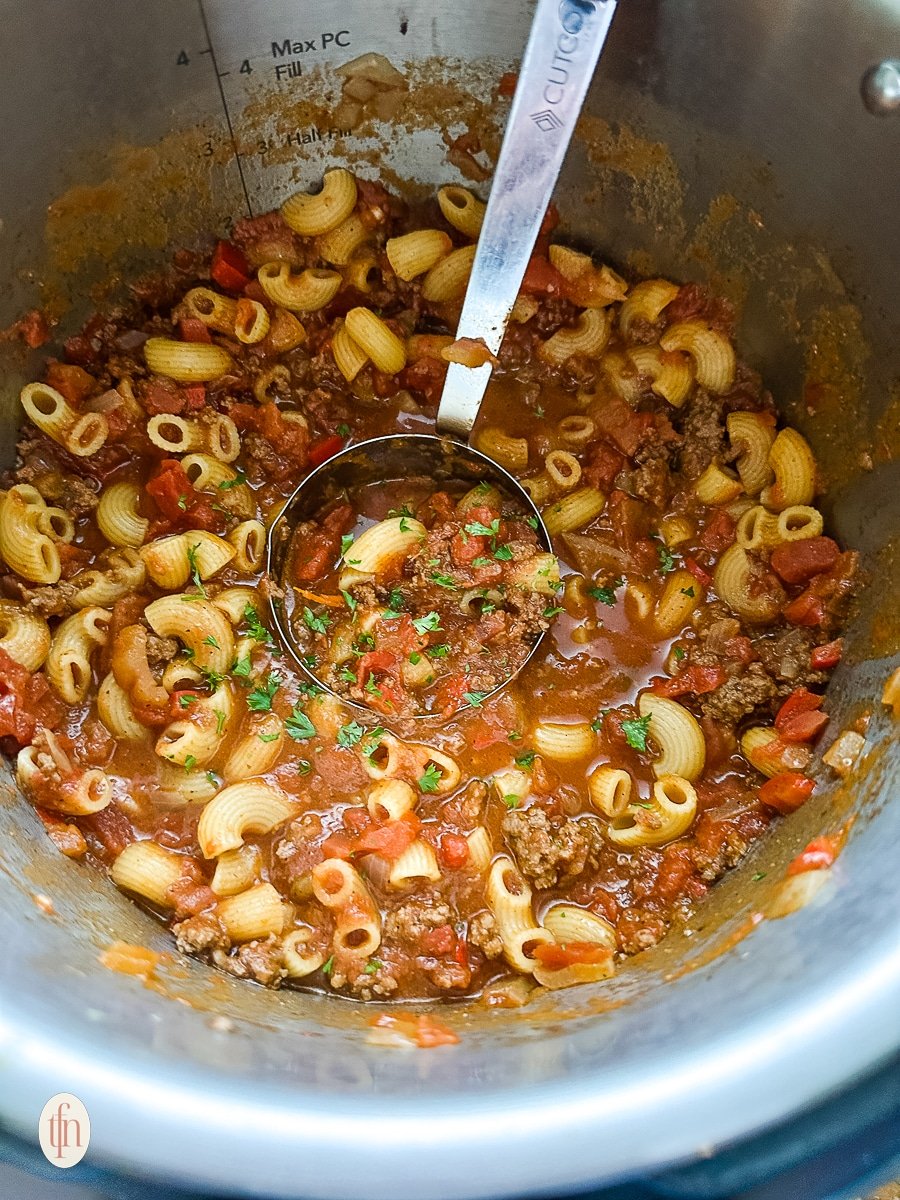 Instant Pot Chili Mac FAQs
Can I make this chili macaroni recipe without an Instant Pot?
Yes! You can make this on the stovetop by preparing the pasta separately. Mix all the ingredients together in a soup pot and bring it to a simmer. Then, continue simmering (uncovered) for about 20 minutes, stir in the cooked macaroni, and serve.
What if I don't have tomato puree?
If you don't have tomato puree, strain a can of whole or diced tomatoes and blend them in a blender or food processor first.
Storing and Reheating
Store instant pot chili mac leftovers in an airtight container in the refrigerator for up to five days. You can also freeze any leftovers for up to three months. Remember to label and date the container so you remember what you've saved later.
To reheat from frozen, let it thaw in the refrigerator overnight or heat it slowly in the microwave until hot all the way through.
To reheat chili with macaroni from the fridge, microwave on High power in 30-second increments, stirring in between each, until it's hot. Of course, you can also reheat it in a saucepan over medium heat on the stove top.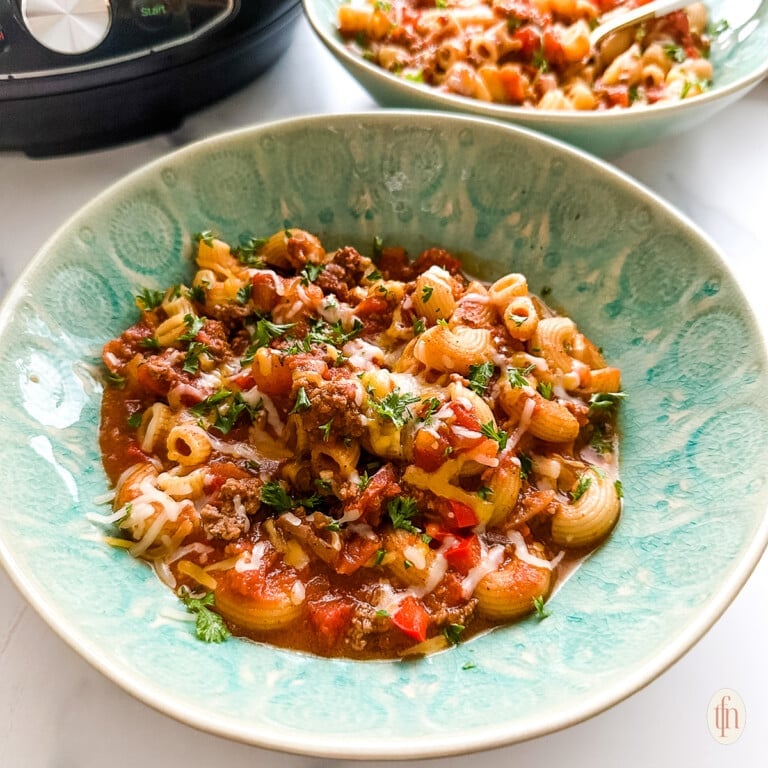 Instant Pot Chili Mac
Make some Instant Pot chili mac for dinner tonight! Everyone loves cheesy comfort food, and Instant Pot goulash takes 30 minutes to make!
Ingredients
1.5 pounds lean ground beef 80/20 blend recommended
1 onions chopped
1 bell pepper seeded and diced
2 cloves garlic minced
2 tablespoons chili powder
1 tablespoon ground cumin
28 ounces canned tomato puree
14.5 ounces canned diced tomatoes
1.5 cups hot water *hot water helps the IP come to pressure faster.
8 ounces elbow macaroni or other small pasta of choice
Optional Ingredients
1 tablespoon brown sugar
8 ounces grated Colby Jack cheese plus more for serving
Instructions
Turn IP to saute function: When inner pot is hot, add ground beef, onions, and bell pepper. Cook for about 5 minutes, stirring occasionally, until beef is almost fully browned.Add garlic, chili powder, and cumin, and continue cooking until fragrant, 1-2 minutes. Stir in canned tomatoes and puree, hot water, and pasta. Add lid, close sealing lever, and manually set IP to cook at high pressure for 5 minutes.

Use quick release once cooking cycle is done. Be sure the venting steam is pointing away from you. With the Instant Pot in "keep warm" mode, stir in brown sugar and cheese, and let melt for about 5 minutes. Serve warm with extra grated cheese and sour cream.
Nutrition
Serving: 1serving | Calories: 478kcal | Carbohydrates: 30g | Protein: 27g | Fat: 28g | Saturated Fat: 13g | Cholesterol: 88mg | Sodium: 306mg | Potassium: 507mg | Fiber: 3g | Sugar: 4g | Vitamin A: 1879IU | Vitamin C: 21mg | Calcium: 262mg | Iron: 4mg
PIN THIS POST!
This post, first published in August 2020, was last updated with new images and content in October 2023.