Our recipe for chicken street tacos is so easy to make, and it's a Mexican meal that is perfect any night of the week! Crisp corn tortillas are filled to the brim with tender shredded chicken, refreshing pico de Gallo, fiery chiles, and crumbly cotija cheese. This Mexican-inspired street taco recipe will take your traditional taco dinner up a few notches!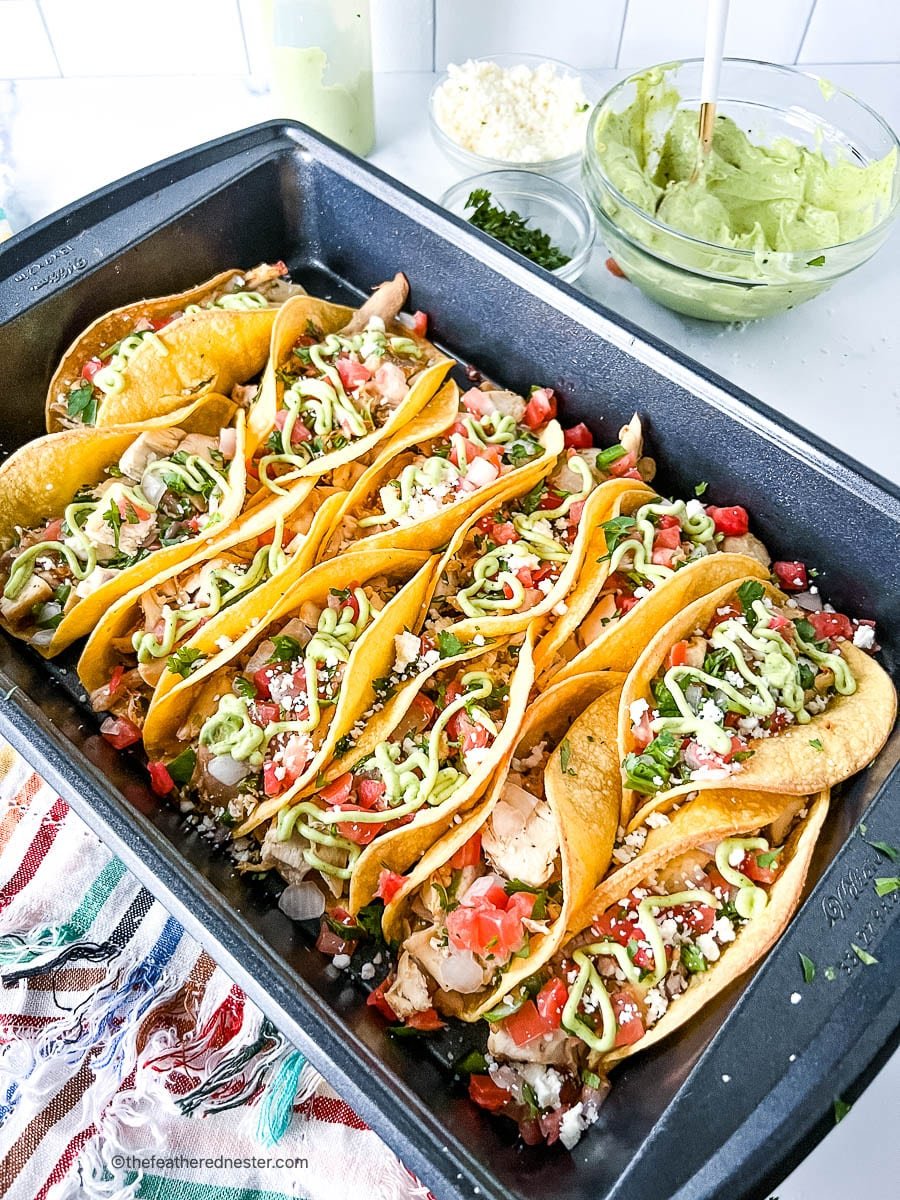 Mexican food is a favorite at our house. We tend to rotate between dishes like walking taco casserole, Mexican pulled pork (also called carnitas), and chicken fajitas, cooked on our Blackstone griddle.
If you want some new and exciting Mexican dinner ideas, let us show you how to make street tacos. They'll add some deliciousness to your tired taco routine.
Why We Love Chicken Street Tacos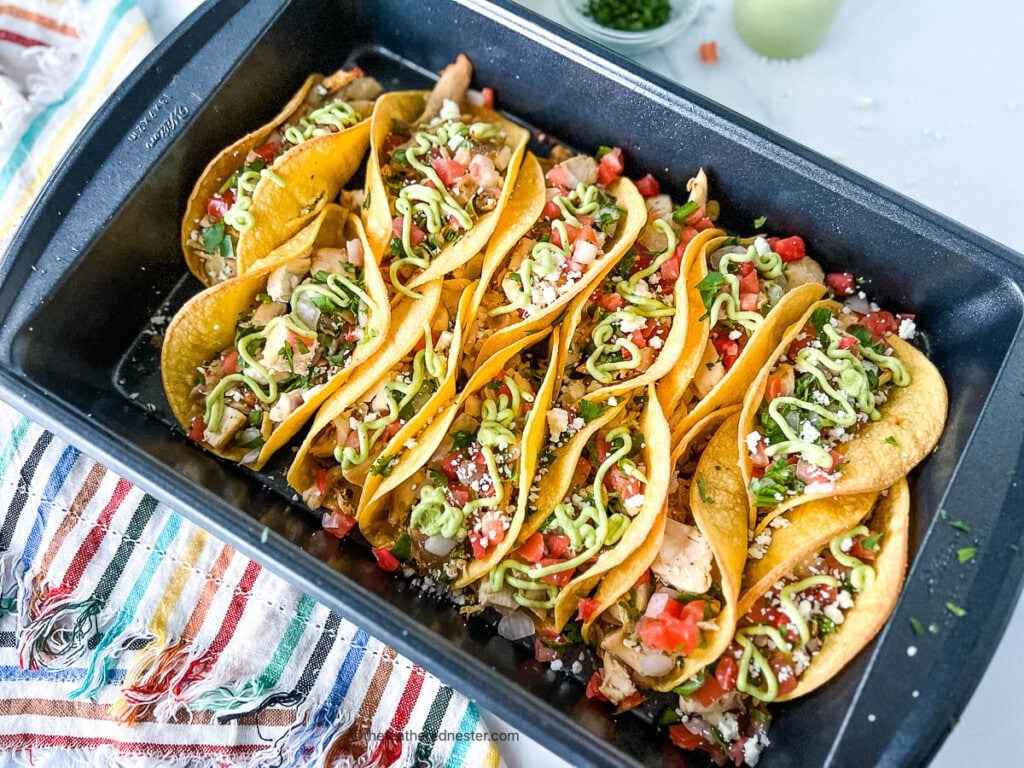 Easy to make. You only need a handful of ingredients to make this authentic street taco recipe, and there are several shortcuts you can take.

Comes together quickly. Weeknights are busy for everyone, which is why we specialize in creating recipes for 30 minute meals. This Mexican meal can be on your table in just under 30 minutes!

Packed with flavor. The combination of seasonings, pico de Gallo, jalapeños, and cotija cheese means that this dish is chock full of authentic Mexican flavors!
Street Taco Recipe FAQ
What is a street taco?
The name comes from the fact that originally, this Mexican food was sold in carts along the street. Because kitchen space is minimal, the ingredients in them are slightly different from other types of authentic Mexican tacos. Street tacos primarily include meat, onion, and cilantro.
What meat are street tacos made with?
Vendors typically fill the tortillas with shredded or diced chicken, beef, or carnitas (pork).
Ingredient Notes and Substitutions
Chicken – To keep things simple, we often use rotisserie chicken, as it makes the prep work even easier. If you want a different option, feel free to use our cast iron chicken thighs or Instant Pot salsa chicken recipes instead.

Jalapeños – The chiles bring a mild heat to this street taco recipe. If you like things that are fiery hot, use habaneros.

For a mild heat that's similar to jalapeños, substitute with either poblano or Anaheim chiles.

If you don't like spicy foods at all, you can omit the peppers altogether.

Cotija Cheese – Crumbly, creamy, and mild, cotija cheese is easy to find in the supermarket these days. That said, you can substitute it with feta or crumbled goat cheese if you'd like.

Tortillas – We use corn tortillas to keep things authentic with this street food dish, but you can use flour tortillas, or even hard taco shells if you like them better.

Seasonings and Garnish – We recommend using our chicken taco seasoning recipe to add more flavor to the chicken. You'll also need pico de Gallo and cilantro as garnish!

Want a little extra fiber and protein with your meal?

Check out our recipes for Instant Pot black beans and Crockpot pinto beans with bacon! Both are great side dishes on their own, but they would be fantastic stuffed inside with the meat and toppings, too.
How to Make Street Tacos The Easy Way!
Use pre-cooked protein.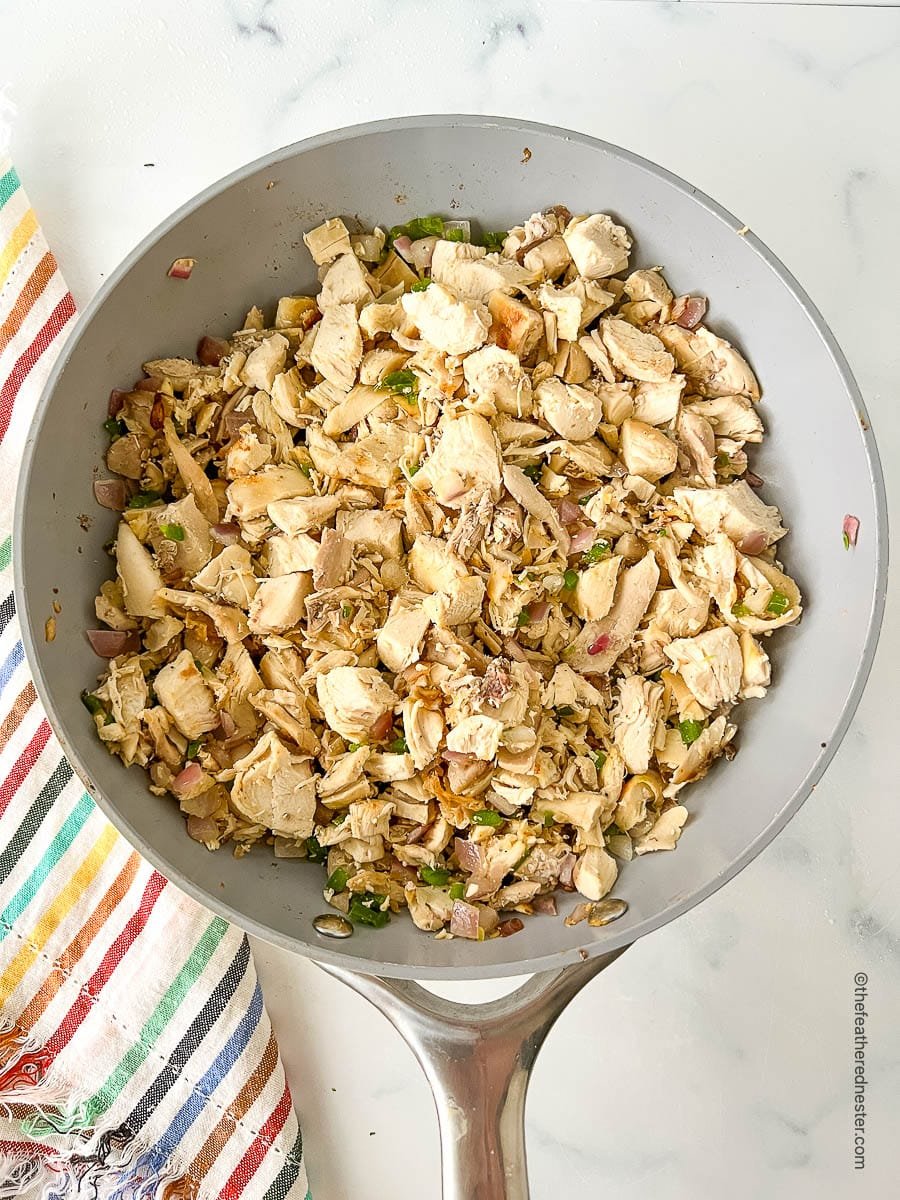 Rotisserie chicken is relatively inexpensive, especially at warehouse clubs like Costco and Sam's Club. Shredding the meat while it's still hot makes the job much easier, too.
Remember to sauté the vegetables.
There are plenty of foods that raw onion is delicious on, but chicken street tacos isn't one of them. The flavor of raw onion tends to overpower the mild flavor of the poultry.
As for the jalapenos, sautéing is recommended. Cooking chili peppers, even for just a couple of minutes, mellows and slightly sweetens their flavor.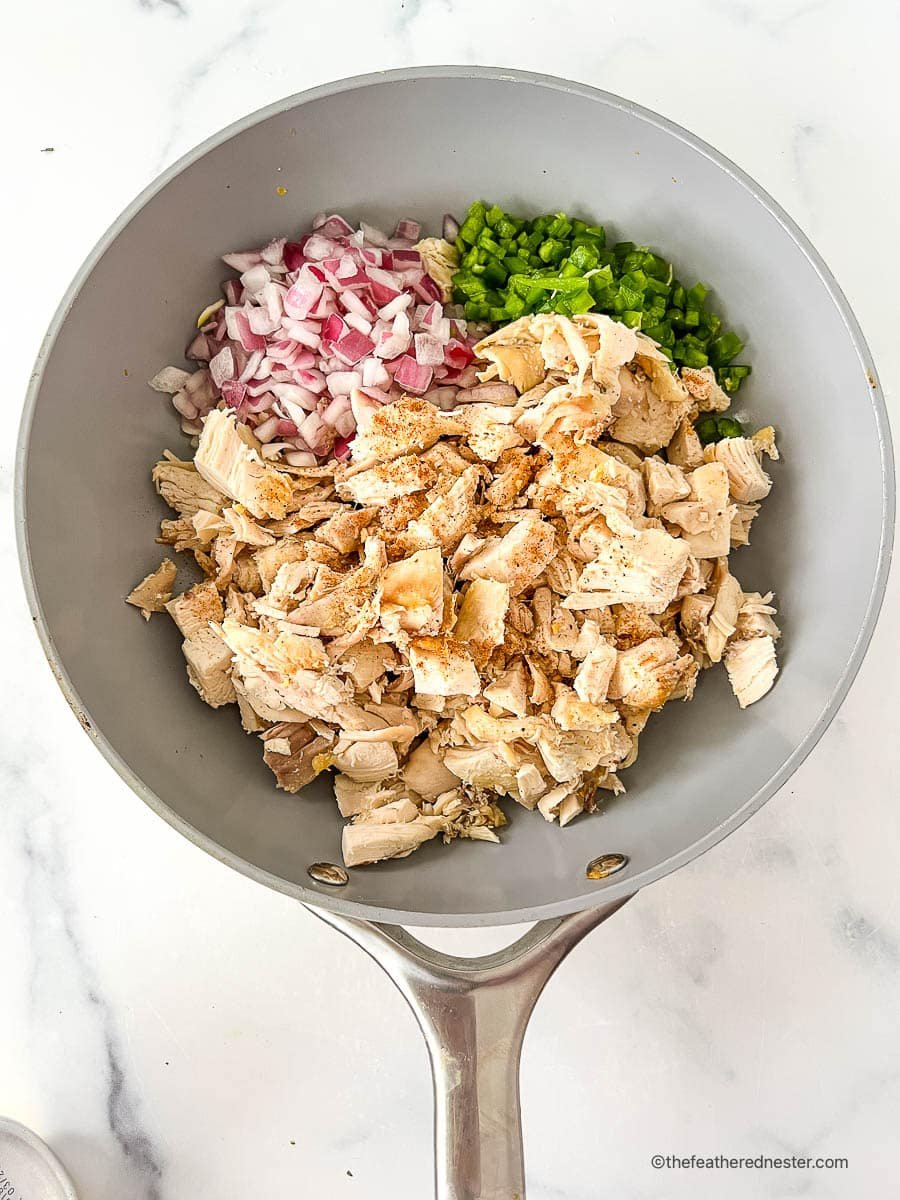 Warm and spray the tortillas to make them pliable.
Corn tortillas are very stiff straight out of the package. To make folding easier, pop them in the microwave between sheets of paper towel for 10 seconds or so. Then, spritz both sides with cooking spray. This way, when you assemble the chicken street tacos, the fillings won't spill out.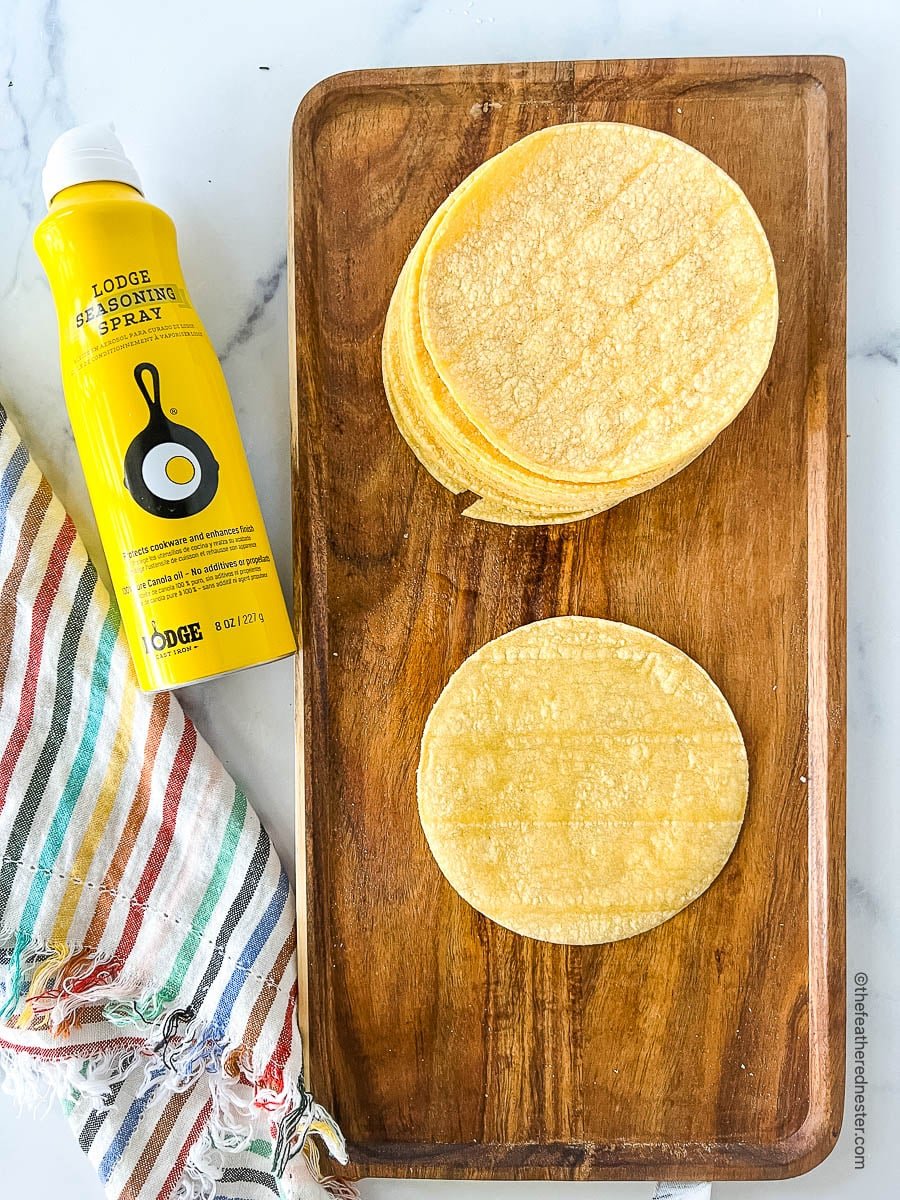 Pro Tips for the Best Chicken Street Tacos
Add seasoning to the chicken.
Whether you decide to cook the chicken yourself or use a rotisserie bird for this street taco recipe, you have to add some more flavor. You can do so by sautéing with chicken taco seasoning, onion, and jalapeños.
If you've never considered baking tacos before eating them, you've been missing out! Make sure to preheat your oven and warm the tortillas in the microwave first. Then, refer to the baking instructions in the recipe card at the bottom of this post.
The results may change the way you eat this meal from now on, because baking gives crispy edges to the chicken street tacos. This adds flavor and texture – extra deliciousness!
Once your tacos are done baking, here comes the fun part! Add your pico, cilantro, and cotija. Then, for more flavor, add fresh avocado crema, sour cream, or any other garnish that tickles your fancy.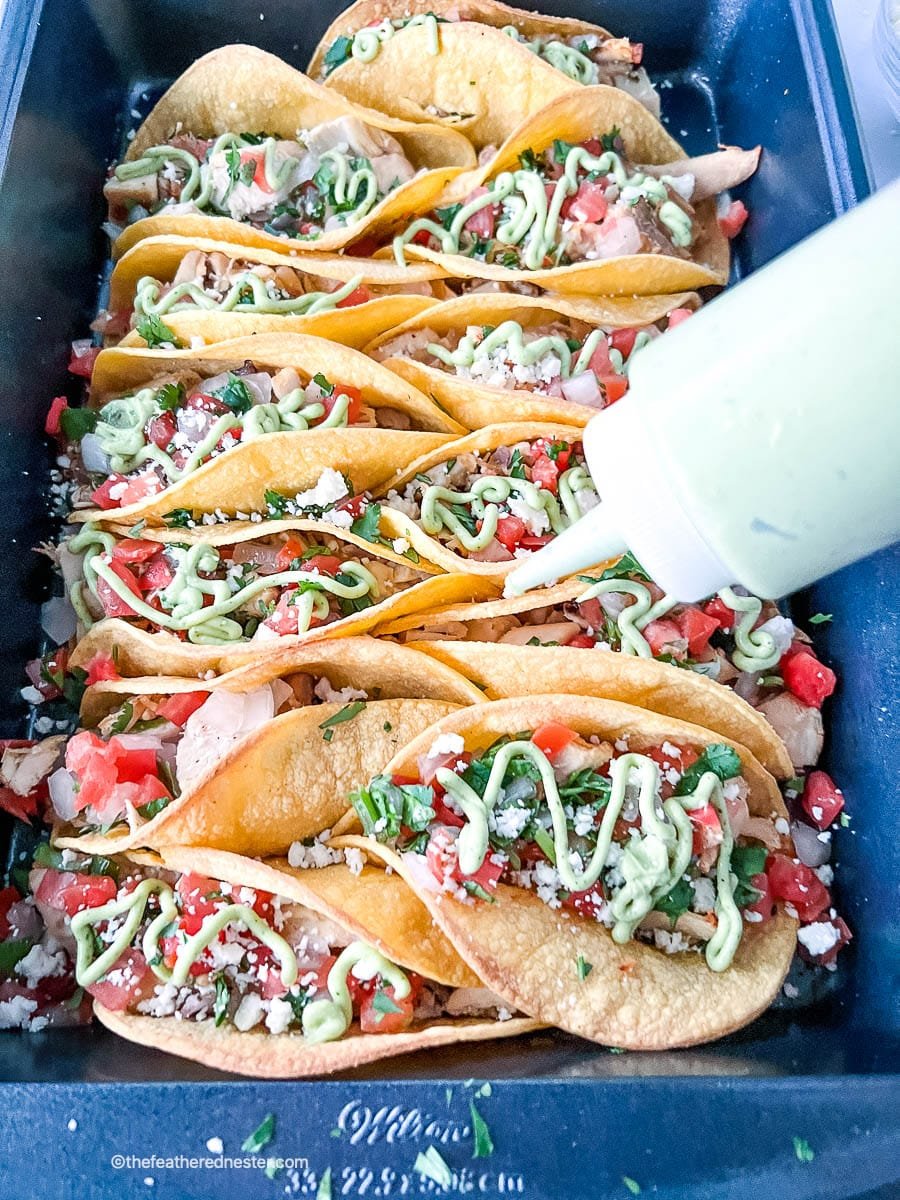 Storing and Reheating
This dish is best enjoyed fresh. If you do end up with leftovers, you can store them in an airtight container in the fridge for up to 2-3 days — any longer and the tortillas will get very soggy.
Reheat your tacos in the microwave in 30-second increments until warm. You can also reheat them in a skillet on the stove, or even in an air fryer.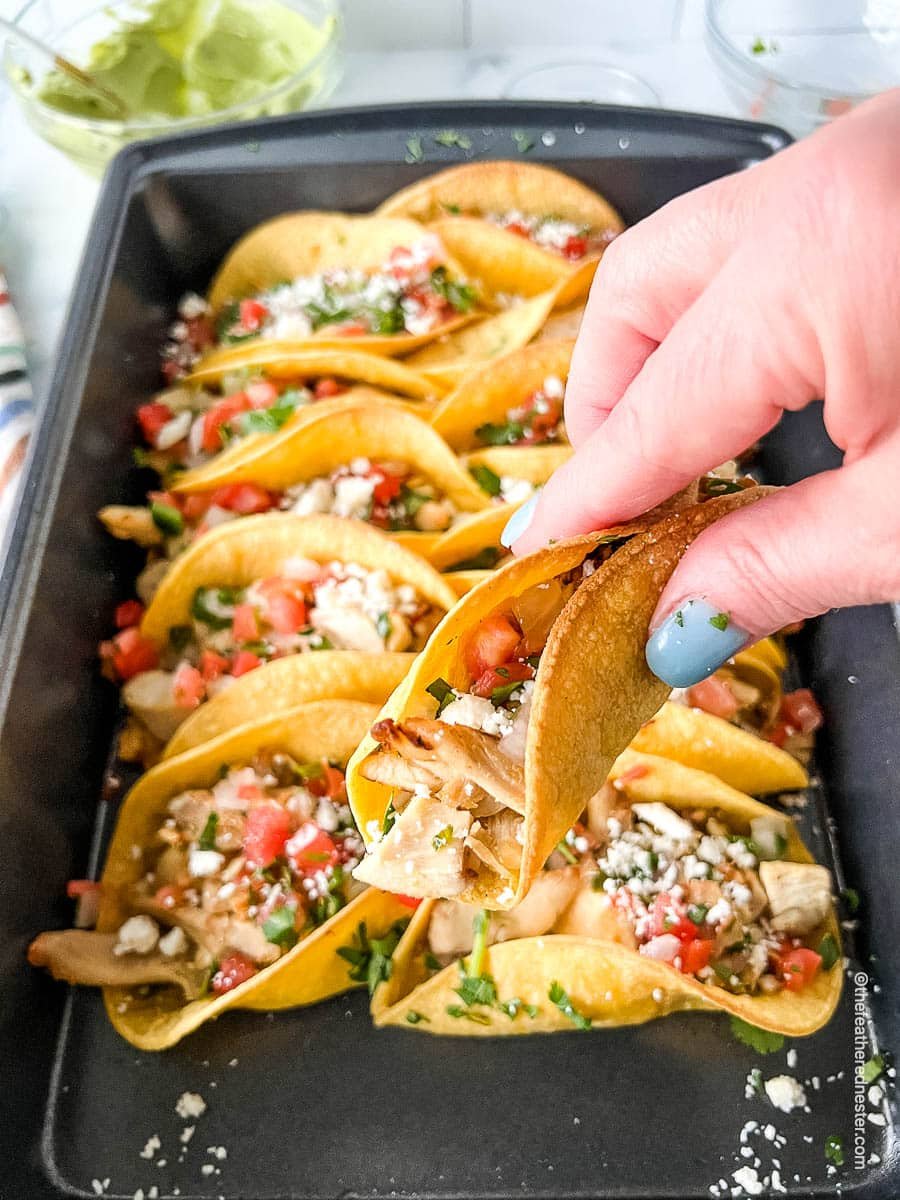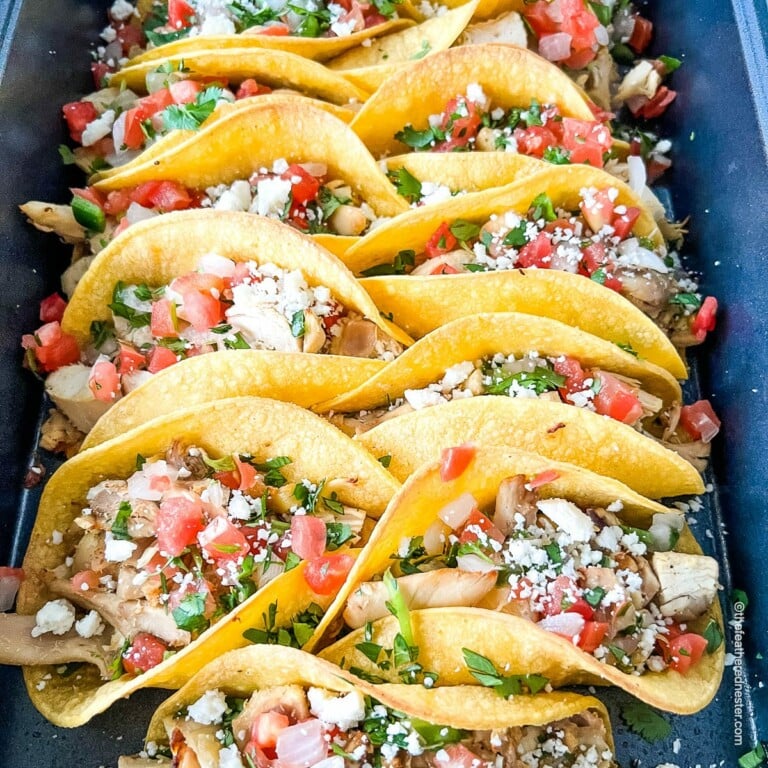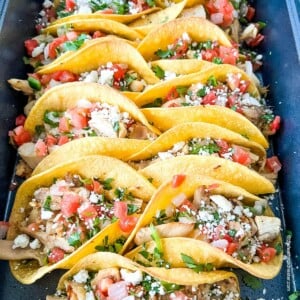 Chicken Street Tacos
Chicken street tacos are easy to make for a 30 minute dinner any night of the week! Give your meal new life with this street taco recipe!
Equipment
10" non-stick skillet

13" x 9" baking dish
Ingredients
3 cups shredded or chopped cooked chicken *See Notes
2 teaspoons chicken taco seasoning
½ cup onion diced
1 jalapeno pepper or roasted jalapeno, seeded and minced
cooking oil spray
12 6-inch corn tortillas or other taco-size tortilla
1 cup Pico de gallo
3 Tablespoons cilantro chopped
⅓ cup Cojita crumbled
¼ cup avocado crema optional
Instructions
Add cooked chicken, seasoning, onions, and jalapeno pepper to a non-stick skillet. Sauté on medium heat until onion is translucent, about 5 minutes.

Preheat oven to 425ºF. Spray baking dish with cooking oil and set aside.

Wrap corn tortillas in a damp paper towel and microwave for 30 seconds (or until warm and pliable). Spray tortillas on both sides with cooking spray.

Fill each tortilla with 1/3 cup of chicken mixture. Fold in half and place in baking dish. I used a small bowl to hold them in place upright until the dish was filled with all the tacos.

Bake for 10 minutes, until the tortillas are crispy and the edges of the chicken is browned. Top with Pico de gallo, cilantro, and Cojita cheese and serve. Optional: top with avocado crema or sour cream.
Notes
Chicken: Any type of shredded cooked chicken can be used. Rotisserie chicken is a convenient option. Leftover salsa chicken is also delicious in street tacos!
Nutrition
Serving: 2tacos | Calories: 171kcal | Carbohydrates: 7g | Protein: 20g | Fat: 7g | Saturated Fat: 3g | Polyunsaturated Fat: 1g | Monounsaturated Fat: 2g | Trans Fat: 0.1g | Cholesterol: 60mg | Sodium: 308mg | Potassium: 208mg | Fiber: 0.5g | Sugar: 3g | Vitamin A: 285IU | Vitamin C: 5mg | Calcium: 78mg | Iron: 1mg
PIN THIS POST!