You know how it goes, life gets busy and you find yourself scrambling to put dinner on the table. These 30 minute meals will save you time and money. Plus all the meal planning has already been done for you. Let me introduce Cook Once Eat All Week to you. It is the prefect way to meal prep ahead to get dinner on the table fast with these easy recipes.
As an Amazon Associate I earn from qualifying purchases, at no extra cost to you. See my disclosure policy here.
How do you cook once a week?
Wouldn't it be great to spend just a few hours in the kitchen and have your meals ready for the week? You'd know exactly what was for dinner because it was already prepped.
And, creating your grocery list was a breeze.
That's exactly what I'll share with you.
By cooking several chicken breasts and thighs at once, they become different meals. Or cook a large beef roast, ground beef, or a whole chicken. The possibilities are for quick and easy dinners are endless.
Save Time
How can this concept save you time?
Just imagine the amount of time it takes to cook chicken breasts for three nights:
The first night, you make bake Chicken Parmesan.
Later that same week, you sauté chicken breasts for Chicken Piccata.
Over the weekend, you make a Chicken Pot Pie.
You've just prepared chicken breasts three separate times.
How about cooking the chicken at once and using it for those meals later in the week?
Now, that's a real time saver.
Another way that the cooking once concept saves you time is that you have a built-in meal plan for the whole week.
Making your grocery list is easy. And, when you get to the grocery store, your shopping trip is quicker, too.
Saving Money
In case you didn't know, meal planning saves you money, too.
Going into the grocery store with a list is the way to go. It helps eliminate impulse buying because you already know what you need.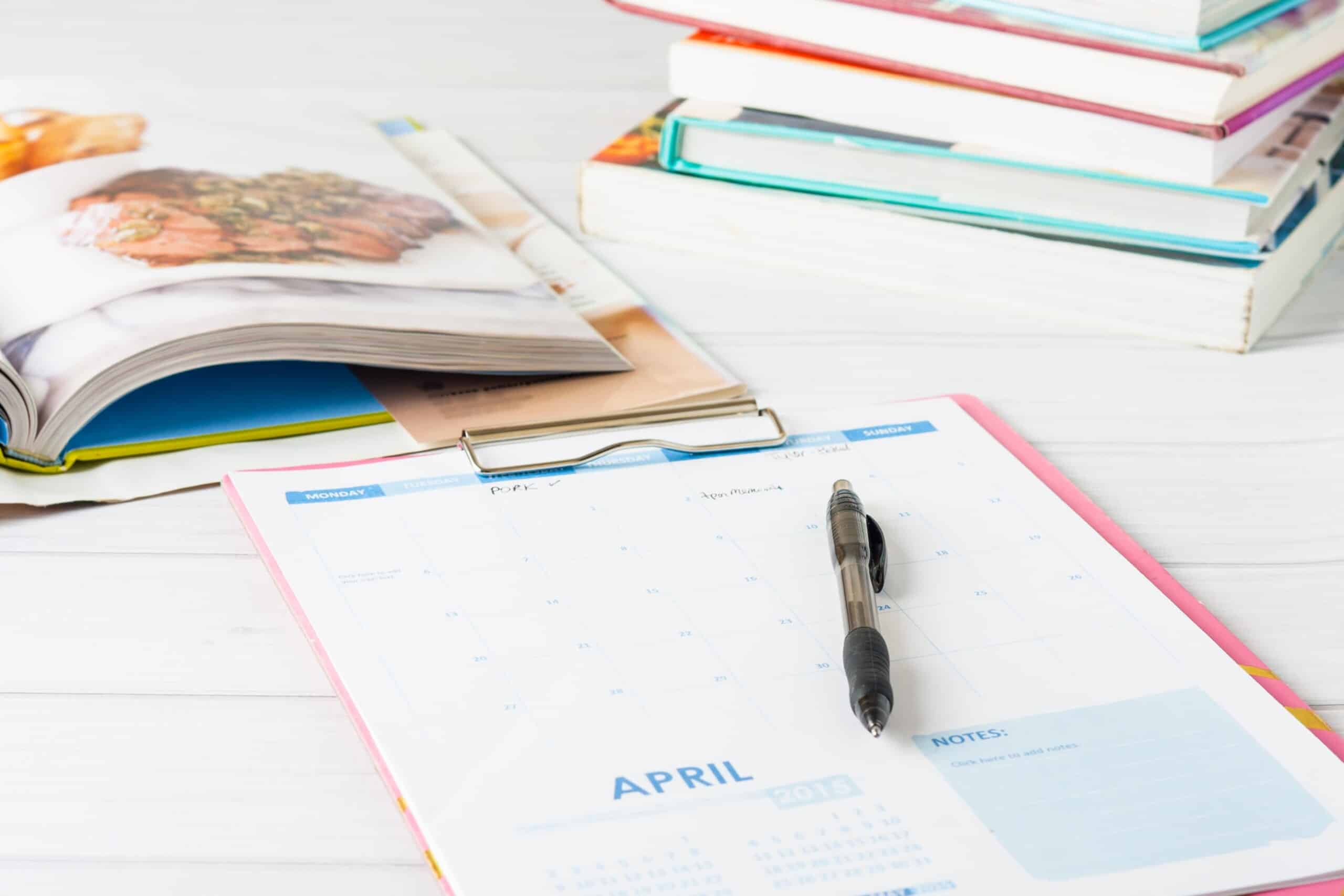 Cooking once and eating all week helps save money because you're able to save on weekly specials. Look online to see what's on sale at your local grocery store.
Usually dinner is the most expensive meal. So, if you see they are having a big sale on pork roasts, focus that week's meals around pork.
Another savings tip is to order your groceries online for pickup. This helps prevent impulse buying altogether and saves you time, too.
I create an online list early in the week and add to it during the week. This helps keep your household and pantry stocked.
Cook Once Eat All Week Concept
I first learned about Cook Once Eat All Week from the cookbook by Cassie Joy Garcia. It's become one of my favorite cookbooks.
The easy dinner recipes are real food, and offer modifications for gluten free, dairy free, low carb paleo, and grain free modifications.
And, I shared several weeks of the meal prep in Instagram.
Then I realized that I already had lots of easy recipes on the blog that would work for cooking once a week!
Cooking ahead was something I did when my kids were younger. For example, when ground beef was on sale, I bought a 5 pound package of it. Then, I cooked it with onions, garlic, and seasoning salt. After it cooked and cooled, I separated it into 3/4 pound ziplock bags and froze it. When I needed ground beef for spaghetti sauce, beef stroganoff, sloppy joes, or chili, I had it ready to go.
How to Weekly Meal Prep
Now that I've shown you how cooking once will save you time and money. All that's left is to put this to work with a real life weekly meal plan.
For this first post, I'm using boneless, skinless chicken as the protein source. You can use bone-in chicken if that's what you have on hand. This is a really versatile plan.
Meal One – Chicken Chile Verde Recipe
First, is to make Chicken Chile Verde.
For two people, make the recipe as it is. You can easily use 3 pounds of chicken to the one jar or sauce, though. And, for four, double the recipe, and so forth.
Chicken Chile Verde is prepared in the Instant Pot or Crock Pot. Serve this easy dinner recipe with cilantro rice and salad. Save 2/3 of the chicken for later.
If you prefer red salsa, check out my easy Salsa Chicken recipe.
Chicken Chile Verde (Instant Pot or Slow Cooker Recipe)
This Chicken Chile Verde is a cook once, eat again meal. Make it early in the week and you can use the chicken to create other meals, such as Chicken Enchiladas or Chicken Cobb, later that week.
Equipment
Pressure Cooker OR

Slow Cooker
Ingredients
1

pound

boneless chicken breasts

1

pound

boneless chicken thighs

1

jar (12 ounce)

Salsa Verde (I like Hatch Valley brand)

1

tsp

ground cumin

1

tsp

dried oregano

salt and pepper
Instructions
Add chicken to slow cooker, and add the other ingredients on top. Cook in slow cooker on low setting for 5-6 hours. Shred chicken and serve over rice or with tortillas.

For Instant Pot, add all ingredients to the Instant Pot. Cook on high pressure for 12 minutes, then allow pressure to naturally release for at least 10 more minutes before performing a quick release. Shred chicken and serve over rice or with tortilas.
Nutrition
Serving:
4
ounces
|
Calories:
223
kcal
|
Carbohydrates:
1
g
|
Protein:
21
g
|
Fat:
15
g
|
Saturated Fat:
4
g
|
Cholesterol:
92
mg
|
Sodium:
81
mg
|
Potassium:
245
mg
|
Fiber:
1
g
|
Sugar:
1
g
|
Vitamin A:
91
IU
|
Calcium:
17
mg
|
Iron:
1
mg
Meal Two – Creamy Chicken Enchiladas Recipe
For your next meal, shred part of the chicken for Chicken Enchiladas (recipe linked).
Meal Three (or more!) Recipe Ideas
For the last cook once recipe, use the rest of chicken for chicken tacos or one of these easy dinner recipes:
With the Cook Once Eat All Week concept, you are set for the whole week!
See my meal prep videos from the Cook Once Eat All Week cookbook on Instagram: Week 1, Week 2, Week 3, Week 4.
Learn about Trim Healthy Mama here, Trim Healthy Table cookbook, and a weekly meal plan.