If you click on a link and make a purchase, I may receive a small commission at no extra cost to you. See my disclosure policy here.
I'm often asked, "what is Posole?" Also spelled Pozole, it's a delicious Mexican stew featuring tender chunks of pork or chicken, zesty tomatillos, and hearty hominy. Our Instant Pot Chicken Posole recipe is perfect for creating a rich and flavorful dish in a fraction of the time it takes to make a traditional stew. So, get out your pressure cooker, and let's make this easy chicken pozole recipe.
Homemade Posole is a Family Favorite
I began making Posole several years ago. My husband loved the Pork Posole that a co-worker brought into work and suggested we give it a try at home.
From what he described, stewed pork should be fork-tender in a perfect Posole, with plenty of hominy – whole corn kernels that have been soaked in lime juice, and lots of zesty tomatillos and loaded with fresh toppings.
One day I finally found a recipe for Pork Posole that sounded similar to what my husband's co-worker made. We tried it that night for dinner and it was delicious! And ever since it has been one of our favorite meals.
Green Posole or Red Posole?
Posole can be red (Rojo) or green (Verde), similar to red and green enchilada sauces. The coloring comes from using dried chiles or tomatillos.
Do you know what tomatillos are? They look like green, unripe tomatoes with a dry, leafy husk that wraps around the outside. They aren't little green tomatoes but are actually completely different small fruits.
My family prefers Verde Posole, so this Instant Pot Chicken Posole recipe uses tomatillos and green chiles to give it the green color.
Here are the ingredients in our Chicken Posole Recipe
Tomatillos
Poblano chiles
Lime
Garlic cloves
Boneless, skinless chicken thighs
Olive oil
Onion
Hominy
Chicken broth
Spices: Salt, pepper, dried oregano, and cumin
Recommended to garnish and serve: Avocado, cilantro, fresh onions, and tortilla chips
Over the years I have made small modifications to the recipe to adapt it to our tastes. For instance, I add extra hominy.
I also like using chicken instead of pork since it cooks quicker and is a little healthier. However, you can certainly substitute pork shoulder or butt in this recipe.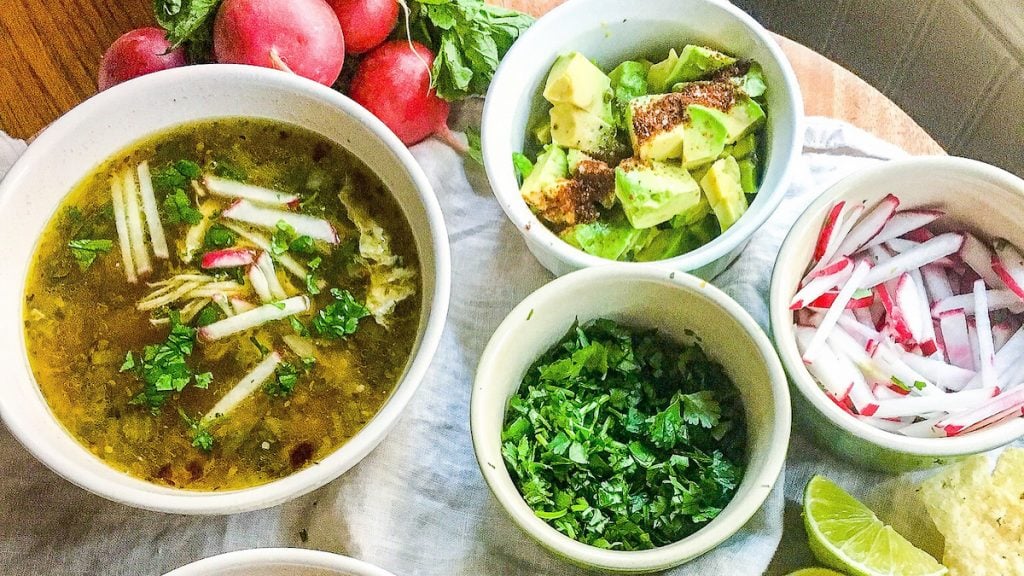 Chicken Posole in Instant Pot
Using the Instant Pot for our Chicken Posole recipe has made the preparation even easier. It takes less than an hour from start to finish, rather than 4-6 hours in the slow cooker or on the stovetop.
If you are new to Instant Pot or pressure cooking, read this article on how to use the Instant Pot first.
Of course, if you're going to be at work or away from home all day, then the slow cooker would be more convenient.
But, I have to say that the Instant Pot makes a much more flavorful Posole. During the pressure cooking process, the meat is literally infused in broth and spices.
Step-by-Step How to Make Instant Pot Chicken Posole
Firstly, make the salsa base for the stew by prepping and blending the tomatillos, peppers, and garlic. Since everything is going into the blender anyway, they just need a really coarse chopping.
Add the prepped ingredients to the blender along with the lime juice, and blend until smooth.
Next, turn on the Instant Pot and select the SAUTE feature. Once it's reached temperature (mine says "HOT" when ready), add the olive oil and brown the chicken on both sides. Remove and set on a plate.
Add the onions and seasonings, and saute until translucent.
Return the chicken to the Instant Pot, and add the blended tomatillo salsa, chicken broth, and hominy. Stir to combine.
Press CANCEL to end the saute function, add the lid and twist to seal, then close pressure lever. Select HIGH pressure on manual, and set for 20 minutes.
Once done, release the pressure carefully using the quick-release method (according to the manufacturer's instructions). Be sure to protect your hand, and aim the steam away from you.
Unlock and remove the lid once all of the steam has dissipated.
Ladle the hot stew into bowls, and your Instant Pot Chicken Posole is ready to serve!
This is the perfect dish to share with a group. I recommend serving with sides of avocado, cilantro, radishes, cheese, or tortilla chips so guests can load their bowls with their favorite toppings.
See Below for the Complete Instant Pot Posole Recipe!
Frequently Asked Questions
Can I make Instant Pot Chicken Posole without an Instant Pot or pressure cooker?
Yes, you can. There are directions for making this in a slow cooker in the recipe below.
What if I can't find tomatillos?
You can substitute any salsa verde (green salsa). My favorite is the Herdez brand, though I also like Hatch brand and Trader Joe's brand.
Can I double this Posole recipe?
Yes, you can as long as the ingredients stay below the MAX line on the inside of your Instant Pot liner. This shouldn't be an issue with 8-quart pressure cookers.
I only have pork. Can I use that instead of chicken?
Sure. If you are using a roast, slice it into 1/2 pound (8 ounces) pieces. If you are using pork chops, you can use them whole or slice them into bite-size pieces.
Is this Posole spicy?
This is not a spicy dish. To increase the spice level, leave the seeds and membranes of the chiles intact. Or use medium salsa.
Read my Instant Pot tutorials here: Instant Pot Basics – Pressure Cooking and Instant Pot Easy – 10 Tips and Hacks .
Here's the Recipe
Instant Pot Chicken Posole
Our Chicken Posole recipe made in the Instant Pot or slow cooker is perfect for creating a rich and flavorful dish in a fraction of the time it takes to make a traditional version!
Equipment
Pressure Cooker OR

Crock Pot
Ingredients
1

lb.

tomatillos, husks removed, rinsed and coarsely chopped

(can substitute salsa verde/green salsa)

2

poblano chiles, seeded and finely chopped

(can substitute 1 jalapeno pepper)

juice of 1 lime

4

garlic cloves, thinly sliced

2

lb.

boneless, skinless chicken thighs or breasts

Kosher salt and freshly ground pepper

2

Tbsp.

extra-virgin olive oil

1

onion

1

tsp.

dried oregano

1

tsp.

ground cumin

1

can (25 oz)

hominy, drained and rinsed

4

cups

chicken broth
Instructions
Instant Pot Instructions
Combine tomatillos (or jarred salsa), poblano pepper, lime juice, and garlic in a blender; blend until smooth. Set aside.

Select SAUTE function on Instant Pot. Add olive oil, chicken, onion, salt and pepper, oregano, and cumin; cook for 5 minutes. Add tomatillo mixture, hominy, and chicken broth. Stir to combine.

Close and lock the lid. Select Manual, HIGH Pressure function and set timer for 20 minutes.

Release pressure carefully using the quick-release method (according to the manufacturer's instructions). Unlock and remove the lid. Stir in cilantro. Ladle into bowls.
Crockpot Instructions
Omit olive oil. Add all ingredients except cilantro to the slow cooker pot. Place on lid and set to 4 hours for high or 6 hours on low.

Remove chicken, and shred with two forks. Return chicken and cilantro to pot and let sit for 30 minutes. Ladle and serve.
Nutrition
Serving:
1
serving
|
Calories:
209
kcal
|
Carbohydrates:
8
g
|
Protein:
24
g
|
Fat:
9
g
|
Saturated Fat:
2
g
|
Cholesterol:
108
mg
|
Sodium:
535
mg
|
Potassium:
621
mg
|
Fiber:
2
g
|
Sugar:
4
g
|
Vitamin A:
220
IU
|
Vitamin C:
40
mg
|
Calcium:
46
mg
|
Iron:
2
mg
For more meal ideas and dinner prep, follow me on Instagram https://www.instagram.com/thefeatherednester/ or Facebook https://www.facebook.com/houseon3rd/
Share your Feathered Nester dishes on Instagram with the hashtag #thefeatherednester – I'd love to see what you've made!
Here are a few more of my favorite Instant Pot recipes