Instant Pot Chicken Pozole Verde is a delicious and easy Mexican stew recipe that is rich, hearty, and full of flavor.
So, "what is Posole?" Also spelled Pozole, it's a delicious Mexican stew featuring tender chunks of pork or chicken, zesty tomatillos, and hearty hominy.
Instant Pot Pozole is a Family Favorite
This stewed pork should be fork-tender, with plenty of hominy – whole corn kernels that have been soaked in lime juice, and lots of zesty tomatillos and topped with fresh toppings.
Our Instant Pot Chicken Pozole recipe is perfect for creating a rich and flavorful dish in a fraction of the time it takes to make a traditional stew. So, get out your pressure cooker, and let's make this delicious stew.
Red or Green Pozole
Posole can be red (Rojo) or green (Verde), similar to red and green enchilada sauces. The colors come from using dried chiles or tomatillos.
Tomatillos are fruits that look like green, unripe tomatoes. They have a dry, leafy husk around them.
People usually mistake them for small green tomatoes, but they are actually completely different.
This recipe for Instant Pot Chicken Posole Verde uses tomatillos and green chiles to give the soup a green color.
My family prefers Verde Posole, so this is a great way to enjoy that same flavor in a different dish.
Ingredients
Tomatillos
Poblano chiles
Lime wedges
Garlic cloves
Boneless, skinless chicken thighs
Olive oil
Onion
Hominy
Chicken broth
Spices: Salt, pepper, dried oregano, and cumin
For garnish and serving: Avocado, cilantro, fresh onions, and tortilla chips
Substitutions
Feel free to add extra hominy to thicken the consistency.
You can also use chicken stock instead of chicken broth.
I also like using chicken instead of pork, since it cooks quicker and is a little healthier. Also, you can swap pork shoulder or butt in this recipe.
Variations
Add some chopped cilantro to the salsa for extra flavor.
For a bit of spice, add chili powder, diced jalapeno, or serrano pepper to the salsa.
Use green chili peppers in place of the poblano chiles for more heat in chicken posole.
If you want more broth in your Pozole, add an extra cup or two of chicken broth.
Add a can of refried beans to the stew for extra protein and creaminess.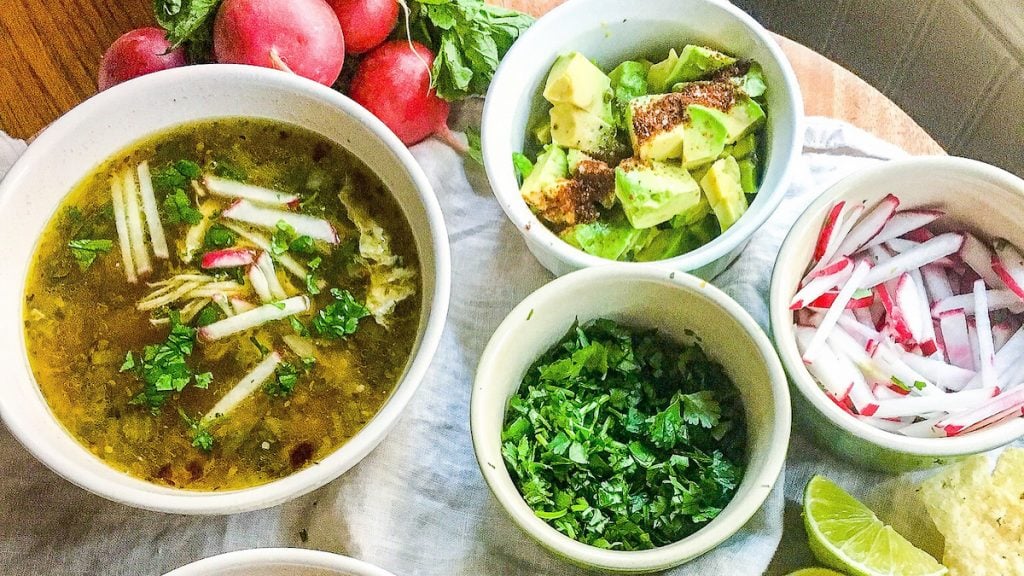 Making Chicken Pozole Verde
The Instant Pot makes preparing our this recipe much easier. It only takes about an hour, compared to 4-6 hours on the stovetop or in the slow cooker.
If you are new to Instant Pot or pressure cooking, read this article on how to use the Instant Pot first.
Of course, if you are going to be at work or away from home all day, a slow cooker would be more convenient.
But, I have to say that the Instant Pot makes Pozole Verde much more flavorful. During the pressure cooking process, the meat is infused with broth and spices.
Love Instant Pot cooking? Try our Instant Pot Salsa Verde, Instant Pot Chicken Tenders, Instant Pot Chicken Thighs and Potatoes, and Instant Pot Ranch Chicken and Potatoes.
Making the salsa. To make the salsa base for the stew, coarsely chop the tomatillos, peppers, and garlic.
Add the prepped ingredients to the blender along with the lime juice, and blend until smooth.
Sauté the Ingredients. Turn on the pressure cooker and select the SAUTE feature.
Once it's reached temp (mine says "HOT" when ready), add the olive oil and brown the chicken on both sides. Remove and set on a plate.
Add the onions and seasonings, and cook stirring until they are clear.
Pressure cooking the Posole. Put the shredded chicken back into the Instant Pot, and add the blended tomatillo salsa, chicken broth, and hominy. Stir to combine them.
To end the saute function, press CANCEL. Add the lid and twist to seal it. Close the pressure lever. Choose HIGH pressure from the manual setting and set it for 20 minutes.
Once the pressure cooker is done, use the quick-release method (according to the product instructions) to release the pressure. Be sure to protect your hand and aim the steam away from you.
Once all of the steam has dissipated, unlock and remove the lid.
Ready to serve. Pour the hot stew into bowls, and then serve your Instant Pot Chicken Posole warm.
Serving Suggestions
This is a great dish to share with a group of people. I recommend serving it with sides of avocado, cilantro, sliced radishes, cheese, or tortilla chips so that guests can put their favorite toppings on it.
Storing and Reheating
This dish will keep in the fridge for 4-5 days or in the freezer for up to 2 months.
When you're ready to reheat it, simply put it back into the Instant Pot (frozen or thawed) and cook on high pressure for 5 minutes.
Instant Pot Pozole FAQ
Can I make Instant Pot Chicken Posole without an Instant Pot or pressure cooker?
Yes, you can. For cooking in a slow cooker, see the recipe below.
What if I can't find tomatillos?
You can use any type of green salsa (salsa verde). My favorite is the Herdez brand, but I also like the Hatch brand and Trader Joe's brand that I bought from the grocery store.
Can I double this Pozole recipe?
You can cook a lot of food in your Instant Pot as long as the ingredients stay below the MAX line on the inside of the pot. This shouldn't be a problem with 8 quart pressure cookers.
I only have pork. Can I use that instead of chicken?
Yes, you can cook the pork instead. You can either slice a roast into 1/2 pound pieces or use pork chops that are whole or in bite size pieces.
Is this Instant Pot Pozole Verde spicy?
This dish is not spicy. If you want it to be spicier, leave the seeds and membranes of the chiles intact. Or use medium salsa.
Read my Instant Pot tutorials here: Instant Pot Basics – Pressure Cooking and Instant Pot Easy – 10 Tips and Hacks .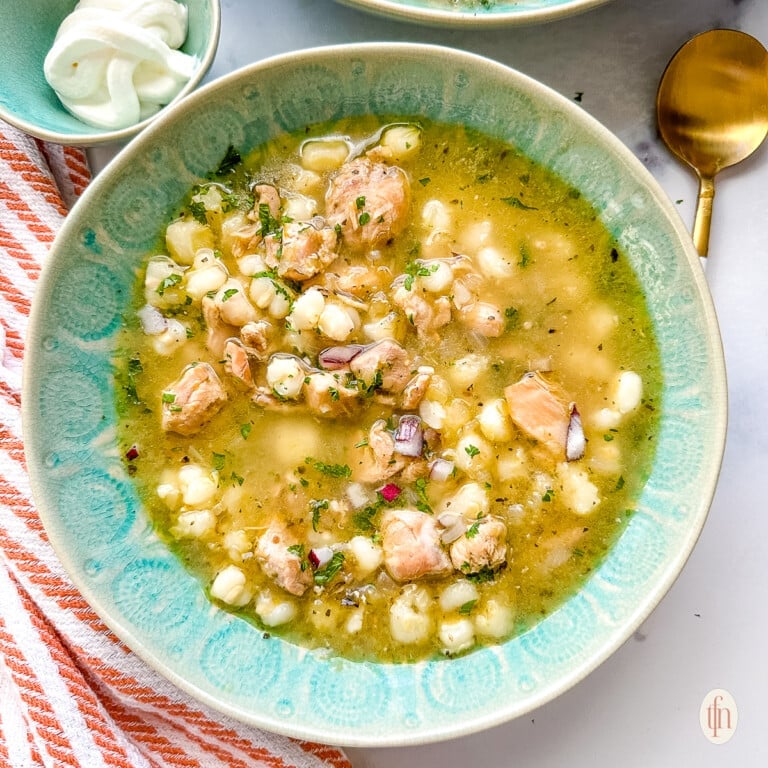 Instant Pot Pozole
Use this Instant Pot Pozole recipe to make a flavorful Mexican dinner in less time than making a traditional posole dish!
Ingredients
1 pound tomatillos husks removed. Rinsed and coarsely chopped – *See Notes for substitutions
2 poblano chiles seeded and finely chopped – *See Notes for substitutions
2 tablespoons lime juice approx. 1 lime
4 garlic cloves thinly sliced
2 tablespoons extra-virgin olive oil
2 pounds boneless skinless chicken thighs
½ teaspoon kosher salt
1 teaspoon dried oregano
1 teaspoon ground cumin
4 cups chicken broth
1 onion
25 ounces canned hominy drained and rinsed
Instructions
Combine tomatillos (or jarred salsa), poblano pepper, lime juice, and garlic in a blender; blend until smooth. Set aside.

Select SAUTE function on Instant Pot. Add olive oil and once it's hot, add the chicken, salt, oregano, and cumin. brown the chicken for 1-2 minutes on each side.

Add the onion and saute for 5 minutes, until onions are soft and translucent.

Stir in the chicken broth, using the spoon to scrape up any bits of food on the bottom of the pot. Add tomatillo mixture and hominy; stir to combine.

Close and lock the lid. Select Manual, HIGH Pressure function and set timer for 20 minutes.

After 20 minutes, carefully perform a quick release of pressure (according to the manufacturer's instructions).

Unlock and remove the lid. Using two forks, shred the chicken. *If it's easier, you can remove and shred the chicken on a cutting board, then return it to the Instant Pot.

Stir in cilantro and ladle the chicken pozole into bowls. Serve with desired toppings.
Notes
Substitutions
Tomatillos– If you are unable to find tomatillos, substitute with 2 cups of salsa verde (green salsa)
Poblanos– Instead of 2 poblano chiles, you may substitute with 1 jalapeno or 1 Anaheim chile.
Crock Pot Instructions
Omit olive oil, and instead of boneless skinless thighs, use skinless bone-in thighs.
Add all ingredients except cilantro to the slow cooker pot. Place lid on and set to slow cook for 4 hours on high or 6 hours on low.
Transfer chicken to a cutting board. Use two forks to shred the meat, then return it to the pot. Stir in cilantro, and let the pozole sit for 30 minutes. Ladle into bowls and serve.
Nutrition
Serving: 1serving | Calories: 209kcal | Carbohydrates: 8g | Protein: 24g | Fat: 9g | Saturated Fat: 2g | Cholesterol: 108mg | Sodium: 535mg | Potassium: 621mg | Fiber: 2g | Sugar: 4g | Vitamin A: 220IU | Vitamin C: 40mg | Calcium: 46mg | Iron: 2mg
PIN THIS POST!