This popular chicken piccata Cheesecake Factory copycat tastes just as fabulous as the restaurant's lemon caper chicken!!
The Cheesecake Factory® classic is smothered with tangy capers and a mouthwatering lemon sauce that tickles your taste buds and gets you excited for your next bite.
Now, instead of dining out at the restaurant, you can make the meal at home, and it's easier than you might think. The best news of all is, this Cheesecake Factory specialty can be ready to serve to your family in a speedy 25 minutes!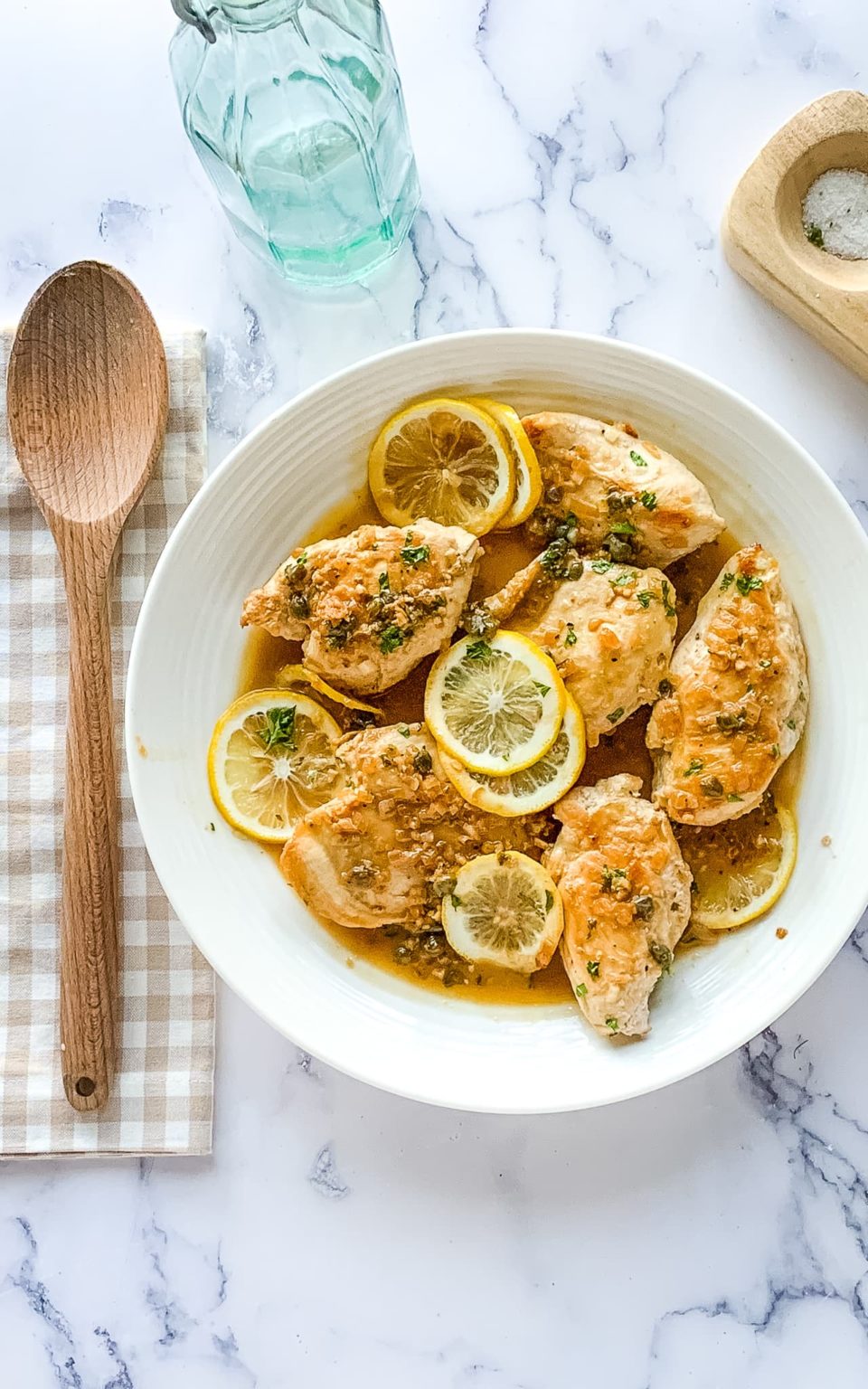 Generally, if you're looking for the quickest dinner recipes, tenders and cutlets are the way to go — browse our chicken tenderloin recipes for more ideas!
Why We Love Our Chicken Piccata Cheesecake Factory Copycat
The perfect balance of flavors.
The lemon flavor balances out the butter salty capers. It's not too heavy, not too salty, and not too tangy — and why it's such a popular entrée at the restaurant!
An easy weeknight dinner that saves you time and money!
Skip the stressful wait time for a table – just enjoy a quiet dinner at home. With no pricey bill at the end of the night, either!
It's an authentic Italian chicken recipe.
The delicious, aromatic Mediterranean spices will fill your kitchen, just like when you make our Italian baked chicken cutlets.
Chicken Piccata FAQ
What cut of meat is piccata?
In the United States, piccata is commonly served with chicken cutlets. This isn't the traditional protein, however. In Italy, the recipe is made with veal cutlets.
How many calories are in Cheesecake Factory creamy chicken piccata?
Creamy chicken piccata at The Cheesecake Factory is served with angel hair pasta. One serving has roughly 1,400 calories.

Our lemon caper chicken recipe has fewer calories (325 calories per serving) because it doesn't include pasta or mushrooms. Consider the specific ingredients you have chosen when calculating the calories on your plate — it will vary.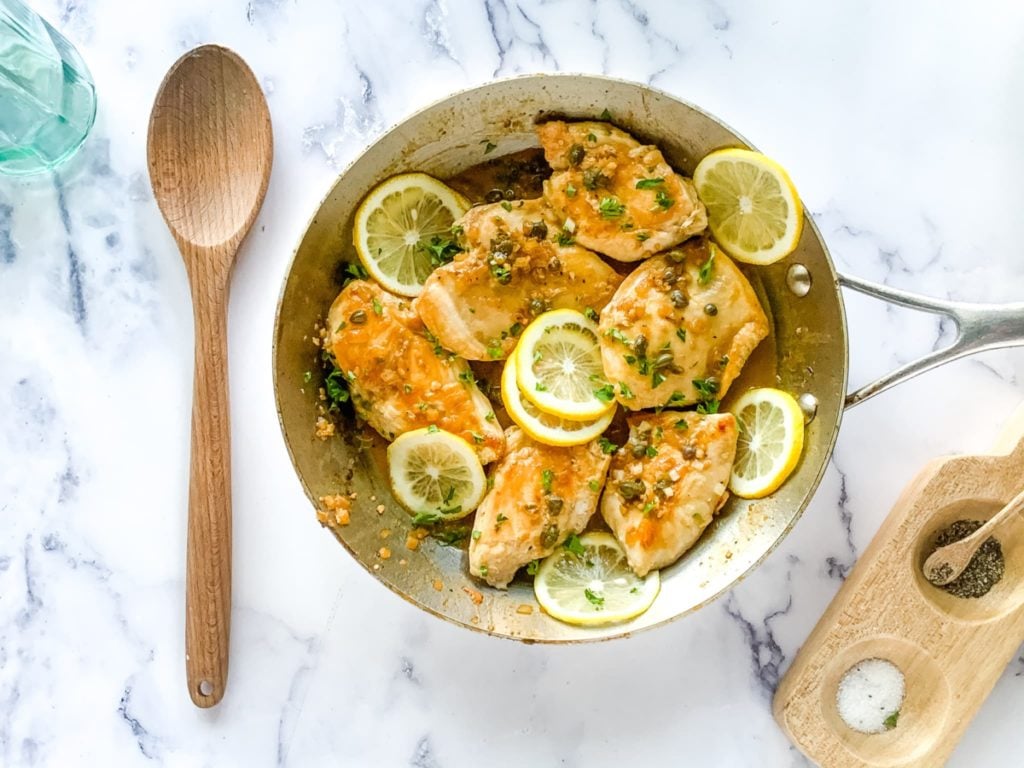 Looking for other easy, one-dish chicken dinner ideas?

Everyone loves this cozy meal of pan seared chicken and gravy. It's simple enough for weeknights, but fancy enough to serve to guests or for a Sunday dinner. Another favorite are spicy blackened Cajun tenders.
Ingredient Notes and Substitutions
Boneless Skinless Chicken – Either 1 ½ pounds of chicken cutlets, or 4 breasts. We recommend cutting breasts down into two thinner, even cutlets. This ensures that all of the poultry cooks evenly.
Olive Oil – It's not an Italian dish without olive oil! That being said, butter or any neutral flavor of cooking oil will give you the same results.
Capers – These are actually tiny flower buds, still green and unripe, that are stored in a brine. Rinse and drain them to remove some of that savory saltiness.
Lemon zest and juice – Fresh is best! One large lemon or two smaller ones will do. You might also buy one extra lemon to cut into thin slices to garnish your homemade lemon caper chicken as the cherry (or lemon) on top!
Making a Perfect Chicken Piccata Cheesecake Factory Copycat
The original chicken piccata from Cheesecake Factory is served with sliced mushrooms. While we've omitted it from our version, it's easy enough to add them to the recipe!
Simply add 1 cup of sliced baby Bella mushrooms to the oil while sautéing the onion, cooking them until softened.
Additionally, the Cheesecake Factory's lemon caper chicken is served over angel hair pasta. If you want to do the same, just boil the pasta to al dente (follow the package directions) while the sauce simmers.
When you're ready to plate the chicken and lemon caper sauce, add a serving of pasta to the plate. Either place it to the side, or plate the chicken piccata right over the top.
Tips for the Best Chicken Piccata
Don't cook the chicken all the way to 165°F. It might be your instinct as a home chef, but don't do it!

Instead, sauté the chicken until it reaches 163°F and then remove from the heat. Tent it with foil and let it rest to preserve as much juiciness and moisture as possible! As it rests, the temperature will rise those extra two degrees. The culinary term for this process is called 'carryover cooking'.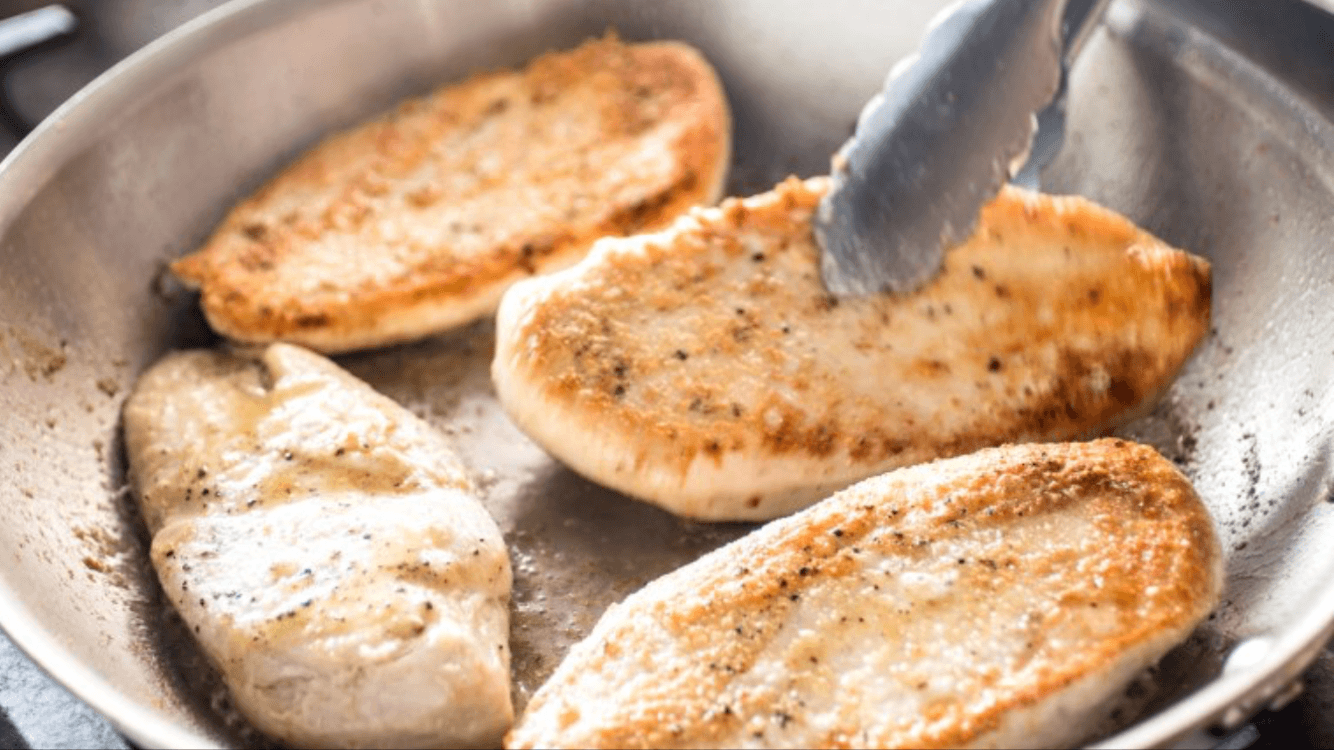 Don't flip the chicken more than once!
It can be tempting to do so, especially if you're nervous about the meat cooking all the way through — or because you feel that one side has browned more than the other.

However, the best way to get a great sear on the chicken is to make sure you only flip it once. This will prevent it from soaking up extra oil from the skillet.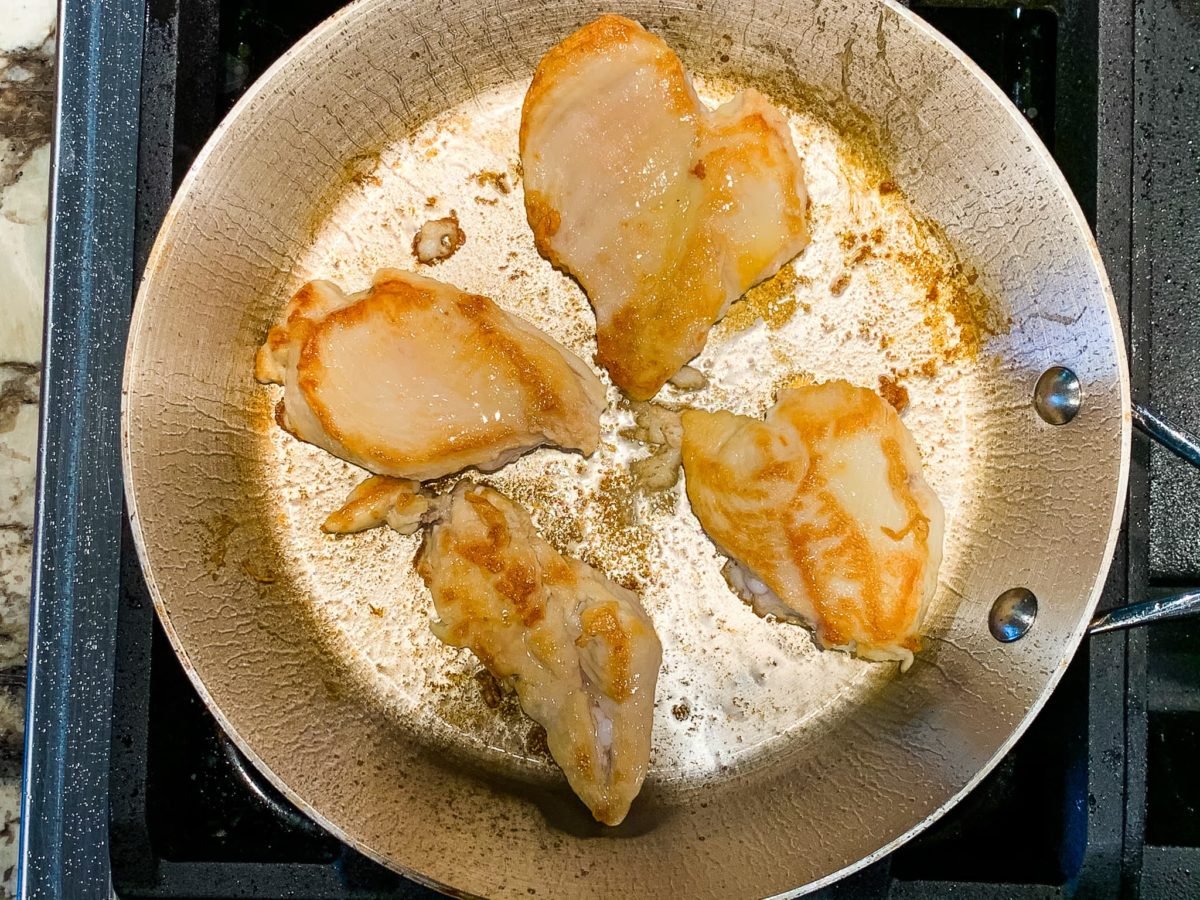 Prevent burnt garlic with perfect timing.
Garlic burns a bit quicker than onions do. Both are added to some very hot oil in this recipe, so consider throwing the garlic into the pan a little after the onions.

And if you're adding mushrooms, like in the original creamy chicken piccata, wait until the mushrooms are almost soft to add the garlic so that it's only in the skillet for about a minute.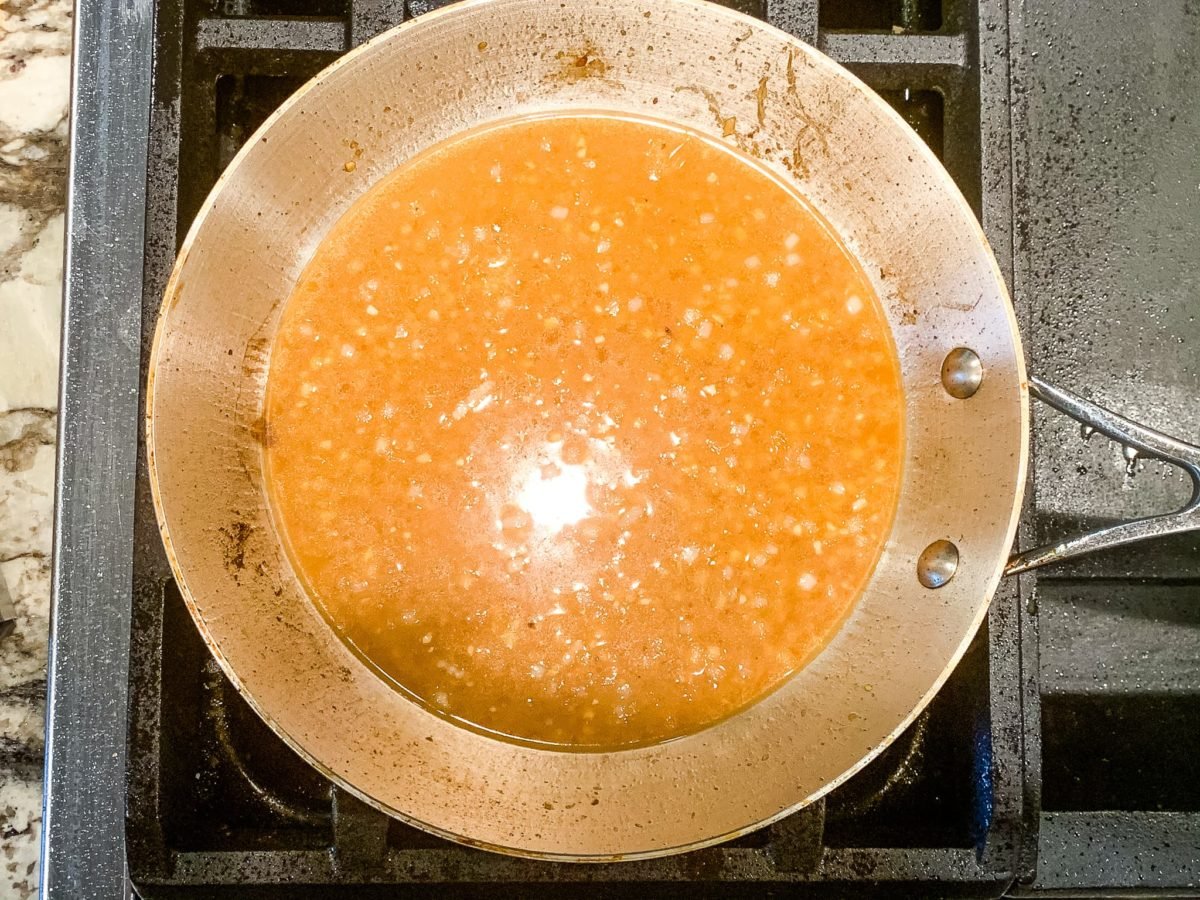 Storing and Reheating
Leftover lemon chicken with capers can be refrigerated for up to 3 days. Store with the sauce and lemons so that the meat can stay moist and continue to soak up those flavors. Sometimes it's even better the next day, especially if you've added pasta to the dish.

Reheat creamy chicken piccata on the stovetop, sauce and all, over medium until warmed through. Because of the butter in the sauce, we don't recommend microwaving to reheat – it's best to slowly bring it to temperature to prevent the sauce from separating.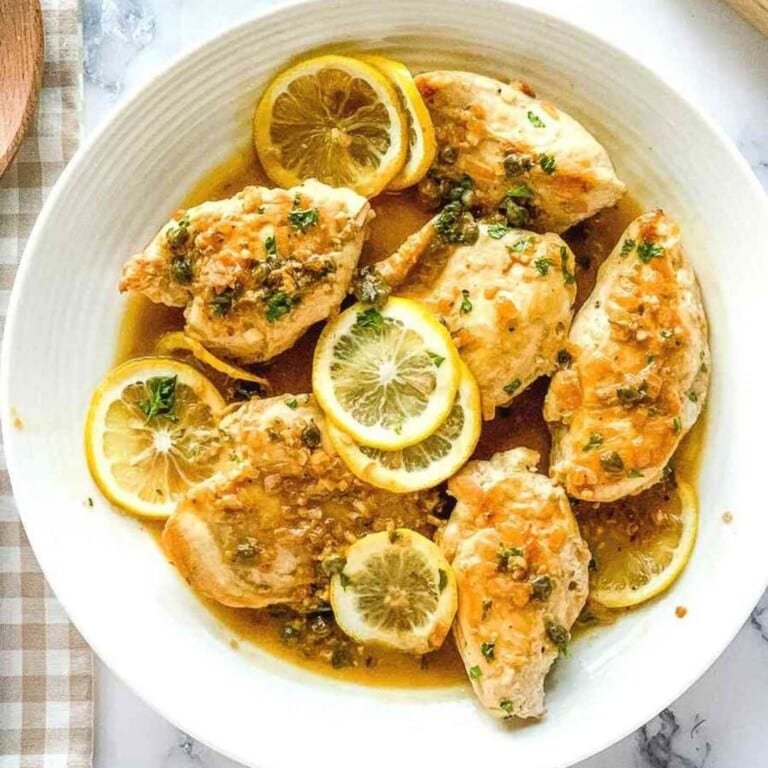 Chicken Piccata (Cheesecake Factory Copycat)
Our chicken piccata Cheesecake Factory copycat tastes just like the restaurant's lemon caper chicken, and it takes just 25 minutes to make!
Ingredients
4 boneless thinly sliced chicken breasts
1 tablespoon olive oil
3 tablespoons diced onion
1 teaspoon minced garlic
1 lemon, juiced
grated lemon zest (from the rind of the lemon)
⅓ cup chicken broth, low sodium
1 tablespoon capers, rinsed well and dried
2 tablespoons unsalted butter (or ghee or coconut oil)
1 lemon, very thinly sliced (optional, for garnish)
Instructions
In a large skillet on medium-high heat, heat olive oil until simmering. Add the chicken breasts and sauté for 4 minutes on each side. For the best sear, do not flip the chicken more than once.

Remove chicken breasts to a plate or platter, tenting loosely with foil. Add onion and garlic to skillet and cook 1 minute. Add lemon juice, lemon zest, and chicken broth, stirring until smooth. Simmer until bubbly.

Remove skillet from heat and add butter and capers. Using tongs, dip each chicken breast into the sauce, coating both sides. Serve with slices of lemon as garnish (optional).
Video
Notes
Leftovers can be stored in an airtight container in the fridge for up to 3 days.
Nutrition
Serving: 1chicken breast | Calories: 325kcal | Carbohydrates: 2g | Protein: 48g | Fat: 13g | Saturated Fat: 5g | Cholesterol: 161mg | Sodium: 495mg | Potassium: 868mg | Fiber: 1g | Sugar: 1g | Vitamin A: 267IU | Vitamin C: 8mg | Calcium: 14mg | Iron: 1mg
PIN THIS POST!